Kidstir is a really fun kids' monthly cooking subscription box. You get a themed cooking kit sent to your door every month. Every box includes 3 recipes and accessories for each – 2 kid-sized tools and a special extra. On an annual plan, your first box comes with a great recipe binder to store all the recipes in so you can revisit your favorites. My youngest is my kitchen helper and he is loving getting all these kid-size tools to use!
DEAL: Save 20% off on the first month of your subscription! Just use this link and coupon code AFHELLO20!
Plus, when you subscribe to an annual subscription you'll also get a FREE cookbook binder! Plus all subscriptions get a bonus 2 years to select print magazines!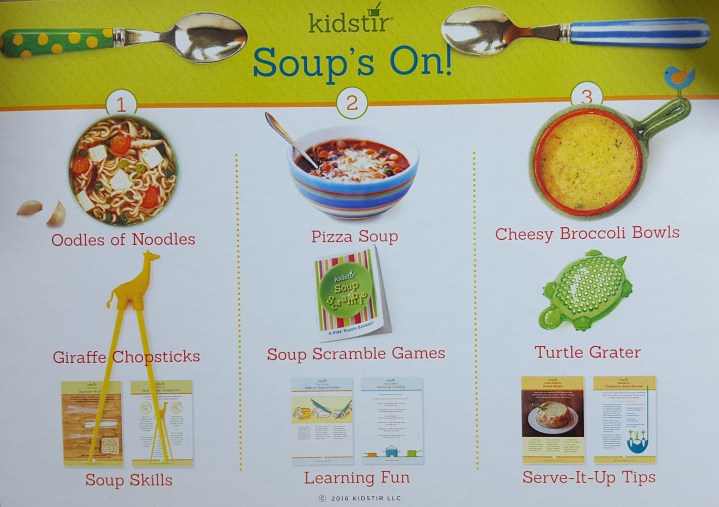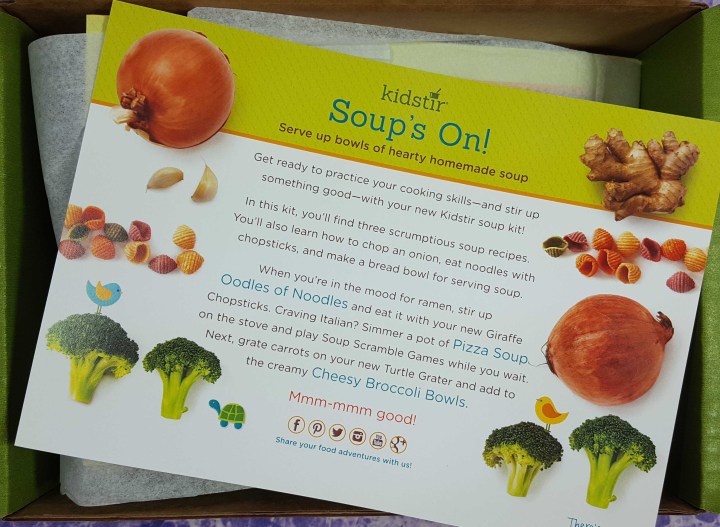 The theme for January is Soups On! I love soup so this is a perfect box for me.  I'm actually making chili tonight which is a soup type food and I'm hoping that my boys will soon follow suit in my love.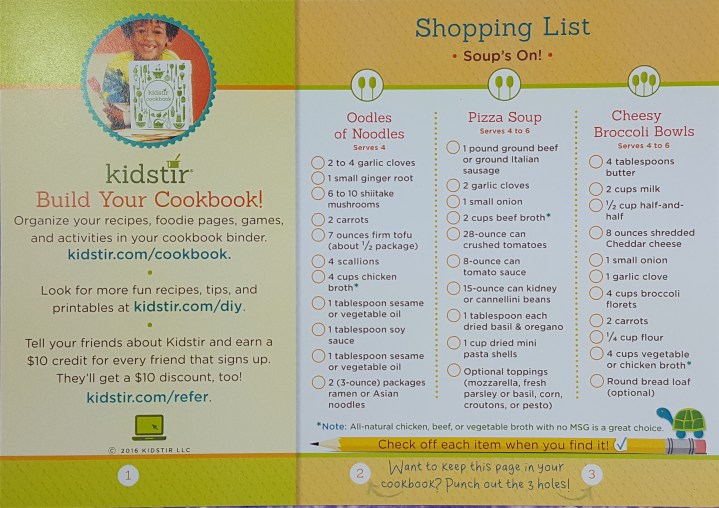 The back of the information card lists a shopping list so that you can grab all the ingredients you need for each recipe. I love this detail so that I can just grab what I need easily and then even when we go back to a recipe I don't have to think it all through I can just grab the card and go.
Everything in our January 2017 KidStir box.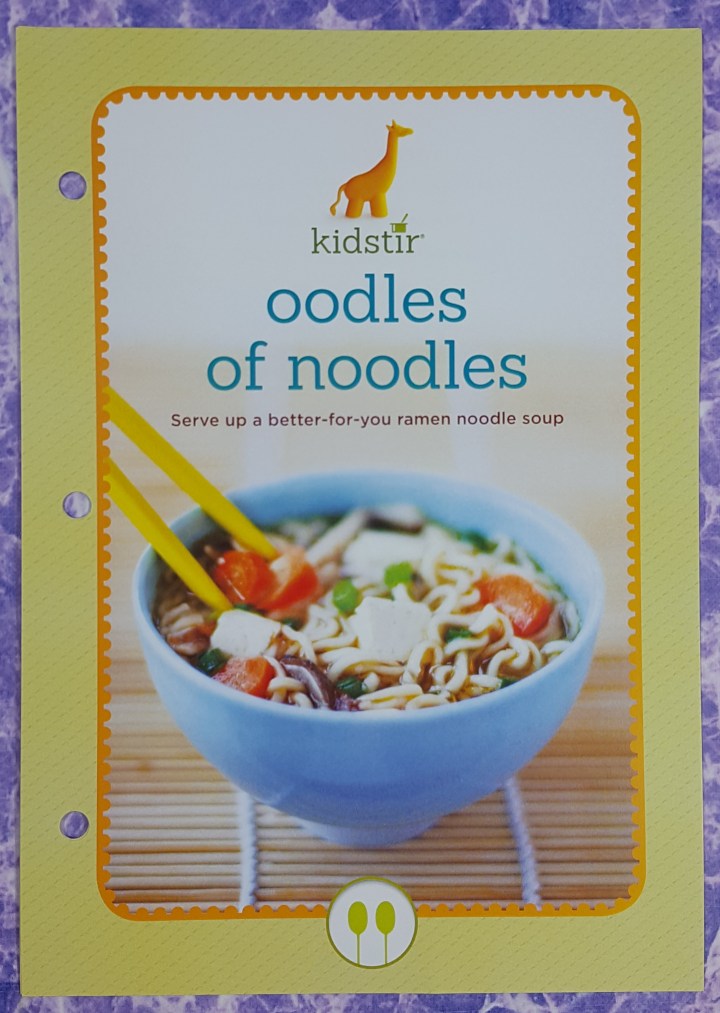 First recipe is for Oodles of Noodles. I find this so funny as I was just talking with some other moms about oodles of noodles and how they are so good. This looks like a great way to make the standby a little more nutritious.
Each recipe includes a list of ingredients, tools required and skills that will be learned. Next up, you will get step by step instructions for how to make the recipe. If the grown up helpers need to know anything they add it to notes too.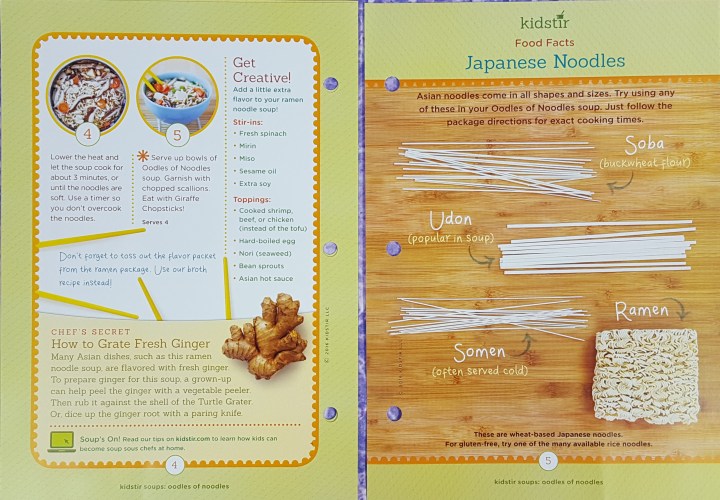 Other pages include fun little notes, information on other noodles and some ways to get creative with your meals.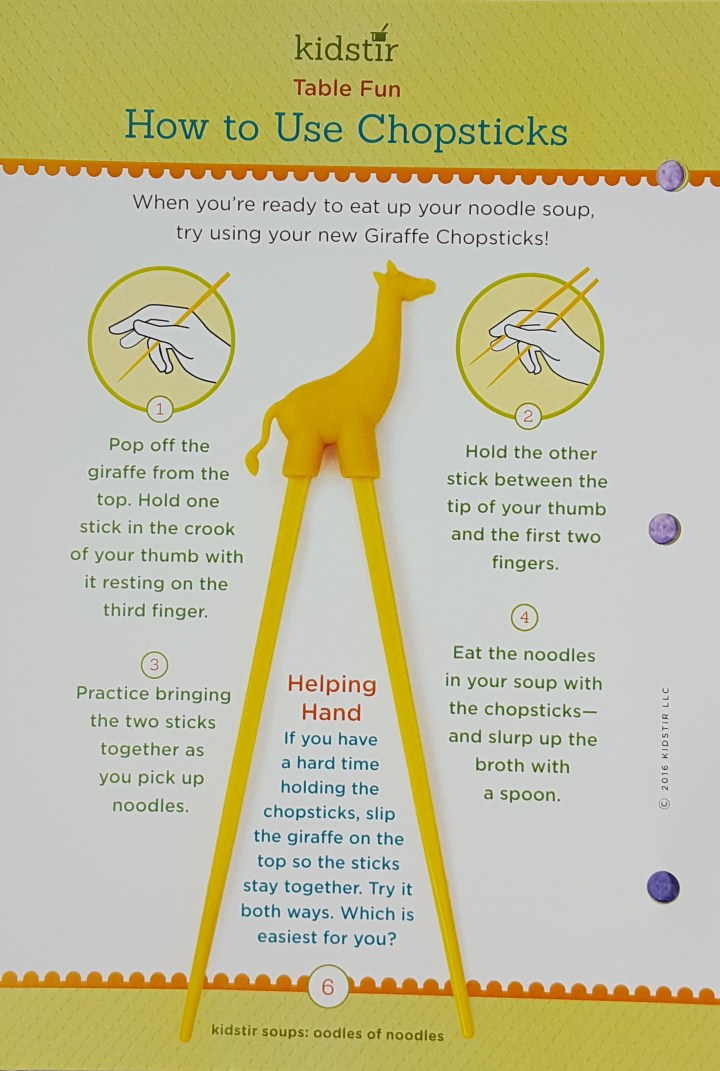 I love using chopsticks and with that both of my boys actually are pretty good at it. My youngest will love these and since I know not all kid are as good as mine with them I love this as the kids tool.  Getting the little giraffe helper is so fun.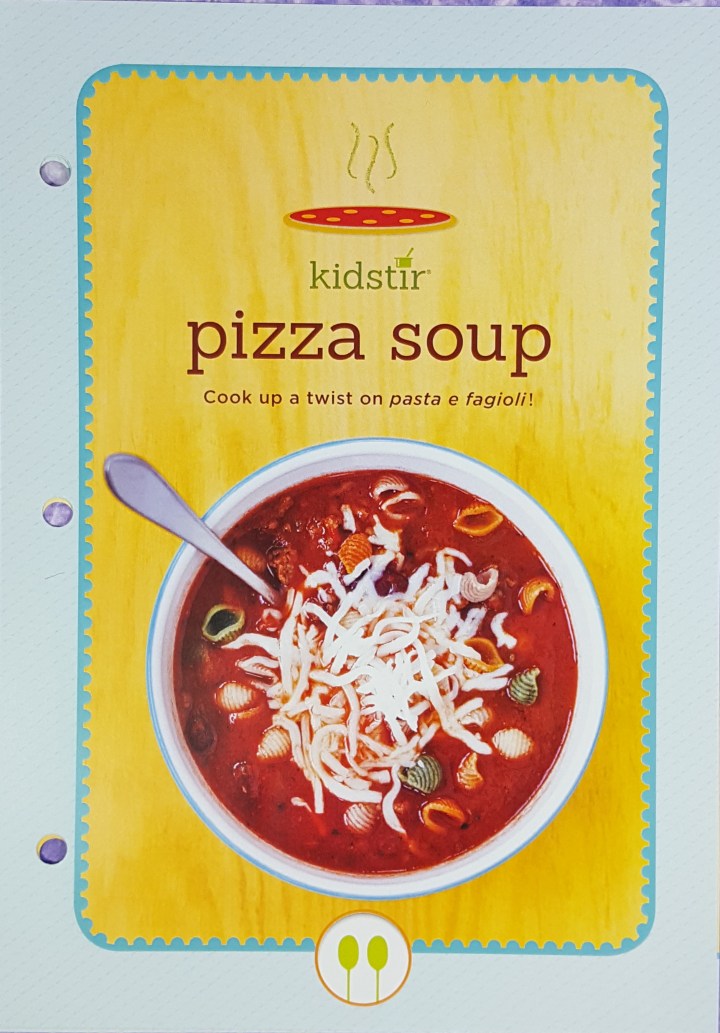 The second recipe is Pizza Soup!  What kid doesn't love pizza? and then what parent is so tired of pizza? I'm going with a lot for that second one. My boys would eat pizza for every meal if I would let them so I'm hoping this will maybe take the place of some of those times. It looks delicious.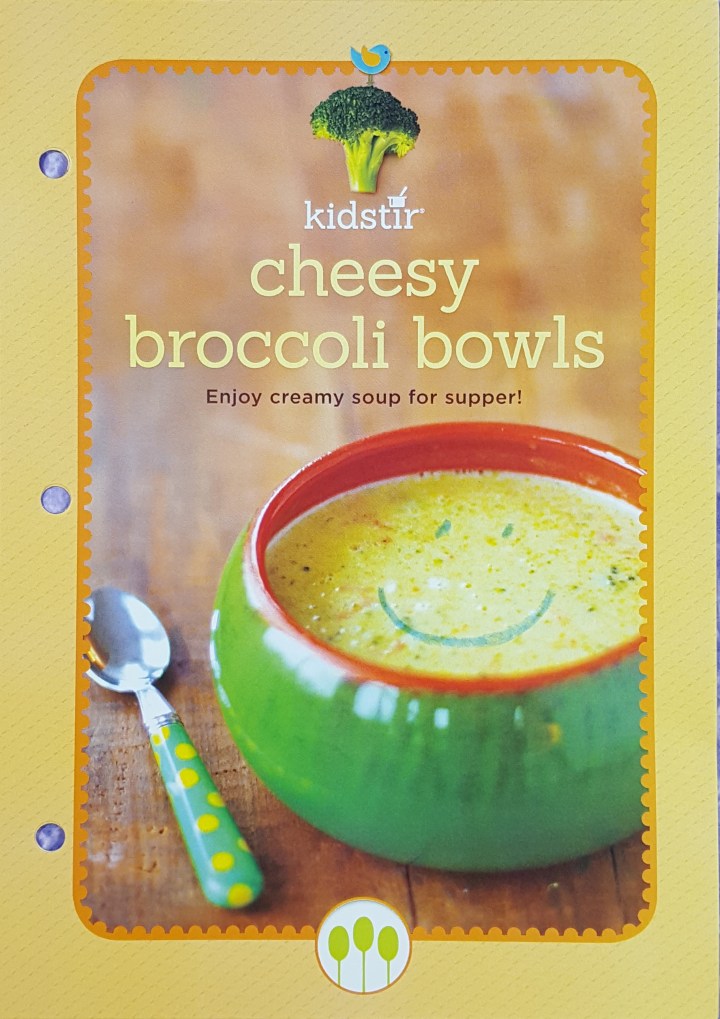 The final and third recipe for January is for Cheesy Broccoli Bowls.  Since I'm currently freezing and the wind is howling this one looks especially appealing to me.  I love this soup and in the instructions they even suggest putting it in a bread bowl and that would be fantastic.  I'm pretty sure everything is better in a bread bowl.
The included extras this month are some giraffe chopsticks, a turtle grater, and some learning fun and games.  I love all of these and my son is already ready to do some cooking and use them all.
Another great KidStir box with warm soup recipes.  We are getting into the real cold weather months here for me and it really is getting into soup time. I actually love soup all year long but I know not all people are as crazy as I am so they just really want it when is cold outside.  There is actually snow on our forecast which is always exciting for NC so I'm going to grab some of these ingredients and my and my Mr men are going to work on making some soup.
Have you cooked with KidStir? What is your favorite wintertime soup recipe?