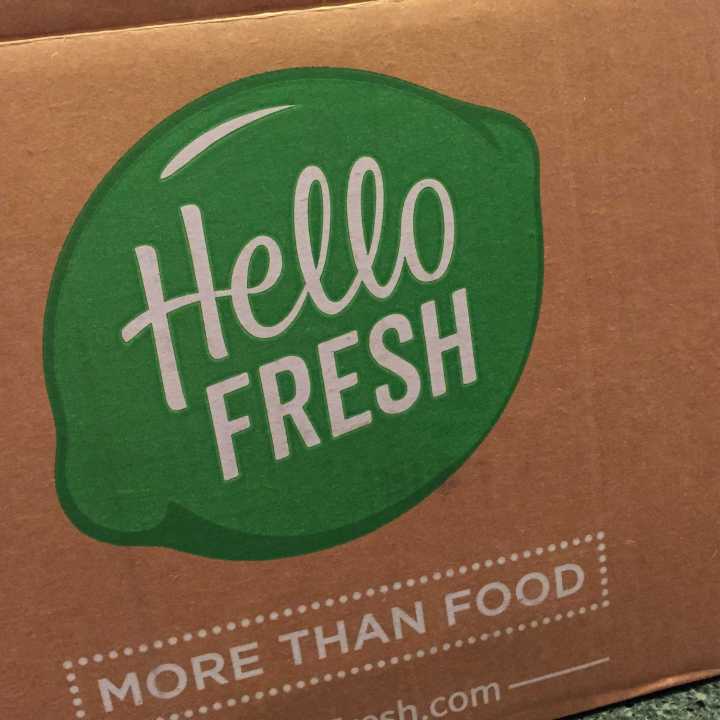 Hello Fresh is a meal kit subscription box with complete recipes and ingredients to make 3 meals every week, with each meal feeding either two or four people, depending on the plan you choose.
Though it is a subscription, you can pause your deliveries when needed – whether you are out of town, have other dinner plans, or just aren't in love with that week's selections. The standard subscription provides high-quality meats (free-range chicken, antibiotic meats, etc.) to use in the recipes.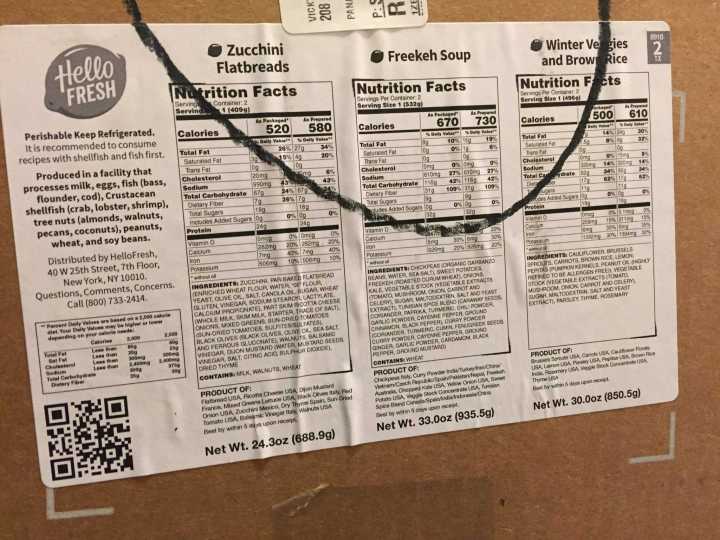 DEAL: Currently, you can save $40 off your first box with coupon code 7UT7K8.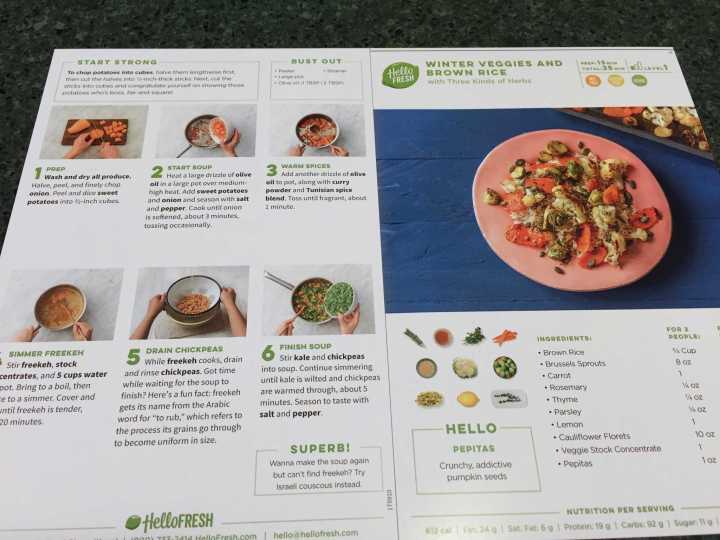 Hello Fresh has great instructions, and they are easy to follow even if you are an inexperienced cook. There are even some kitchen tips included in the information card.
Though we do eat meat, we cook vegetarian three times a week. Thankfully, Hello Fresh has a vegetarian subscription for both casual and dedicated vegetarians. This review covers the vegetarian box, which featured a recipe by Jamie Oliver!

The boxes used by Hello Fresh keep all the ingredients for the recipes in order, and they stack nicely in the fridge. Within each box, everything but the largest vegetables is separately packaged and is packed at the bottom. Condiments and canned goods are provided in high-end, commercial packaging. Hello Fresh usually provides spices in their own, pre-measured branded packaging.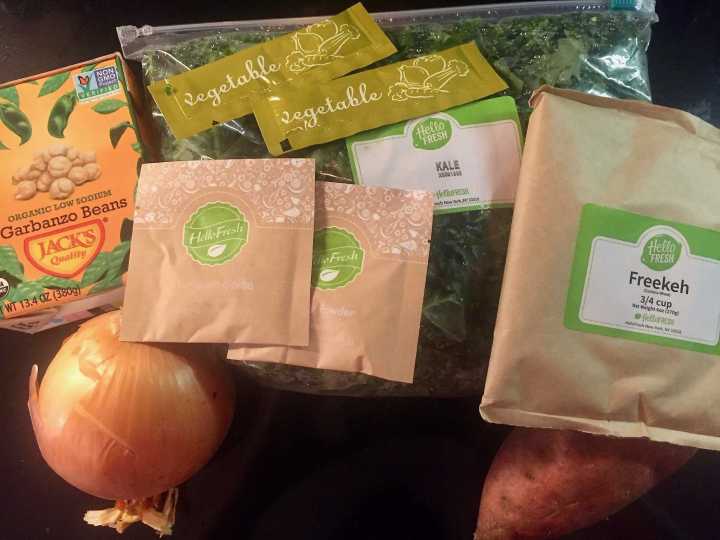 Freekeh Soup With Kale And Sweet Potatoes. 35-40 minutes, level 1, 733 calories per serving.
But before I talk about that I just want to say my husband and I both missed having Hello Fresh over the holidays.  Too many people in my family are fussy eaters so I selected not to receive it. That's another nice thing about receiving Hello Fresh, it's your choice when to receive the meals. (I pulled out 2 Hello Fresh recipes that were some of our favorites, though). One recipe I made for my parents and another family member, and they raved about the food. The other recipe I made just for hubby and myself for New Year's Day. With the great recipes, you'd want to use them over and over again.)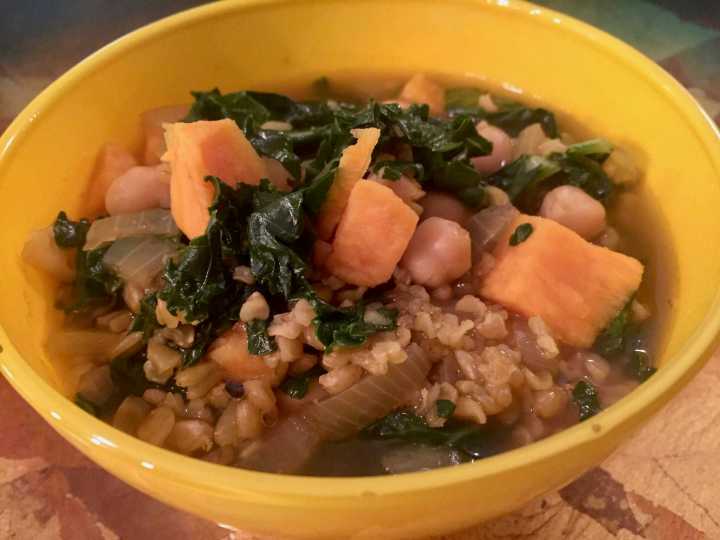 I live in northwest Florida and it was cold (for us) last night so soup was the perfect dinner. The rich earthy blend of Tunisian Spice was wonderful with the kale, freekeh and sweet potato (one of my favorites). Good soup with plenty of broth, just the way I like my soup.
And I have leftovers for this very cold northwest Florida kind of day! Northerners, please don't hate me. 🙂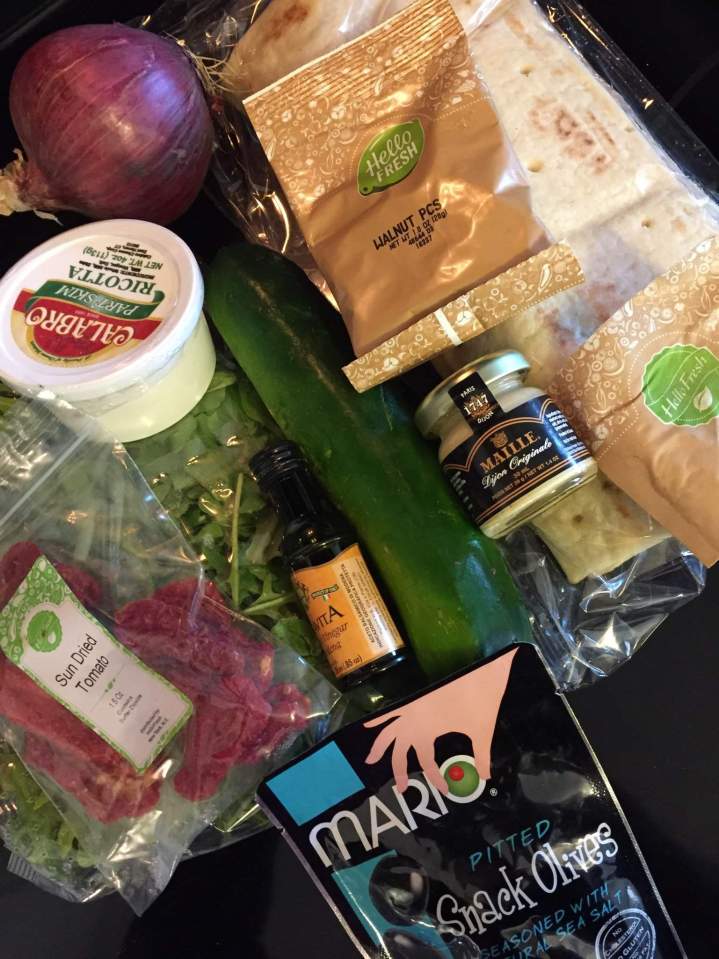 Zucchini Flatbreads With Balsamic Onions, Olives,  And Walnuts. 30-40 minutes, level 2, 582 calories per serving.
I selected tonight's dinner because I was taking it to my elder (95 years old!) friend's home where we (my parents and hubby and I) were going for appetizers and wine. This dinner offered the perfect main entree, easy to eat without big plates and knives because we place the food on the coffee table and use snack sized plates. I sliced each strip into 5 smaller strips and there were 2 leftovers, just enough for my friend's dinner tomorrow night.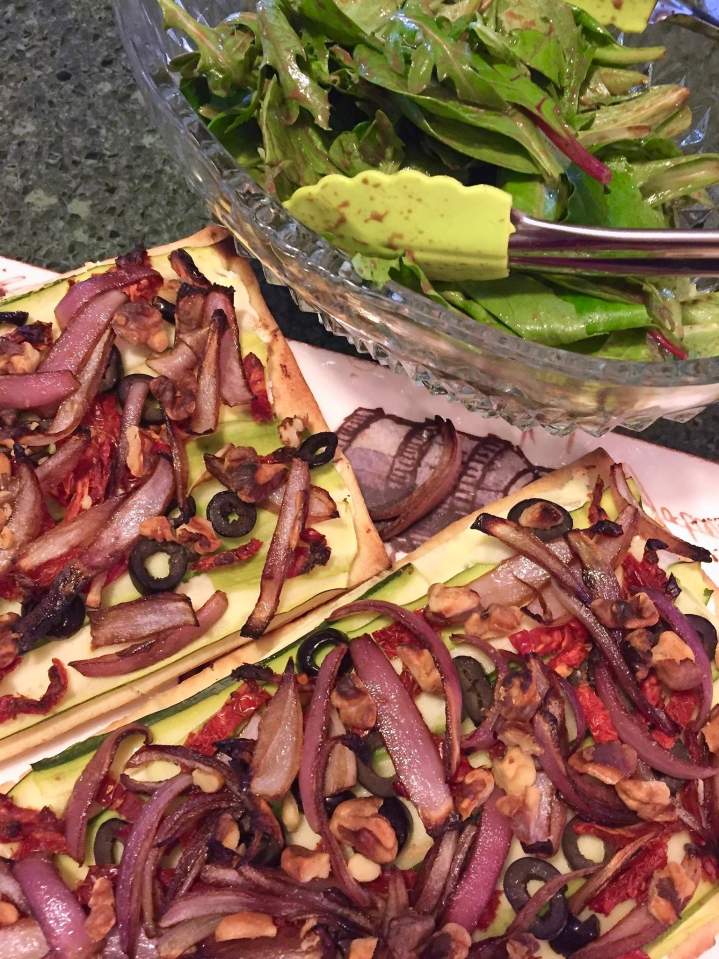 The ooh's and aw's were going strong as I brought this into the house along with the salad and a chocolate pound cake. My mom supplied the 2 dips and chips and our friend supplied the wine.
We enjoyed all the "goodies" piled on the flatbread. You just can't go wrong with zucchini, walnuts, black olives, onions, and tomatoes. The only preparation I did differently was to layer the zucchini in strips on the flatbread because there was so much of it and I didn't want to waste one strip.
The salad dressing had just a tad of a kick to it with the Dijon mustard. I've never had a dressing like that, quite good.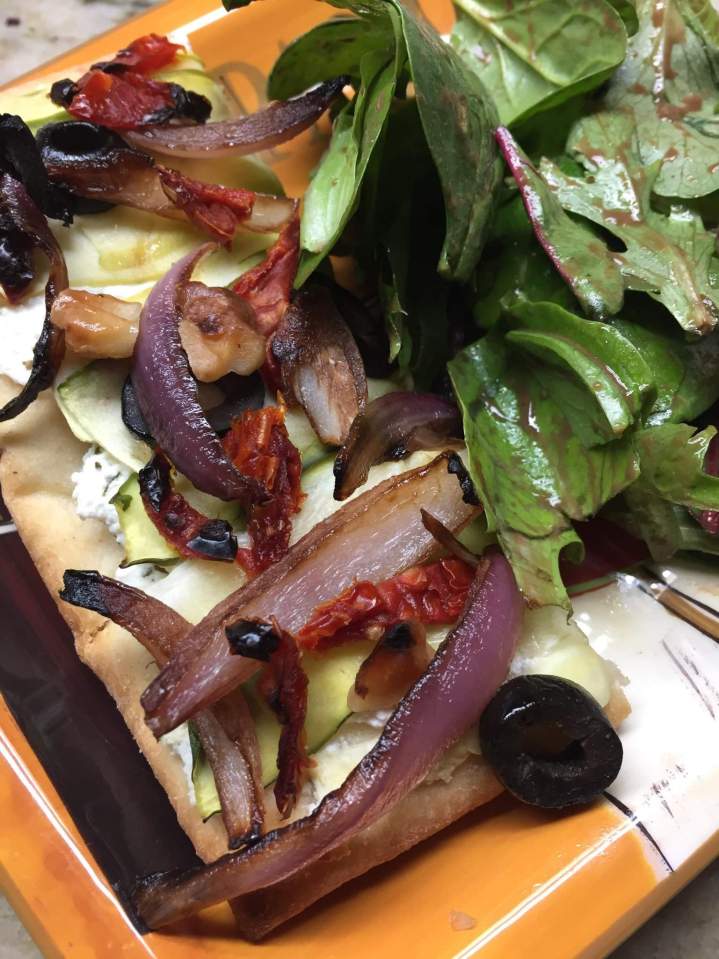 What a great evening of reminiscing, enjoying good food and wine.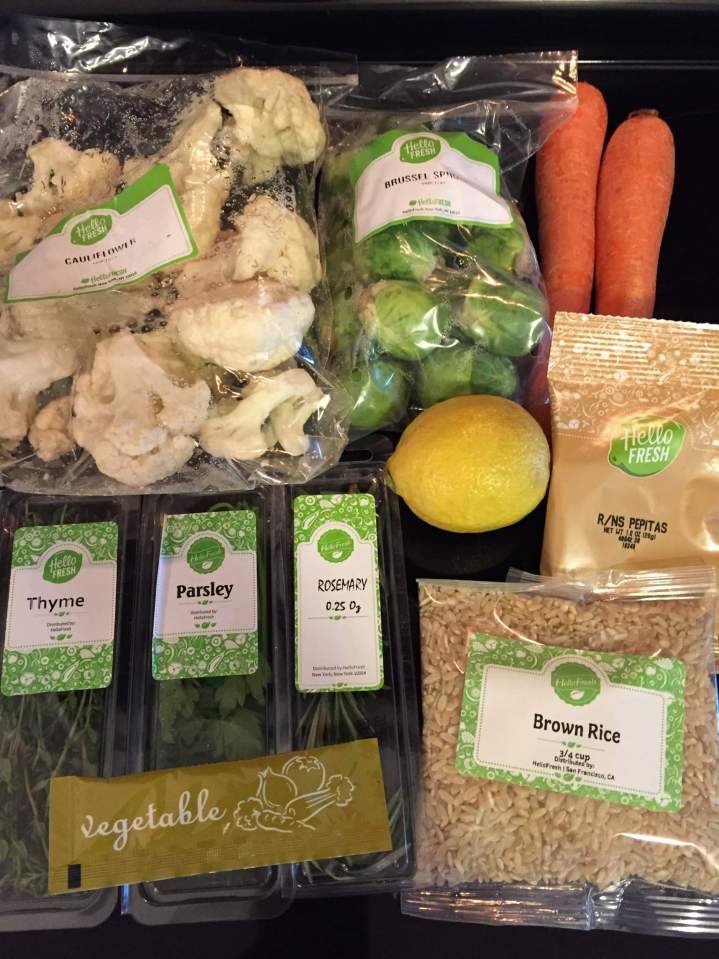 Winter Veggies And Brown Rice With Three Kinds Of Herbs.35-50 minutes, level 1, 612 calories per serving.
This was a warm and filling dinner for us. The colors were pleasant to the eye and the taste was very pleasing to the tongue with three kinds of herbs which also added to the aroma. We are becoming very fond of thyme. Before I received Hello Fresh meals, I used it only in Italian dishes but now I'm using it all the time (no pun intended!). The selection of Brussels sprouts, carrots, and cauliflower florets was a mix that I've never had before and I enjoyed it.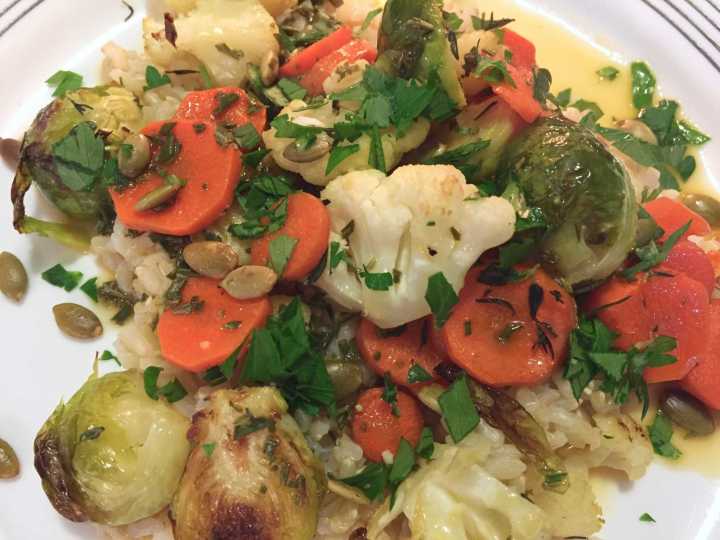 I really like the chef that added a note about making this dish again and giving suggestions about changing the grain.
Good dinner and a good cold night. And of course, there are leftovers for another day!