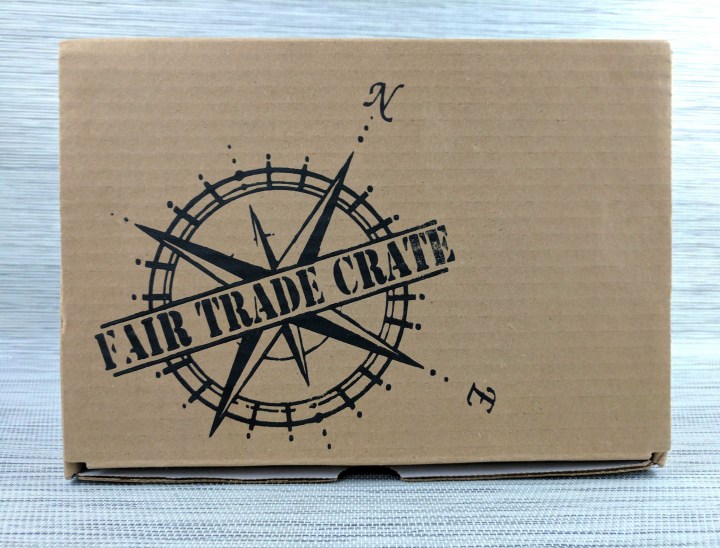 Fair Trade Crate is a subscription box that will bring you fair trade handmade items that are whimsical, practical, delightful as well as those that promote efforts to stop human trafficking, child prostitution and the destruction of endangered species. For $35.95 a month plus shipping, each month you'll discover a new region of the world with handmade gifts and a special item that helps with an important cause from that region. Purchasing the fair trade crate helps to insure the continuation of traditional crafts by enabling artisans to earn a fair wage. Each new subscription will give a baby chick to a family in the community represented in the month's box. These chicks are given in partnership with Heifer International.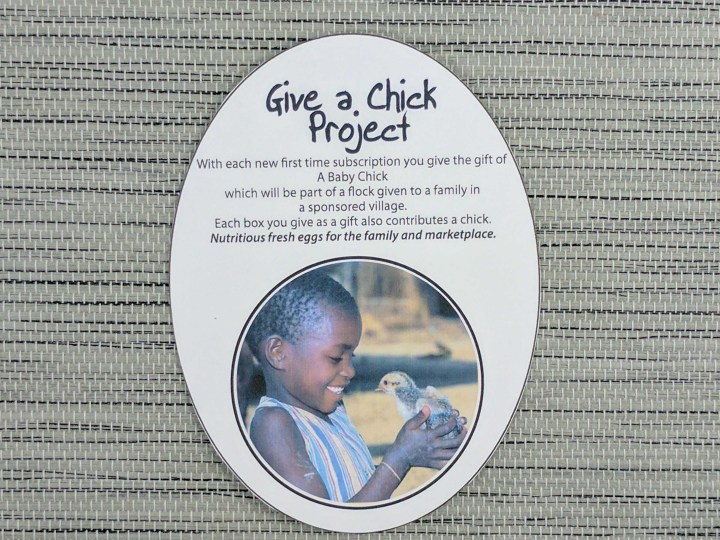 Being the crazy bird lady that I am, I find the Give a Chick project super cute and useful at the same time! Chicks are adorable and they will help families getting nutritious proteins (eggs and meat). Way to go birdies!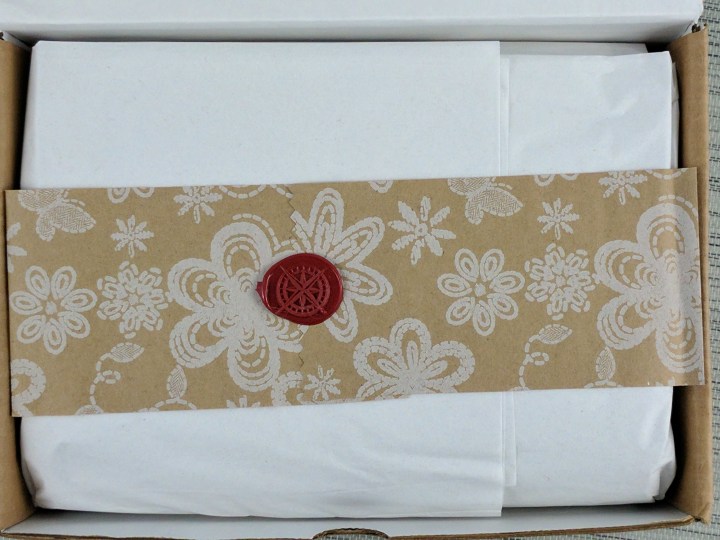 Everything in the box is nicely package in tissue paper with a nice compass wax seal.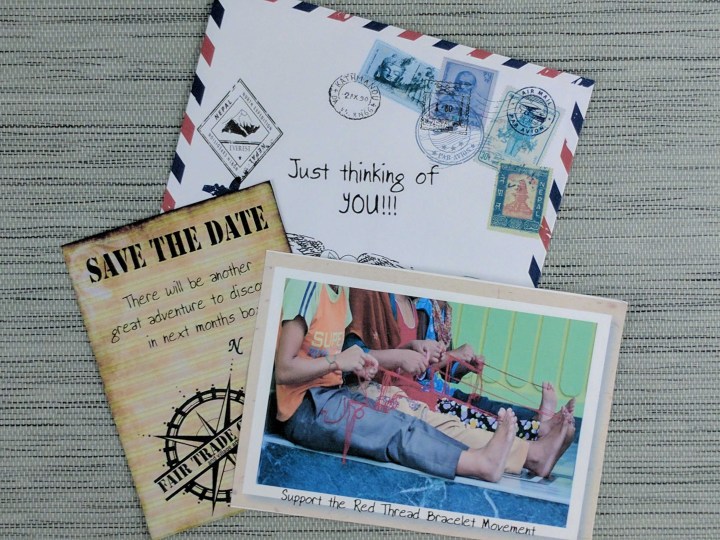 The info card is inside the envelop that gives you a hint about this month's destination! For December, we received this care package from Nepal. Also, every month there is a new cause to learn about and to help support from the region visited. This month, we are learning more about the Red Thread Movement.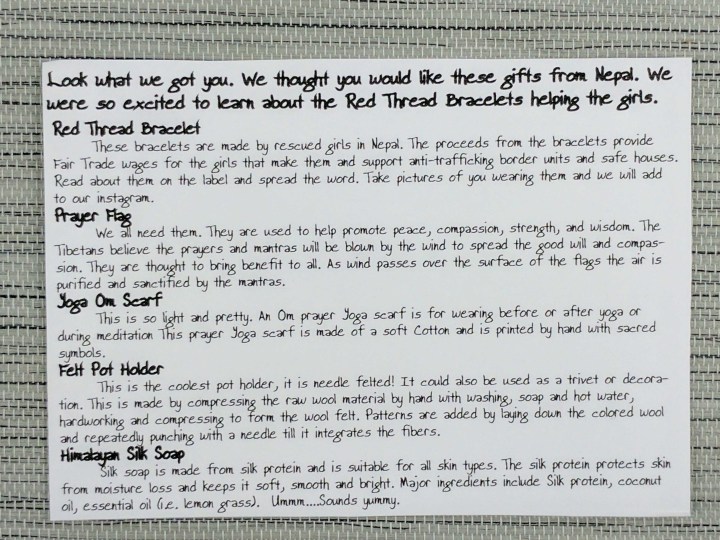 Every item in the box is detailed on the info card. The first item is linked to this month's cause.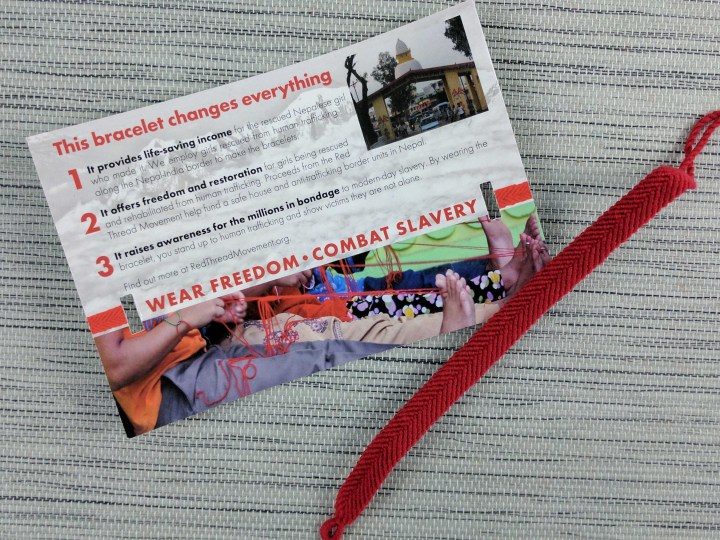 The Red Thread Movement by Eternal Threads. This movement is to raise awareness about trafficking, especially to help Nepalese Girls to find a safe place for victims of sex trafficking to live and heal. The bracelets are made by Nepalese girls rescued from trafficking and accomplish three goals
Making the bracelets provides employment for rescued girls in the safe house in Nepal, The sale of bracelets helps fund the safe house that welcomes them, and Wearing the red bracelet creates awareness of sex trafficking worldwide.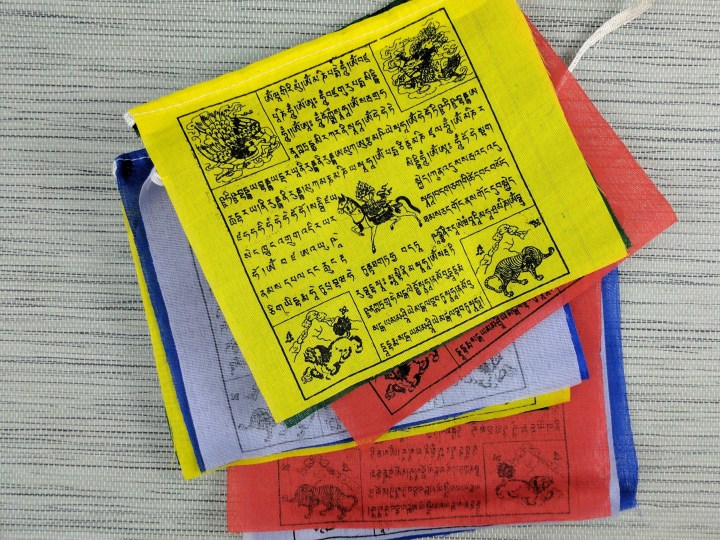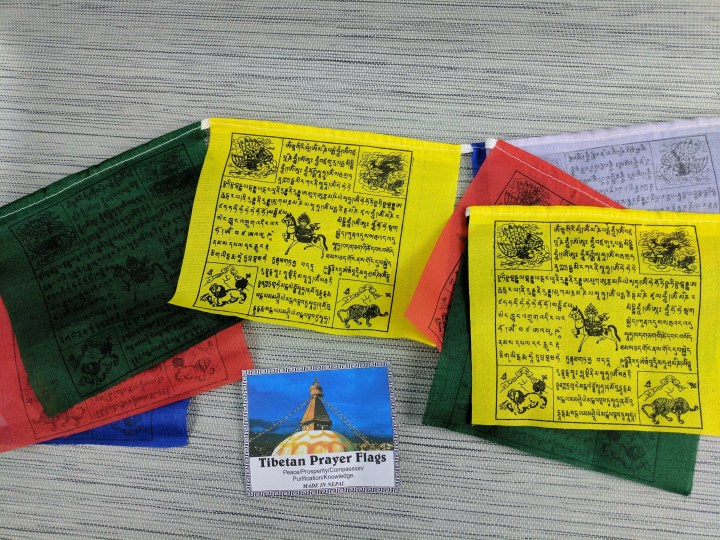 Prayer Flag. Tibetan Prayer Flags are used to help promote peace, compassion, strength, and wisdom. There is not much more information about these flags or where the were made, or by who, but they are a symbol of Nepal. I really like them and I'll display them on my office wall.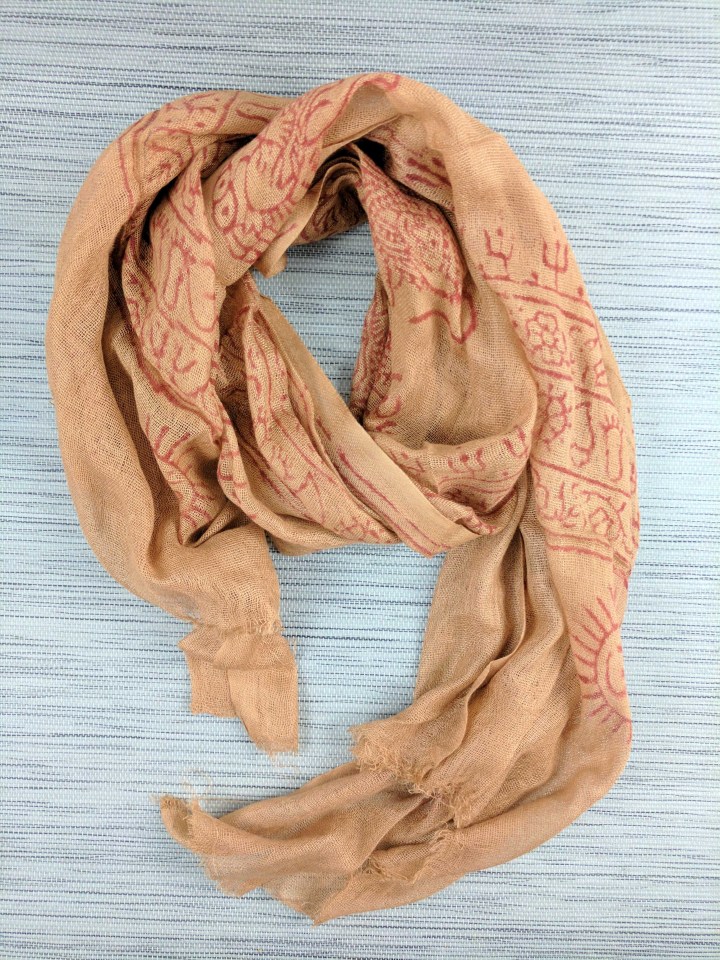 Yoga Om Scarf. I love scarf. I would wear scarf all the time. I wear scarf in the middle of the summer and this one is light and flowy! I like the subtle colours, and I like the design. The scarf is made of a soft cotton ans is printed by hand with sacred symbols. I just wish I knew more about those symbols to fully appreciate this scarf.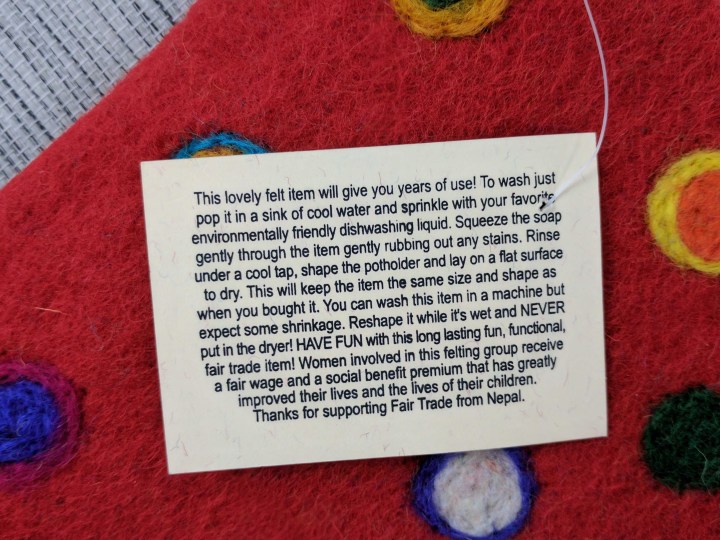 Felt Pot Holder. This is such a neat item! I love it! It's bright, colourful and it's one of my favourite design (I love polka dots!). It's pretty thick, so I'm sure it'll protect any surface from my pots and pan! I can see a lot of use in the near future!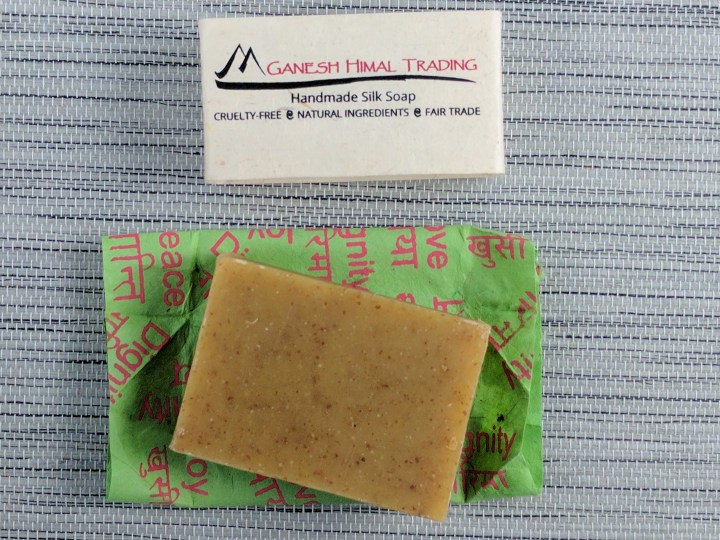 Himalayan Silk Soap. I had never heard of silk soap before, I'm intrigued! This soap is made from silk protein, coconut oil and essential oil (lemon grass). The smell is very subtle, and it's quite soft to the touch. I can't wait to try it!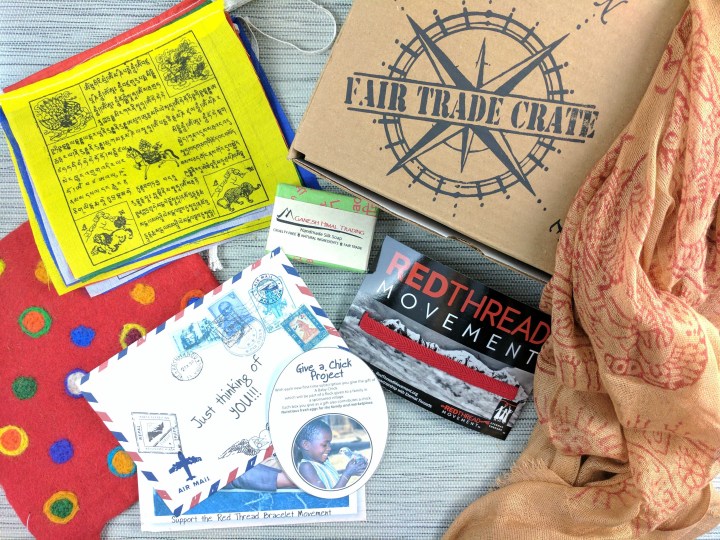 This was such a great box! I love that it mixes a great cause to great handmade items. I like that we get to discover different regions and causes. I just wished we would have had a bit more information about the people behind the handmade items. I'm looking forward to see what next months will bring us, and where!
What did you think of this month's Fair Trade Crate?