Eattiamo is an authentic Italian food subscription delivered to you monthly for only $69 per box. You'll get 7 full-size products, enough for a complete three-course romantic Italian dinner at home!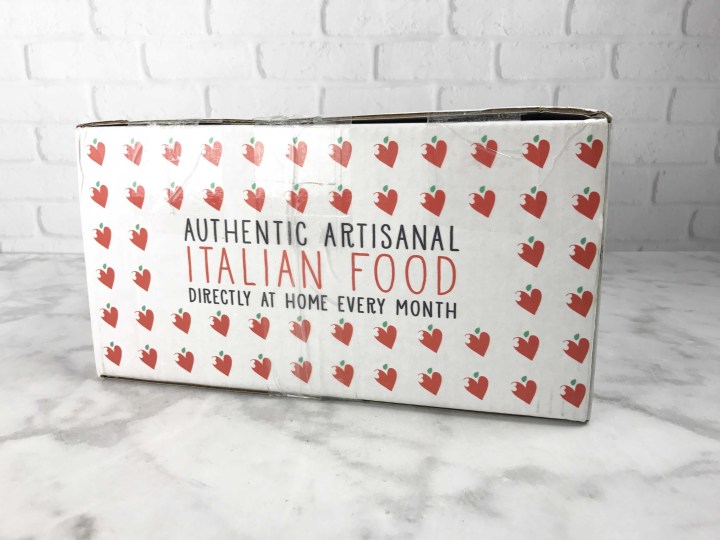 DEAL: Get your first Italian gourmet box for 20% off + free shipping anywhere in the US! Use coupon code HELLO.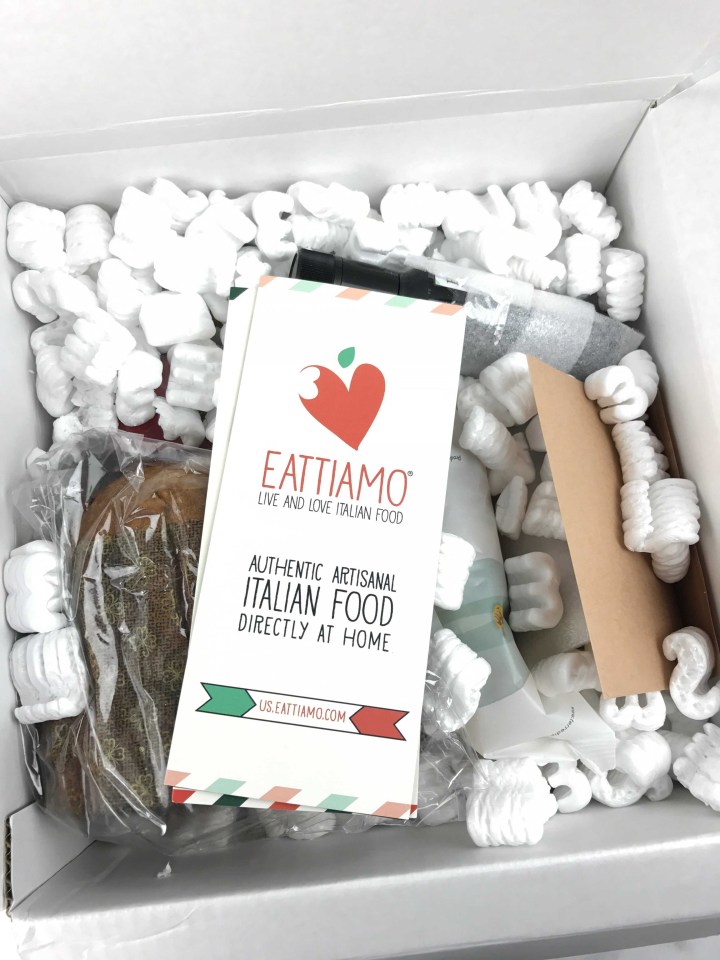 The items are well protected by custom-made styrofoam peanuts – they are little E's and S's.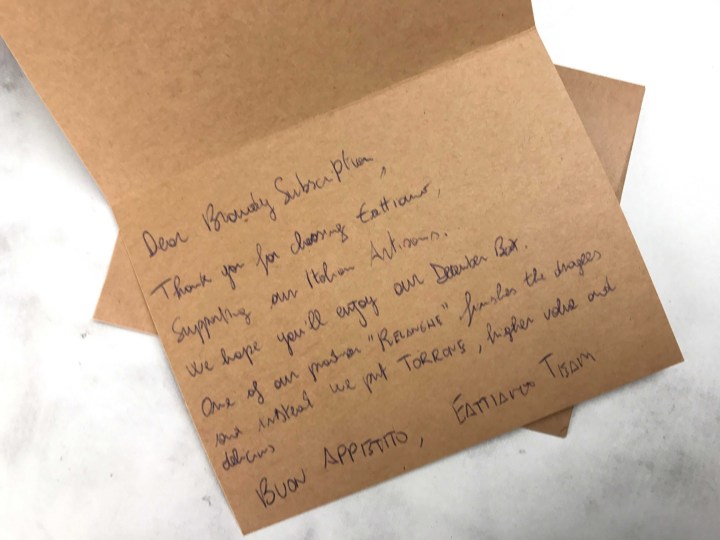 A short note from the Eattiamo Team – we ordered on the last day of the month and there was an item substitution (they wanted to make sure we got the holiday box and we weren't disappointed!).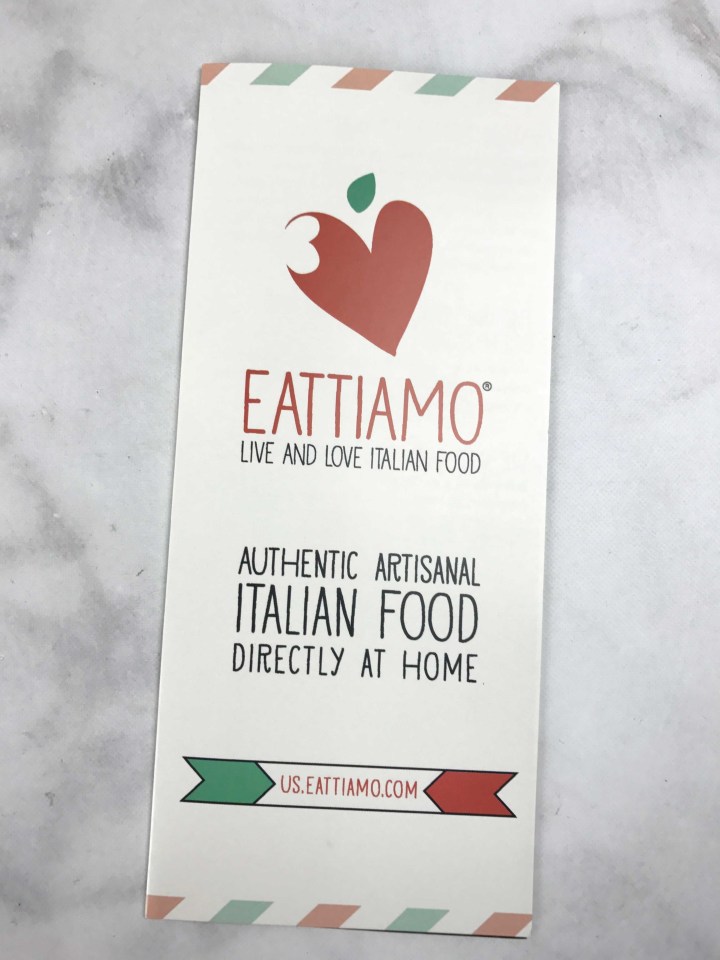 Their info card reminded me of a pizza shop menu.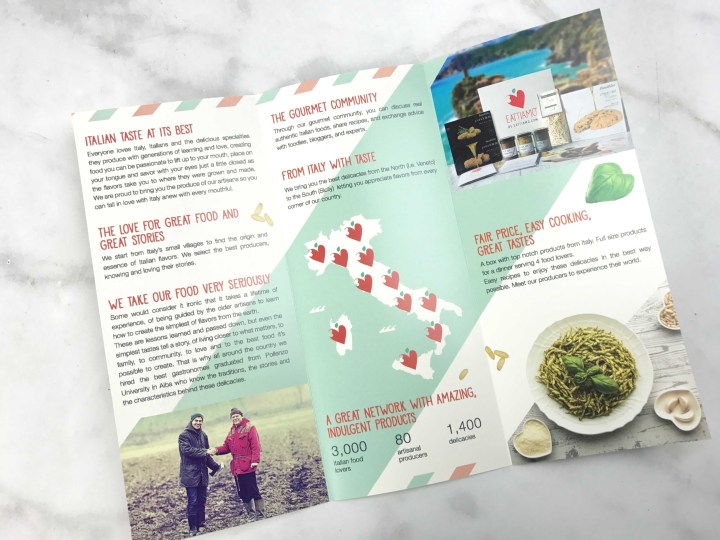 Inside is some info on the company and its philosophy. The simplified map in the middle shows the geographic scope of Eattiamo – it covers all of Italy, one region at a time.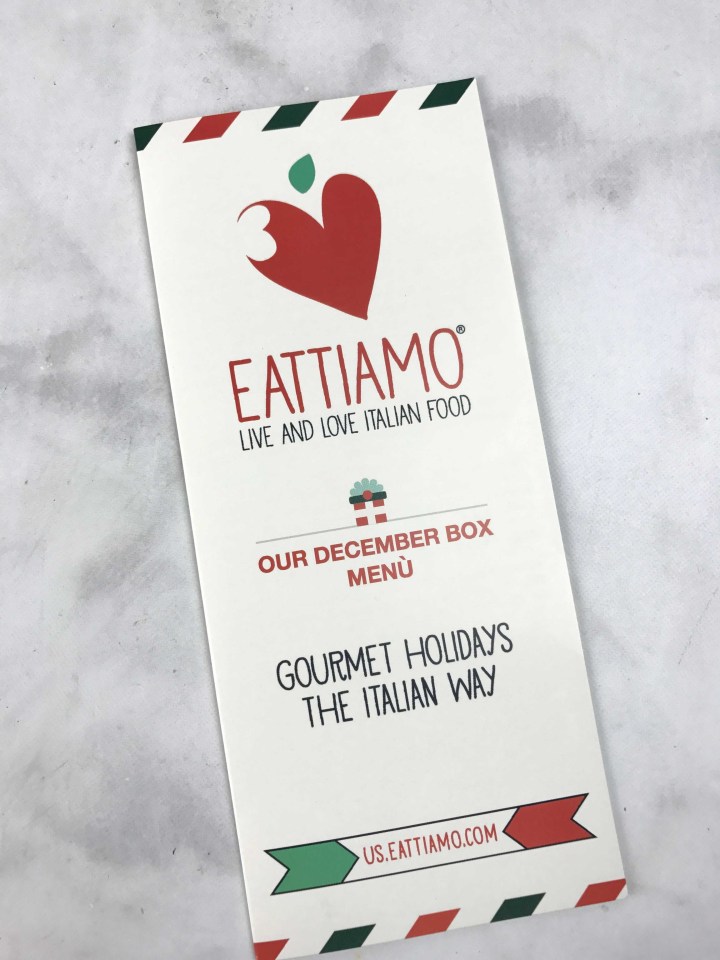 The theme for December is Gourmet Holidays – The Italian Way. My instinct was correct on noting the similarity to a menu – the box-specific info booklet is called a menù.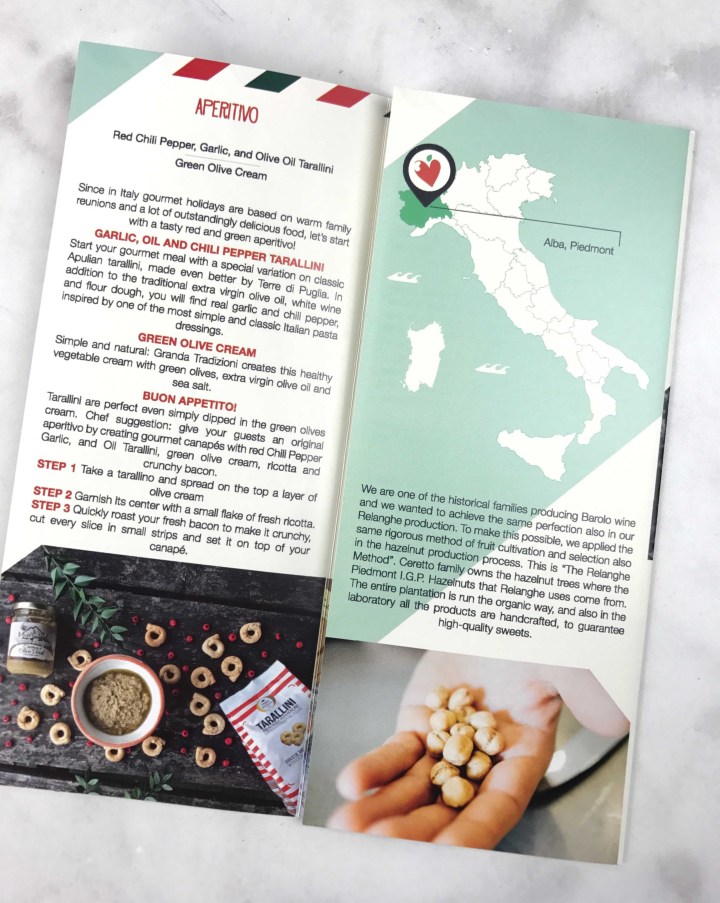 The tri-fold menù is set out in menu format, with the items separated into courses. Each has a suggested preparation for the ingredients provided for that portion of the meal.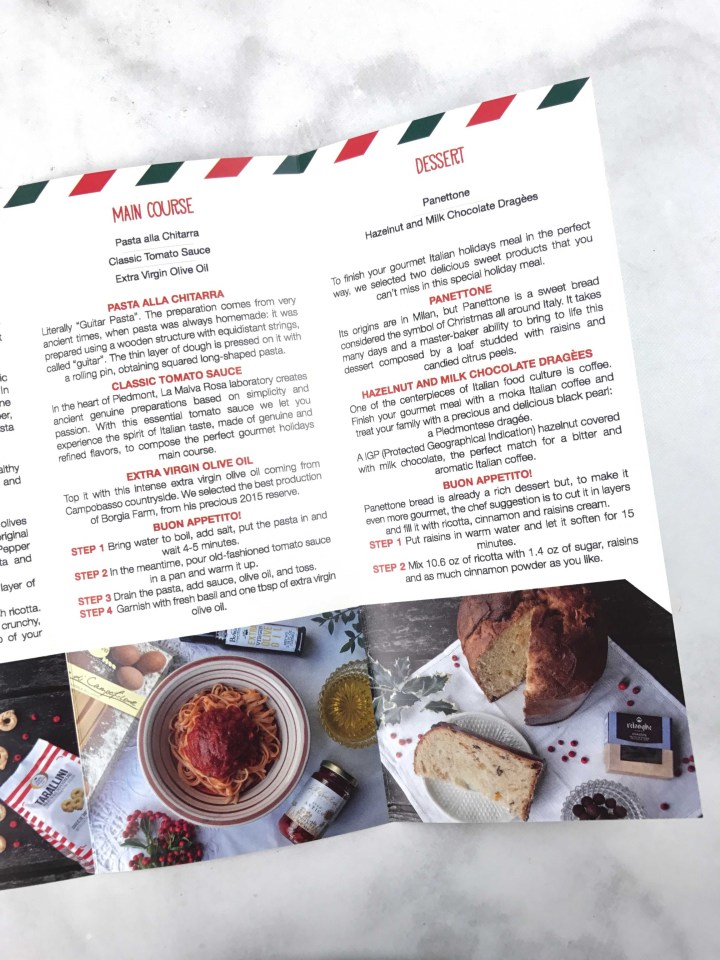 The booklet sets out recipes for an entire three-course meal, complete with instructions and tips.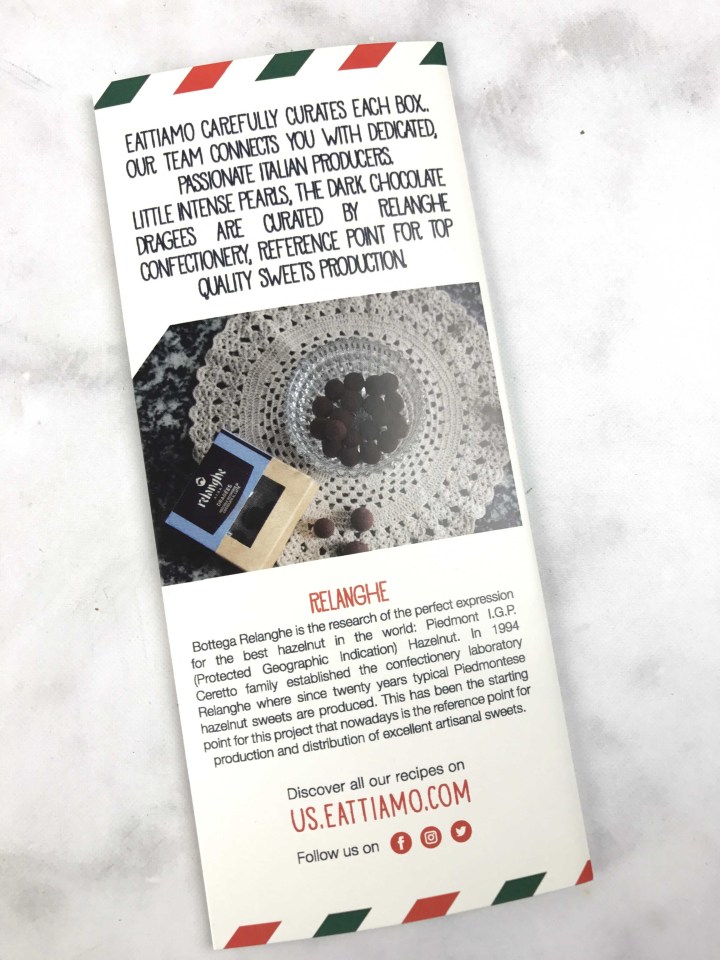 Lovely photos of each item were included, and they have even more recipes available on their site!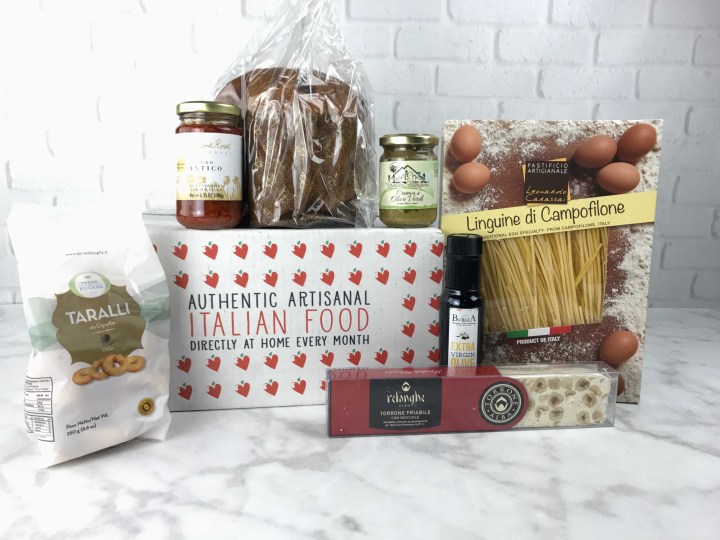 Everything in my December Eattiamo box!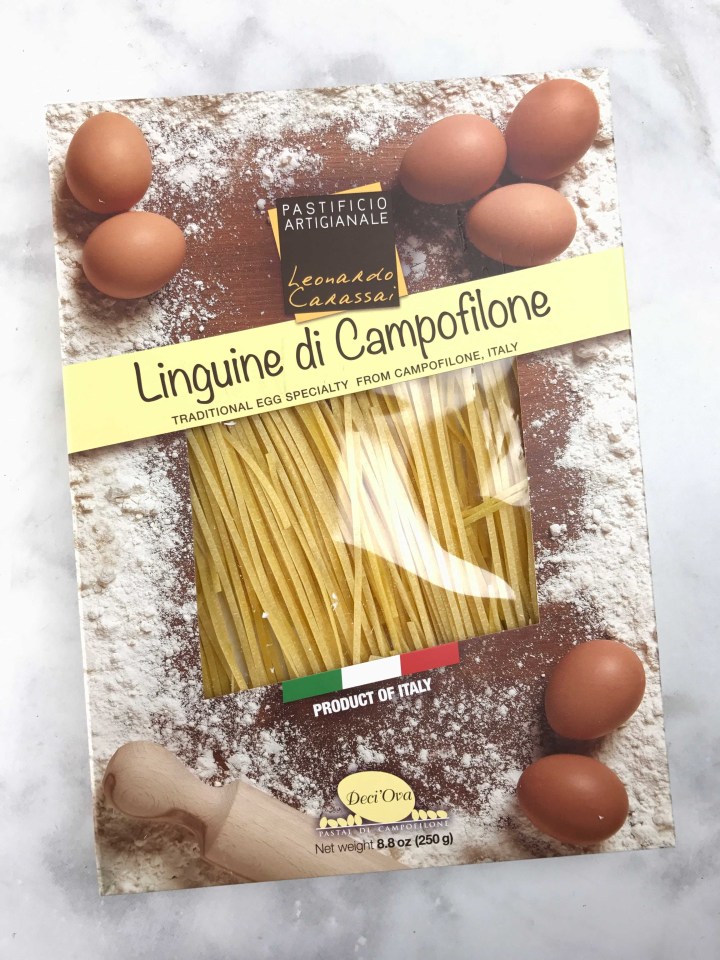 Pastificio Artigianale Linguine di Campofilone: This linguine is very fine, and it retains a slightly springy, light texture when cooked, reminiscent of rice noodles. The style is known as Deci'Ova, because ten eggs are used in every batch of pasta.
Terre Di Puglia Taralli alla Cipolla: These are like little breadsticks that wish they were mini bagels. The texture was very surprising, in a pleasant way. They are promoted as Italy's version of the pretzel, and I expected a hard, dry texture. Instead, I found them to be crumbly and unctuous, more like a buttery shortbread cookie than a pretzel. The onion flavor is mild and pairs well with the olive oil infused throughout the bread.
Granda Tradizioni Green Olive Cream: A lovely topping for appetizers, this spread is made with green olives, olive oil, and salt. The texture is delightfully smooth and luscious.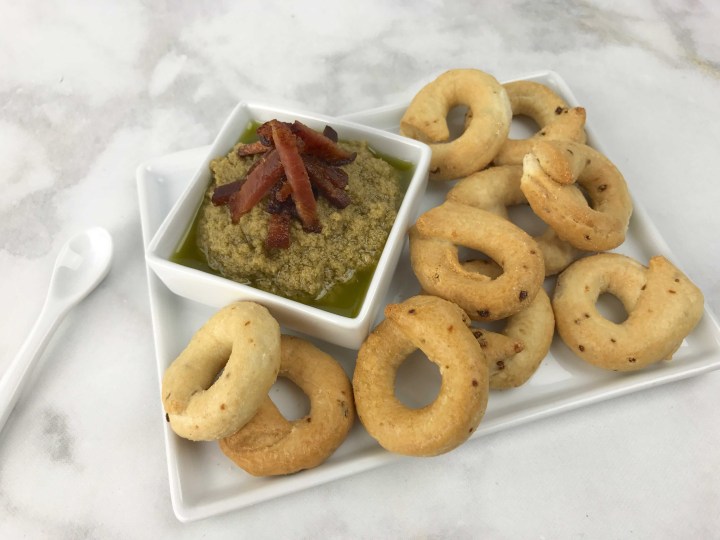 The olives have a delicious flavor, and I was glad to find that the mixture was not briny and had a freshness to it (fresh, that is, for an agricultural product that requires curing before eating!). We took the booklet's suggestion for an canapé, serving our taralli and crema with some delicious Sundried Tomato Bacon from our January 2017 Bacon Freak box.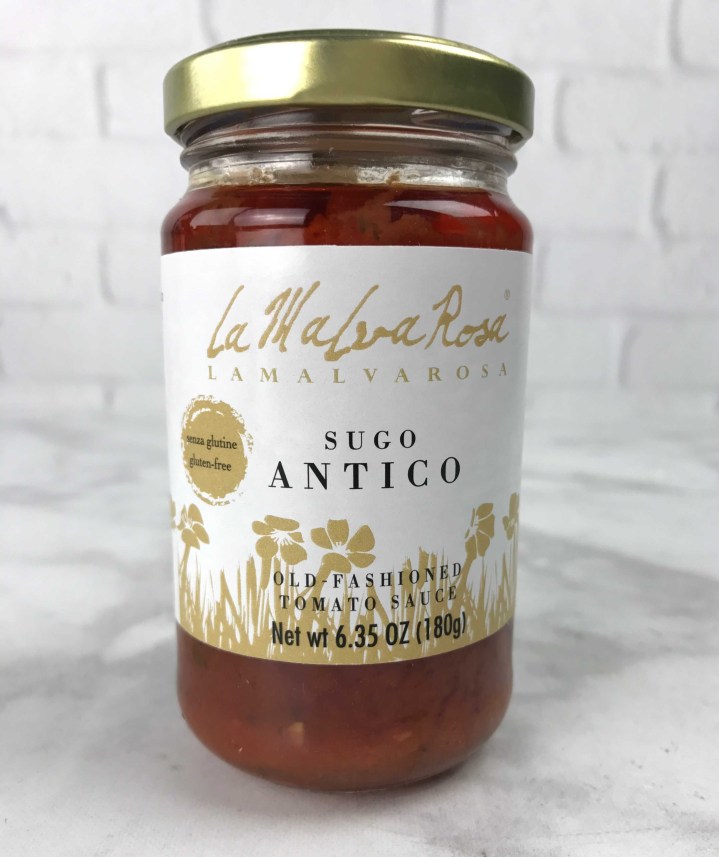 La Malva Rosa Old Fashioned Tomato Sauce: This sauce has a comforting, rustic feel to it, with lots of texture and non-homogeneity. It is simply made with tomato, olive oil, aromatics and spices.
We paired the linguini and the Sugo Antico for a lovely pasta course. The pasta retained its texture well, and the sauce had a pleasant amount of oil that coated the noodles once tossed. The flavor was intense, with the tomato displaying a concentration of flavor nearing sun-dried levels. The consistency and power of the sauce meant that the small jar was sufficient for a full batch of pasta. The pasta was eggy, filling, and delicioso!
Relanghe Alba Torrone friabile con Nocciole: A traditional delight, torrone is a confection comprising dense nougat, usually poured over nuts, the slab then being sliced into bricks. This version is "friable," meaning brittle, or crunchy, rather than the more soft and chewy version. It is loaded with hazelnuts from Piemonte, an area famous (and having earned a regional designation) for the prized nuts. This block was huge – and I love the way you can tell the nuts were whole, not remnants, prior to slicing of the slab.
The package shows the painstaking harvesting and hand-selection used to maintain the superior quality of the hazelnuts used in the product.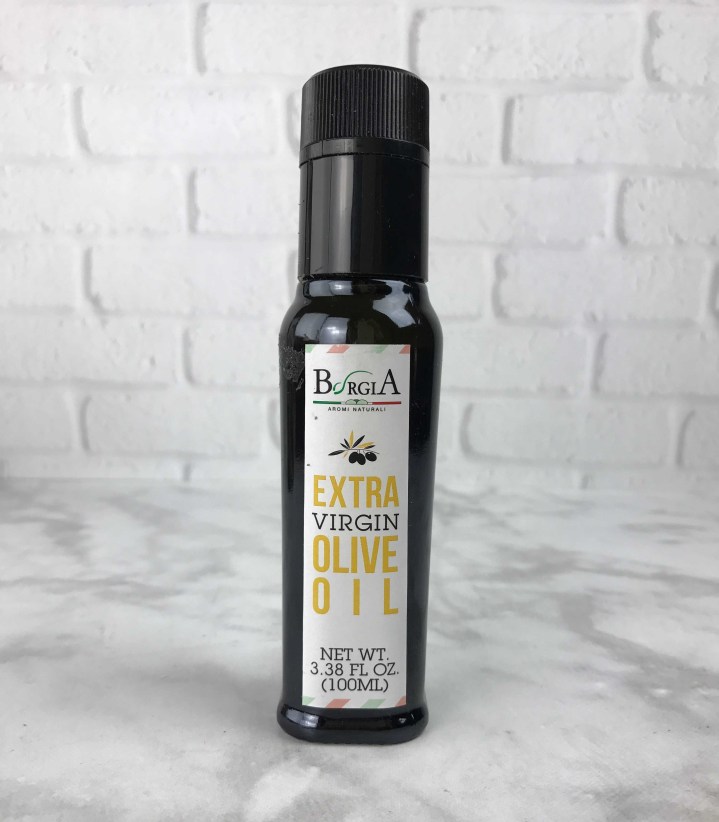 Borgia Extra Virgin Olive Oil: What is an Italian box without some olive oil? This extra virgin pressing is perfect for serving with bread or appetizers. You can cook with it, too, of course.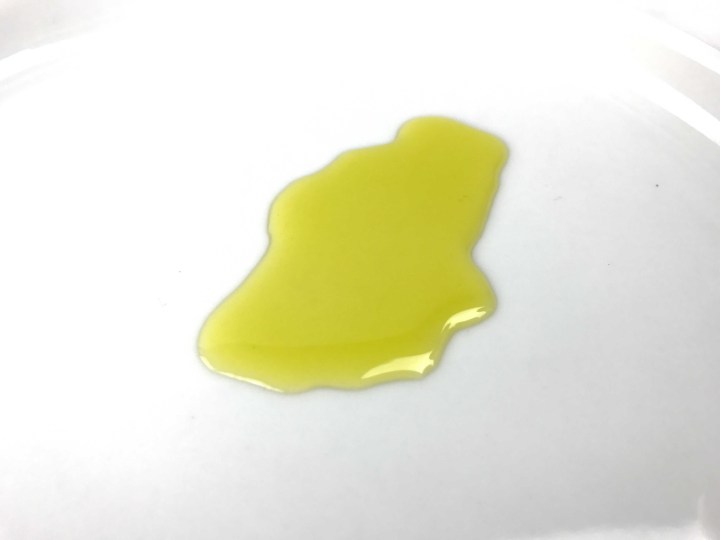 It has a lovely richness of color – golden with a hint of green.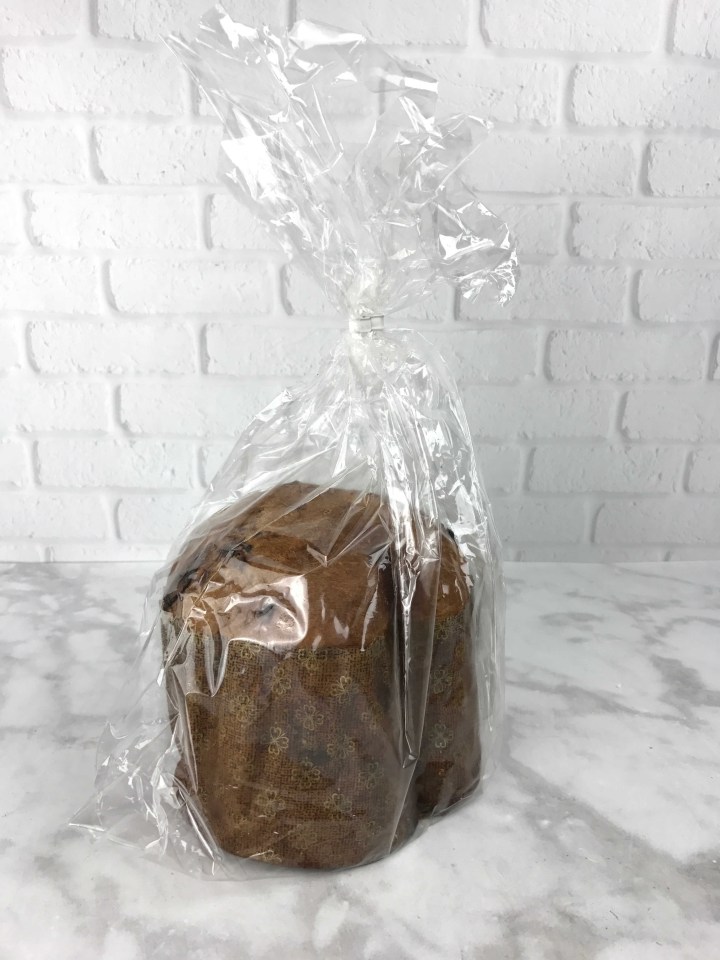 Panettone: This fantastic bread has become a staple of Christmas and New Year celebrations, but it also makes a great dessert year round.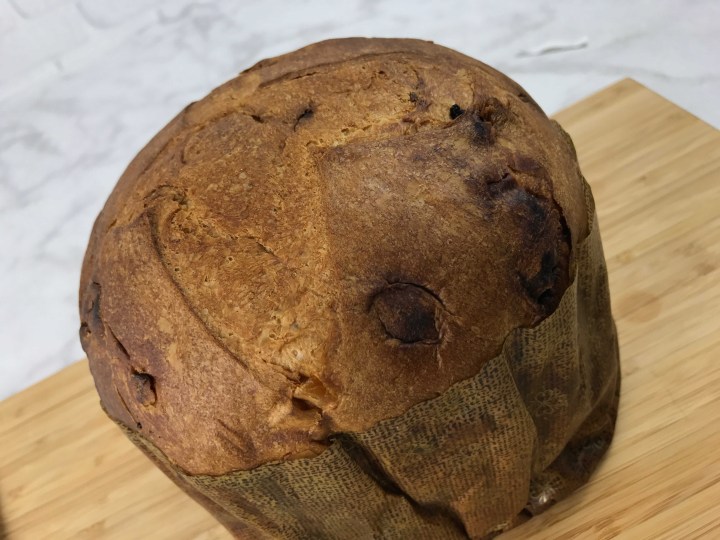 The loaf has dark crust, with a sweet and fluffy interior.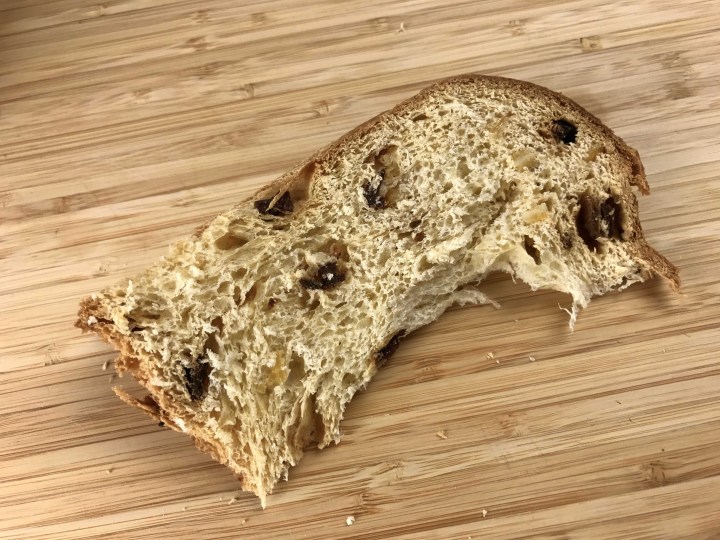 The inside is dotted with raisins and dried fruit. It is the antithesis of the fruitcake, apart from the inclusion of candied fruit. The booklet includes a suggestion to serve layered with cinnamon ricotta for a layered treat.
We loved that this box covered from appetizer to dessert, with suggestions for serving each item. Many boxes contain gourmet items, but a lot of effort is required to get the food to table in presentable fashion – the foods in Eattiamo formed the main element of each dish, so little extra was required to put together a fantastic three-course meal. It was great to see such authentic items – made in Italy and not specifically for export. The flavors of all the items were amazing, and we gobbled absolutely everything.