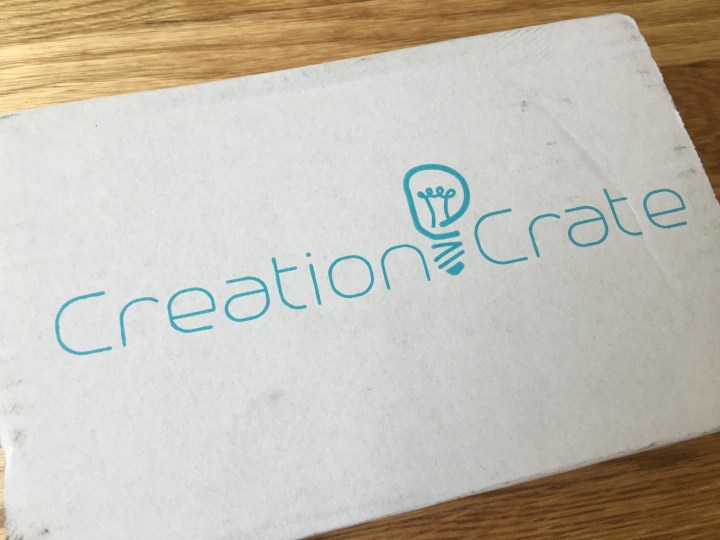 Creation Crate is a monthly subscription box to help you learn about electronics. This box isn't just for kids – it's suitable for anyone age 12+ who wants to learn or enhance their electronics and coding skills! The subscription costs $29.99 per month, and you'll get to learn how to build simple electronics project without any experience required. It's fun and definitely educational!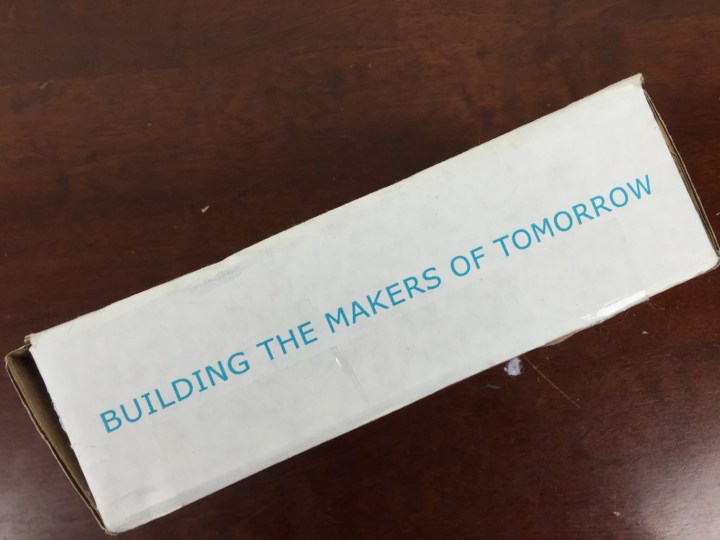 Creation Crate is helping to build the makers of tomorrow, or so their box says. This subscription is ideal for those who love puzzles, building things, and of course, if you want to know more about building electronics!
DEAL: Save 10% on your first box with coupon code HELLO10.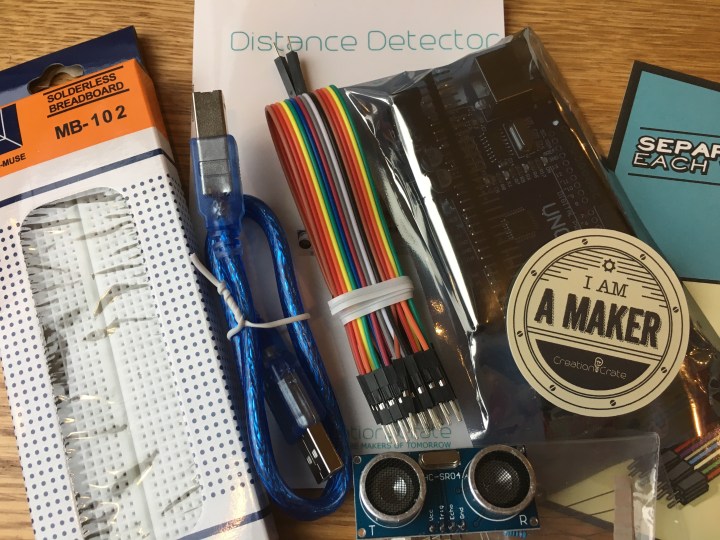 After a gap so long that I thought the company had gone out of business, Creation Crate sent me this month's project, a Distance Detector.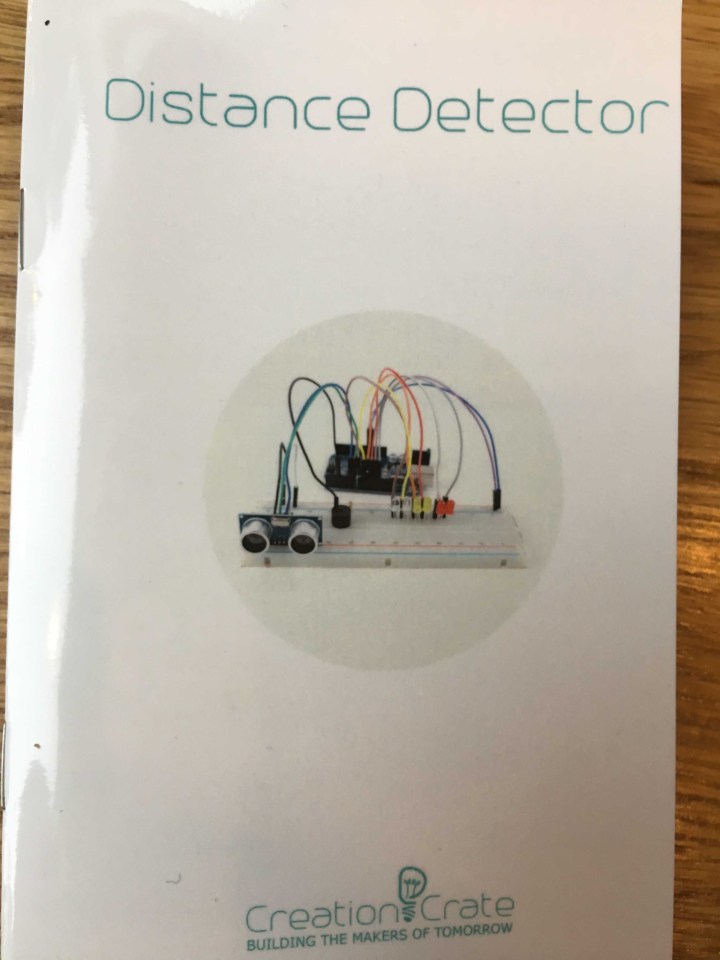 The information booklet contains all the details about the project of the month. It includes all the materials needed to make the Distance Detector.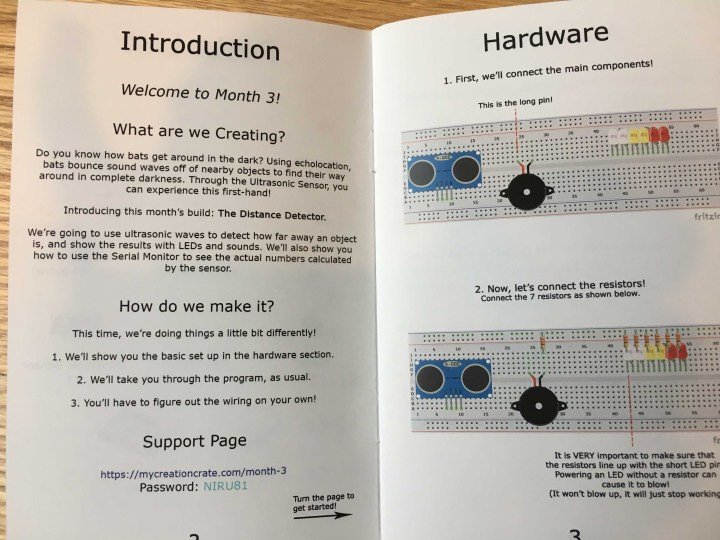 There are two parts in creating the project. First is building the hardware. The instructions are shown on the pages of the booklet above.
If you need a clearer view of the diagram, you can just visit the Creation Crate website. It's worth noting that once you sign up on Cratejoy for this subscription you'll get access via the booklet to the monthly instructions, and everything is slick and well-done.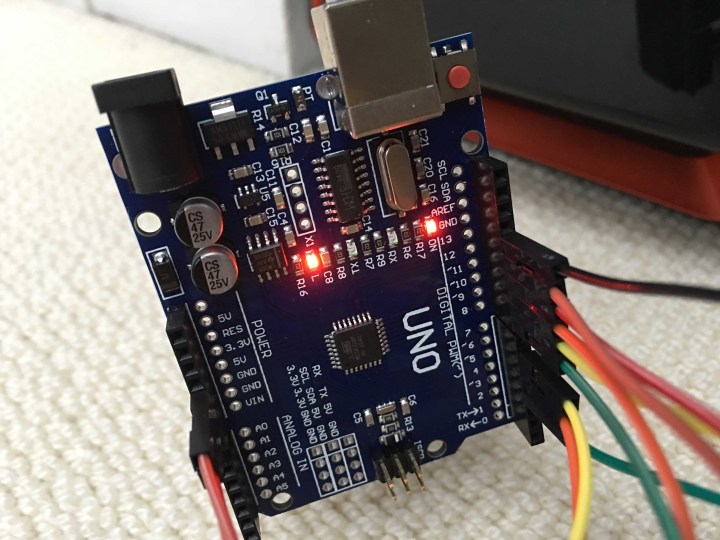 I have many talents and nerdy interests, but wiring and coding are not among them. Fortunately, I have a family full of supernerds who love this kind of stuff. My husband and the kids messed around with this Creation Crate over the weekend. Unlike the previous two projects, the wiring instructions were not laid out step-by-step. While it was fun for the fam to tinker with this, my husband said it was like going from kindergarten directly into 5th grade – it was a big jump that the kids definitely needed a hand with.
The code and extension questions for the box followed – the instructions detail exactly what you have to do to get your Distance Detector running. They downloaded Arduino and the driver for the PC, typed in the code, and uploaded it to the board.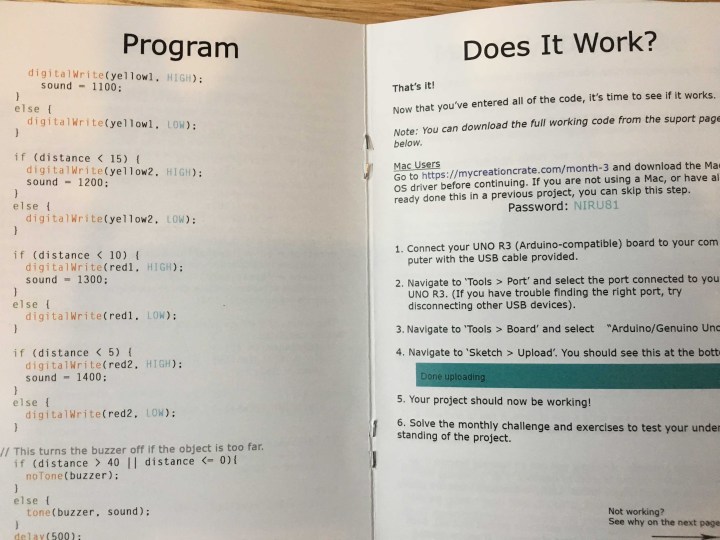 The wiring needed a second round of R&D, but that's half the fun of tinkering (I'm told by people who like tinkering).  The booklet contains "common errors" to help you along in the process.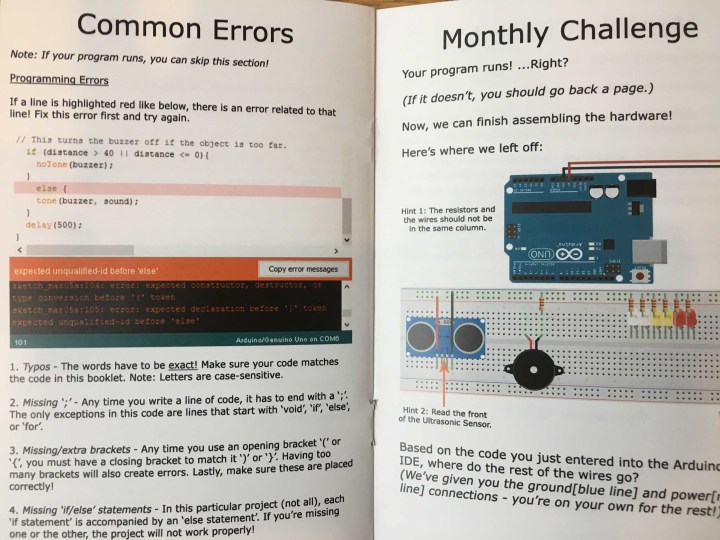 And it worked! Loudly. Over and over again.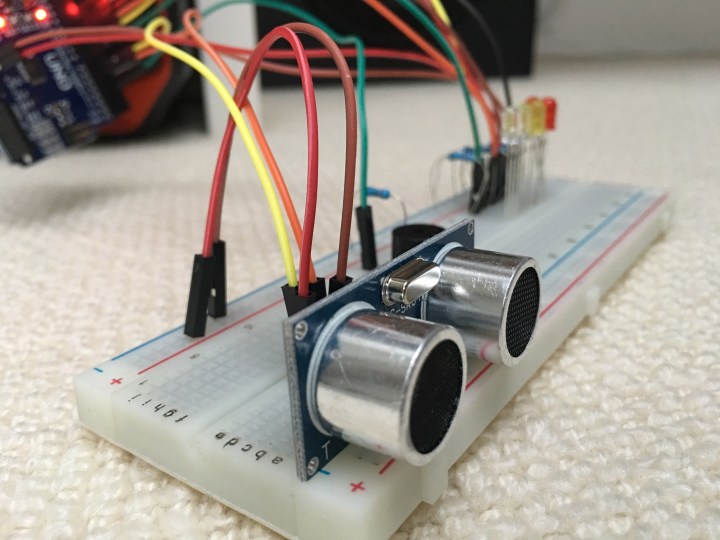 This was a fantastic box and perfect for anyone who wants to tinker with Arduino builds but isn't sure where to start. I do wish the instructions had been a bit clearer (and larger). Also, the instructions lacked the "why" to explain why things worked, which is a fault I find in a lot of tinkering boxes. Anyone can follow directions, but knowing why something works is how you can actually build something on your own. This subscription does have room to grow, but it's been a lot of fun so far and the kids have really enjoyed this awesome exposure to coding and building.
A few additional things I want to point out – the price goes down by a good chunk each month with a longer term subscription, and shipping is free worldwide! Also, EVERY BOX comes with an Uno R3, which is a $25 board. EVERY BOX. Obviously, they're able to obtain them at a magical discount, which is really awesome for subscribers! This also means that you don't have to disassemble your project.
Next month is… a timer? (Probably not).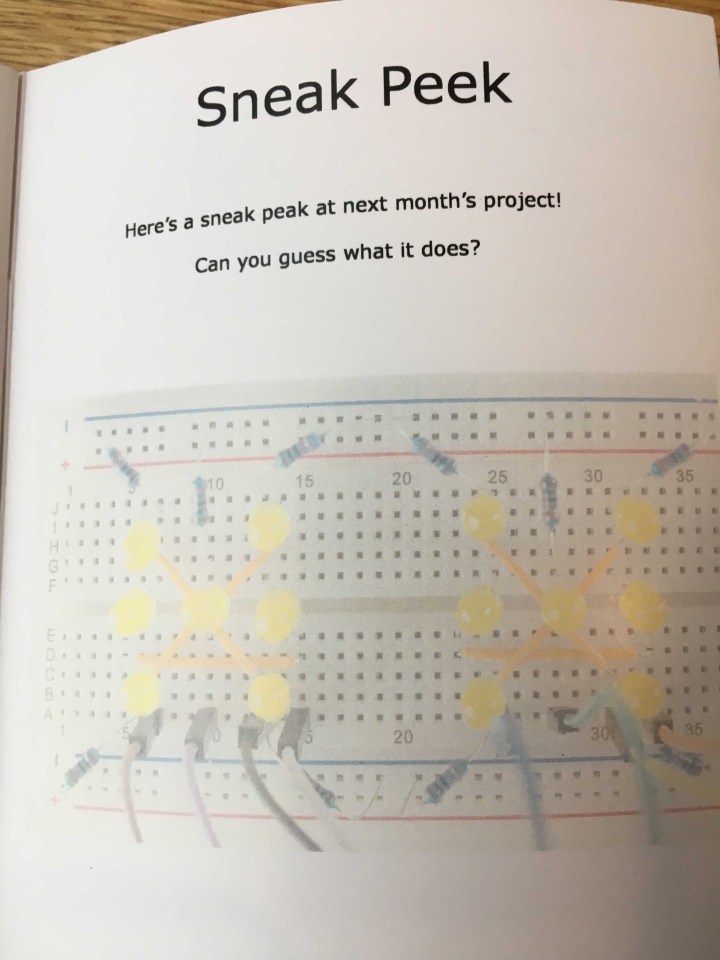 But maybe!
What did you think of Creation Crate? What do you think next month's project will be?  Tell us in the comments below!