The Carnivore Club holiday box goes above and beyond. It comes in a great tin, but the contents of that tin are really where it's at.
The holiday selection features pork products from La Quercia. La Quercia means "the oak" in Italian. The founders of the company started La Quercia to create premium quality American prosciutto, then applied what they learned to their other cuts of pork. Their appreciation for cured meats grew out of the three and a half years they lived in Parma, Italy, prosciutto's area of origin, where they saw how the careful treatment of fine materials resulted in an accessible, sublime and entirely regional cuisine.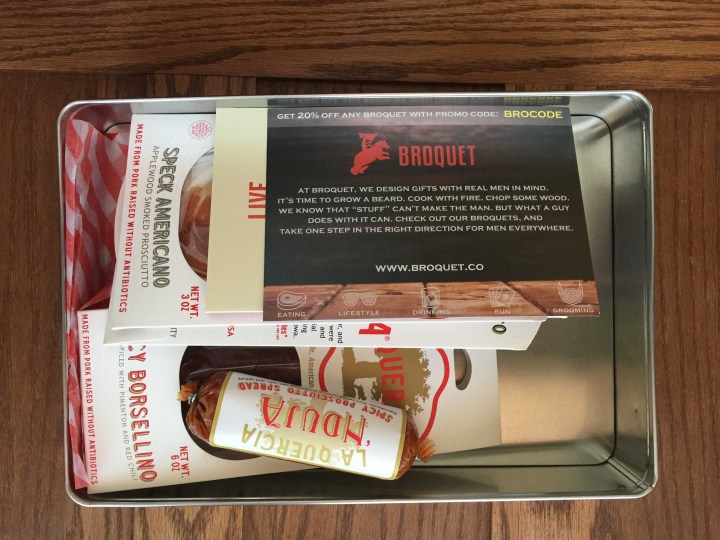 Their ambition to create their own prosciutto came from the desire to take the bounty that surrounds them in Iowa to its highest expression. They seek to contribute to the growth of premium artisan-made American foods by offering unique dry-cured meats of the finest quality.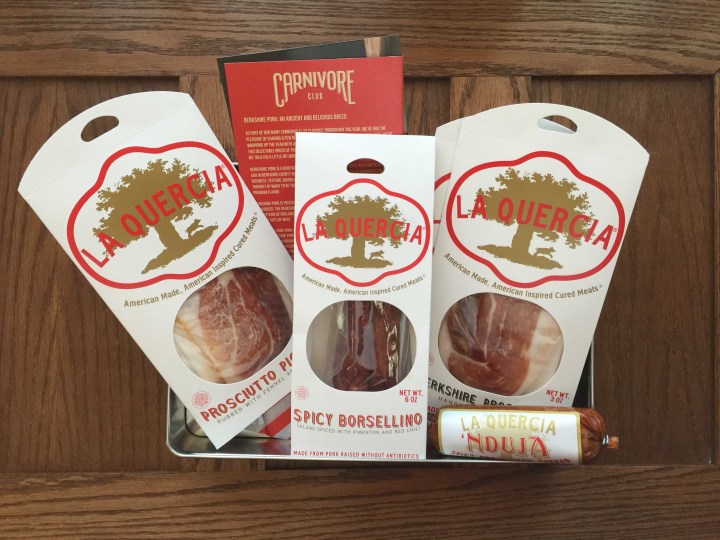 This holiday box from Canivore Club features five different selections of pork products from La Quercia: 'Nduja, Berkshire Prosciutto, Speck Americano (Applewood Smoked Prosciutto, Prosciutto Piccante, Spicy Borsellino.
The Carnivore Clue includes an insert which tells you about the artisan who produces the meats, as well as a description of each of the meats featured in the box.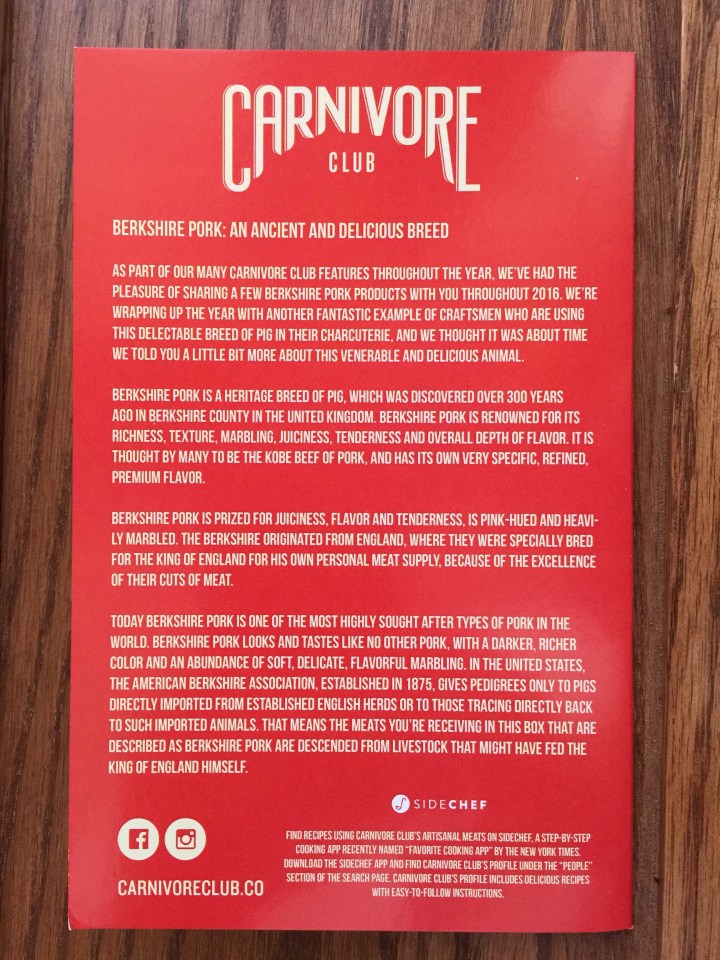 I have to say, of all the Carnivore Club boxes I've had so far, this one is a home run. The La Quercia meats are all delicious, and some border on the sublime. If you like pork – and who doesn't like pork? Then, you are not going to be disappointed in this box.
So, on to the meat!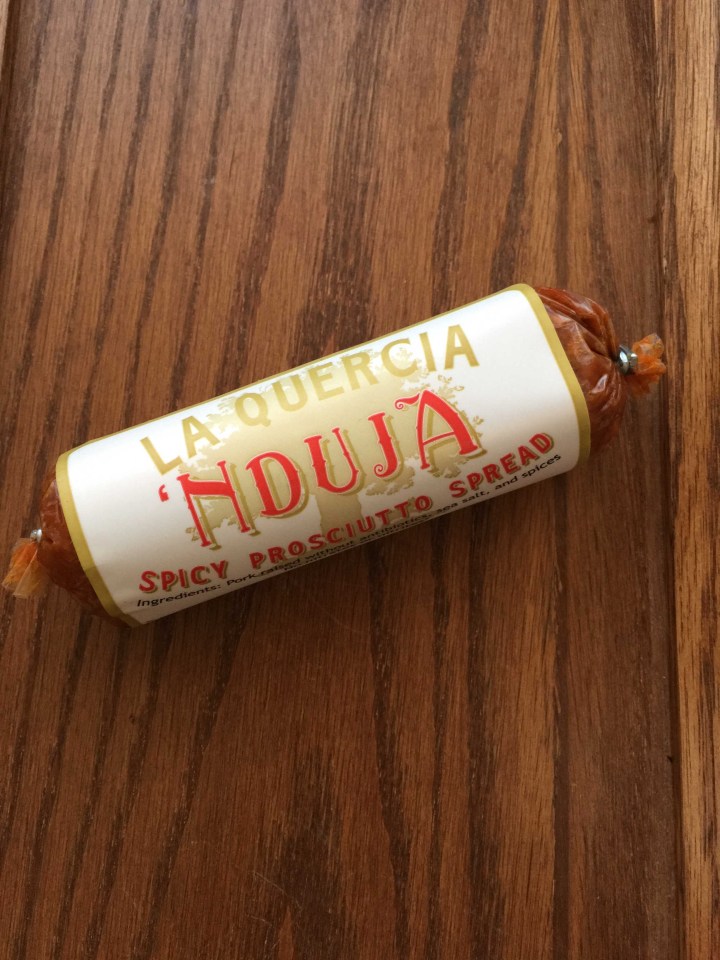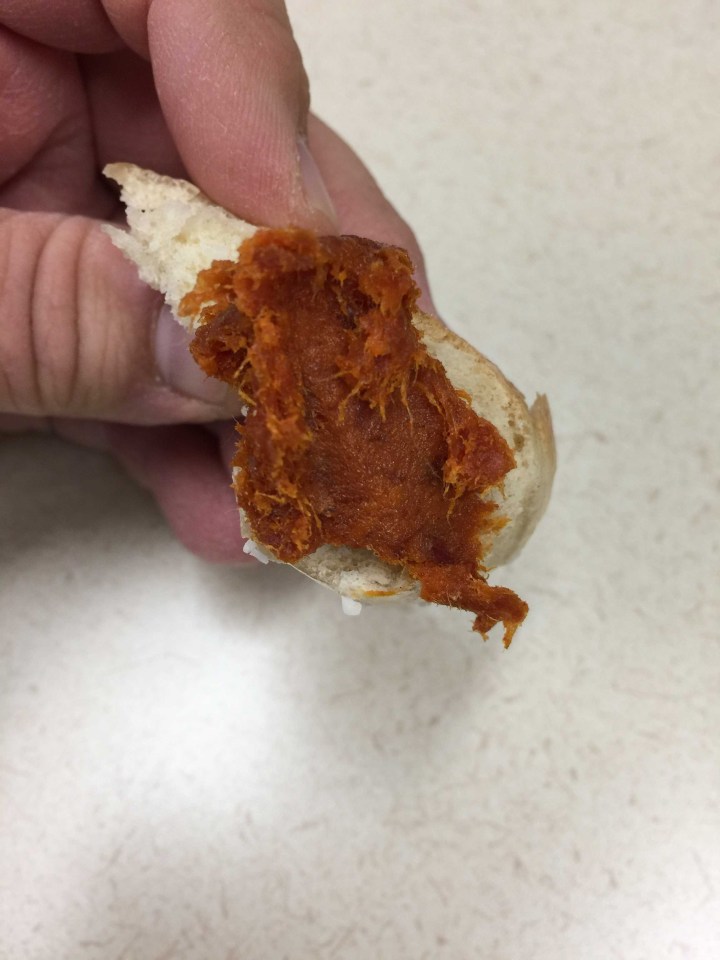 'Nduja
What They Said: Historically, this wonderful spreadable salami was made with the leftover bits of the pig, like meat from the face and various fat trimmings. Today, most 'nduja is made with meats from the shoulder or belly. What you're about to experience is the next level of 'nduja. Spicy, flavorful, and packed with umami meatiness, this spread is made with fully cured prosciutto and speck, sea salt, and red chili pepper. Extremely versatile, 'nduja can be used to spice up a pasta sauce, grilled cheese, or pizza, but is also divine just slathered on warm bread or a cracker.
What I Say: I love 'Nduja. I had actually never had it until Carnivore Club introduced it to me in another box, and this version from La Quercia is fantastic. It has a really great, spicy salami taste that you can spread on bread, crackers, a spoon… because it's soft and spreadable, I'm sure it is really versatile, but wouldn't know – it didn't last long enough. I happen to love it on bagels, yes, bagels, for breakfast. But it would make any sandwich zip, and I suspect it would be great in a pasta sauce. It's not overly hot, just the right amount of spice and a velvety, rich mouthfeel that makes it hard to stop eating. That's something that all of these meats have in common – once opened, none of them will last long.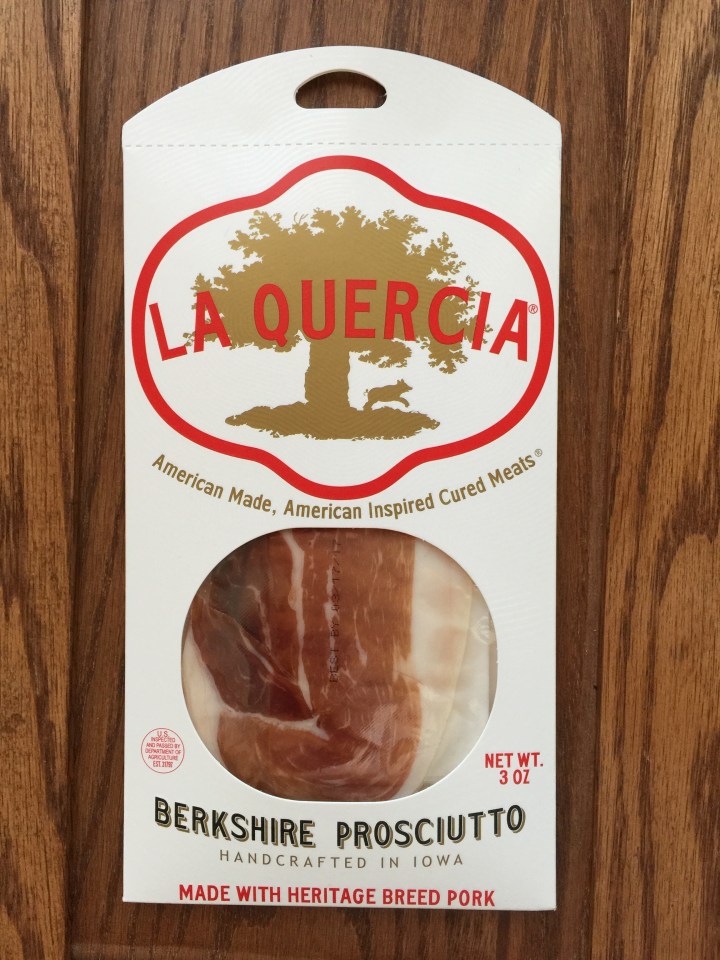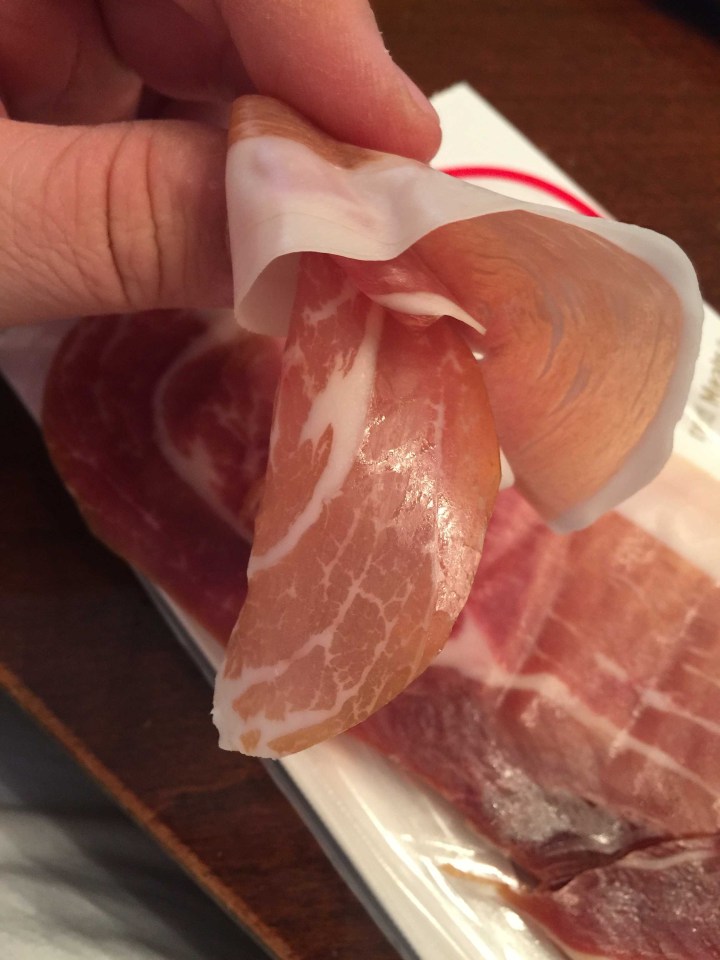 Berkshire Prosciutto
What They Said: Rich, incredibly smooth, sweet, this prosciutto is made from the ham of the Berkshire pigs, a rare British breed prized for juiciness, flavor, and tenderness. This meat is carefully and methodically aged for 18-24 months, meaning the meat you're about to taste has been years in the making. "If it is possible for pig mean to be creamy," raved on reviewer, "Then La Querca's is pork butter."
What I Say: If you don't like prosciutto, well, I'm not sure what's wrong with you. If you haven't ever had prosciutto, this one would be a fine one to try. You see that white strip of gorgeous pork fat? It's like silk on your tongue and melts into pork goodness as you taste the meaty, salty, amazingness of the pork. I don't know if I would go quite so far as to call it pork butter – because there's a really good thin slice of meat there, too, but that fat is just so velvety, soft, and well, transcendent that it's not that far off the mark. The next two prosciuttos are outstanding as well – but in my opinion, you cannot go wrong with this "straight up" traditional offering. They must treat the pigs in Iowa like royalty to get an amazing prosciutto like this.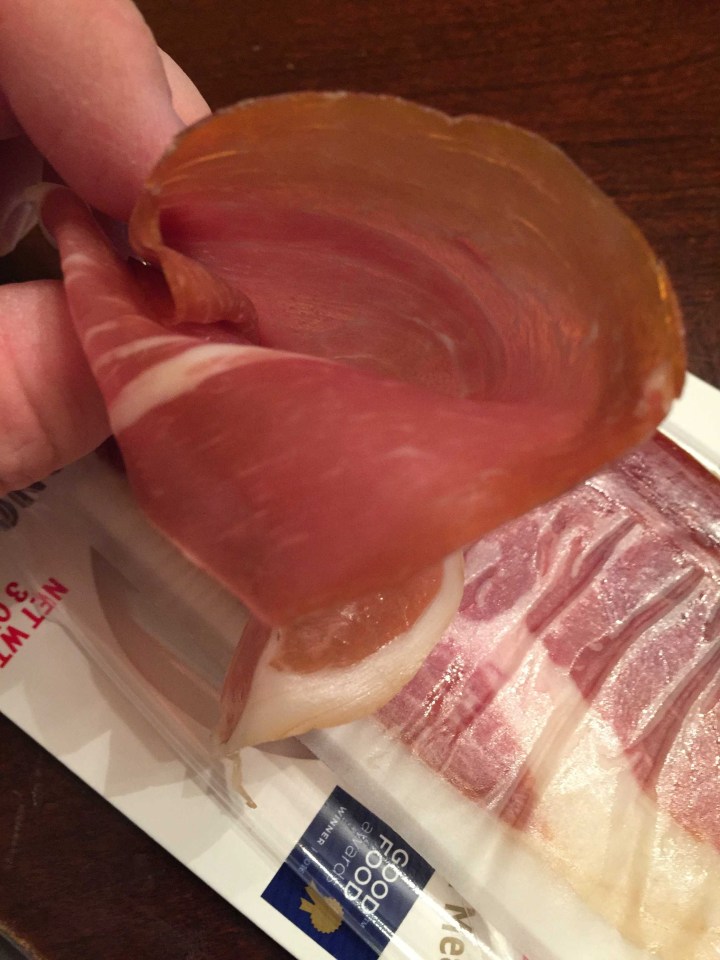 Speck Americano (Applewood Smoked Prosciutto)
What They Said: Winner of a 2016 Good Food Award, speck is a type of smoked prosciutto. This fine example has earthy, rich, deep, sweet meat, with light applewood smoke aroma and flavor. You can use this magnificent speck for salumi platters, sandwiches, or wrapped around fruit – it pairs beautifully with both sweet and savory flavors and goes down well with a lager or hard cider.
What I Say: The speck is great, too. It's not hard to see how this won an award. There's not as much fat in the speck as the prosciutto, which I suspect is a result of some of the fat rendering during the smoking (but don't quote me on that). At any rate, the smoky flavor does make this taste a little meatier. The smoke balance on this one is great – too much smoke would easily overwhelm the subtle flavor of the pork. Do you like bacon? You're gonna love this because I think this stuff is like bacon for angels.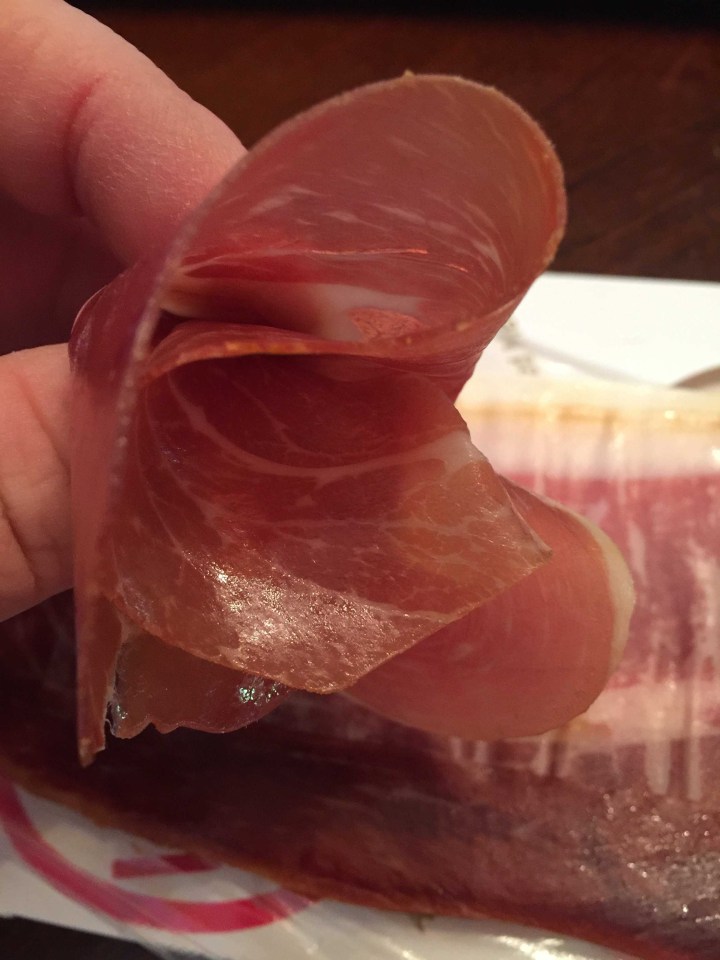 Prosciutto Piccante
What They Said: This prosciutto is dry-cured with a spice rub that gives it a lively taste of fennel and red chili combined with the classic silky sweetness of the cut of meat. You can pair it with a variety of cheeses, but we suggest mahon reserva, taleggio, or comte. As for what to drink with this unique delicacy, we like it with a spiced ale or an off-dry white wine.
What I Say: I was a little hesitant when I saw this one. Prosciutto is a way to highlight and present the subtle, lovely flavors of fine pork, and the great delicious pork fat. When I saw "piccante" I really worried that the red chili overwhelm and obliterate that delicateness. Not so. The "piccante" here is really, really subtle, and didn't mask the lovely pork fat or the meat in any way. In fact, I think it helped bring out some of the  "umami" of the pork. And it would pair excellently with any mild cheese.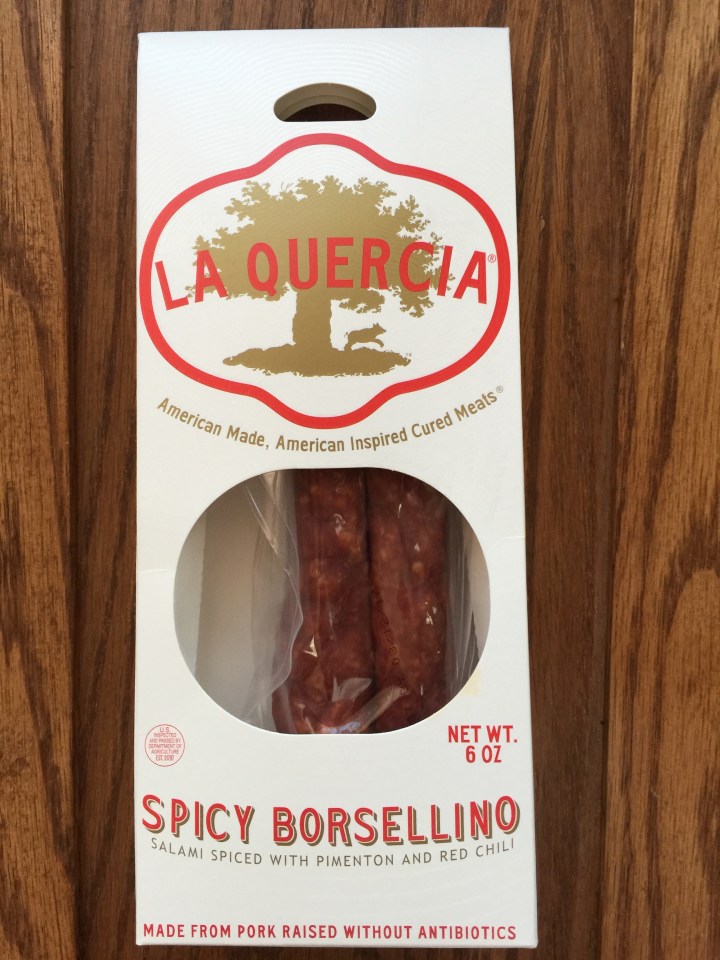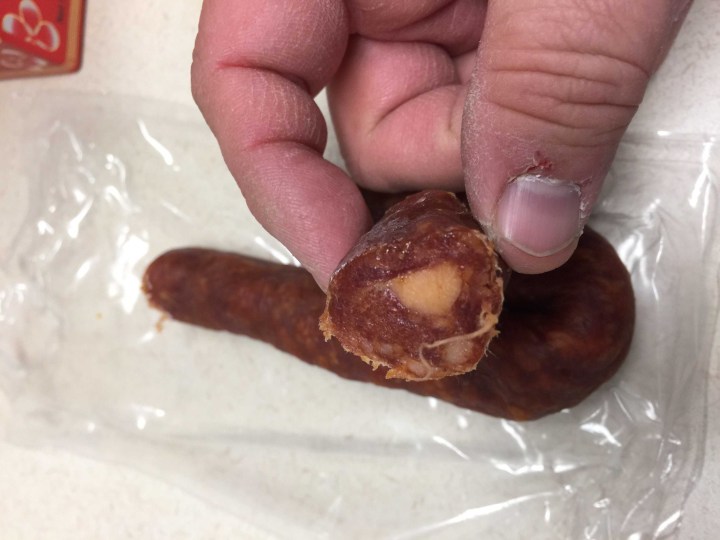 Spicy Borsellino
What They Said: Vibrantly spiced with Spanish pimenton and red chili, this feisty salami is perfect for a midday snack, watching the game, or throwing in your bag when heading out to drink wine with friends. Have it side by side with some sharp cheddar, manchego, and aged gouda, and then top off your gathering of complementary flavors with some bold red wine.
What I Say: I couldn't say much about the Borsellino, because I was too busy stuffing my mouth with it. Years ago, there was this specialty market where I used to get imported sticks of salami from Italy for snacking. This really took me back to that – it's a hard, flavorful straight up snacking salami. Snap into a Slim Jim??? Hit yourself with it! This is *real* meat stick snacking, here. It has a nice, spicy bite to it, and is firm to give you a satisfying chew. I would put it in my bag for wine with friends, but then I'd have to share it with friends, instead of being able to eat it all myself!
This was, indeed, the finest box from Carnivore Club that I've had the chance to sample. All of the La Quercia products are well made, tasty selections of traditional pork products. All three of the prosciuttos were fantastic, the 'nduja was perfect, and the Borsellino was a nearly perfect snacking salami. La Quercia and Carnivore Club delivered a great holiday treat for any meat lover!