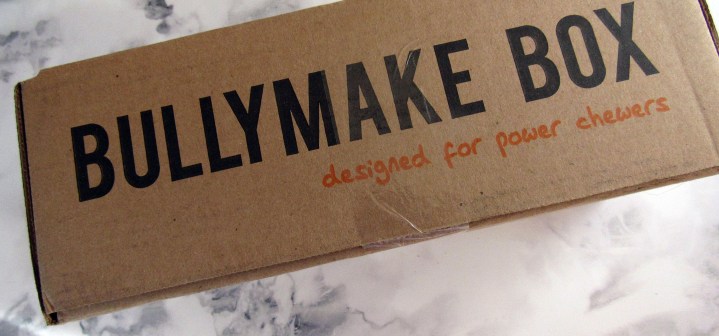 BullyMake Box is the monthly box for power chewers! No plush toys in this subscription! Each box comes with 5-6 toys and teats for your dog. Have more than one dog? Add an extra toy for an additional $9.00 a month. Be sure to fill out the additional information section when checking out. There are four options for allergies including a toy only box. Also, select the weight of your dog which starts at 10 pounds and continues with 10-pound increments to 200 pounds.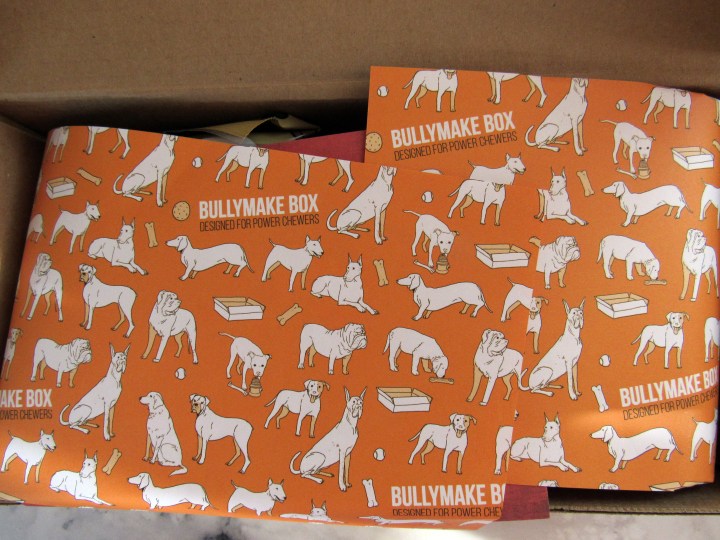 DEAL: Get $10.00 off on our 3, 6, or 12-month Bullymake Box Plan! Use coupon code FB2016.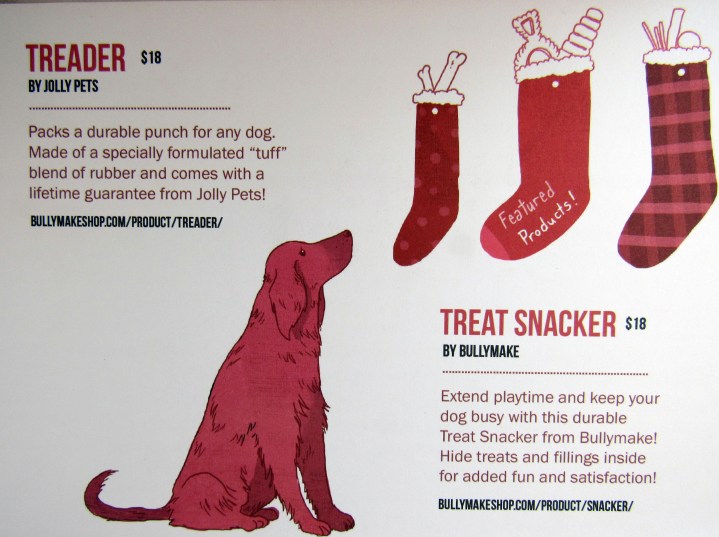 There will be a time when Daisy, our English Shepherd, will look like the dog on the December card. Her wagging tail knocks over ornaments and even gets tangled up in the garland. The December Featured Products are the Jolly Pets Trader and the Treat Snacker.
No wonder Bella and Odie were going crazy over the December Bullymake box! The items were selected with Odie, our Borador, in mind. He is half Border Collie and half Labrador Retriever. He also destroys all dog toys including the expensive durable dog toys that I buy for him. Odie's weight is in the 50-60 pound range.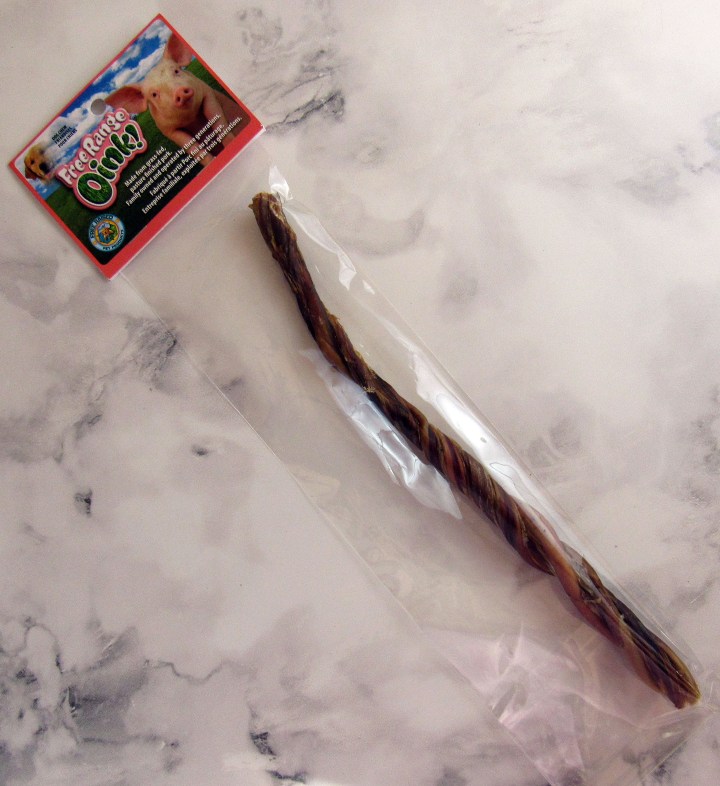 The Bullymake Box Exclusive Free Range Oink! 11-12″ Junior Twisted Porky (appx $6.10) is made from grass-fed, pasture finished pork. I estimated the price based on price per stick. The size is recommended for small and medium dogs which Bella, our Mini Rat Terrier, agrees because she started to chew on it first. Both dogs loved the treat.
The dogs loved playing the game "bury the bone and find it" with the Pork Chomps 7″ Press Bone ($7.19). Bella is always searching for a good place to bury the bone to hide it from Odie. Odie finds it and walks around with the bone in his mouth looking lost. I think he gave up on trying to bury it properly. It is comical to watch them in action.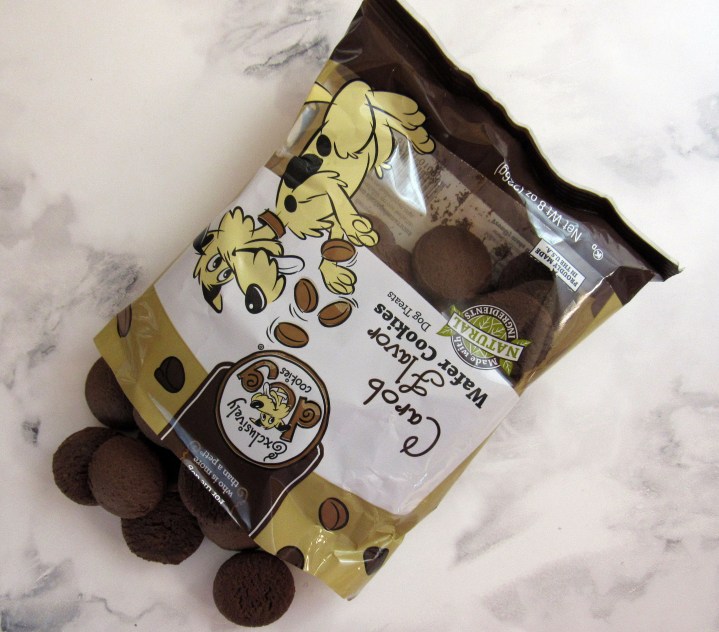 All three doggies thought that the Made in the USA Exclusively Pets Carob Flavor Wafer Cookies (8oz, $7.47) were woofilicious. They love anything from Exclusively Pets especially Daisy. The cookies even smelled like chocolate!
The Jolly Tuff Treader for Large/Extra-Large Dogs ($13.61 on Amazon, $18.00 on information Card) is a durable toy that is designed for powerful chewers. Jolly Pet has a guarantee that they will replace the toy if your dog destroys it. Odie prefers to play with it if I put treats inside it. He also chews on it. Bella ignored it.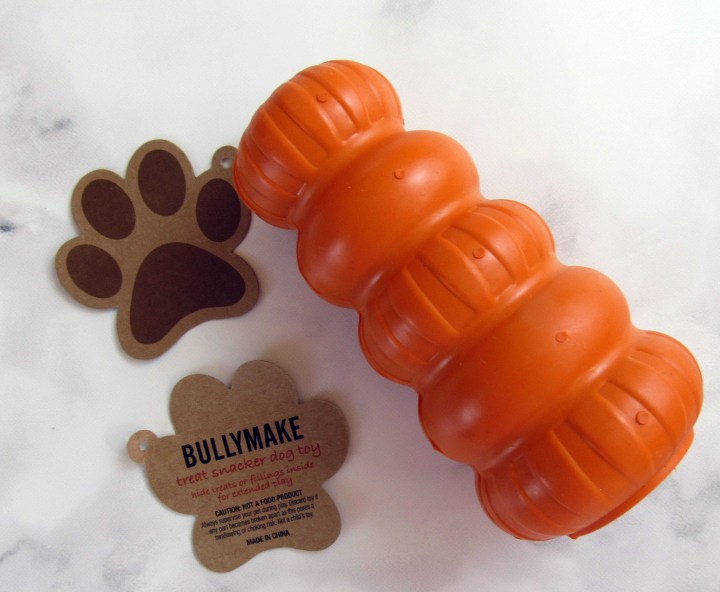 The Bullymake Treat Snacker ($18.00) was enjoyed by all the dogs. It's a little over five inches long and holds treats or peanut butter. I placed pieces of wafer cookies in the Treat Snacker for good doggies.
Time to see doggy pictures. Bella is wearing her Christmas dress in the indoor pictures. They are photographed in natural light and are laying on an old comforter.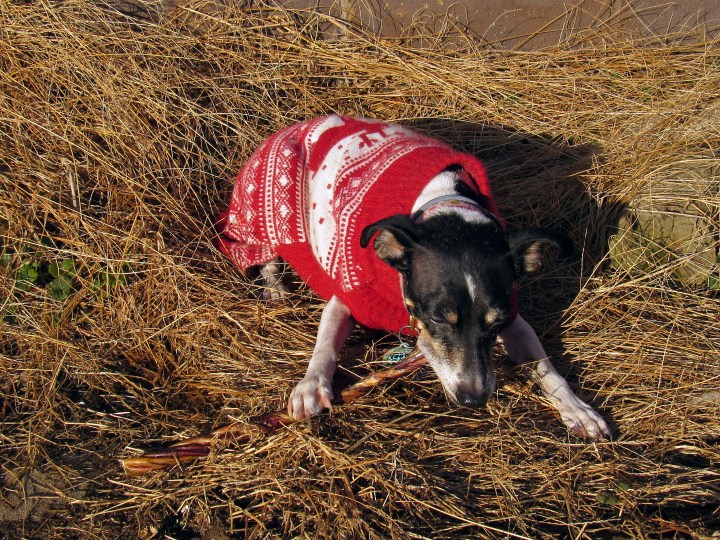 I gave Odie the Junior Pork Twisty which Bella promptly stole from him. She is having a great time enjoying the stick.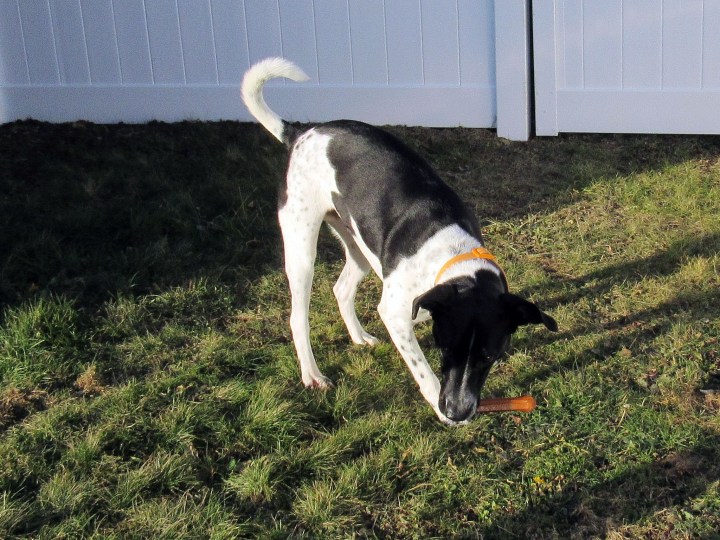 Odie carried the Pork Chomp while waiting for Bella to finish with her treat. I think he forgot how to bury the bone.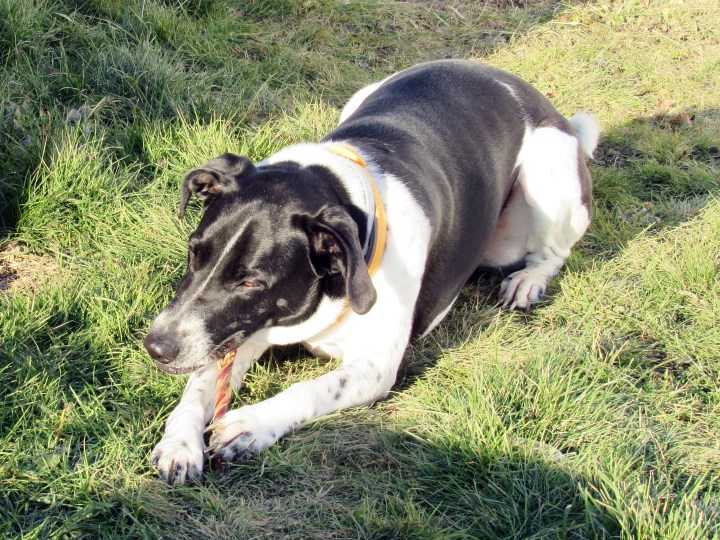 He is content to eat the other half of the Pork Twisty.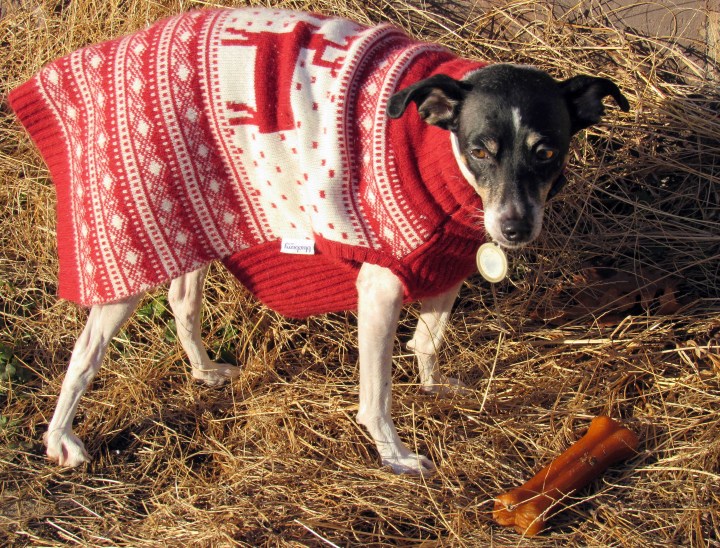 Bella is watching Odie while deciding what to do with the bone.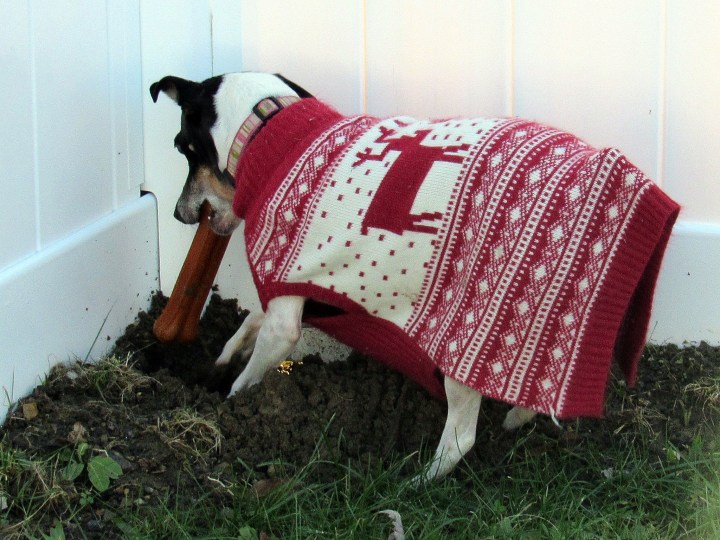 She is burying the bone quickly before Odie notices.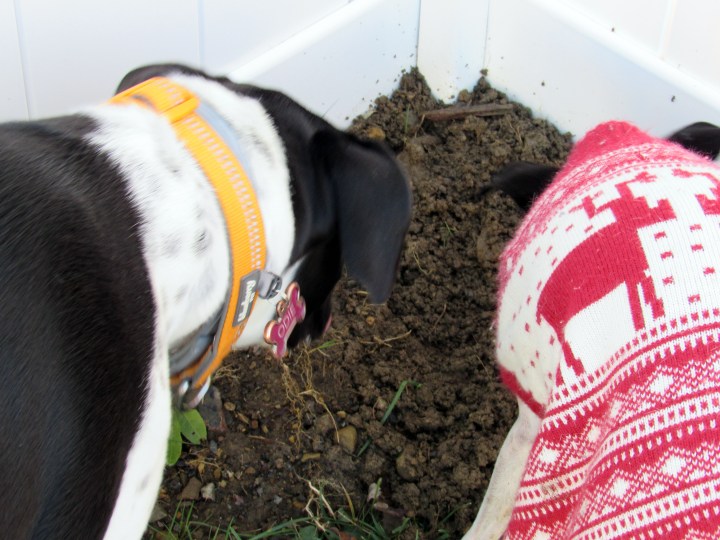 Odie is looking for the bone and couldn't find it. Bella waited until he left and reburied the bone in a new spot. She is not risking Odie finding the bone.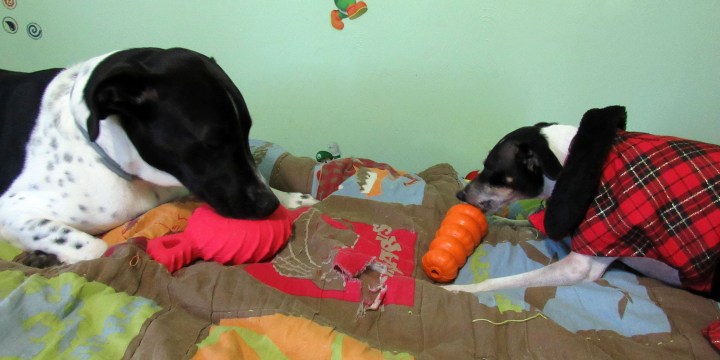 Odie is enjoying a peanut butter treat while Bella is enjoying wafer cookies.
The December Bullymake box provided a lot of enjoyment for Bella and Odie. The family loved watching Odie and Bella hiding the bone all over the yard. They loved playing together with the toys and chews from the box. All three dogs thought the treats were delicious.   They enjoyed their chews, treats, and toys. Odie is hoping another rope toy will show up in a future box. Bully Make is an excellent choice for dogs that love to chew. The toys are appropriately sized for the dog, and the treats are quality treats that dogs with allergens can enjoy.
What do you think about Bully Make?