Blueberry Cove Beads is a monthly bead subscription box. Each month, you'll receive between 9 and 13 different items. It can be a mix of loose beads, bead strings, findings, and pendants. You can share your creation on their social media for the chance to win a free box. Boxes are $22 per month plus $5 shipping in the US & Canada and their website features projects you can create with your beads.
Inside the box, there's always a nice black satin pouch with a postcard showing the theme of the month. Inside the bag, everything is packed in self-sealing plastic bags, except the bead strands and some unique pieces.
Each month has a different theme. This month's theme was Romance. It's right on time to get something ready for Valentine's day!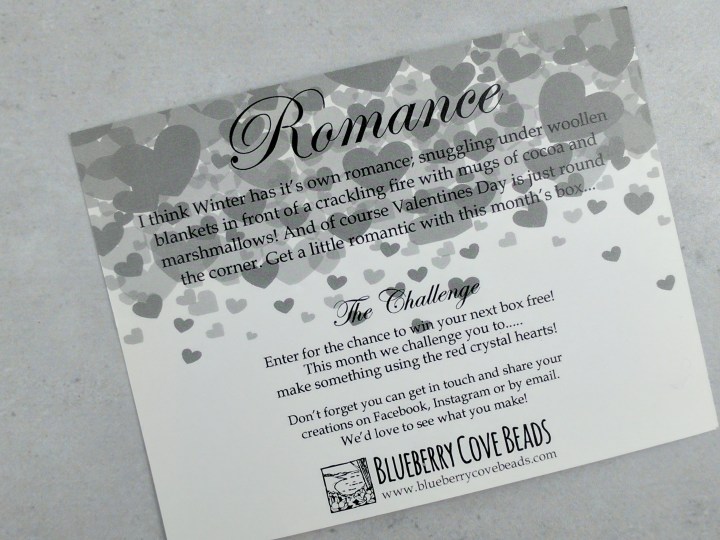 There is no info about the content of the box. Instead, we get a card explaining the challenge (optional) for the month. We can share our creation on their social media to enter a draw for a free box. Also, it's really neat to see what everyone else creates with the same set of beads! This month's challenge is to make something using the red crystal hearts. Yes, there'll be a lot of red this month!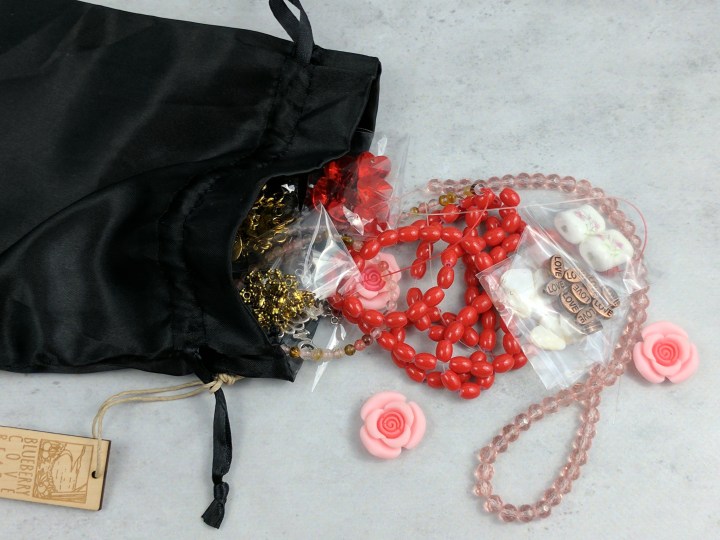 Reds, pinks and flowers. Look how cute the flowers are!
Pink Round Fire Polished beads. I don't go for pink myself, but this is a lovely shade of pink, almost vintage like. I like fire-polished beads as they add sparks, but they are not overwhelming blinding like Swarovski beads (I love Swarovski, but they are quite sparkly!)
Red Oval Glass Beads. Bright red, they are lovely besides the pink fire polished beads.
Fire Cherry Quarz. I like the variation of colours in the strand, with some green peaking through! The size is great for adding simplicity to a design.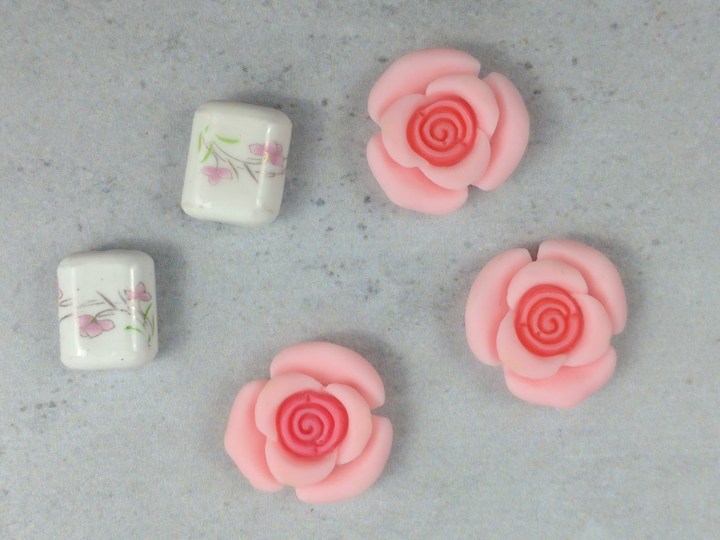 Flower painted porcelain rectangular beads. I love them, I just don't know how to use them. Maybe with some antique brass colored findings, with green and pink beads for a vintage look.
Acrylic Pink Flower. They are not drilled, so they can be glued in the middle of a simple pendant (either stone, white porcelain, or metal), or drilled to be used as regular beads (it would be lovely to hang different type of chains between two flowers).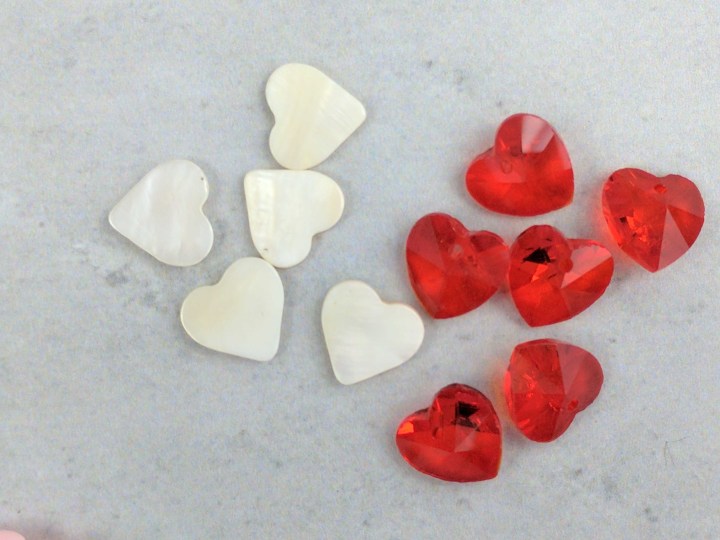 Red Crystal Hearts. They are transparent and give out quite a lot of sparks! Unlike on the picture, they have no black spot, that was caused by the angle of the light reflecting inside. These are to be used to make something if you want to participate in the Social Media Challenge.
White Coral Hearts. I like that we received two different type of hearts, with the same size. I also love coral beads, I'm starting to get quite the collection thanks to this box. The hole goes through from side to side, so they can be thread on a wire or thin cord.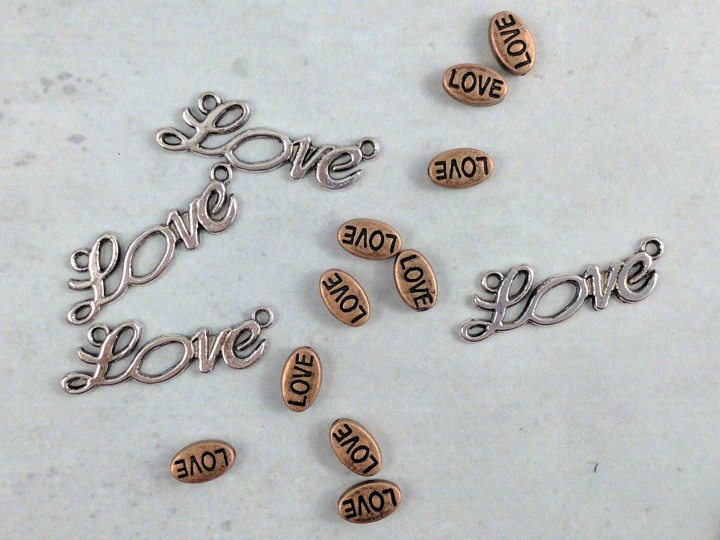 What would be a Romance theme without some love?
Antique Silver coloured "Love" links. Hung between two lengths of chain, this can make a small and simple pendant that could then be layered with other chains or necklace.
Copper silver Love beads. They are cute little beads that could be mixed with other beads easily.
Antique Gold Heart Locket and Key charms. Perfect on a charmed bracelet!
Antique Gold Spacer beads. Spacer beads are so great to simplify a beaded design by adding some metal. I'm working a lot with wire, and I like to put two beads separately by a spacer bead on a wire link.
Silver Coloured heart lobster clasps. Such a nice addition! Cute and simple, perfect to close a bracelet!
Once again this month, I decided to go along with the challenge, just to push me to use a bead I would usually not use (the red crystal heart). I've added a lot of golden chain (I like chains!) to make a tassel under the heart.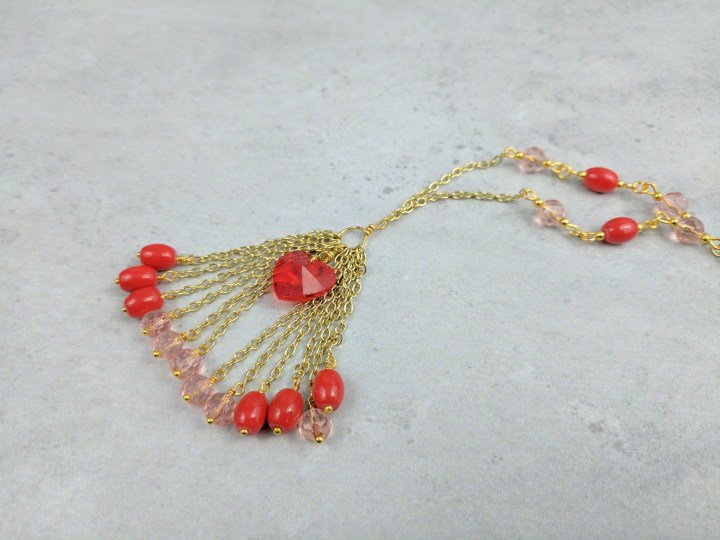 Yes, I like chains!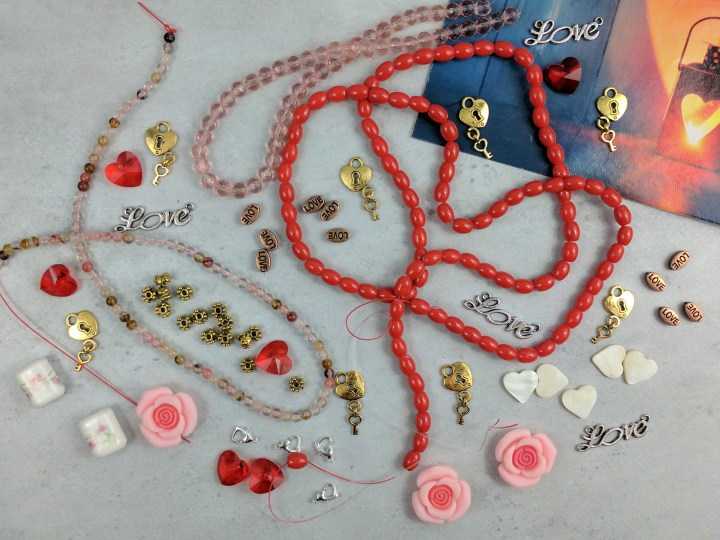 This month's ROMANCE was cute. It's nice that there was a lot of possibilities to not use the hearts if the Valentine's Day mood is not to your liking! I loved the flowers, I just want to find the perfect background to glue them on.
What did you think of this month's Blueberry Cove Beads?