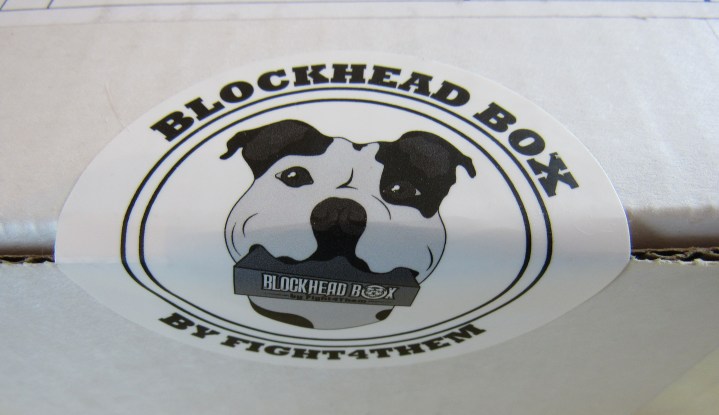 Blockhead Box is a monthly dog subscription box for bully breeds, heavy chewers and blockhead dogs curated by Fight4Them. Fight4Them is an organization of mixed martial artists, wrestlers, and boxers bringing awareness and combating illegal dog fighting and dog abuse. Expect to receive high-quality dog treats, durable toys, and human apparel. Start off by selecting your shirt size (small to 2XL). Next select your dog size. Lastly select your subscription billing option. A portion of the proceeds is used to fund human education, dogs in need, and law enforcement with their subscriptions.
DEAL: Get 25% off your first box when you sign up for a 3, 6 or 12-month subscription! Use coupon code FIRST25. Expires 12-30-2017.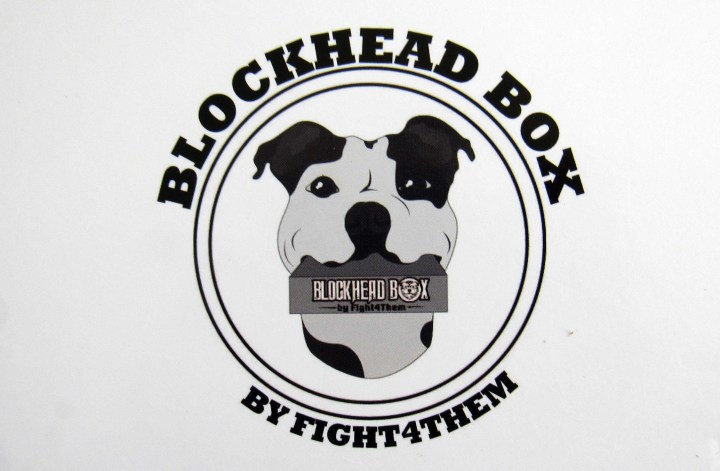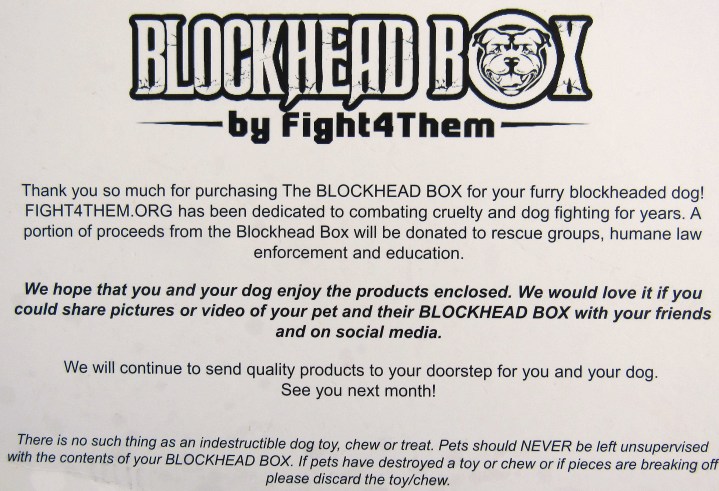 A note was included thanking the subscriber for the purchase and a reminder that no toy is indestructible. There is no information card included.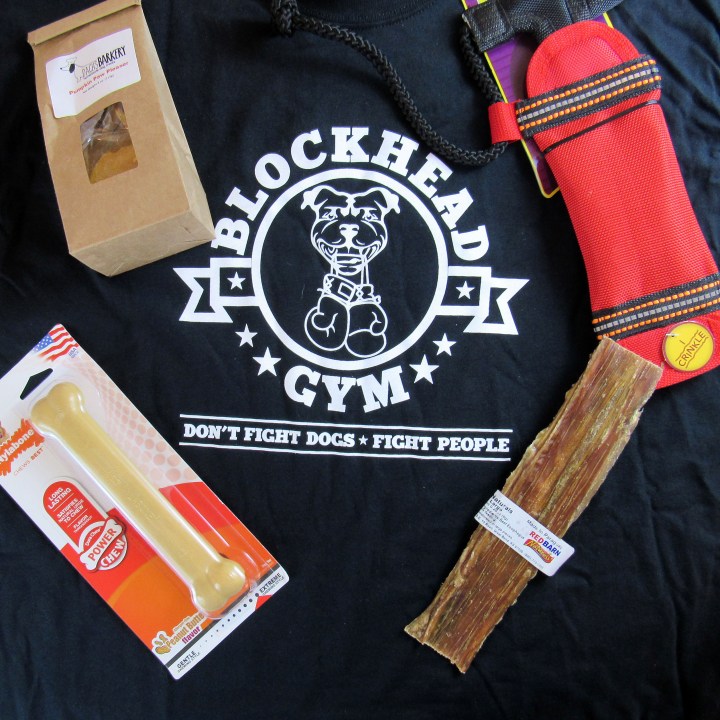 Here are the items in the January Blockhead Box for large dogs.  Odie is going to love this box!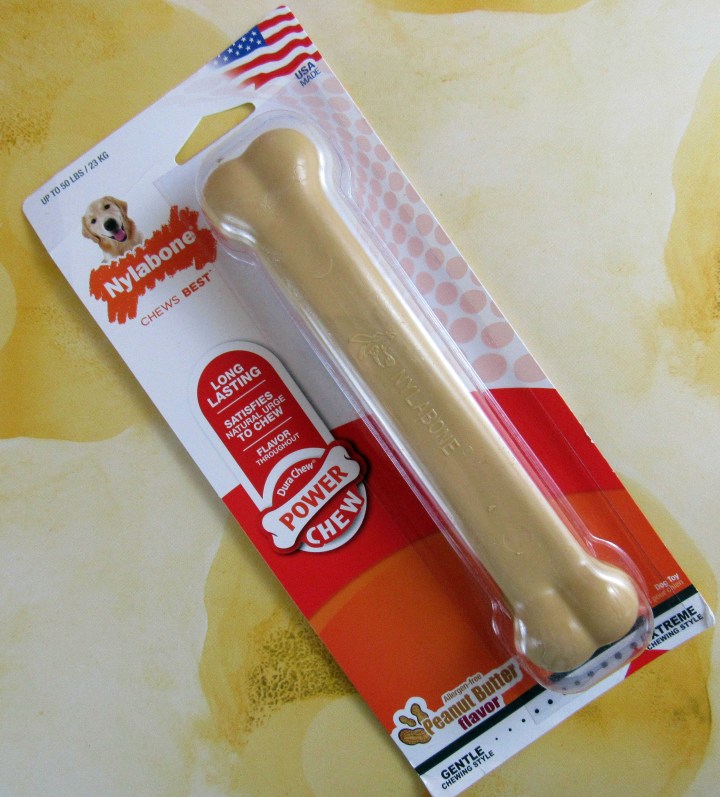 Odie was ecstatic to receive the Nylabone DuraChew in Peanut Flavor – Large  ($10.34). The chew helps prevent destructive chewing while freshening doggy breath. I noticed he used it on his back teeth.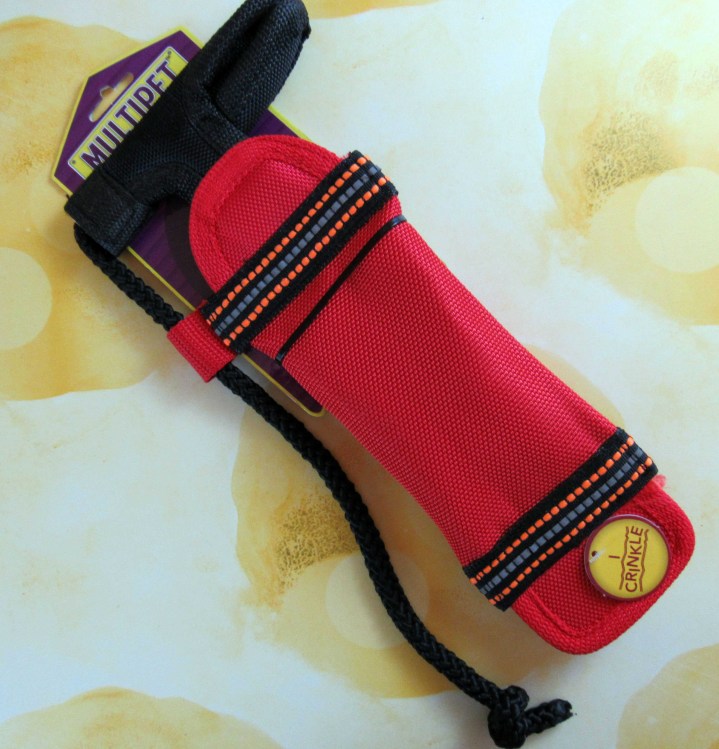 The Multipet Fire-Hose Extinguisher ($7.02) crinkles and has a rope attached to it. The durable toy is made out of firehose material. Odie amused himself for hours by chewing on it. He is one happy dog to receive a toy that is not made out of hard rubber.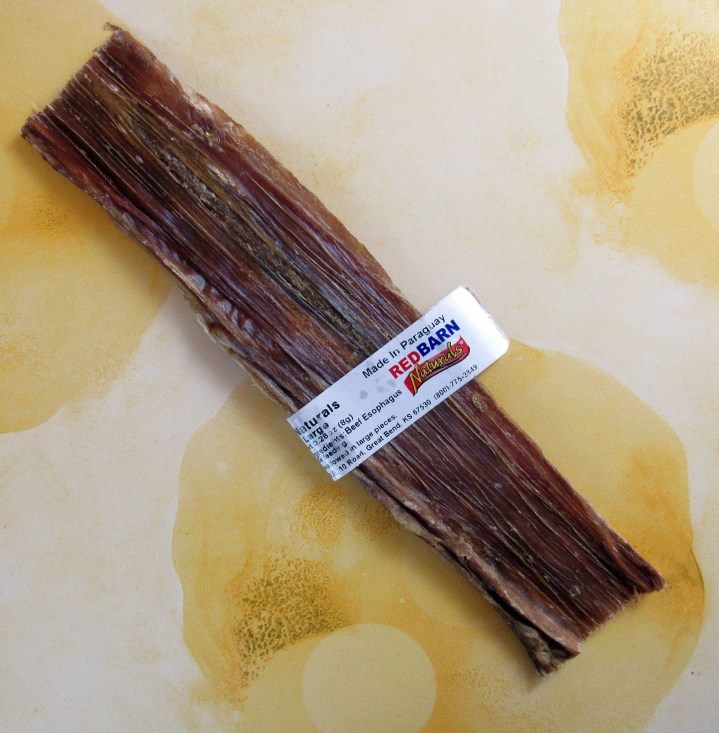 Both Daisy and Odie couldn't wait to try out the Red Barn Beef Esophagus Large Chew ($1.49). The made in Paraguay chew is slow-roasted. I was able to break a small piece off for Daisy.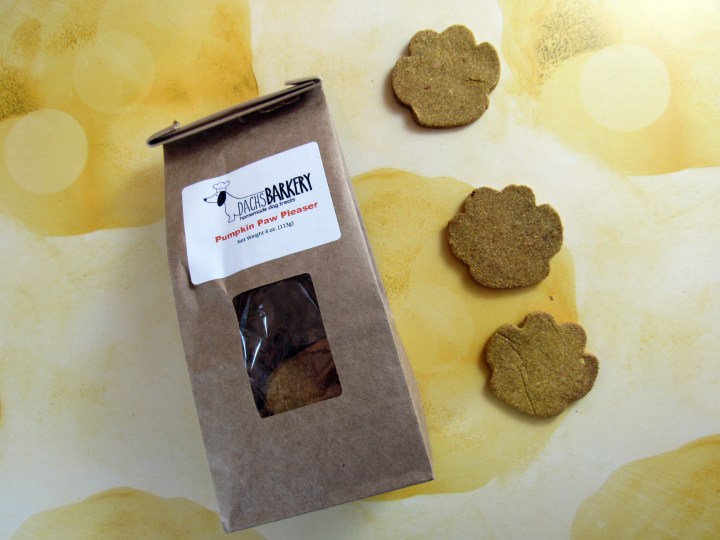 The DachsBarkery Pumpkin Paw Pleaser (4 oz, appx $7.50) smell amazing. I guessed at the price which may be more or less. The soft cookies are freshly baked in Tarrytown, NY.  The cookies are made from coconut flour, peanut butter, pumpkin, coconut oil, eggs, and cinnamon. Odie and Daisy barked that the treats are woofilicious.
This month we received a Blockhead T-Shirt ($24.99 based on their store). Fight4Them is an organization of martial artists, wrestlers, boxers, and other combat athletes that are working to end dog fighting. The cotton t-shirt was too large on me although I will wear it at Tae Kwon Doe tournaments if my boys decide to enter them. Right now my 17-year-old is too busy and my eight-year-old is too nervous to be in tournaments. I do suggest that Blockhead package future shirts if possible because it was cover in red dust from the packing materials. It also slightly grossed me out that it was packed with a beef esophagus because I wore the shirt for the review before washing it.
Time to see what Odie thinks of the box. He is a two-year-old half Border Collie and half Labrador Retriever that destroys his toys through play. Bella, his partner in crime, is busy being a snuggle bug at the farm.
My husband tried his best in capturing a good photo. Odie and I are sad that there are dogs that are forced to fight each other.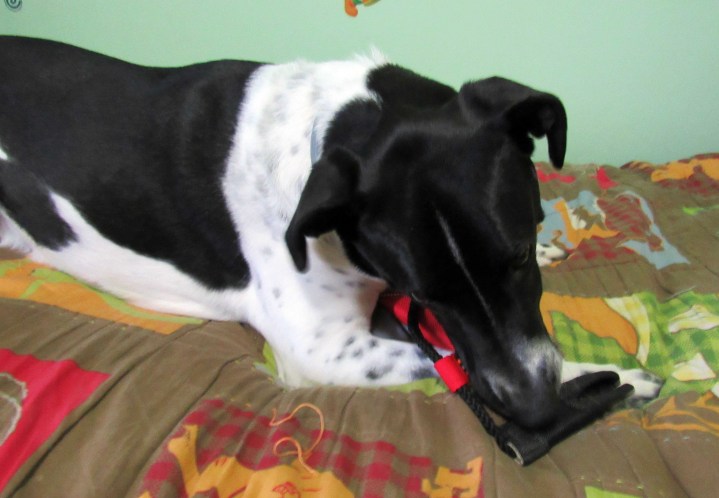 Odie could not wait to start chewing on his toy right away.
He was more interested in chewing than playing tug of war with me.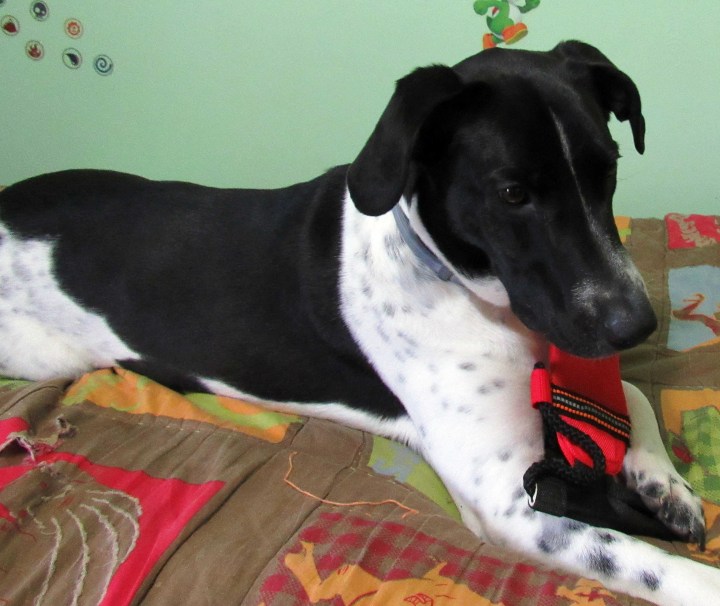 Oh no! Odie hears Daisy waiting outside the room. He is worried she might steal his toy.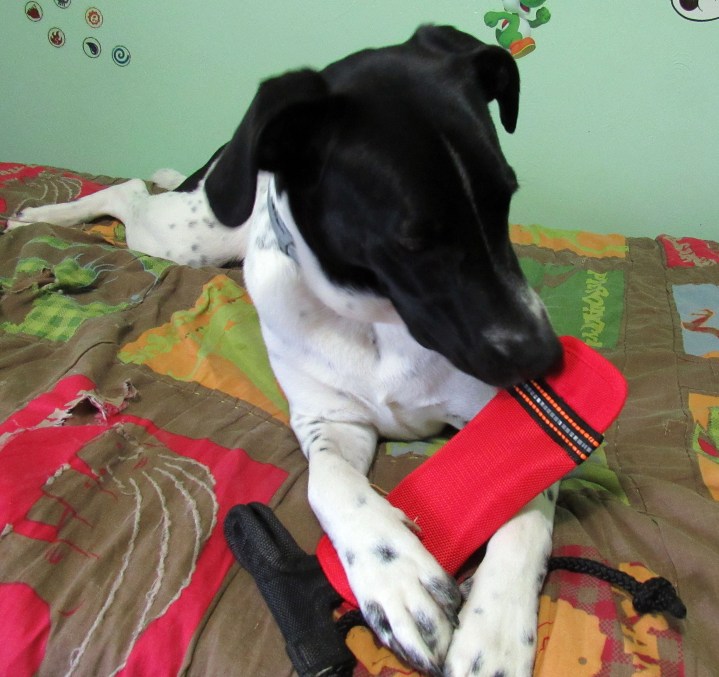 Back to chewing again. He loved chewing on the toy which I hope lasts for awhile.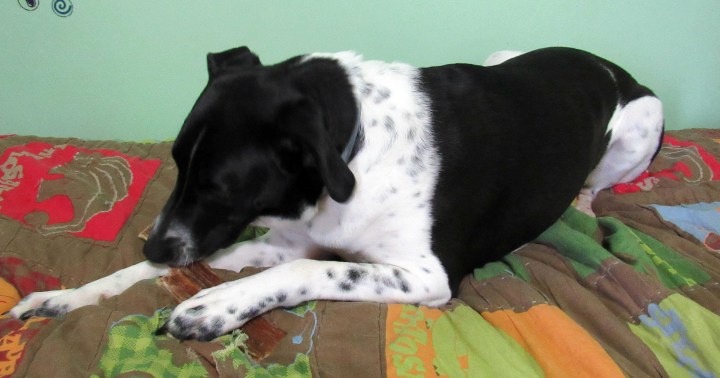 He ate the beef esophagus with gusto.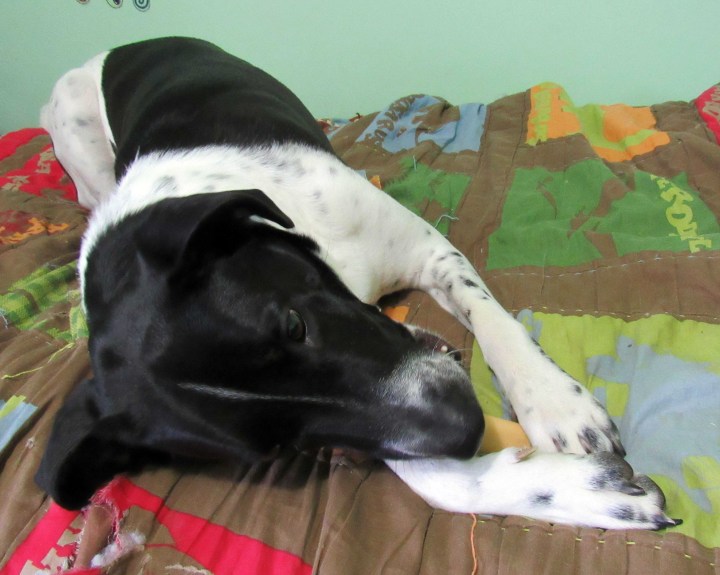 He is using the bone to reach those back teeth. He loves toys that he can chew!
Yum! Yum! Peanut Butter.
The January's Blockhead Box is Odie's favorite box!  He was a happy boy to receive the fire-hose extinguisher instead of another rubber toy. His favorite toys are durable (not rubber) toys and rope toys. He also received two items that were peanut butter flavored which is his favorite flavor. I will wear my t-shirt to bring awareness to dog fighting. One of the reasons I took in Odie is because we were concerned that he would end up being a bait dog if he ended up in a shelter. Blockhead Box did an excellent job meeting Odie's heavy chewer needs. Blockhead box is an excellent box for aggressive and heavy chewers that want to have fun.
What do you think of the January Blockhead Box?