Bargain Bead Box is a monthly bead subscription service. Each month, you'll receive over $40 worth of top-quality jewelry supplies. It can be a mix of loose beads, bead strings, findings, and pendants. You can share your creation on their social media for a chance to win a $25 gift certificate for their sister store Bead Box Bargain. Boxes are $15.95 per month. Shipping is free in the US and $7.50 to Canada. Even if it's technically a subscription box, it comes in a teal bubble mailer, which is less expensive than a box so they can send more beads! And more beads is more fun!
Inside the bubble mailer, the beads come nicely packaged inside three bags and wrapped in tissue paper. Inside the bags, everything is in individual plastic bags.
Each month is curated around a different theme and all the beads and findings are coordinated. This month's theme is "Roses are Red" and promises garnet and other loose gemstones as well as carved synthetic coral beads. Antique Copper is the metal this month.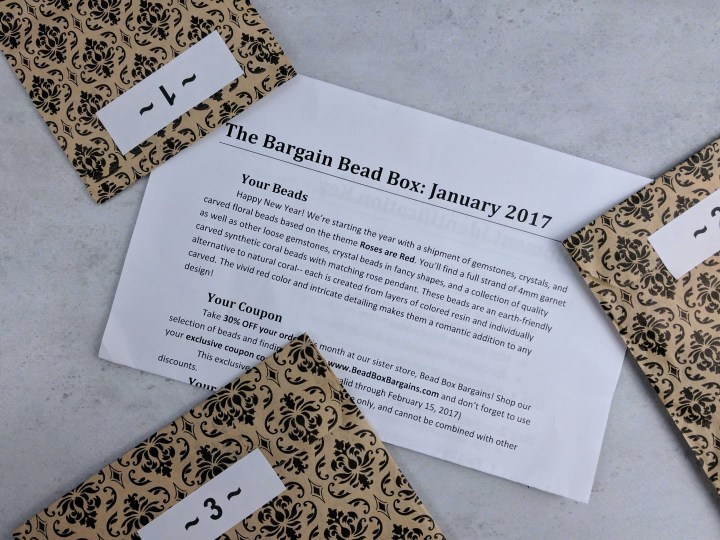 With the note, included in the package, you also get a discount for their sister store "Bead Box Bargains." You can share your creation on their social media or by email to have a chance to win a gift certificate to their sister store.
On the reverse of the letter, the content of the three bags are described.
BAG 1: Floral Findings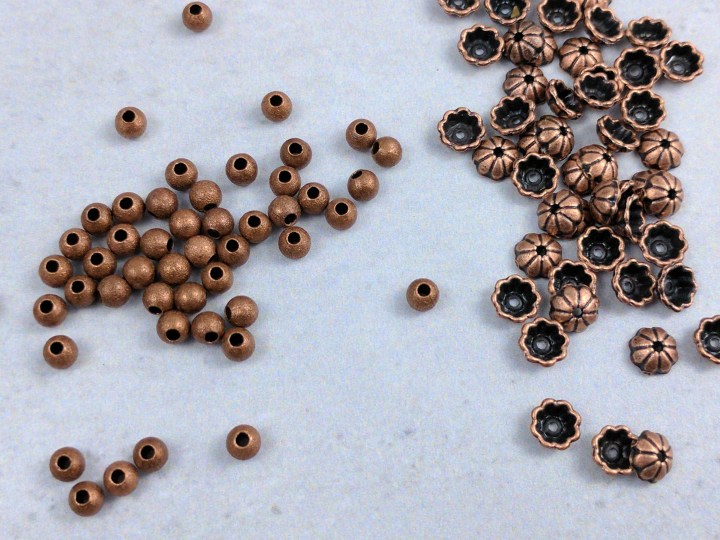 50pc 4mm brass stardust spacer beads, copper finish. I like the shimmer they have. It's not quite shiny or matte, it's a nice middle ground to add texture to a design. Spacer beads are always useful in a bead heavy design, or even on a wire one. I like to add these on both sides of a bead.
50pc 6mm bead caps. Always fun to have them, they are great to add texture to a simple bead.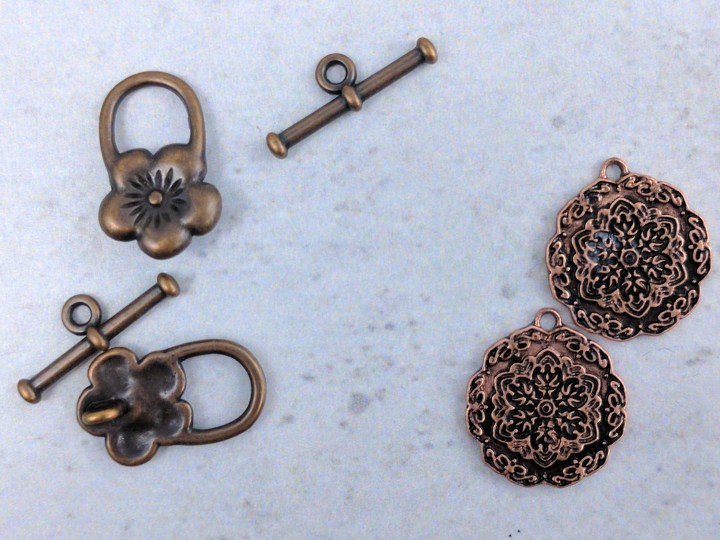 2 sets flower accent toggle clasps. Every month, we always get at least one kind of clasp, and they usually go well with the monthly theme. I like getting them because it seems that I always run out of them. They are very cute and can be used for a bracelet or as a focal point on a necklace as well.
2 pc textured floral round charms. They are so pretty! I like using charms as part of a tassel or as a simple pendant.
Multi-loop focal component. This is a perfect piece to make a statement central part of a necklace. You can hang chains or links from one or more loop, or go for a drop design (as I did for this month's project). 
10pc flower drops. These are so cute! Spaced along a copper chain or as part of a charmed bracelet, they look great!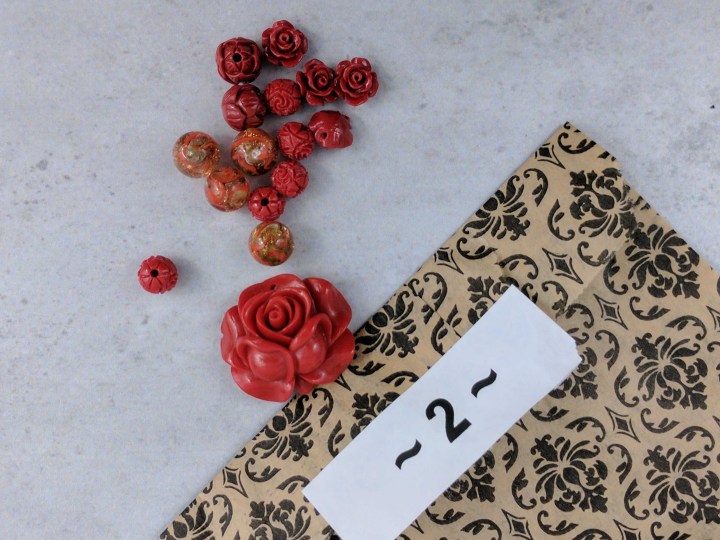 BAG 2: Rose Garden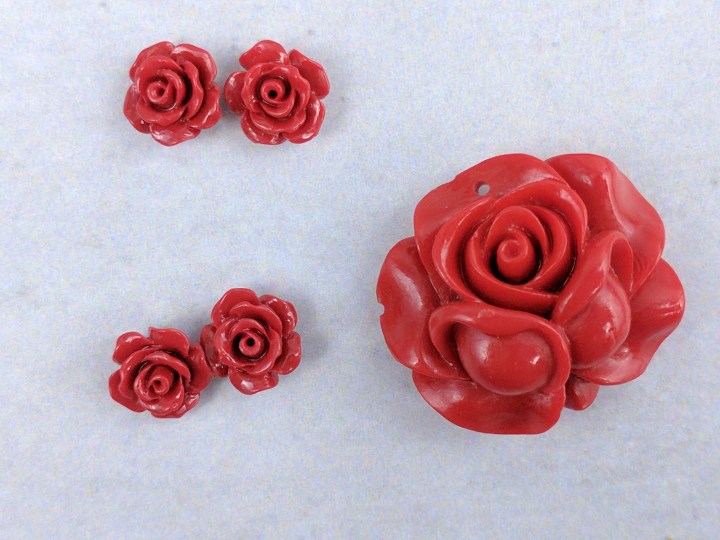 Synthetic hand-carved coral flower pendant, 4pc 10mm synthetic hand-carved coral rose beads. They are very romantic! So many things can be done with them: pendant necklace with matching earrings, a necklace with small flowers along the chain and the bigger rose as a focal, or the small roses could be on a bracelet or an anklet. The small roses are drilled through, but it's quite easy to turn them into charms (like I did in this month's project.)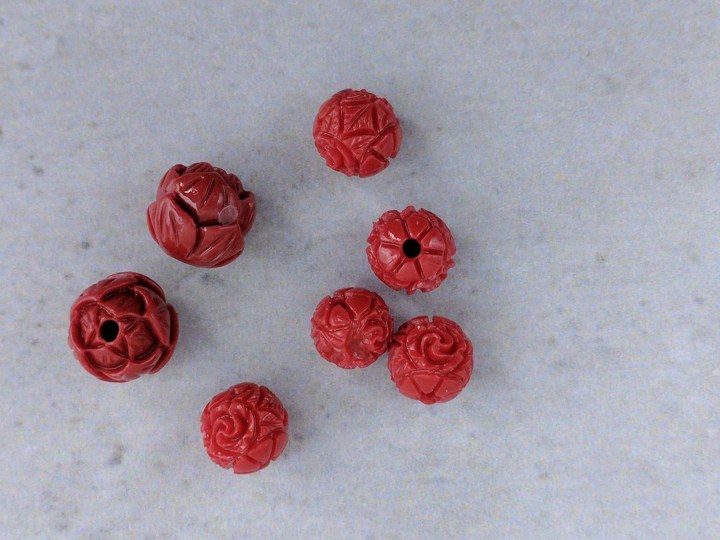 2pc 11mm hand-carved synthetic coral flower beads and 5pc 8mm hand-carved synthetic coral floral beads. Like the previous floral beads, these are lovely and very romantic, especially if paired with pink beads. They are drilled from the center of the flower to the bottom, and they would look great on earrings or strung on a thread. My favorite is the darker red one.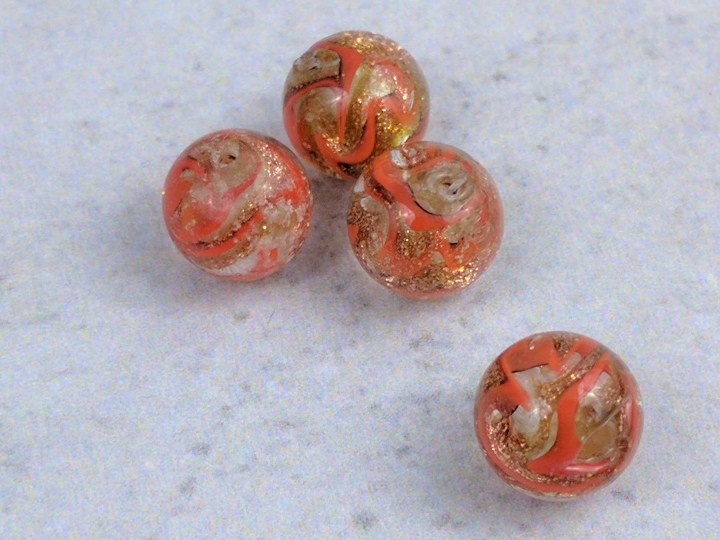 4pc 11mm premium lampwork beads with foil insert. I love the swirls and the shimmer on them. They are more orange than red, so I didn't use them in my design.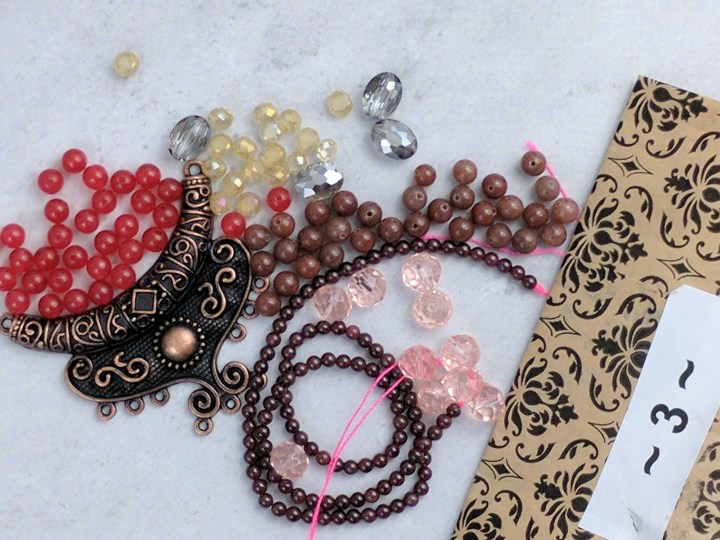 BAG 3: Romantic Reds
6mm Natural purple aventurine, 6mm dyed red Malaysian jade and 4mm garnet beads. I love love love getting gemstones in my box. There's something in the feel and the weight of them that just feel right. The garnet is of a deep red color, but they were too small for what I had in mind, but they will be used soon. The aventurine is more brownish than purple in my opinion, but they have that shimmer that is characteristic of the stone. And the jade beads are of a lovely red color.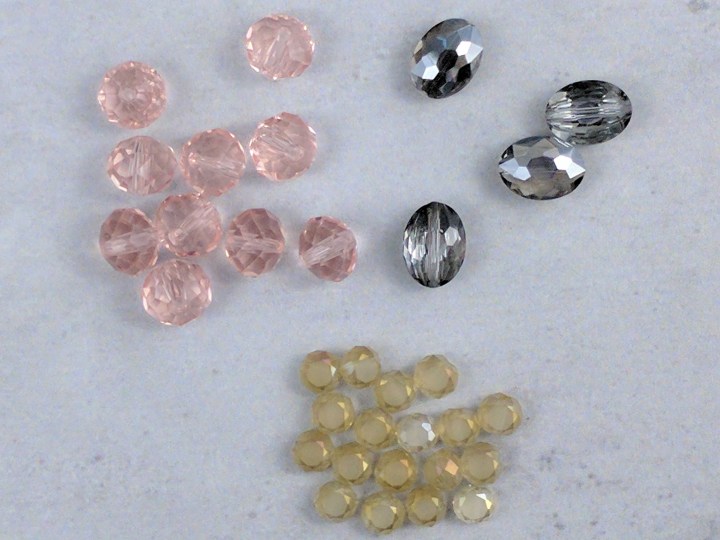 Chinese pink rondelles. They would look great with subs of the rose beads for a romantic design.
Chinese coin beads. I like playing with different shapes of beads beside round or rondelles. The flat surface is matte, so it shines differently depending on the angle you're looking at it.
Chinese crystal oval beads. They are perfect for dangling earrings or to be hung on one of the multi-loop component. The color is neutral and can be paired with a lot of different colors.
Ornate Multi loop focal component. Lovely piece to create a statement piece of jewelry.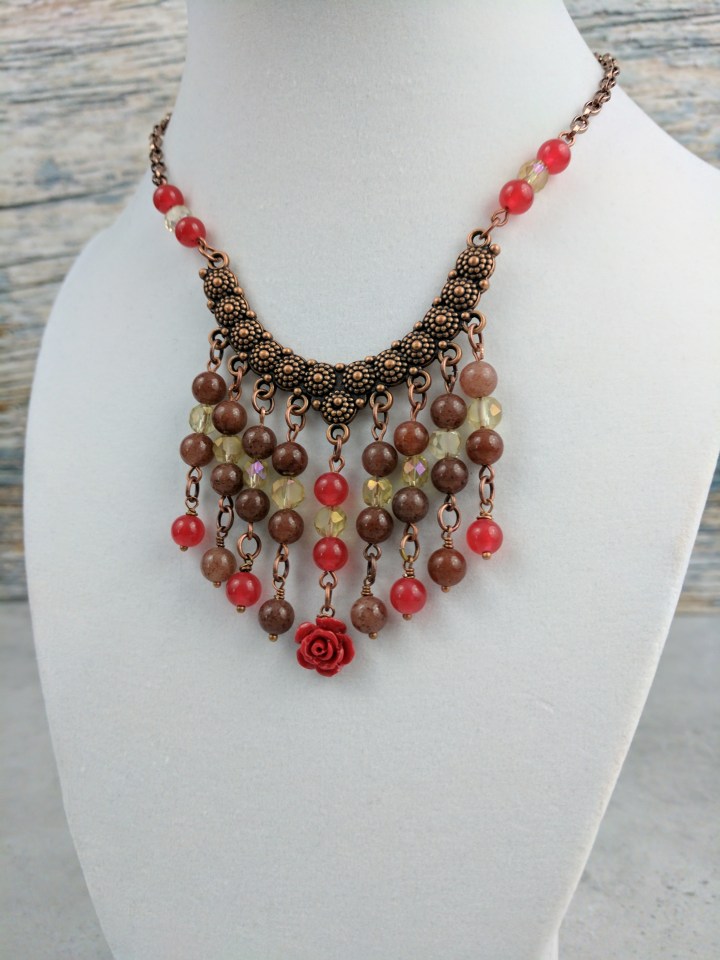 Having a box that included two multi-loop focal components, it was hard to ignore them! So I used the smaller of the two and used both the jade and the aventurine with Chinese oval beads for a bit of shine!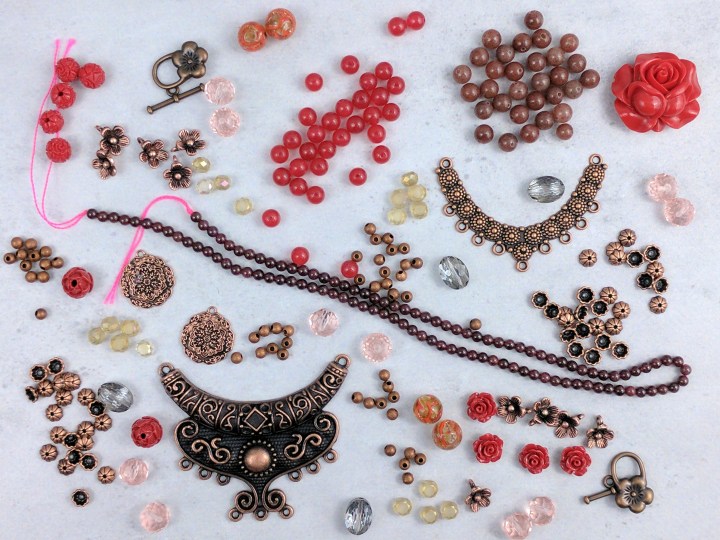 I love the colors in this month's Bargain Bead Box. I'm always over the moon when we get gemstones and pearls, so this month was a hit. I've been wanting Garnet stones for a while, and I'm happy to see it in a January Box as it is January's Birthstone (if you are into that, I am!) This was also a perfect box for Valentine's day, without being too cheesy and full of hearts! I really like the copper mixed with the reds too!
What did you think of this month's Bargain Bead Box?
Visit Bargain Bead Box to subscribe or find out more!