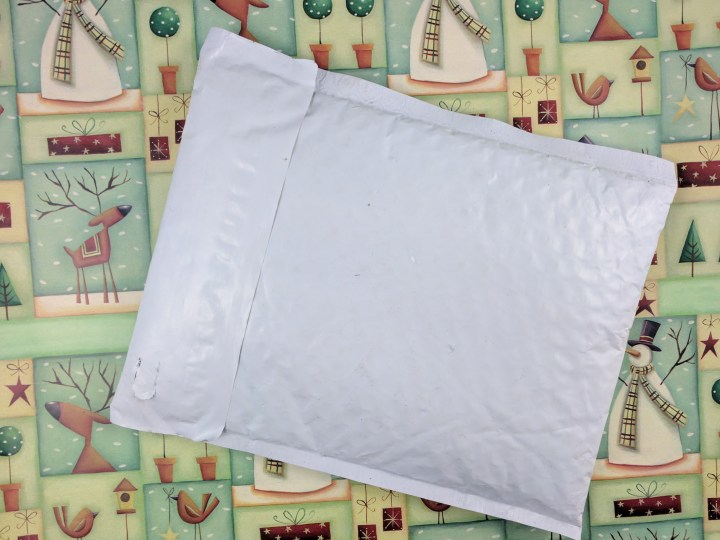 Bargain Bead Box is a monthly bead subscription service. Each month, you'll receive over $40 worth of top-quality jewelry supplies. It can be a mix of loose beads, bead strings, findings, and pendants. You can share your creation on their social media for a chance to win a $25 gift certificate for their sister store Bead Box Bargain. Boxes are $15.95 per month. Shipping is free in the US and $7.50 to Canada. Even if it's technically a subscription box, it usually comes in a teal bubble mailer, which is less expensive than a box so they can send more beads! And more beads is more fun! For this month, colors have been changed a bit to get into the festive mood!
Inside the bubble mailer, the beads come nicely packaged inside three bags and wrapped in tissue paper. Inside the bags, everything is in individual plastic bags.
Each month is curated around a different theme and all the beads and findings are coordinated. This month's theme is "Vintage Charm" and promises a variety of vintage-inspired charms. Gold is the metal this month. Also included in this month's package a little gift from their Sister's Store Bead Box Bargain!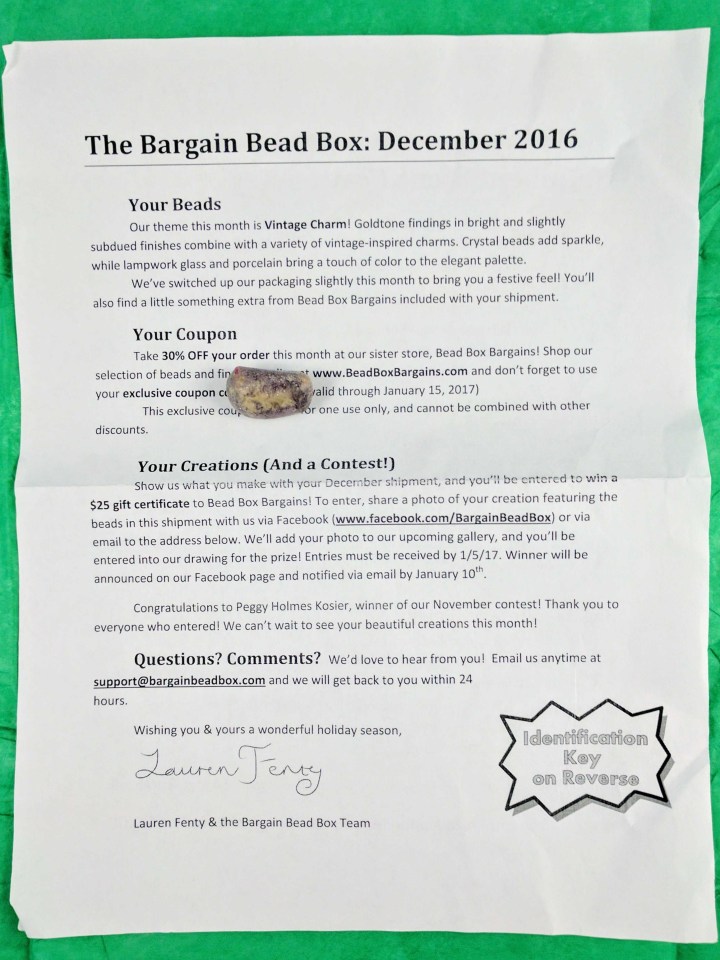 With the note, included in the package, you also get a discount for their sister store "Bead Box Bargains."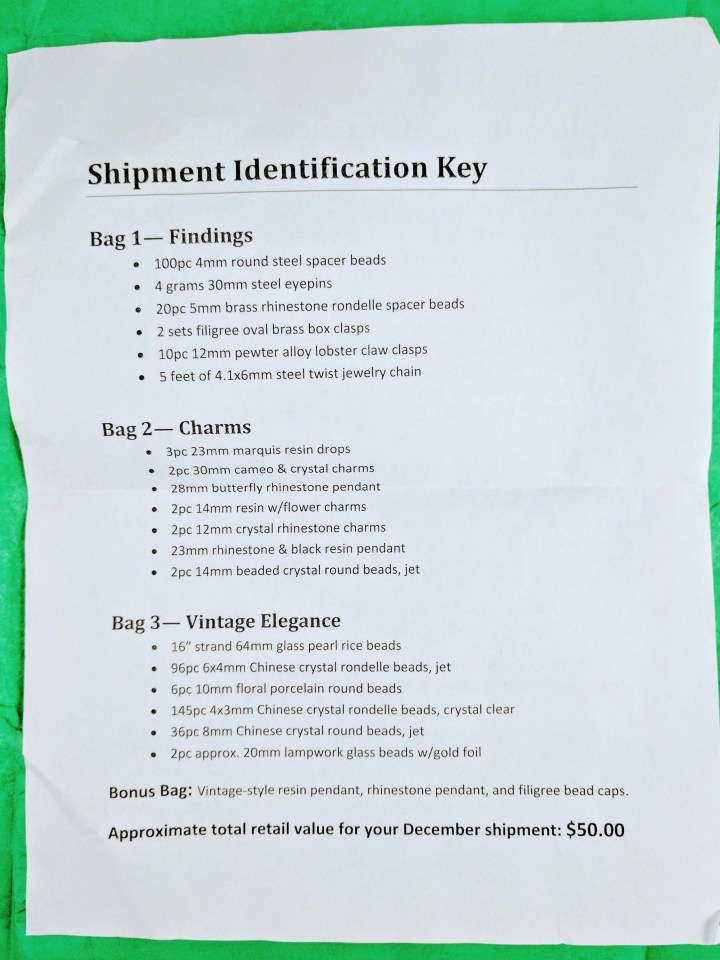 On the reverse of the letter, the content of the three bags are described.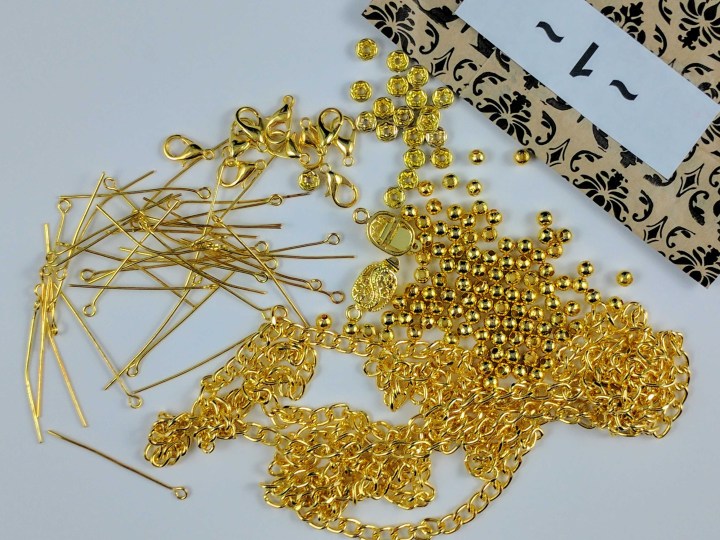 BAG 1: Gold Findings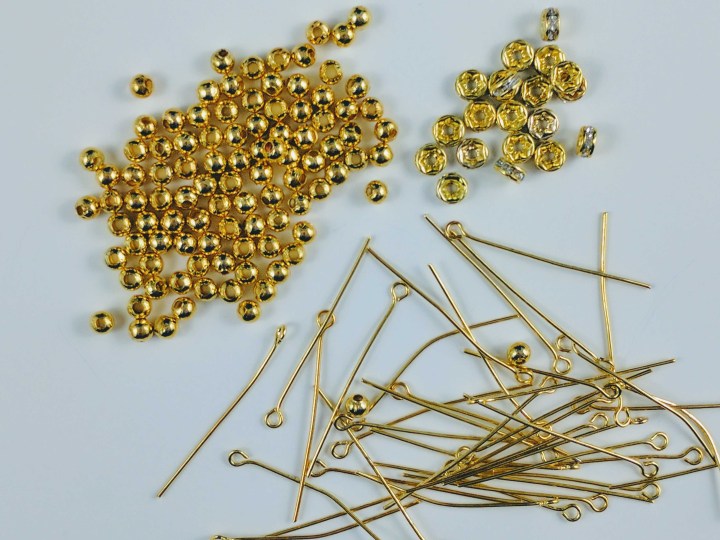 20pc 5mm brass rhinestone rondelle spacers. We get these beads quite often with this box, but they are usually included in the silver themed boxes. They are perfect with rondelle beads, and they will add lots of sparks to any Christmas earrings or necklace.
4 grams 30mm steel eyepins. I really like when this box includes some eyepins, especially for gold themed box. They are easy to bend and cut, but they are still quite sturdy and the gold coating hasn't peeled of even after a lot of bending. They arrived quite bend, but it's easy to fix them.
100pc 4mm round steel spacer beads. Once again, I always seem to run out of round spacer beads! I'm not a big fan of the 4mm (I usually go for smaller ones), but they were perfect for my project.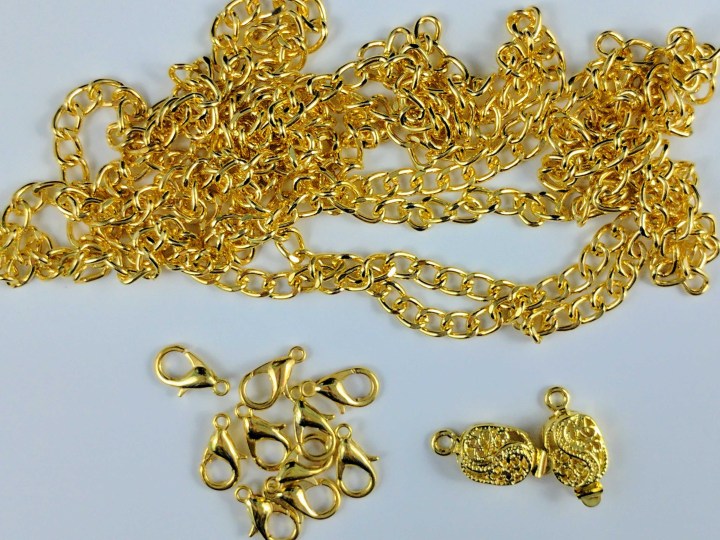 10 pc 12mm pewter alloy lobster claw clasps and 2 sets filigree oval brass box clasps. Every month, we receive some form of clasps, usually two or three. I'm the kind of person who will go to the bead store to get clasps only to be distracted and come home with a lot of beads, but no clasps. So, thank you Bargain Bead Box for giving us these so useful findings every month! The lobster claw clasps come quite often in the box, but the filigree ones are fun and different! I wanted to use one in my project (I did) and I wished we would have more box clasps! MORE!!!
5 feet of 4.1x6mm steel twist jewelry chain. I love getting chains! This is another staple in this subscription box. We don't get chains every month, but often enough to actually expect it. This is a bigger size of links that I like, but they are quite useful to have around!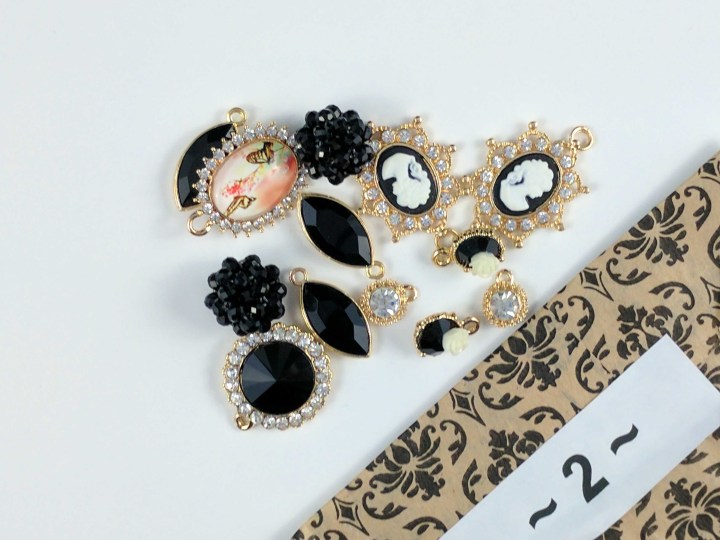 BAG 2: Charms
2pc 14mm beaded crystal round beads, jet. This is not a usual bead to get in this box, and I wasn't sure what to think about it. But they are pretty and it's easy to thread them on a piece of wire or on a thread to add them to any kind of necklace or earrings project.
23mm rhinestone & black resin pendant. This is a nice charm, and I will hang it simply from a golden chain. I find the chain included in this box a bit too big for this charm, so I need to find a different one.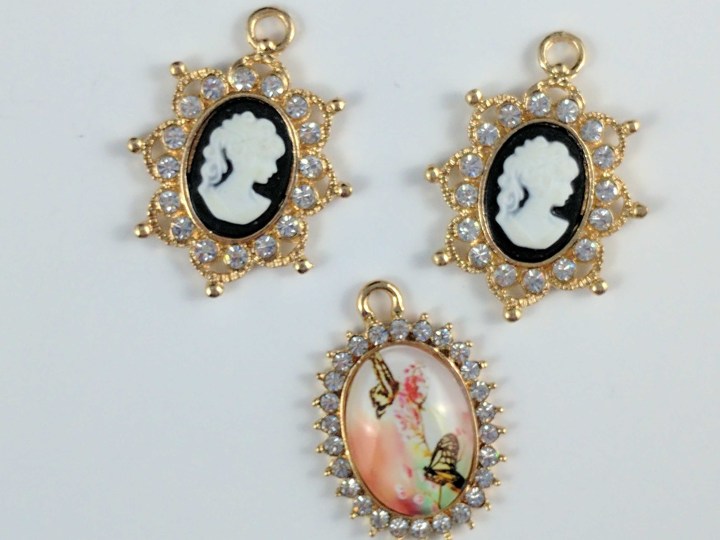 2pc 30mm cameo & crystal charms and 28mm butterfly rhinestone pendant. These are adorable! My favorite is the butterfly one and I want to pair it with more spring-colours beads for a spring look. So I'll keep it on the side for the moment. As for the cameo, I'll get some black ribbons and make two chokers for my two nieces!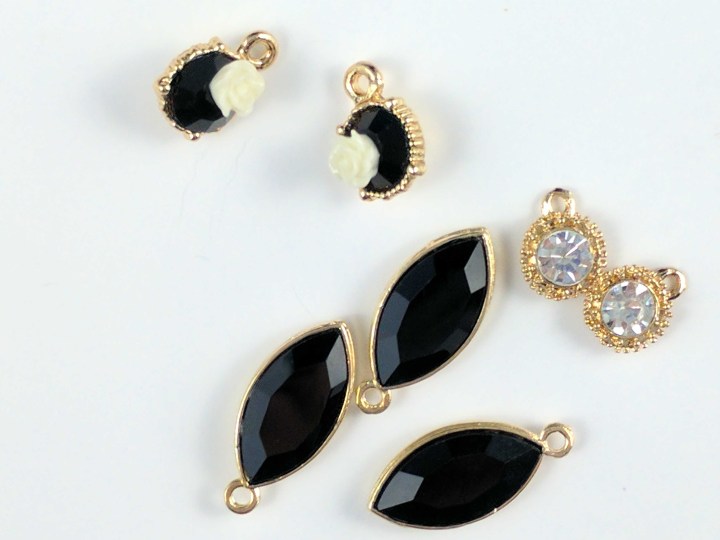 2pc 14mm resin with flower charms, 2pc 12mm crystal rhinestone charms. They are so cute and daity! The flower ones would be great as simple earrings to go with the cameo chokers.
3pc 23mm marquis resin drops. Of the lot, these were my least favorite. I don't know what to do with them yet.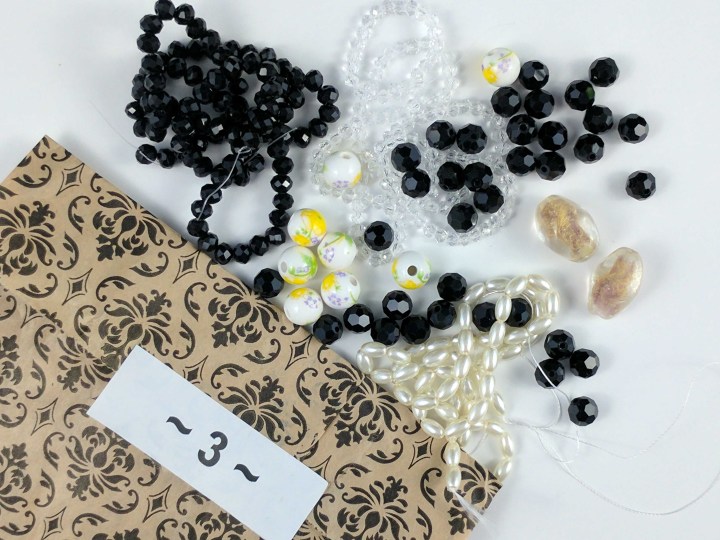 BAG 3: Vintage Elegance
96pc 6x4mm Chinese crystal rondelle beads, jet and 145pc 4x3mm Chinese crystal rondelle beads, crystal clear. I really like rondelles and these are great looking! The crystal small ones are so cute with the rhinestone rondelle spacer beads!
36pc 8mm Chinese crystal round beads, jet. Some of the beads were chipped, but overall the are nice looking! With bead caps, they would give a nice vintage look.
16″ strand 64mm glass pearl rice beads. Perfect for the Holiday Season, they would mix great with the black beads for a nice twist on a pearl necklace!
6pc 10mm floral porcelain round beads. I love the cute design, and looks so summery though, I might keep them around for the summer!
2pc 20mm lampwork glass beads with gold foil. As for the floral porcelain beads, they are quite cute and with a nice colours, but I'll keep them for summer.
BONUS BAG! Bead Box Bargains included a little bag full of goodies! A vintage-style resin pendant, two rhinestone pendants (that were claimed by my niece at some point in the last couple of days) and bead caps.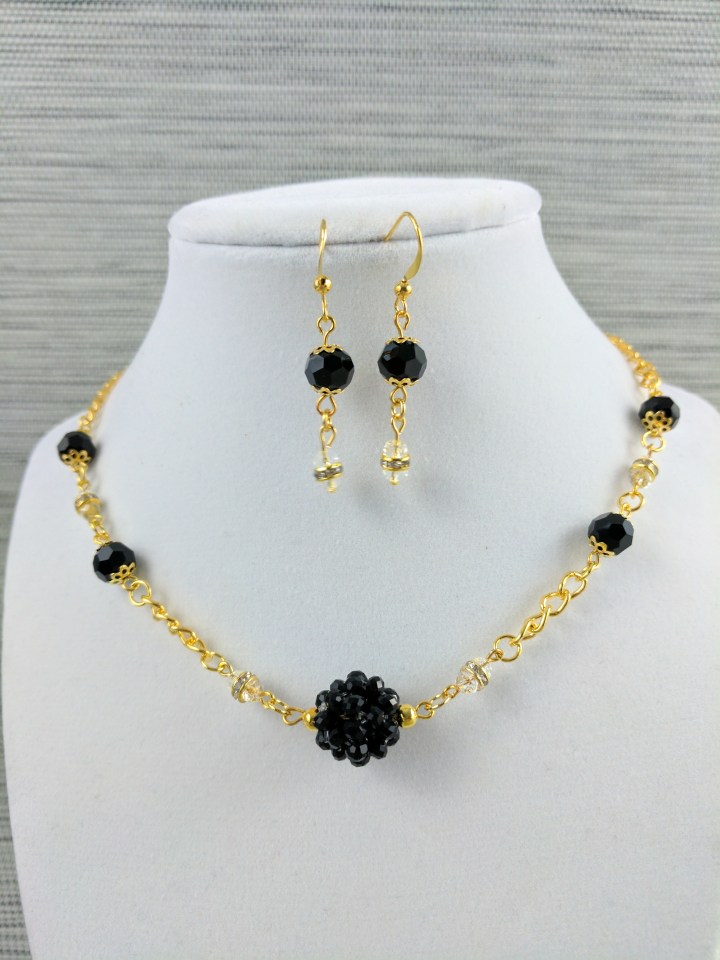 I was a bit overwhelmed by this box. I liked the colors (I love black and white), but I found it was too much mixed with the gold for my taste. So I went for a simple design, with the beaded crystal round bead as the focal. I really like the look of the crystal rondelles with the rhinestone spacer beads, so I added some to it.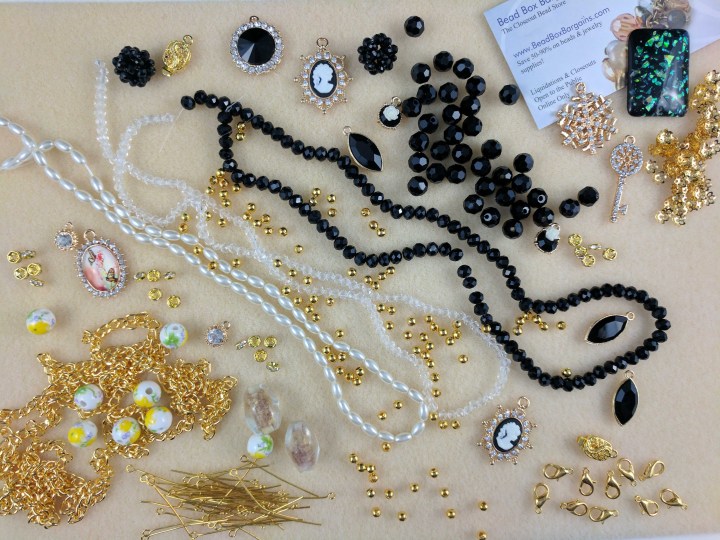 Once in a while, a box I usually love doesn't blow my mind and I'm left with a bit of disappointment. This is one of those times. The beads this month were of good quality, but the charms are not ones I enjoy working with. Overall, it was my least favorite box from Bargain Bead Box in 2016 (there's always a least favorite one!) but it was still a great box that will please a lot of people. Actually, my nieces loved it!
What did you think of this month's Bargain Bead Box?