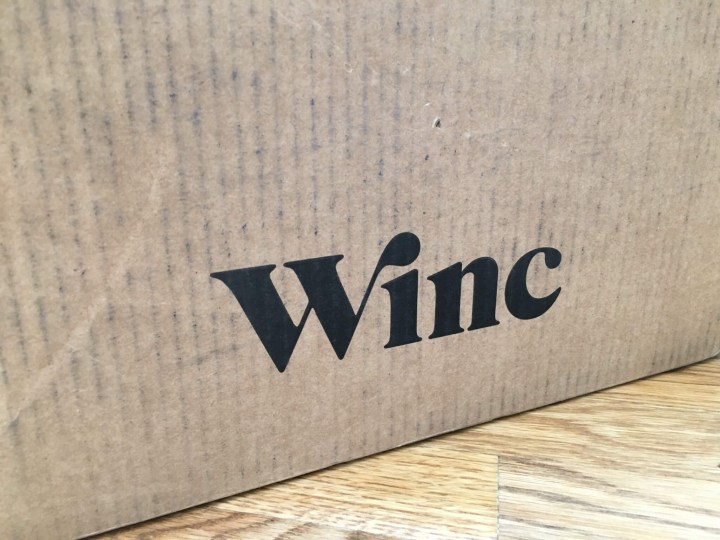 Winc (formerly Club W) is a wine subscription service that sends wine directly to you each month based on your personalized palate profile. A "global winery," Winc advertises that it has "direct relationships with vineyards and farmers to make exceptional small lot wines at prices impossible to achieve at retail."
If you're like me, you find yourself buying the same wines every time you go to the store – you've found those bottles you like, and it seems too risky and expensive to buy something else just to try it. Plus, those store employees are either clueless about wine or make YOU feel clueless about wine. Winc is the perfect solution! You fill out a quick survey about what tastes you like – black coffee, citrus, etc., and Winc makes a customized recommendation of 3 bottles that fits what you like. Then, for $6 flat shipping (or free if you pick a 4th bottle), it comes to your house!  What could be easier than that?
The packaging continues to be good protection for the bottles. Keep in mind that someone 21+ will have to sign for your box. This month, I was slow on the uptake and forgot to add my 4th bottle for free shipping, so I only have 3 to review.  Fun fact – the packaging makes awesome staging for desert planet Lego battles and/or cat seating.
It's December, and that means it's open season on calories. Gotta put on some insulation for the long, dark winter ahead… said no one who lives in the South. Oh, well. Holiday parties are a great reason to share wine with friends, and we brought ours to the 7th annual playgroup party. This month, I had two reds and a sparkling – perfect for December!
Instead of the information/menu cards, Winc is now sending a little magazine, the Winc Journal.
DEAL: You can use this link for $20 off your first order – no coupon code required! ($25 total for 3 bottles, but you can grab an extra bottle and get free shipping!)
It's printed on heavy paper for that "authentic/rustic/artisanal" feel and contains articles about wineries, grapes, and food. Oddly, only 2 of my wines this month were in the directory of current wines in the back. I miss the information cards that Winc used to send.
On to the wine. We started light with the 2016 Finke's Widow sparkling Chenin Blanc.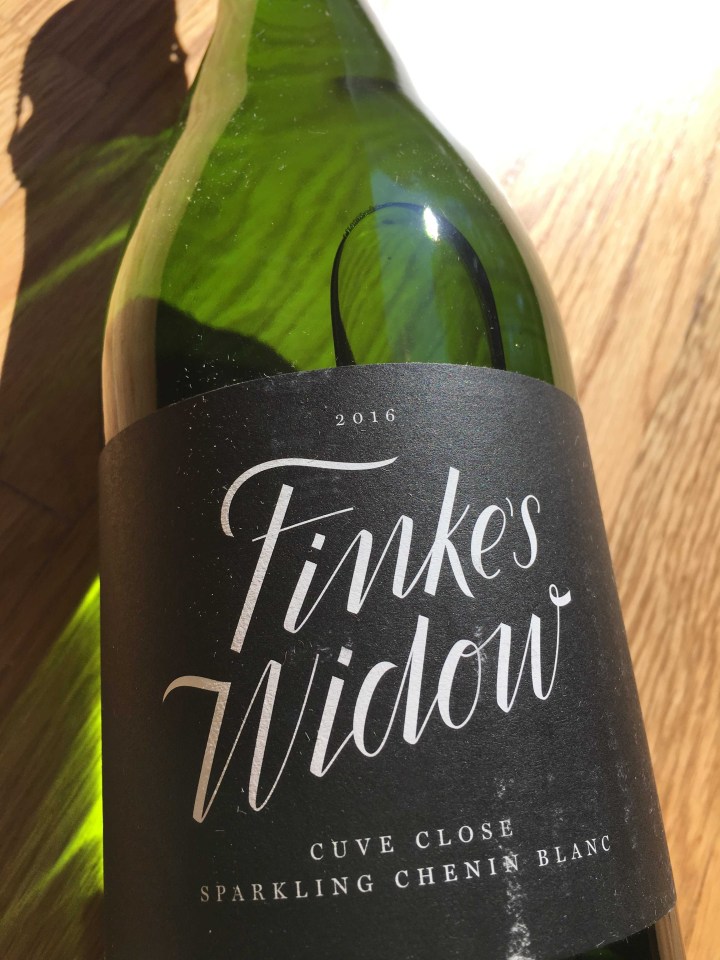 The Finke's Widow label is a new collaboration of Winc with a California winery to bring quality sparkling wines to America for under $25 a bottle. Winc is offering two of Finke's Widow's wines – a Chardonnay-based sparkling and this one, a Chenin Blanc. As loyal readers no doubt get tired of hearing, I like a dry white, so I probably would have preferred the dryer style of the Chard to the Chenin Blanc, but it's the holidays, and I can tolerate a sweeter sparkling wine than I might otherwise. This wine is light gold in the glass, with medium-sized bubbles that are a bit soft on the tongue. They feel more like a prosecco than a Champagne, which has smaller, sharper bubbles. The nose is simple. with a bright peachiness that carries through in the flavor of the wine, with a bit of lemon to the back to keep it out of the gummy-candy category. The finish is short and clean. This is definitely on the sweet side, but it went pretty well with passed appetizers and was generally crowd-pleasing. This was much better right out of the ice than warmed up in the glass.
The next wine was the 2014 Idee Fixe Red Blend.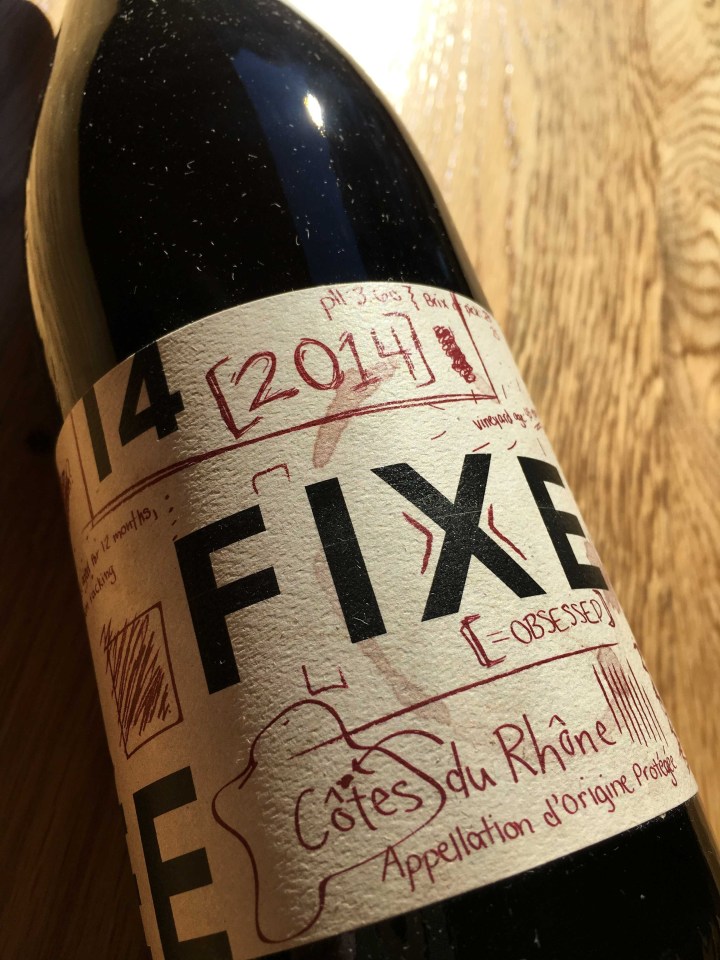 Idee Fixe is from the Cote du Rhone AOC, a lovely region in France that puts out terrific blends. This blend is 75% Grenache and 25% Syrah, which is fairly common in that area. It's a nice bright red/violet in the glass with a very light body. It has a bit of berry and spice on the nose and a very light mouthfeel. The fruit comes at you first, with some berry and currant flavors, but then the Syrah pepper comes into the mix and it finishes sharper than it started.  The finish is spicy and short. This is a terrific wine! Its lightness makes it more of a before-dinner wine than something that would stand up to a meal, but it is easy-drinking and smart. Red or white wine drinkers will like this one. We drank it off-chill, which was right.
Our last wine is a return favorite, the 2015 Les Bobos.
I had the 2014 edition of this wine in one of my first Winc boxes, and I loved it, so I was excited to see the 2015 bottling. The Les Bobos is made of Carignan, which is an awesome food wine. The wine is a pretty cranberry juice color in the glass, with not much nose. It's light in body and has a nice fruitiness that is more cranberry than the fresh berries of the Idee Fixe. The finish on the Les Bobos is long, with hints of baking spices and smoke that is very appealing. It has light tannins on the back end that leaves you ready for another sip. This is not a "serious" food wine – I wouldn't serve it with tenderloin or steak, but it would go great with any casual meal, from pasta to chicken to pizza. The crowd was split as to whether they liked the Les Bobos or the Idee Fixe more. I preferred the Les Bobos because tannins make me happy. We served this off-chill, but it warmed up nicely in the glass to emphasize the spice flavor a bit more.
For the record, we had a nice cab with the tenderloin at dinner, but everyone enjoyed trying our Winc selections this month. That's it for December and for 2016! Hard to believe. Happy New Year and we look forward to seeing what we get in 2017!