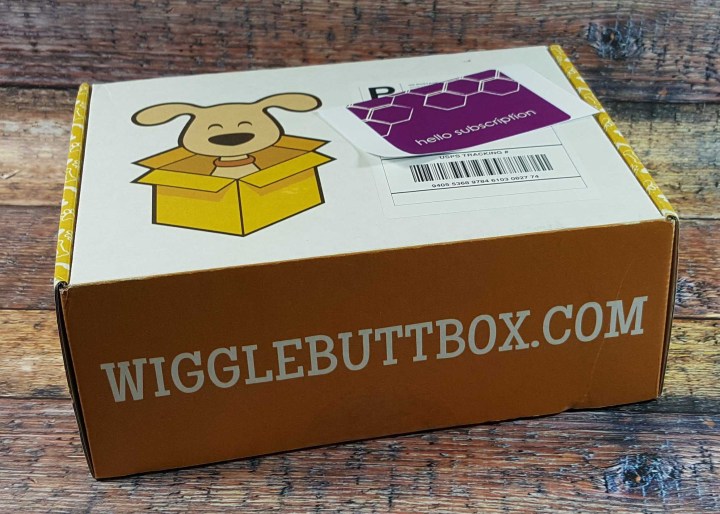 Wigglebutt Box is a subscription box of "yummy and fun surprises for you and your dog that are delivered right to your door every month." Each box contains a seasonal kerchief, a roll of poop bags, and a combination of 3-5 toys/treats/accessories. Boxes are tailored to your pet's size and toy treatment. Pet parents are not forgotten either; there's a gift included for you too! Plans start at $35/month, but you can increase your savings by choosing a longer subscription option (3-month, 6-month, and annual plans available). Plus, a portion of the proceeds from every box sold will go towards an animal charity.
I got the small dog/average play Wigglebutt box for my fur babies, Lily and Lexi.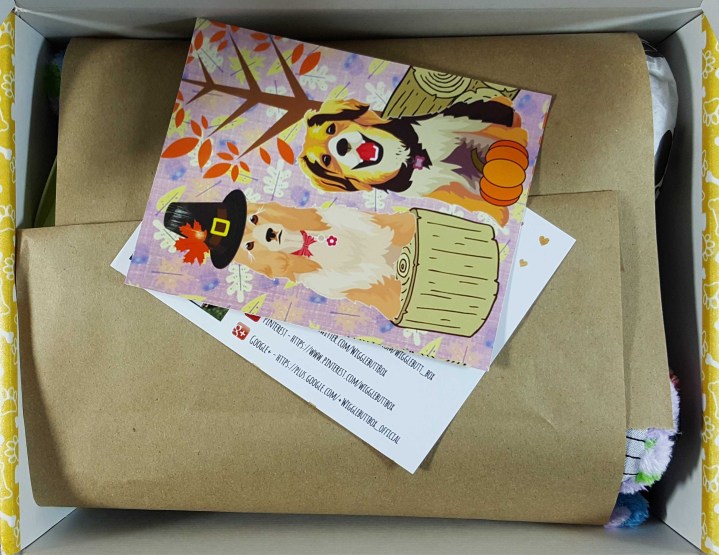 How cute are Mia and April in their Thanksgiving outfits!?!  You can keep up with the original Wigglebutts by following them on social media. 
The information card has a list of box contents along with a brief description.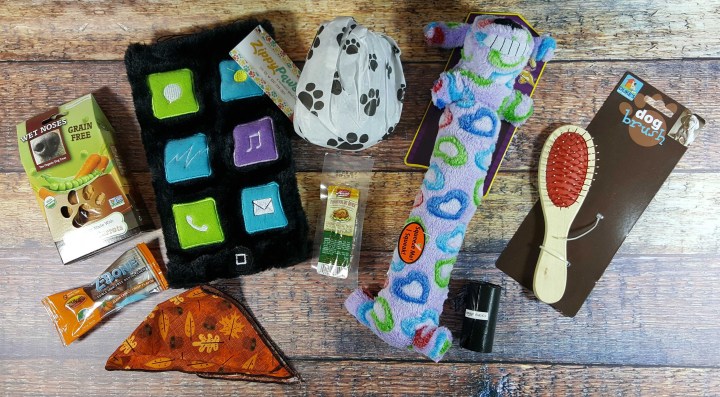 November's Wigglebutt box!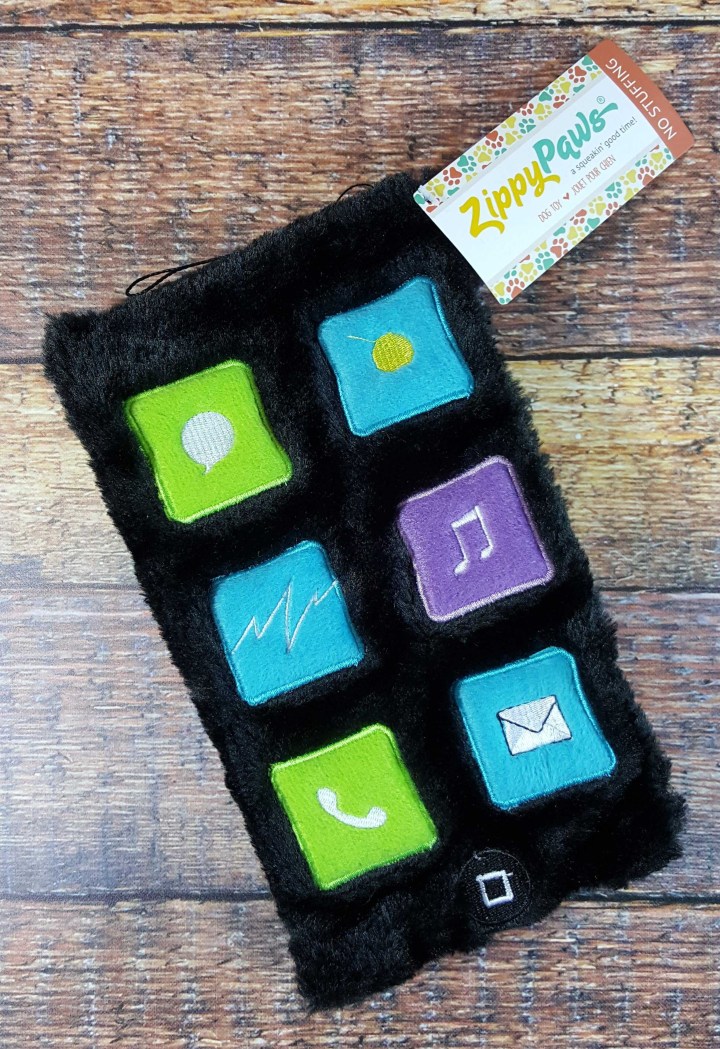 ZIPPY PAWS iPooch Cell Phone Plush Toy ($7.99): This toy is advertised for medium and large dogs, but my girls will have no trouble with it. It is stuffing free and features 4 large squeakers. Now the girls can be as tech savvy as their mom.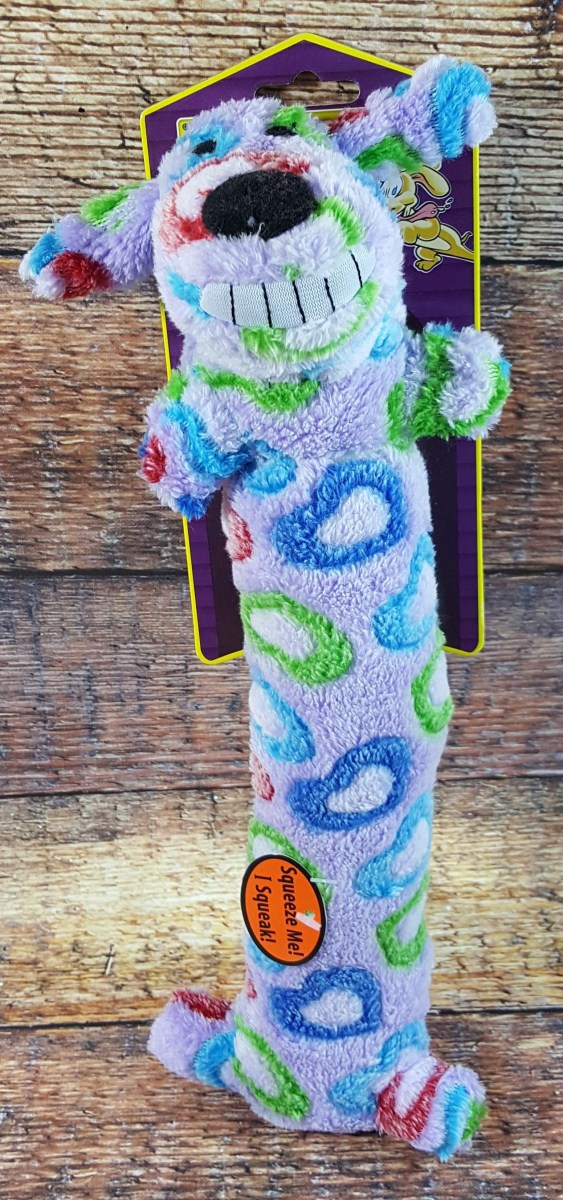 MULTI PET 12″ Loofa Dog ($6.76): Multi Pet has several lines of Loofa dogs, but this little guy is part of their "Pink Ribbon" series. A percentage of sales from this series is donated to help find a cure for breast cancer. While your pup enjoys their new squeaky toy, you can feel good about helping a worthy cause.
WET NOSES Grain Free Peas & Carrots Dog Treats ($2.49): Designed with the allergy-prone dog in mind, these treats are made with a pea base. FYI – peas contain higher levels of protein than grains, they have a low Glycemic Index, and contain Omega 6 and Omega 3 fatty acids. As good as these are for them, my stubborn pups are not fans of biscuit treats and will share these with a friend.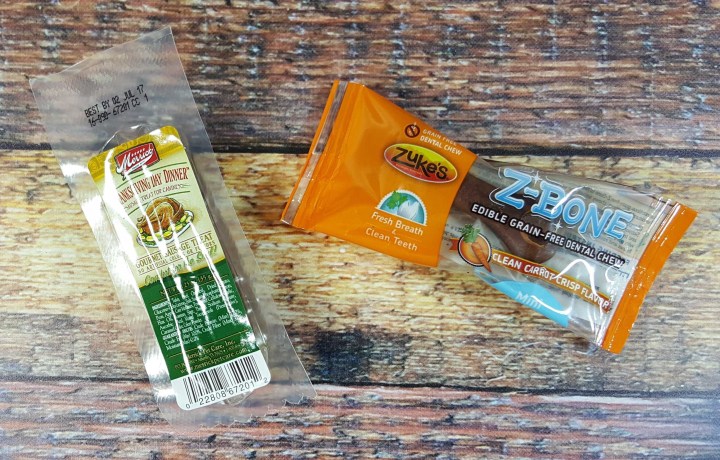 MERRICK Thanksgiving Day Dinner Sausage ($1.03): Your pet can have a taste of Thanksgiving dinner with this treat! It is made with turkey, peas, carrots, and Granny Smith apples. This sausage is bigger than my thumb, so it was split between the girls (who gobbled it up).
ZUKE'S Z-Bones Dental Dog Treat – Clean Carrot Crisp ($1.06): These are currently on sale at Amazon.com; a bag of 18 is going for $5.39 (that's $0.18 per treat!). These are available in 4 sizes. Our box had the mini which is perfect for 10 lbs. dogs. Z-bones help to freshen doggy breath and clean teeth without using wheat gluten, cornstarch or synthetic chlorophyll. The potato-based chews maintain dental hygiene by scraping and polishing your dog's teeth. I gave this to Lily, and she seemed to like the taste but wouldn't chew the treat. This was fine by Lexi, who later stole the treat after finishing her own dental chew.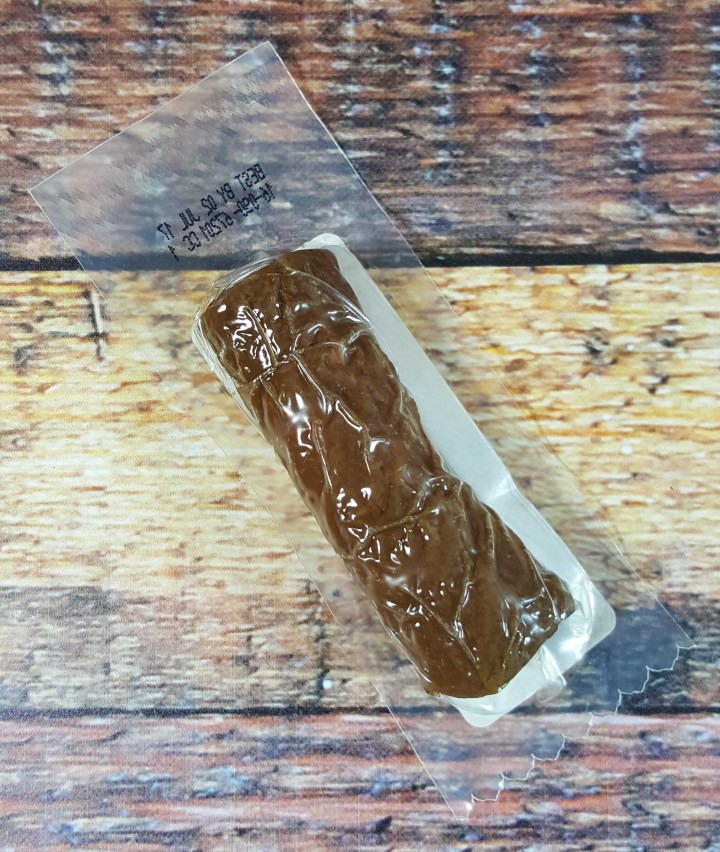 A close up of the Merrick sausage treat.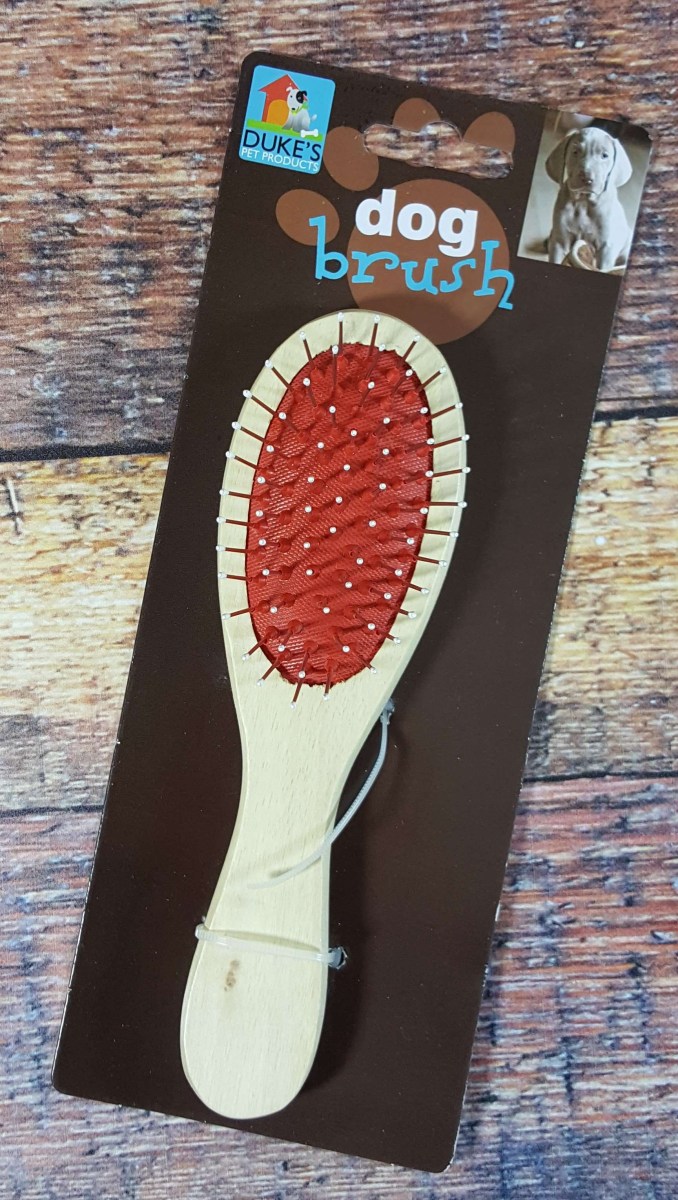 DUKE'S PET PRODUCTS Dog Brush ($2.29): The site that I linked to was the only one with an exact match for this brush, so the price may be different elsewhere. This pin brush is helpful in lifting loose hair and debris. Since they shed so much, my girls get brushed 3-4 times a week with a pin brush. This one will go in their travel bag.
*Pawrent Gift* IHEARTDOGS.COM Shatterproof Wine Glass ($7.50): Made of 100% food-grade silicone, this wine glass is perfect for those locations where glass is prohibited or not preferable. It is soft, packable, and UNBREAKABLE. Cuddle up with your fur babies and enjoy their company with a glass of wine.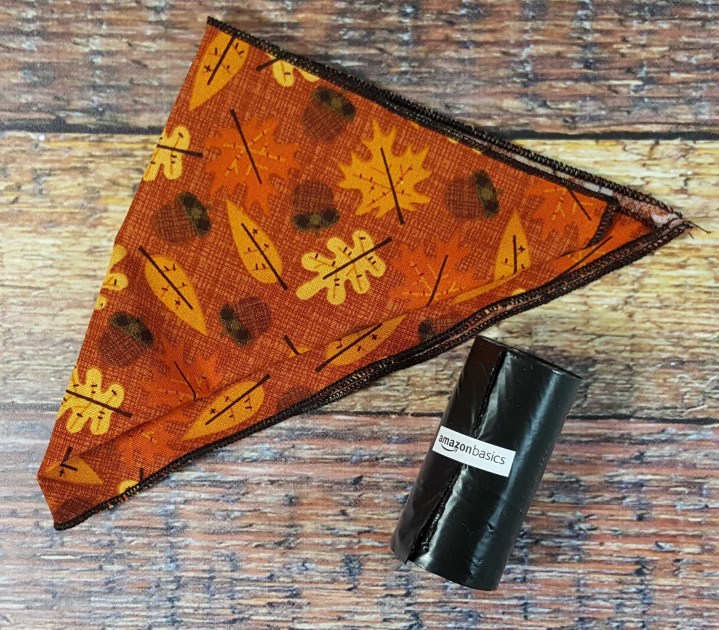 WIGGLEBUTT BOX  Seasonal Kerchief ($5?): I love the fall theme on this scarf. The changing colors of the leaves and falling acorns bring memories of autumn. We're still getting 80° days here in Florida.
AMAZON Dog Waste Bags ($0.25): I can never have enough poop bags. With two dogs, we run through these pretty quickly.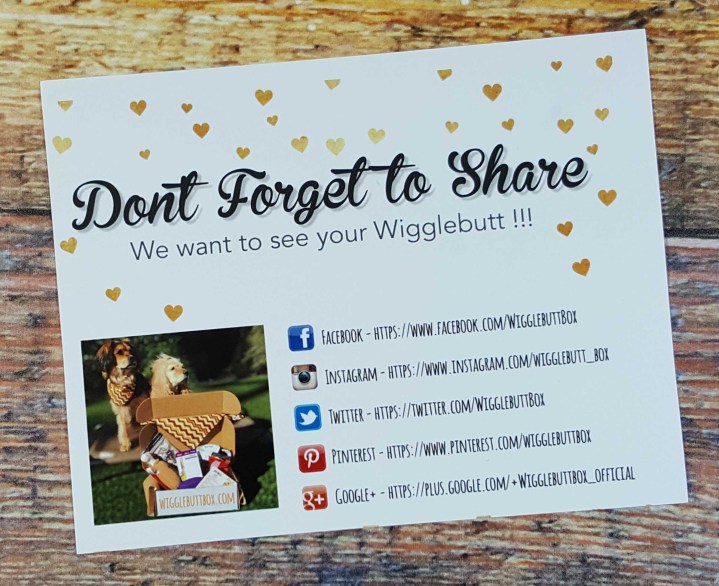 I wanted to add some cute pics of the girls into this review; however, they were not being cooperative. I think it may have had something to do with being chased by a 14-month old toddler for a week.
This month's Wigglebutt Box comes in just over $34, falling below the cost of a single box ($35). With a multi-month plan the per box rate is lower. Remember, the longer your subscription term, the more you save. For me, this was a good assortment (except for the Wet Noses treats), and I feel like I got 2 pawrent gifts because the brush is definitely for my benefit. If given a choice, Lily and Lexi would never go near a brush.