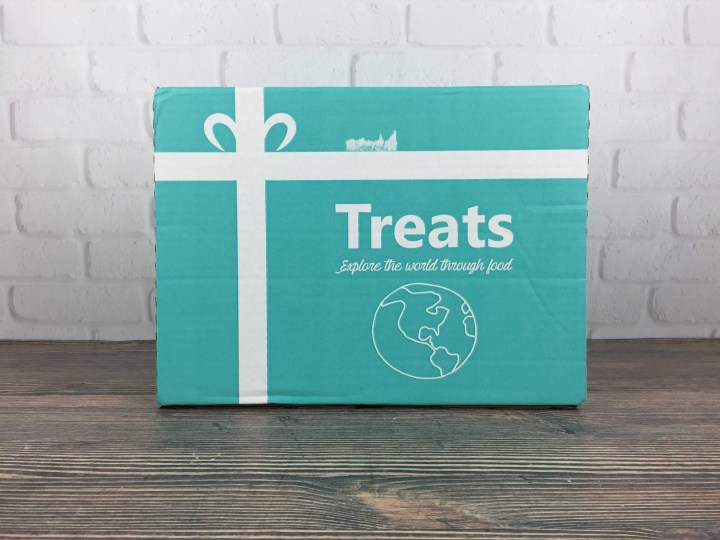 Shalom! This month Treats journeys to Israel! Treats is a monthly snack subscription full of snacks from around the world. You can expect to receive eclectic and interesting snacks that you've never sampled before (unless, of course, you've lived in the featured country recently)! The Standard Pack offers 4-5 snacks, while the Premium box offers 8-10.  This, of course, is the Premium Box.  It's quick to enroll, and you'll get your first box within a few days of when you subscribe.
The packaging is simple and elegant. Tissue paper keeps the contents a surprise until you are ready to immerse yourself in the destination country's food culture. The box is crowned with a beautiful postcard welcoming us to this month's Treats destination.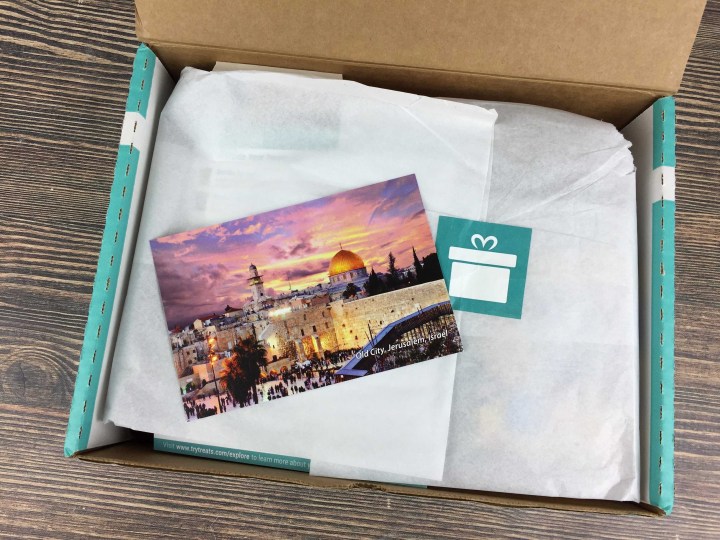 DEAL: You can save 15% on your first month with coupon code HELLO15.
The box is filled to the top with goodies! Chocolates and sweets are nestled under a layer of crunchy and savory snacks.
This month, we welcome a box from Israel! The back of the card has a welcoming message that points out some of the items with distinctly local and traditional character.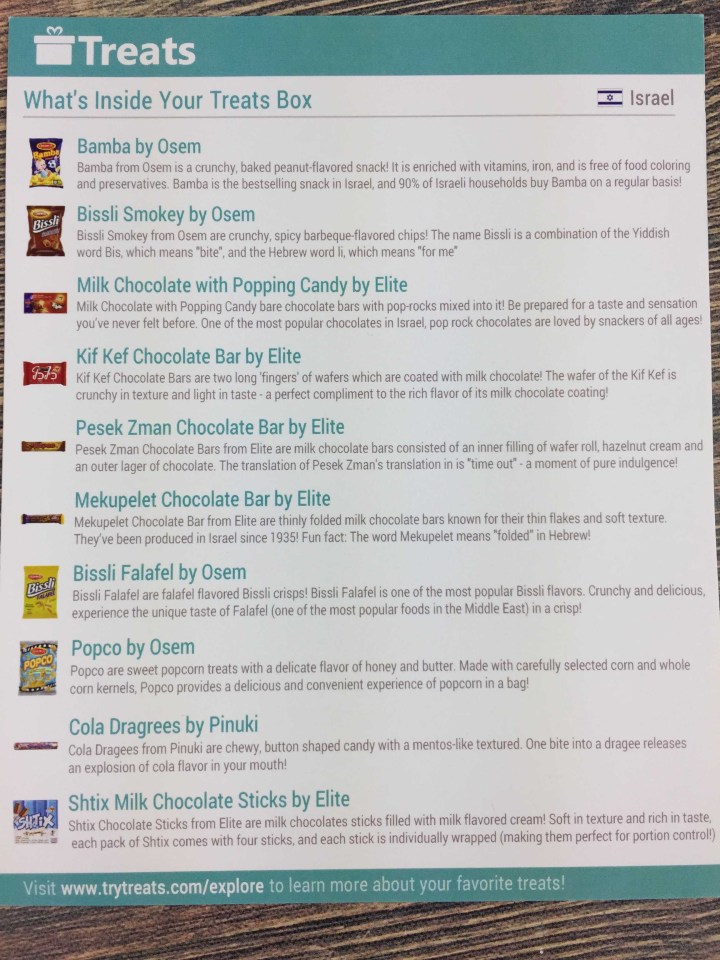 There is also a handy info card that gives the name and maker of each treat, as well as a short description of each.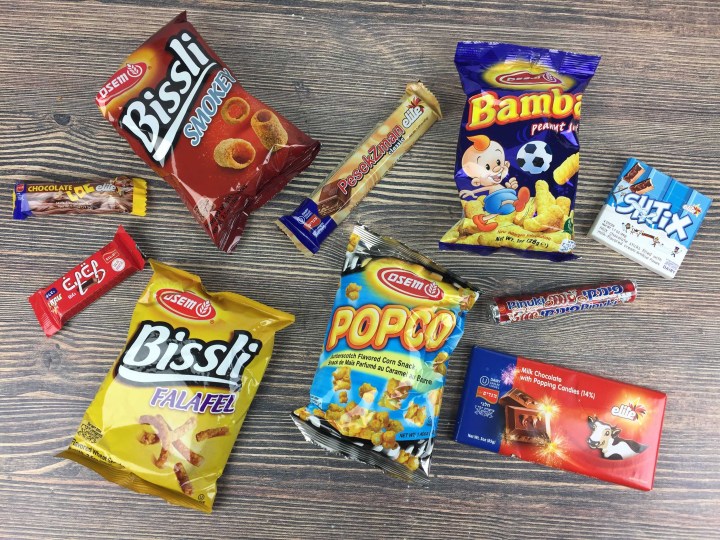 Everything in the box. The composition of each Treats collection depends on the local snacking culture, but there is usually a good mix of sweet and savory and individual and family packs – this box didn't really have any huge multi-packs, though there were a few items that'd probably best be eaten in multiple sittings.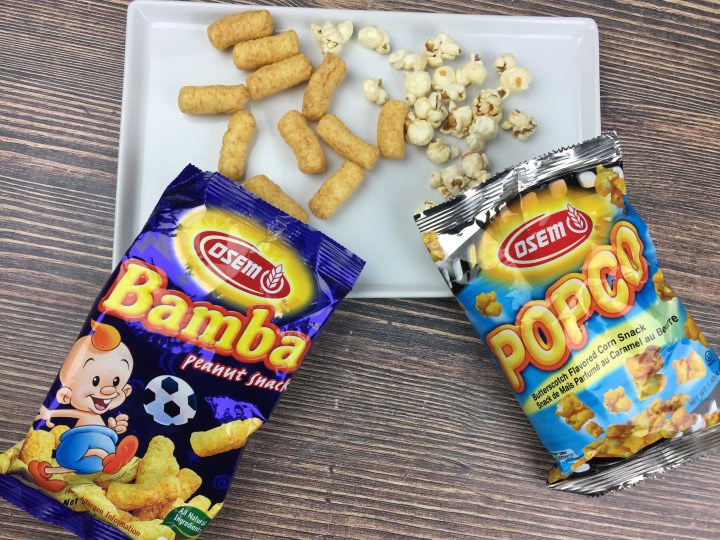 Osem Bamba: These puffs resemble packing peanuts, and the texture is not that far off. They are dry and softer than cheese puffs. Each is coated with a peanut butter powder. They are not overly sweet and are a good snack for little kids.
Osem Popco: Sweet popped corn with light, crisp butterscotch coating.
Osem Bissli Falafel: These little sticks are very crunchy and have a hearty, whole grain taste. They are lightly seasoned with a falafel flavoring (cumin, parsley, garlic, etc.). They are good, and the flip the American snack paradigm on its head, pairing a hearty and flavorful base with a light seasoning instead of joining a flavorless platform with intense artificial flavor.
Osem Bissli Smokey: These crunchy rings also start with a hearty base, but they aren't as crunchy as the Bissli. The seasoning is like smoked paprika – similar to a barbecue flavor, but without any sweet or tangy notes.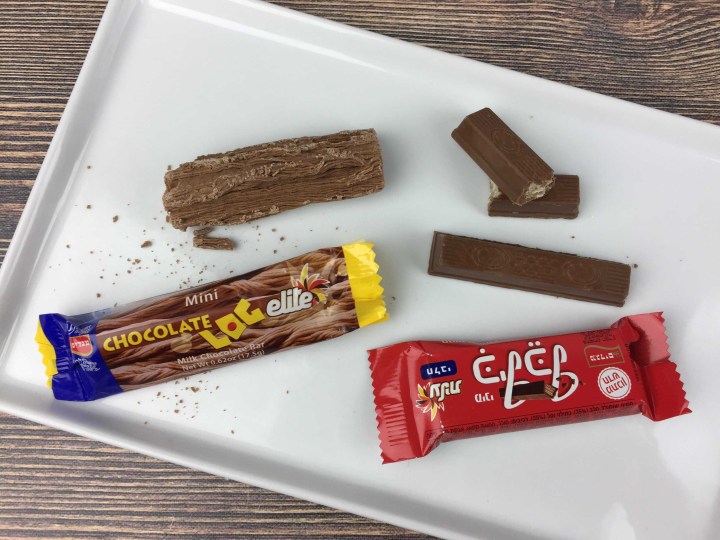 Elite Mekupelet Chocolate: This log is made of strands of chocolate loosely stuck together like it was run through a meat grinder or Playdoh Fun Factory and gently pressed back together. It is very brittle and fun to break apart. The texture of the chocolate is fairly light, and it is not a dark chocolate.
Elite Kif Kef Chocolate Bar: If you thought the name was very similar to "Kit Kat," then you won't be surprised to discover that the composition is almost the same, as well. Kif Kef is two wafers covered in chocolate – the chocolate coating is quite nice, and it is darker than that of a Kit Kat.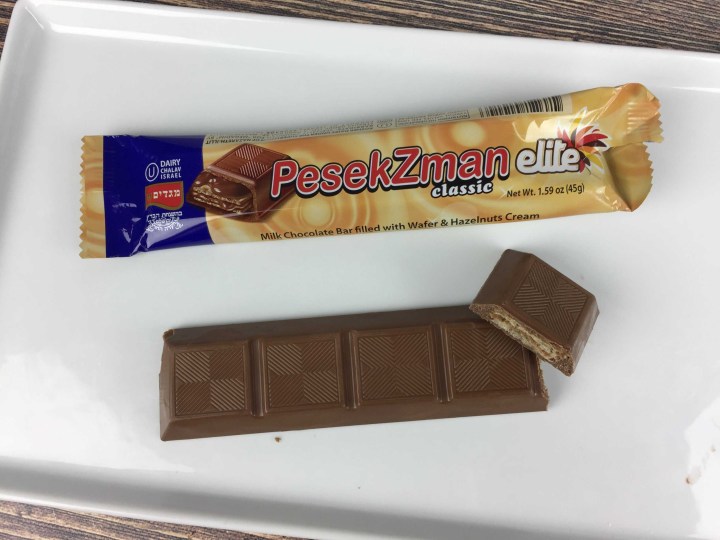 Elite Pesek Zman Chocolate Bar: Thin wafers coated with a thick dollop of hazelnut cream, then coated with milk chocolate. They taste like a cousin of Ferrero Rocher hazelnut truffles!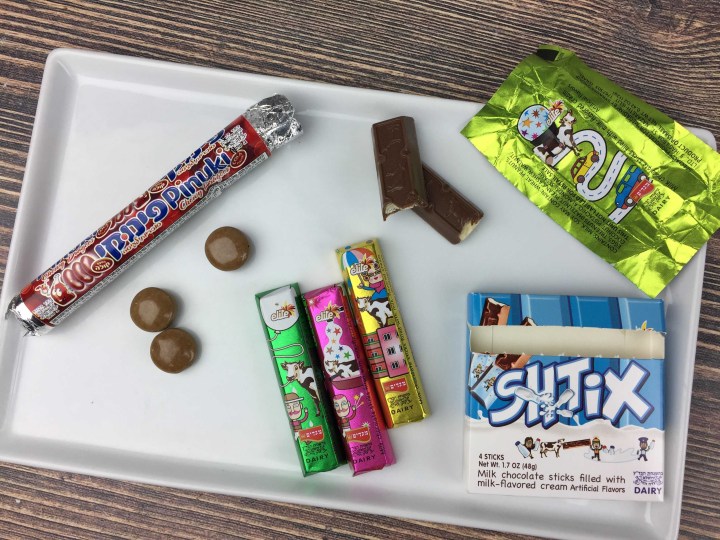 Pinuki Cola Dragees: Similar to cola Mentos, but the flavor is more acidic and doesn't taste like a brand name cola.
Shtix Milk Chocolate Sticks: Little bars of milk chocolate filled with a white creme. The filling is supposed to be milk flavored, and it is very sweet.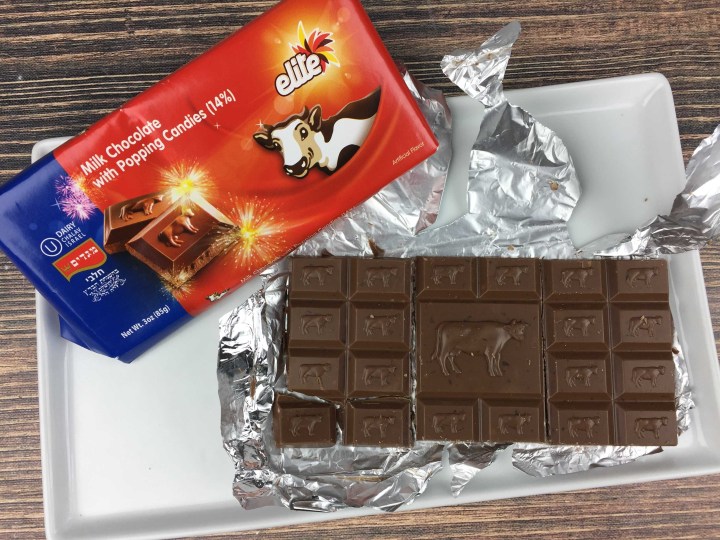 Elite Milk Chocolate With Popping Candy: This was a surprisingly good combo, probably because they start with a very nice chocolate. It is a slightly dark milk chocolate with a creamy texture, and it is paired with 14% Pop Rocks style candy. The popping continues to pop for quite a while after you think the chocolate is gone, and it is very loud!
We also have a good time with Treats. It's fun to see what people around the world like to snack on – some snacks are fairly universal, others are quite peculiar. Treats do a good job of including only good stuff – nothing is strange is included in the box solely for shock value.  The sweets in this box were really tasty, but it wasn't the best selection of savory snacks we've seen from them. I was a little disappointed that no large multi-packs were included, other than a couple multi-serving chocolates – usually, there's one or two giant packs.
Have you tried Treats yet? What did you think of the box?