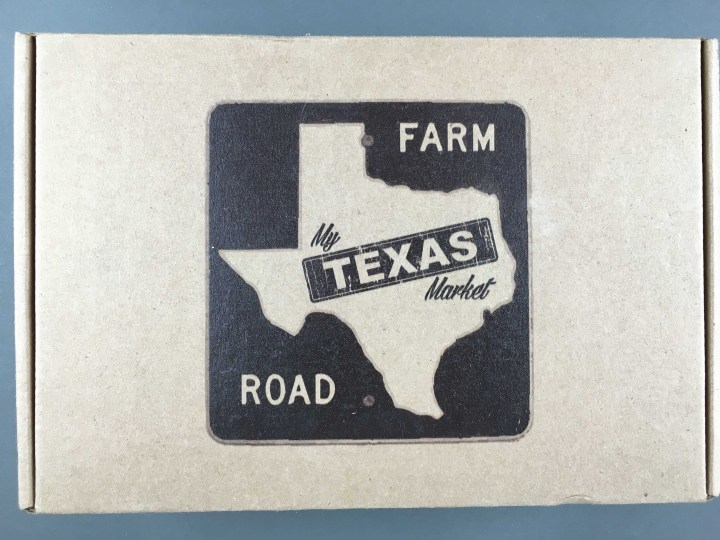 My Texas Market is a monthly subscription that sends a curated collection of small batch artisanal goods produced in Texas to your home. I was so excited to receive this box! As someone who moved to Texas a few years ago, I have come to believe that all things are better in Texas, and what better way to prove it than to sample some local fare?
The theme for November 2016 was A Day of Thanksgiving! I couldn't wait to see what My Texas Market included in this box!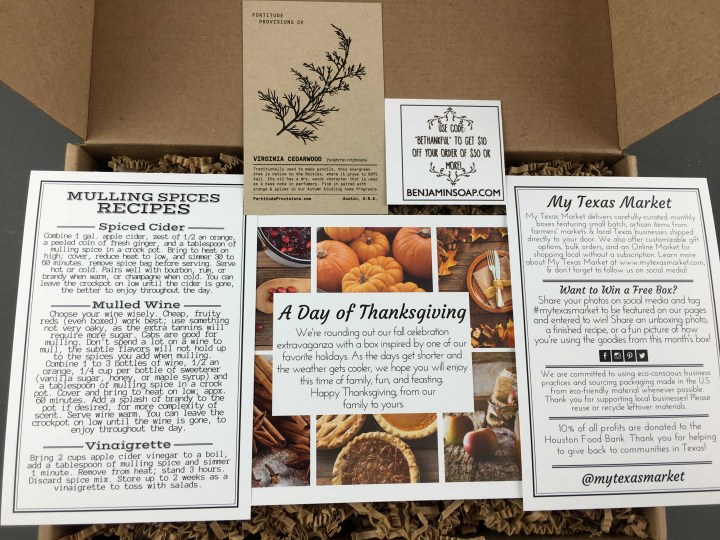 DEAL: Save 10% on your first box! Use coupon code 10FIRST.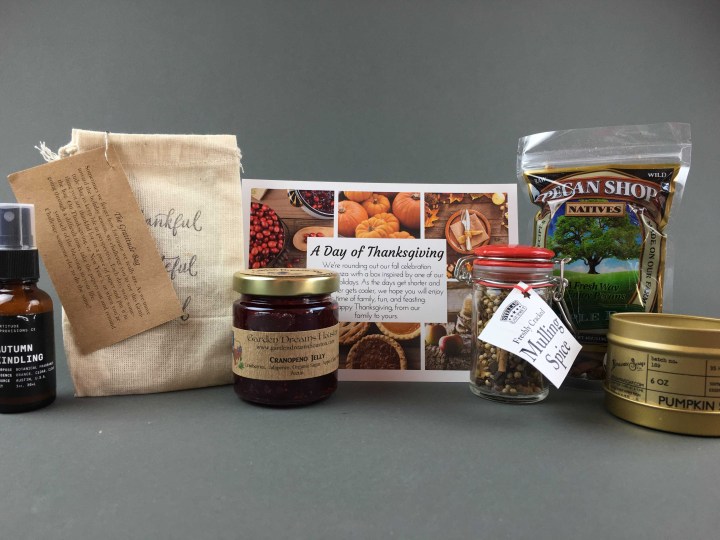 Everything looked fantastic!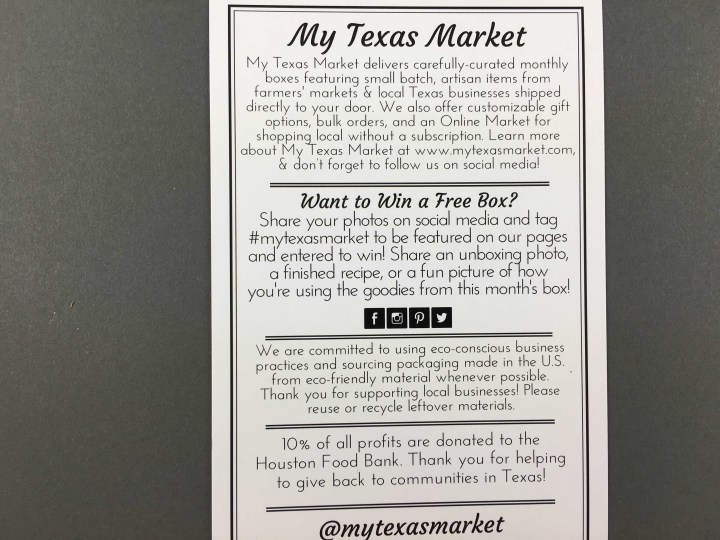 I love how My Texas Market sources small batch, artisan goods from farmers' markets and local Texas businesses each month and gives 10% of their profits to the Houston Food Bank!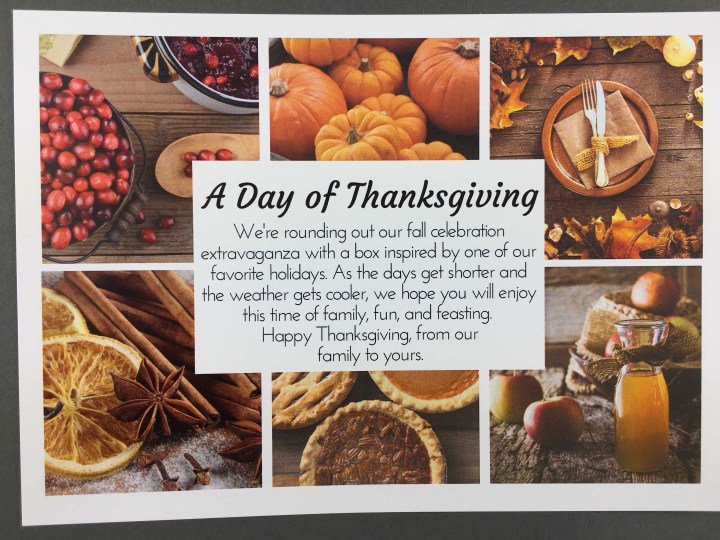 I know that my family is ready to sit down and have fun feasting together. My son has told everyone he knows he's excited to eat turkey for Thanksgiving. I guess that means we're having turkey for Thanksgiving. I can't wait!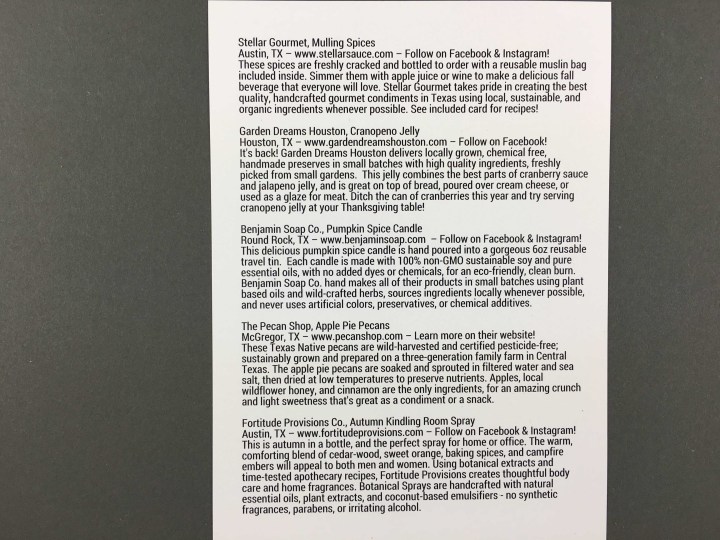 November's box contains mulling spices, pepper jelly, a candle, candied pecans and room spray.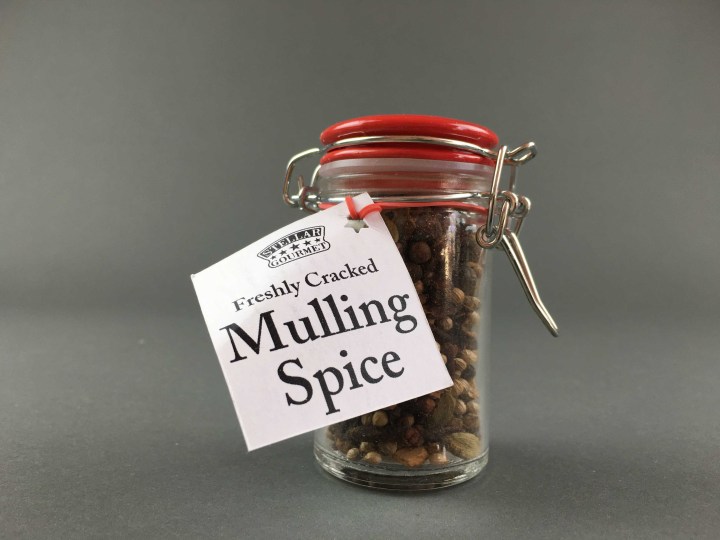 My mom always made mulled wine for the holidays, and I've missed it since I've started spending the holidays with my own family. This year, in her honor, I plan to use Stellar Gourmet's Mulling Spices ($4.99?) to make mulled wine for my husband and me. I can't wait! This mix of coriander, clove, cinnamon, anise, allspice, cardamom and black pepper smells fantastic. I'm sure it will make for a delicious mulled wine.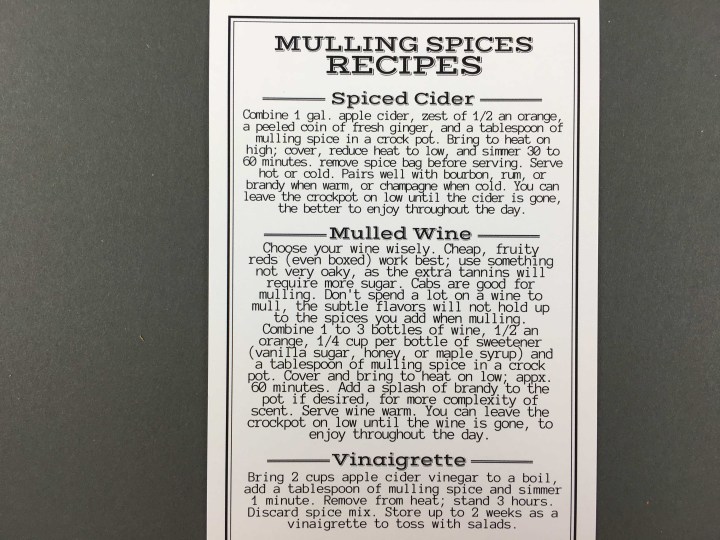 I love how My Texas Market included recipes to use that feature Stellar Gourmet's Mulling Spices!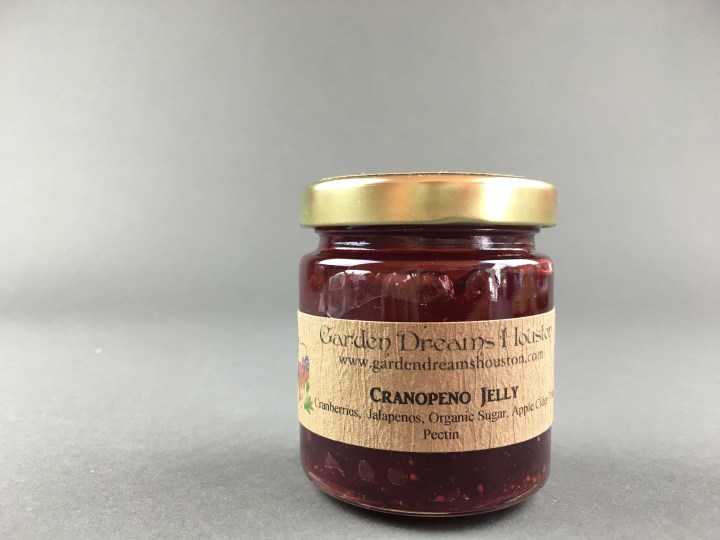 I can still remember the first time I ever ate pepper jelly. I was spending Christmas with family in Jekyll Island, GA, and my aunt served it alongside crackers and cream cheese. OMG. It was incredible! I couldn't stop eating it. I don't get it very often anymore, but when I saw Garden Dreams of Houston's Cranopeno Jelly (price unknown), I knew instantly that it would make me swoon. And I was right!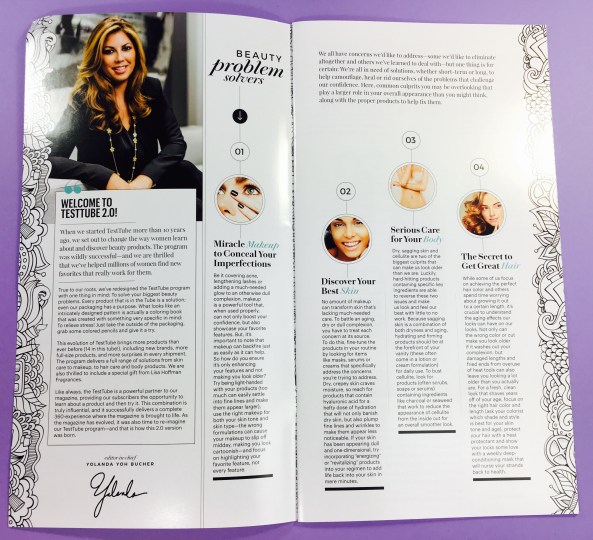 This was so good! As I ate it, I made all sorts of sounds that no one is supposed to make when company is around. Yes, it's that good! (As a bonus, you can find the recipe online here.)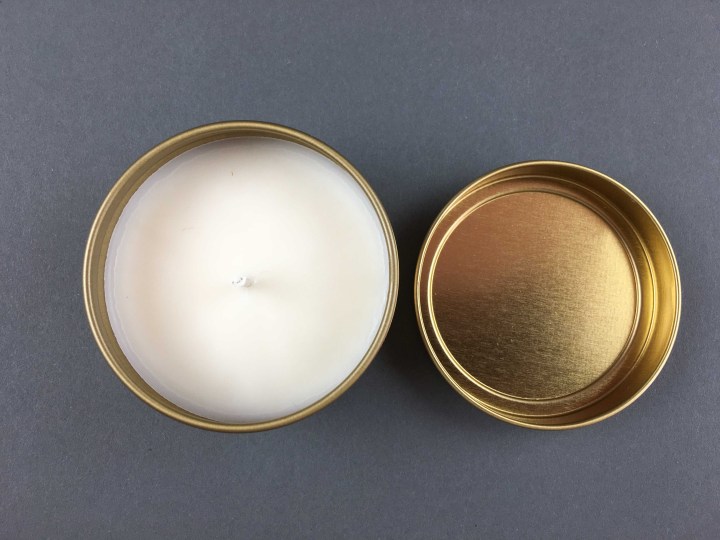 Benjamin Soap Company's Pumpkin Spice Candle ($12) smells fantastic! Burn it three hours at a time for up to 35 hours total, and your room is sure to smell like Thanksgiving.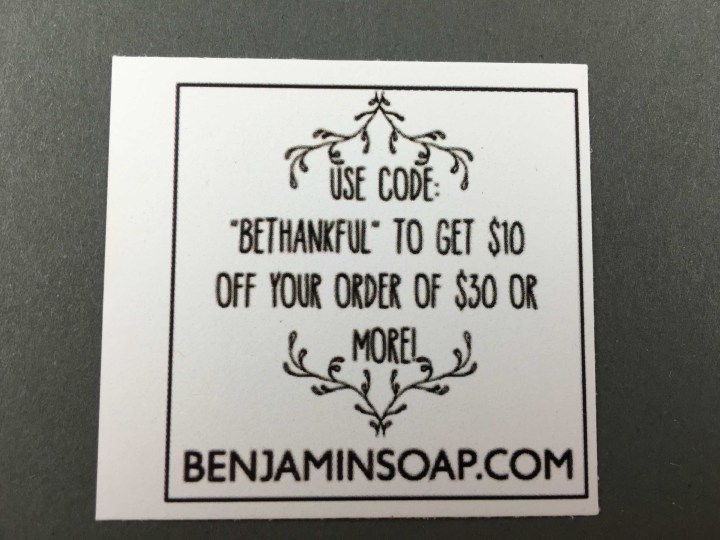 I was thrilled to receive this coupon code for additional orders from Benjamin Soap Company! In addition to this lovely candle, they also produced the insect repellent that I loved so much in the May 2016 My Texas Market Box!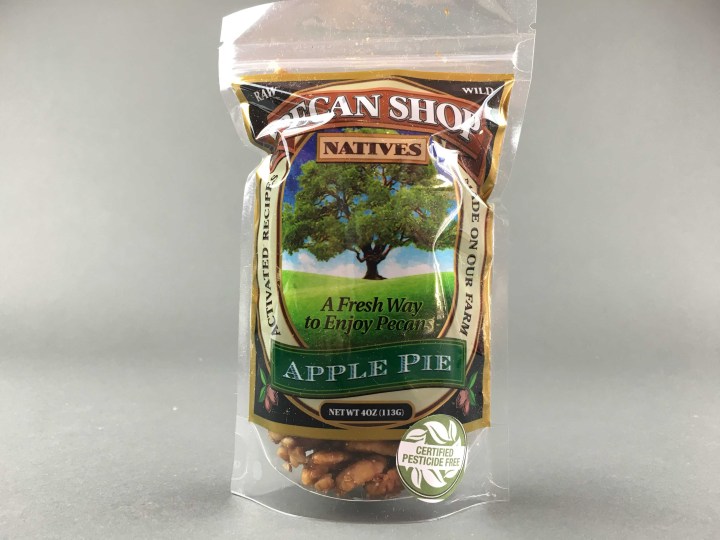 I went grocery shopping yesterday for my family's Thanksgiving dinner, and when I got home, I realized I forgot to buy candied nuts for my family's salad. Then, when I started to review my latest box from My Texas Market, I realized it contained Pecan Shop Native's Apple Pie candied pecans ($9). Score! These are delicious. Made from native pecans, apples, honey and cinnamon, they will complement my husband's favorite salad–spinach with sliced apples and goat cheese – perfectly!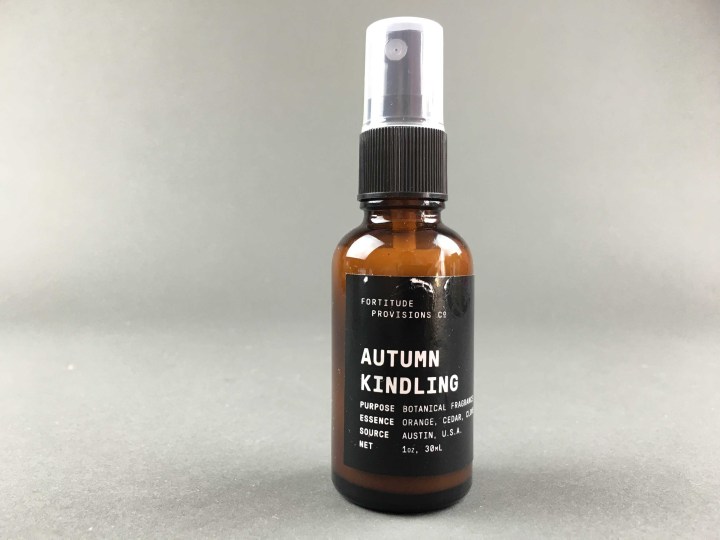 Fortitude Provisions' Autumn Kindling Botanical Room Fragrance ($18) smells fantastic. Made with an array of essential oils including cedarwood, clove, orange, patchouli, vetiver and frankincense, this strong woodsy scent is sure to evoke the aromas of the season. I plan to spray some on some pinecones and use them as a centerpiece for my dining room table.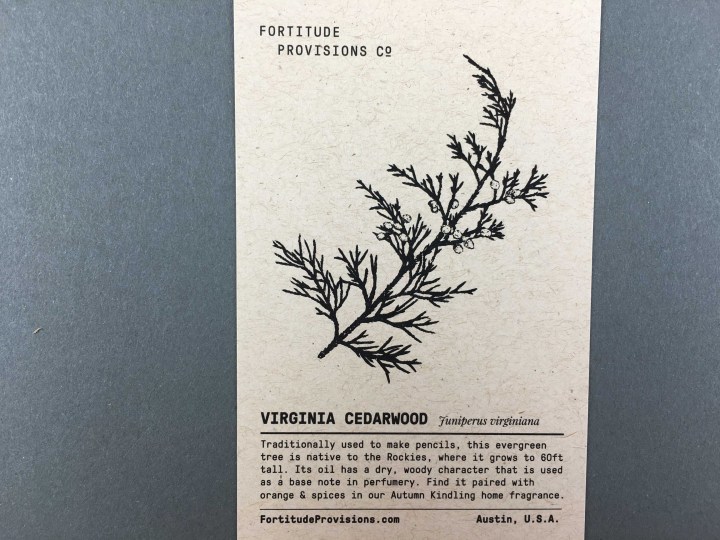 I'm always eager to learn more about plants, so I appreciated this introduction to the Virginia Cedarwood. I found it interesting that the Virginia Cedarwood is native to the Rockies. I'd love to learn more about the story behind its name!
This gratitude bag was an added bonus this month. Every day, try to write down something you are thankful for. Then, when you encounter a difficulty, you can just return to your bag to read about everything you're thankful for. How lovely!
My Texas Market is one of my favorite subscription boxes! Texas has so many great makers, and I think that the individuals behind this box do a great job each month selecting different artisan products from across the state. I can't wait to see what they send next month!
Have you tried My Texas Market? What did you think of this month's selections?