Red Velvet NYC lets you make all your favorite gourmet desserts with their DIY bake kits. You can choose from a variety of sweets like tarts, cupcakes, and the ever popular red velvet cake! You'll get a box with pre-measured ingredients, recipes, and tips on how to design your baked goodies like a pro.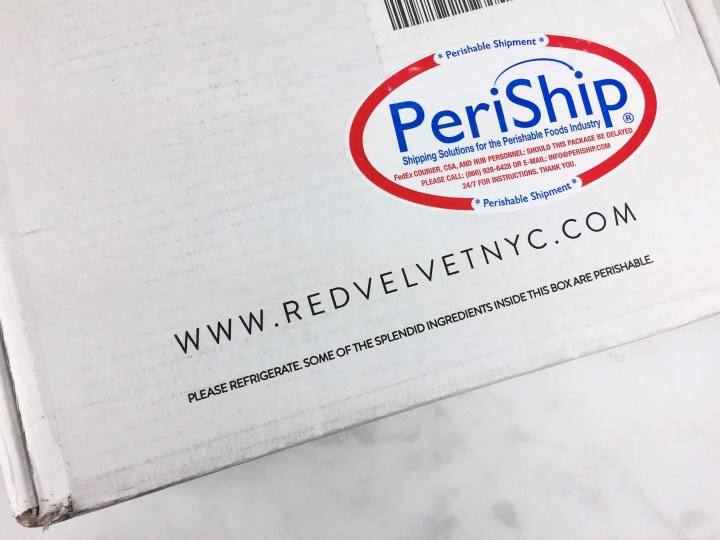 This isn't a monthly subscription – order these dessert kits on demand. The prices start at around $25 and there's a $5 shipping fee. Everything is shipped through PeriShip, which also manages deliveries for some of the largest meal subscription services.
DEAL:  Get 15% off your subscription! Use coupon code HELLOSUB.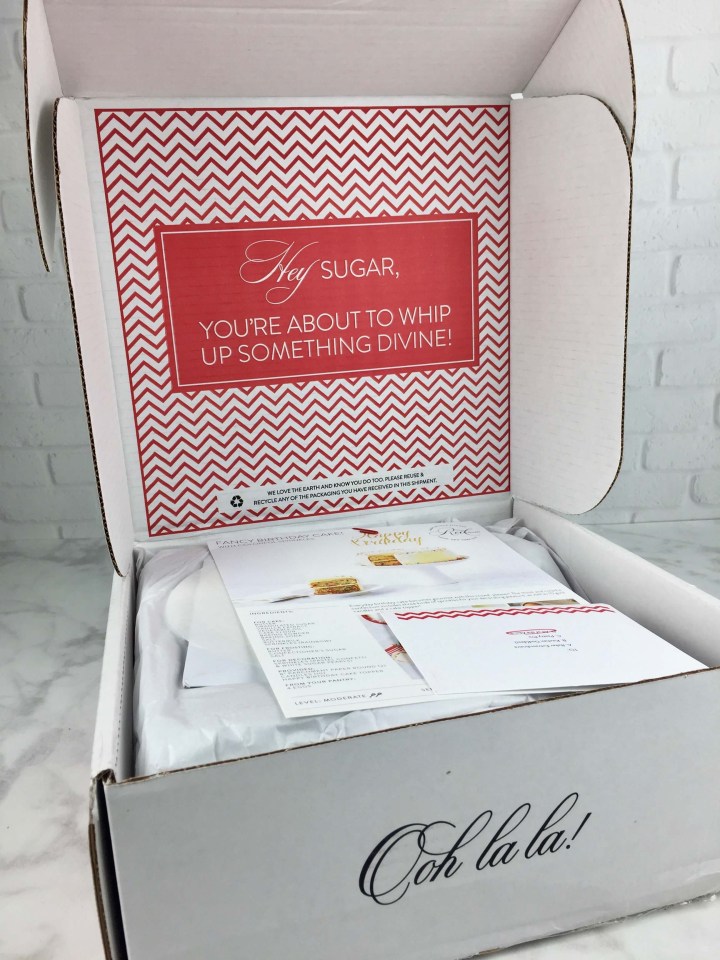 This box contains all the ingredients you'll needed to make a Fancy Birthday Cake, except for eggs. According to Federal rules, it's illegal to ship eggs across state lines unless you are a commercial poultry facility.
The Fancy Birthday Cake kit cost $36.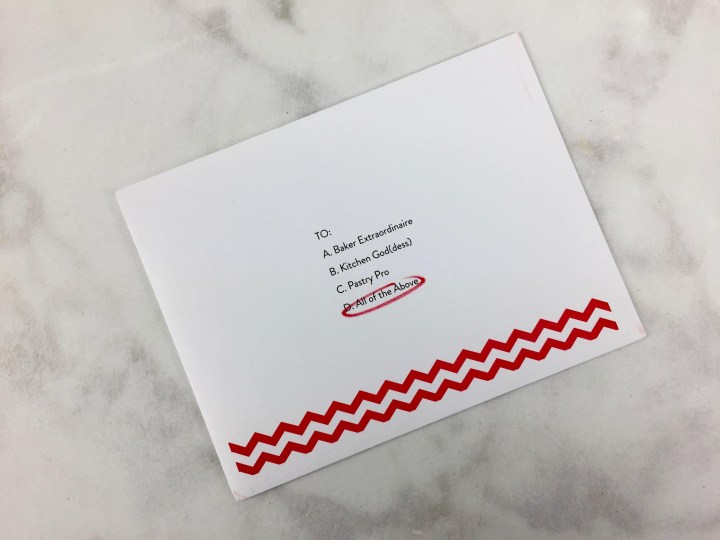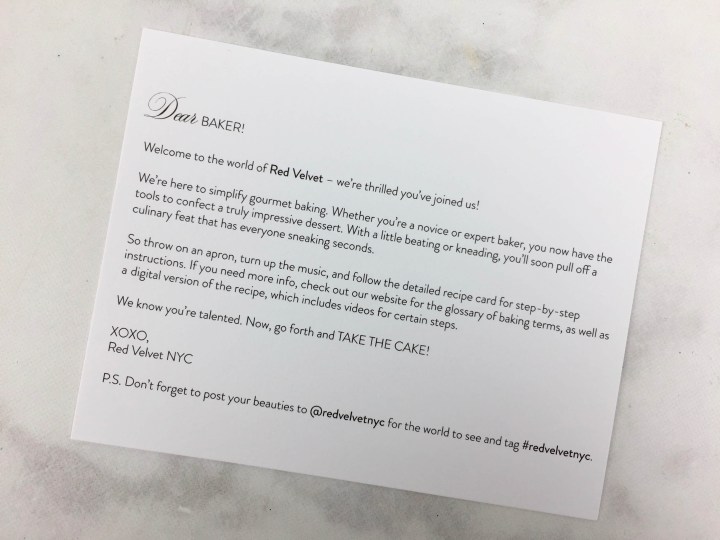 A welcome note from Red Velvet NYC.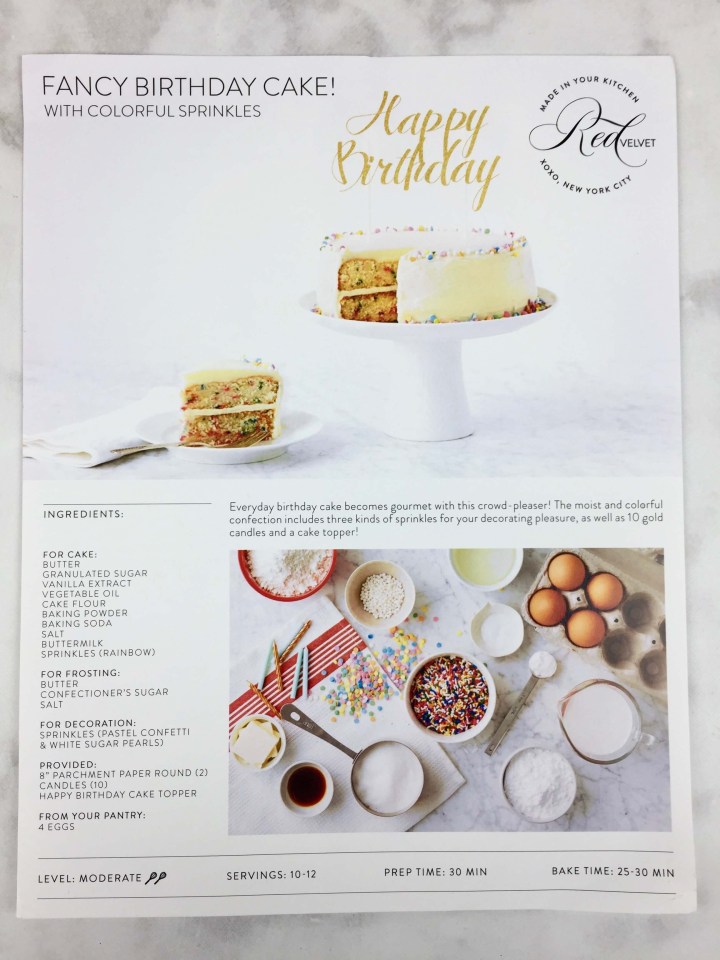 The instructions are printed on a full-color two-sided card. We laughed a bit at the prep time – turning out a special dessert, all in, takes much longer.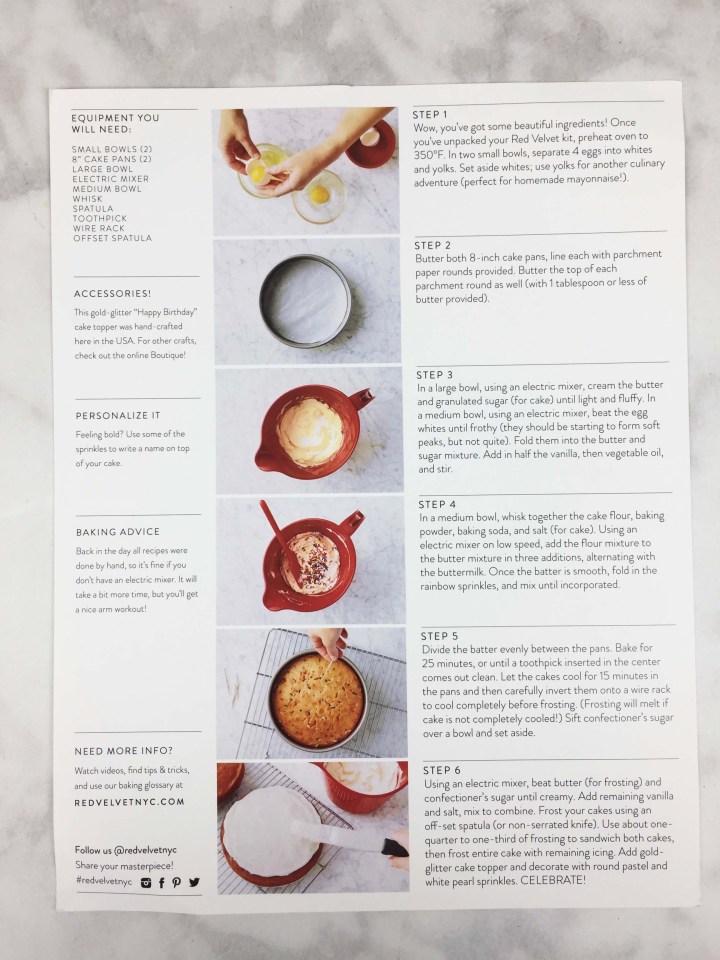 Of note with these instructions: unlike dinner subscription boxes these recipes are useless after you make the cake – no amounts are given.
Nevertheless, the instructions themselves are clear.
The cake kit came with 2 parchment rounds and a birthday cake topper!
All the ingredients are measured out into separate containers. Do note that if you happen to buy 2 kits, nothing has any recipe name indications. Ask me how I know.
The perishables came inside an insulated pouch with 2 melted ice packs. These really didn't travel all that far and the weather was cool. I have concerns for the summer weather.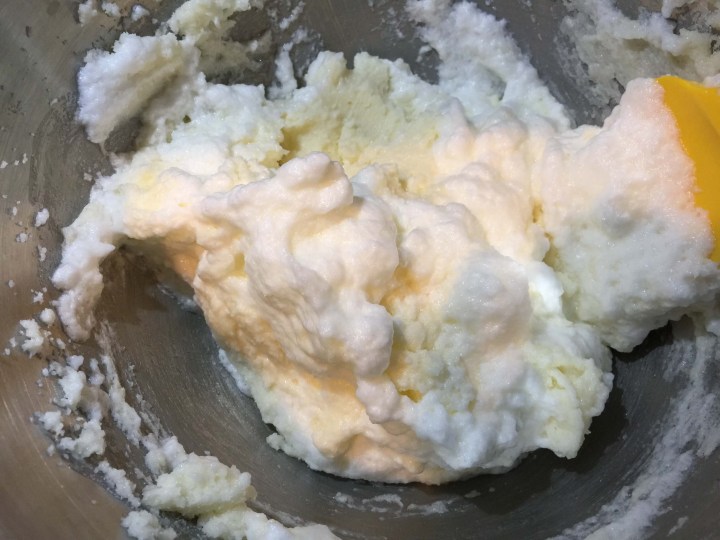 It was time to make the cake! The instructions were easy to follow, but some were a little funny – we whipped the egg whites then "folded" with the creamed butter and sugar. (Folded isn't the word I would choose for 2 mixtures of such radically different density!)
But hey, it makes for a great, fluffy batter! The instructions called for alternating the flour and buttermilk and then stirring in the sprinkles. Novices can access step by step videos online.
One of the great things about this batter is that the tops of the cakes were flat, not domed! I didn't have to slice off the top or perform plastic surgery with the frosting (which was easy to make).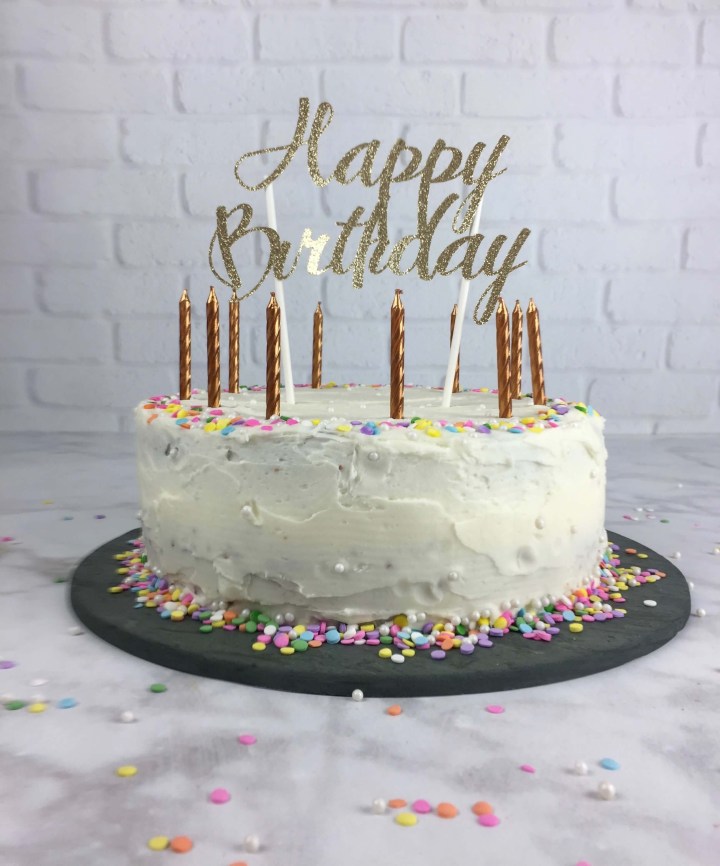 The cake turned out beautifully, and came with decorative sprinkles and non-pareils for the finish. Our icing wasn't perfect (my aunt applied the frosting to this cake) and really they would have needed to doubled the frosting to get that bakery look from an at home baker.
I loved the pretty good candles!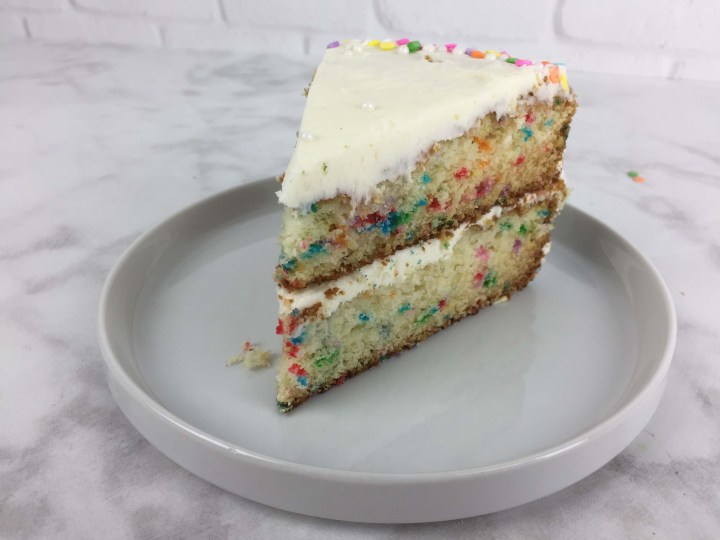 The inside was as pretty as the outside!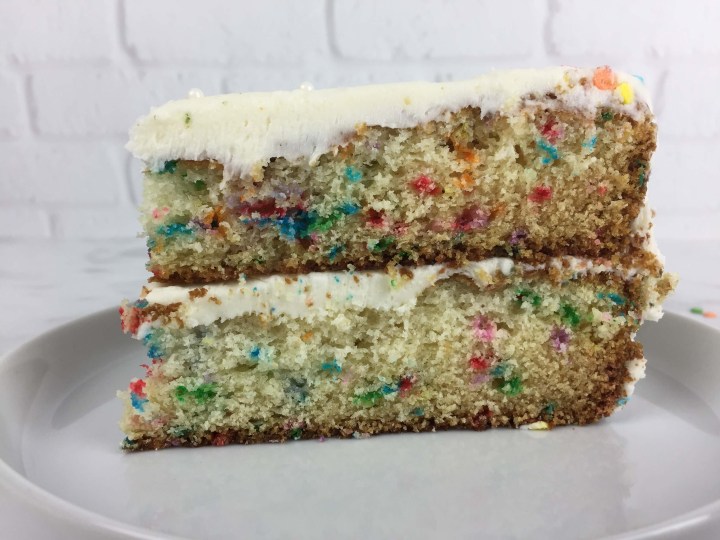 You have to forgive my husband for the slightly browned cake – he still isn't setting our new oven properly for baking.
We had a little birthday party for the baby and everyone agreed that this cake was delicious!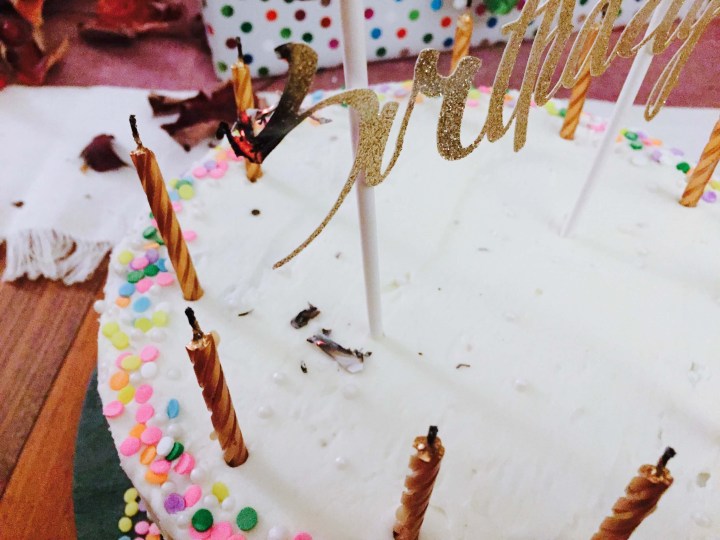 Just use caution with the topper 🙂 We passed our feedback to Red Velvet on our mishap, who was very receptive to having the information!