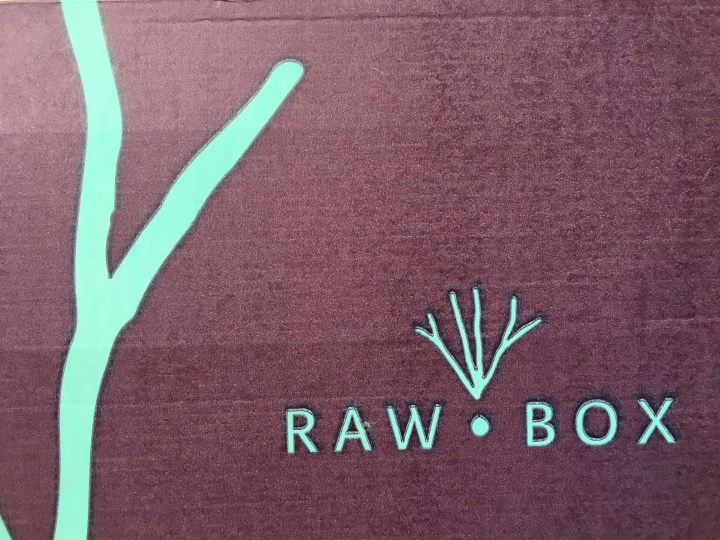 RawBox is a monthly subscription that sends an array of raw snacks, vegan beauty products, and eco-friendly household items to your home. While many of the included snacks are vegan, not all are; one or two each month may contain honey. Their real focus here is on providing items that will help you enjoy a healthy lifestyle.
Each RawBox arrives chock full of items to enjoy on your journey toward healthy living.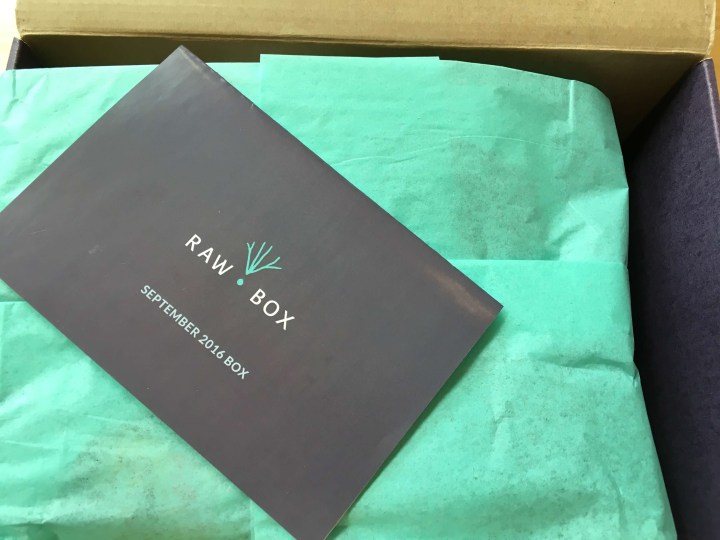 DEAL: Save 15% on your first subscription! Use coupon code WELCOME15OFF.
The September 2016 box included: fruit fly bait, cashew butter, a produce freshness extender, tiger nuts, deodorant, protein powders, crackers, nuts and kale chips.
All of September 2016's products came listed on the enclosed fold out description page.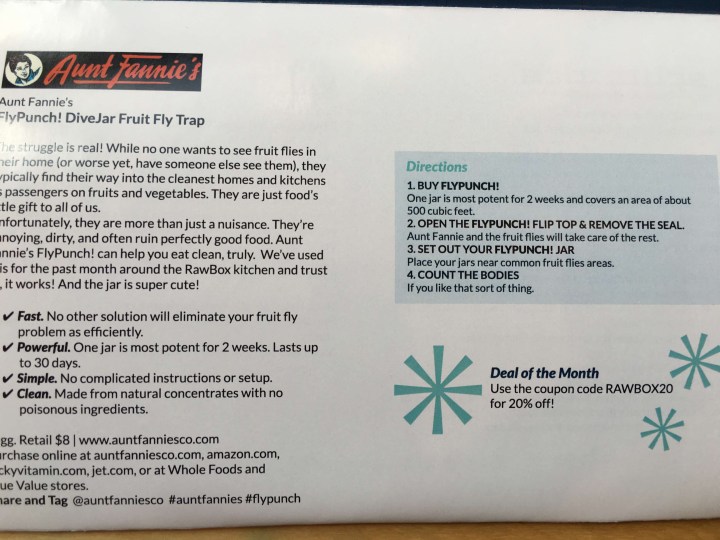 Aunt Fannie's Fly Punch! Dive Jar Fruit Fly Trap ($7.99) smells strongly of vinegar at first, though the scent subsides after a while. This is probably linked to its potency; each jar will last for about 30 days, although it's most effective for the first two weeks of use.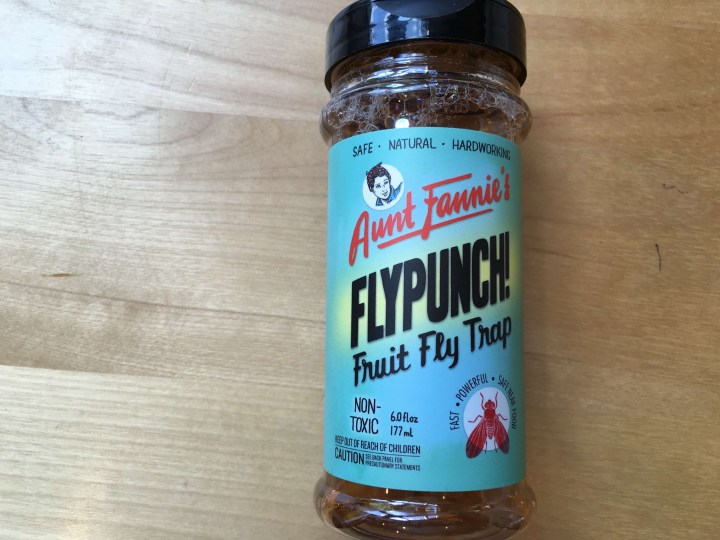 I've had this open in my kitchen for some time now and although it hasn't caught any fruit flies yet, I haven't seen any for  it to catch either, which is always a good thing!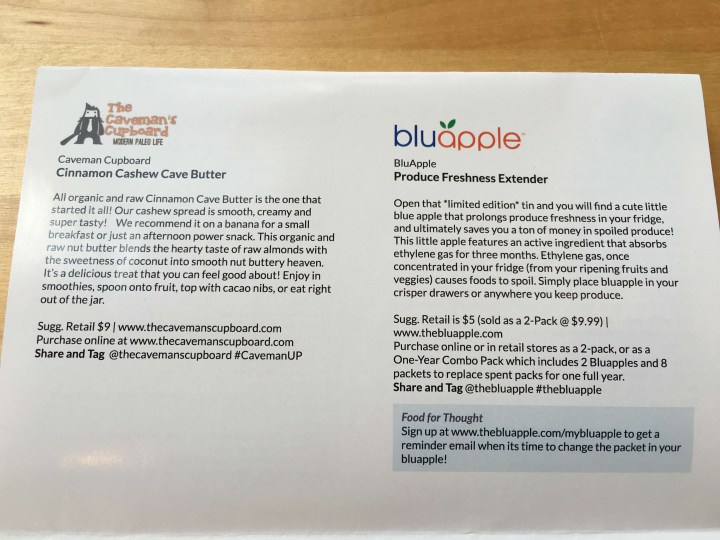 The Caveman's Cupboard's Cinnamon Cashew Cave Butter ($9) is fantastic! Were I on a strict  diet, this would be my go-to dessert. It satisfied my sweet tooth and left me feeling satisfied.
It had the consistency of fresh peanut butter, but the cinnamon and honey made it such a special treat. I loved that it doesn't require refrigeration, although given how quickly I'm sure to get through it, that's not as big of a deal as it otherwise would be.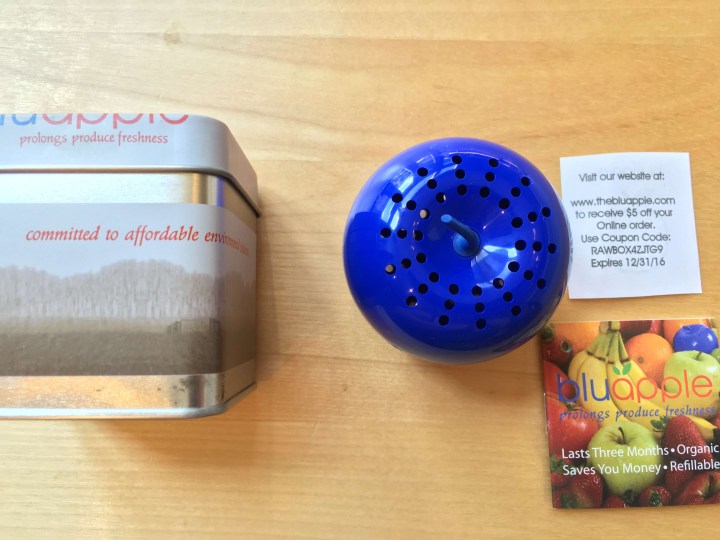 This Bluapple ($5 based on the cost of 2) helps to prolong the freshness of produce. By absorbing ethylene gas, the bluapple allows fruits and vegetables to keep in a refrigerator for up to three times as long as those that are stored without a bluapple.
These Tigernuts ($3) didn't actually taste like nuts at all. Probably because they're actually root vegetables!
They're starchy and just a bit chewy and have a nutty and slightly sweet flavor. I thought they were quite tasty. I couldn't decide which version I preferred. Peeled? Sliced? I'll take both, please.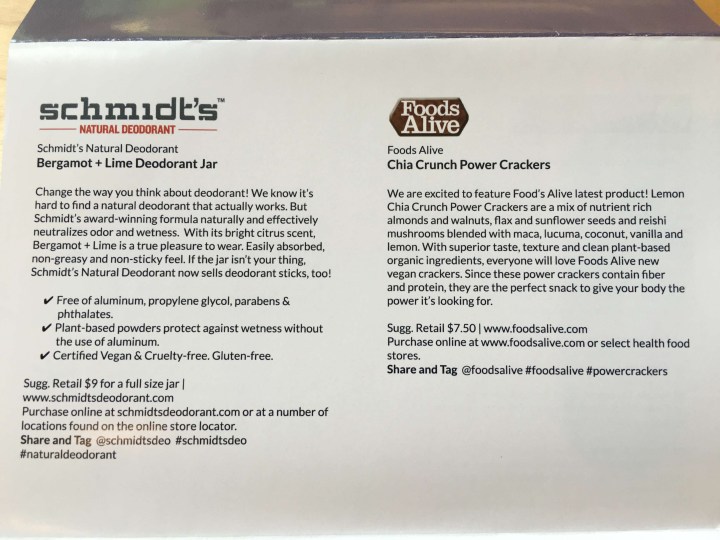 I was excited to use the enclosed deodorant!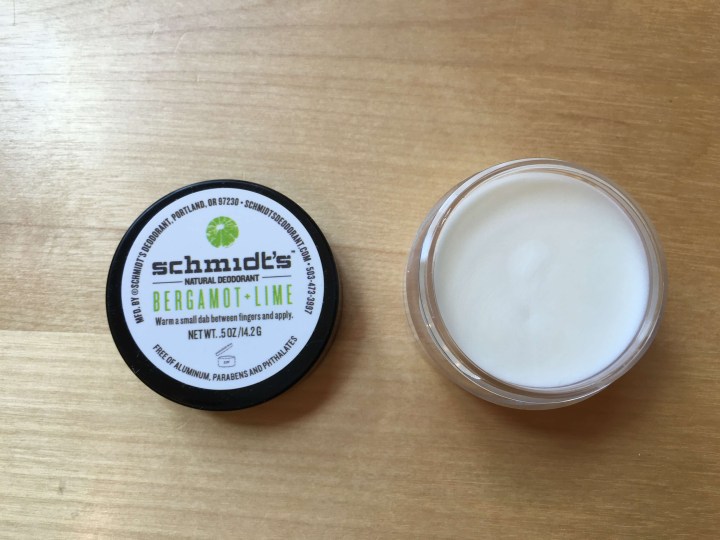 Schmidt's Bergamot Lime Deodorant ($2.25 based on the cost of a 2 oz jar) smells fantastic and works well too. Its bright scent is a pick me up first thing in the morning.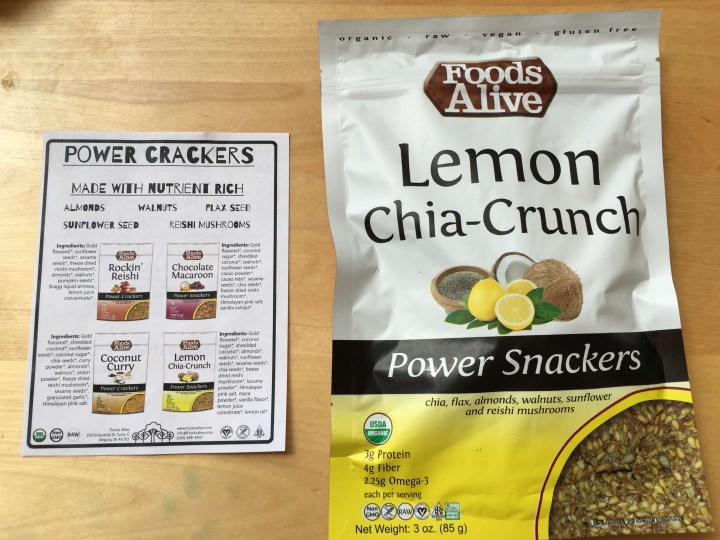 I liked the flavor of Foods Alive's Lemon Chia Crunch Power Snackers ($6.79). It had a full mouth oily feel to it which I found interesting, but not off-putting. Made with chia, flax, almonds, walnuts, sunflower seeds and reishi mushrooms, this snack couples an omega-3 punch with lots of protein and fiber. It's a snack to feel good about.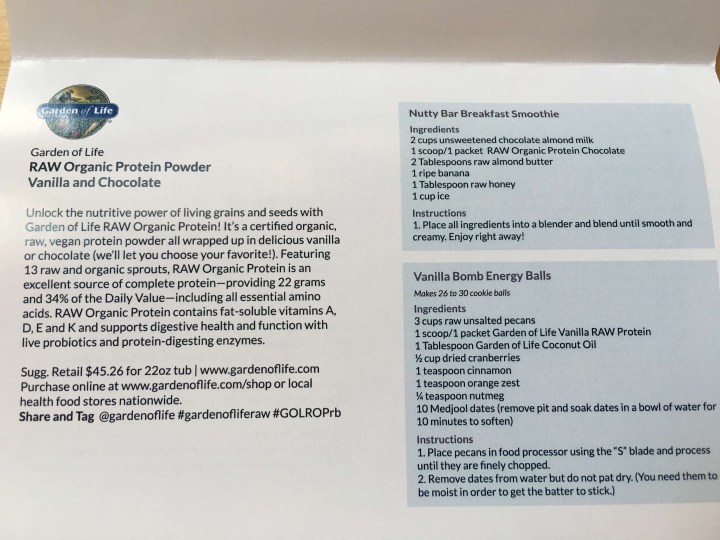 Every month you can expect to receive two powders with your subscription. This month featured the Vanilla and Chocolate Raw Organic Protein Powders from Garden of Life (on sale for $6.32 based on the cost of 20).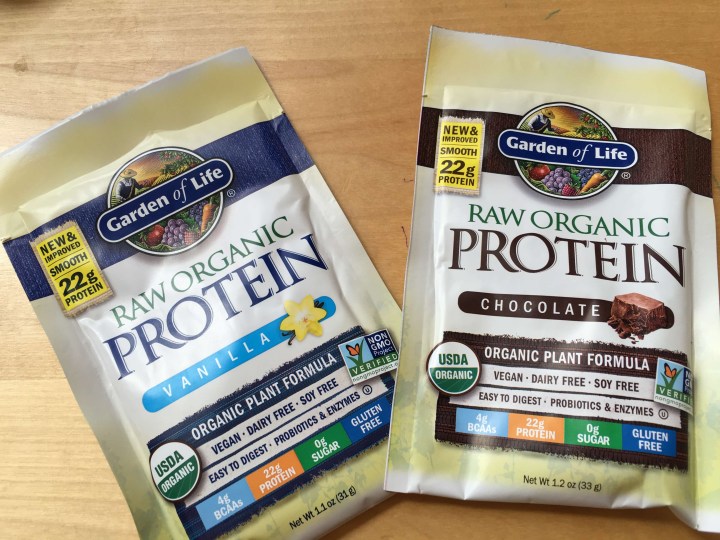 These soy-free, organic, plant-based protein powders each contain 22 g of protein and boast live probiotics and enzymes. Each powder contains each one of the essential amino acids along with whole food, fat-soluble vitamins.
Although I found the initial taste of the chocolate protein shake a bit off-putting, that quickly gave way to a nice, lush chocolate that I enjoyed very much.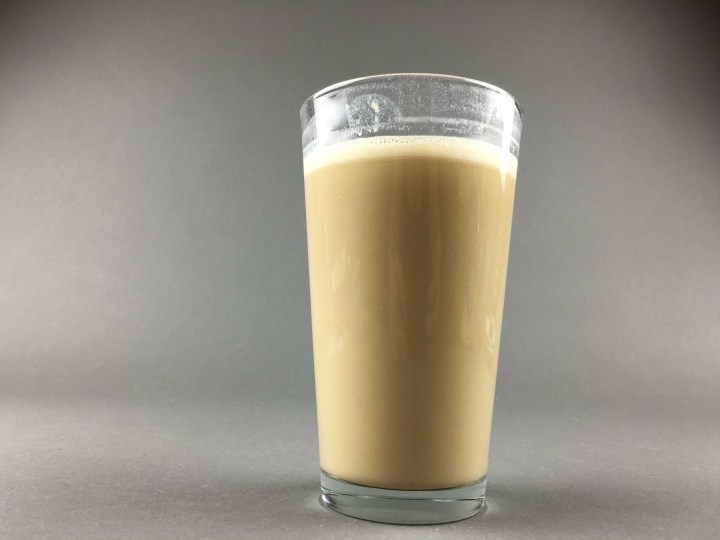 Upon hitting my palette, the vanilla protein shake tasted a lot like the chocolate. The difference was that when that initial taste passed, it was replaced by a pleasant, light sweetness. As far as protein powders go, I enjoyed both of these very much.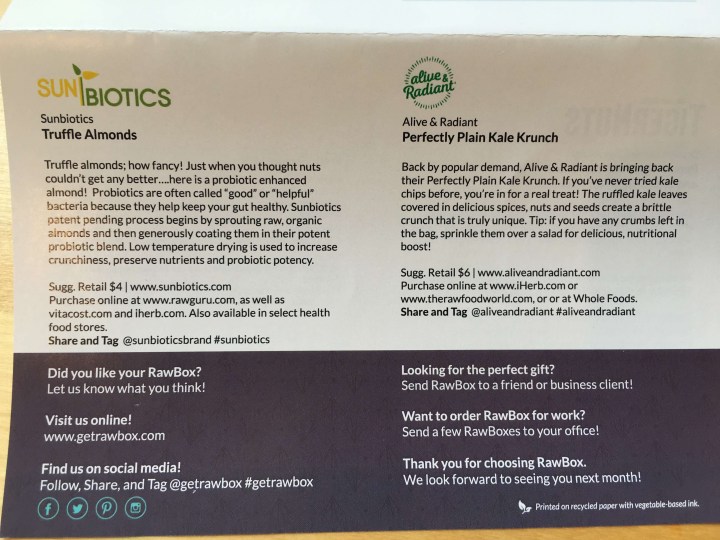 To round out this month's snack selections, RawBox scent a bag of Truffle Almonds and Kale chips.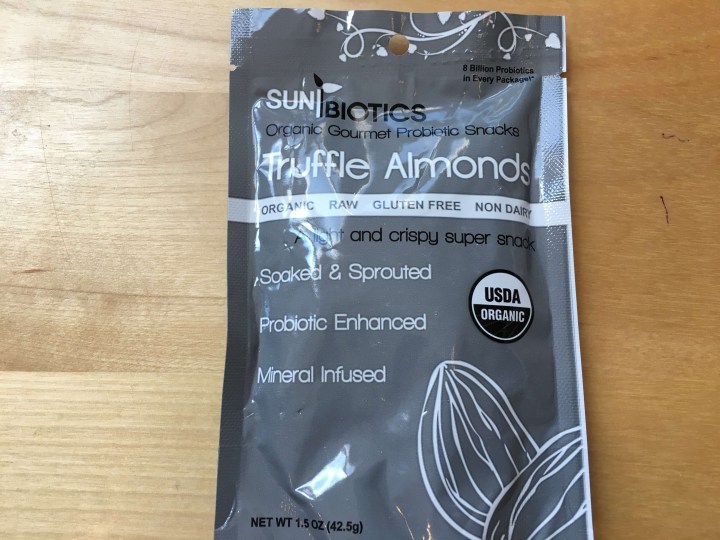 I thought Sun Biotics' Truffle Almonds ($4) were incredibly tasty, and I don't typically like truffles! As an added bonus, these organic almonds are infused with probiotics to help support healthy digestion.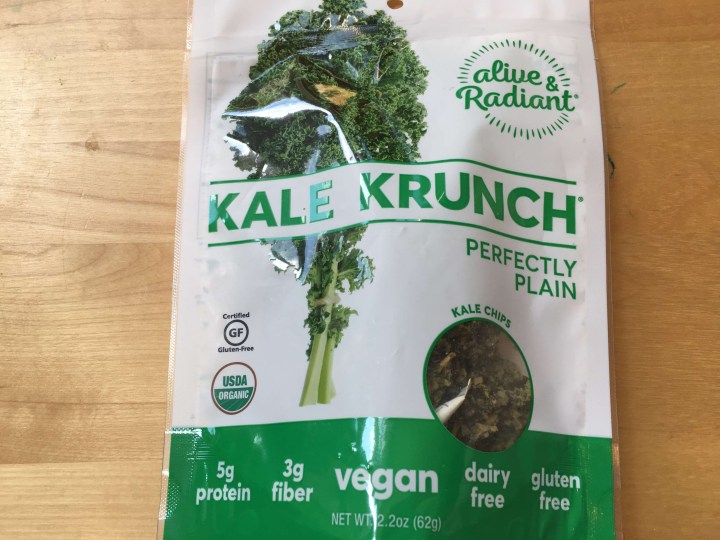 I was likewise surprised by how much I enjoyed Alive and Radiant's Perfectly Plain Kale Krunch ($6). Even though it's called perfectly plan, it's not just dried kale; it's kale that has been coated with nuts, seeds, nutritional yeast, sugar, apple cider vinegar, salt, lemon, and onion. Mmm. It's a very tasty alternative to a chip!
I think RawBox's curation is excellent. Each month, they select tasty raw snacks for their subscribers to enjoy. Each box also includes at least a couple of beauty and home products as well as two powders that you can use to make smoothies. They're focused on helping their subscribers live a healthy lifestyle, and I think they fulfill their mission admirably. I'm always eager to see what lies in store for me when I open up my box each month. I can't wait to see what they come up with next month!
Have you tried out RawBox? What do you think of their products?