Purr-Packs is a monthly cat subscription that is run by a team of dedicated kitty owners that specializes in finding new and innovative products for your cats. They realize that one size does not fit every cat family and offer four different plans with customization available. The Slim Pack contains 4-5 toys. The Teaser Pack contains 5-7 items and includes toys, treats, and surprises. The Fun and Love Pack contains 7-9 items and includes toys, treats, and surprises. The pack can be customized with flavors, colors and more. The Multi-Cat Mega-Pack includes at least nine items that are toys, treats, and surprised. It also can be customized by flavors, colors and more. All treats are made in the USA and each size pack is gift ready. Purr-Packs donates at least 10% of all retail subscription profits to local and national rescue and/or adoption programs.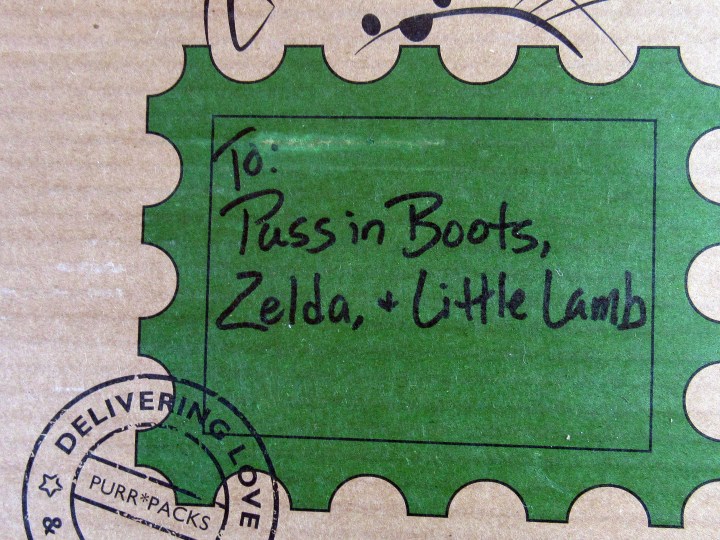 DEAL:  Use coupon code Hello20 to save 20% on your first box!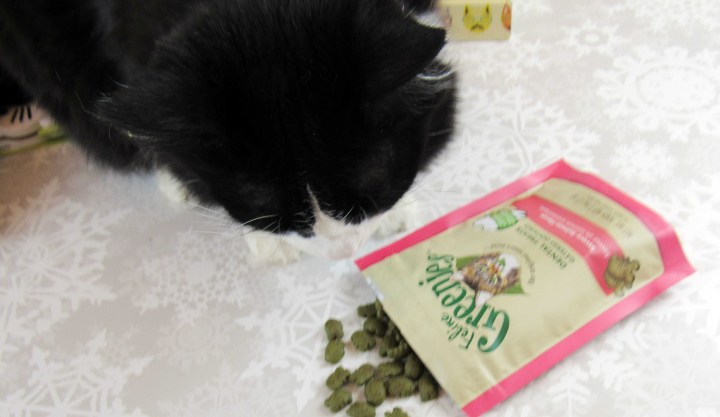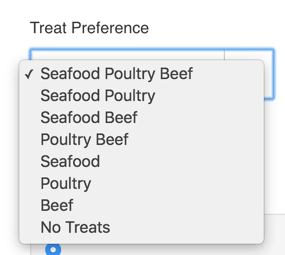 You'll be able to set up your treat preference when you check out. Personalize the box by listing your cats' names on the box along with filling out the flavor profile and coat profile.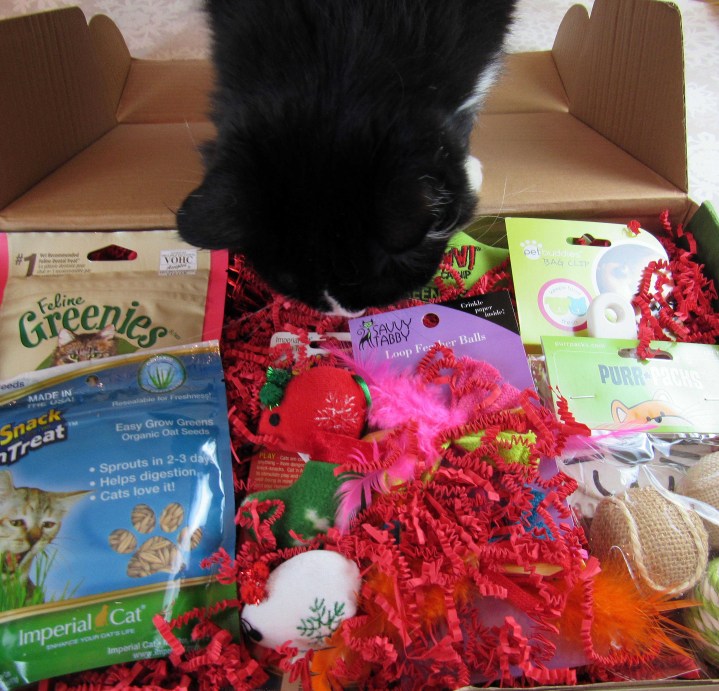 FYI –  Purr-Packs has made improvements to their website. You can now select how often you want your box shipped. Shipping charges are $4.95 to the United States. There are additional shipping charges to the UK and Canada. A fourth selection has been added for kitties that want toys only. The change that I find to be the most innovative is that you can now select your shipping date. Go to your account, click ship now, and that date will be your new shipping date going forward.
Here are the items for the medium-sized Fun and Love edition. The cats were ready to play. This month the contents of the box are listed online.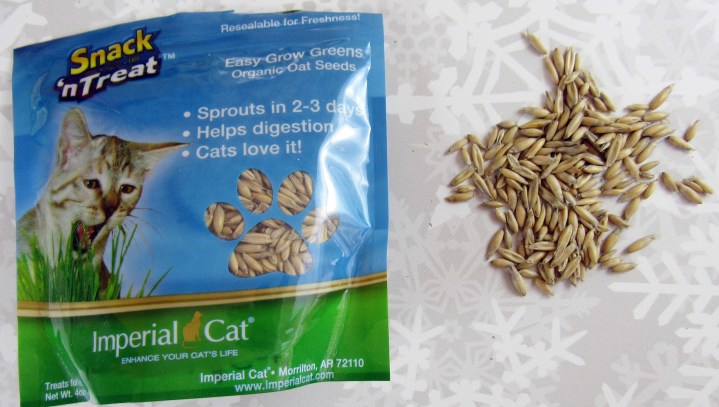 The Imperial Cat Grow Easy Organic Oat Seeds (4 oz, $6.00) will sprout delicious kitty grass in a few days. The kitties are going to be excited to eat fresh oat grass this winter. It's a great winter treat.
Sylvester's favorite toy was the Yeowww! Green Fish Catnip Toy ($5.59) which he tried to remove it from the box. It has 100% organically grown catnip.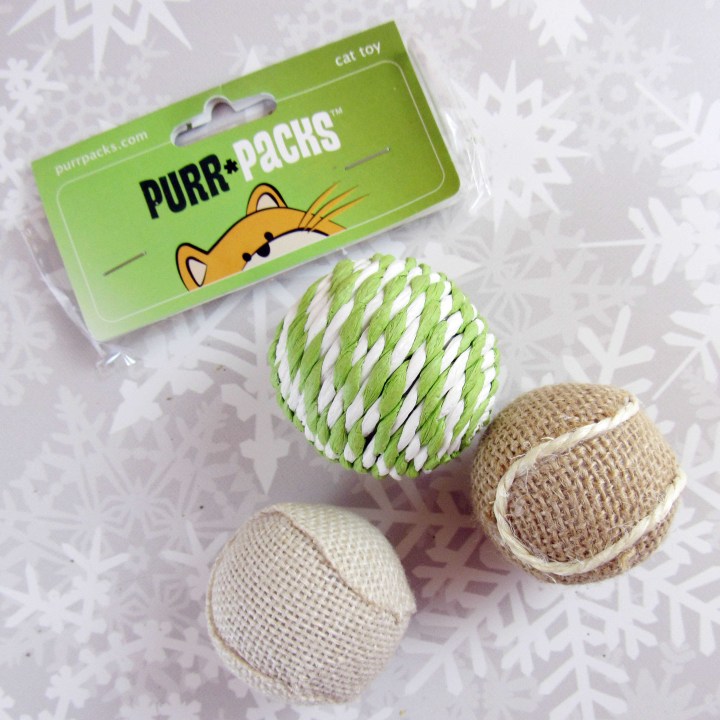 The kitties loved batting around the Purrpack Balls (appx $5.00) which I did not see listed in their shop. The cats love swatting and carrying the balls.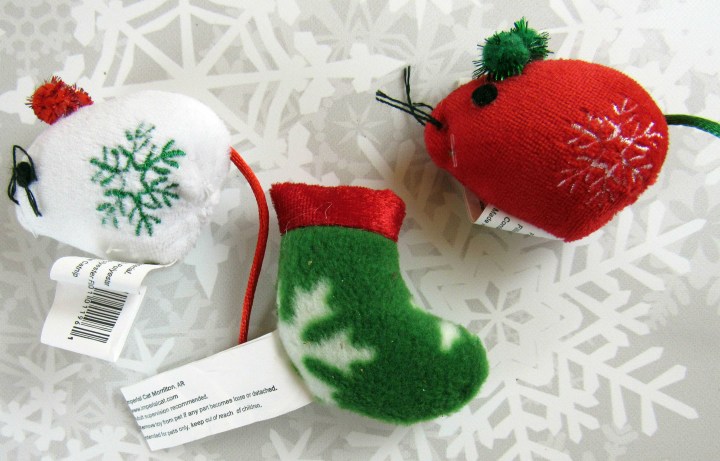 The kitties and I thought the Imperial Cat Cat 'n Around Holiday Mice Trio ($9.00) were adorable. Garfield and Tiger Lilly loved throwing them up in the air and batting them all over the house. The mice contained catnip grown in North America.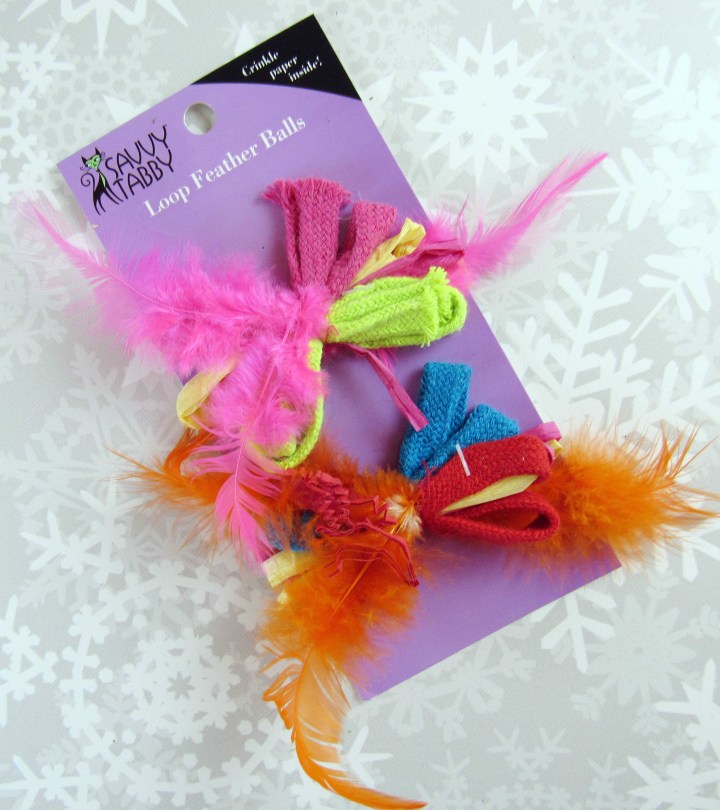 Sylvester wanted to play with the Savvy Tabby Loop Feather Balls ($6.72) as soon as I took them out of the box. I have no pictures of the kitties playing with them because they mysteriously disappeared when I turned away for a moment. I found one in the top bed of their cat condo later in the day.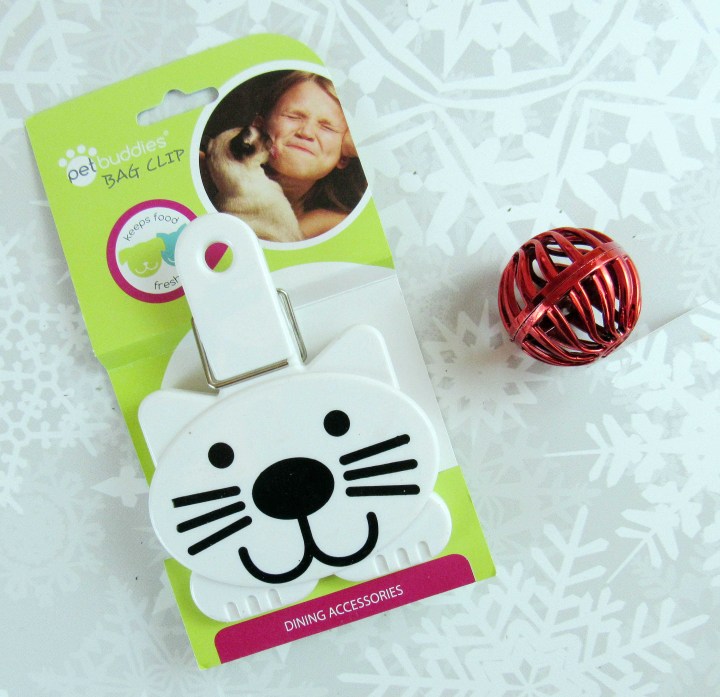 The Pet Buddies Bag Clip ($6.03) is adorable. J (age 8) wants to use it on kitty treats. The cats loved chasing the  Zanies Ball with a Bell ($0.33) around the house.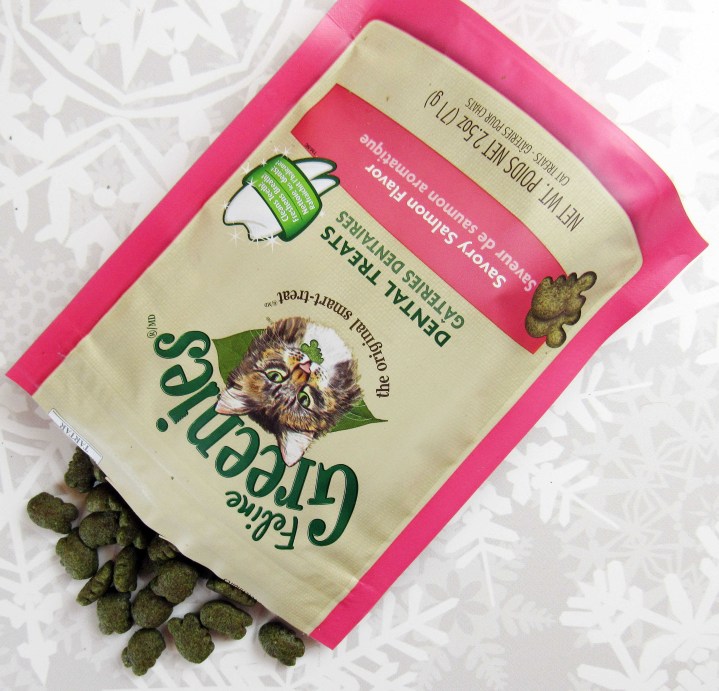 The kitties enjoyed their  Feline Greenies Savory Salmon Flavor Dental Treats (2.5 oz, $1.94). They love all type of treats.
How cute! Everything with cats is always cute or adorable according to my eight-year-old.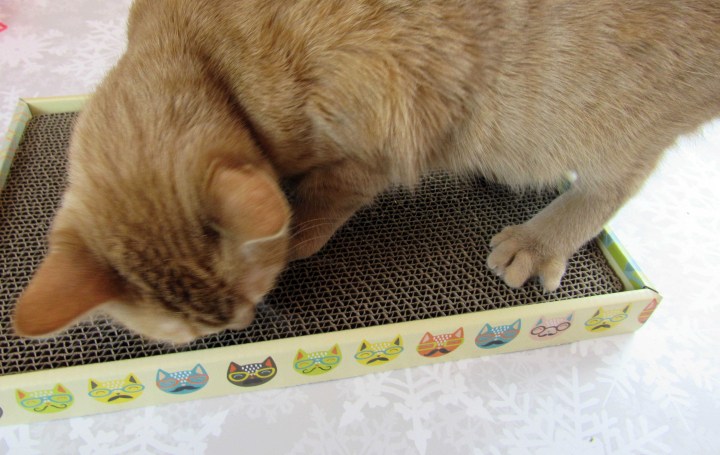 Tiger Lilly loves scratching pads. The scratching pad (appx $10.00) comes with catnip which makes it even better in her eyes.
Time for cat pictures! What will the kitties think of their holiday box? They are on an old comforter in natural light. Little Lamb is at the farm having fun with Zelda and the other cats.
Sylvester is a laid back cat. He wants his green fish catnip toy but will wait until Garfield is done playing with it.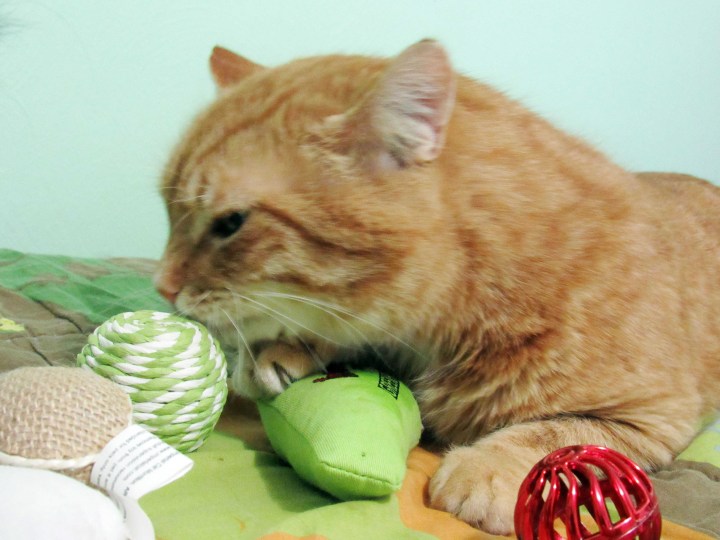 Garfield is not prepared to give up his fish. He has his claws into it.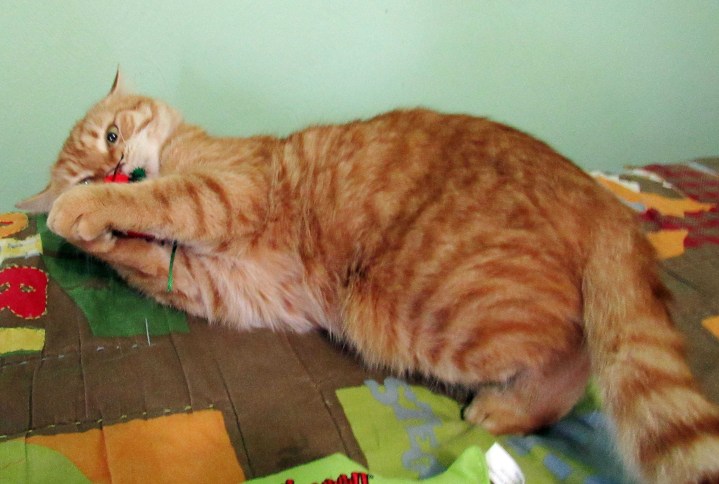 Garfield loved the red mouse. He has crazy catnip eyes.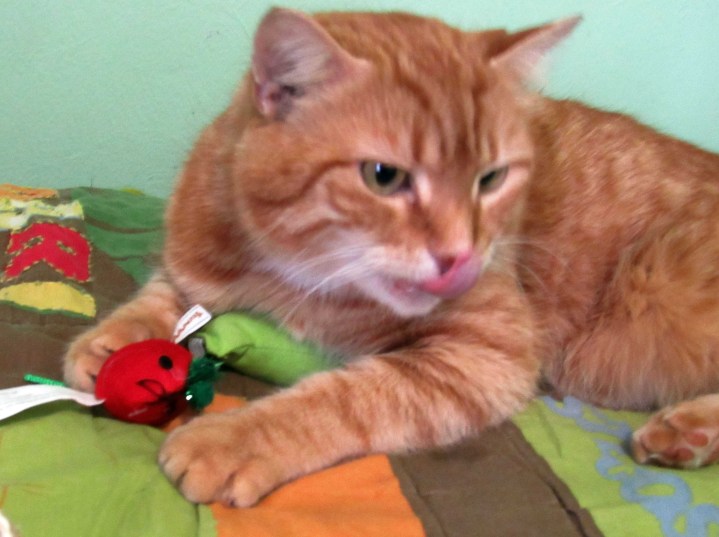 He has the fish tucked under him as he plays with the catnip mouse. We weren't able to take the fish away from him.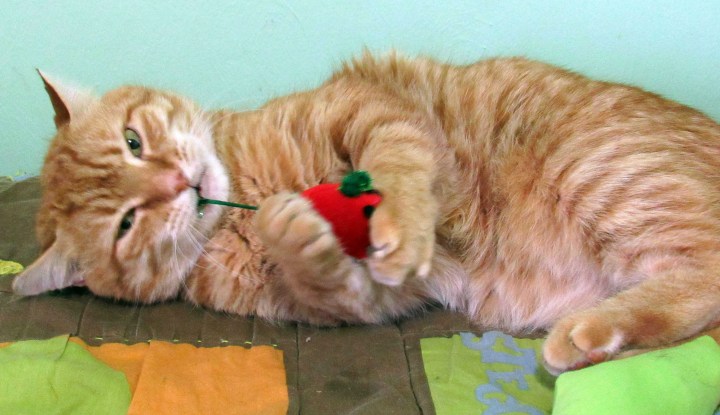 He did his best to pull the tail off the poor mouse toy. T (17) finally carried him and his mouse out because Sylvester was afraid to play. Garfield is a crazed cat when he is high on catnip. It was wonderful to see him playing.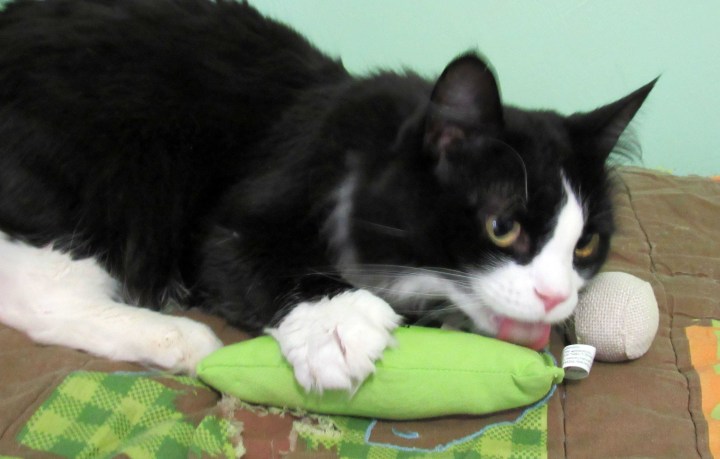 Sylvester is happy to have his green fish toy.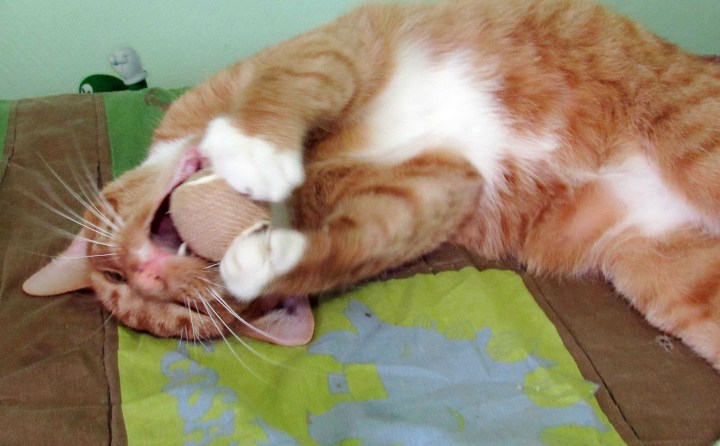 Puss in Boots was mostly a blur of fur as he played. He enjoyed playing with the balls and mice.
Sylvester is having fun playing with me. He was making little noises at me while playing.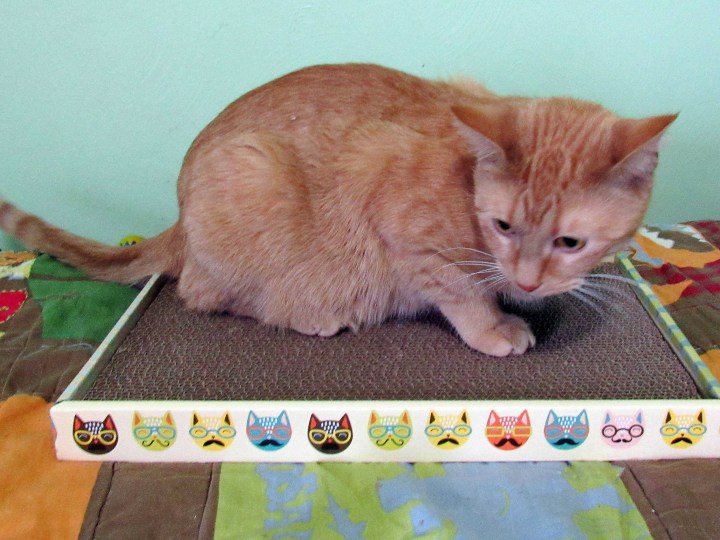 Tiger Lilly is assessing everything around her. She is more concerned about someone stealing her scratching pad. She does not believe in sharing them.
Sylvester is chilling out with his toys. He has no interest in a scratching pad because he loves to scratch my one loveseat when I am not looking.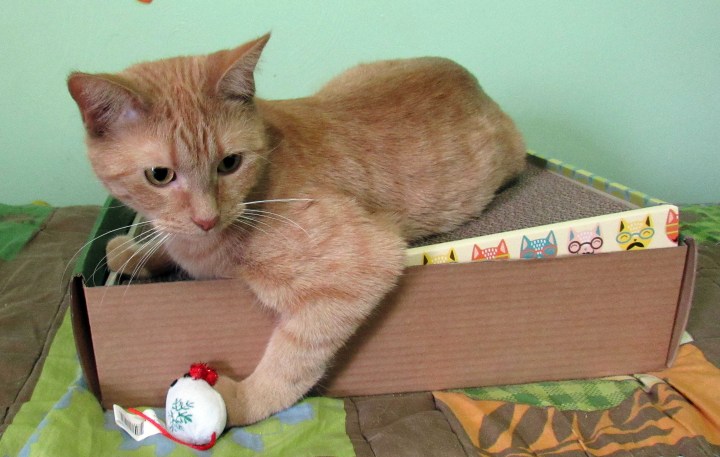 I started to pack everything up when Tiger Lilly decided she wanted to play with the mouse. She would throw it up in the air and catch it. She was all over the place while Sylvester laid there with his toys.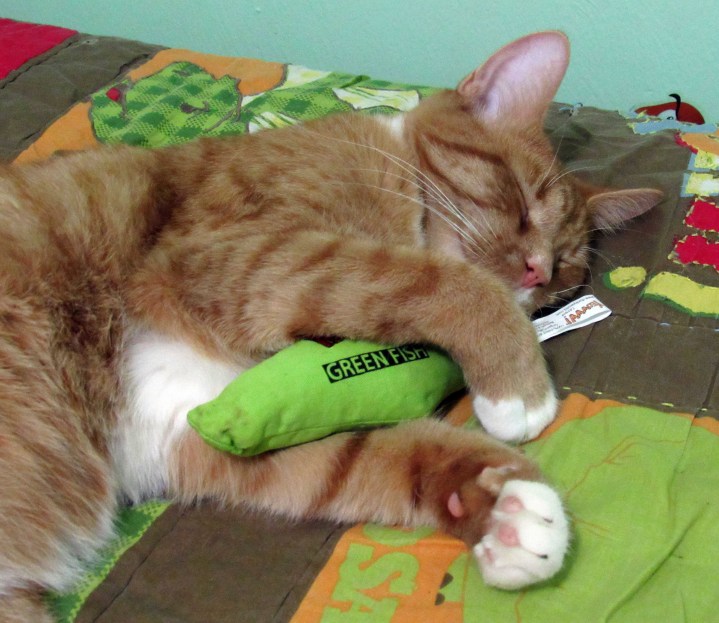 I checked in later and found Puss in Boots sleeping with the kitty toy. Why are kitties sooooo adorable when sleeping?
We all loved the December Purr-Packs, Everyone loves watching them play with their toys during photo time and afterward. There are enough toys for them to have their favorites and more. The box left the cats full of purrs. The medium size box had an approximate value of $50.00 which is excellent for a $29.99 cat box.
What do you think of Purr-Packs?