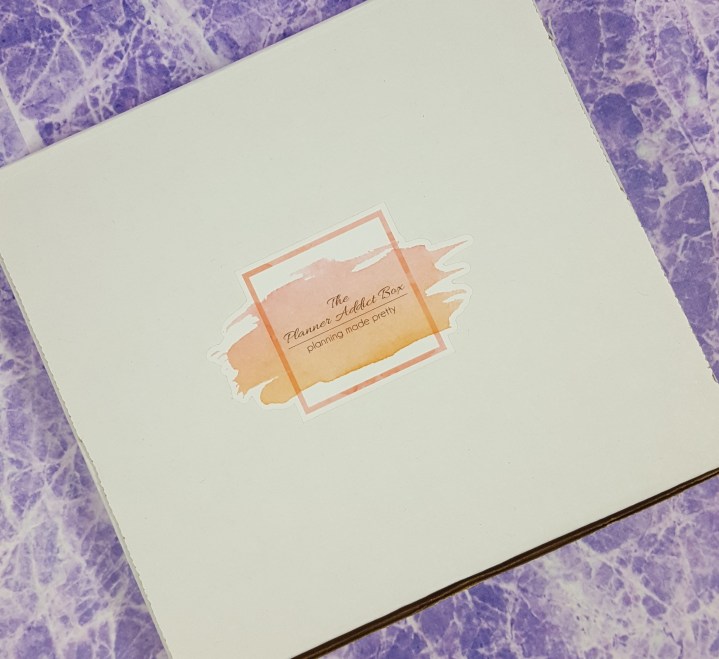 The Planner Addict Box is a monthly subscription box for planner nerds. The box is filled with planner products you can use for any type of planner. You can expect products from well-known designers, Etsy shops, and Planner Addict Box exclusives. Planner addict has had a lot of exclusives recently and then things created just for them from Etsy shops. I love that it is so unique and are not the same things I see in the stores all the time.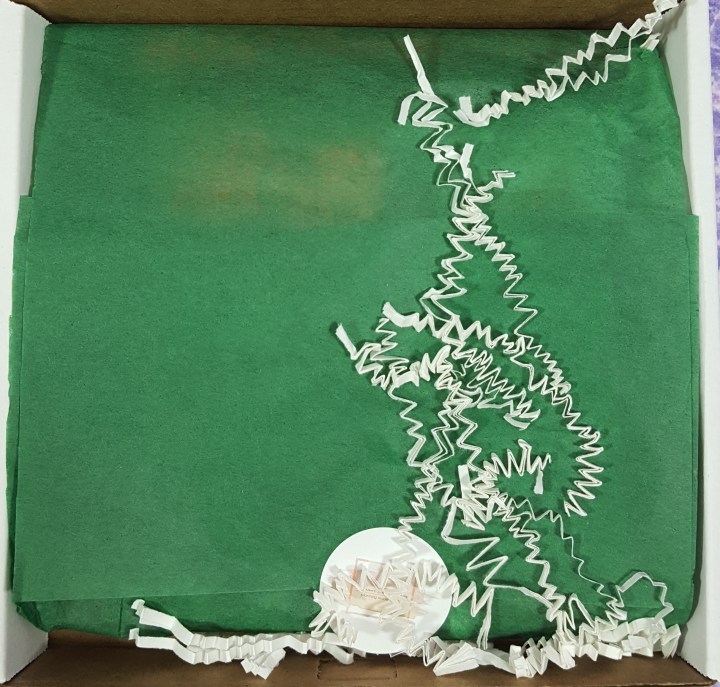 When you first open your box you will see a tissue paper wrapped around the contents of the box – and in a great detail, the tissue and squiggles coordinate with the color theme of that month's box. For a decorating crafty box, I love the extra little details.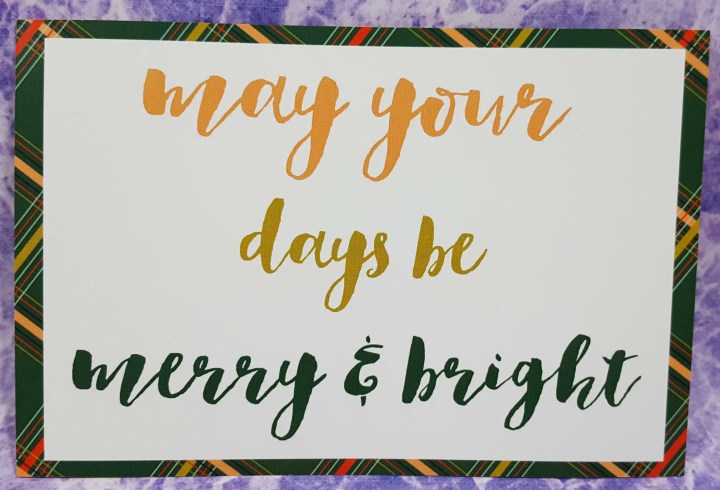 The theme for my December box is "may your days be merry and bright." The tissue was a deep green this month which reminded me of a Christmas tree in its richness.
The information card tells you the companies that are included in the box and their links so you can shop their sites for more goodies from them.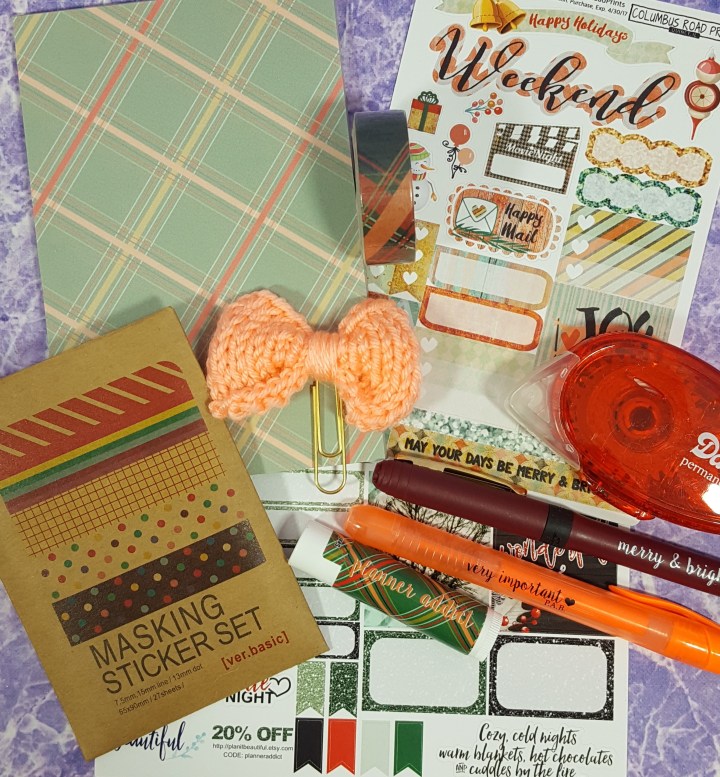 Everything included in my December box.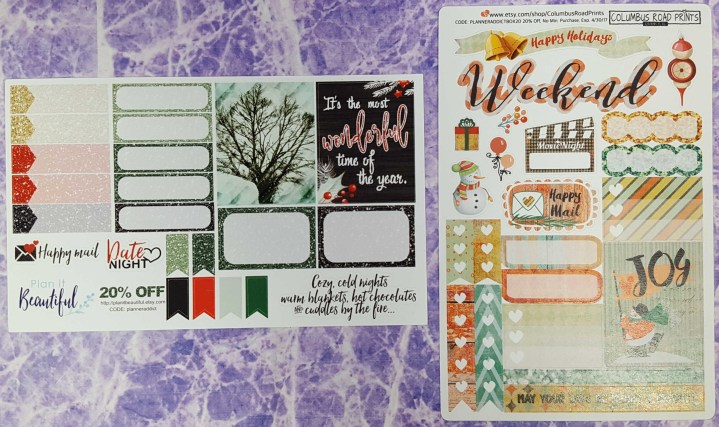 Plan It Beautiful Stickers (This is exclusive to Planner Addict but similar ones go for about $2.00) – These are very pretty and while they can go for a Holiday theme they can also we used just for cold winter nights. I especially love the little page flags on the left. They are so useful on so many pages.
Columbus Road Prints Stickers (This is exclusive to Planner Addict but similar ones go for about $3.25) – These stickers are artfully "distressed" just like the site tells me and I love them. I love using a woodgrain look in my scrapping and that carries over to my planner.  These give a great rustic look for a cold winter night.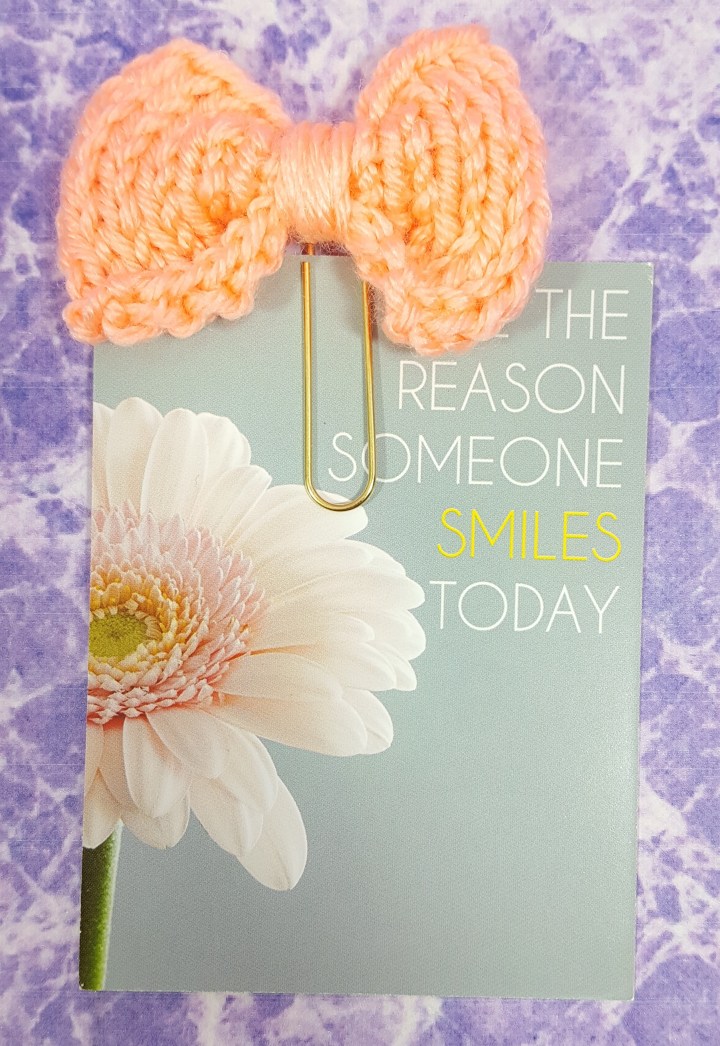 Neika's Place Knitted Bookmark (I don't see this color on the site but others go for $5.00) – So the blue in the tissue paper comes from this clip which is a little odd for me in a fall themed box. I do love clips and this one is really pretty I'm just not sure it fits with the theme.
Masking Sticker Set – These are AWESOME and will be great to have for the year. Each sheet is actually full of stickers that are either little circles or bars. These are perfect to add to pages as a little extra or just when you have a small spot that needs something.  I actually use these a lot when I need to change something that has been written by just putting a sticker over it instead of using something like whiteout.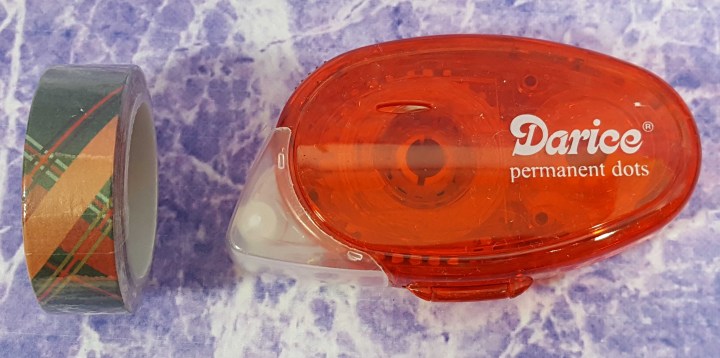 Planner addict washi tape and Darice Permanent Dot Adhesive($6.41) – Every creator needs some adhesive and I actually like the Darice brand when I'm working and of course you can never have too much washi. I love that Planner Addict sends me some coordinating washi with the month's theme every month.
The box this month also came with a coordinating notepad, some chapstick, and our monthly pens.  Everything looks great and is perfect for use in my daily life.  Sending pens and highlighters is perfect for a planner box as I spend lots of time each day writing and marking in mine.
Another good box from Planner Addict Box. I was expecting a snowy themed box since they send out stickers for the next month which would be January but I really like the Merry & Bright theme so that it can go with December and then will also flow into January just fine. This is another month that we only got a couple sheets of planner stickers but I will forgive them since they sent the masking stickers set and I'm in love with those. They are just great all around stickers and so very useful for my monthly use.
Have you tried Planner Addict Box? Do you love this the plaid scheme this month?