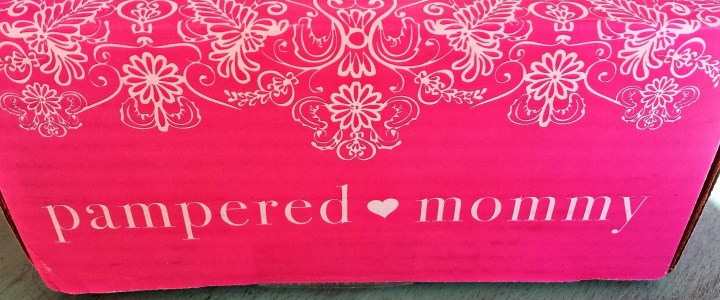 Pampered Mommy is a monthly subscription box is a delightful box of items carefully curated for those of us who shepherd the tiny people of the world. Each box contains 5-7 bath and beauty products and other useful presents with mommies in mind.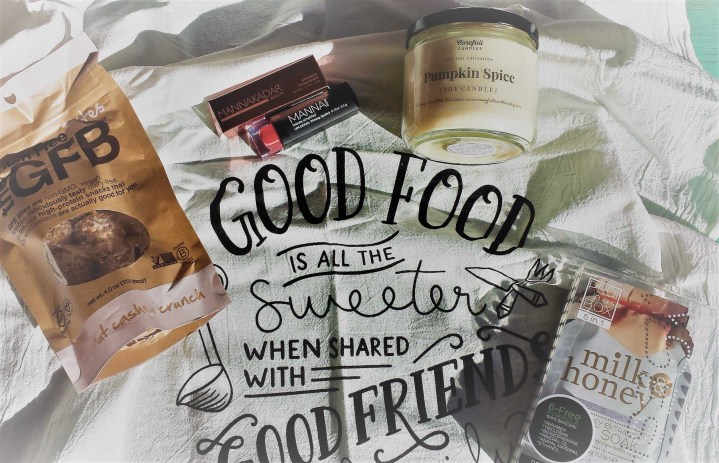 DEAL:  Save $5 on your first box! Use coupon code HELLO5OFF.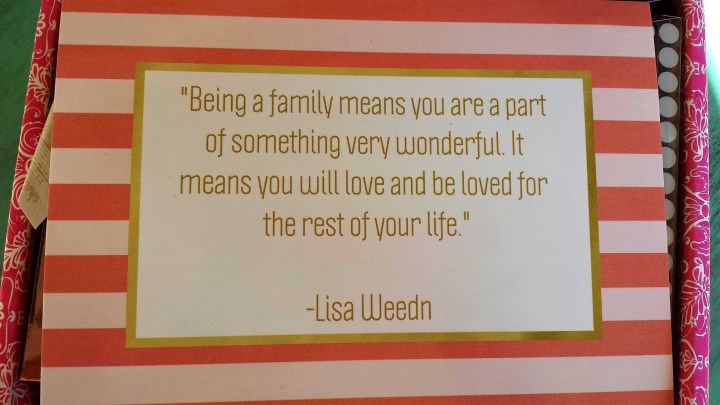 The boxes are shipped out around the 20th of the month. You can purchase your subscription one month at a time for $29.99 per month (plus shipping). Another option is to pay for 3 months at a time for $89.97 – free shipping. They also have one-time purchase options available for their past boxes for $34.99 plus shipping. (There were some awesome stuff in these, check out some of the Hello Subscription reviews for them.)
Each box comes with a detailed product description card that also gives the retail price of each item and a total retail value. This box's total value was $68+! That's a pretty sweet deal.
The first prize in our box was this Carefull Candles Pumpkin Spice Soy Candle ($16). "Can you tell we love everything pumpkin spice – but what's not to love?! This candle is 100% soy, non-toxic and non-GMO to ensure a clean, healthy burn that is safe for your home. Before each light of the candle (except for the first) the wick should be trimmed 1/4 inch to ensure a longer burn time."
These candles are handmade by Carefull Candles. Carefull Candles is a small business owned by a mom, Caroline, who started the business out of her home as a solution to the frustration of not being able to find candles without toxic crap (her word). Her candles are 100% non-toxic using essential oils and non-synthetic, phthalate-free, carcinogen-free fragrances. The candle came in a nice close-able jar and had two wicks. The wax itself was incredibly smooth and clean looking. And, the scent was absolutely scrumptious!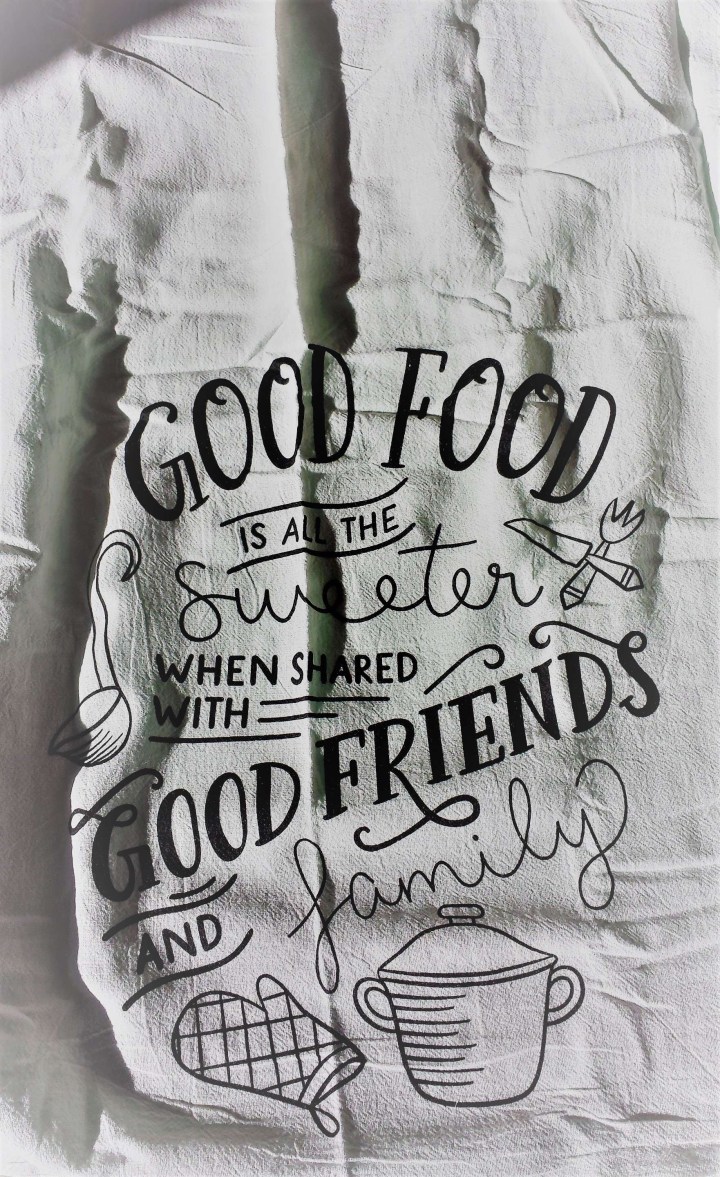 Goodie number two was this North Detail Hand Towel ($14). "'Tis the season to host dinner parties! Hand this adorable holiday towel on your stove and bring on the guests!"
So, I have a problem. I have a linen addiction. I can't seem to find anyone to help me with this (I haven't actually looked though.) I just love tea towels, especially the 100% cotton white ones. (And quilts, and doilies, and afghans, and pillowcases, and blankets, and fabric, and a lot more.) At least, I know I have a problem. That's the first step, right? This cute as a fairy baby hand towel only served to further feed my addiction. And, I am okay with that. It is 100% cotton, small batch printed. It is also designed and made in the USA. I just love it.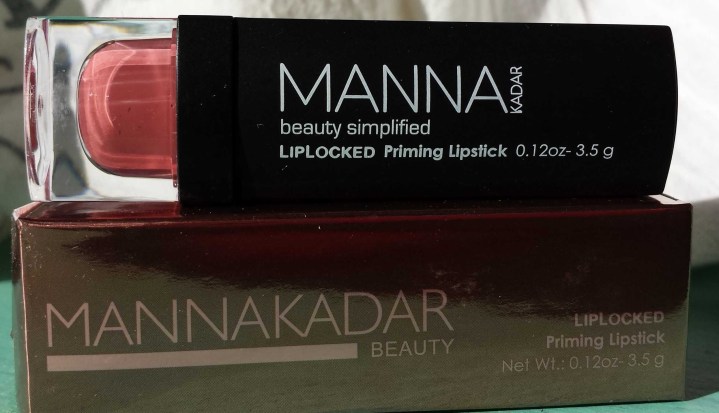 The third item was this MannaKadar Priming Lipstick ($24). "Give your pout a subtle pop of color that will last all day! This lipstick combines a primer and lip color into one easy application. It is enriched with Vitamin E to sooth and heal the lips and is paraben and cruelty-free."
The lipstick color is a flirty pink color called Aura. The color is light and pretty, perfect for wearing every day.
Prize number four was this Voesh New York Pedi in Box Ultimate ($9.99). "It can be hard to find time to make those regular mani/pedi appointments! Keep your feet looking like you just left the nail salon with this 6 step treatment enriched with key ingredients to moisturize your feet and keep them summer-ready during the winter months."
There are 6 packets in the box. Each one is a step in the Ultimate Pedi process.
Salt Soak
Sugar Scrub
Mud Masque
Callus Softner
Massage Cream
Moisturizer
So, I'm there. I have sad mom feet. There, I said it. I usually keep my toe nails painted or wrapped even in winter because I live in the South and there is no winter. (Seriously, flip-flops would not be uncomfortable in December.) But, I often neglect the rest of the foot. I just don't have time. These tiny people keeping wanting me to feed them! So, I love that this set has everything you need to get your feet right all in one box. You can just grab it, run to the bathroom, and lock the door to keep the tiny people out. (Until they figure out the lock…) This is happening as soon as I can dodge all of them at once.
And, as all good things must come to an end, this was the last prize in the box. GFB Coconut Cashew Crunch ($5). "As moms, we can be too busy to remember to do simple things for ourselves, like… eat breakfast! Throw this healthy snack in your bag for those moments when you need an energy boost. Made with all natural non-GMO ingredients, vegan, and soy/dairy/gluten free."
These were a delightful crunchy snack that reminded me of grandma's date nut balls that she used to make at Christmas. Yummy!
Pampered Mommy is a subscription box to refresh us shepherds of tiny people. An oasis in the desert of mommy hood. Okay, it's not that bad, but it is very refreshing and nice to go to the mailbox and find a box of goodies and prizes just for you.
Have you tried Pampered Mommy?  What was your favorite item in the box? I loved the tea towel in this month's box!