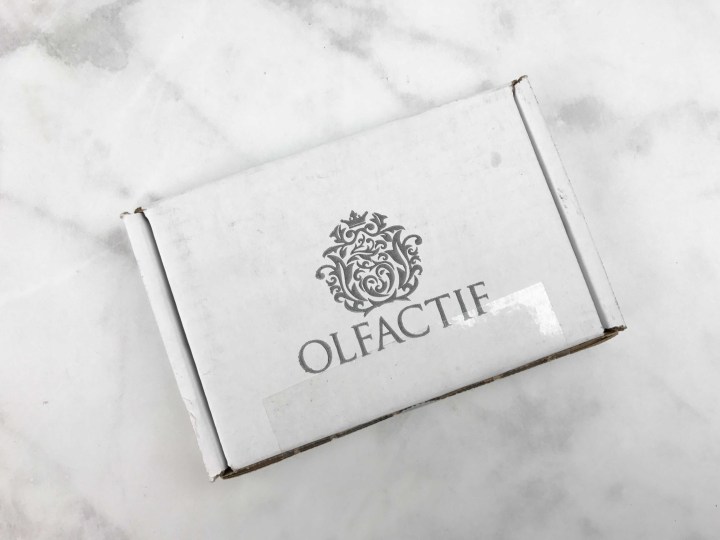 Olfactif for Men is a monthly fragrance discovery subscription box featuring more distinctly masculine scents than their unisex flagship subscription. You'll get 3 samples in your box, each containing 15-20 "wears" of an independently designed cologne or eau de perfume. With every box, your account will be credited with an $18 voucher to use on fragrances from the store. Olfactif for Men prides itself in selecting niche offerings incorporating higher quality and hard-to-find ingredients.
The regular Olfactif box is unisex and meant to be worn by women and men who enjoy niche fragrances. Because it features fragrances intended to be wearable by both sexes, it only occasionally indulges in the heartier scents typically associated with Men's fragrance. The Men's box is centered around traditionally masculine fragrances, all from the niche world. You will still see the same creative spirit and defiance of convention, but the focus will be on the yang.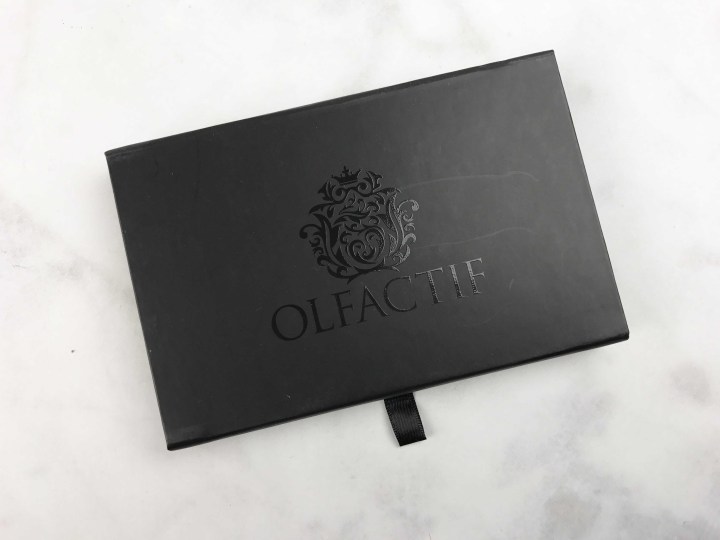 Olfactif Men's comes in the same cool packaging as their flagship subscription. It comes in an elegant and simple flap top box. The information card for the fragrances is tucked inside.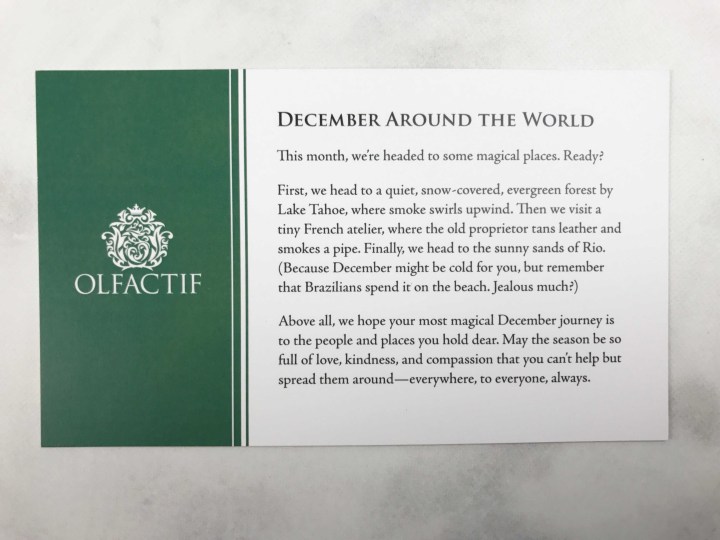 The theme for this ensemble of men's fragrances is "December Around The World." The three fragrances evoke both traditional and unconventional notions of the Winter season.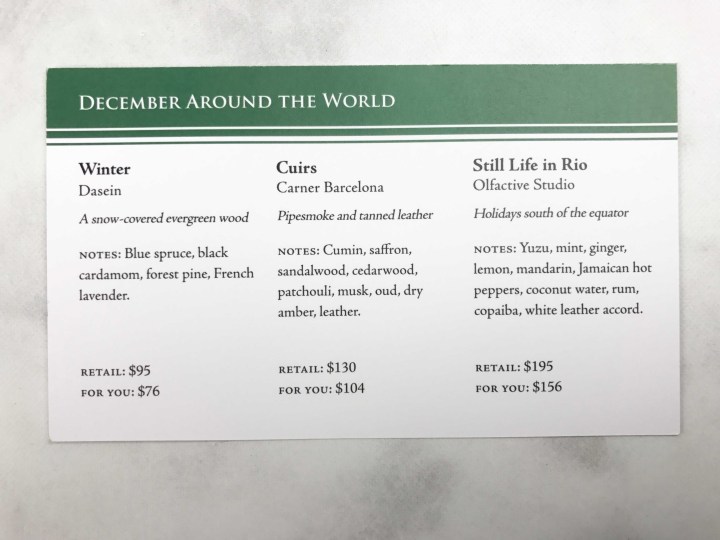 The fragrance notes give detail on the composition of the fragrances, but the prominence of each element changes as the scent ages on your body. The card lists both the retail and Olfactif store price for each fragrance – you can see the savings you would get buying a full size bottle through Olfactif, but you are also reminded that you are sampling some rather pricey fragrances.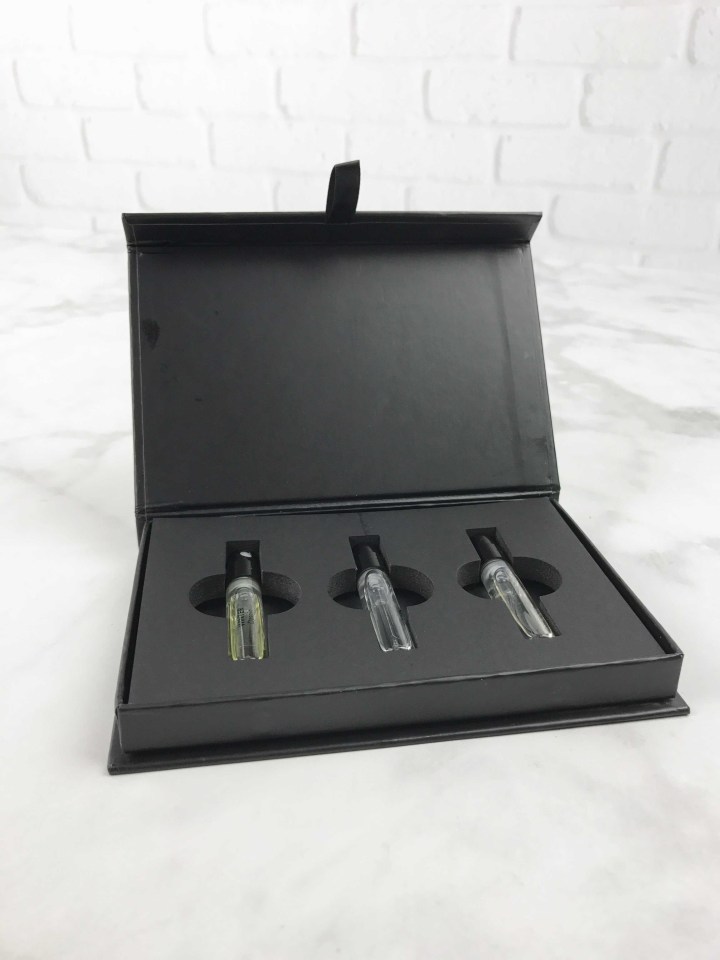 The three fragrances come tucked neatly within the very cool case. The bottles are testers, but with up to 20 wears each, they are perfect for keeping around for a change of pace well into the future (but make sure to take advantage of the subscription credit toward purchase, and pick up a full size of your favorites!).
December 2016 Olfactif Men:
Dasein Winter: The most classically Wintry of the selections, the aptly named "Winter" has strong notes of spruce and pine, livened up with a breath of lavender and a hint of smoky black cardamom. This scent mellows quickly but lingers for quite a while.
Carner Barcelona Cuirs: This fragrance combines dry woods, spice, patchouli, and leather into a musky accord.  It is the most durable of the fragrances, but the brighter cumin, saffron, and amber quickly degrade, leaving a very oud-heavy musk as the lingering scent.
Olfactive Studio Still Life in Rio: Piercing and exotic, this Brazilian inspired scent has a very citrus-centric lemon vibe, layered with ginger and a biting Jamaican hot pepper. After mellowing for a moment, the scent becomes a dichotomy of sweet lemon drop candy and a base note like Ivory soap. Eventually, it mellows into a light, powdery mix.
Olfactif Men is great at offering unusual blends with a playful take on masculine fragrances. I like the Winter, and it is perfect for the Holidays.  The Cuirs is also nice, but it has a deep, ambergris type oud scent that is intriguing, but not festive.
Have you tried niche fragrances yet? What did you think of this month's Olfactif Men's collection?
Visit Olfactif to subscribe to the Men's box or find out more!