Meowbox is the original cat subscription box filled with fun and unique toys as well as healthy goodies. For $22.95 per month, you receive 4-6 items in the box. All edible items are sourced from Canada or the US with special attention to finding treats that are handmade, local, or grain-free. Wait until you see the kitties enjoying the box!
Writing my kitties' names is a nice touch! Puss in Boots is the orange cat with white paws. Zelda is a calico. Little Lamb is a mostly white fluffy cat. Puss in Boots decided to participate in the review this month. The Meowbox is sealed with a feather.
DEAL: Save 10% on your subscription with coupon code HELLO10.

Our reviewers today will be, from left to right, Puss in Boots, Little Lamb, and Sylvester.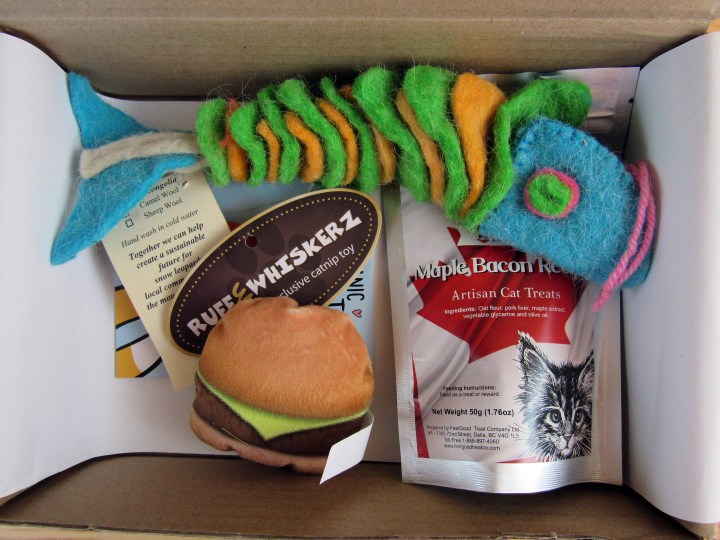 I can't wait to see their reaction to the fish skeleton.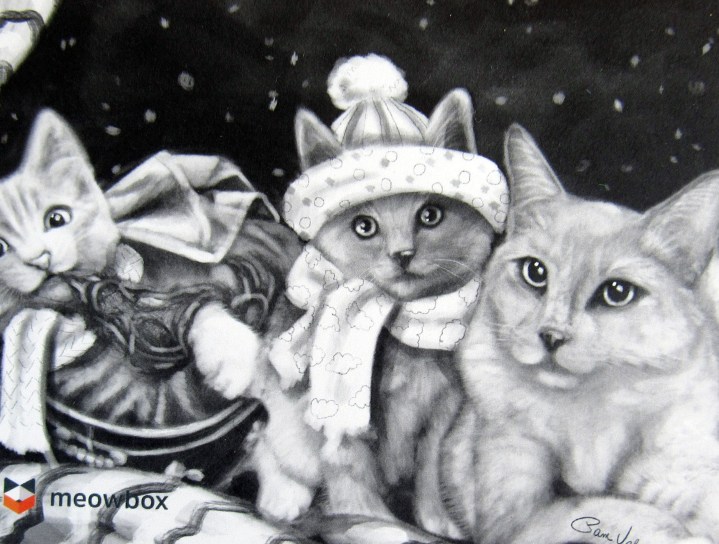 My family loves the digital artwork by Pam Vale. Check out what possible items were included in the November Box. The theme is "This November, spurread the love."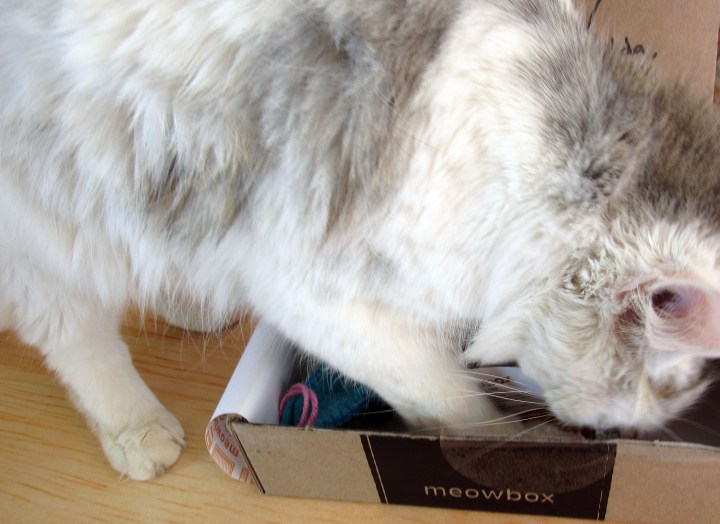 Little Lamb is peeking too!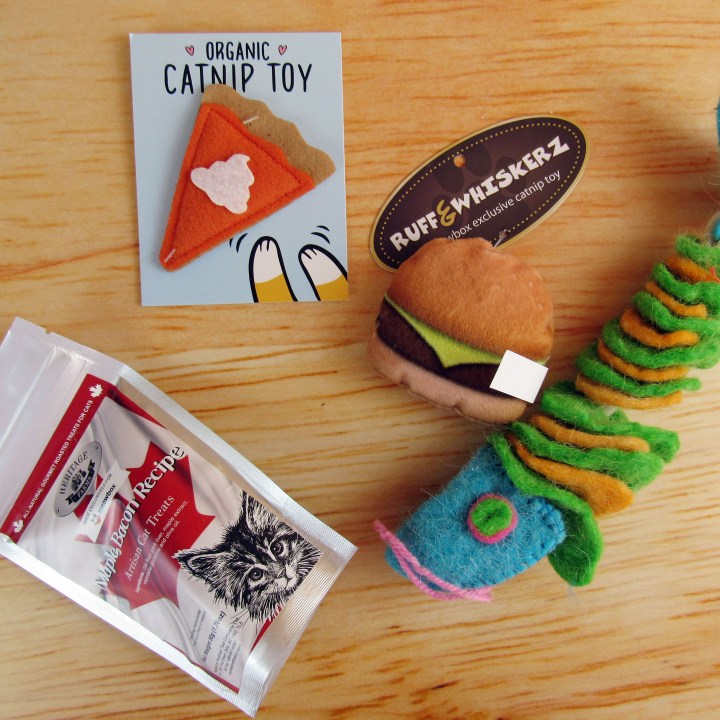 The kitties are ready to enjoy the items in the November box.
It's a fish skeleton! The women in rural herding communities of Mongolia handmade Wool Fish ($10.00) for the Snow Leopard Trust. The cats loved the toy.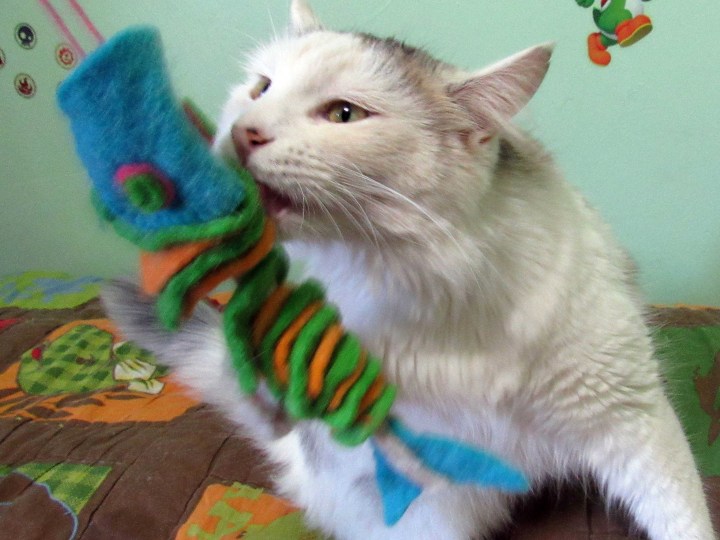 I took the picture after the kitties played with the toy. You can see how nice it looked in this picture before the kitties started to play with it.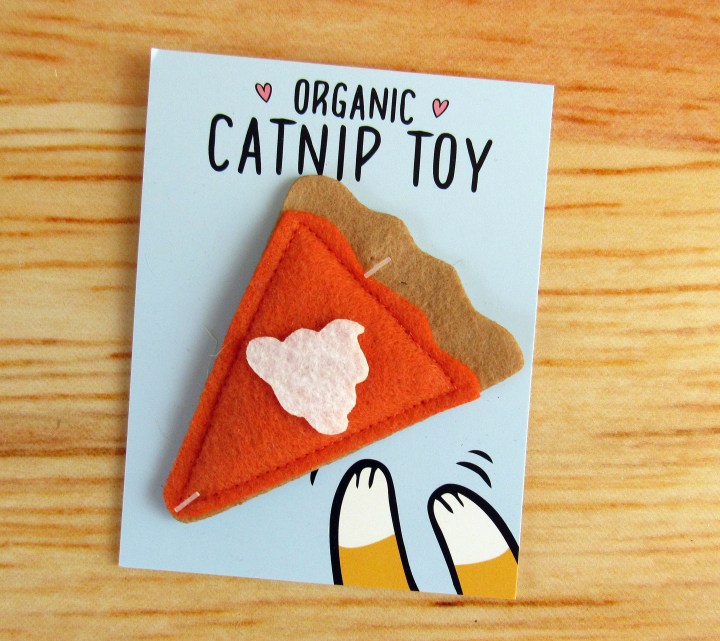 The Pumpkin Pie by Housecat Club ($7.00) was Puss in Boot's favorite toy. He was determined to remove the whipped cream from the pie. The toy is made from locally-grown organic catnip and made from vegan and recycled materials.
The Ruff & Whiskerz Meowbox Exclusive Cheeseburger Toy ($5.00) was claimed by Little Lamb. He's happy that he no longer has to purr his way through the local kitty drive thru for a catnip burger.
The Heritage Farms Maple Bacon Recipe Artisan Cat Treats (1.7 oz, appx $6.00) are made exclusively for Meowbox.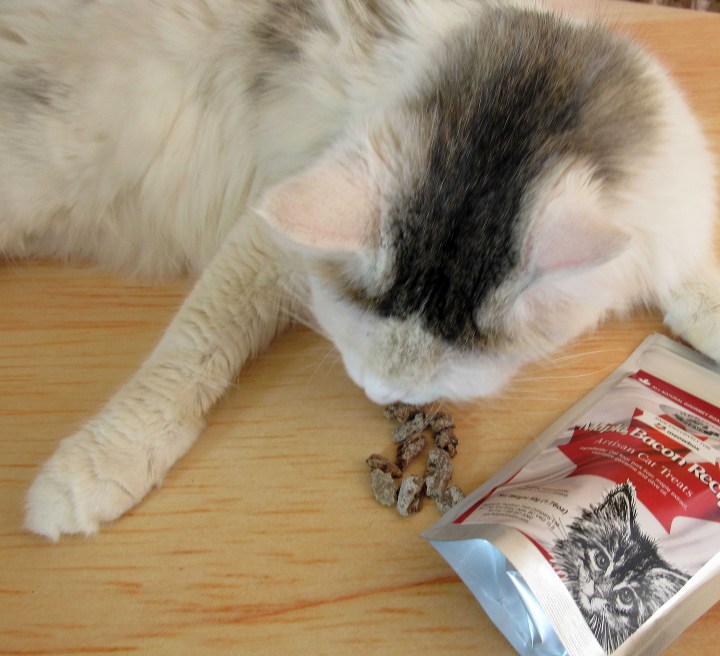 Little Lamb could not wait to eat the delicious treats from Canada.
Time for kitty pictures! The kitties are on an old comforter and are photographed in natural lighting.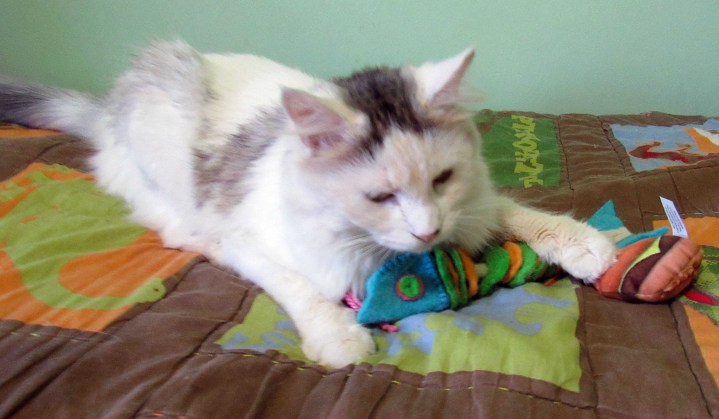 Little Lamb is enjoying his fish meal while keeping a paw on his hamburger.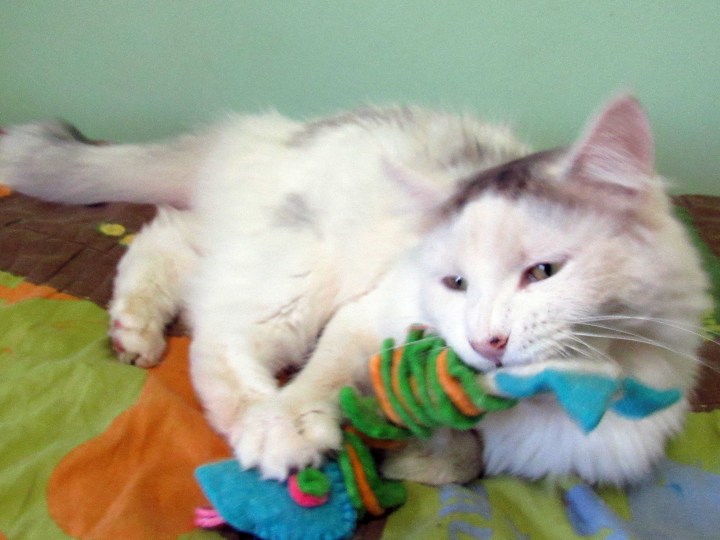 He is having fun chewing on his toy!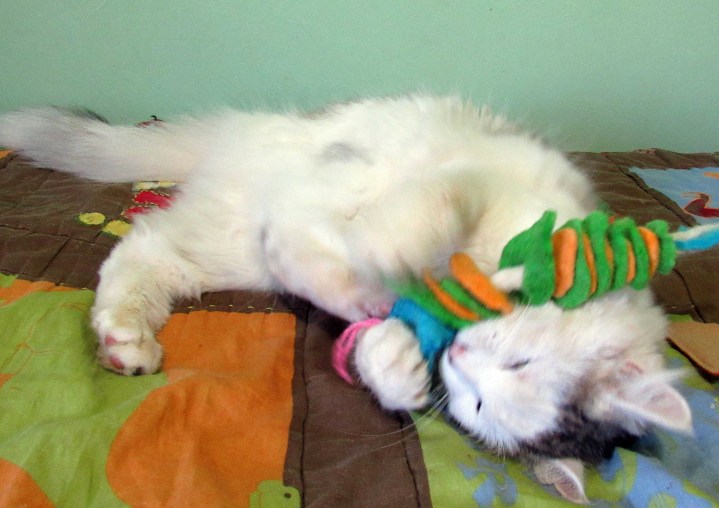 Time for bunny kicks!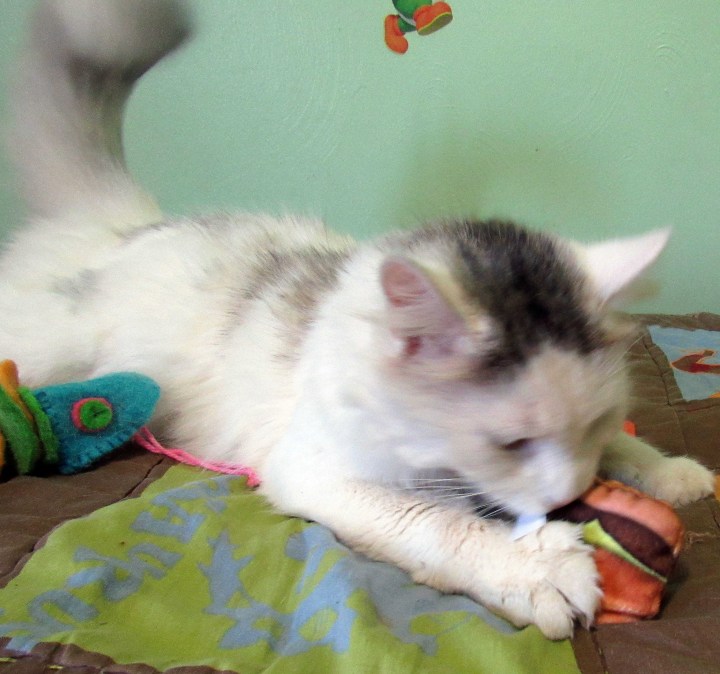 Wait! There's a hamburger. Time to pounce.
Sylvester was content to pose with the toys. He's giving me the look that says don't take them away.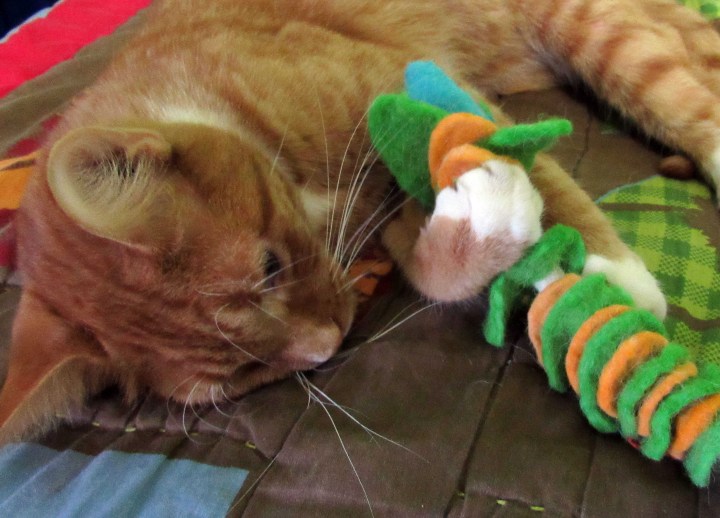 Puss in Boots is recovering from his cold. He enjoyed holding the fish skeleton.
He was determined to rip off the whip cream. He was unsuccessful.
Sylvester was rolling around with the pumpkin pie.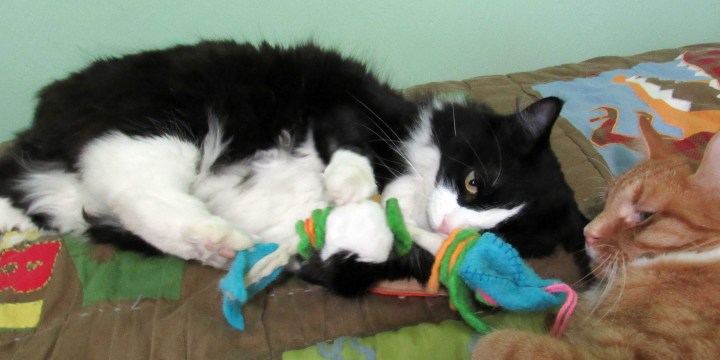 He also played with the fish skeleton while Puss in Boots started to fall asleep.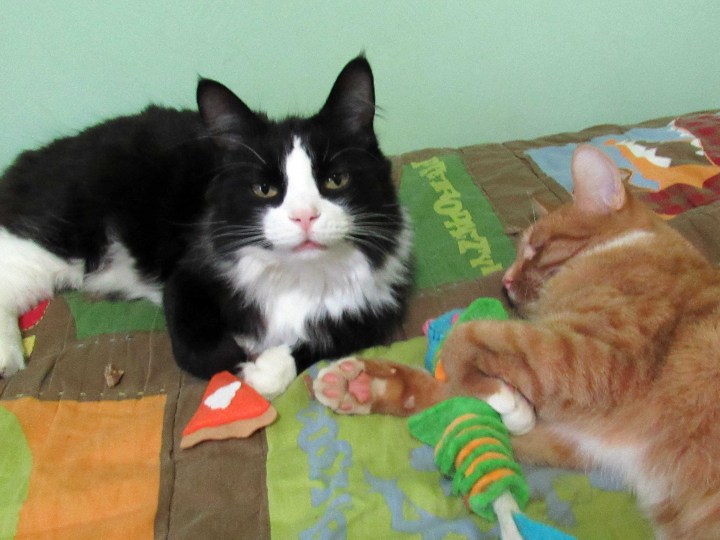 Look who fell asleep with his toy after snacktime. Sylvester has a couple of treats left to eat and looks sleepy too.
The kitties thought that the November Meowbox was purrfect.  They enjoyed playing with their toys and eating their treats. The variety was excellent with the kitties receiving an exclusive toy, a small company toy, and a handmade toy that benefits snow leopards along with a tasty Canadian treat. The November box value is around $28.00  which is five dollars over the $22.95 subscription box price.  Meowbox ship for free, so there is no additional shipping charge. They also offer an option to receive it every other month. Meowbox also donates a can of food for every box sold. A can tracking number will be sent to you so you can track your can and find out which shelter received it. Our kitties thought the box was meowvelous and hope that your kitties agree!
Visit meowbox to subscribe or find out more!