The Vanishing Cabinet by Notoriously Morbid Cosmetics is a monthly themed beauty subscription for $13.25 per month. Subscribers receive 4 to 5 themed items, ranging from eyeshadow, blush, lipstick, and more. There is a terribly long waitlist – months and months and months. Finally, it's my turn!
Notoriously Morbid loves creating unique cosmetics for those slightly morbid at heart. Their products are mostly mineral based with really fun names, colors, and lots of glitter and holos!
TIP: Check the drop-down under subscriptions on their site (it's not a permanent link) for the current Vanishing Cabinet if you want to buy this exact month.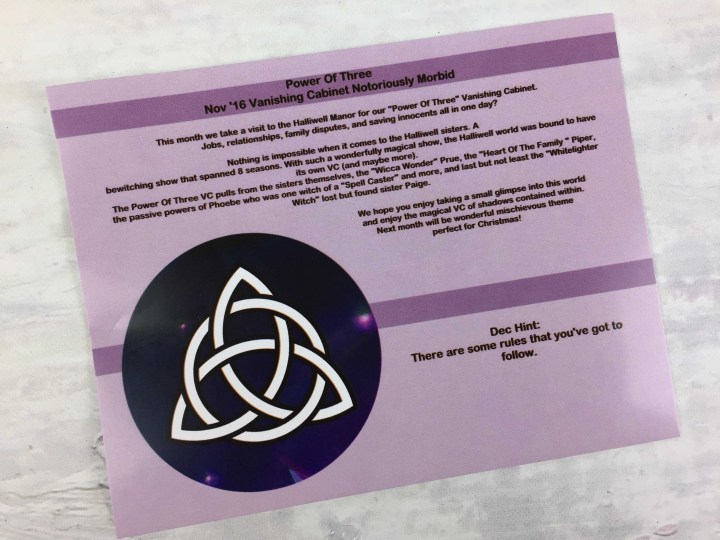 The theme of the month is "Power of Three." I pretty much lost my freaking mind! Yes, I've seen every episode of Charmed. I'm going to rewatch it now. I'm the biggest mega-dork that ever dorked but hey, Notoriously Morbid clearly understands!
Jobs, relationships, family disputes, and saving innocents all in one day? Nothing is impossible when it comes to the Halliwell sisters. A bewitching show that spanned 8 seasons, this month's VC "Power Of Three" is inspired by the sisterly bond of the Charmed Ones!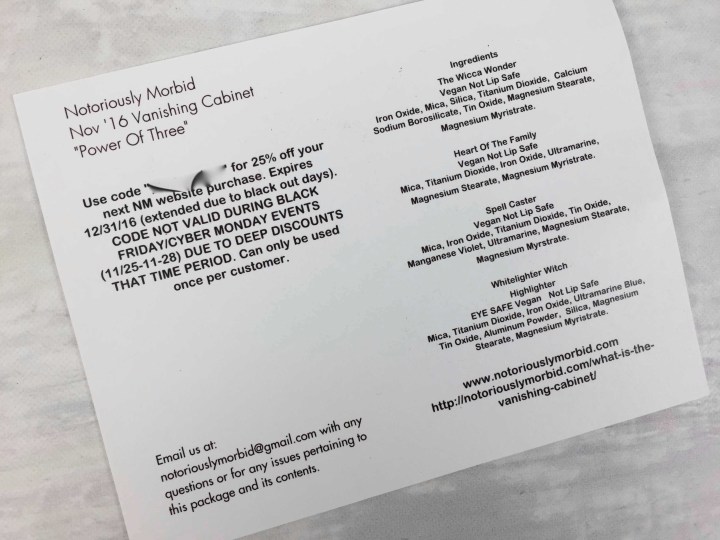 The back of the card gives you a list of all the items in the box, as well as the ingredients that make it up. Note that the shadows information tells you whether or not it's lip safe (for these three no), and the highlighter notes whether or not it's eye safe or lip safe. In this case, everything is good for the eyes, but not the mouth!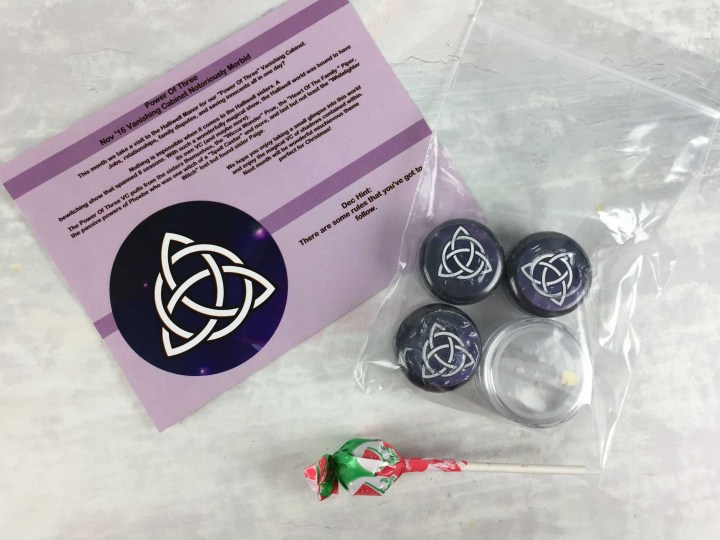 Everything in my November Vanishing Cabinet! The cosmetics came bagged up, and there was a little lollipop. Nice deal for $13.25!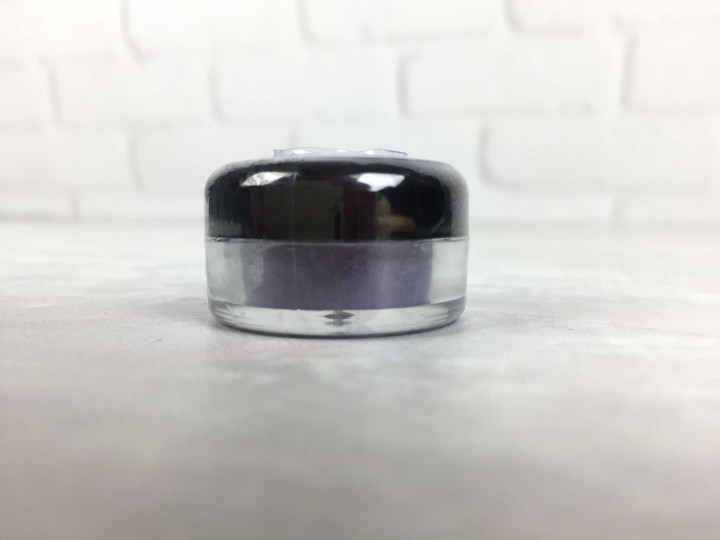 I wanted to make note that everything was heat sealed up in plastic individually. I have never received a mineral powder disaster in any box, but I think it's safe to say that it pretty much never happens with this subscription!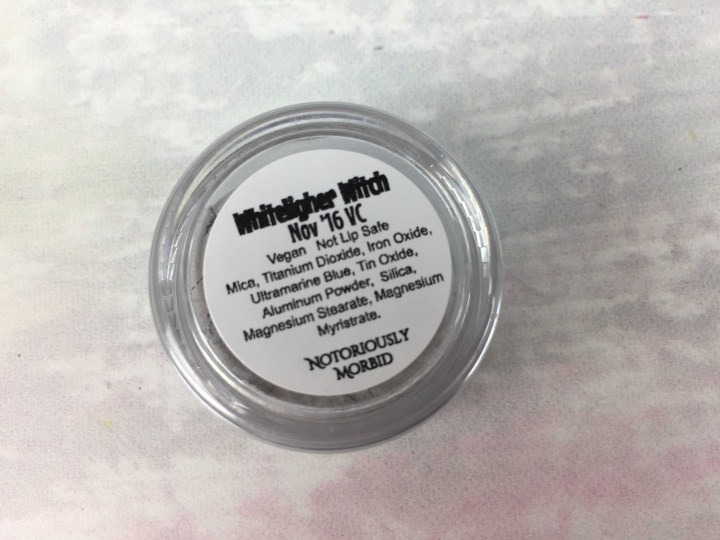 Whitelighter Witch Highlighter – The bottoms are labeled with the release month!
Oh Paige! It's quite a requirement that you're the highlighter, because you have the most powers! Like really, Notoriously morbid is really into making the colors reflect the theme, because this was a shimmery silver and gold mix, reflecting the mix of Witch and Whitelighter in Paige. I'm sorry, I told you I am a mega dork. Now you're really getting full on girly fandom. Swatch below!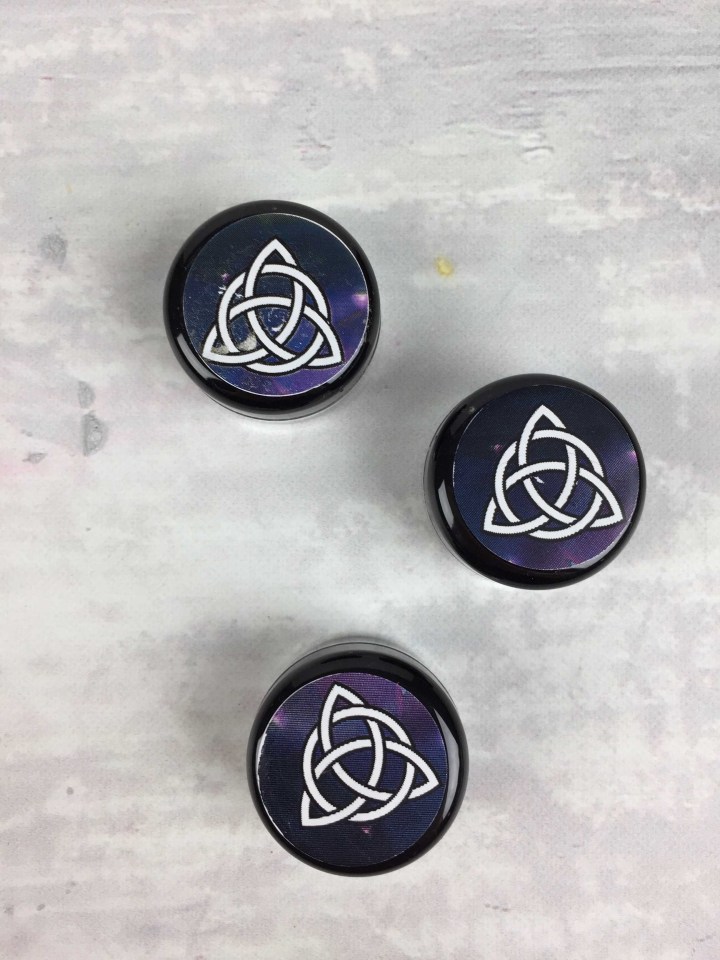 The power of three will set you free.
Heart Of The Family Eye Shadow – Prue
Spell Caster Eye Shadow – Phoebe
The Wicca Wonder Eye Shadow – Piper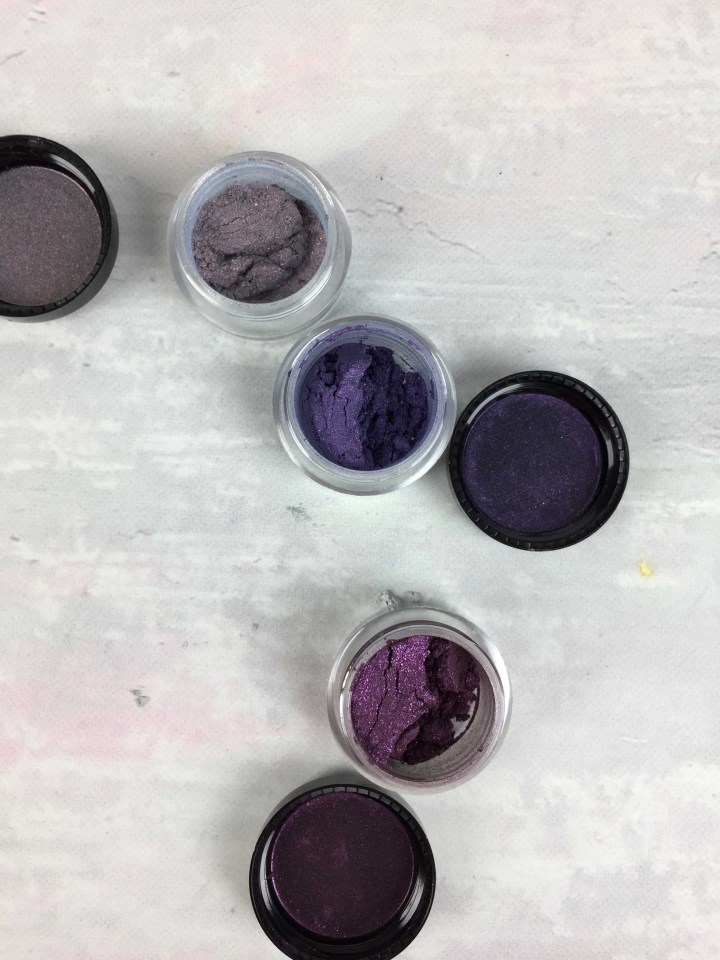 I think these colors match each sister perfectly, and they're purplicious to boot! (Prue, Phoebe, Piper again in that order)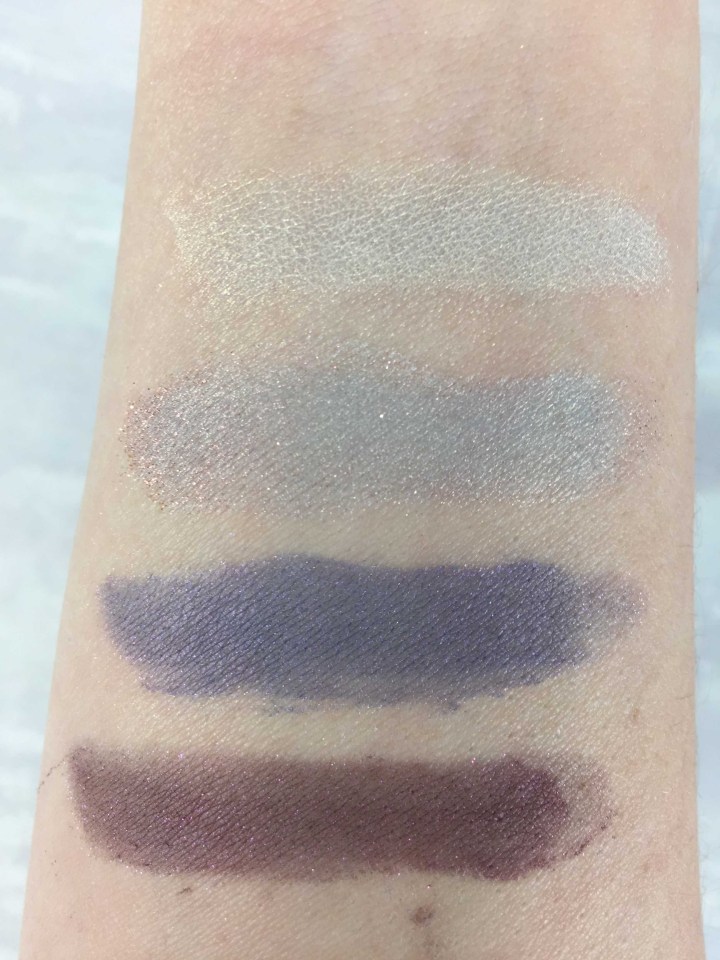 And here's some swatching goodness! The highlighter is on top and then the shadows are in the order above. They're shimmery with microglitter, but very wearable, and will give great results for a lot of looks! The first two are my favorite because they have very multidimensional color.
I think this is a fantastic subscription if you love mineral makeup – and if you can get your hands on it! I can't wait to see what the next theme is! Apparently, they have a new subscription, Mystic Monthly, starting up next month. I'm more than curious!
What do you think of Notoriously Morbid's Vanishing Cabinet?