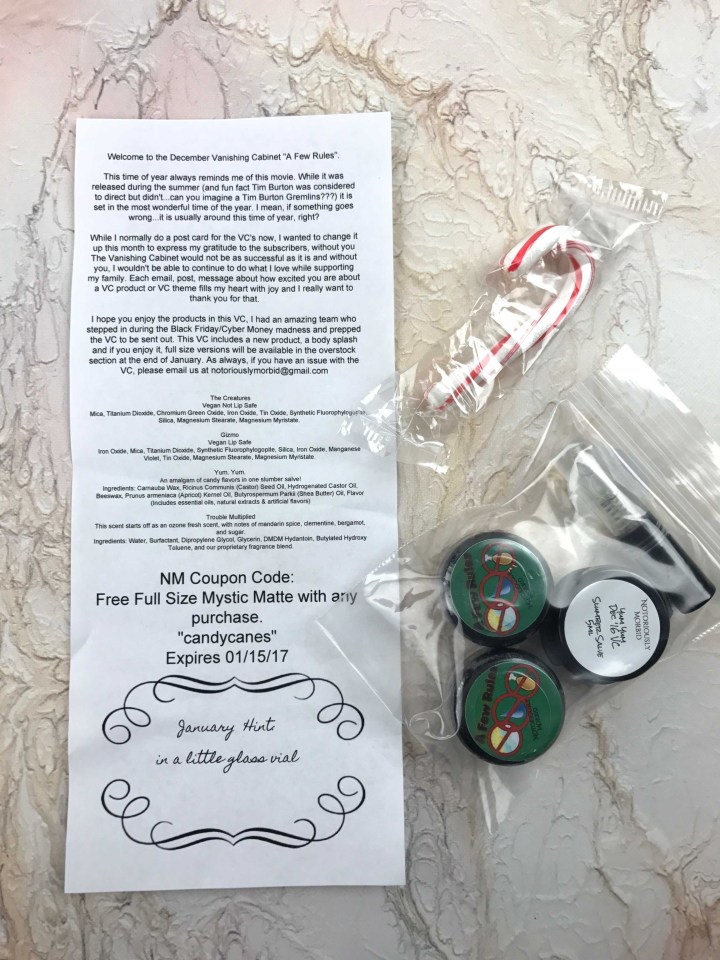 The Vanishing Cabinet by Notoriously Morbid Cosmetics is a monthly themed beauty subscription for $13.25 per month. Subscribers receive 4 to 5 themed items, ranging from eyeshadow, blush, lipstick, and more. There is a terribly long waitlist – months and months and months. If you're interested in this subscription, we suggest signing up for the waitlist.
Notoriously Morbid loves creating unique cosmetics for those slightly morbid at heart. Their products are mostly mineral based with really fun names, colors, and lots of glitter and holos.
TIP: Check the drop-down under subscriptions on their site (it's not a permanent link) for the current Vanishing Cabinet if you want to buy this exact month.
The theme of the month is "A Few Rules."
The back of the card gives you a list of all the items in the box, as well as the ingredients that make it up.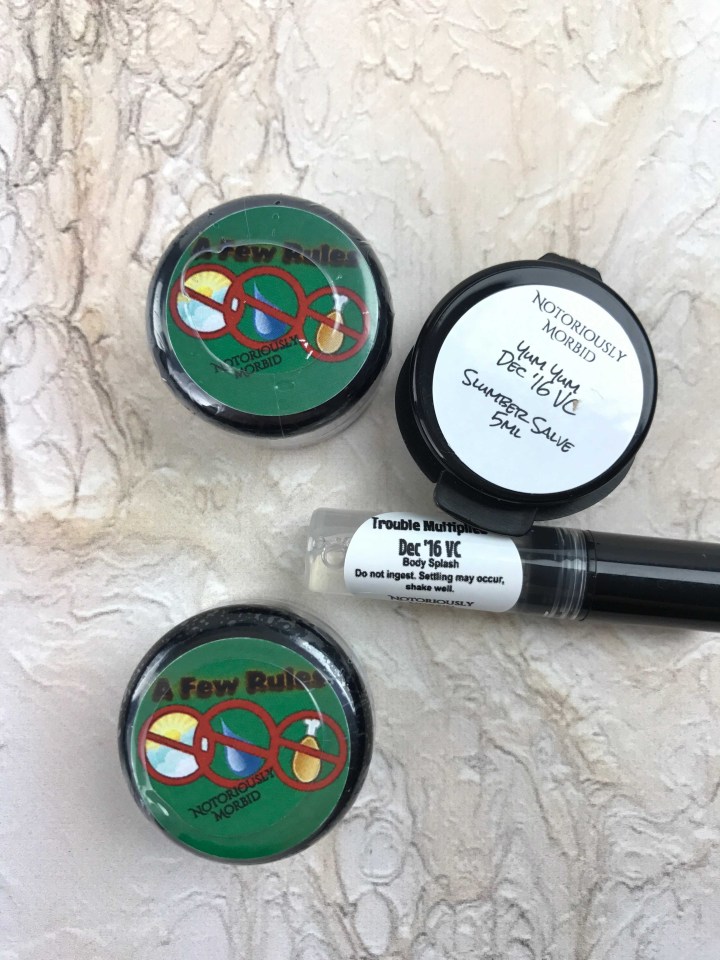 Everything in my December Vanishing Cabinet!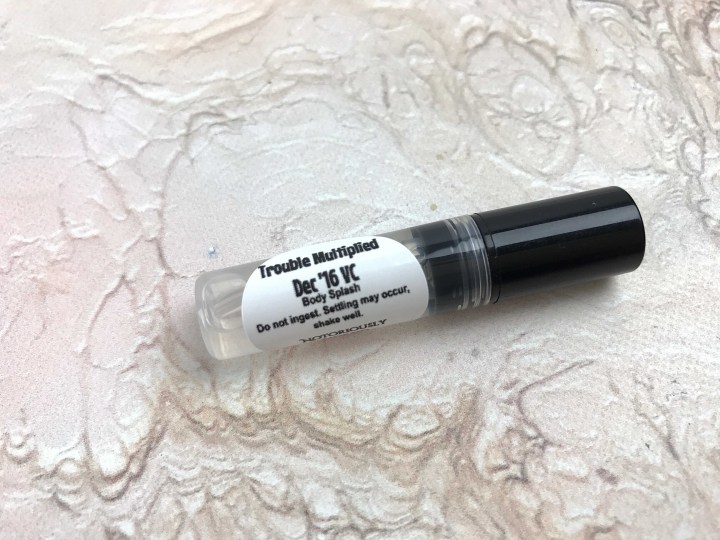 Trouble Multiplied Body Splash: The notes are mandarin spice, clementine, bergamot, and sugar. This was a fun addition. If pressed to compare to another shop, like Rainbow Honey, I'd say I prefer the fragrance combo in this quite a bit more!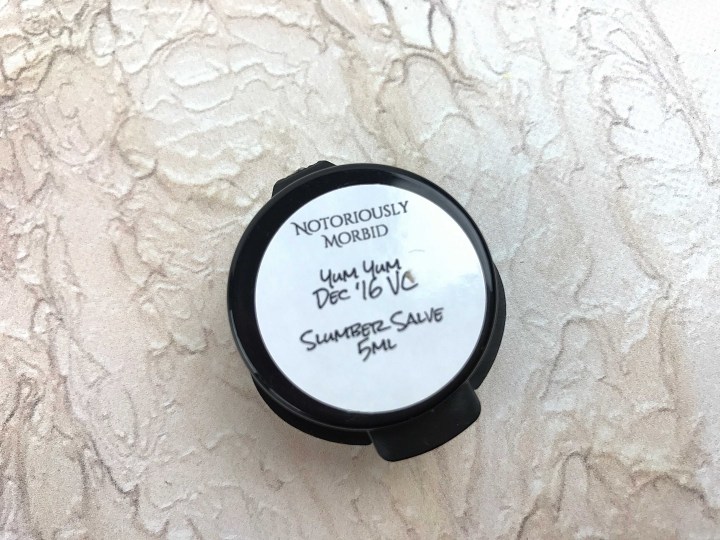 Yum Yum Slumber Salve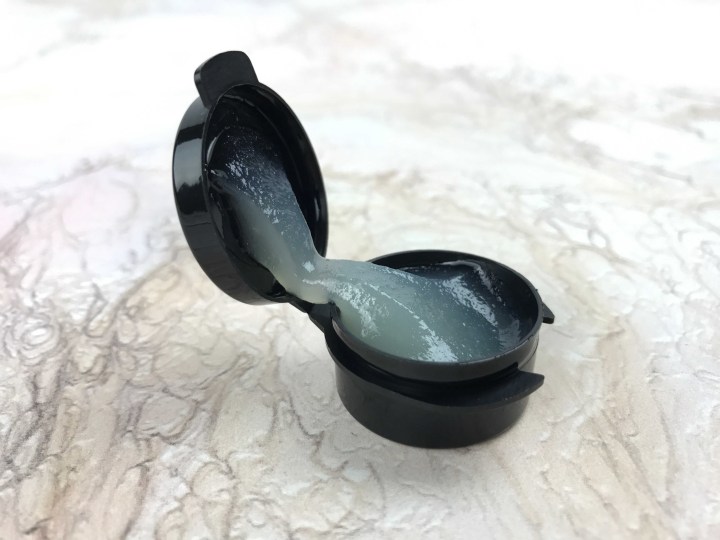 On the other hand, this amalgam of candy flavors didn't do it for me as a salve. The castor oil in the product came through the flavors, and it was pretty messy. This was a miss for me.
The Creatures Mineral Eyeshadow
Bright Lights Mineral Eyeshadow (This was called Gizmo on the info sheet)
I totally messed up the lids with some nail polishy hands, they didn't come like that.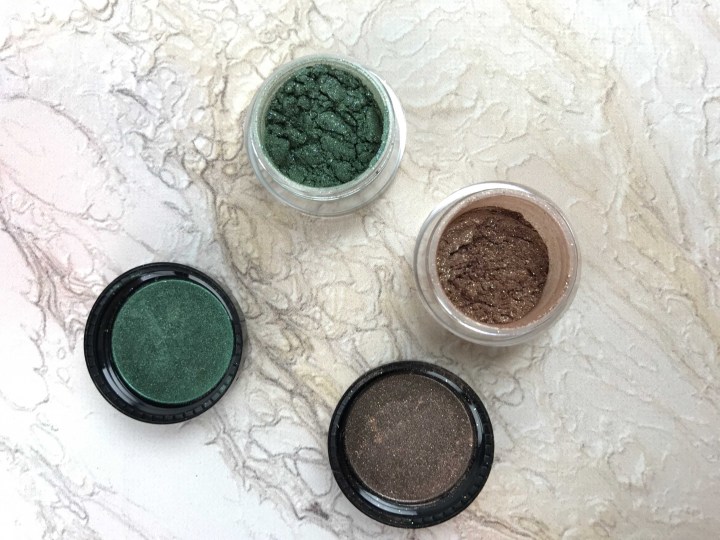 The creatures is a beautiful Christmasy green that does pretty much look like a Gremlin! Bright Lights was a pretty and warm brown.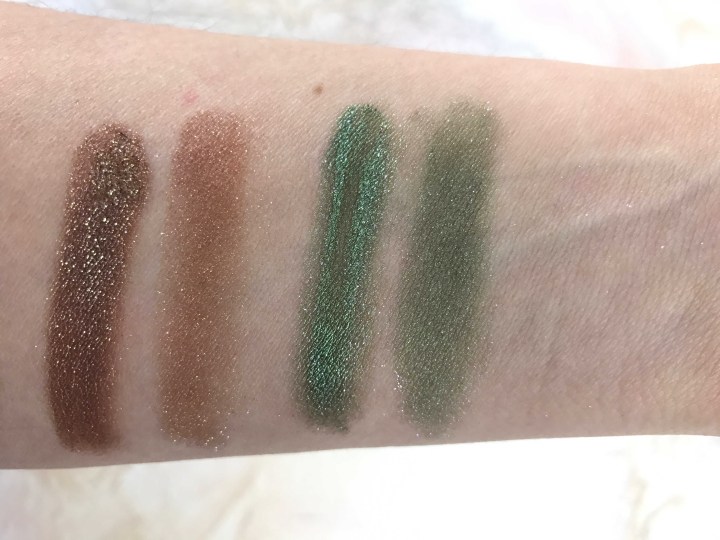 I did 2 swatches of each color. The left one is foiled (with water), and the right is just plain. You can see how versatile mineral makeup is and the variety of looks you can create with just a couple shadows.
This was only my second month so I'm not sure how I feel about the 2 non-mineral products. This is still a fantastic subscription if you love mineral makeup – and if you can get your hands on it! They have a new subscription, Mystic Monthly, starting up next month. I'm more than curious!
What do you think of Notoriously Morbid's Vanishing Cabinet?