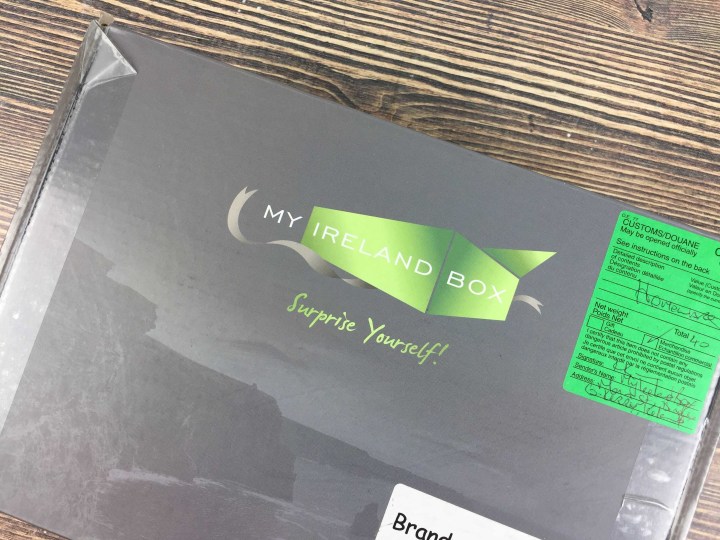 My Ireland Box is a monthly subscription box from Ireland filled with the best of Irish-made craft (artisan) goods. You can expect to receive Irish made jewelry, housewares, and craft and beauty products. They ship to the US, Canada, EU & Australia (anywhere with a significant proportion of people with Irish last names live!). This box ships from Ireland!
This box is always so neatly put together, and of course, the green tissue is necessary!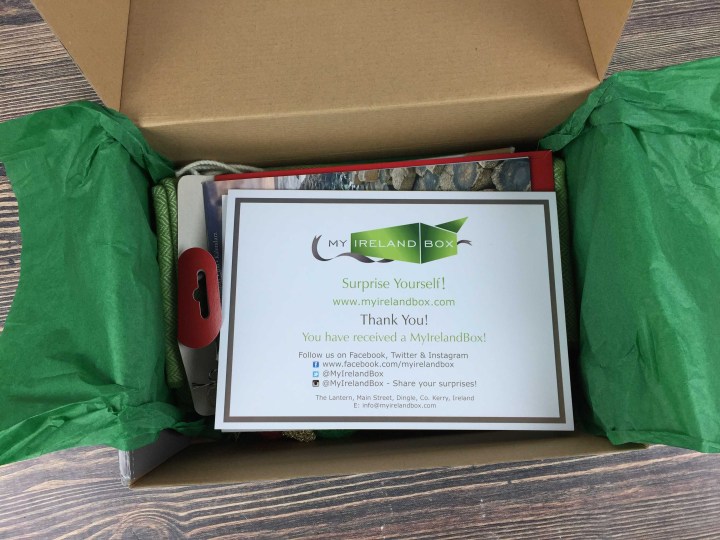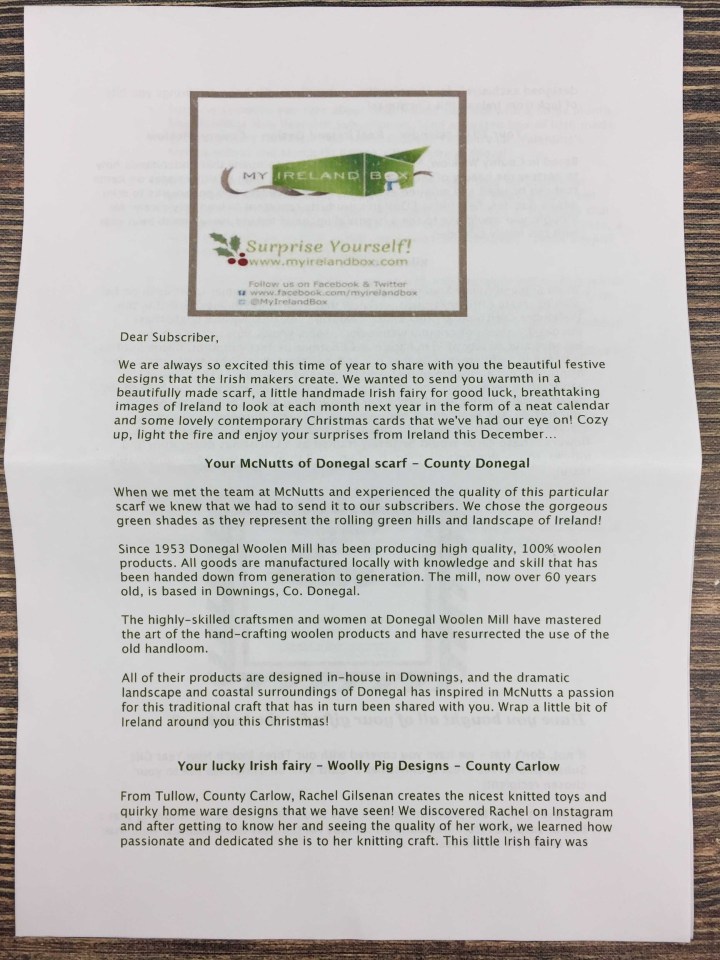 A letter containing extensive information about each product and its maker/designer comes with the box.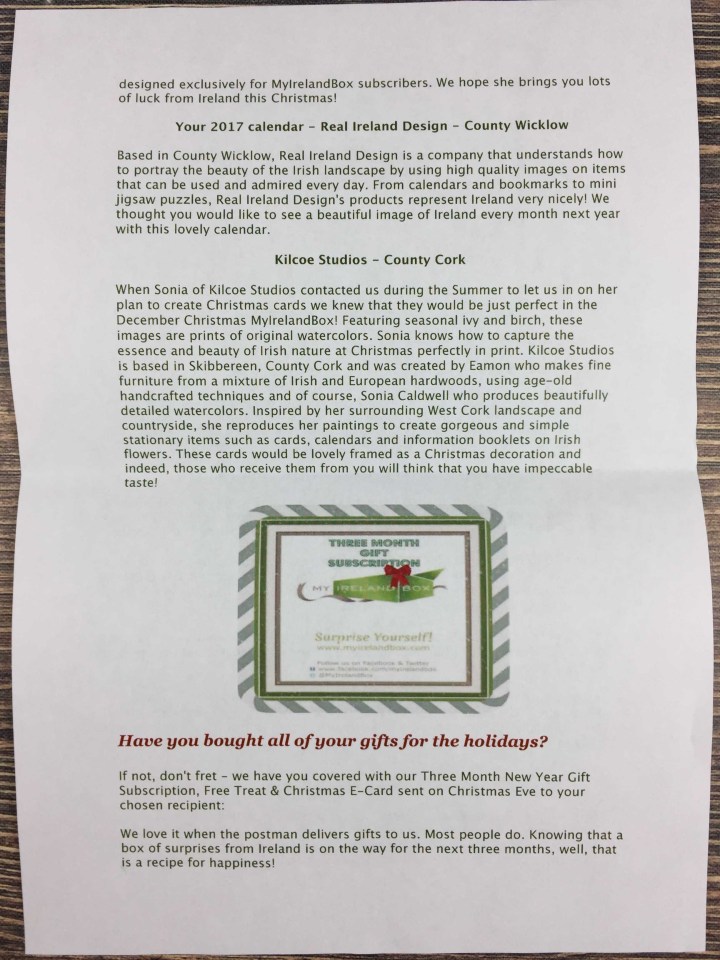 We really like their information sheet because it gives each item a real sense of place and we get to learn about the influences of each item, the inspirations of the designer, and more! It is really one of the most detailed information sheets you'll ever see in a box.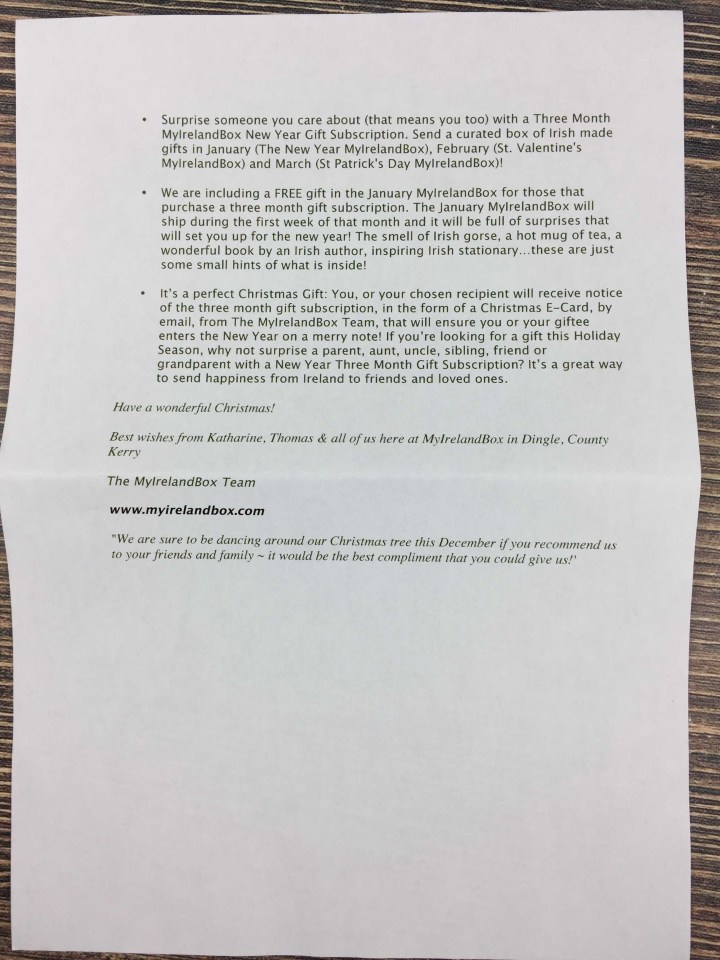 The last pages of the curator letter lists upcoming spoilers for the next three months.  January is New Year-themed, February is St. Valentine's Day-themed, and March is St. Patrick's Day-themed!
All the contents of the December box!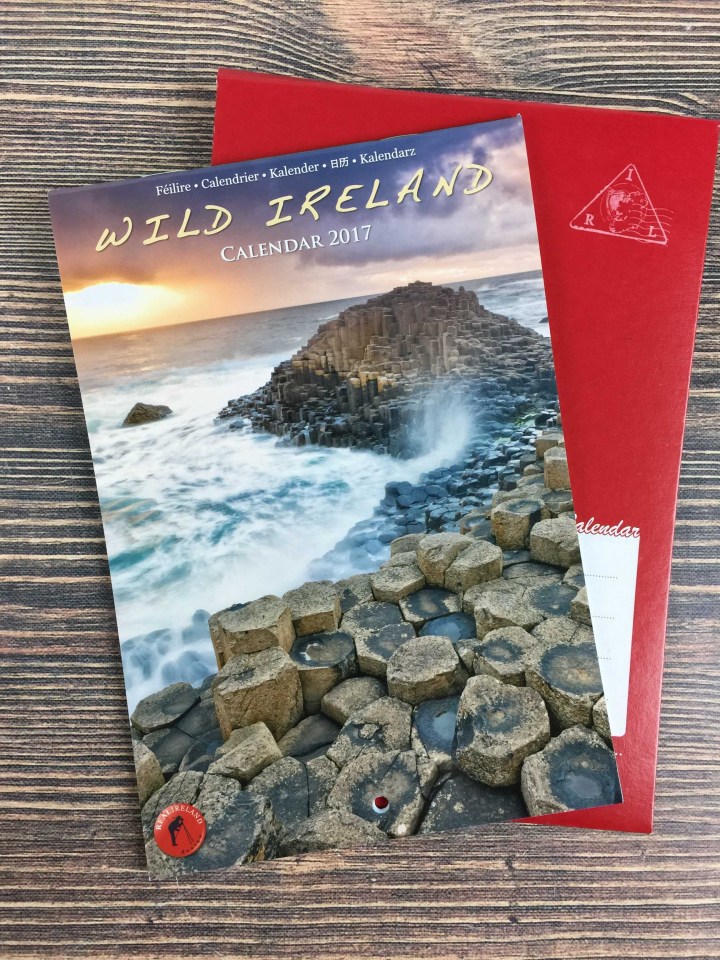 Real Ireland Design Wild Ireland Calendar 2017 (€7.99, $8.62) – It's an A4-size wall calendar containing photos of breathtaking Ireland landscapes by famous Irish photographer Liam Blake.
The 2017 calendar puts an emphasis on the natural beauty of the country, with stunning and dramatic photos which were also curated by Blake himself. We can't help but agree – Ireland is such a beautiful place!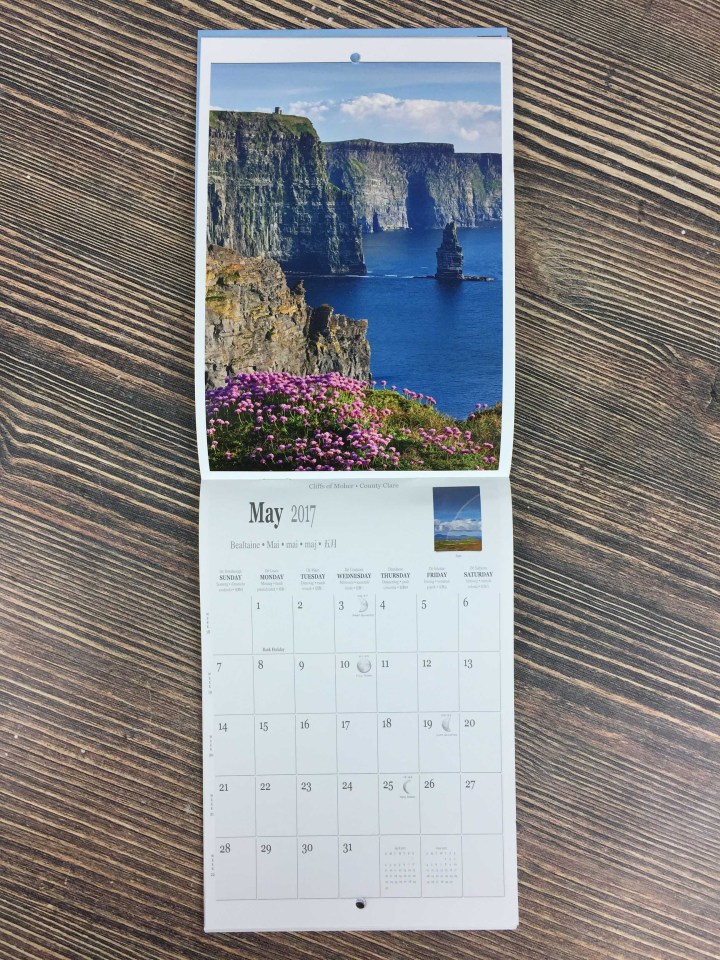 Here's a sample page. On top is the featured photo for the month, and below is the calendar.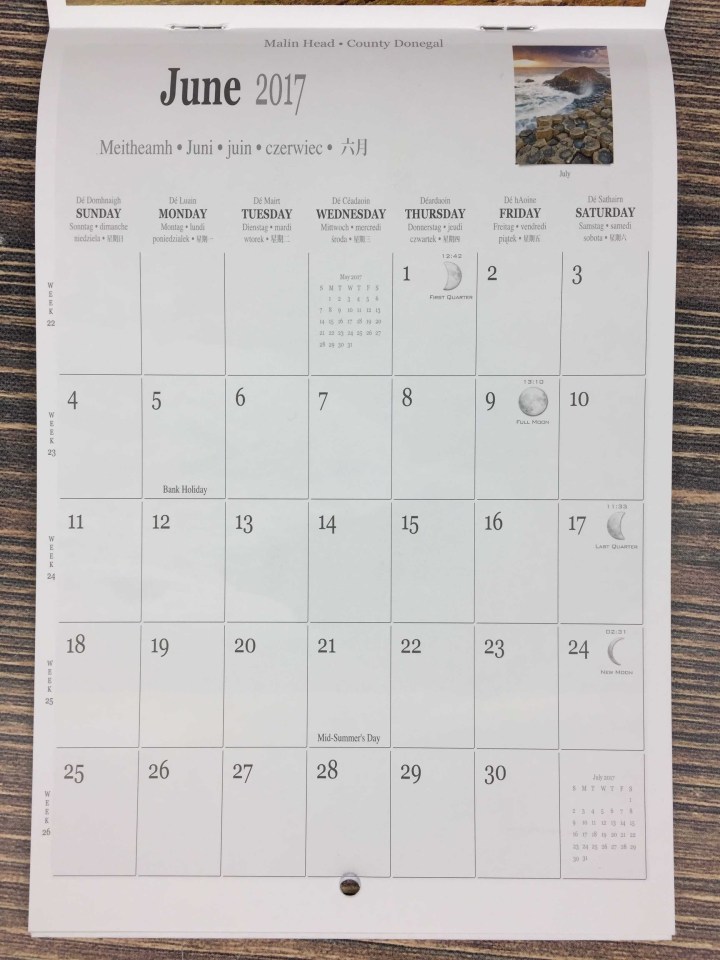 Months and days are written in different languages. They also mark important holidays which makes it so useful!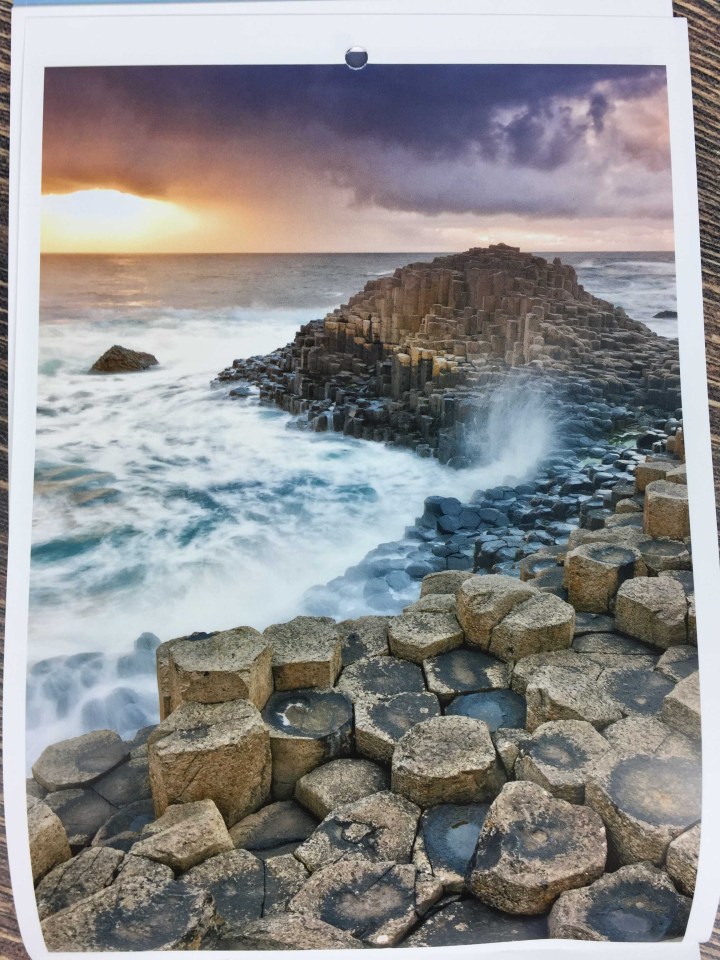 Is this place for real? It looks fresh out of a sci-fi film!
Kilcoe Studios 6-Pack Christmas Cards (€9.50, $10.25) – Yeah, we're in the digital age. But it's still nice to write and send Christmas cards – especially if they're made of high-quality paper and has a unique design!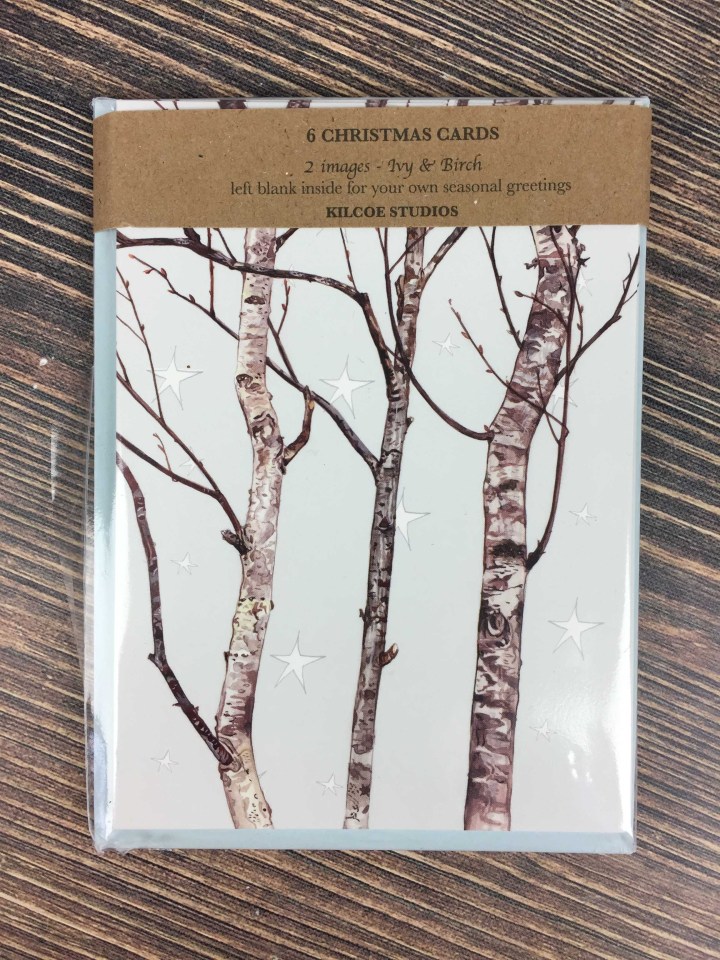 The cards were wrapped in cellophane for protection and it's really great because we received them without any scratches or creases!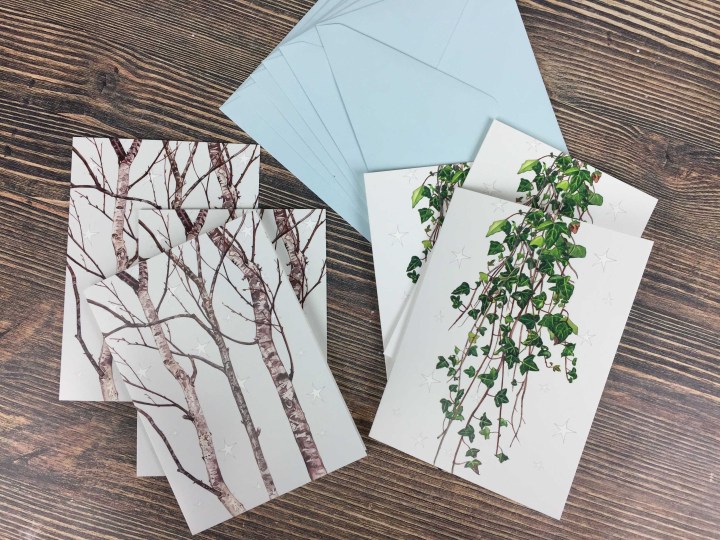 We received a total of 6 cards – 3 Ivy & Birch and 3 Holly & Pine. Also included in the pack are envelopes.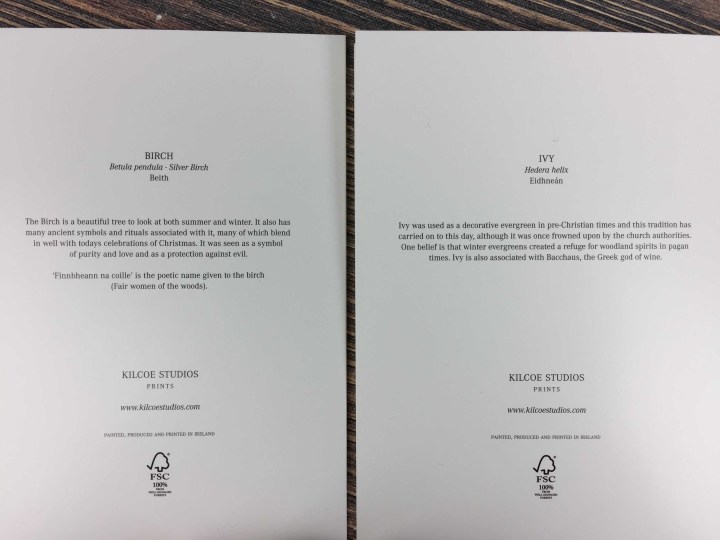 At the back of the cards are some trivia about the prints and where they got the inspiration for it.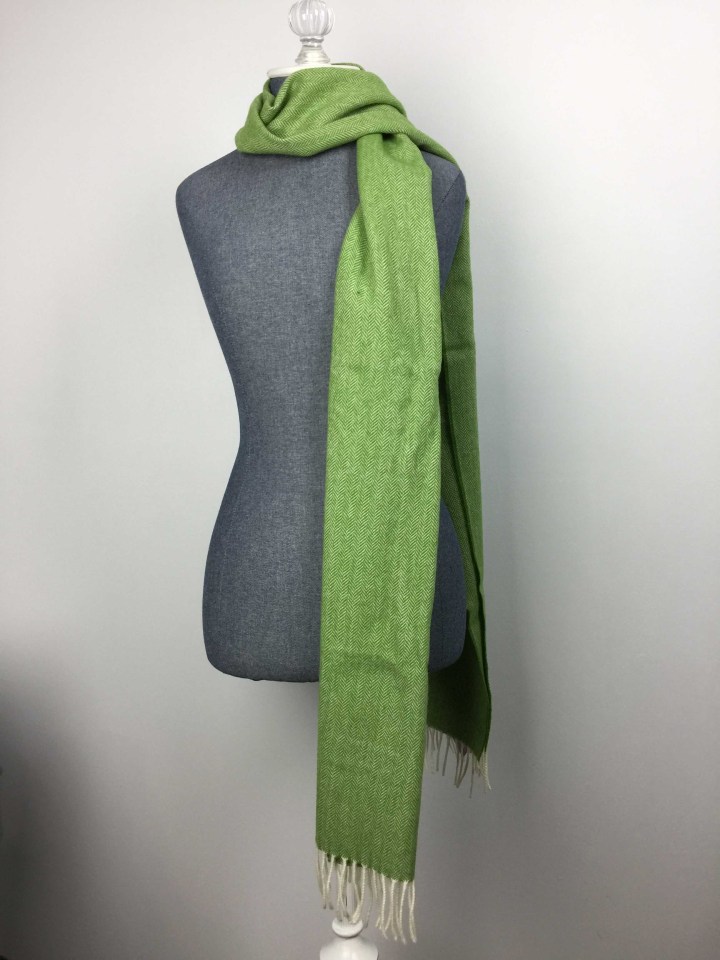 Donegal Scarf – A cozy scarf in a very Irish color! Somehow, the color is also reminiscent of the Northern Lights or Aurora Borealis which can be seen in Ireland.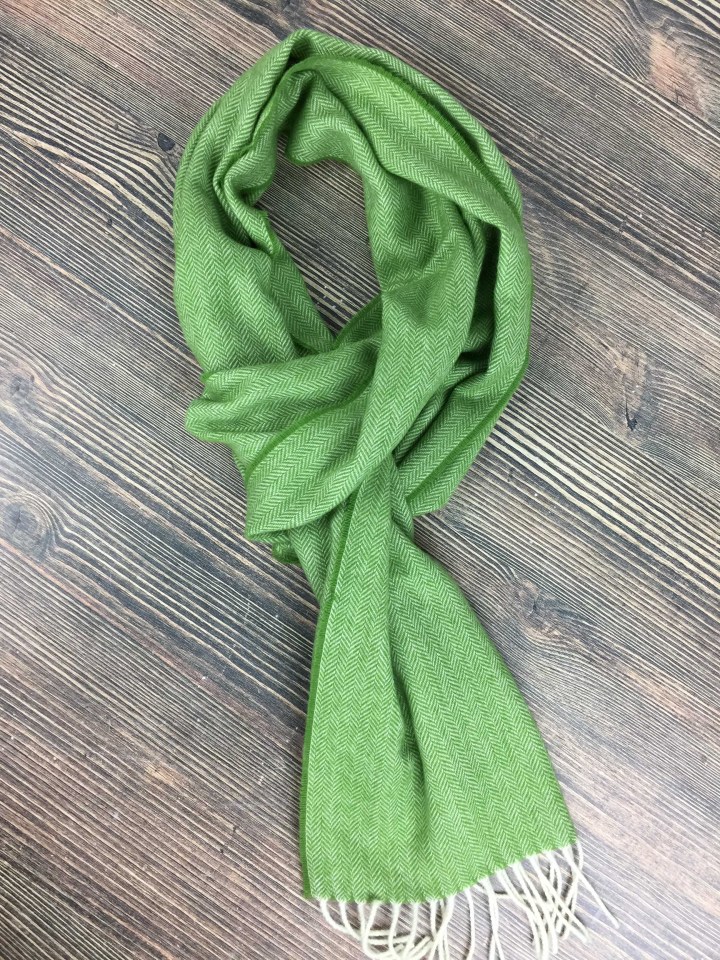 If you'll look closely, you will see a nice pattern on the scarf.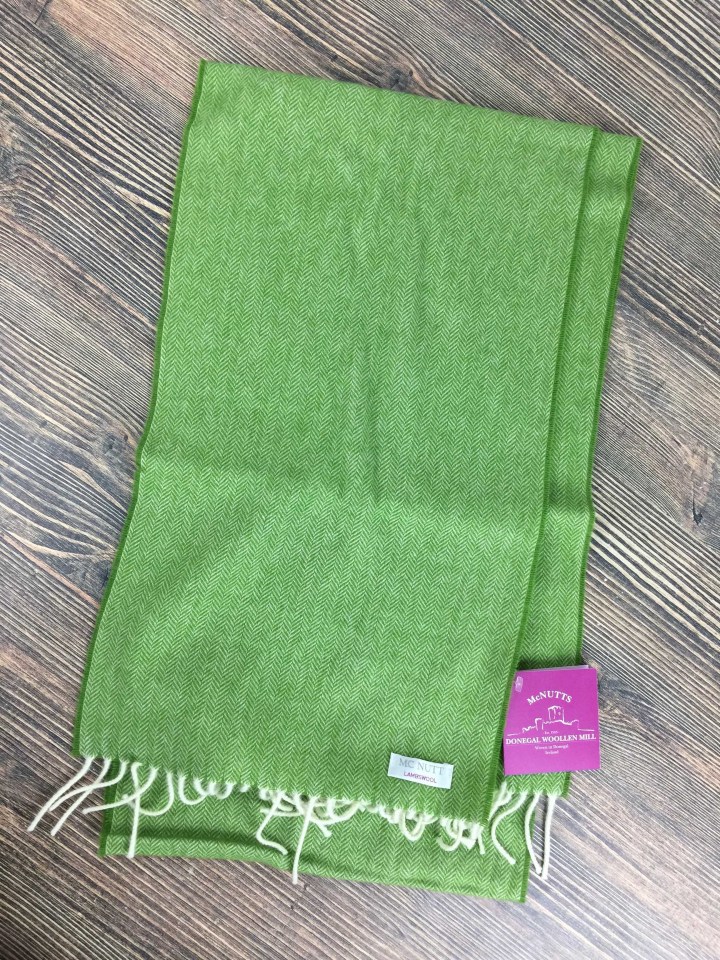 This light green scarf might be hard to pair with other colors, but it will look smashing on Tom's mom with her natural strawberry blonde hair. (Have an Ireland lover in the family? Perfect gift!)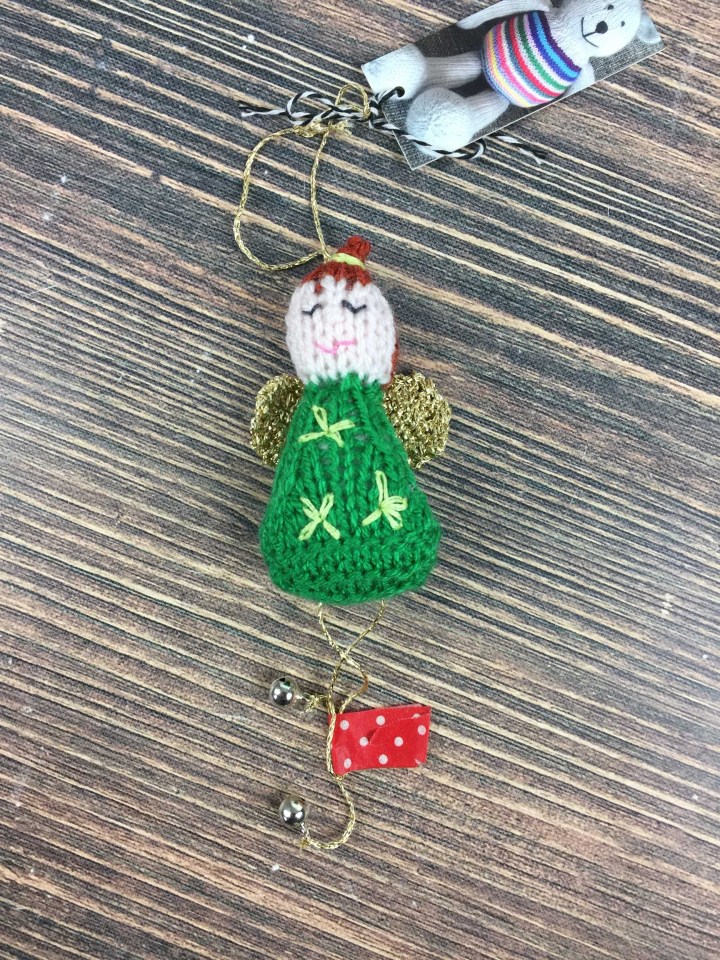 Woolly Pig Designs Irish Fairy – It's a handknitted decor which resembles an Irish Christmas fairy!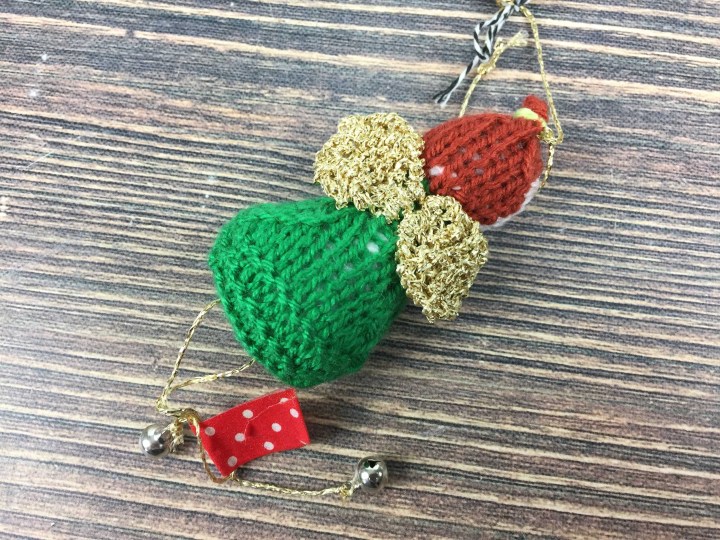 Christmas fairies are from Irish mythology. This one looks so cute – you can hang it anywhere at home to instantly feel some Christmas vibes!
Here's what it looks like from the back. It looks simple but it probably took a lot of effort handknitting. The craftsmanship is beautiful!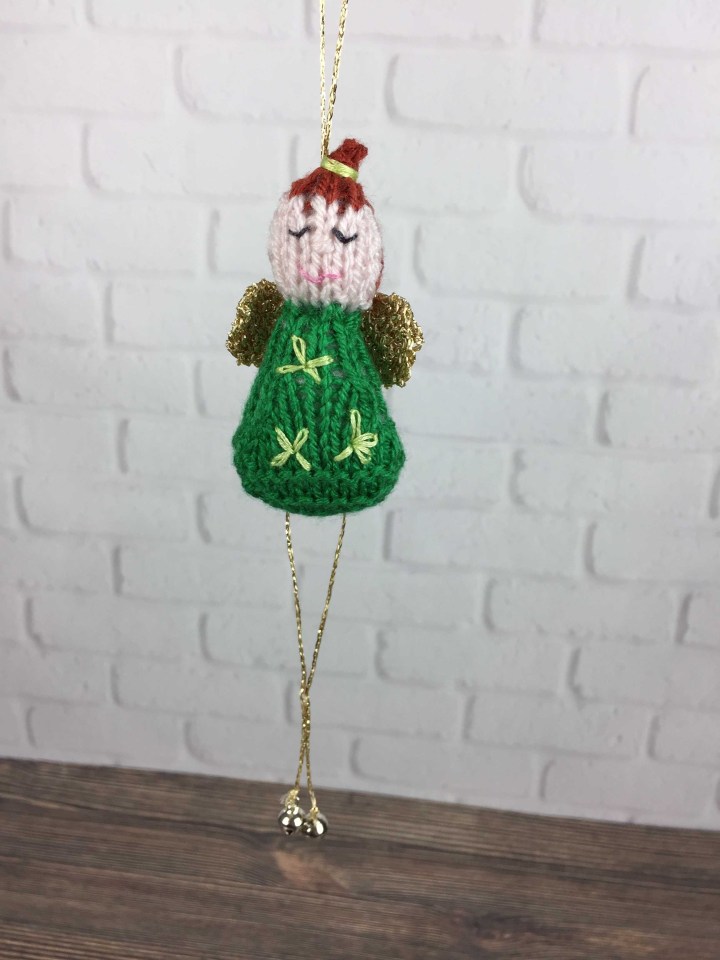 Those round things attached to the fairy through the string are actually bells!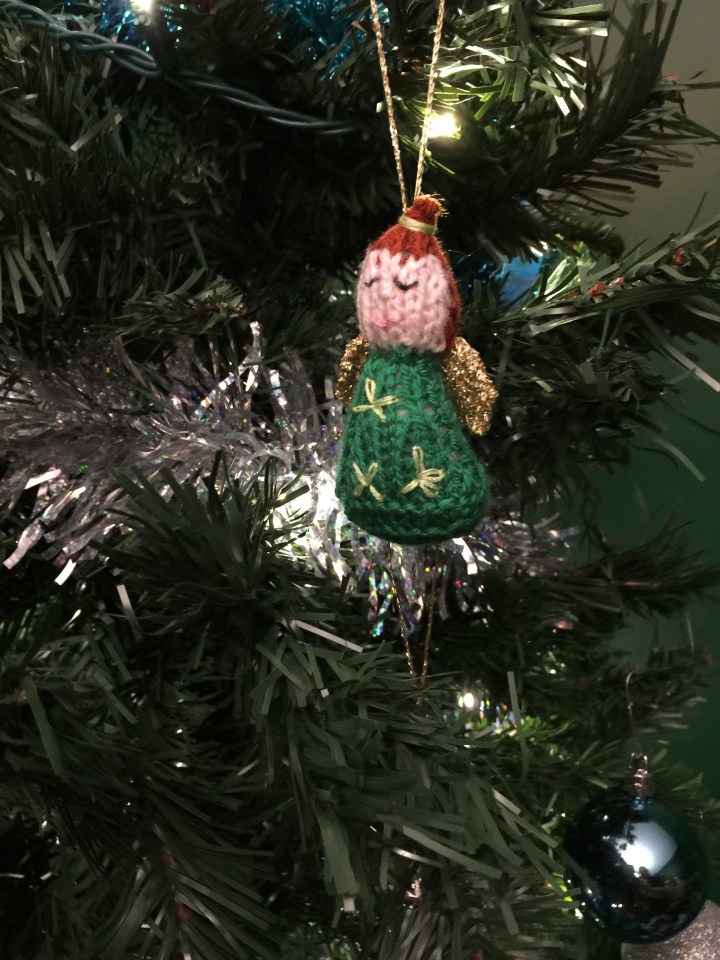 And here is the Christmas fairy gracing our Christmas tree!
This was one of our favorite boxes ever from My Ireland Box – it's the perfect Christmas gift for any Ireland aficionado and a fantastic example of the unique crafts and artisan goods that are made there. We especially love sharing this box with Tom's mother and other members of the O'Grady family. His parents have 9 and 6 siblings so… there's always a need for more gifts from Ireland!
What did you think of this month's My Ireland Box selections?