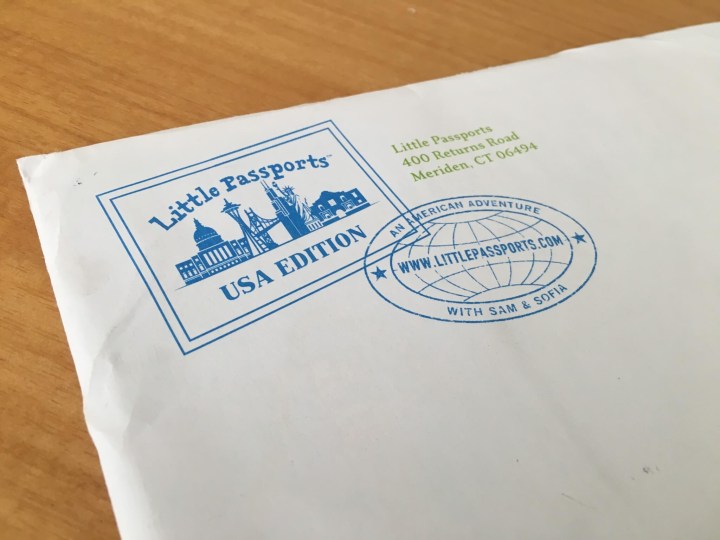 Little Passports (USA Edition) is a kids' educational subscription with crafts and fun activities about the fifty states.  This box is designed for children 7-10, but any bright kid 5+ would like it. Your kids will learn about the geography and culture of the United States with the USA Edition.
This month, Sofia and Sam visit Iowa and West Virginia. The box contains a cute double-sided activity book, postcards from each state, stickers for your field guide, and two stand-up models.
The postcards, stickers, and models are brightly colored and fun. If you came upon a mailbox in the corn fields, I suppose you could hail to some friends in the West Virginia mountains with one of these postcards.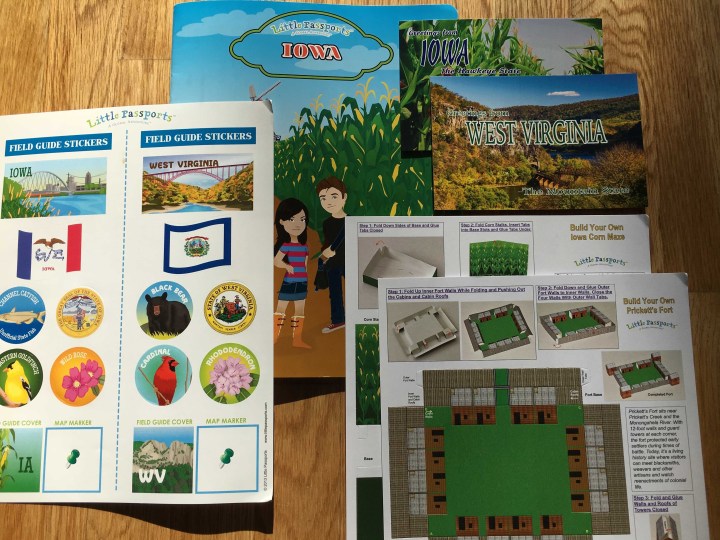 DEAL: Save $15 on annual subscriptions! Use coupon code WELCOME15.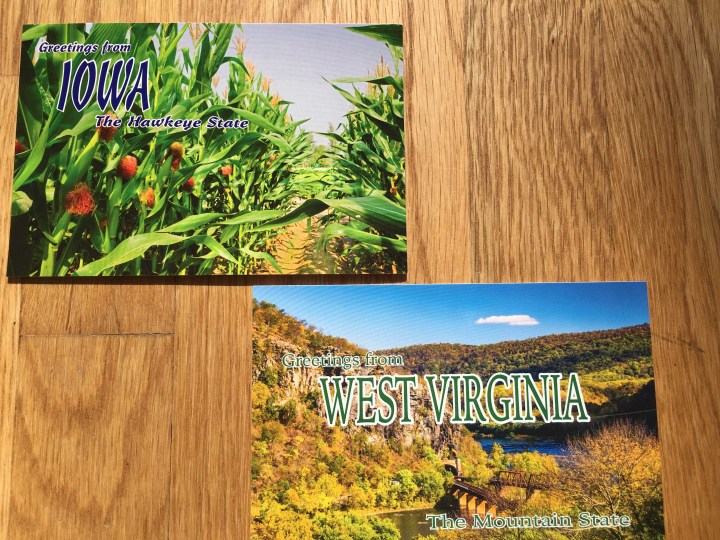 The stickers are for the Field Guide (you DID save the Field Guide, right?). They also cover the state bird and flower and so on. There are even "pushpin" stickers to mark the map poster (which you also saved?). Nice, quality stickers. Apparently, Iowa doesn't have a state animal, but it does have an "unofficial state fish."  So, that's great, I guess, if you like catfish.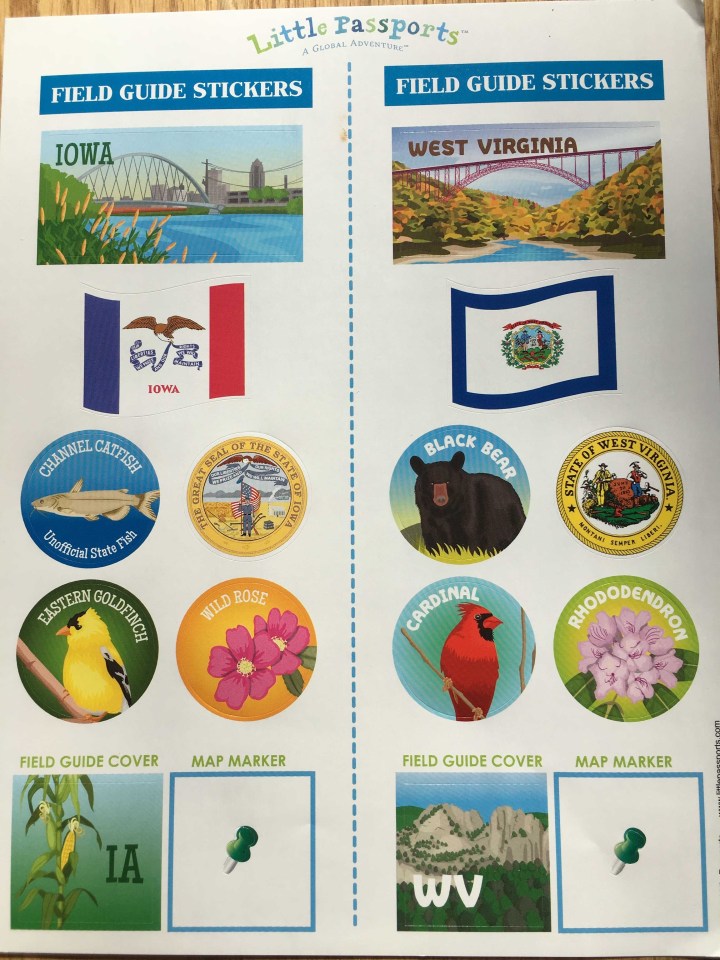 The models are punch-out coated paper and this month featured (what else?) a cornfield and Prickett's Fort. The kids were medium on both of these – the cornfield was too easy and the fort was too ticky-tacky with the tiny cubes.
Up first, Iowa, where everything is about corn.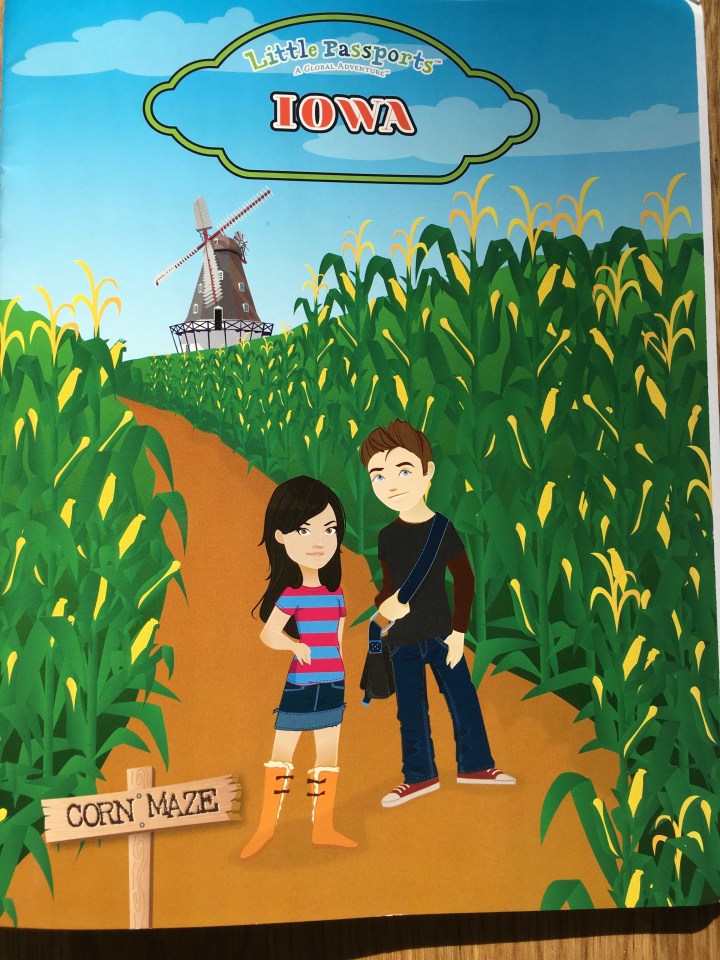 The activity book flips over and upside down to cover both Iowa and West Virginia. It's a glossy, colorful, 32-page activity book with fun facts and games about the states.
Some of the highlights of Iowa include Sam and Sofia's note and map, a corn maze (!), and a complicated-looking science project that I'm sure is going to be happening at my house this weekend. No mention of wind turbines or outsized influence in political primaries for Iowa.
On to West Virginia. Eagle-eyed readers might notice that Sam and Sofia are holding exactly the same poses in different order on the two states, providing a glimpse into their terrifying artificial world. Highlights of West Virginia include the letter and map, a logic puzzle celebrating the totally-safe activity of BASE jumping, and some winter-themed puzzles for the "Vail of the East."
Another quality box! The activities are fun and age-appropriate, and they do a good job highlighting some interesting aspects of the states. Nonreaders will need help, but older kids can do everything on their own. We can't wait to see where they go next month!
This would be a great grandparent or aunt/uncle gift, or a supplement to a homeschool curriculum, especially ahead of a road trip or visit to another part of the country.