Knit-Wise is a monthly box that arrives with everything you need to create a hand knit project. According to the site, you will build new skills, save time and money, and learn at your leisure. You can choose your skill level – either beginner or intermediate/advanced. I'm a fairly proficient knitter, so I picked the "intermediate/advanced" level. Subscriptions start at $29/month.
I have reviewed a number of Knit-Wise boxes and one thing that really has impressed me is the variety of projects. I've knit some different home decor items, a winter hat, and this month – socks!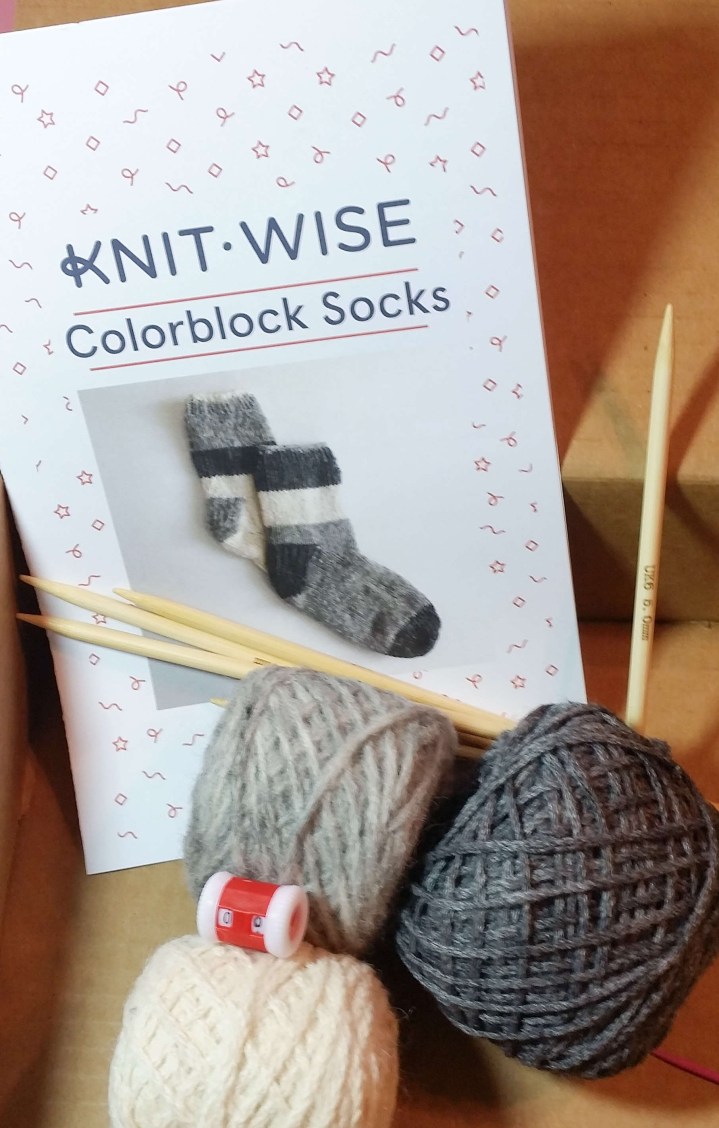 Knit-Wise provides nearly all the supplies you need for the project, making it super easy to pick-up and finish a project without having to go to the craft store for needed items. Here's a look at this month's supplies – directions, yarn, needles, and a few extras… everything I needed except scissors. It doesn't get much more convenient than that!
Instructions: Knit-Wise instructions generally come in a little booklet. The front of the booklet provides a full-color image of what the final project will look like. (Unfortunately, my socks didn't turn out exactly like this… but more on that in just a bit.)
The actual step-by-step instructions are very clear. Some terms are highlighted in pink ink, indicating that video instructions were available from the website. I was familiar with most of the stitches used for this project, but I didn't know Kitchener's Stitch to finish the toe of the sock, so it was super helpful to have a video to teach it to me. Like the instructions, the videos are also clear and easy to understand.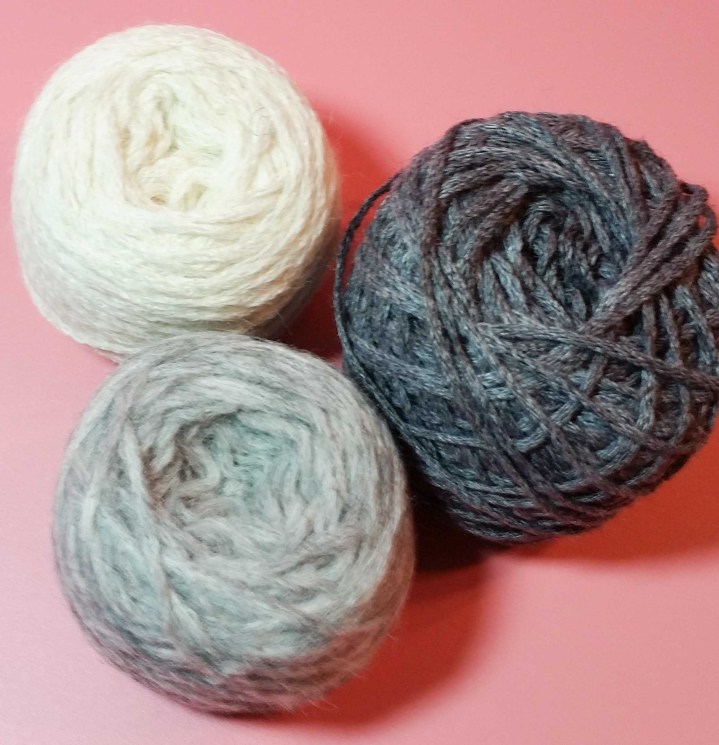 Yarn: This project included three balls of yarn – white, grey, and black – to make the color-block socks. The yarn is nice quality and very soft. It makes a perfectly warm and cozy sock!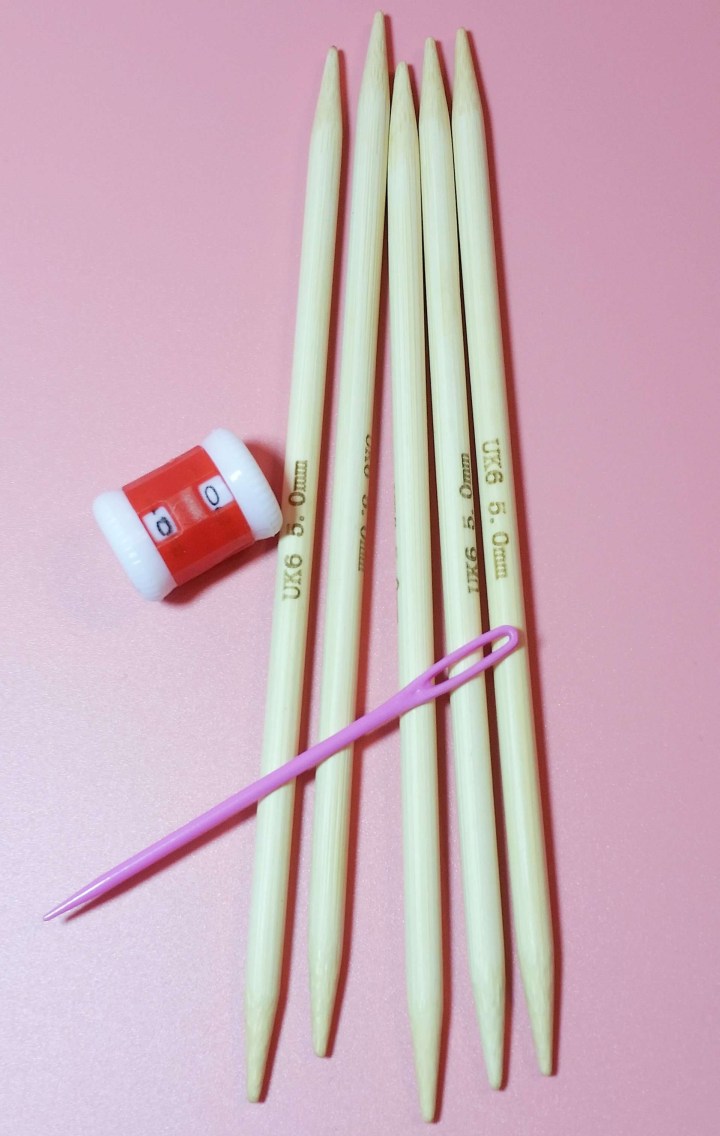 Needles & Notions: As I mentioned above, Knit-Wise sends whatever notions are necessary to complete the project. This month, the project required double-pointed needles – and there was a nice set of bamboo DPN in the box. Additionally, there was a barrel row counter (always helpful for projects that have multiple repeating rows) and a tapestry needle for finishing. All that I needed to do was knit the project!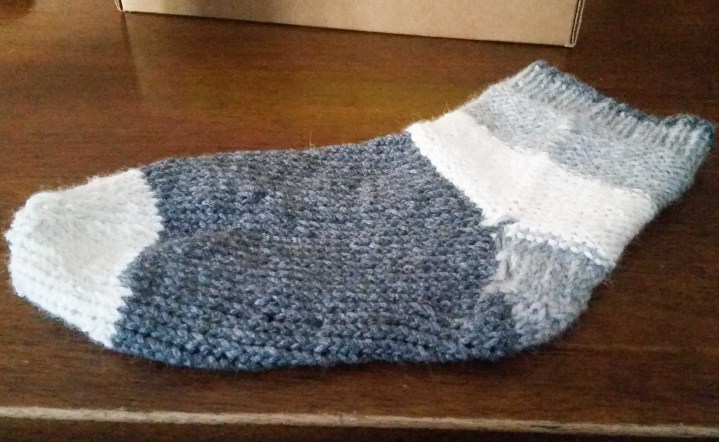 OK. So here's a look at a finished sock. It's not quite the same cute shape that was on the front of the instruction booklet…it's a little deformed. I definitely followed the pattern (although I think I may have picked the wrong stitches for the heel, since the leg of the sock is inside out relative to the foot)…so I'm a little sad that it doesn't look quite right.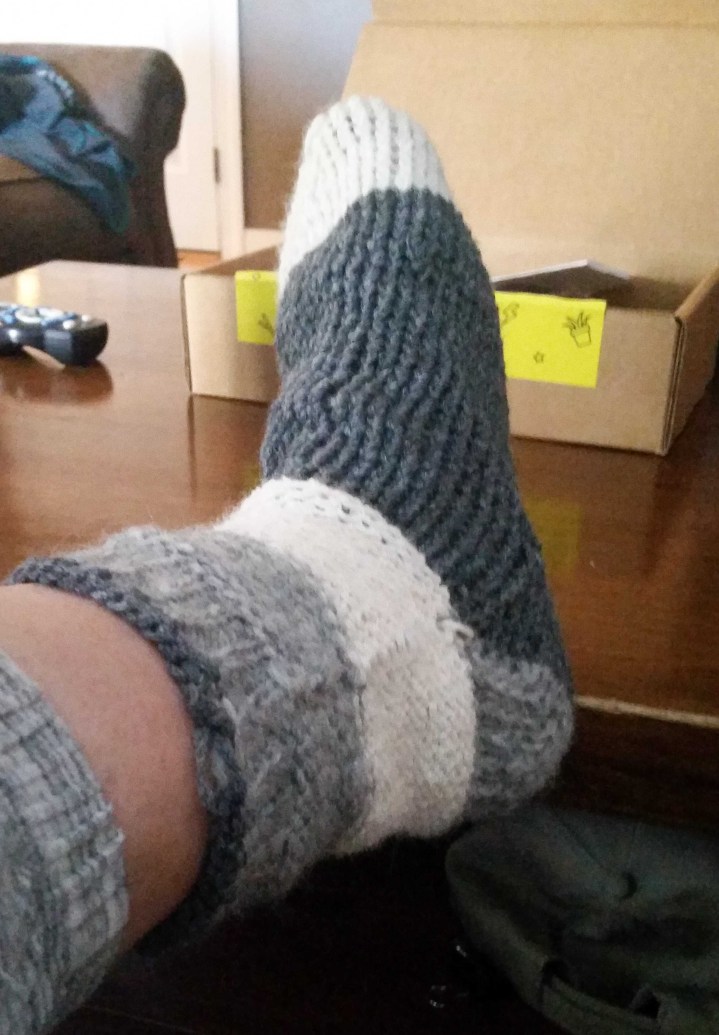 That all being said, it does fit me like a sock… but it's just not attractive. (It is incredibly warm, though!)
I am glad that Knit-Wise sent me this project, even if I don't love the results. I'm not sure if it is the pattern… or something I did wrong… or (most likely) a little of both, but I just am not happy with how this turned out.
However, I'd been wanting to start knitting socks for a long time now, but have been intimidated by the double-point needles and sock patterns… and this project definitely pushed me out of my comfort zone and into something new. I feel much more confident about trying other DPN projects now – so that's a total win, especially since Knit-Wise wants me to learn new skills!
What do you think about this month's Knit-Wise project?