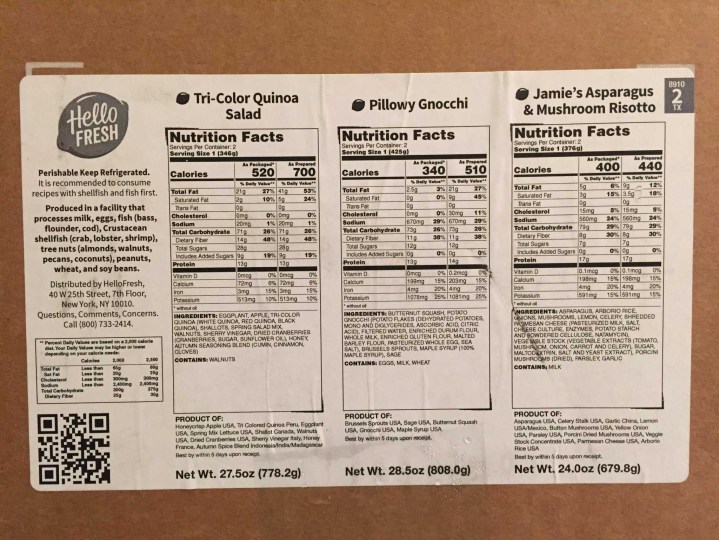 Hello Fresh is a meal kit subscription box with complete recipes and ingredients to make 3 meals every week, with each meal feeding either two or four people, depending on the plan you choose.
Though it is a subscription, you can pause your deliveries when needed – whether you are out of town, have other dinner plans, or just aren't in love with that week's selections. The standard subscription provides high-quality meats (free-range chicken, antibiotic meats, etc.) to use in the recipes.  
DEAL: Currently, you can save $40 off your first box with coupon code 7UT7K8. New customers also can get as much as $50 discount on their first two Boxes of Classic, Veggie or Family Box! Just use coupon code HELLO50FRESH and Use this link to subscribe. Expires 12-31-2016.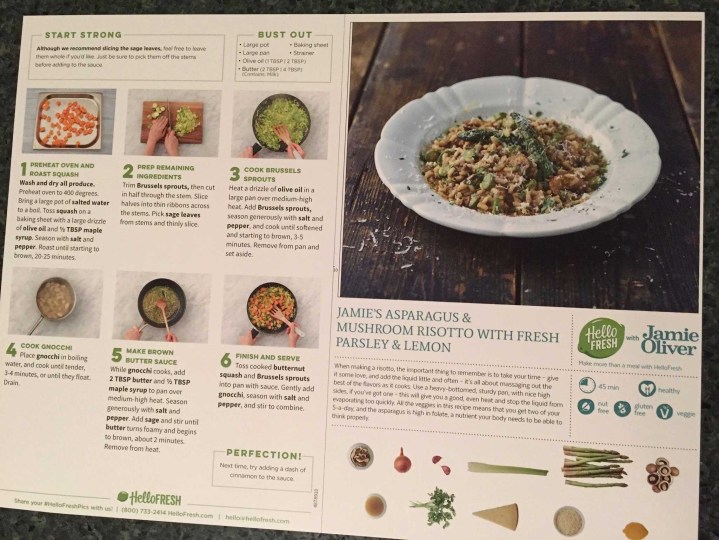 Hello Fresh has great instructions, and they are easy to follow even if you are an inexperienced cook. There are even some kitchen tips included in the information card.
Though we do eat meat, we cook vegetarian three times a week. Thankfully, Hello Fresh has a vegetarian subscription for both casual and dedicated vegetarians. This review covers the vegetarian box, which featured a recipe by Jamie Oliver!

The boxes used by Hello Fresh keep all the ingredients for the recipes in order, and they stack nicely in the fridge. Within each box, everything but the largest vegetables is separately packaged and is packed at the bottom. Condiments and canned goods are provided in high-end, commercial packaging. Hello Fresh usually provides spices in their own, pre-measured branded packaging.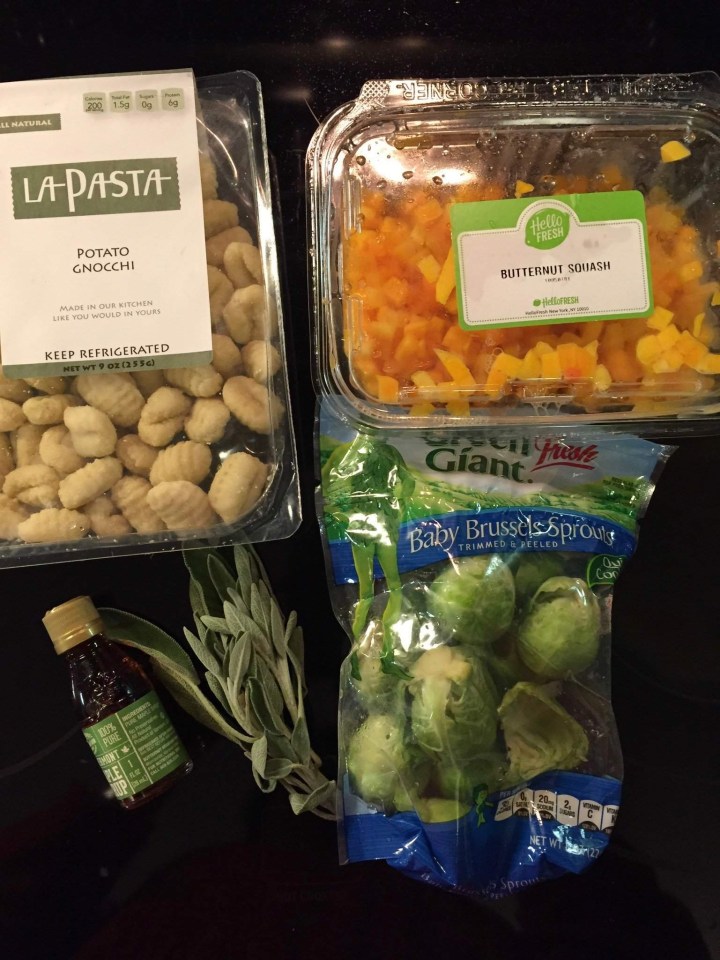 Pillowy Gnocchi With Butternut Squash, Brussels Sprouts, And Maple Sage Brown Butter. 30-40 minutes, level 1, 509 calories per serving.
I didn't get a box of the wonderful Hello Fresh during Thanksgiving week but this week when my box arrived, all I could think of was "hello old friend!" It was so nice to have it delivered knowing that I could just cook, not have to plan, buy groceries and measure food. It was all there, it made me happy.

What a simple dish I made tonight. Five ingredients just didn't seem like enough. You cook gnocchi, brussels sprouts, and squash. Then you make a sauce with butter, sage, syrup and add in the veggies and gnocchi. The sauce was a totally different variety. We haven't used hardly any sage in previous recipes – mine or theirs – but this one had a lot so the taste really comes through. Delightful! The veggies & gnocchi lend themselves to other types of sauce, I think I'd like to try it but switch the sage to thyme. Or even the brown sugar cinnamon type of mixture you use with carrots could be used. So many ideas.
Yes, I was thrilled to receive my old friend this week.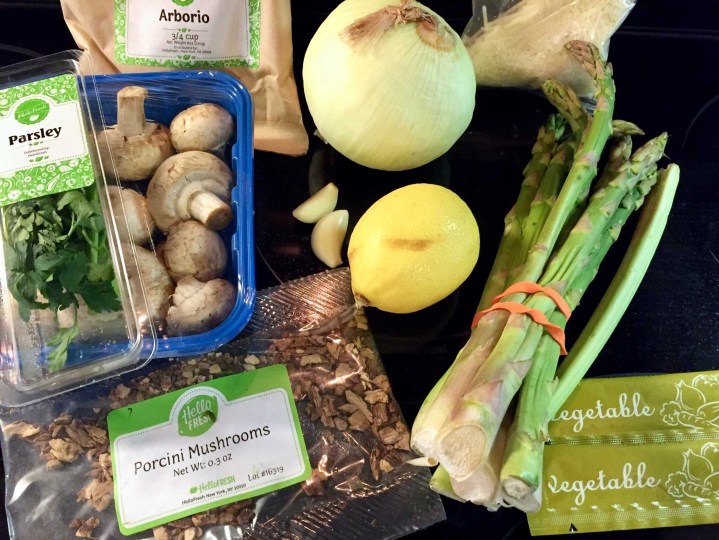 Jamie's Asparagus And Mushroom Risotto With Fresh Parsley And Lemon. 45 minutes, level 2, 441 calories per serving.
The Hello Fresh chefs along with Jamie Oliver like risottos and they come about 1-2 times a month. You know when you see the box with risotto it's going to be a good hearty meal. Jamie's risotto included 2 varieties of mushrooms which gave it an earthy flavor. Not only was this dish tasty and filling, it was nutritious with two of your 5-a-day veggies and folate from the asparagus, a nutrient your body needs to be able to think properly. We all need that!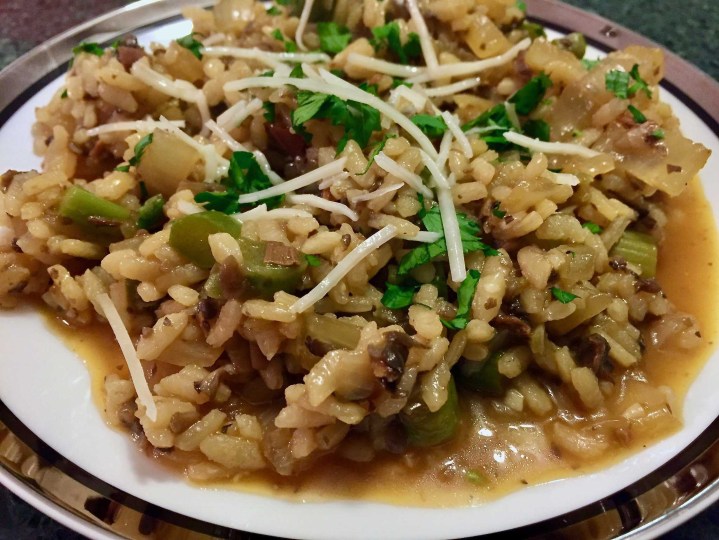 My husband and I discussed how he liked the Parmesan and I liked the squeeze of lemon added on. Sometimes, it's the little things that just give the dish a final pizzazz.
Note to self: do not let the 9-year-old granddaughter use the slap chopper on the mushrooms. She gave a whole new meaning to the "mush" part of mushroom! You'll see tiny pieces of mushrooms in my pictures! Fortunately, it didn't ruin the taste.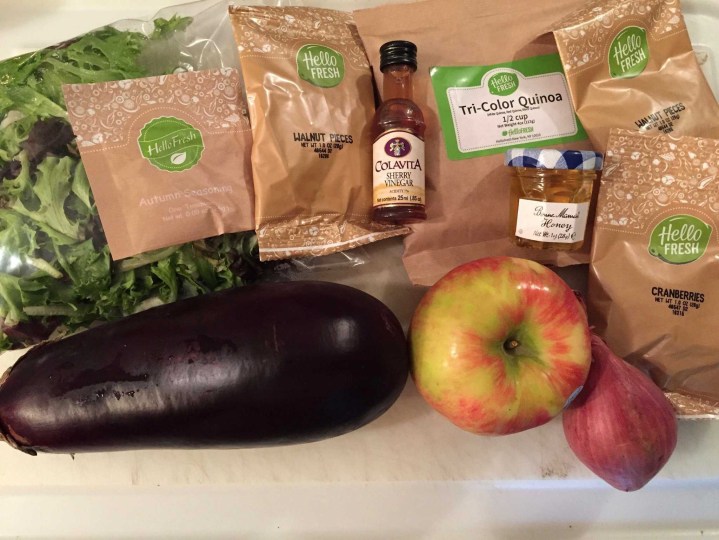 Tri-Color Quinoa Salad With Apple, Eggplant, And Honey Vinaigrette. 35-40 minutes, level 1, 698 calories per serving.
We are fans of eggplant so this was a team winner! A slightly warm salad with the roasted eggplant fresh from the oven along with the tri-colored quinoa just cooked hit the spot. And the "extras", shallot, cranberries, apple and walnuts just added flavor and pretty color. My husband remarked several times about the apple, he liked the sweetness. I found the cranberries after marinating weren't as tart so they had a nice sweetness to them. And the marinating sauce of olive oil, honey, sherry vinegar with finely chopped shallots was wonderful. Mild not overbearing.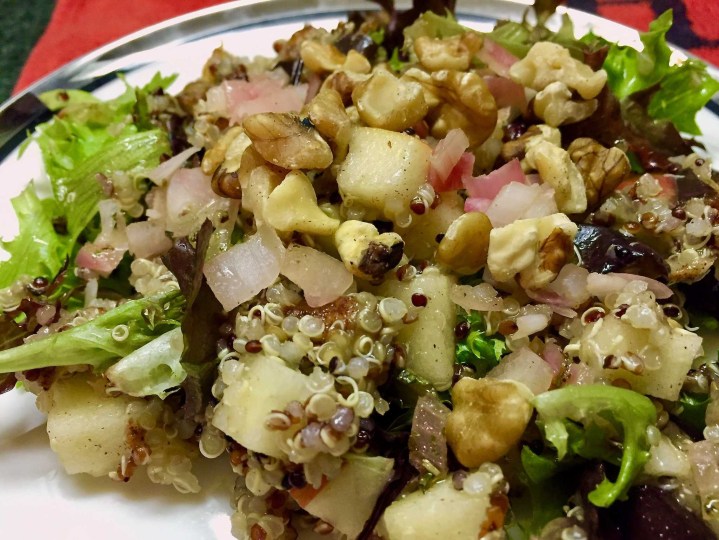 Overall, a delight to the eye and palate.
Another great box of 3 meals this week – thanks, Hello Fresh.