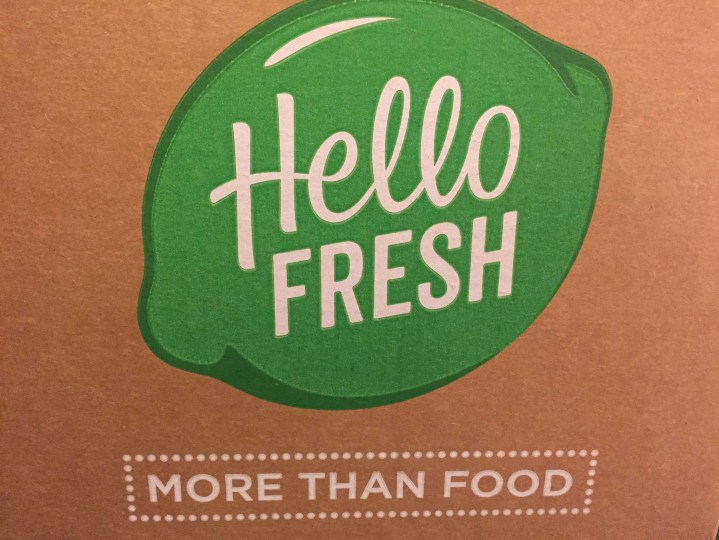 Hello Fresh is a meal kit subscription box with complete recipes and ingredients to make 3 meals every week, with each meal feeding either two or four people, depending on the plan you choose.
Though it is a subscription, you can pause your deliveries when needed – whether you are out of town, have other dinner plans, or just aren't in love with that week's selections. The standard subscription provides high-quality meats (free-range chicken, antibiotic meats, etc.) to use in the recipes.  
DEAL: Currently, you can save $40 off your first box with coupon code 7UT7K8. New customers also can get as much as $50 discount on their first two Boxes of Classic, Veggie or Family Box! Just use coupon code HELLO50FRESH and Use this link to subscribe. Expires 12-31-2016.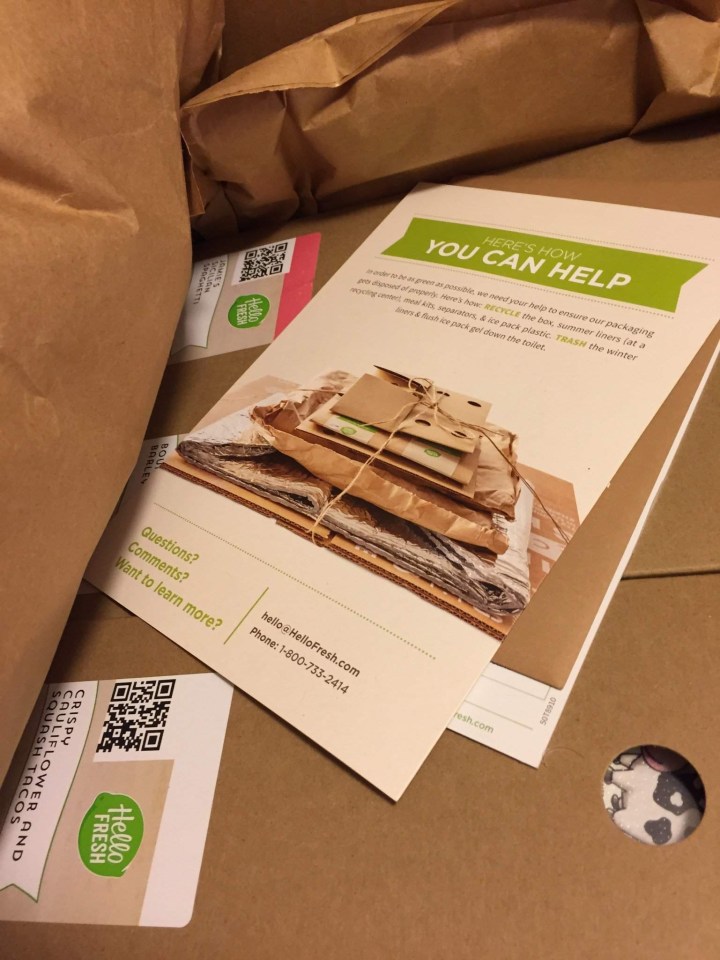 Hello Fresh has great instructions, and they are easy to follow even if you are an inexperienced cook. There are even some kitchen tips included in the information card.
Though we do eat meat, we cook vegetarian three times a week. Thankfully, Hello Fresh has a vegetarian subscription for both casual and dedicated vegetarians. This review covers the vegetarian box, which featured a recipe by Jamie Oliver!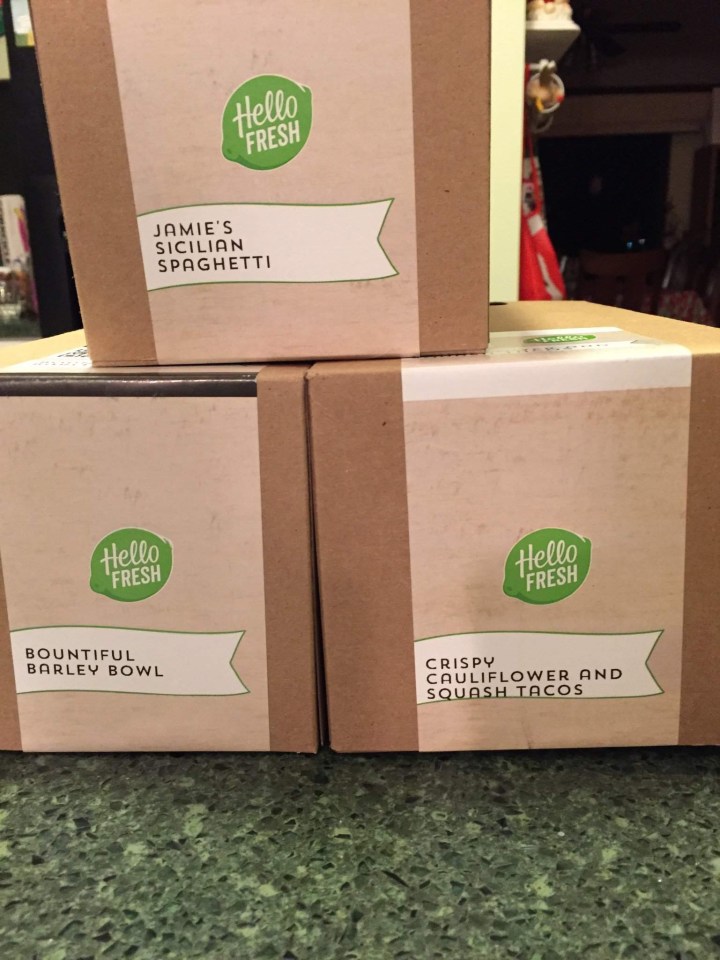 The boxes used by Hello Fresh keep all the ingredients for the recipes in order, and they stack nicely in the fridge. Within each box, everything but the largest vegetables is separately packaged and is packed at the bottom. Condiments and canned goods are provided in high-end, commercial packaging. Hello Fresh usually provides spices in their own, pre-measured branded packaging.
Jamie'S Sicilian Spaghetti Alla Norma With Eggplant, Baby Capers, And Basil. 45 minutes, level 3, 596 calories per serving.
Before I begin talking about this dinner, I'd like to say a few words about the recipe cards. I keep mine filed in the recipe box. It's a big plastic container with hanging folders so it's big enough for these cards. Anyhow, I had some brussel sprouts that needed to used up so I found a recipe card with brussel sprouts and made most of the recipe, just the veggie part. Man oh man, was it a great lunch. Don't throw your cards away, mine come in handy when I want something quick. Now I'll be the first to admit there are a few recipes with ingredients you won't find in my pantry but most of the ingredients are probably found in most homes.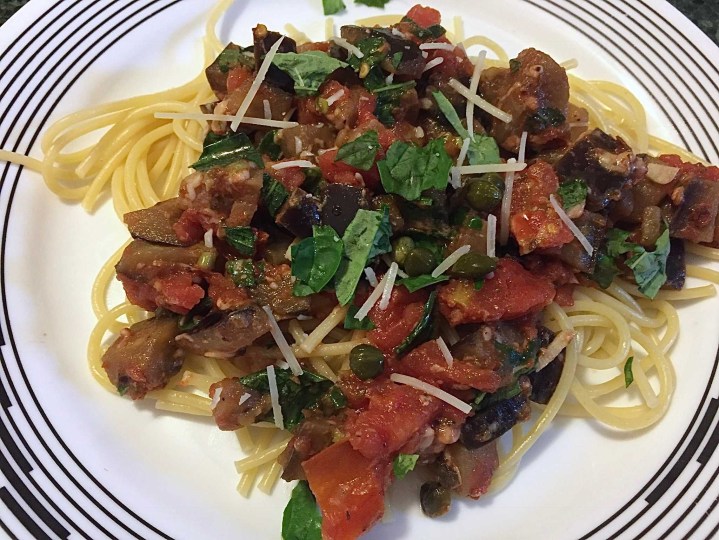 Tonight's dinner was a wonderful repeat from February. This time is was just as wonderful as it was then. It's a classic Sicilian pasta dish, so many flavors coming together. I loved all the fresh basil and my husband's favorite… the whole thing. Can't wait until tomorrow's lunch to eat the leftovers, I'm sure the flavors will have blended more then and I just love that.
Jamie, I loved this dish in February and again in December, thanks!
Roasted Cauliflower And Squash Tacos With Yogurt Crema. 35 minutes, level 1, 578 calories per serving.
When you say tacos you don't think cauliflower and squash at all. If you're anything like me you'd think of a traditional taco. This is nothing like that, it's better! For us the yogurt crema really hits home with flavor. We thought that you could actually use about any vegetable as long as you use this crema. Absolutely delicious.
This would make a wonderful meal for summer when it's really hot. If you had any vegetables left over from a previous meal and in the refrigerator, whip up the crema, pile on the veggies and feta and yowza, you've got another great meal.
As usual, I have leftovers for tomorrow's lunch.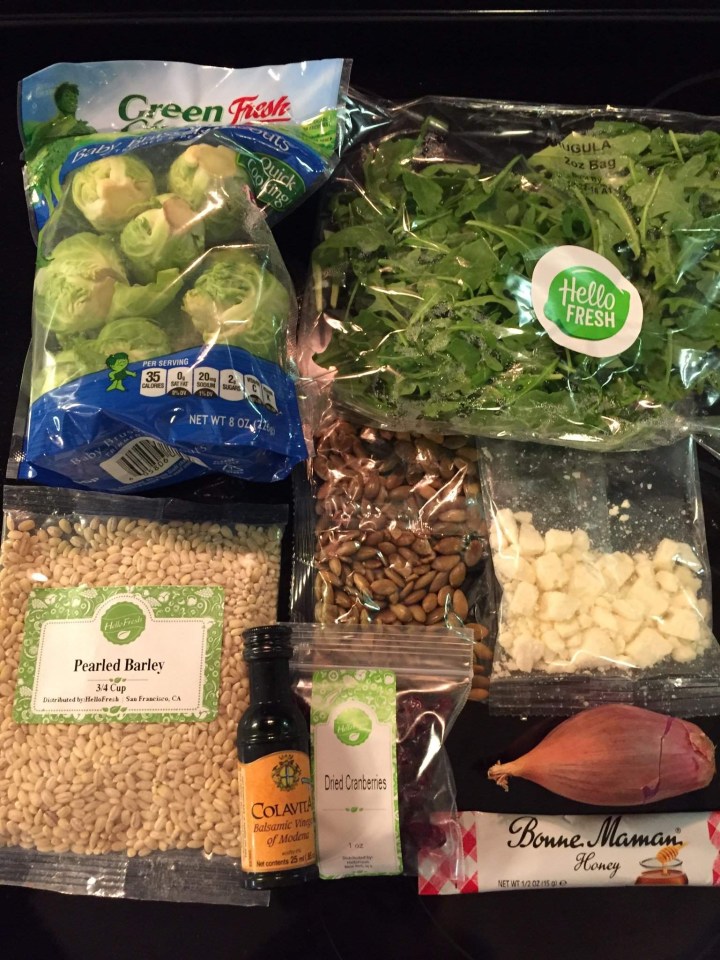 Bountiful Barley Bowl With Roasted Brussels Sprouts And Pepitas. 35 minutes, level 1, 575 calories per serving.
OUCH! Since it's Christmas time and things were on sale we, hubby and I, decided to buy a new stainless steel pan that can go from stove to oven. I didn't have one and quite a few of the recipes call for one. I used it for the first time with this dish and forgot to use a pot holder! Oops and duh! I did shove my hand into very cold water and that has actually helped considerably. Don't you just hate it when you do something totally dumb?
So anyway, on to this dish, perfect! We ate every bite and shouldn't have as it is quite filling with the barley. If you've read any of my prior posts you'll know that I am NOT a fan of arugula but I have to tell you I actually liked it in this dish because the heat from the barley wilted it. Such a little thing but it made a difference in taste. What we also loved about this dish was the dressing. So easy and I have all the ingredients in the pantry. I asked my husband why do I buy all the pre-made dressings when I could whip this up?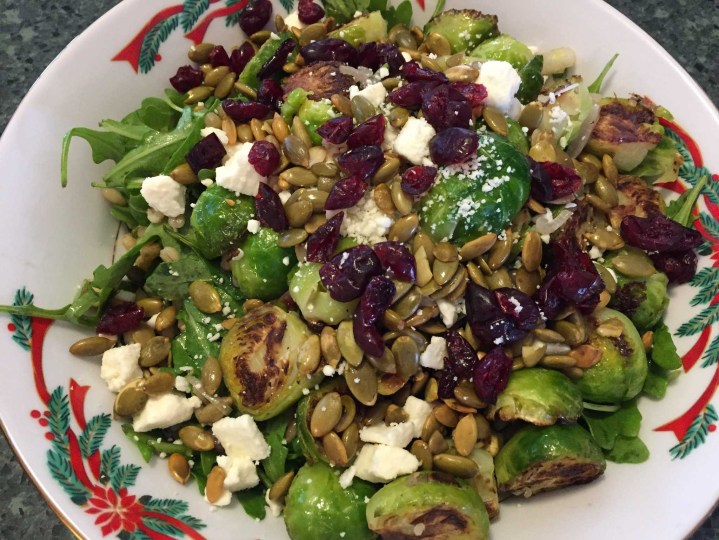 Excellent lunch bowl. Now, it's Christmas time and I have to go bake some fruit cake, yes, you read that correctly!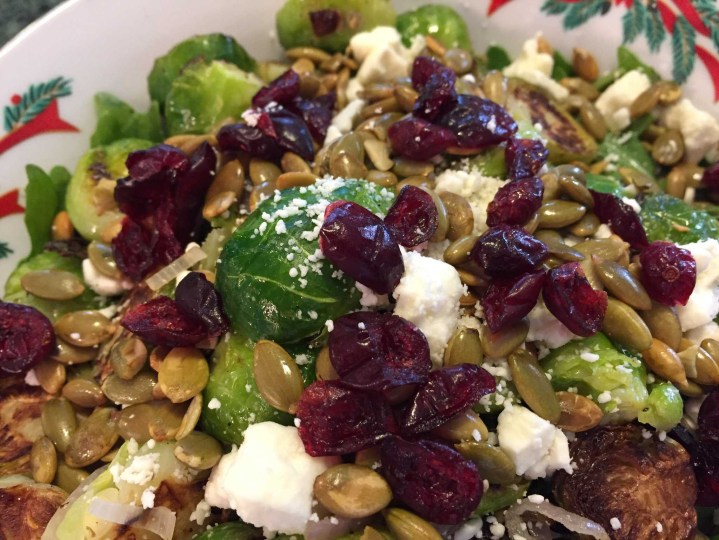 Merry Christmas!