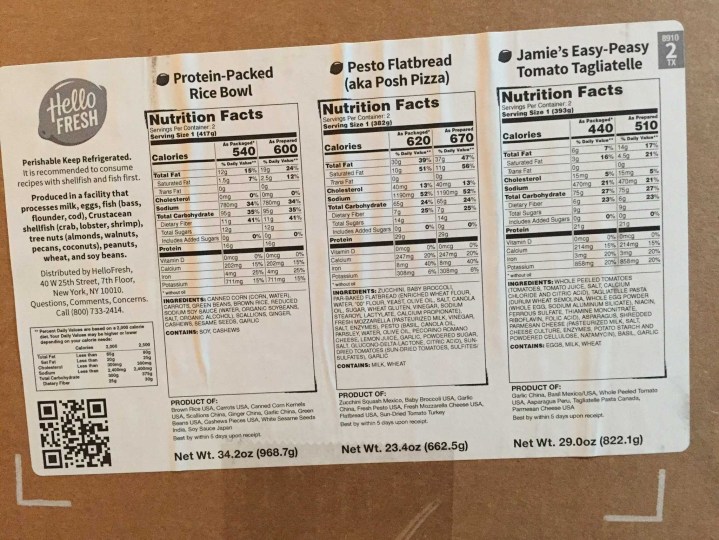 Hello Fresh is a meal kit subscription box with complete recipes and ingredients to make 3 meals every week, with each meal feeding either two or four people, depending on the plan you choose.
Though it is a subscription, you can pause your deliveries when needed – whether you are out of town, have other dinner plans, or just aren't in love with that week's selections. The standard subscription provides high-quality meats (free-range chicken, antibiotic meats, etc.) to use in the recipes.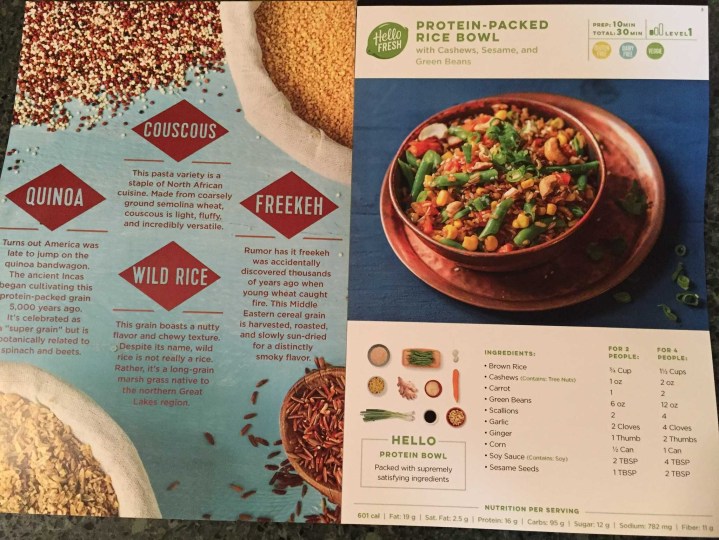 DEAL: Currently, you can save $40 off your first box with coupon code 7UT7K8. New customers also can get as much as $50 discount on their first two Boxes of Classic, Veggie or Family Box! Just use coupon code HELLO50FRESH and Use this link to subscribe. Expires 12-31-2016.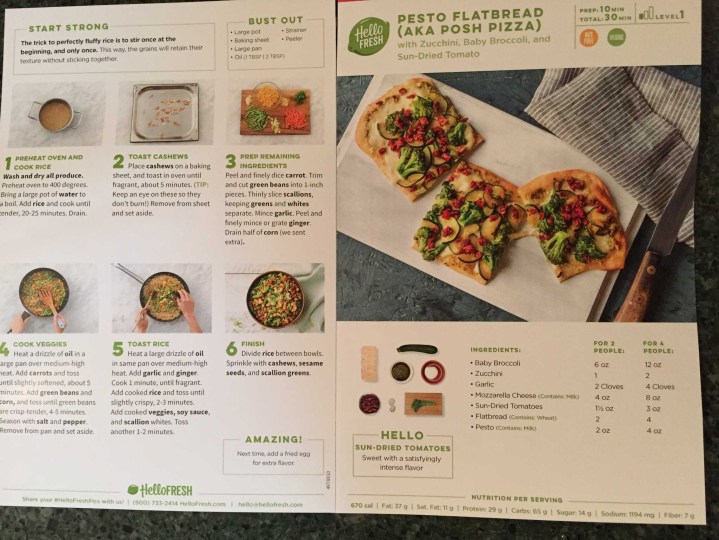 Hello Fresh has great instructions, and they are easy to follow even if you are an inexperienced cook. There are even some kitchen tips included in the information card.
Though we do eat meat, we cook vegetarian three times a week. Thankfully, Hello Fresh has a vegetarian subscription for both casual and dedicated vegetarians. This review covers the vegetarian box, which featured a recipe by Jamie Oliver!

The boxes used by Hello Fresh keep all the ingredients for the recipes in order, and they stack nicely in the fridge. Within each box, everything but the largest vegetables is separately packaged and is packed at the bottom. Condiments and canned goods are provided in high-end, commercial packaging. Hello Fresh usually provides spices in their own, pre-measured branded packaging.
Protein-Packed Rice Bowl With Cashews, Sesame And Green Beans. 30 minutes, level 1, 601 calories per serving.
Have you noticed that a lot of the chain restaurants are now offering some kind of big bowl dish?  I have and I haven't been disappointed in any of the food I've selected that comes in bowls.  So I was excited to see this dish in a bowl, brings back good memories.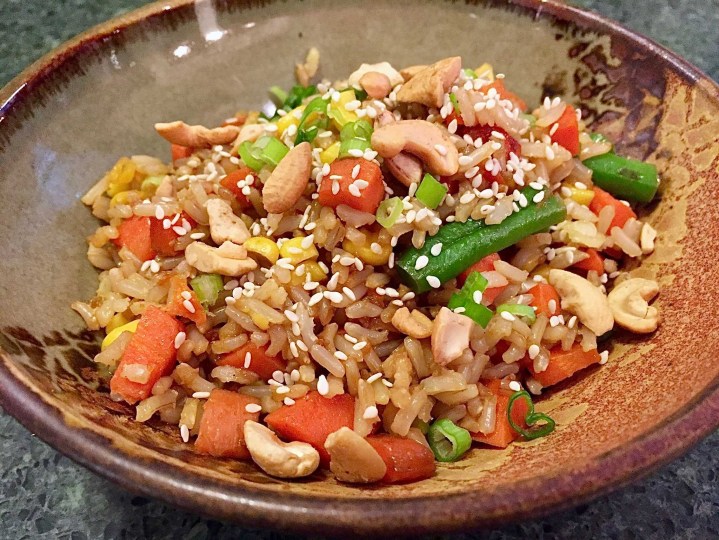 The bowl recipe is super simple, and the ingredients are ones that I keep in my pantry. Easy, easy, easy and yet so scrumptious and filling.  I'm not sure where it comes from but there's 16 grams of protein per serving and I really like the 11 grams of fiber.
They add a note at the bottom to add a fried egg for extra flavor, I'm going to circle that in red to make sure I add the egg.
Kudos to the chef!
Pesto Flatbread (aka Posh Pizza) With Zucchini, Baby Broccoli, And Sun-Dried Tomato. 30 minutes, level 1, 670 calories per serving.
I could drink pesto! I like that stuff so much, however; when I do make it I substitute 1/2 the oil with a vegetable broth and it's still wonderful.  And it's a lot less calories.
This was a great choice for tonight as my husband and I had a rather large lunch so we needed a light dinner.  Hubby was crazy about the veggie to flatbread ratio.  Only an engineer would say it that way or mathematician.  Anyway, I think I heaped all the vegetables on unlike Hello Fresh in their pictures.  I even shared this with my older daughter who is fussy about the vegetables she eats.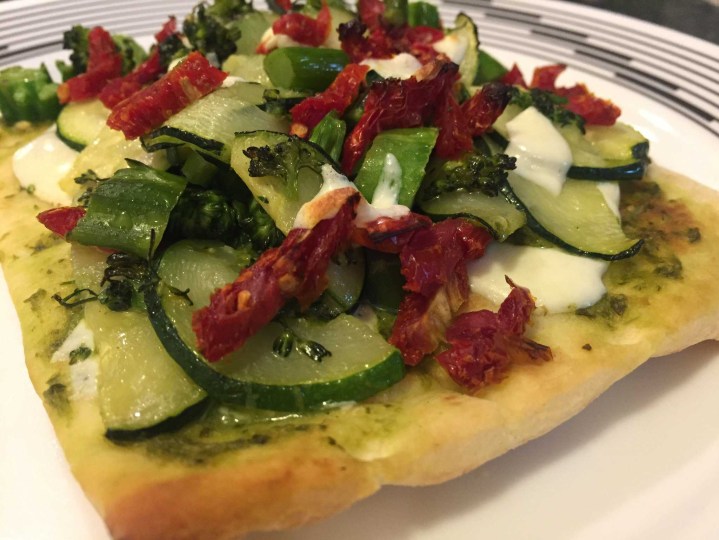 Another easy to make, wonderfully delicious, eye appealing dinner.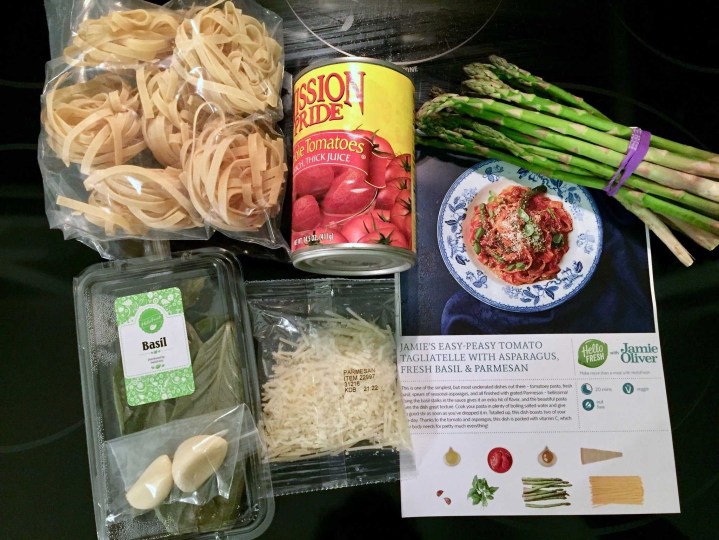 Jamie's Easy Peasy Tomato Tagliatelle With Asparagus, Fresh Basil, And Parmesan. 20 minutes, level 1, 507 calories per serving.
So I get home unexpectedly late tonight and look at my husband and let him know he's taking me to dinner as soon as the grandkids are picked up.  He's ok with that and goes off to watch the kids.  I pick up the recipe card and start looking it over, it only takes 20 minutes and there's only 8 ingredients and the directions are easy.  Game on!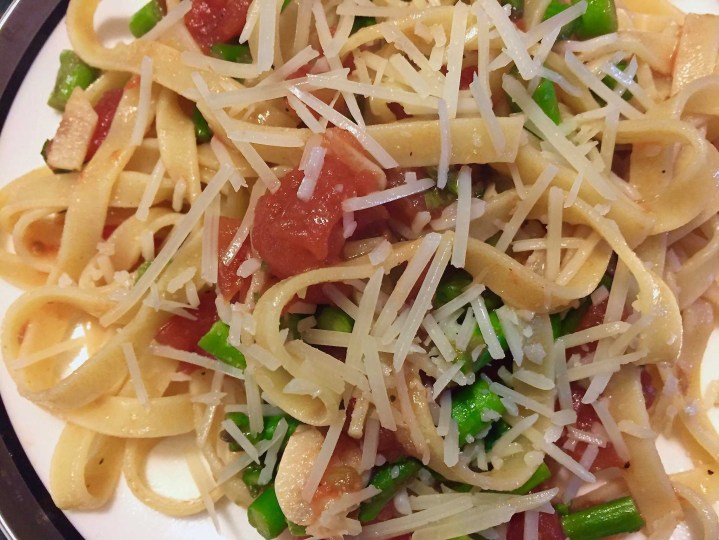 By the time the kids are picked up I have most of the recipe completed and my husband reminds me I wanted to go out.  I just laughed.  He helped me finish up and we ate.  And we ate.  We finished all of it.  It was so good and tasty, just right for a rushed kind of night.  BTW, this pasta dish went very well with my Moscato wine.
Jamie, thanks for a great meal!