Guitar Crate is a fantastic service to keep up with guitar accessories. For a reasonable monthly charge, subscribers receive guitar strings and other awesome guitar goodies.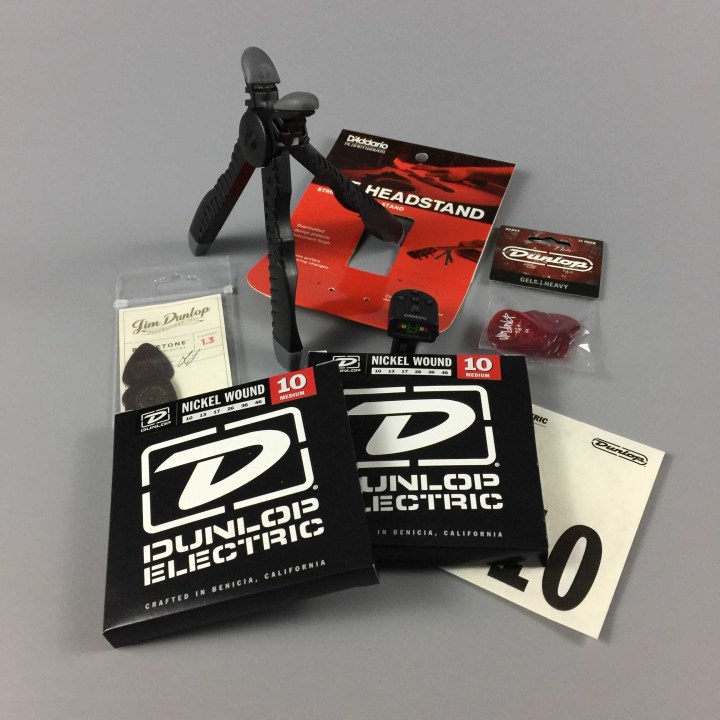 Check out everything that came in the box! There are two versions of this box: the regular size and the Plus version. The Plus is $29.99 per month – this is a review of the Plus size.
Dunlop Heavy Gels – $4.74. There are twelve heavy gel guitar picks are nice and durable. The red color looks incredible as well.
Gauge: Heavy
Gel pack
Quantity: 12
Gels picks are molded from our custom-formulated polycarbonate composition that provides superior durability in vivid translucent colors
Dunlop guitar picks are a top choice of today's pro musician!
Jim Dunlop Primetone Sculpted Plectra Guitar Picks – $8.42. More incredible guitar picks from Dunlop. There are three picks in this bag.
Hand-burnished sculpted edges
Made from Ultex
Now available in five different shapes, including new shapes Jazz III and Small Tri with a low-profile grip or a smooth traditional surface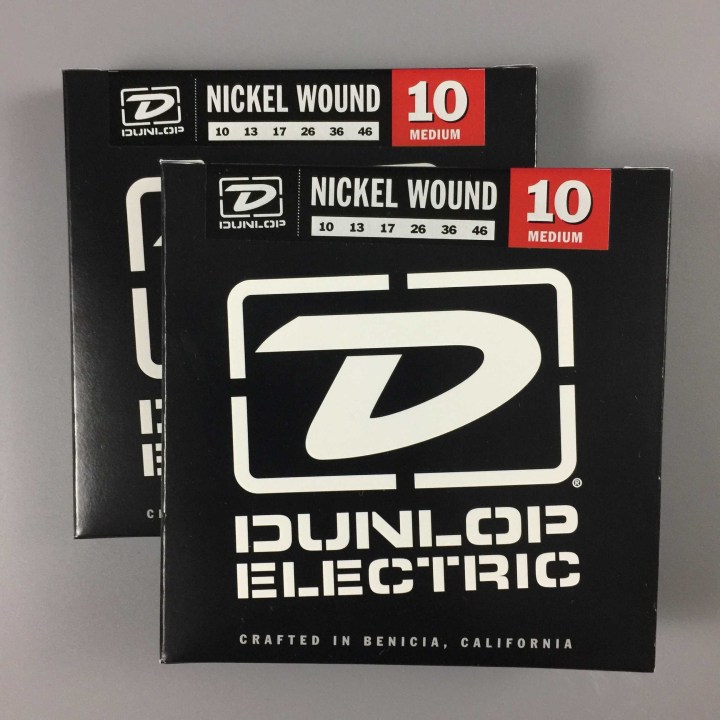 Dunlop Pure Nickel Electric Guitar Strings – $6.68 each box. Each box comes with guitar strings and this month has nickel wound strings from Dunlop.
Brand: Dunlop
Product Code: DEK1046
DEK1046 – Pure Nickel Medium Electric Guitar 6 String Set, .010-.046
Planet Waves Guitar Headstand – $9.99. This handy little stand will work out quite nicely for changing guitar strings.
Securely supports guitars and basses for hassle free string changes
Rugged material for high durability
Folds up for easy storage
Will not damage instrument finish
D'Addario NS Micro Clip-On Tuner by Planet Waves – $12.19. This is a great little tuner that comes in quite handy and can be used for more than just the guitar.
Highly precise clip-on tuner for a wide range of instruments including guitar, bass, ukulele, banjo, mandolin, and more
Discrete, highly compact design hides behind the headstock and is small enough to leave on every instrument you own – get one for each case
Extremely accurate chromatic tuning based on vibration, no sound or cable input required
Adjustable ratchet mechanism and reversible screen allows for placement on front or back of headstock
Visual metronome feature for additional practice aid
This is a great little box!  Plenty of items, and as you can see, you get more than your money's worth with this box and the extras were an amazing surprise!
Visit Guitar Crate to subscribe or find out more!