My Geek Box is a monthly subscription of geek goods shipped directly from the UK to your front door. Each month, you'll get a mystery box filled to the brim with geek gamer and retro gear, including a limited edition t-shirt in your chosen size. Every month they choose a different theme: from zombies to superheroes, to video games and even your favorite films. It's not only the theme which changes from month to month, either – each box is unique, filled with a fresh batch of awesomeness. Because it ships from the UK, shipping costs factor into the overall expense of the box.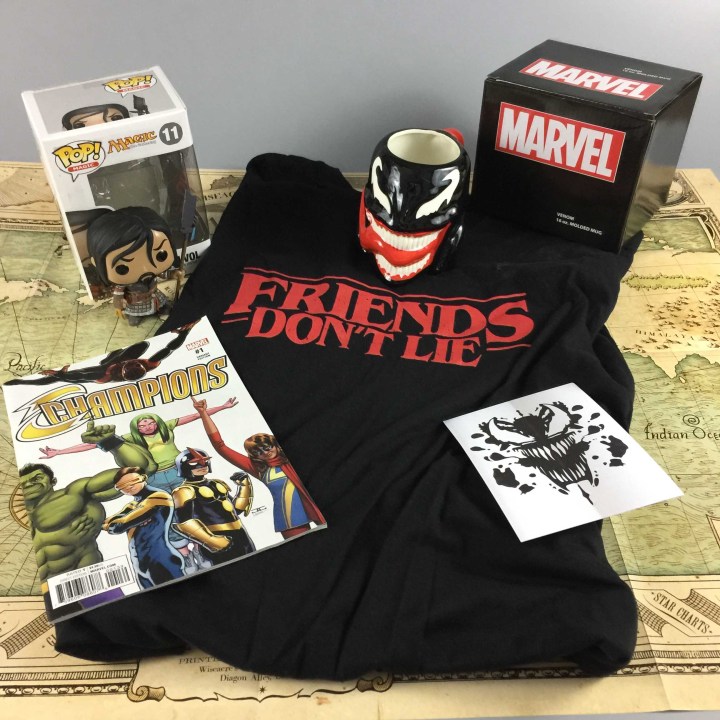 Here is everything from the box.
Description Card. This is something new to My Geek Box and I like the addition. It's a run-down of all of the items in the box. One side has artwork depicting a particular Spider-Man baddie. I suppose that could be a sign for an item in the box.
Marvel Champions #1 – Variant Cover – $4.99.  This is an exclusive variant cover for Marvel's new super team. Newer characters (all based on older characters), get together after Civil War II to continue their hero-ing ways. The book arrived in less than stellar condition. It was not bagged and boarded so there are now plenty of flaws. That's unfortunate as it is a variant cover.
Following the fallout of CIVIL WAR II, Avengers Ms. Marvel, Nova and Spider-Man strike out on their own — joined by Cyclops, Viv Vision and the Totally Awesome Hulk! Six young heroes determined to change the world — and they're only the beginning!
Fantastic Beasts Map. The map is based on J.K. Rowling's book "Fantastic Beasts and Where to Find Them." It's a large poster and it looks great!
Magic the Gathering Funko POP! "Sarkhan Vol" – $7.99. Magic the Gathering has been played by millions of people for many years.  It's great to see them getting the Funko POP! treatment.
Friends Don't Lie T-Shirt. The t-shirt depicts one of the famous lines from the Netflix series "Stranger Things." The series is one of the very best pieces of entertainment to come out of 2016 and it's cool to have a t-shirt to help commemorate it.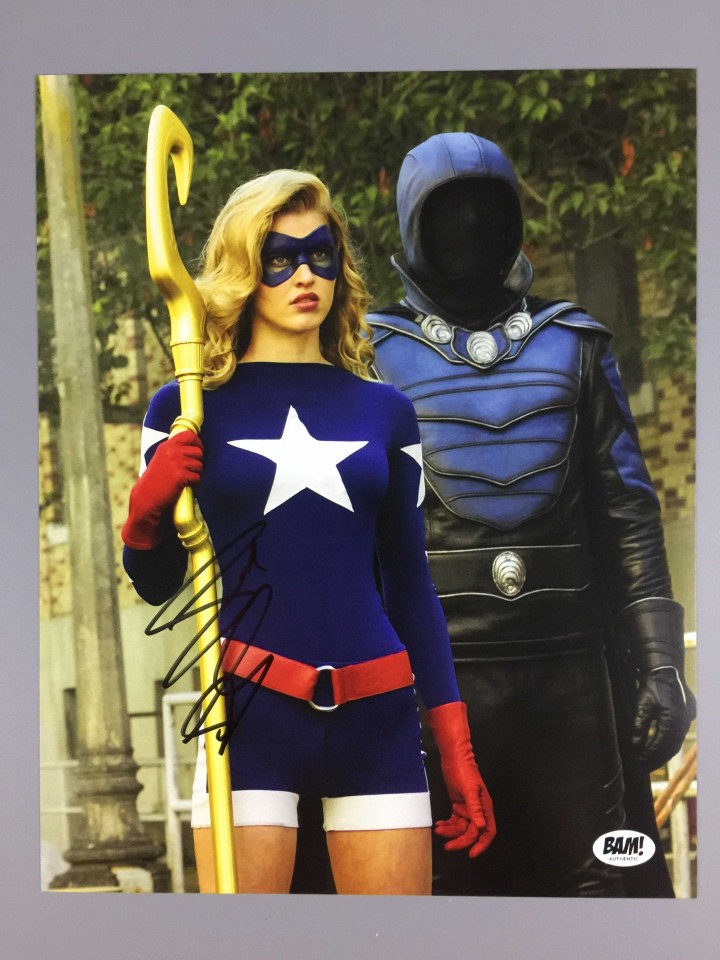 Marvel "Venom" Ceramic Mug – $19.99. Venom is one of Spider-Man's biggest foes and I'm really excited to have him in mug form. I really like that the handle is actually his tongue wrapping around.
I really like a lot of the items but I don't like the damage done to the comic book. This would be a great area for My Geek Box to improve in for its international shipments.