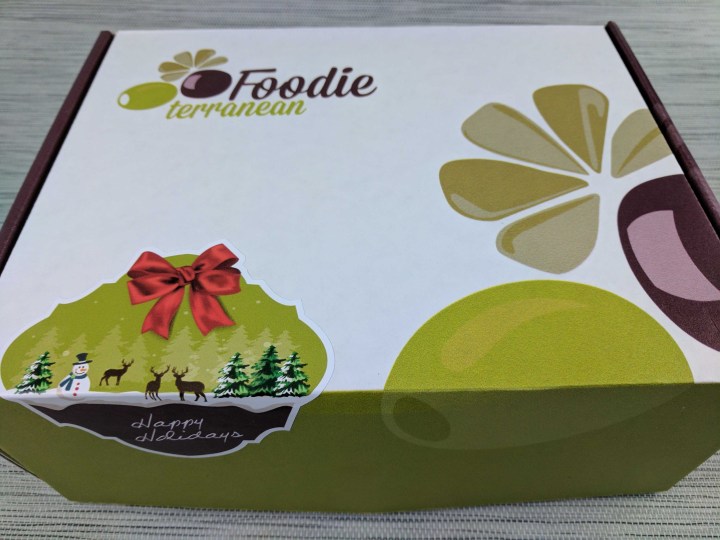 Foodieterranean Box is a bi-monthly box of Mediterranean ingredients, snacks and kitchen ware that indulge all the senses of the foodie in you! Each month, you'll receive a mix of culinary specialty ingredients sourced from the Mediterranean, kitchen tools, and gadgets, and maybe ethnic serve ware, as well ready-to-eat snacks. Will also be included traditional and modern recipe with pairing tips. Each box is $49 per two-month, plus shipping. Shipping is free for 3 or 6 boxes (6 or 12 months).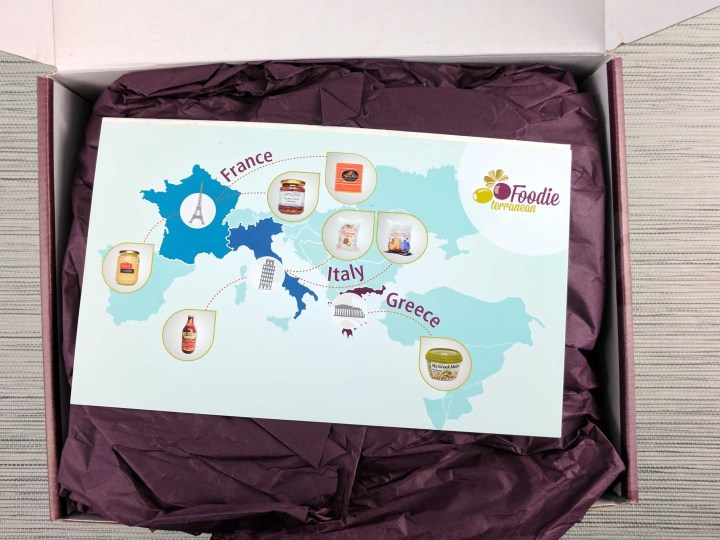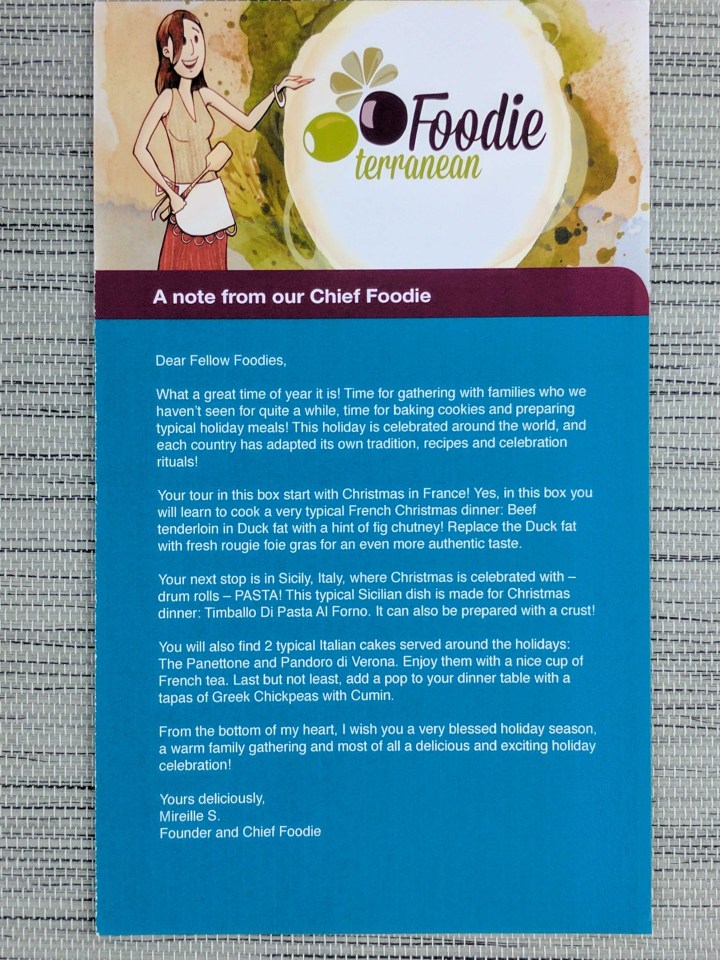 This month, we are visiting three countries to celebrate Christmas! Beef Tenderloin recipe from France, a pasta dish recipe from Italy, snacks from Italy and tapas from Greece! Yum!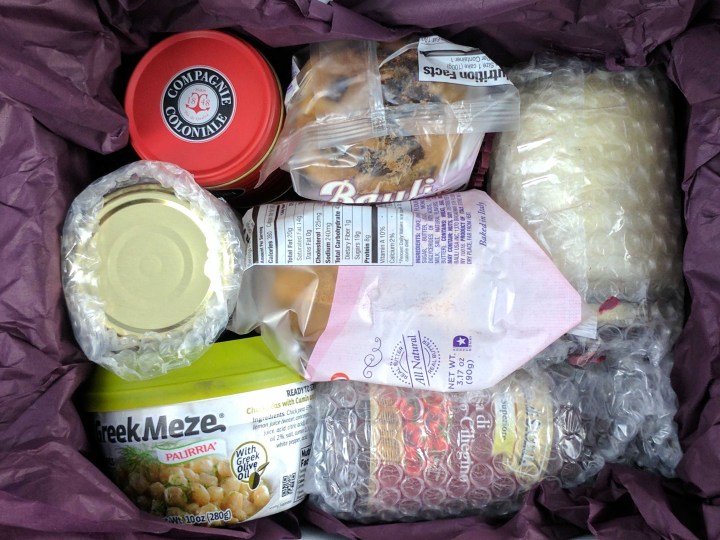 Everything was well packaged inside the box. The glass jars were wrapped in bubbles, and everything fitted tightly inside the box, nothing could move. Nothing. Only with a lot of will on my part!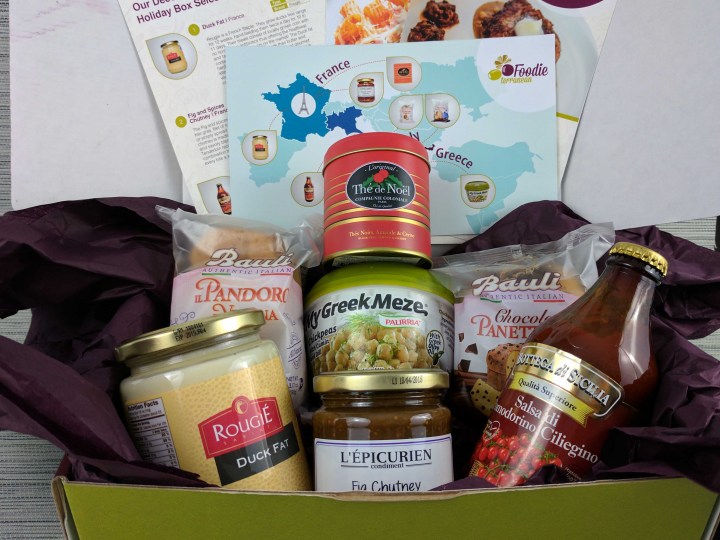 Everything in the box.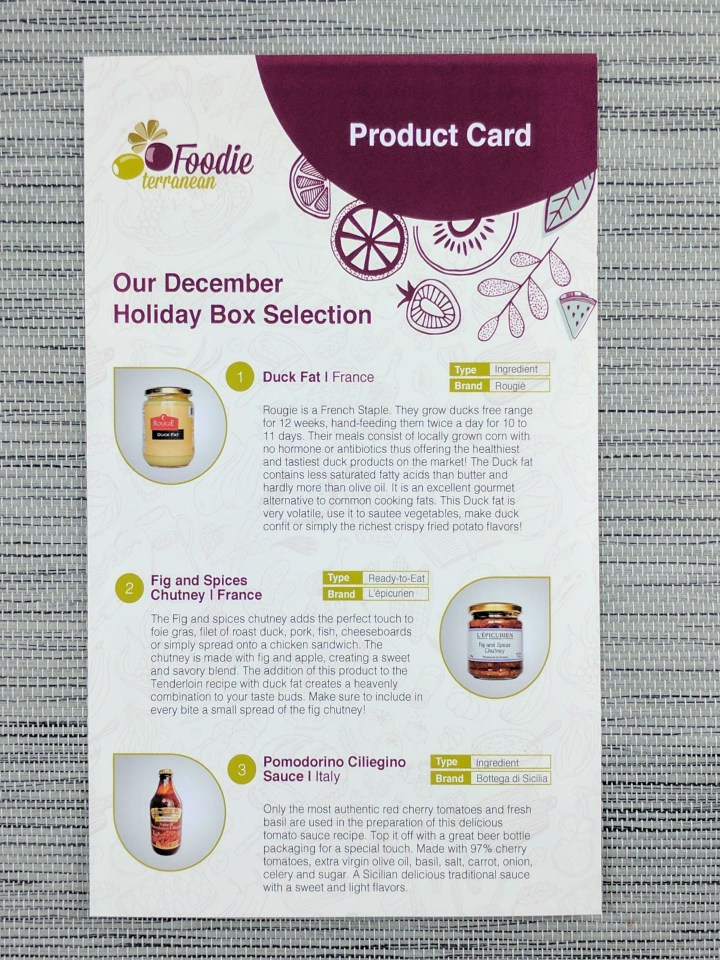 The product card introduces all the items in the box, with some tips on how to best use them. Yum!
The recipe cards include an introduction to the dish and the items in the box used to make it.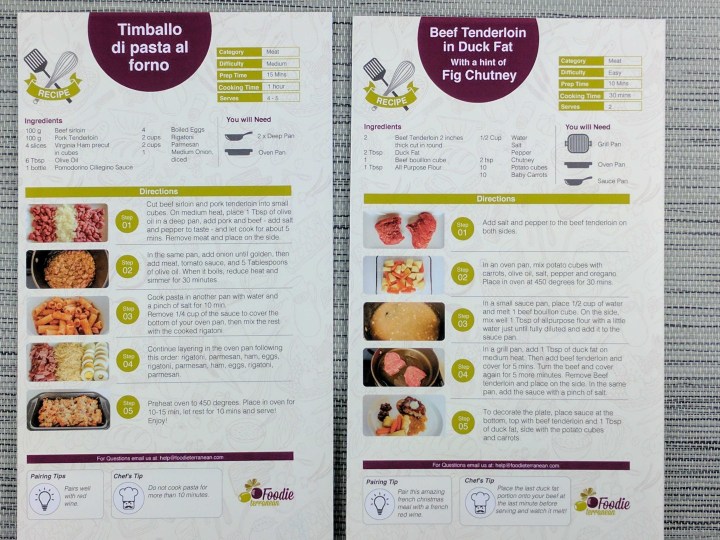 The back of the cards includes step by step instruction as well as clear picture of the steps. It also provides us with pairing tip and chef's tip.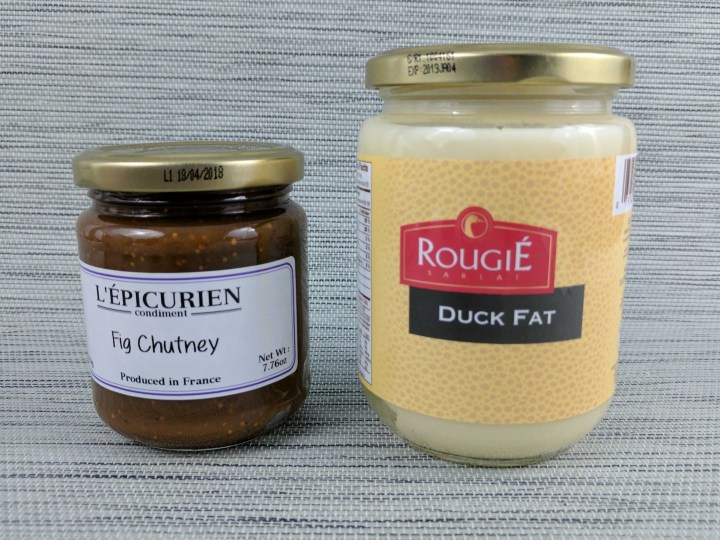 Rougié Duck Fat ($12.67) This is a great substitute for butter or oil when you want to add a little je-ne-sais-quoi to sautéed potatoes or to meat. It is quite good and should be a staple in your fridge (where it doesn't get hard like butter). This duck fat was made from free range ducks who were fed locally grown corn with no hormone or antibiotics.
L'Épicurien Fig Chutney ($11). On the info card, it says it's a Fig and Spices Chutney, but I received the Fig Chutney. I love fig chutney, be it spiced or not. I can slather that on a hot croissant for a tasty Sunday Brunch and I'll be happy! This will add a bit a sweetness to any meal, without transforming it into a dessert!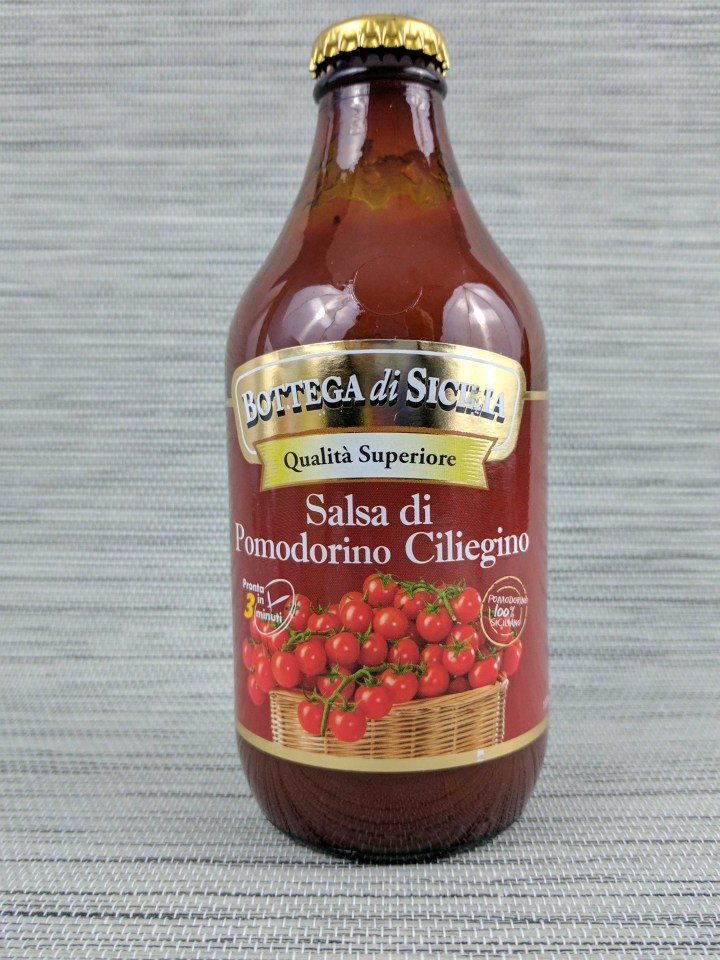 Salsa di Pomodorino Ciliegino by Bottega di Sicilia ($5.69). This is a good basic tomato sauce. There's not much going on to distract our palate from the taste of tomatoes. We actually used it, not in the recipe included, but as the base sauce for homemade pizza and for simple spaghetti.
Chickpeas With Cumin And Dill by My Greek Meze ($7.33). We love humus, but we never actually got around to eat whole chickpeas. We are planning on eating them on Christmas Eve.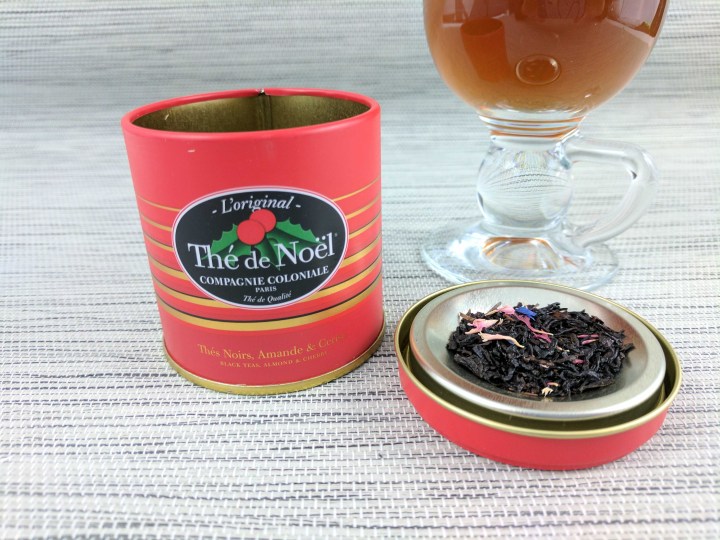 Thé de Noël by Compagnie Coloniale ($5.74). With hints of cherry and almond, this is a delicious sweet black tea, perfect for the Holiday Season. Once brewed, it smells like maraschino cherries. I usually drink my black teas hot, but I would try it cold as well. It is also a beautiful tea to look at. It has colorful cornflower petals in the blend, giving it a festive look.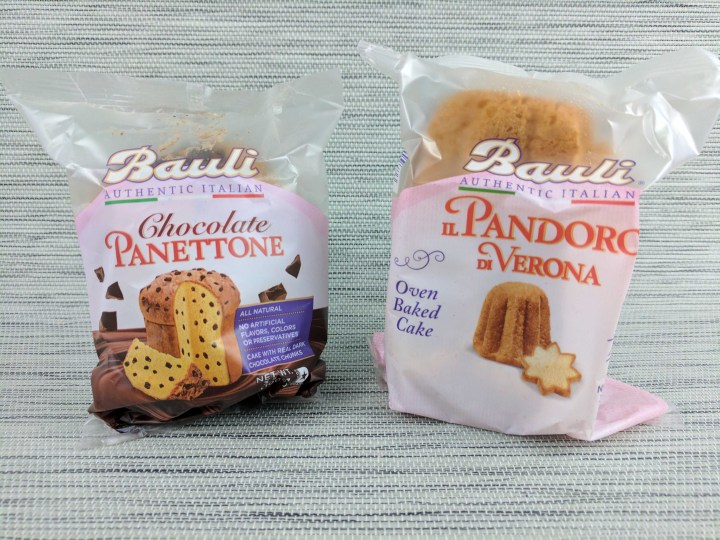 Two authentic Italian cakes. Chocolate Panettone ($2.54) and Il Pandoro di Verona ($2.74). Every Christmas Season, the grocery store next door carries a lot of these cake in a bigger size. I always wanted to try them out but never got around to taste them. Out of the two, the Pandoro di Verona is our favorite. It was soft, with a slight bitter taste (I thought it contains almond, but no), and it goes well with a sweet orange liquor for a late evening snack. I will get more to keep in the pantry. As for the Panettone, we didn't really care for it. But it was nice with coffee.
Recipes!
We tried the Beef Tenderloin in duck fat with a hint of fig chutney. On the recipe card, it says we need the fig chutney, but it doesn't say where. We figured it was to be served with a bit of the chutney, like a condiment. My husband decided instead to make a sauce with the fig chutney by deglazing the pan used to sear the meat (we used striploin) with a bit of the red wine, added some shallots and garlic. We had never used chutney in a "sauce" before, and we loved it! It'll be something we will redo more than once! Also, we cooked the potatoes in duck fat as it is a staple in my husband family.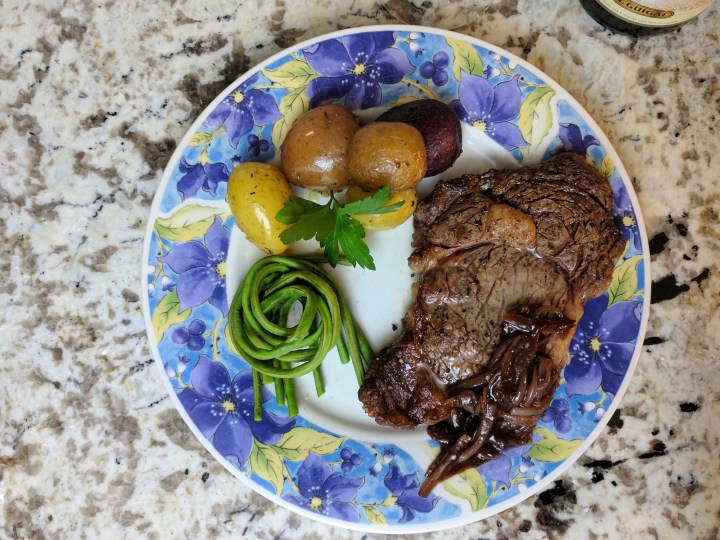 We served it with a French Red Wine, like suggested (E. Guigal, Côtes-du-Rhones). Even if we didn't follow the recipe to a T, it was delicious!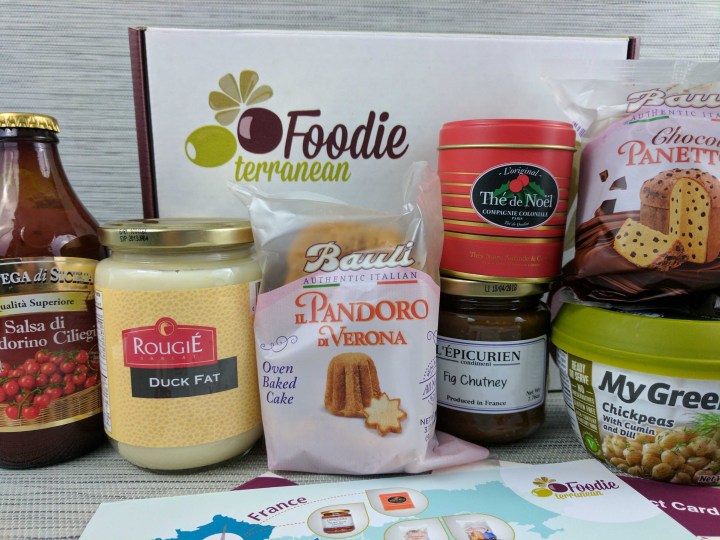 Overall, we loved the Mediterranean Experience this box brought to us Everything was tasty and the recipes inspired us to try something different (like adding fig chutney to a meat dish). The value was around the cost of the box, and it was a fun experience to open the box and try the different ingredients. We are still enjoying the various items (duck fat is used almost at every meal) and it leaves room for creativity. There was a lot of care in the curation, everything had a purpose and it was nice to have condiment, snacks, and ingredients. We didn't get any of the kitchen tools and gadgets mentioned, but we were very happy with what we received. A very tasty box!
What did you think of this Foodieterranean Box?