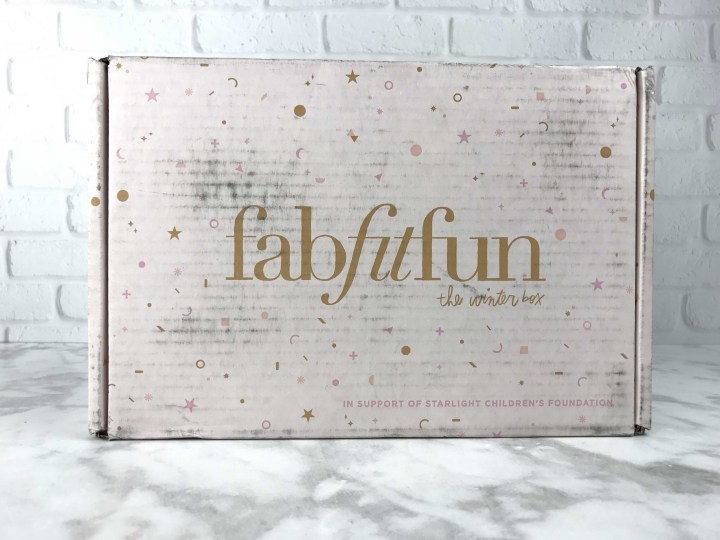 FabFitFun Box is a quarterly women's subscription box that promises over $100 in fabulous beauty, fashion, and fitness items every quarter.
Note – this box sold out superfast (it's normally still available when I receive my box and write the review). Please sign up for notifications if you don't want to miss the next one!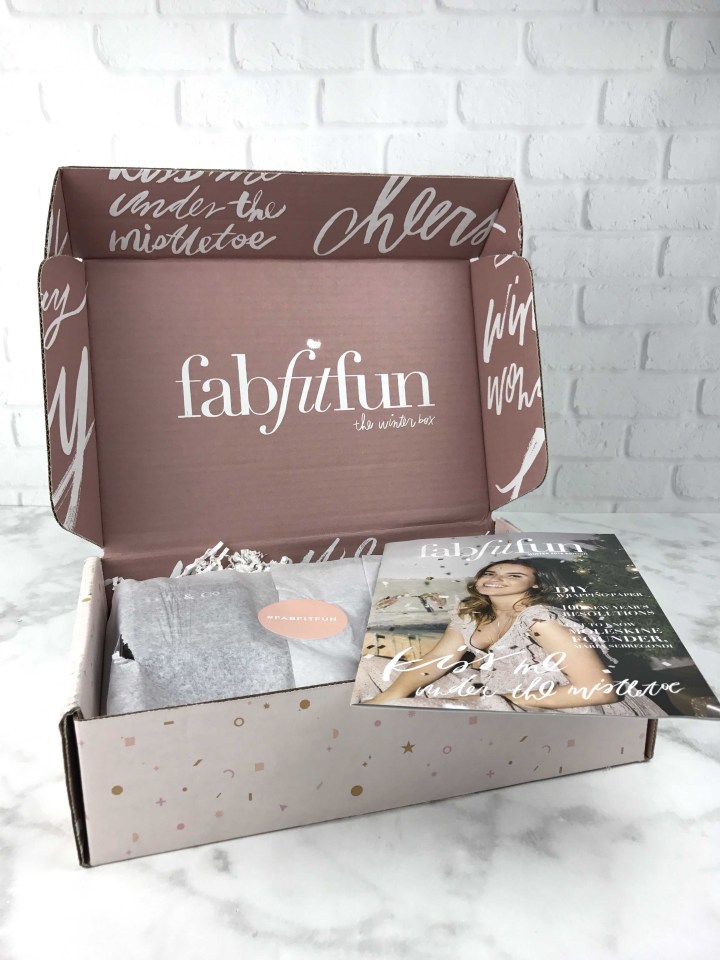 The outside box has a fun holiday design, plus it noted that it was in support of the Starlight Children's Foundation!
DEAL: You can use coupon code FAB10 to save $10 on your first box, which is the Editor's Box – see the full spoilers!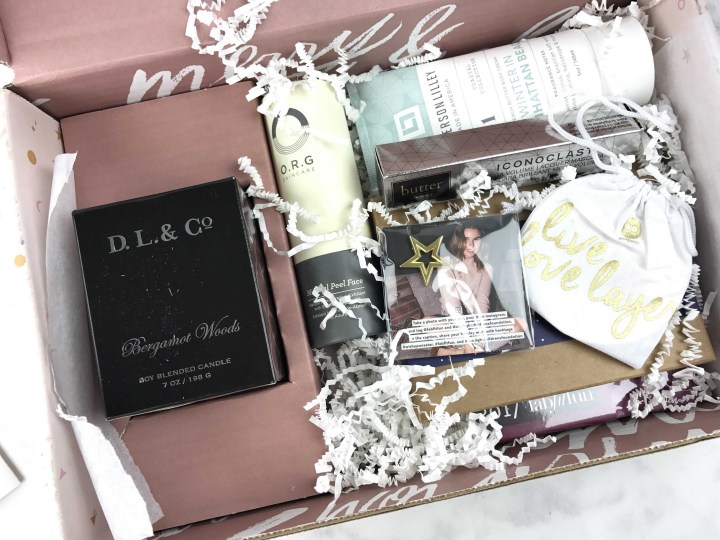 This box is packed full of goodies and definitely had a holiday vibe when you opened it!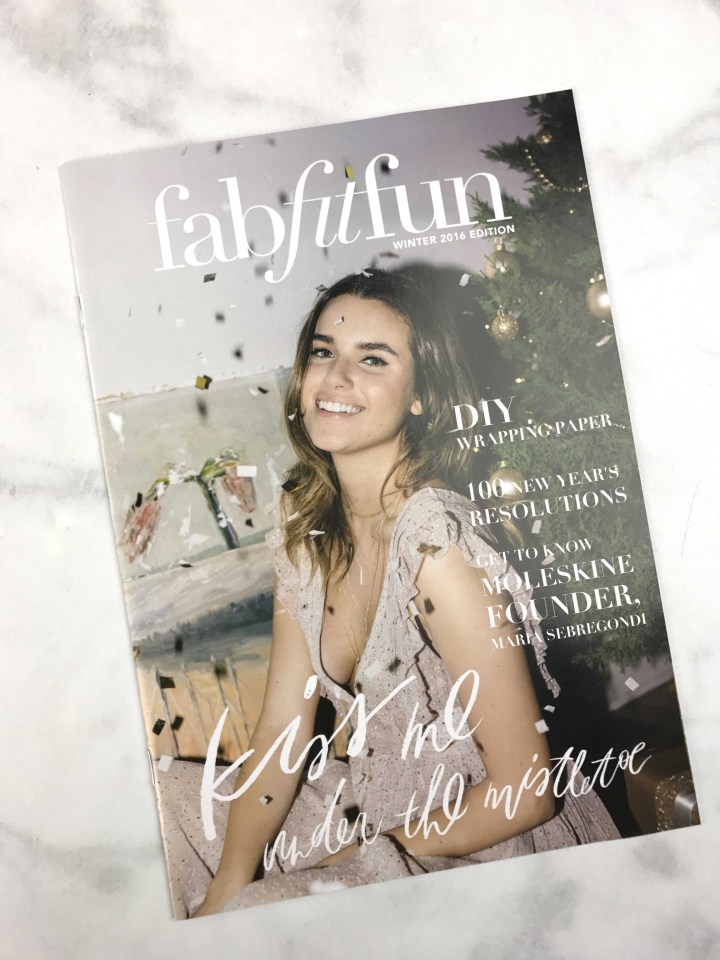 A large format mini-magazine comes in the box – it provides all the details on the products, plus fun lifestyle articles too!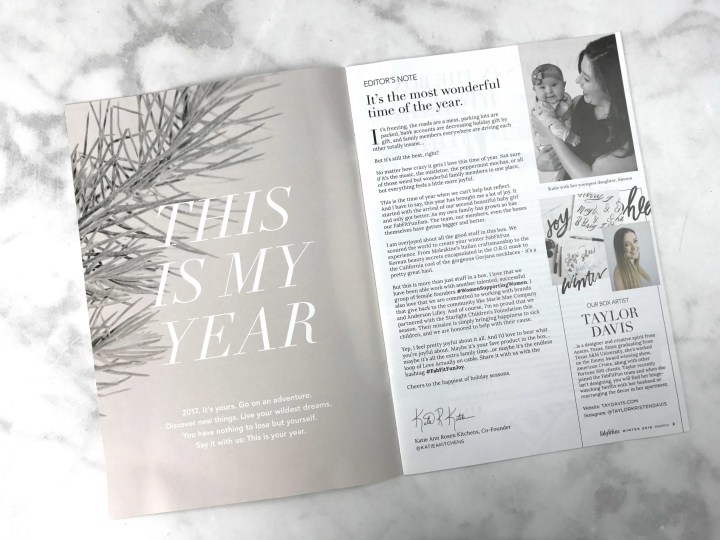 The magazine is full of lifestyle features as well as the featured charity – Pencils of Promise.
A full spread gives details on every item in the box. I absolutely love that they partner with and highlight a new important charity each quarter.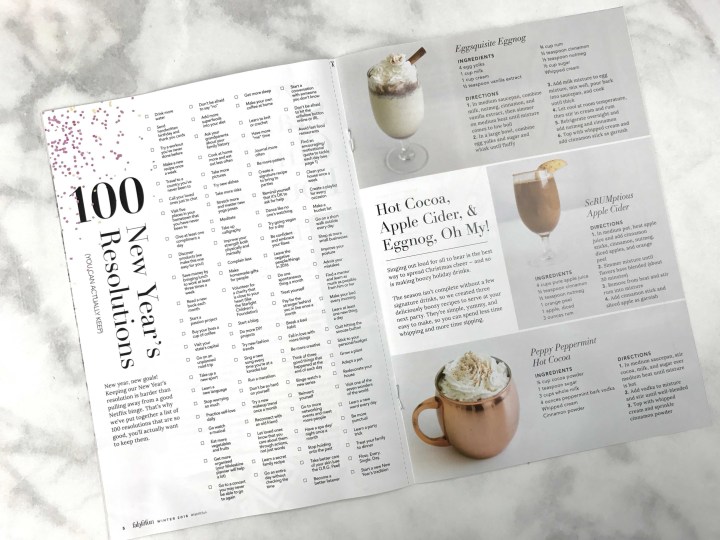 The magazine provided a handy dandy New Year's resolutions checklist (yay I don't have to dream them up!) plus some fun boozy winter drink recipes!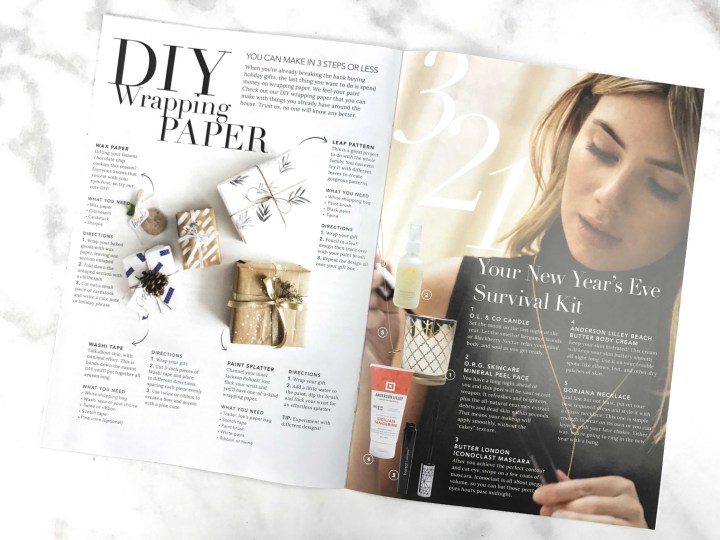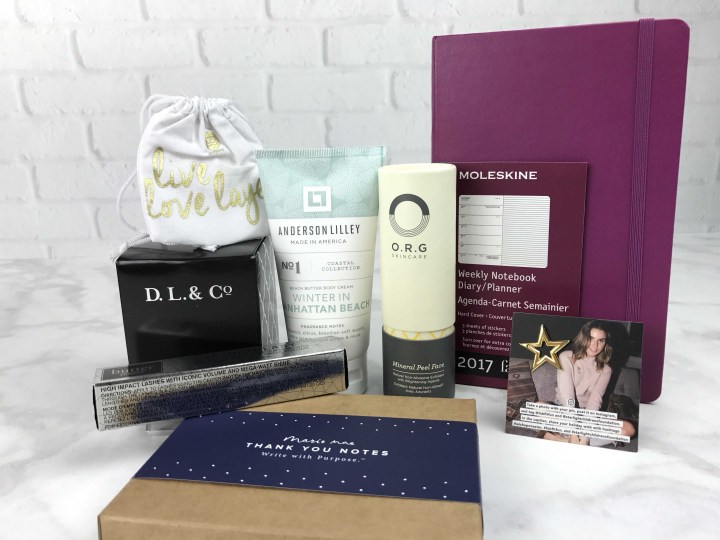 Everything in the FabFitFun VIP Box for Winter 2016! I was impressed with the outer packaging for all the items!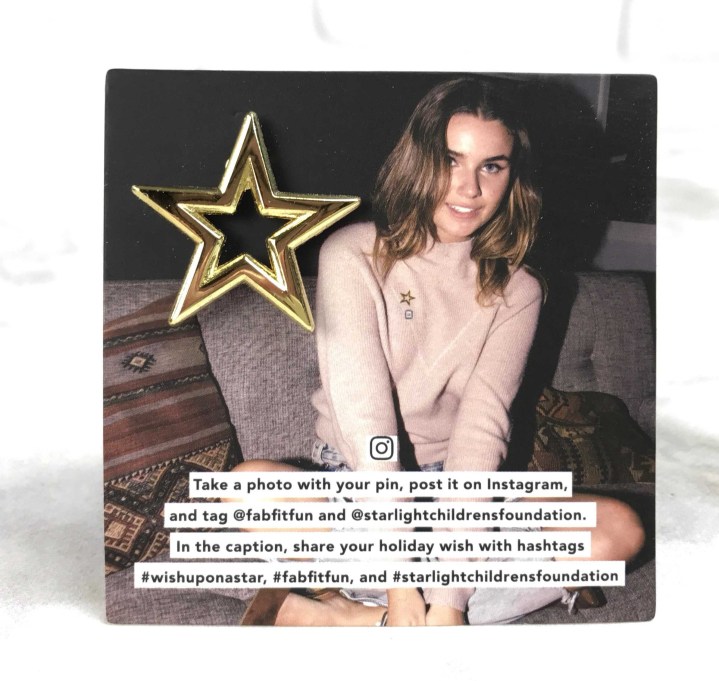 Starlight Children's Foundation Pin – Starlight is an organization that helps sick kids in communities and hospitals across the US and Puerto Rico.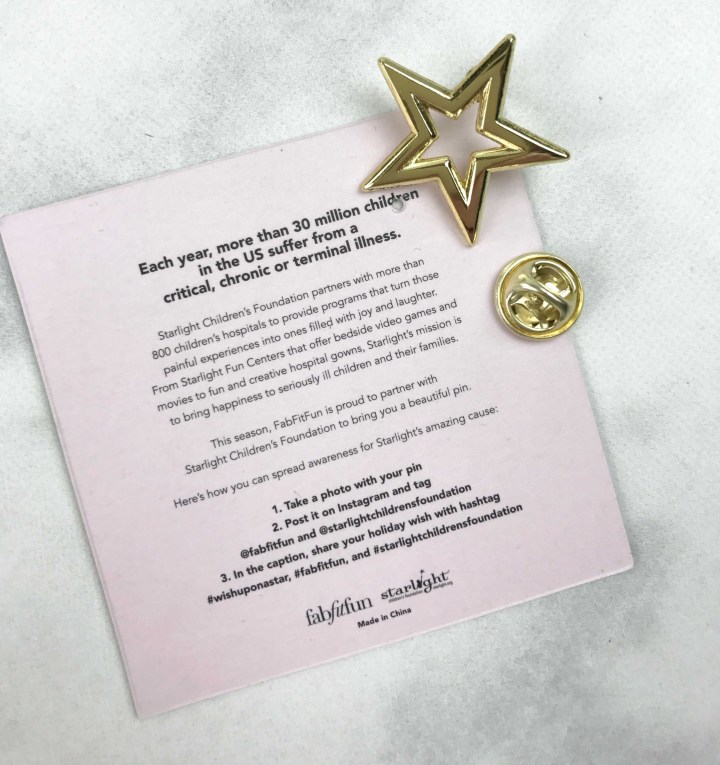 This pin is simple yet elegant. It fits well with the winter theme, as if to remind us to continue shining even in the coldest and darkest of nights. Follow the directions with your pin to help raise awareness for the Starlight cause!
Gorjana Taner Toggle Lariat Necklace in Gold ($70) This necklace came with a coupon for $20 off any full-price purchase from Gorjana.
Subscribers received this gold necklace or the Kiernan Double Pendant Necklace in silver.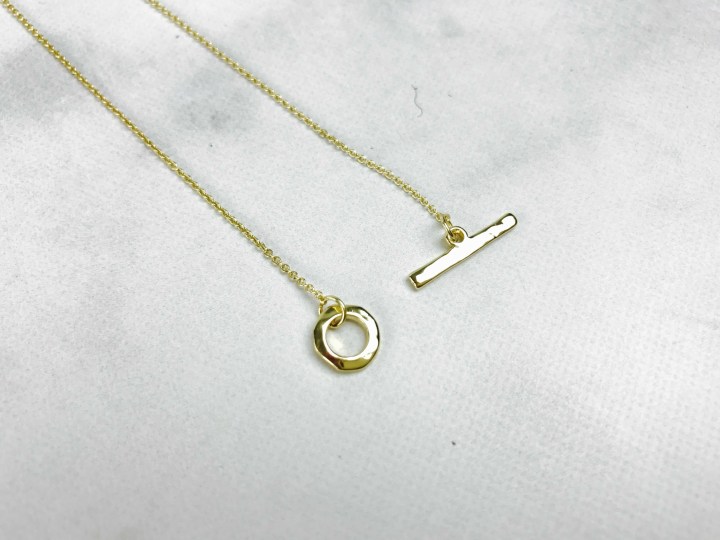 The necklace secures with a loop and toggle.
The booklet gave plenty of ways to style either item.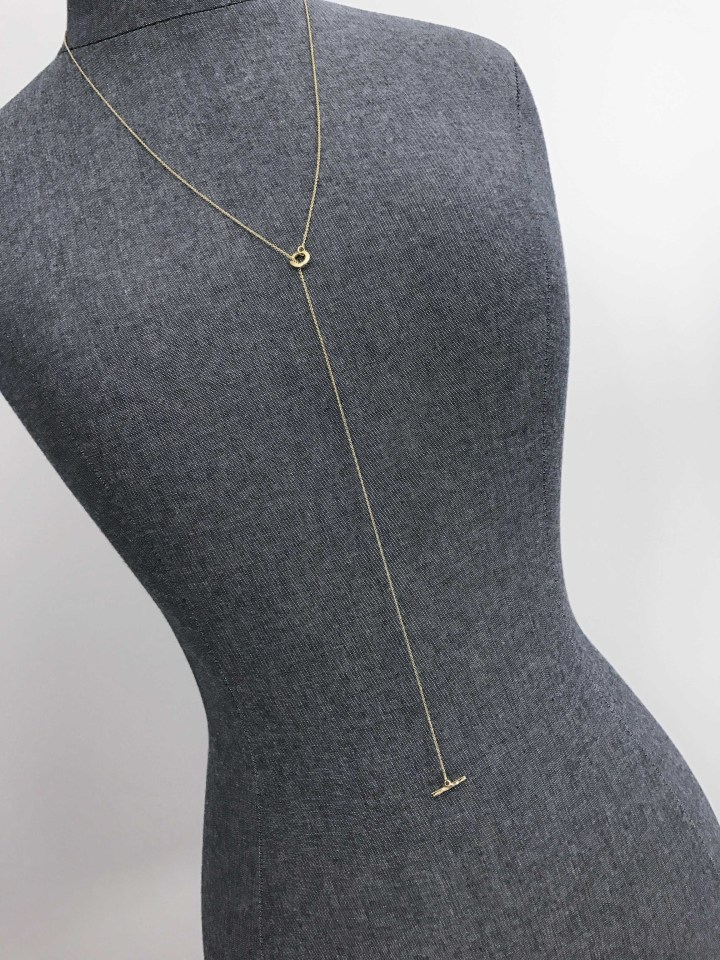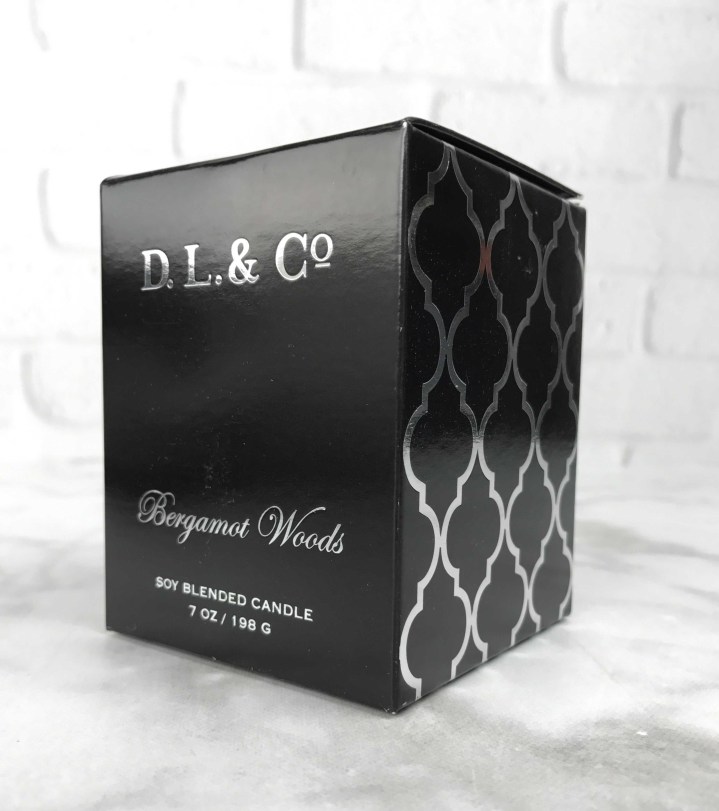 D.L. & Co Bergamot Woods Candle ($44) All subscribers received Bergamot Woods (Silver) or Blackberry Nectar (Gold). Select members (annual subscribers) were able to select their scent!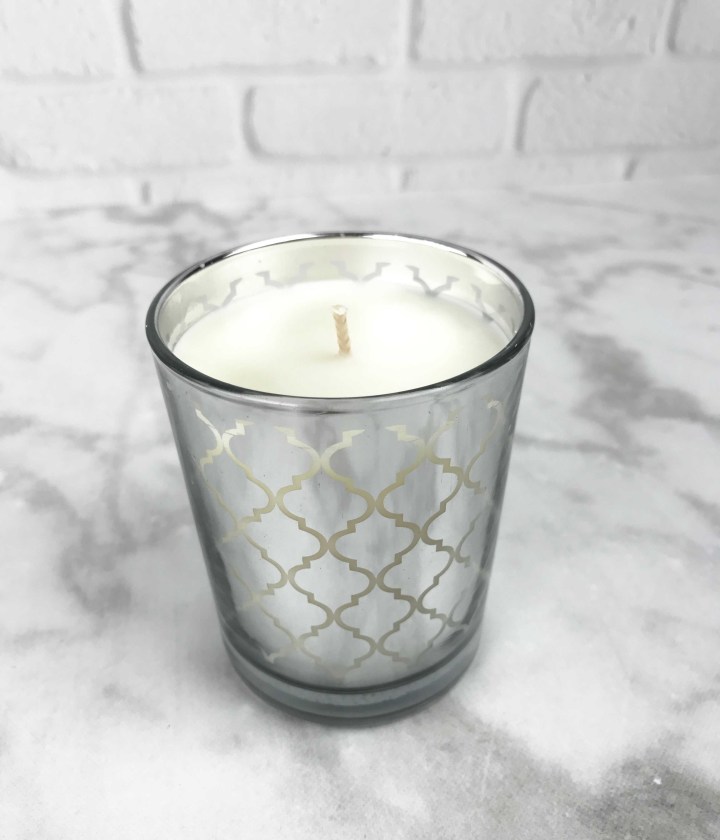 This candle is so lovely and I think the trellis design is fabulous (oh and the scent too!).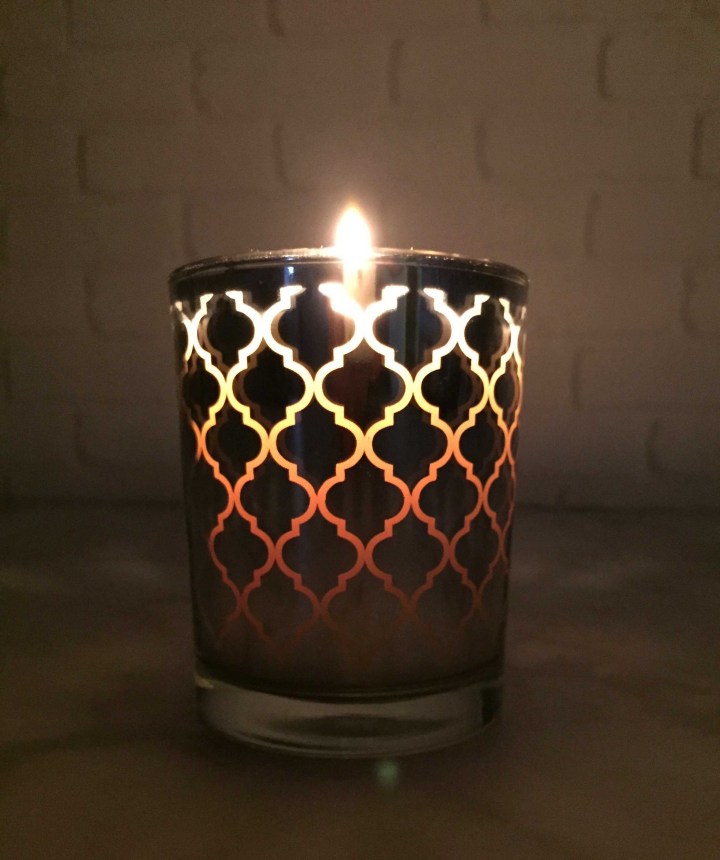 It's so pretty lit up!
Plus because of the vessel's design, it casts a unique glow on the surroundings – it adds that last festive touch to a holiday home!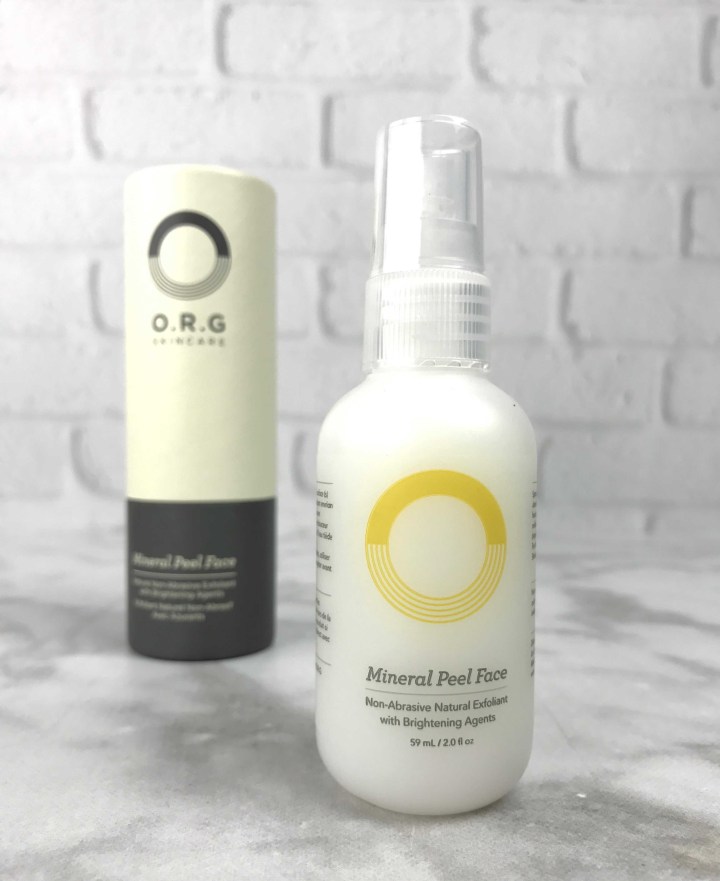 O.R.G. Skincare Mineral Peel Face ($44) "Mineral Peel Face" is an all-natural exfoliant that can remove dead skin within seconds of application and makes skin instantly smoother and softer.  This can be used to prep skin for flawless makeup application to avoid the cakey look. It has skin friendly ingredients including aloe vera, jojoba oil, and mugwort extract.
It's non-abrasive and suitable for daily use. I definitely need this (mine from Zoe Box of Style last year is now all gone) and will use up the entire bottle yet again – I loved the smooth-skin results!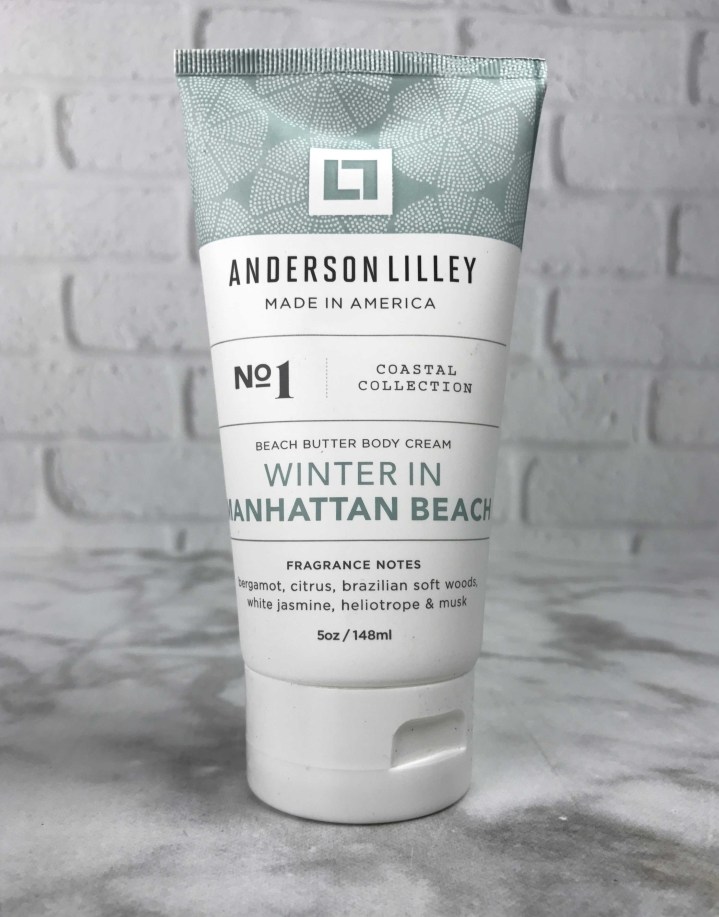 Anderson Lilley Winter in Manhattan Beach Body Cream ($24) I had a chance to sample this in a BOXYCHARM and I'm very curious about the difference, because the scent I had was just "Manhattan Beach" but this is the winter version. What a unique idea! Unfortunately that hand butter is long gone. Some subscribers received Sicilian Tangerine, which I do wish had been in my box.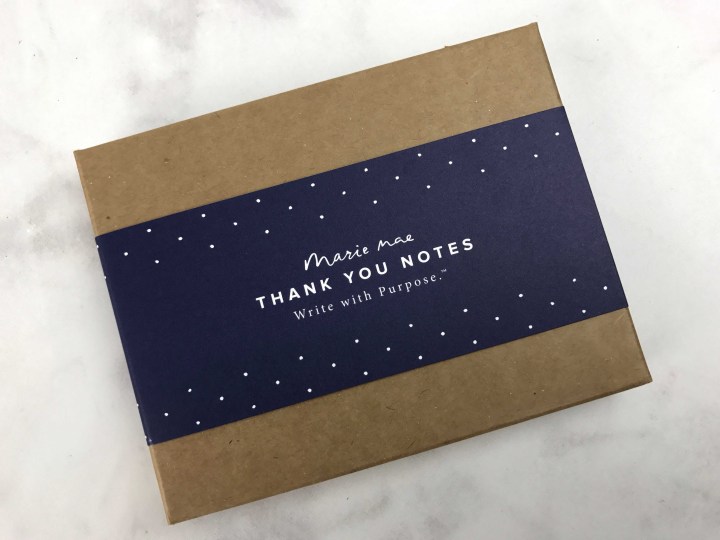 Marie Mae Thank You Card Set ($24) This is a FabFitFun exclusive item. The material used for the cards is Mohawk Superfine Cover Paper, one of the best types of acid-free printing papers.
The gold-foil design is so charming! Stationery junkie or not, anyone would love writing on these cards for the holidays.  Plus they're multi-holiday use, so you can send them for the New Year and pretend you meant to do that.
Also, this company is all about empowering women in developing markets – employing, training, and assisting Rwandan women to start their own businesses.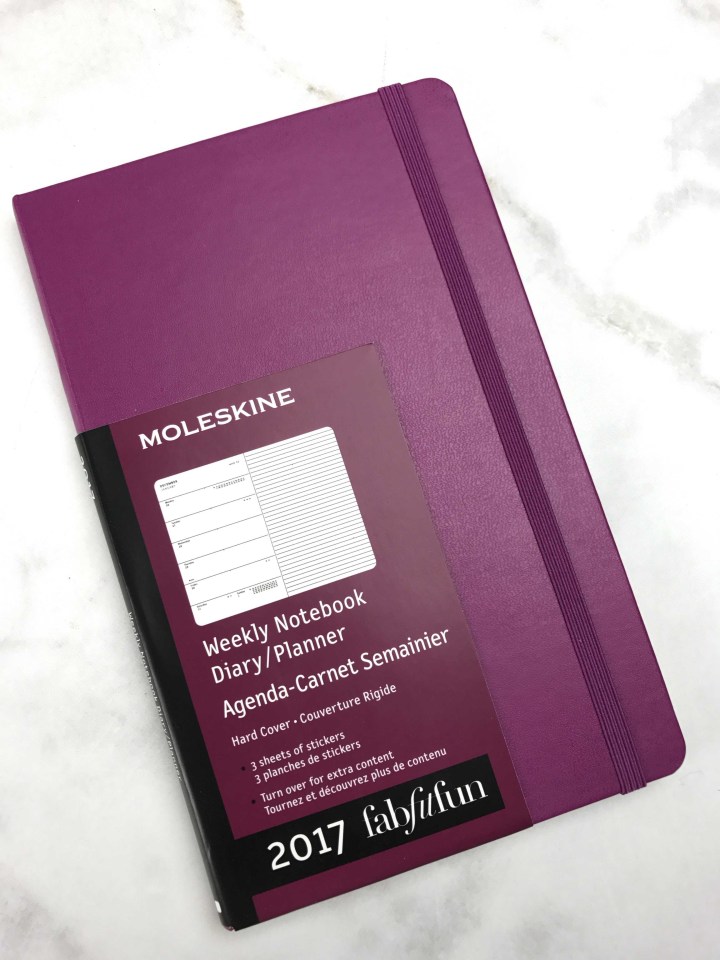 Moleskine 2017 Weekly Planner ($20.95) Dated from January to December, this 144-page weekly planner makes writing and organizing an easy task.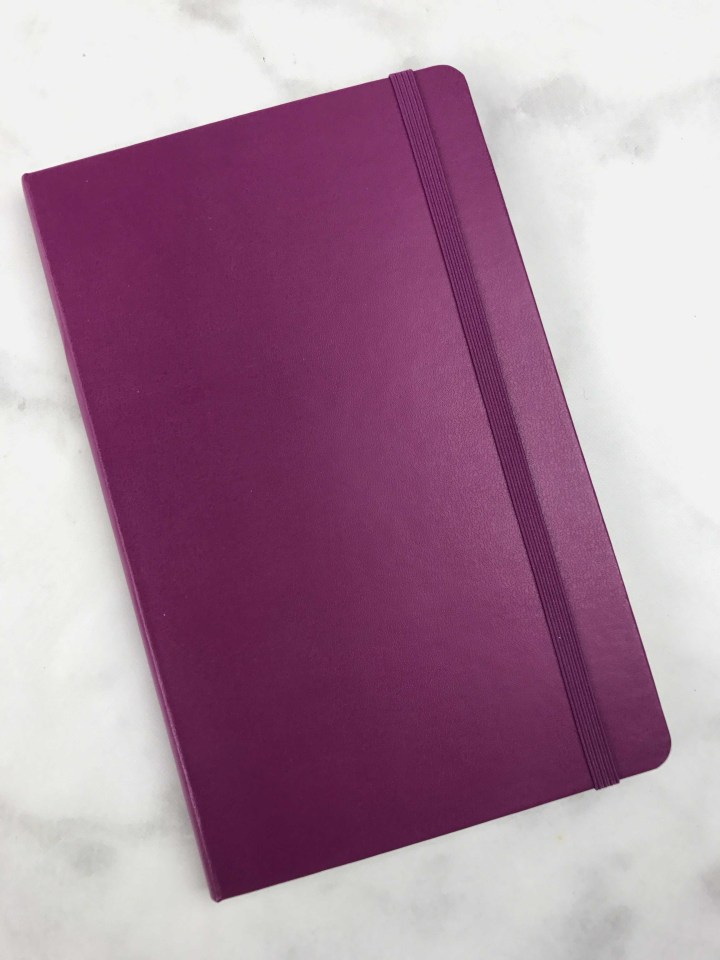 Like half the Moleskine line, it comes with a perfectly-dyed-to-match elastic closure.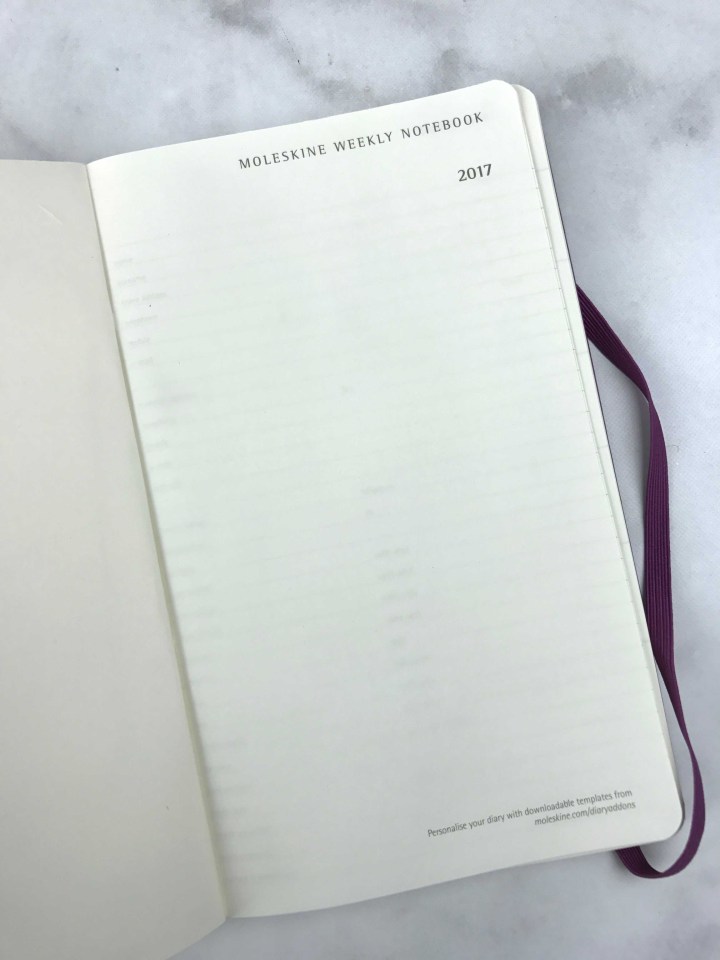 It is well-formatted. On the left is the week's appointments and a ruled page for notes, while on the right, you can scribble ideas and other thoughts. I use these as a desk journal to record instead of to schedule.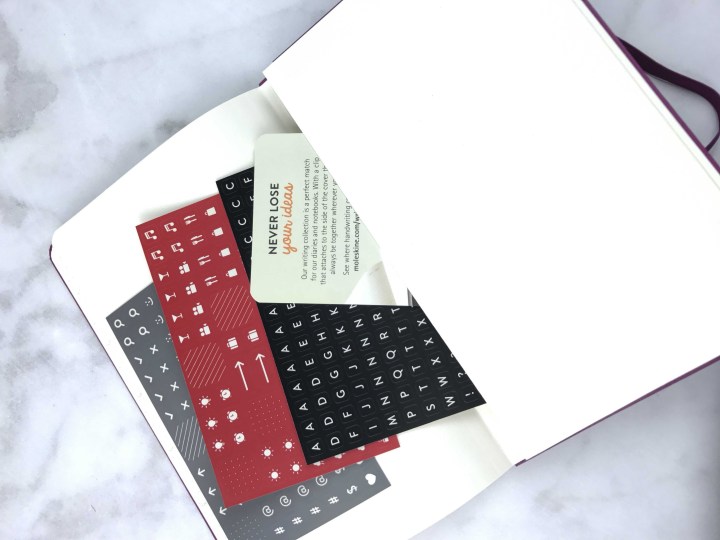 What a handy and versatile planner! There are also special planning tools inside like time zone charts, international measurements, dialing codes and flight durations. Select members could choose between green & purple. I picked purple!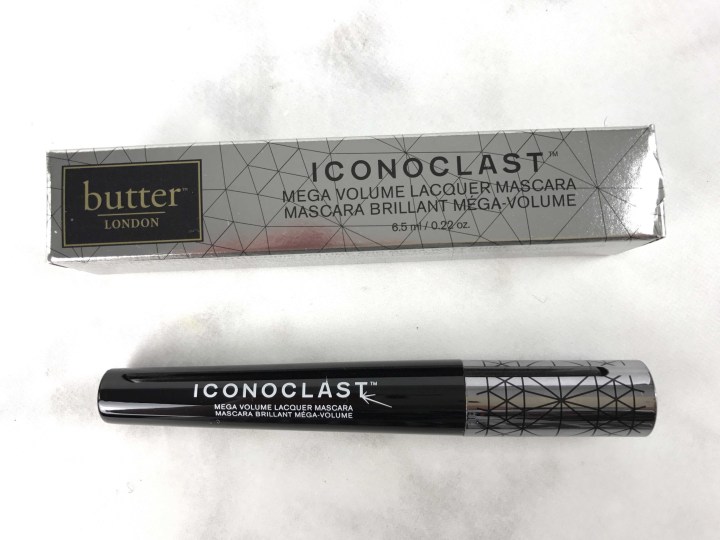 Butter London Iconoclast Mega Volume Lacquer Mascara ($20) This mascara has a double feature molded brush that provides volume and definition to the lashes.
Gotta love the jet-black shine finish! It even conditions lashes and promotes lash growth – thanks to Vitamin B. This lacquer mascara is ophthalmologist tested. No clumping, smudging, or flaking, but I could use more volume out of it.
I thought this box was excellent – and I particularly loved the weekly planner and candle, but I was happy to get essentials like the mascara and skin resurfacer. And as always, I love the "more than just an item" goodies like the notecards and pin! The total retail was about $247 – 5 times the cost of the box, which is amazing. This box did forget the "Fit" in FabFitFun, which they eventually responded to with the addition of 2 months of Barre3 for free! Just log into your account and head to the exclusive offers to check it out!