Doki Doki is a monthly Kawaii subscription box from Japan Crate. Every month you'll receive super cute Japanese items – accessories, stationery, plushies, and other adorable Japanese goodies.
So kawaii!
DEAL: Use coupon code HELLO to save $5 on your first box!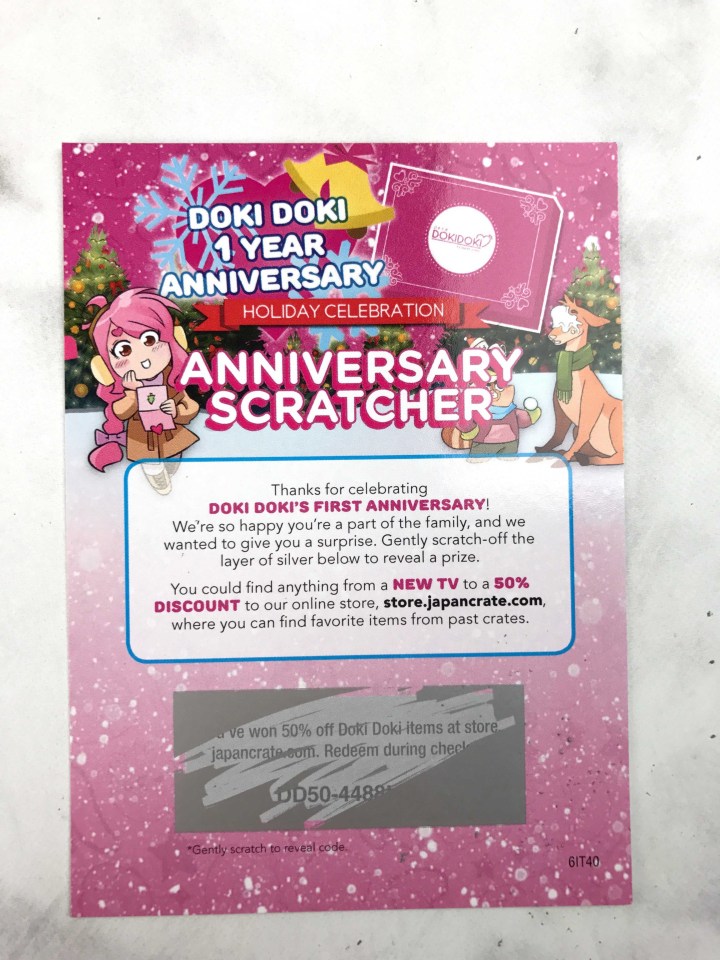 This month marks Doki Doki's 1st year anniversary! As part of their celebration, they're giving away prizes and discounts. I got 50% off coupon!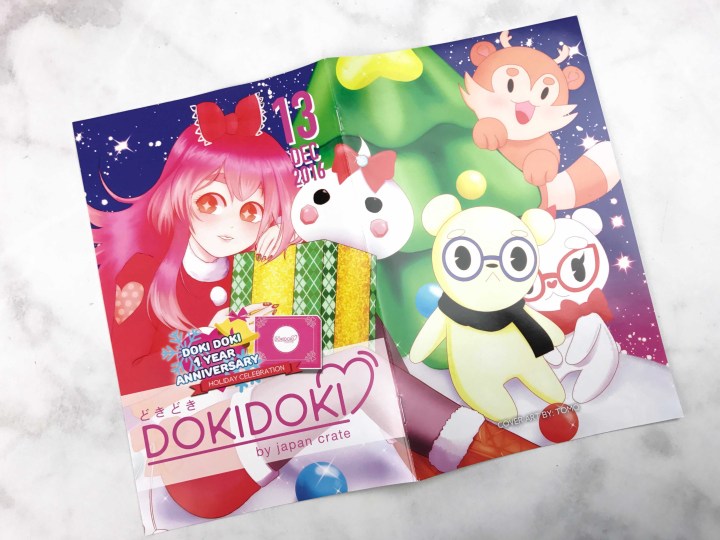 Love this cover art by Tomo!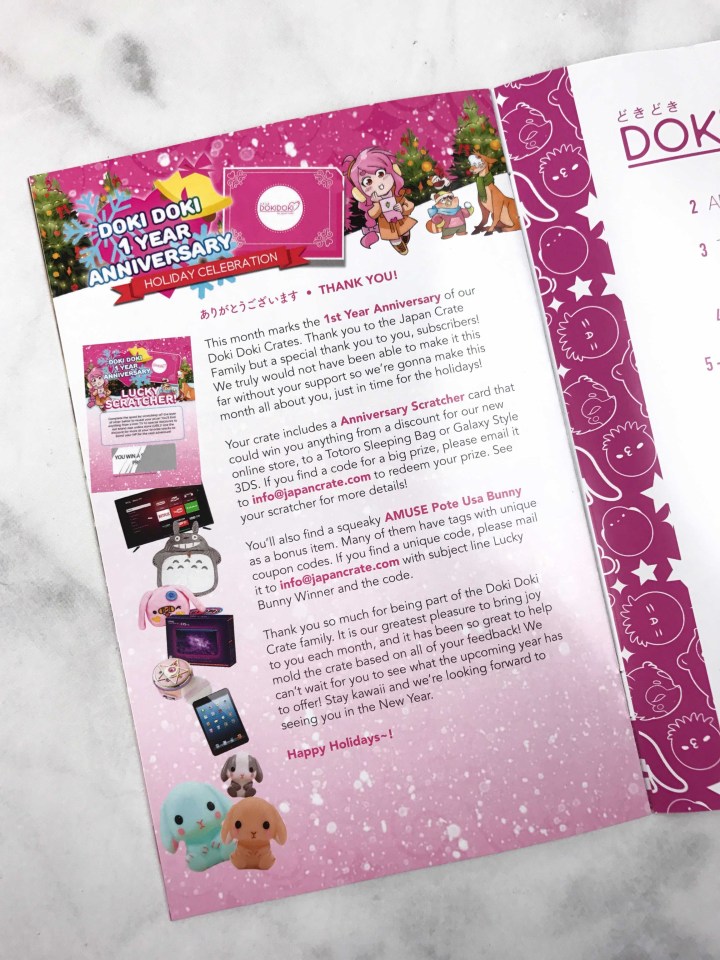 The theme this month is Anniversary Holiday Crate!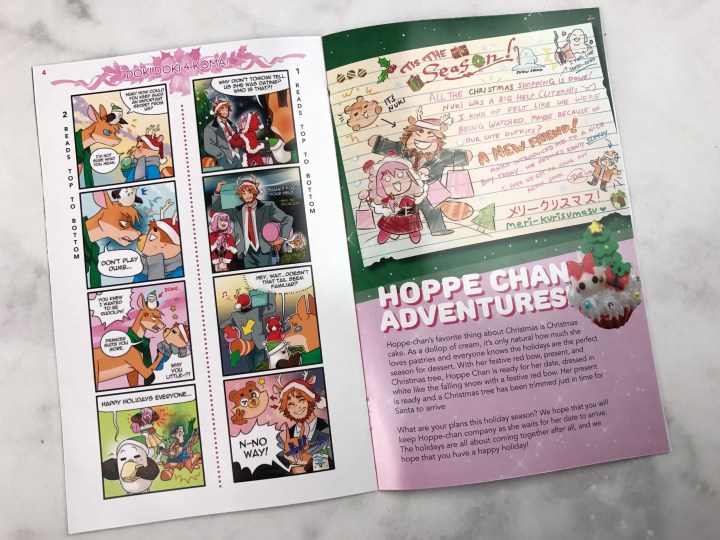 Each crate comes with a manga-style booklet to help you figure out what each item is (that means it's bound on the right side instead of the left!).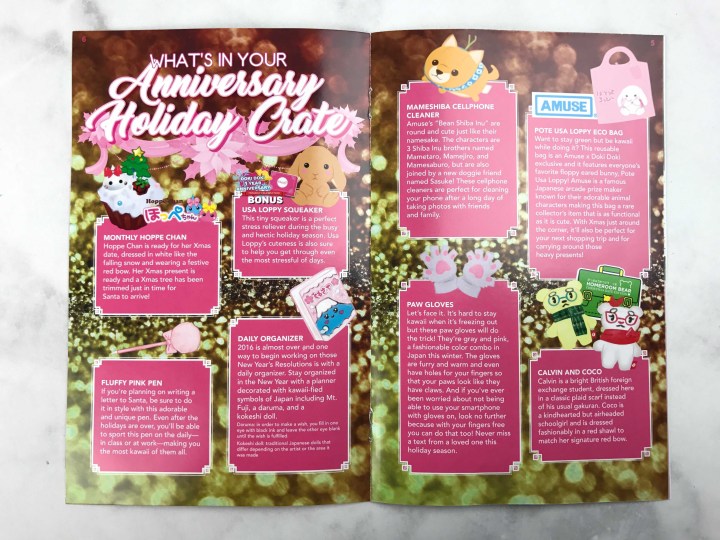 The middle of the booklet contains all the information about the items. There's a little comic and more fun stuff!
The Homeroom Bears are back!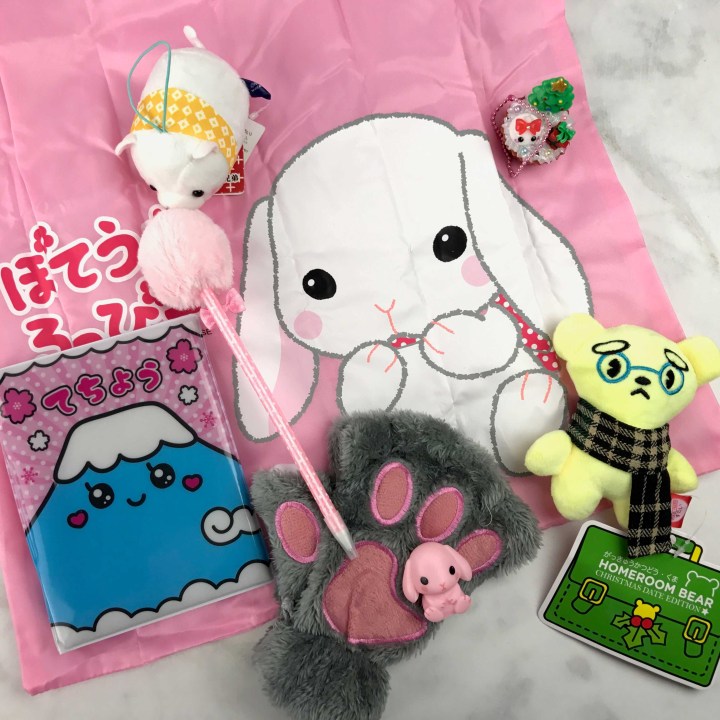 Everything in the December Box!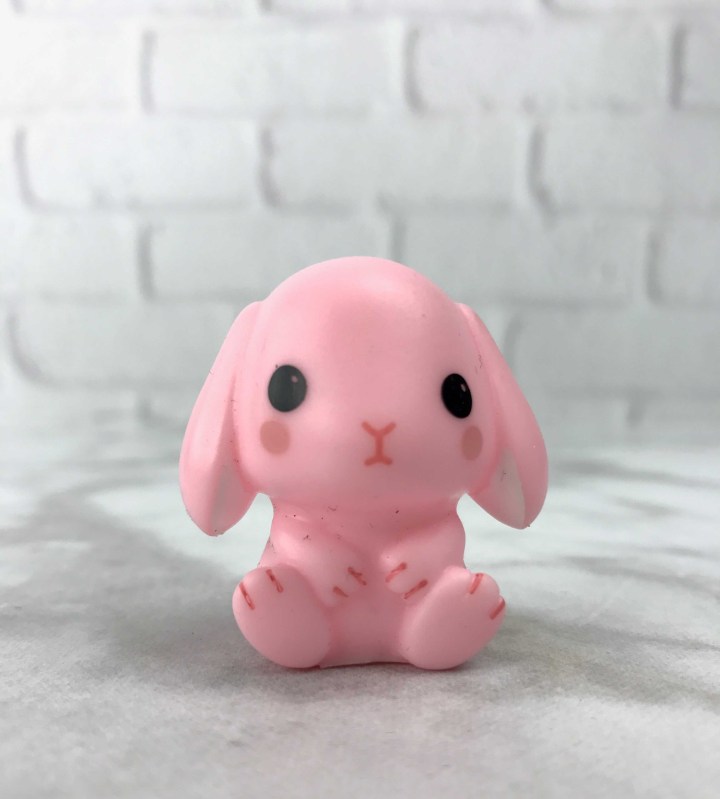 Bonus!
Usa Loppy Squeaker – A small pink bunny with big ears! This cute character is created by Japanese arcade prize makers, Amuse. Recommended for kids of all ages.
Amuse Mameshiba Cellphone Cleaner – The cutest cellphone cleaner ever!
If you don't want to use this cutie as a cleaner, you can just let it hang on your purse or bag.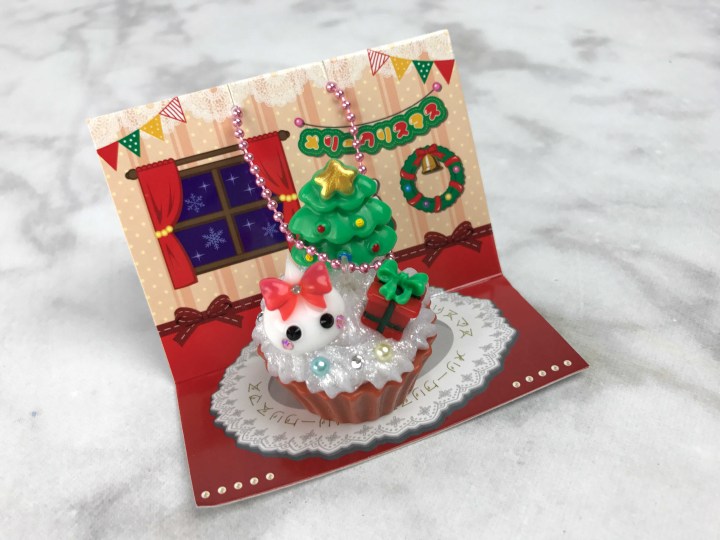 Monthly Hoppe Chan – Hoppe Chan is ready for Christmas! And look at the little red bow on her head, so pretty!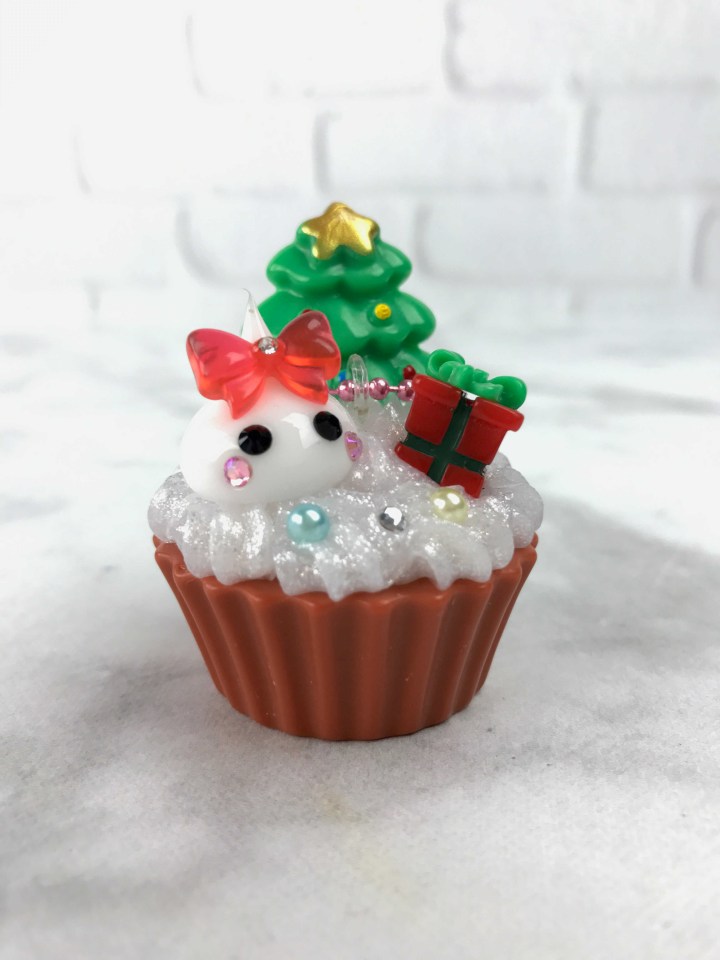 Just looking at this cutie pie can make anyone feel festive. We'll surely find a place for Hoppe Chan at home because we love her and she's just so adorable.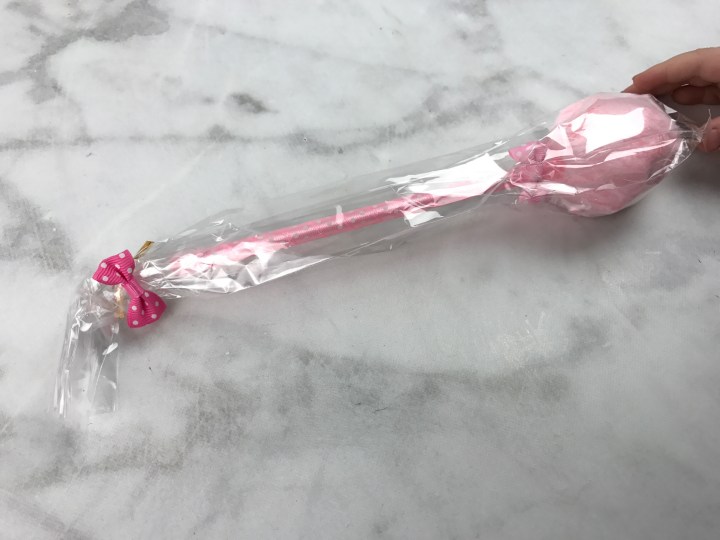 Fluffy Pink Pen – Letter writing for the holidays just got a whole lot cuter with this pink pen! You can see my baby thinks this one is too adorable not to touch too (I really couldn't get a photo without his hand!).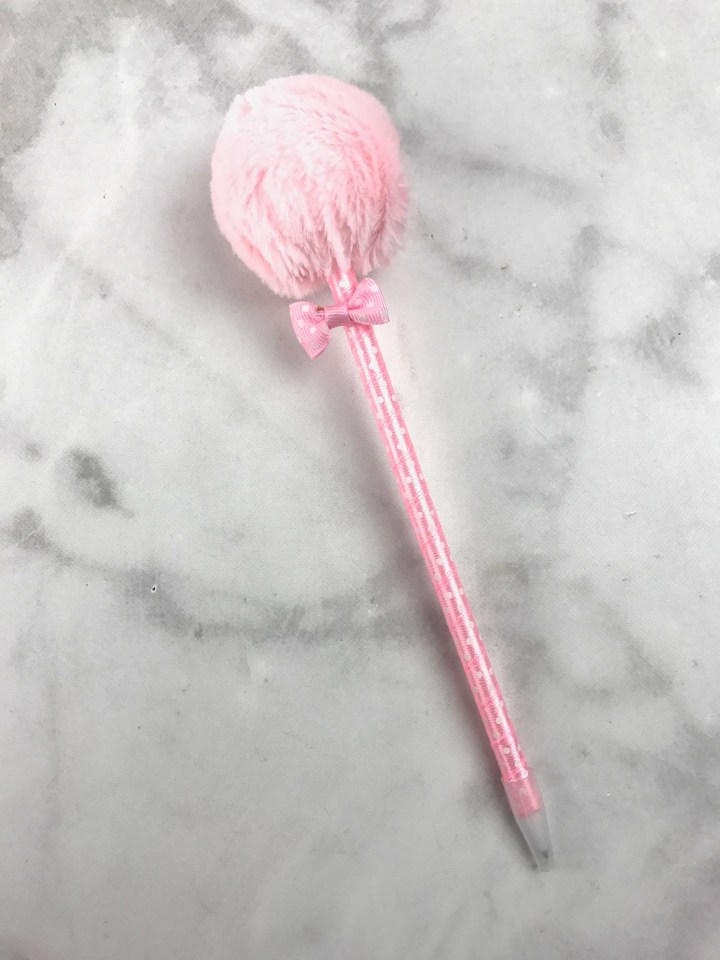 Holiday or not, this pen would be great to use on a daily basis for extra cuteness! Petting the big fluffball on the end of the pen will make you a happy writer, I promise!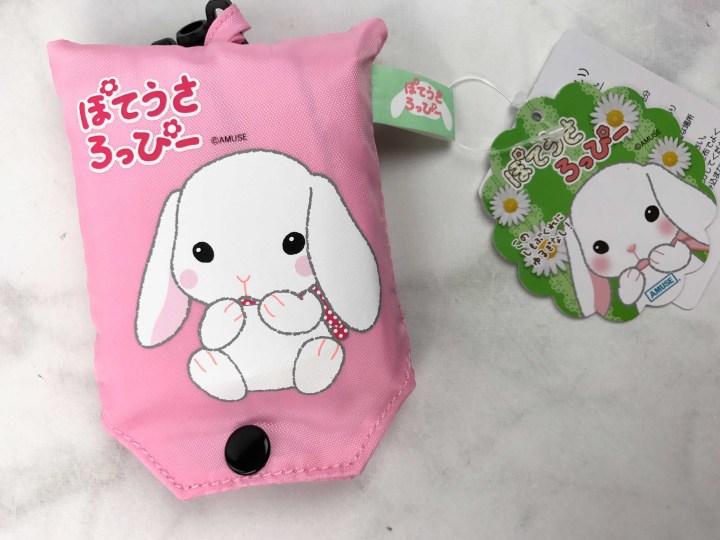 Amuse Pote Usa Loppy Eco Bag – It's a foldable and reusable bag you can use for quick grocery trips or when buying presents for your loved ones!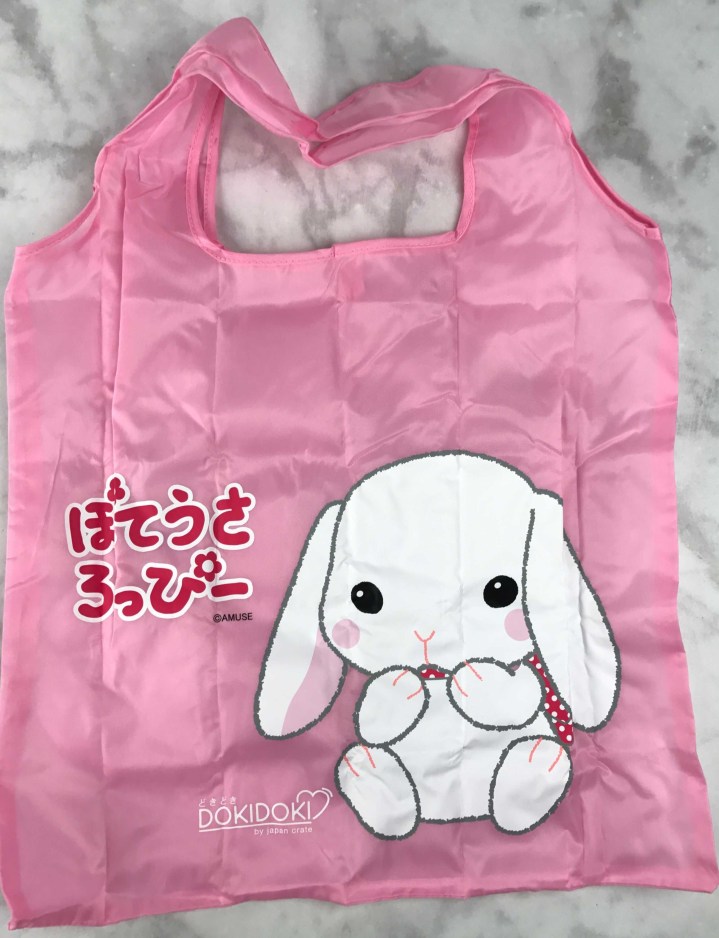 Environment-friendly? Check! Kawaii? Check!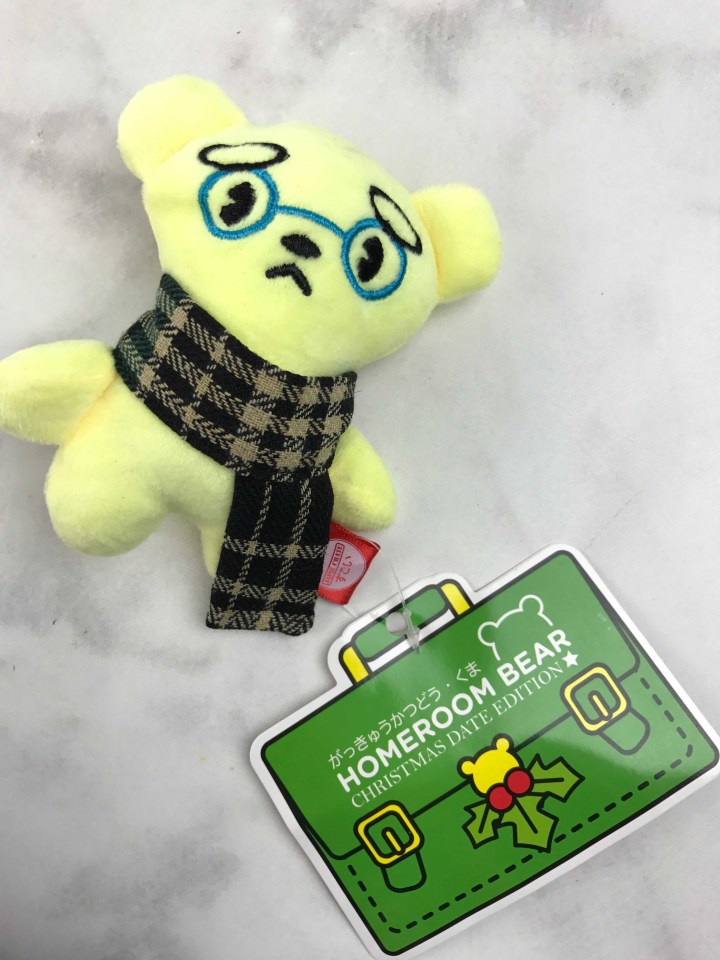 Homeroom Bear Christmas Date Edition Calvin Bear – Subscribers will get either Calvin Bear or Coco Bear from this box. We got Calvin, the British foreign student who is looking very lovely with that plaid scarf!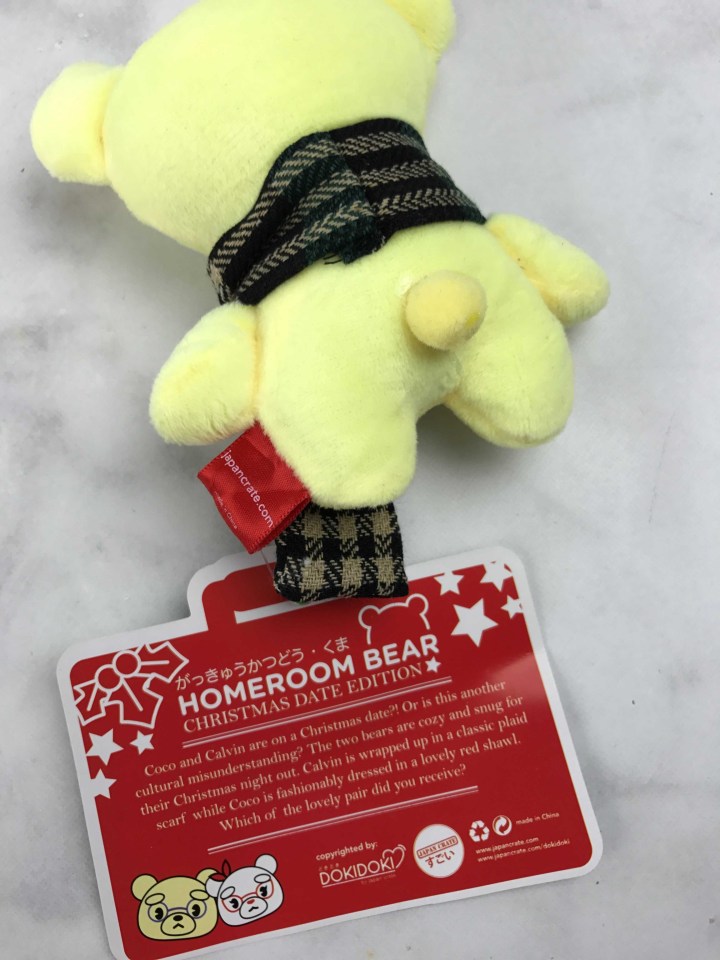 Aww, so cute and cuddly (also I auto-approve of any bear with a tail, I think it's a necessity!). We heard that Coco is wearing a nice scarf too!
Which one did you get?
Daily Organizer – Can you believe that 2016 is almost over? Doki Doki even included this kawaii-fied daily organizer that we can use for keeping track of new plans and goals for 2017!
A look at the back of the organizer. It has fun colors and illustrations!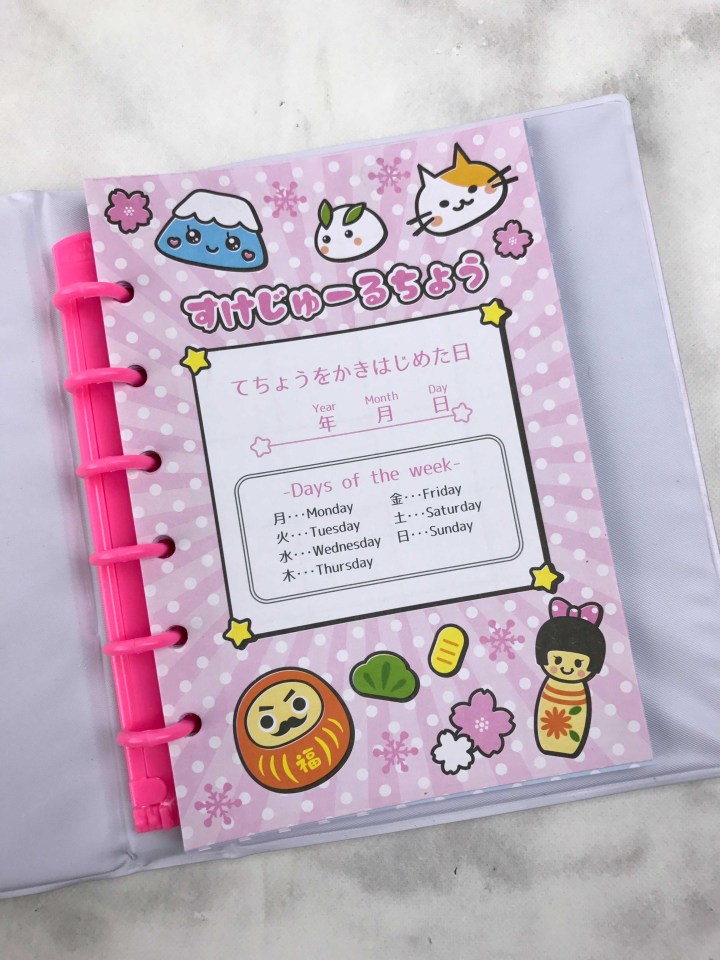 There are some Japanese language lessons and translations too!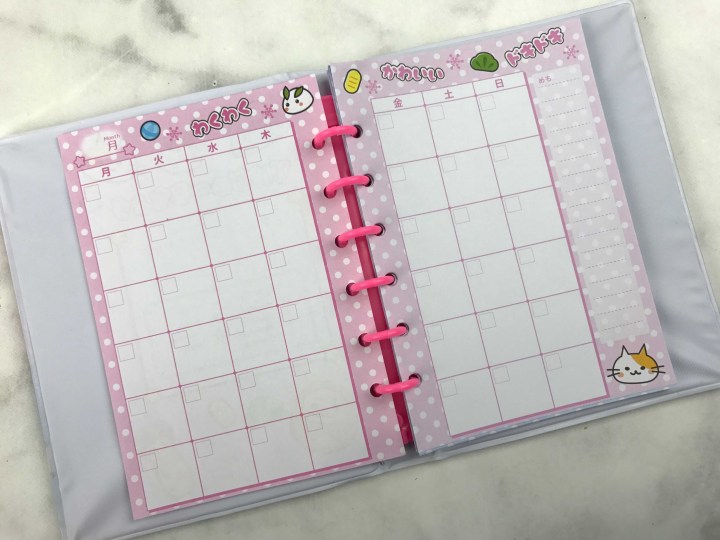 Some pages are pink…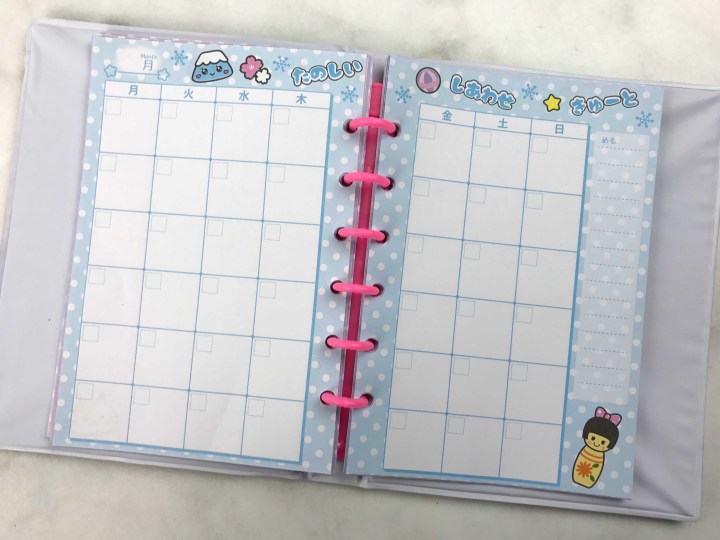 …while others are blue.
The boxes for each day are pretty small so you must keep your handwriting as teensy as possible!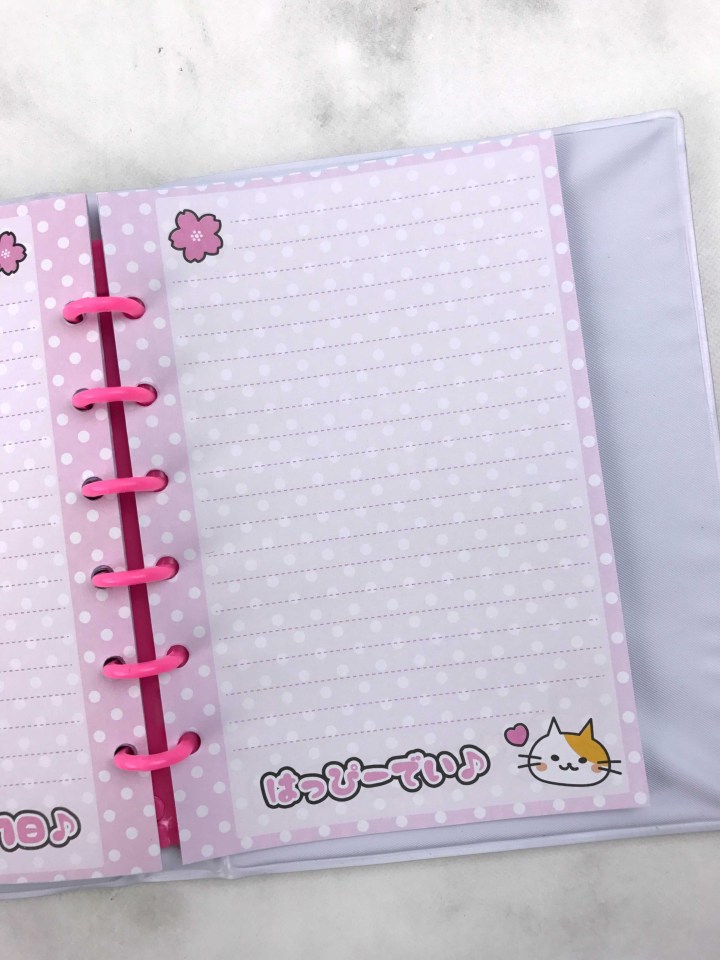 There are also lined pages for jotting down random thoughts, ideas, etc.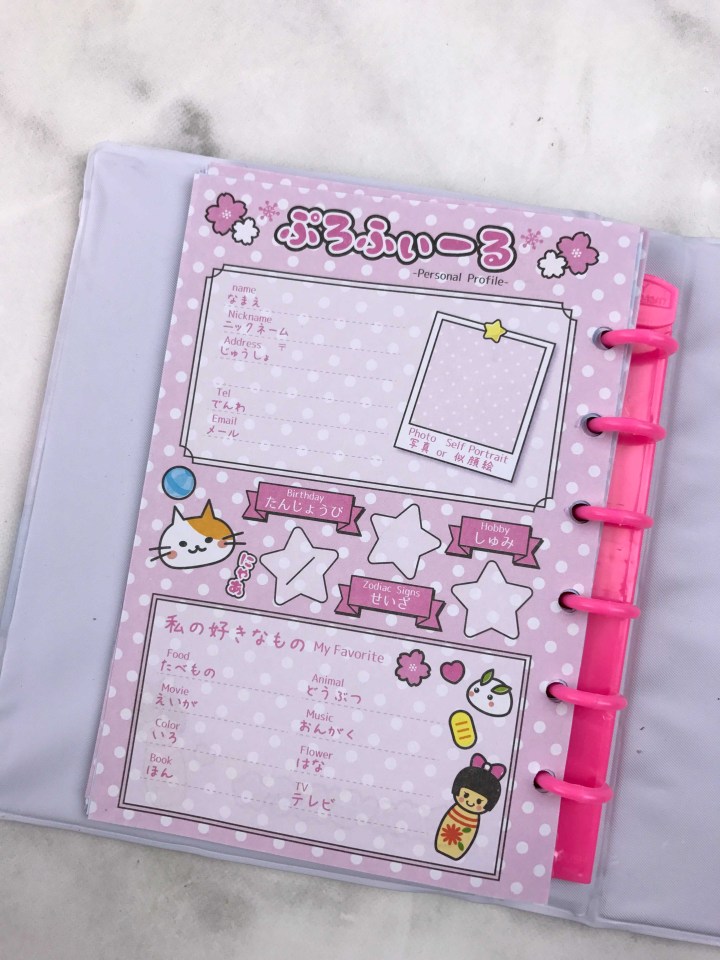 There's even a page where you can fill up a profile, including your favorites.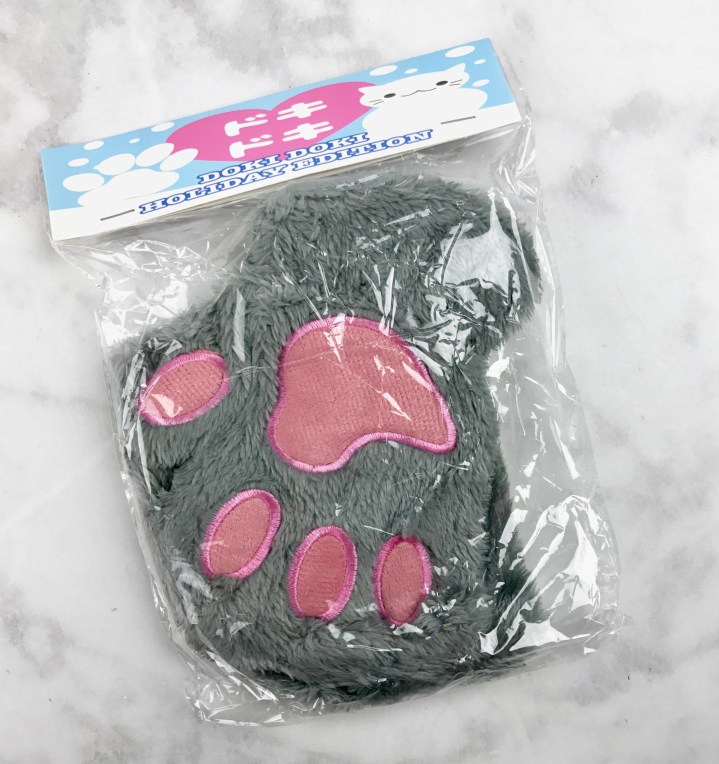 Paw Gloves – These gloves are nice. They make things kawaii even when it's super cold outside!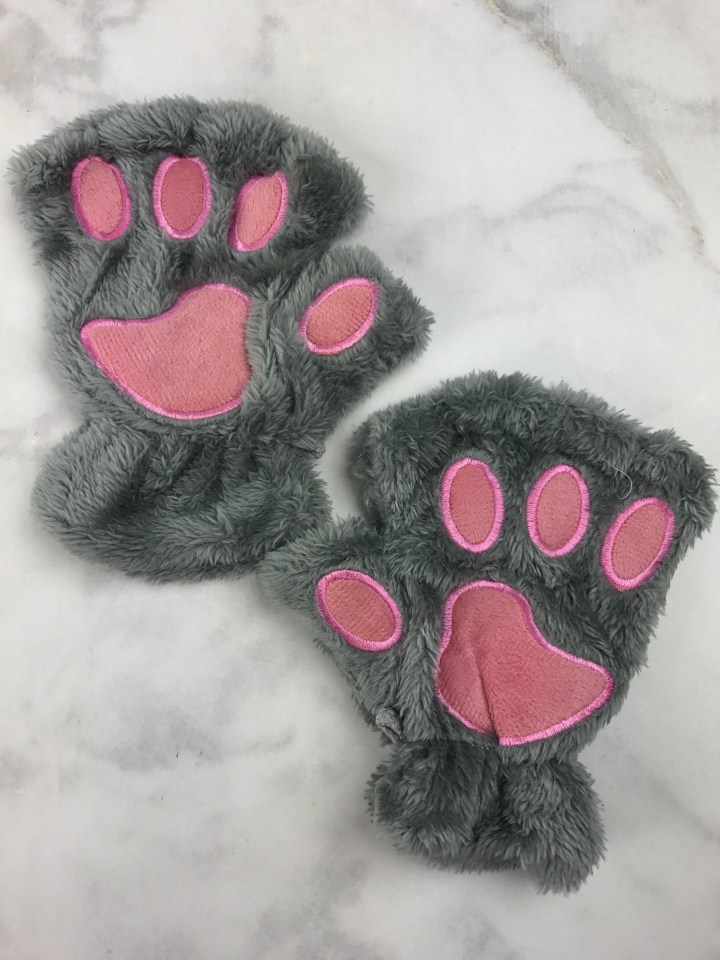 The paw gloves are gray and pink, which are considered great winter colors in Japan.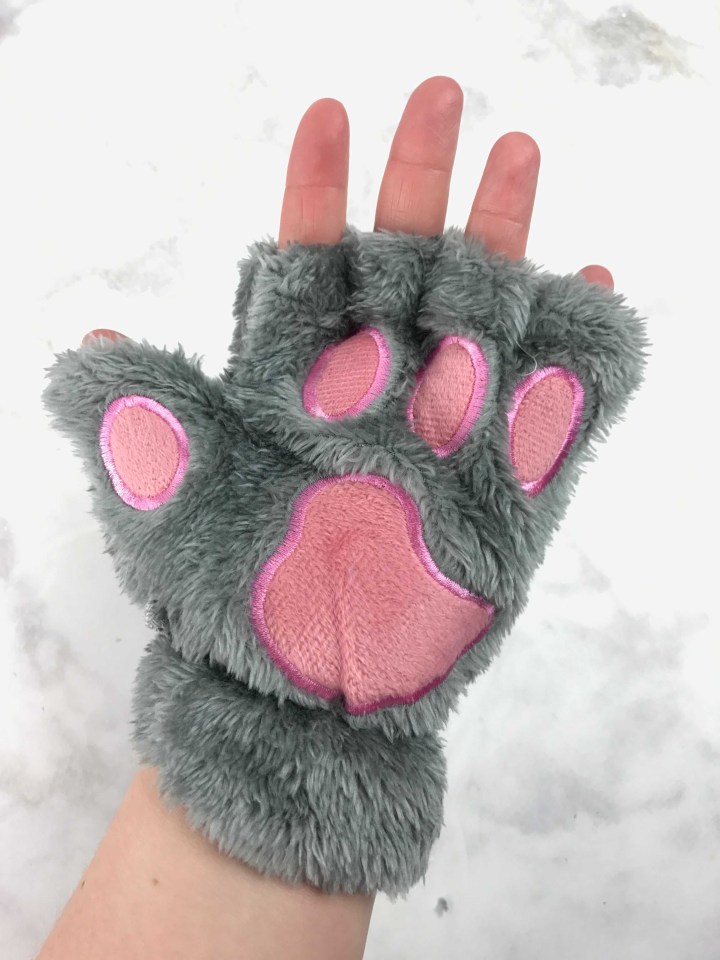 It's furry and warm. It has holes for your fingers – they look like claws now, don't they?
These are also perfect for people who still want to use their smartphones even when wearing gloves!
Hoppe-Chan has my heart – I'm addicted to getting a new one every month and this month's Christmas Hoppe-Chan was amazing and so stinkin' adorable! I thought the gloves were a bit on the odd side – but I'm going to be honest, they're one of the few pairs I've received recently without thumbs, which makes them highly covetable. I keep having to remove other ones in order to actually use my phone! The Amuse Bunny bag comes in as a close second for me this month!
What did you think of this month's Doki Doki Crate?