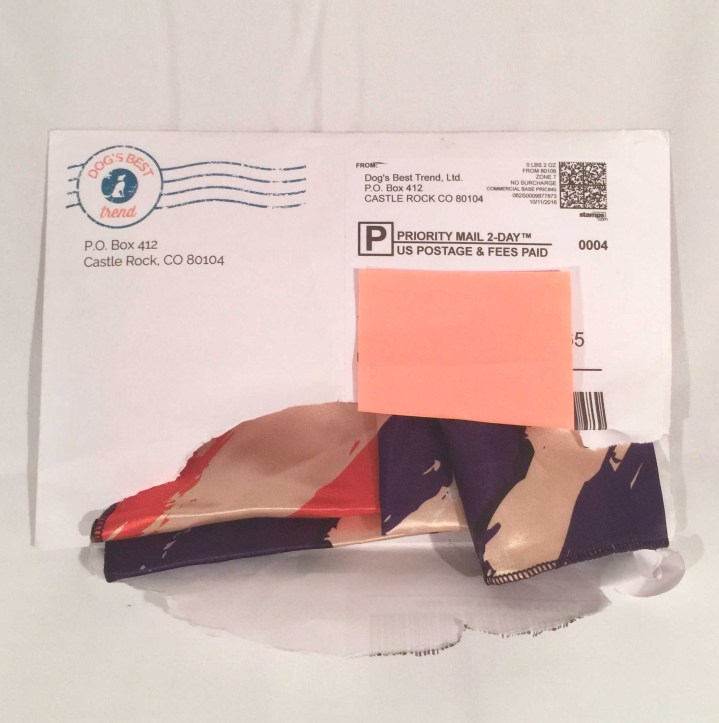 Dog's Best Trend delivers stylish dog scarf every month for your beloved four-legged best friend! Scarves are made from high-quality materials and only cost $10 per month.
A portion of the proceeds is donated to dog rescue or charity every month.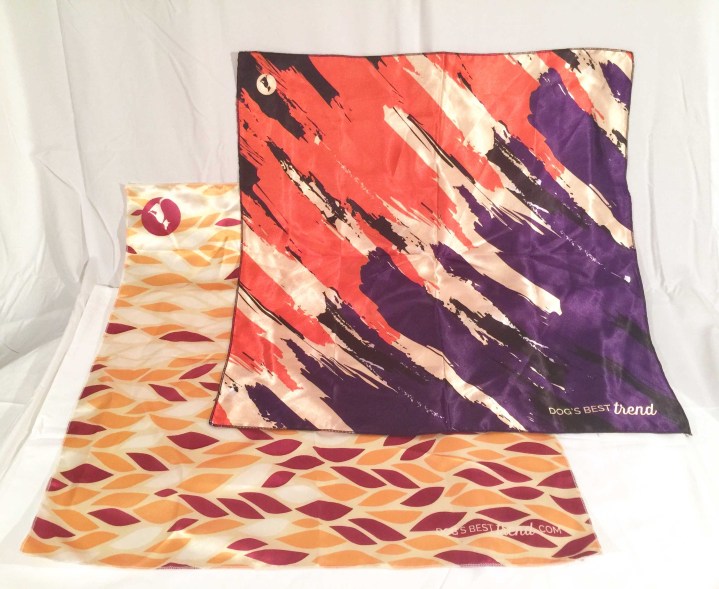 This review describes two different scarves, from two months of a subscription.
Despite being called a "scarf," I figured that this subscription would send me a cute bandana for my dog.  When it arrived, however, I was surprised and impressed that it was truly a high-quality scarf. The material is a silky satin, with different but complimentary designs on each side. Each scarf contains the brand name "Dog's Best Trend" in subtle lettering, as well as a small outline of a dog on the other side of the scarf. Both branding elements blend well into the overall design and do not detract from the attractiveness of the scarf.
The first scarf I received was a champagne color with brilliant yellow and burgundy leaf-like designs.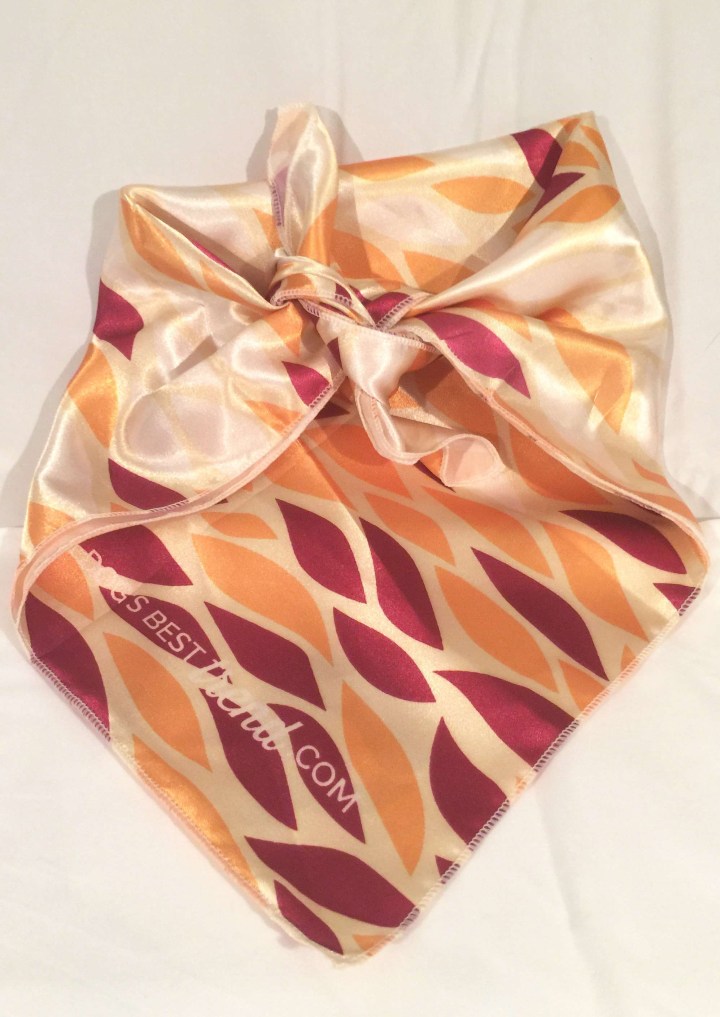 The color choices are perfect for fall and look expensive.
Thai was quite a bit shy to model at first.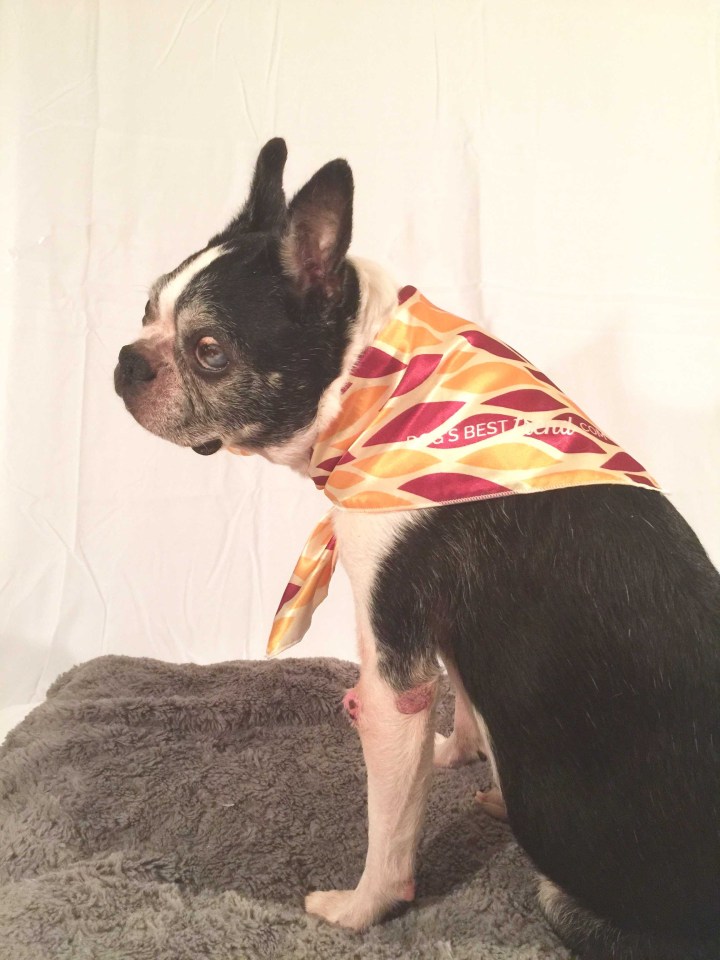 Perfect for an uptown pooch leaf peeping in Central Park!
The second scarf I received used dark eggplant, orange, black and champagne colors, in a more abstract design.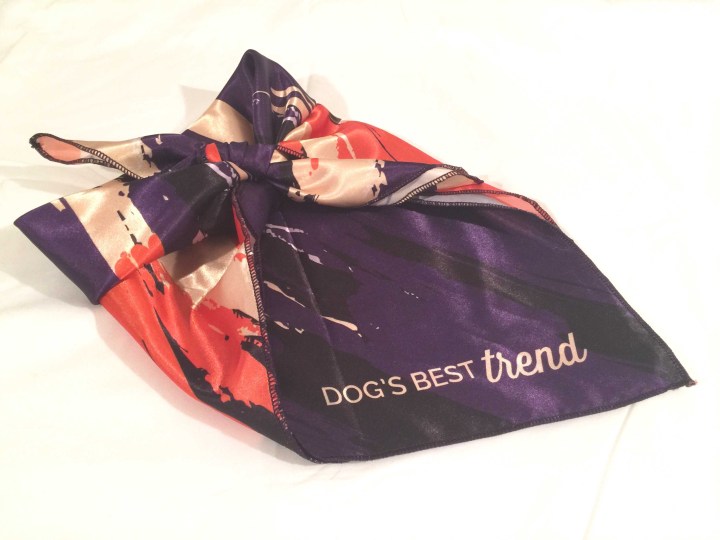 A dog wearing this scarf would be right at home at a gallery party in Soho! The color choices also work well for fall.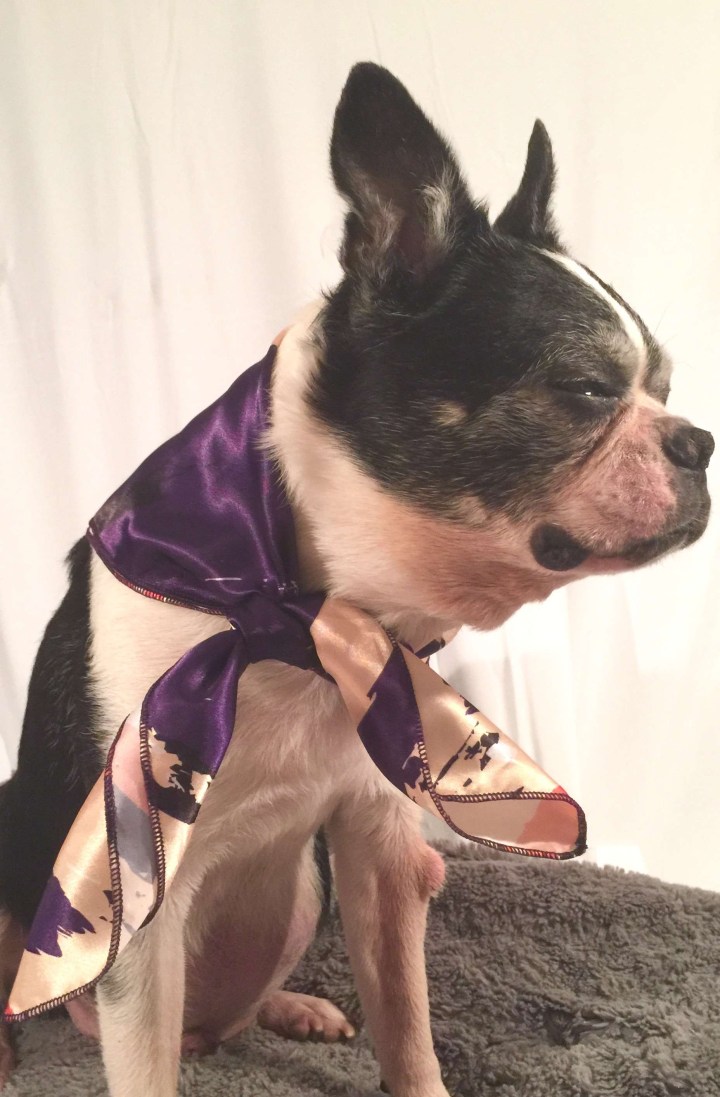 My pups are boys, so they do not often wear "scarves" (or even bandanas), although they often wear shirts, sweaters, and bow ties for special occasions. I wasn't sure what others would think of my dog's new accessory. My dog received many compliments while out wearing his Dog's Best Trend bandana – er – scarf, particularly from women. Several said he looked very sophisticated and a little girl called him "fancy." (I tried to put one of the scarves on my other, smaller dog, but he thought it was a game and started chewing the scarf, so he sat out for this review!)
Overall, I am pleased with Dog's Best Trend. The scarves are well made, using high-quality fabric with vibrant colors.  The designs are one of a kind, only made in small quantities each month, and not sold anywhere other than through a Dog's Best Trend Subscription. The only thing I would change is to try the smaller size scarves, as the large size was a bit too large for my small/medium sized dog. He can still wear it, but I have to roll up some of the fabric first before tying around his neck.
Also, while the designs and colors can work for both female and male dogs, my male dog's style is a bit more rugged, so I don't know that he would make use of a new scarf every month. For that reason, I would like to see options for a quarterly subscription, or every-other-month subscription. But well-dressed lady dogs are likely to love receiving a new scarf each month!