Disney Park Pack: Coin Edition is a new monthly Disney coin collection subscription box from the Disney Store. Every monthly coin will be inspired by a classic Disney Parks attraction with sculptured bas-relief art on both sides. Coins are encased in acrylic shell and come inside a flocked case. Each one is created exclusively for the Disney Park Pack and includes a Certificate of Verification.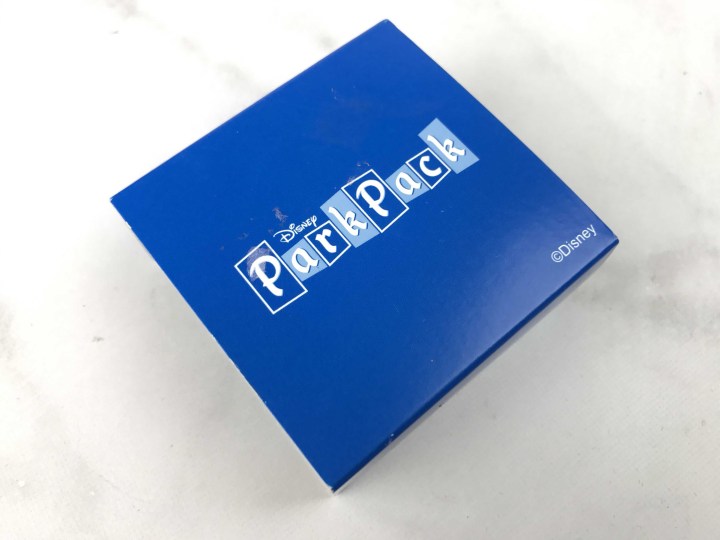 The box comes in a slipcase. Mine had a sticker on it that I had to remove. (It was so large it covered the entire thing).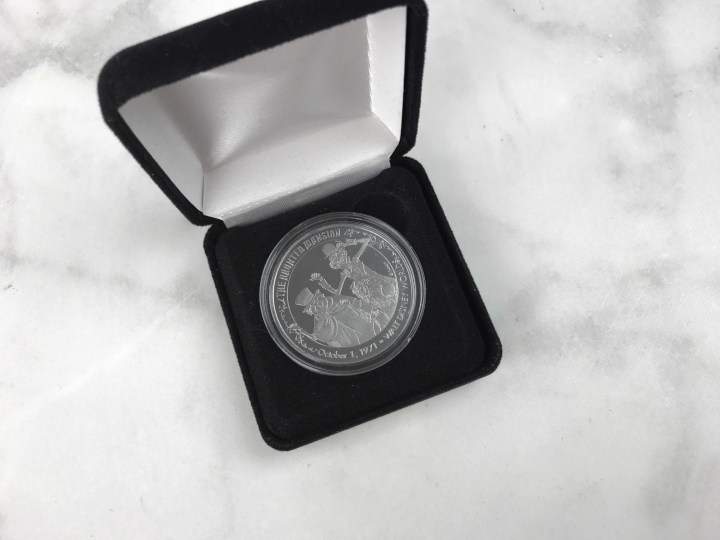 The Haunted Mansion Coin.
The coin was fitted in an acrylic shell and inside the case. I didn't find a Certificate of Verification.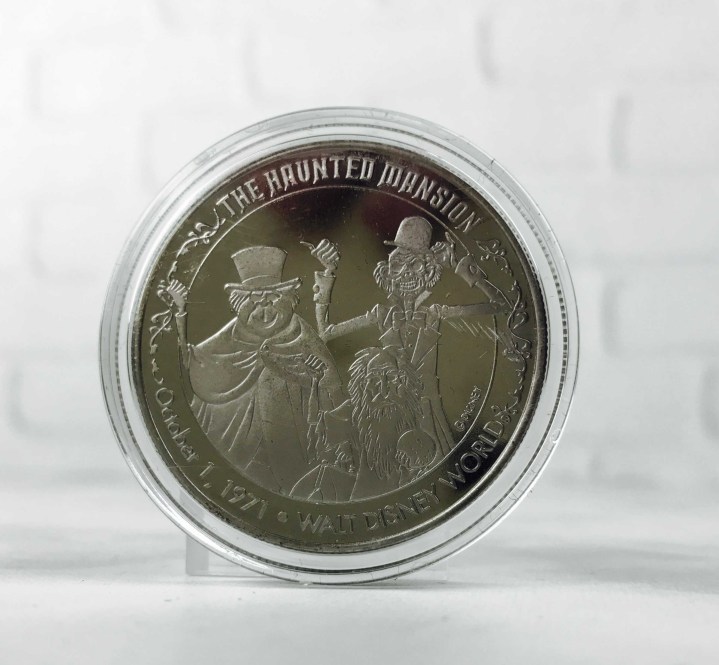 This coin celebrates The Haunted Mansion! It opened October 1, 1971 at Disney World. Looks like we have a few hitchhiking ghosts!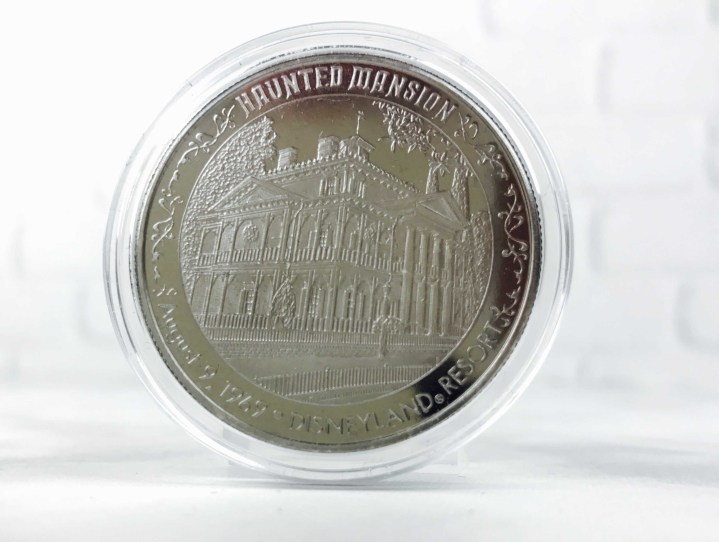 But of course earlier than that at Disneyland – August 9, 1969! This side features the classic façade of the mansion!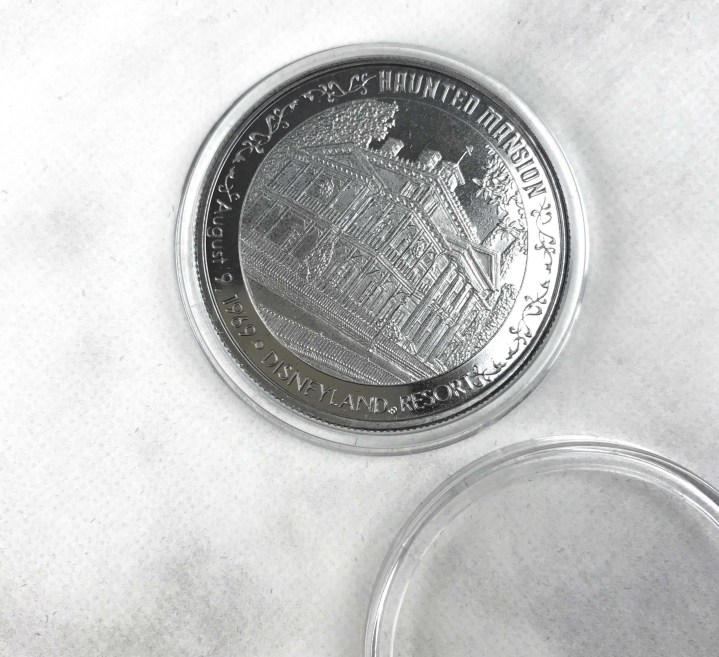 The coin is extremely detailed and extremely high quality.
If you signed up for the annual subscription, you may have also picked up a coin display case. It fits 12 coins so it's the perfect add-on accessory. I rather like knowing now that Disney's subscriptions are annual collections.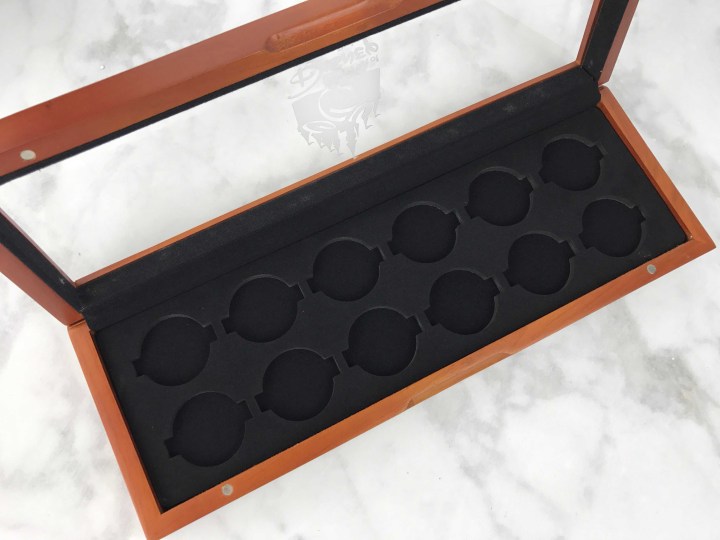 The box is wooden with a frosted glass panel and magnetic closures. This is a replacement item for us – when we opened the box the wooden case was scratched (gouged even). They shipped a replacement to us right away, which was nice.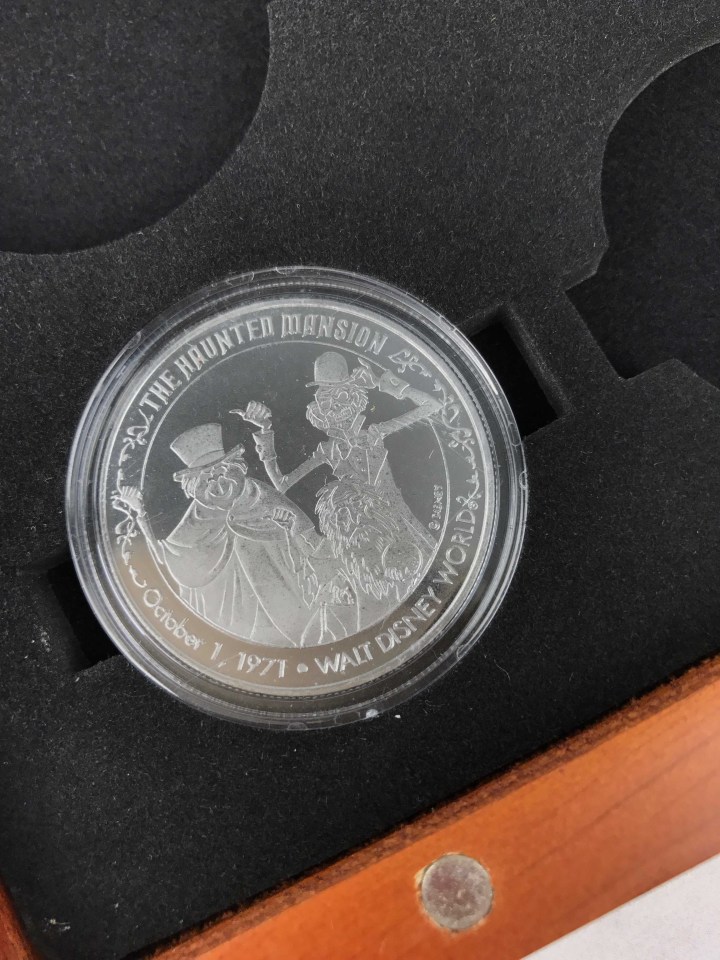 The coin fits firmly inside!
Included in the box was a slip for Disney Visa and a Disney Movie Club offer.
This is a fun collectibles subscription. I do like that Disney has the one-year subscription programs and I think the coins are cool (I cannot wait for Country Bear Jamboree!). Obviously, it's not for everyone, but I think for Disney collectors that want more attractions (as opposed to characters) this subscription is really going to be great.
However, Disney already has a handle on exclusive items – I'd really love to see them put together an actual subscription box full of Parks goodies every month. And more one time limited edition boxes! They also need to improve their packing operations – the huge sticker on the box plus the failure to include the certificate wasn't really up to par. I think subscribers would pay quite a bit for a well produced Disney monthly surprise subscription!
Visit Disney Park Pack: Coin Edition to subscribe or find out more!