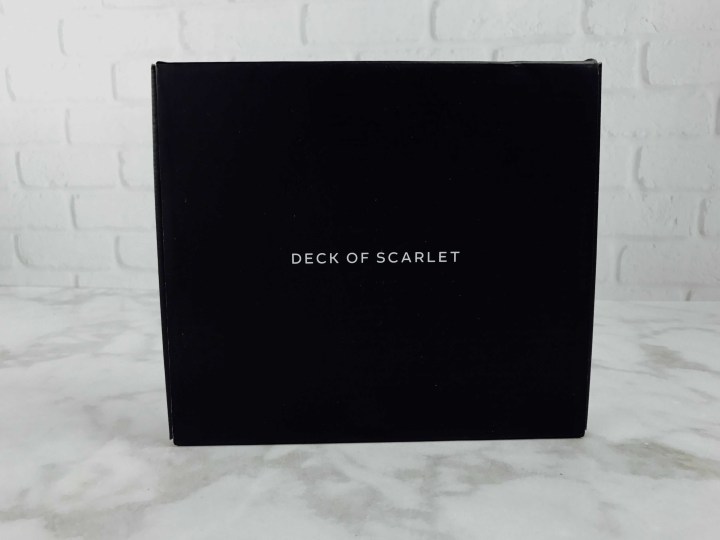 Deck of Scarlet is a brand new makeup subscription from the same company behind Scentbird. Every other month, you'll receive a brand new makeup palette inspired by the looks of your favorite YouTubers and Instagrammers.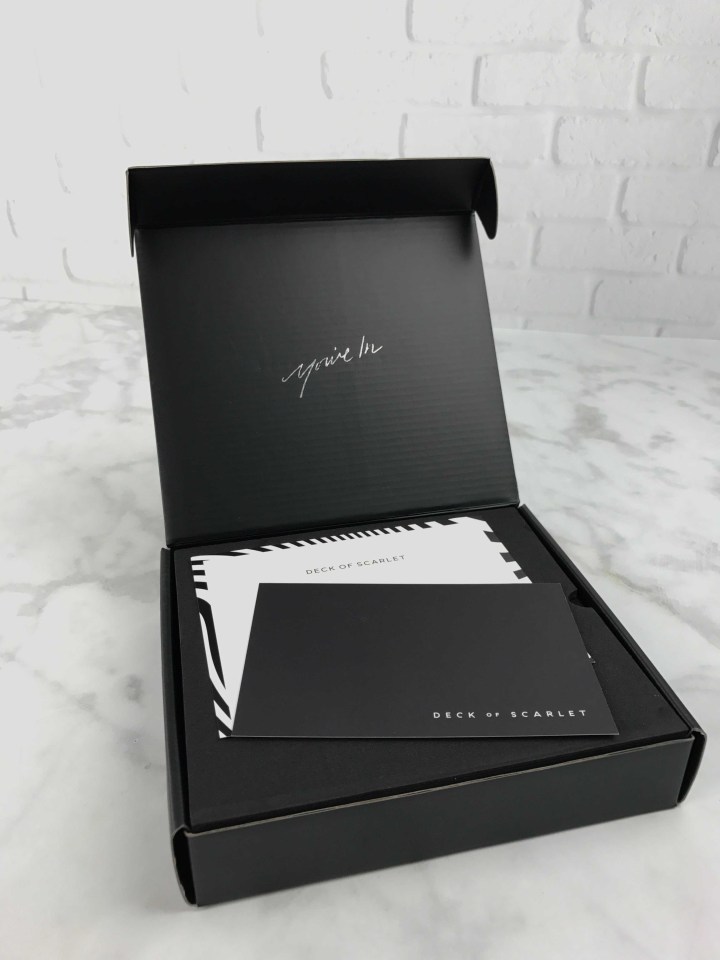 You're in! I love the chic look of the packaging.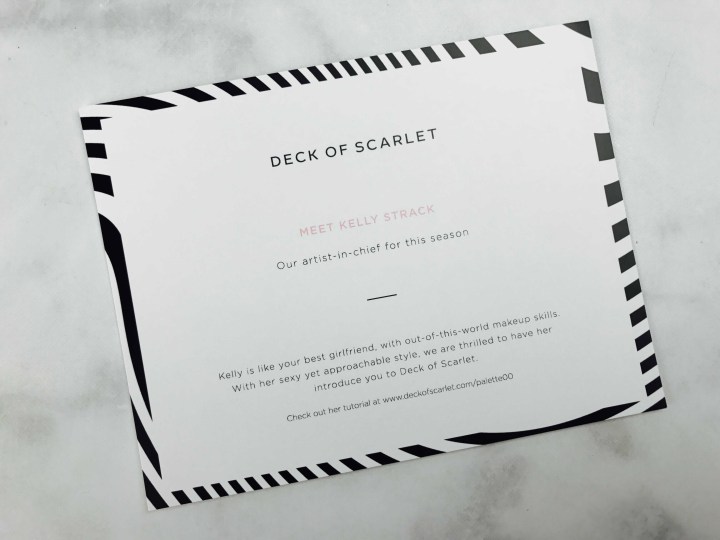 The Artist-in-Chief for this season is Kelly Strack.
A short letter about the artist-in-chief this season. You can check out her youtube channel here.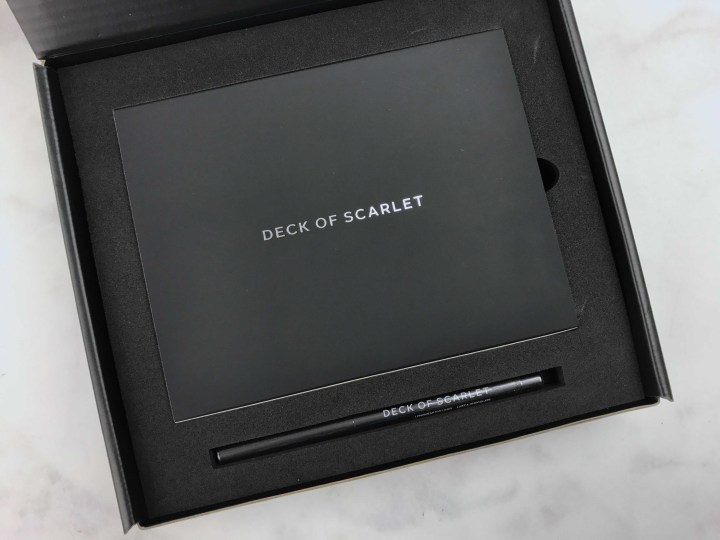 Did I mention the packaging? I love it.
Everything in the box!
Edition No. 00 is "Beauty For The Bold." This is the back of the slipcase, which contains all the ingredient information – and I noticed the PETA cruelty-free bunny right away!
Life is too short to settle for the same sleep-inducing nude makeup look over and over again. You have earned the right to go bold and bright. Deck of Scarlet partners with the best Youtube artists to create a stunning limited edition palette every two months. Then deliver hot-of-the-press tutorials so you could master the art of getting your sexy on.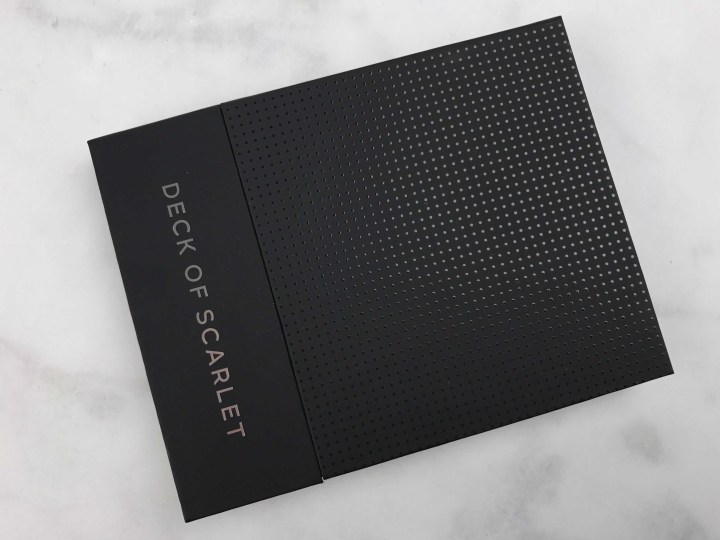 The packaging is wrapped thick paperboard, like many non-metal or non-plastic palettes. The flap has magnets, so it closes up neatly when you're not using it. And the duo-flap design will ensure your powder never ends up in your lip color!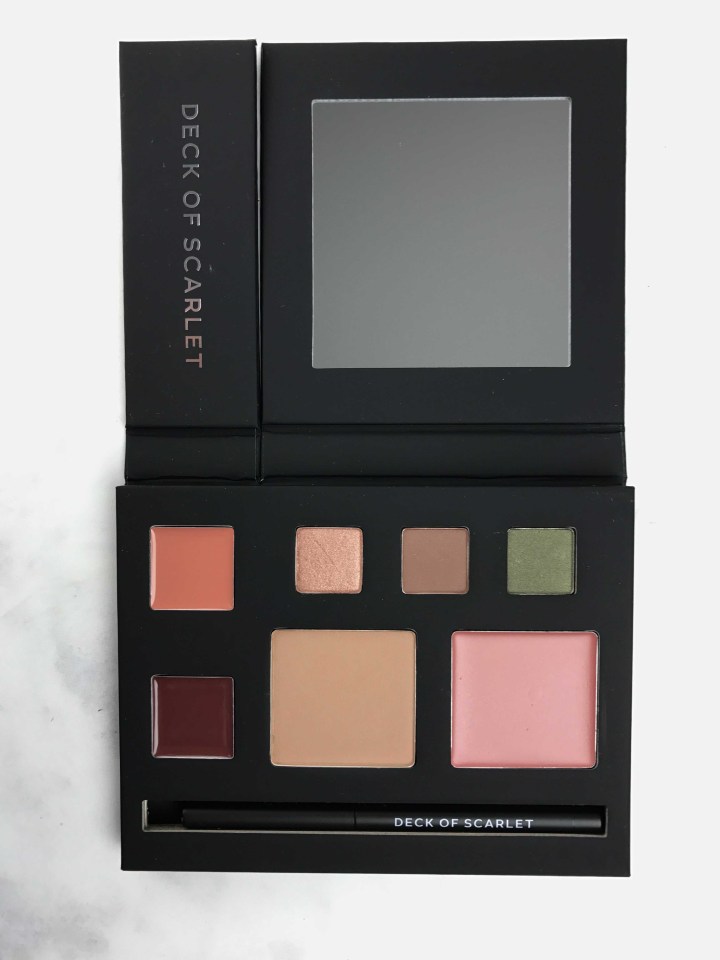 Each palette comes with 2 lip colors, 3 eye colors, 2 cheek colors. You also get 1 eye pencil and 1 lip pencil. And a nice large mirror! I liked how appropriately sized everything is.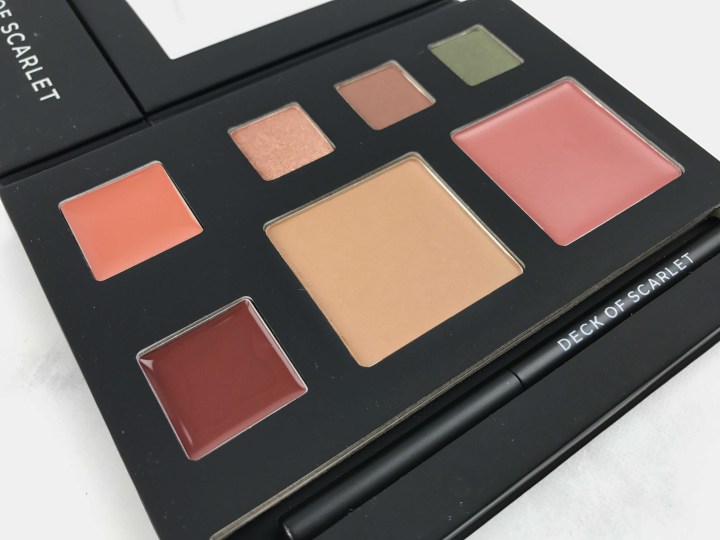 On the left side: Jackpot Lipcolor (top) Flush Lipcolor (bottom)
Top Row of Shadows, Left to Right: Irresistible, Lucky, Loot Eyeshadows
Bottom Right: Bluff Powder Blush (in middle of palette), Playtime Cream Blush (on right)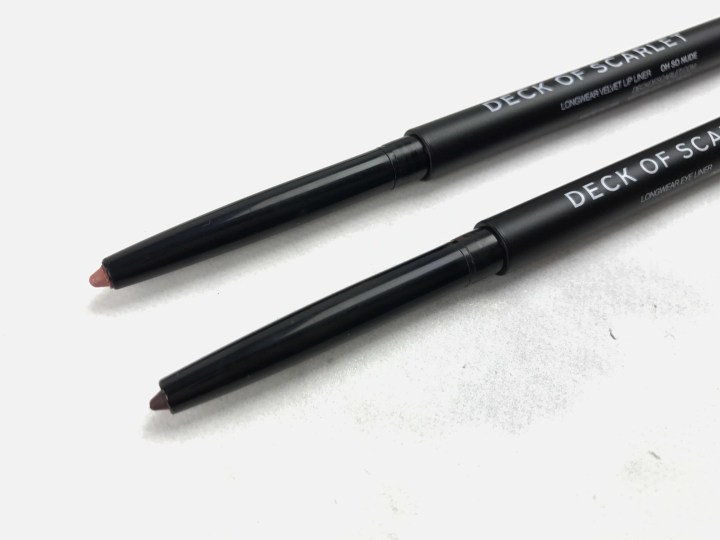 Oh So Nude LipLiner
Lust & Chocolate Eyeliner
I didn't grab a photo of it, but there's a built-in sharpener cap on the end, which is a great feature. They go on smoothly although they needed a teensy bit of warming up.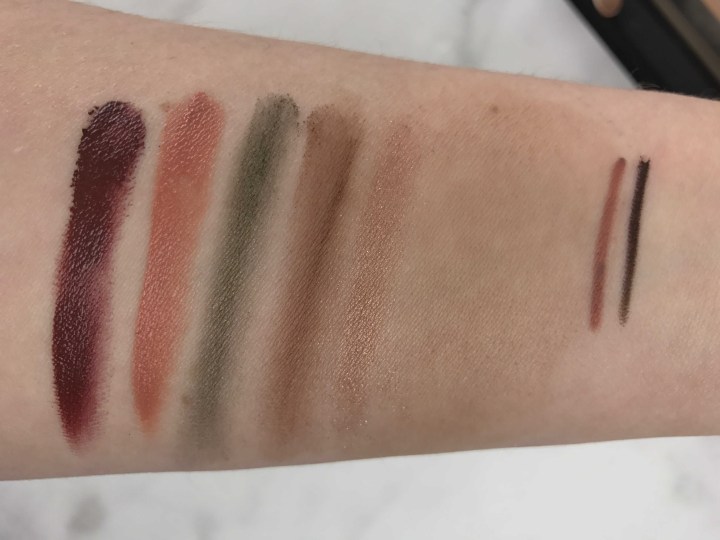 I got excited to do my face that I forgot to swatch the blush! From left to right – the two glosses, 3 shadows, bronzer, and the lip liner and eye liner.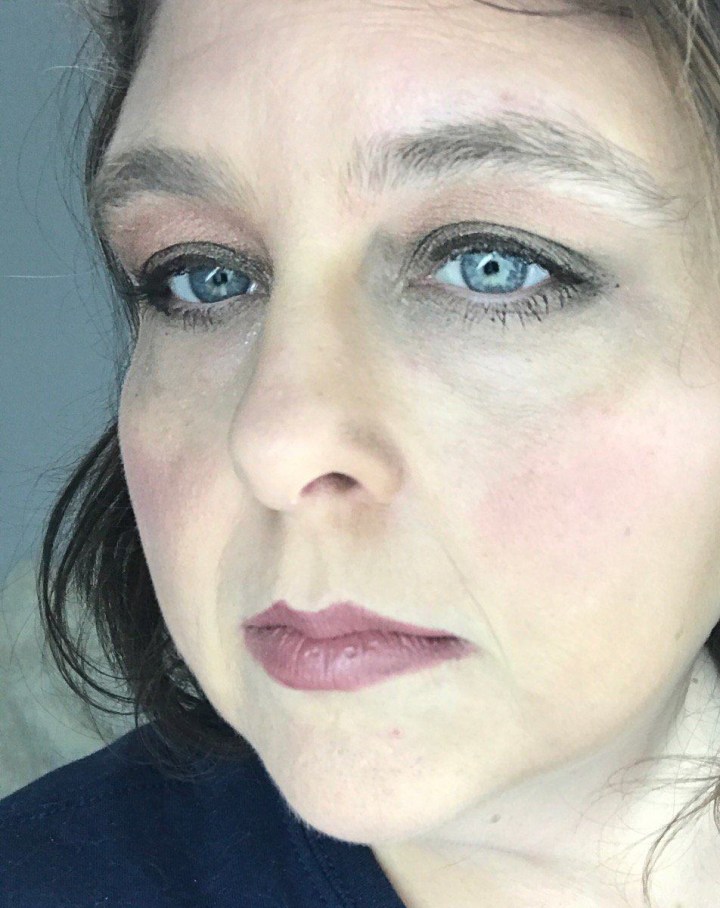 The day is saved – I did my face and took photos! Things got a little crazy because I just wanted to dig in and I used a 3″ diameter mirror to do my face. I grabbed a totally out of season foundation (it's my summer foundation, so a bit darker than my current skintone). I applied the contour on the non-existent hollows of my cheeks, on the side of my nose, and at my hairline, and at my jawline. I lined my lips with the liner, applied the dark shade with a foam applicator, and then patted the light shade on. In person, it looked a little more contoured, and I was very pleased with myself. The Irresistible shadow shade (sparkly left one) had a lot of fallout, so I applied it all over the lid. I followed up with Lucky in the crease, and Loot (the green) in the inner & outer corners, and underneath my lower lashes, then lined with the eyeliner, and topped with mascara. And then I patted the cream blush on.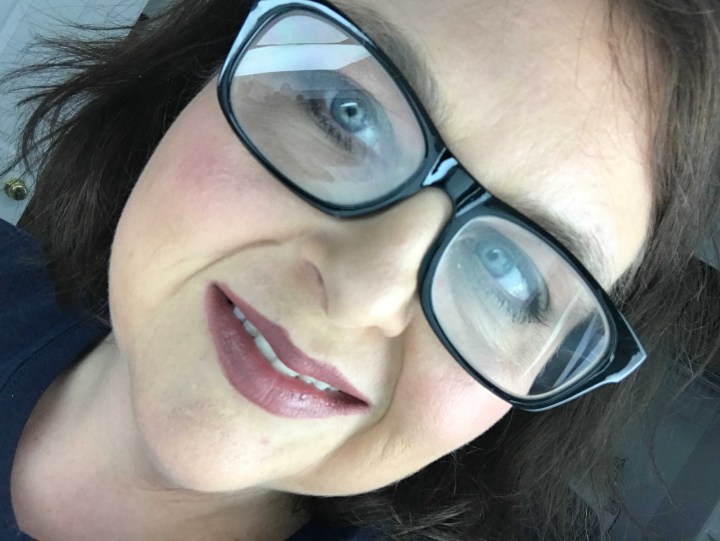 If my eyes seemed a little extreme for a daytime look, don't forget that I (still currently) wear glasses, even though I got Lasik last year (sigh). I was pretty pleased with this look, and I loved the colors. I was particularly pleased with the matte bronzer/contour powder, which was really excellent. Although my swatch used a puffy brush, I applied it with a flat, tightly packed brush, which got a lot of pigment in just the right areas.
I am not yet brave enough some of their suggested looks, at least for daytime. The total green lids is something that I would love to experiment with!
I'm a fan of makeup subscriptions that send high-quality cosmetics, suggestions, and tips for applying, and cut down on cheap makeup expenditures (i.e., I will always be a fan of drugstore mascara, but I'm a pass on all drugstore lipsticks!). The only thing I would really love to see changed is that the palette name isn't embossed on the spine, which would be useful in helping to organize.
Did you try out Deck of Scarlet? What did you think of this new subscription?