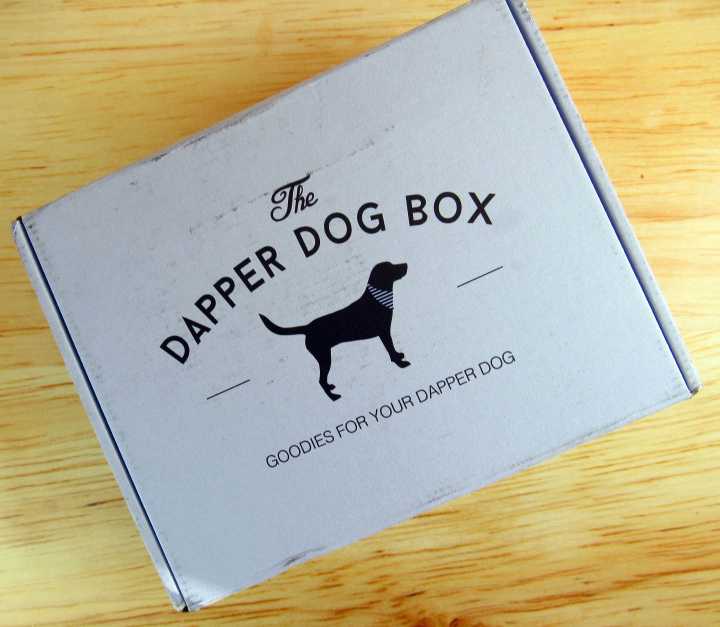 The Dapper Dog Box is the box for your best friend in the world. Organic and natural items are hand-picked for your dog based on a personalized survey. The Dapper Dog Box sources from passionate small companies that love dogs. $1.00 from each purchased box is donated to rescues. The regular sized box has 4-6 items with an average $50.00 value. The mini box has 3 items. Both versions offer free shipping. The personalized survey offers five different dog sizes, grain or no grain, and a section to discuss more about your dog such as allergies, heavy chewer etc.
DEAL: Take $10 off your first purchase with coupon code HELLODAPPER.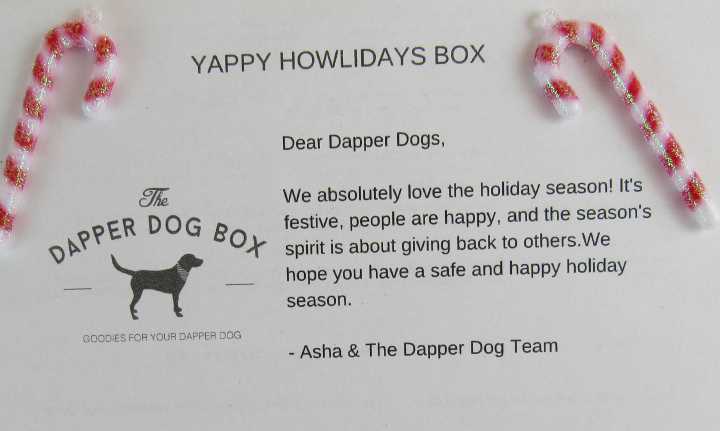 The theme is 'Yappy Howlidays.' The doggies can't wait to see their toys and treats.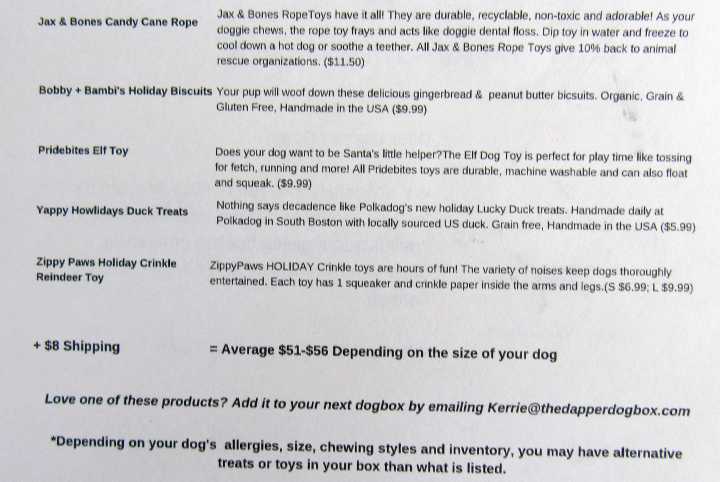 The information card contains the items, descriptions, and prices.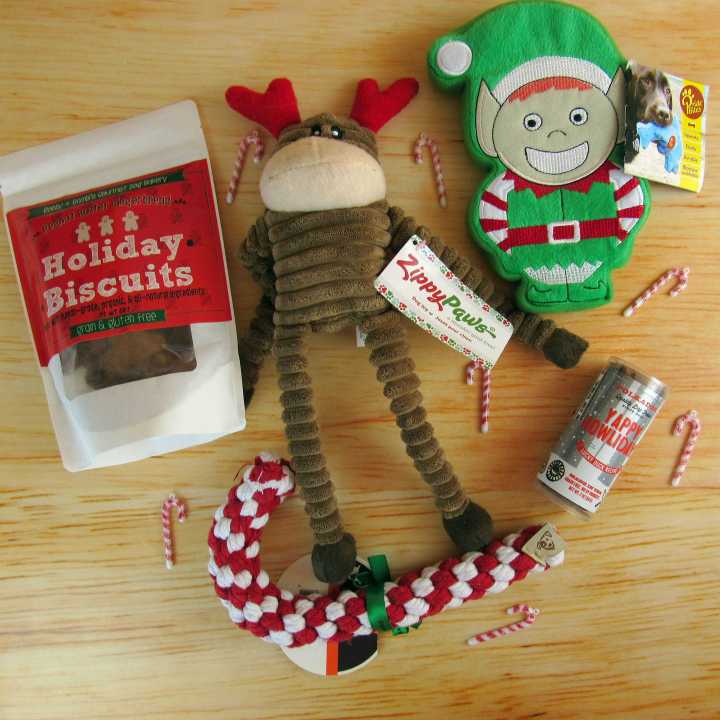 Here are the items in the December The Dapper Dog Box. The dogs will soon be waiting for Santa Paws to come! I adore the holiday theme and can't wait to watch the dogs enjoy their treats and toys.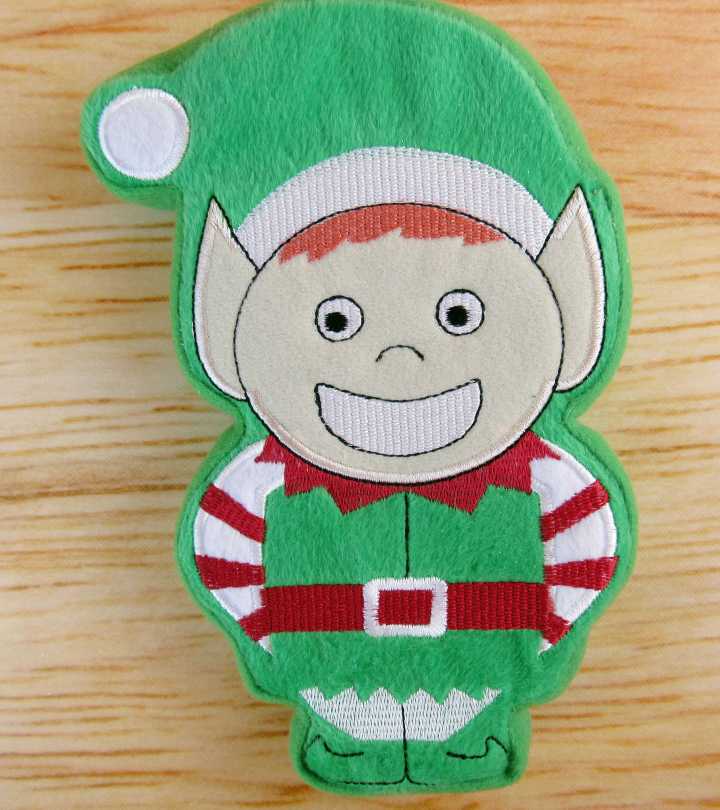 My husband thought that the PrideBites Elf Toy ($9.99) was a leprechaun. Wrong holiday, honey! The durable toy floats and can be used for tug of war and fetching. Odie, our Borader, enjoyed playing fetch while Bella, our Mini Rat Terrier, was determined to destroy it.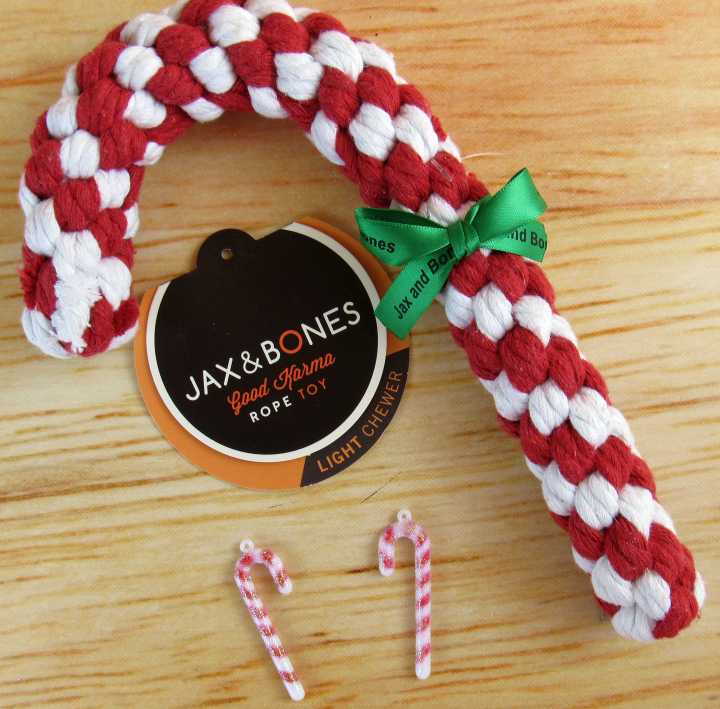 My favorite toy is the Jax & Bones Candy Cane Good Karma Rope ($11.50). It's a unique toy that is hand tied and dyed with non-toxic vegetable dyes. It's designed for light chewers and will eventfully be destroyed while being used as a natural dental floss for those big teeth. 10% of the proceeds are given to rescue and animal welfare groups. All three dogs enjoyed playing with it and chewing on the toy.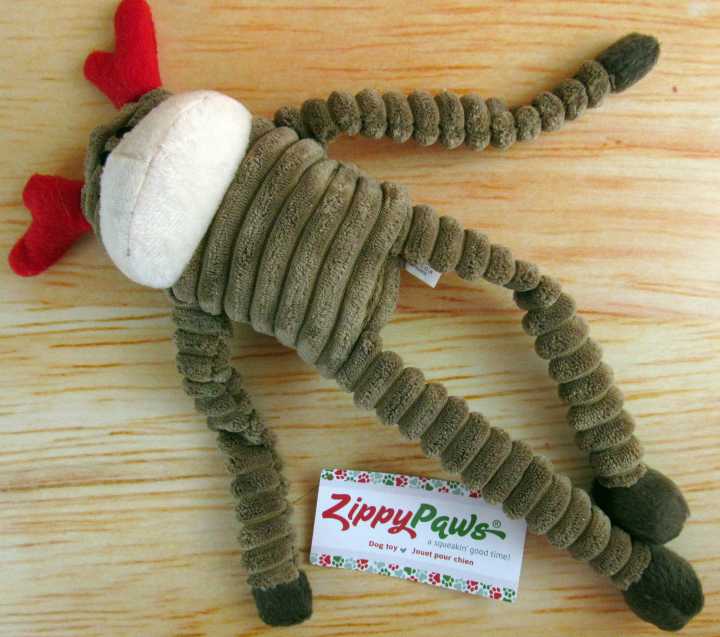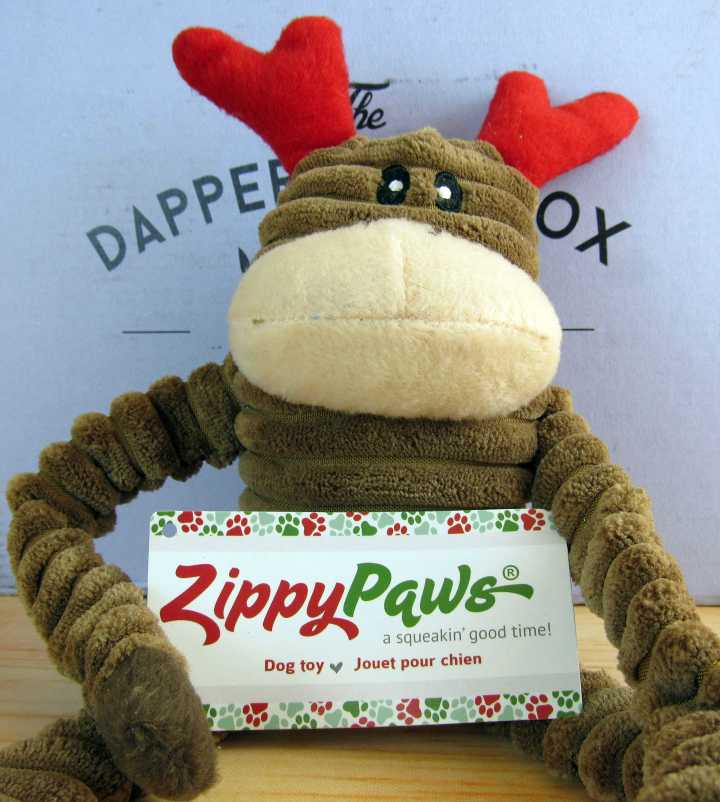 Odie loved the Zippy Paws Holiday Crinkle Reindeer Toy ($7.39 on Amazon). It squeaks, crinkles and is perfect for a good game of tug of war. It's the ideal sized toy for Odie and Bella to play together.
I want to try the Made in the USA Bobby + Bambi's Gourmet Dog Bakery Peanut Butter Gingerbread Holiday Biscuits (6 oz, $9.99) because they smell woofalicious. The wonderful scent of gingerbread also enticed the dogs. Organic and natural human-grade ingredients come together in a commercial kitchen to create adorable biscuits that are free of grain, gluten, wheat, and egg. They are a wonderful treat for the doggies to enjoy during the howlidays.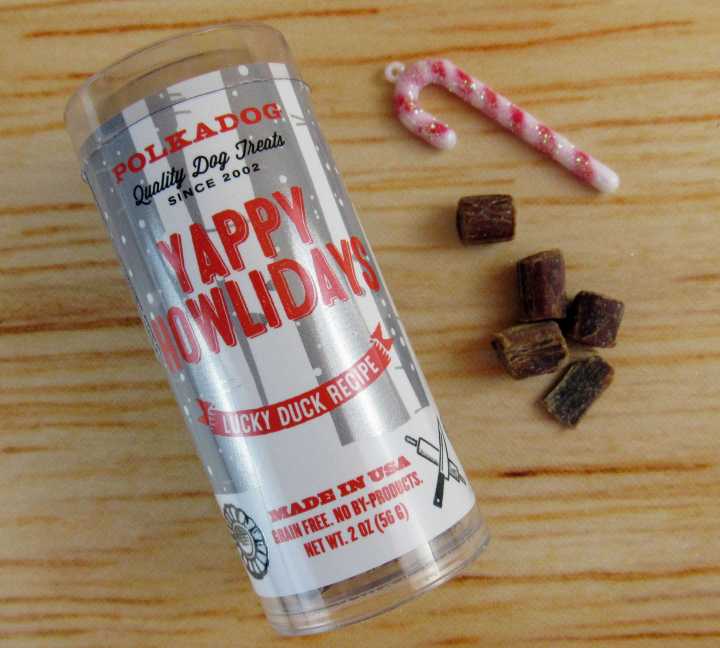 Our dogs LOVE Polkadog Bakery products. The Polkadog Yappy Howlidays Lucky Dog Recipe Treats (2 oz, $5.99) were a big hit with the dogs. The treats are made in the USA with locally sourced USA farm-raised duck. The treats are handmade daily and contain only three ingredients which are duck liver, potato flour, and honey.
Time to see what the dogs think of the box! Odie and Bella are on an old comforter and are photographed in natural light. He looks a little stressed because he visited his former family over the Thanksgiving holidays. Daisy posed for a couple of  pictures when she came back from the farm.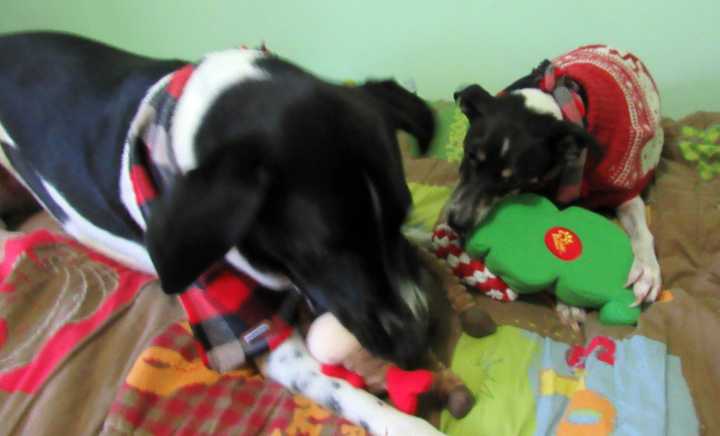 Odie and Bella are wearing matching bandanas from the November The Dapper Dog Box! Odie is enjoying chewing on the reindeer while Bella can't decide between the candy cane or the elf.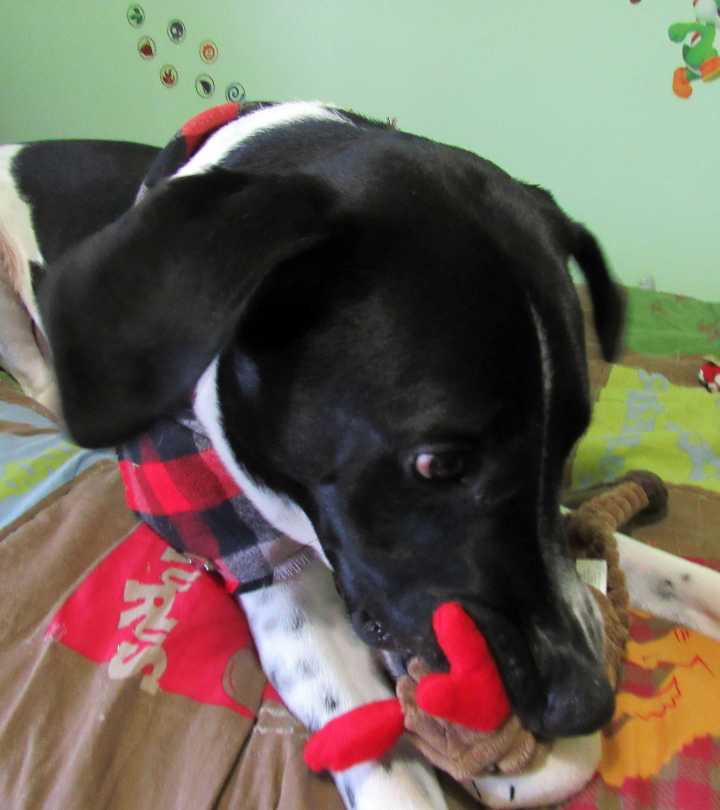 Odie is cautiously watching Bella because…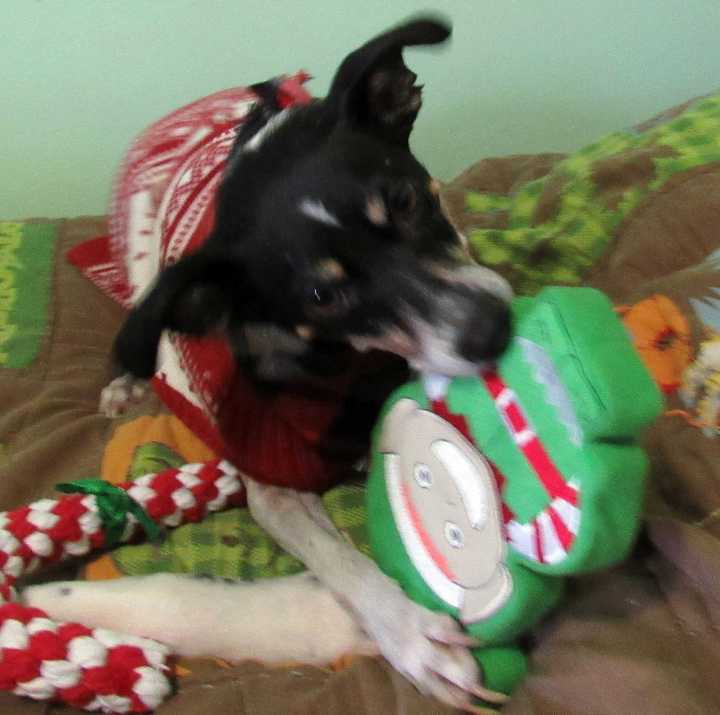 She was showing off some serious Rat Terrier moves with the elf toy.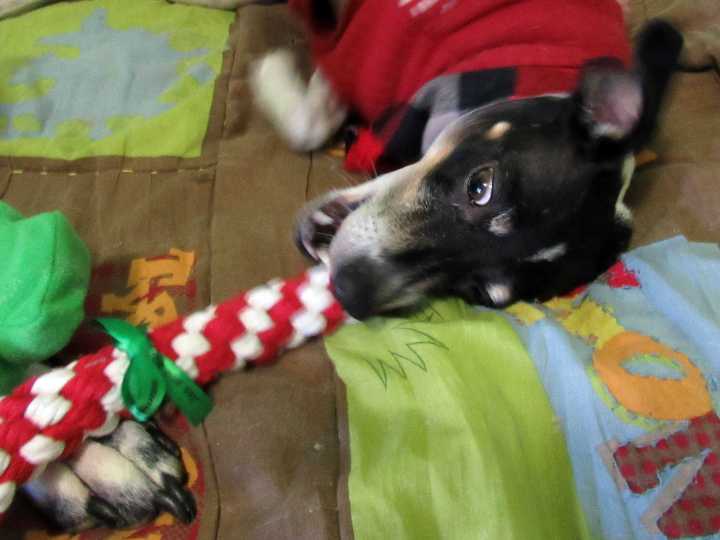 Bella is asking Odie to play tug of war with the candy cane. His paw looks huge near her head. Bella is a smidgen bigger than our male cats.
Odie and Bella love playing tug of war together.
They will race through the house while playing tug of war. They are a blast to watch.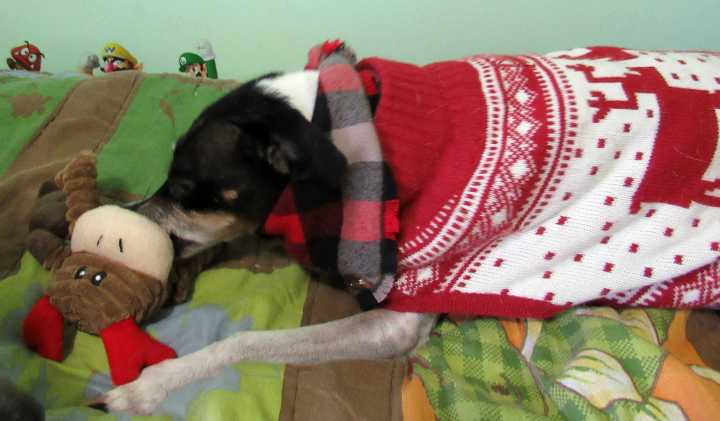 Bella won! She can be quite fierce when needed.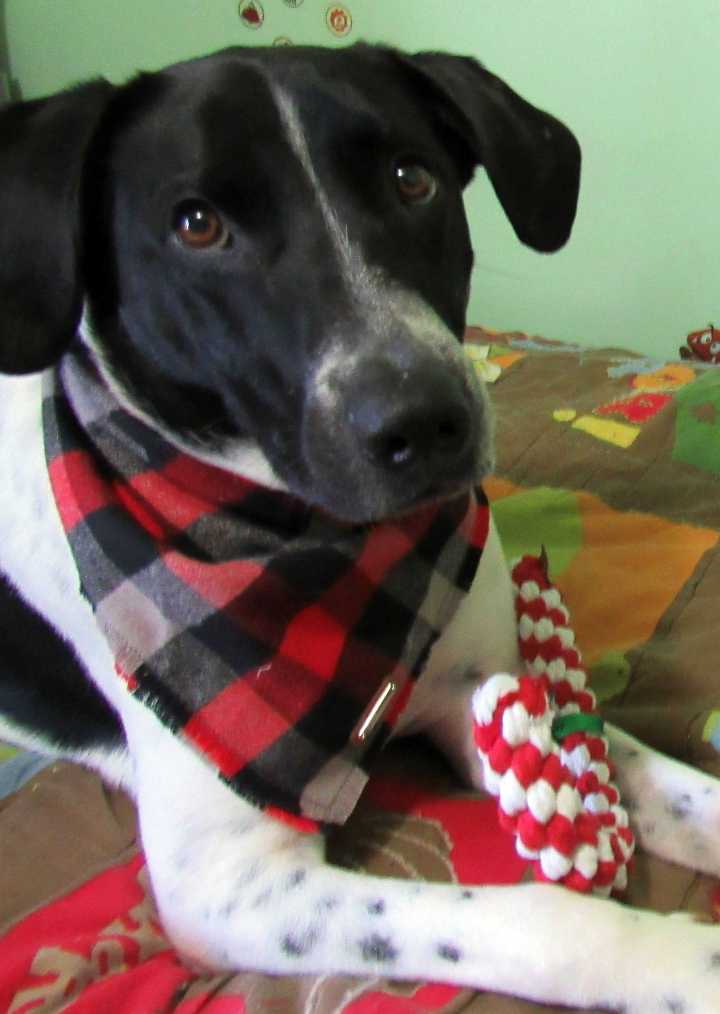 Odie is staring at me because he knows snack time should be coming up. He was a tired pup from visiting his former family.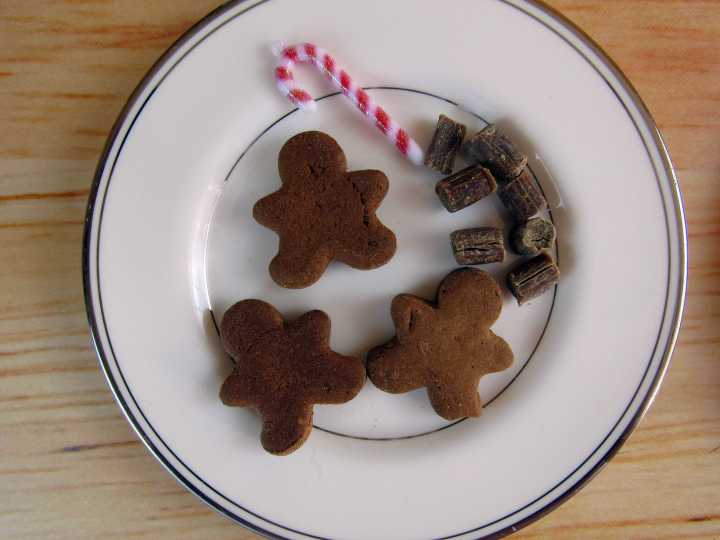 I removed the candy cane before serving Odie his treats. All three dogs howled that they were woofilicious.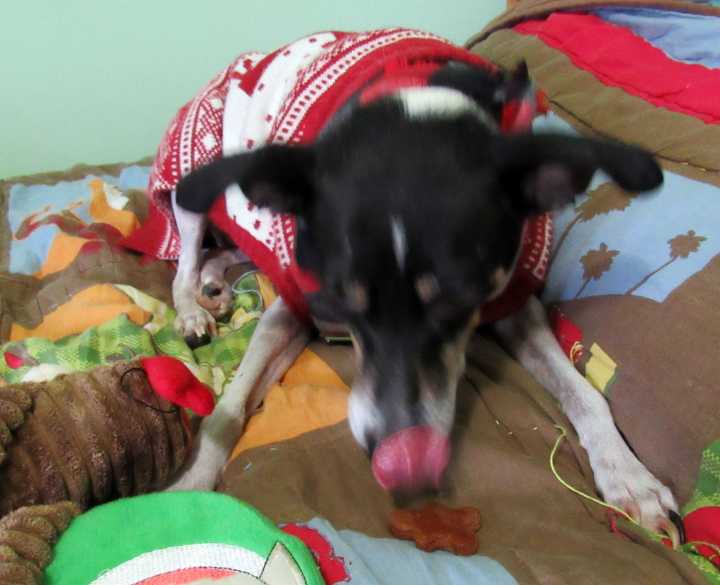 It's hard to capture a good picture of the dogs enjoying treats without them looking like crazed dogs with giant teeth! Bella is showing her appreciation.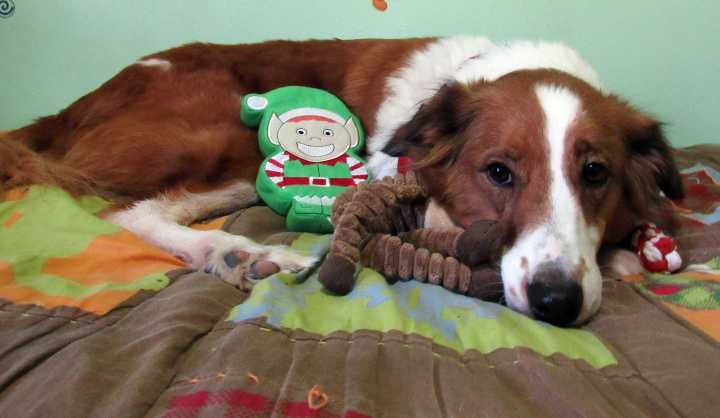 Daisy posed later. She felt that the reindeer and candy cane were acceptable and did not want anything to do with the elf. Yet the Poop Emojiz from the November Box still lives under my bed. She likes to sleep with her babies at night.
She is an English Shepherd and is a serious dog. She's been showing interest in catching toys lately. I suspect she views the camera as work. She loves to work and help out. She caught the candy cane even though she still can't jump. She had fun playing fetch for a few minutes.
The December The Dapper Dog Box provided the dogs with a Yappy Holiday! The box was beautifully themed with the toys and treats. Odie and Bella enjoyed playing with the elf and reindeer toys.  Daisy moved the candy cane toy to her dog bed. All three dogs loved their treats which have been consistently outstanding The product value of the box came to a little over $44.00 using discounted prices which is excellent for the type of items that are in the box. The overall value is over $52.00 when including the $8.00 shipping costs. It's an excellent box for dog owners that want a customized box with a focus on organic and all natural toys and treats.