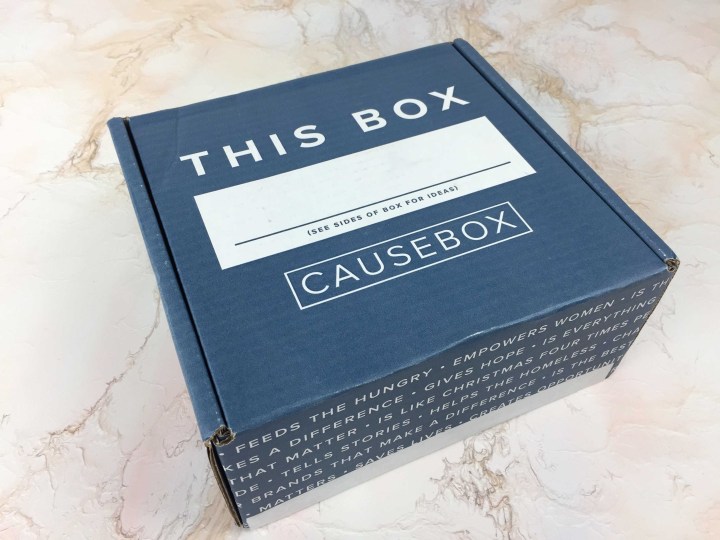 CAUSEBOX is a quarterly subscription box curated with their socially conscious products for women. In each box you'll receive 5-8 seasonal lifestyle products that are focused on ethical and sustainable production, donate a percent of profits to charity, or aim to inspire and empower others.
FYI – The Christmas shipping deadline is tonight, December 13. We plan on updating this review with a few extra photos, but wanted to post it in case you were looking for a great, meaningful holiday gift!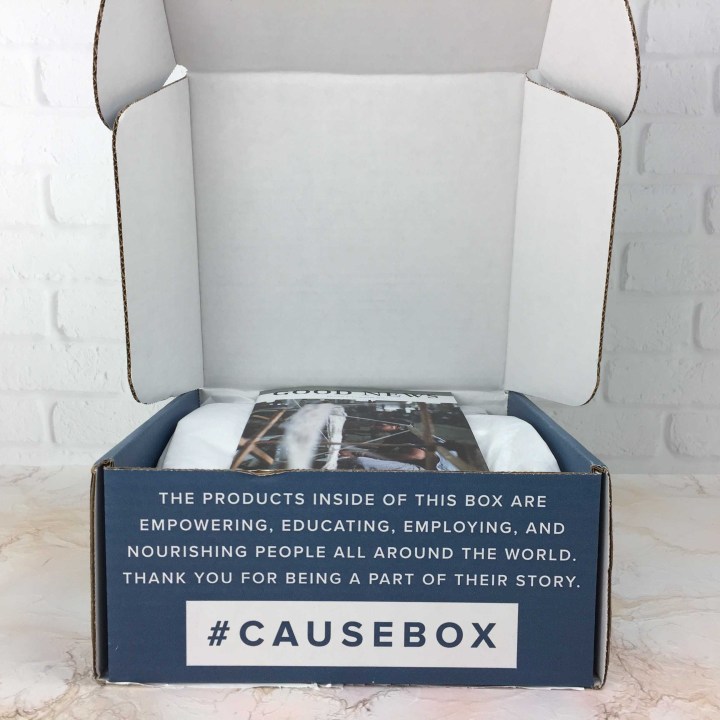 DEAL: Save $10 on your first box with coupon code WINTER10!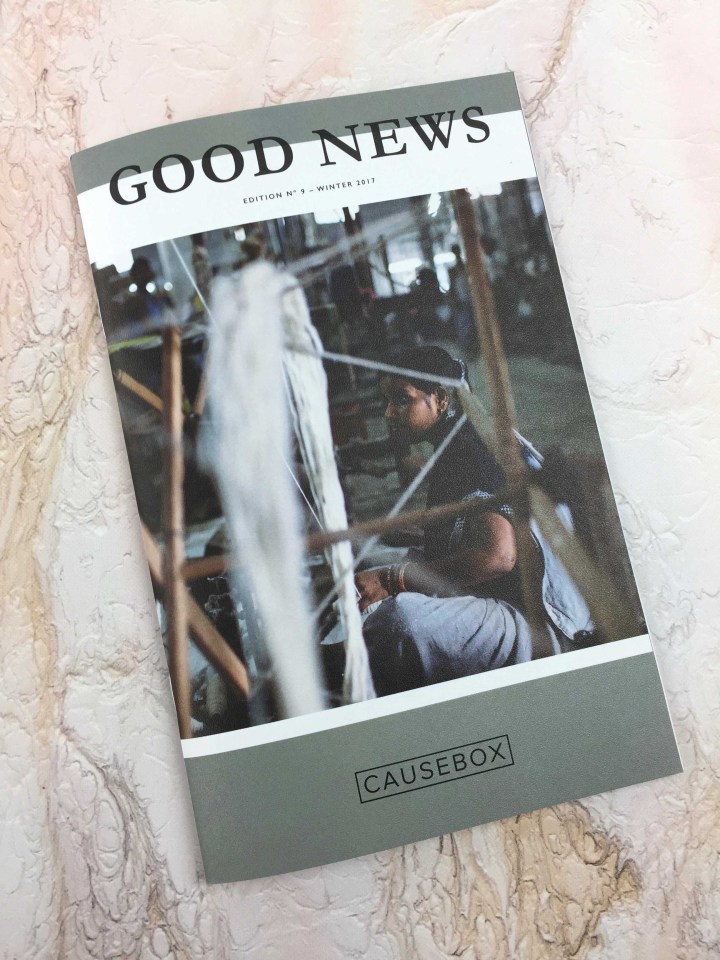 There's a mini magazine included in this box with all the item info.
The makers of the products are also featured in the magazine, which details the stories and causes behind each item!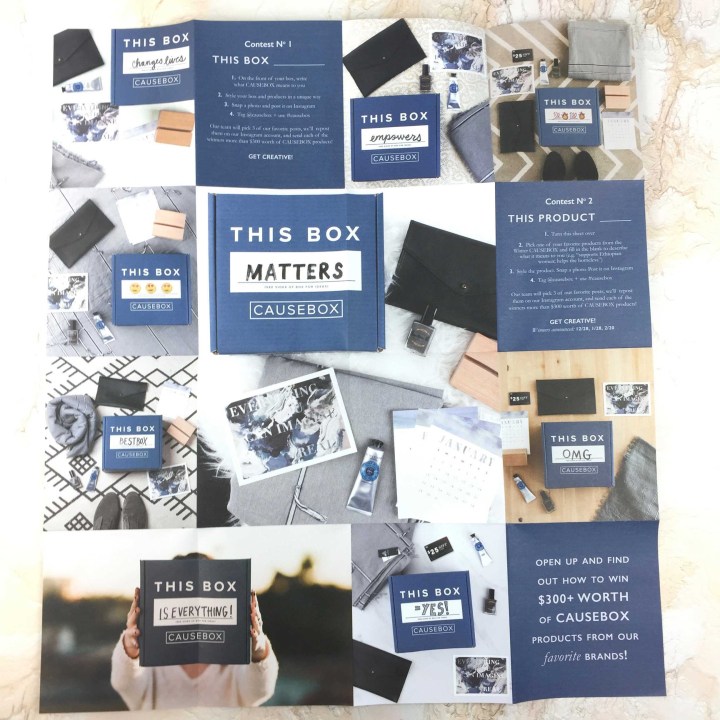 You can enter one of the CAUSEBOX contests using this sheet.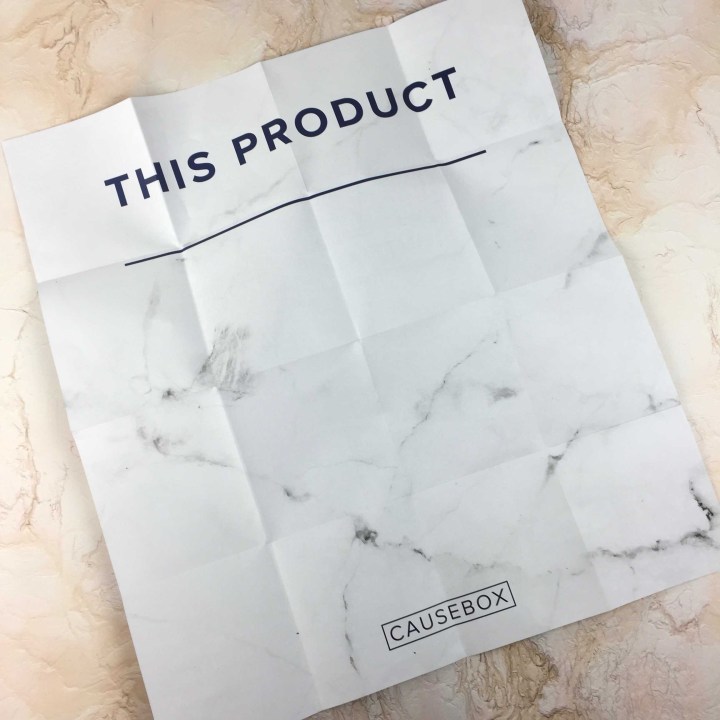 $300+ worth of CAUSEBOX products can be won when you tell them why you love their products! Let CAUSEBOX know what the box means to you by writing on the lid and showcase the individual products on the sheet.\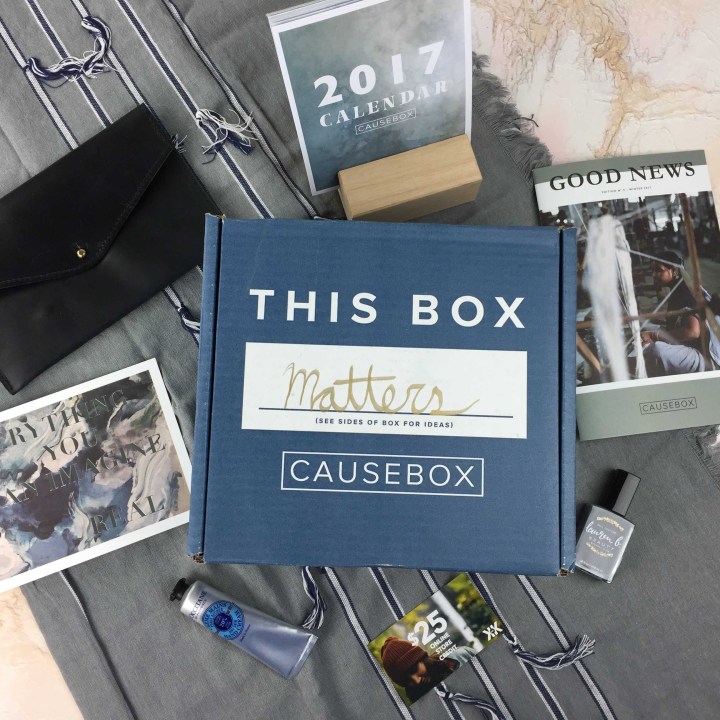 Admission: My husband tried it out but we can all agree that his handwriting has a lot to be desired. #NotInstagramWorthy

Everything in the Winter 2016 box! The meaningful items in your box will make you reflect, bring some beauty in your life, and benefit social programs.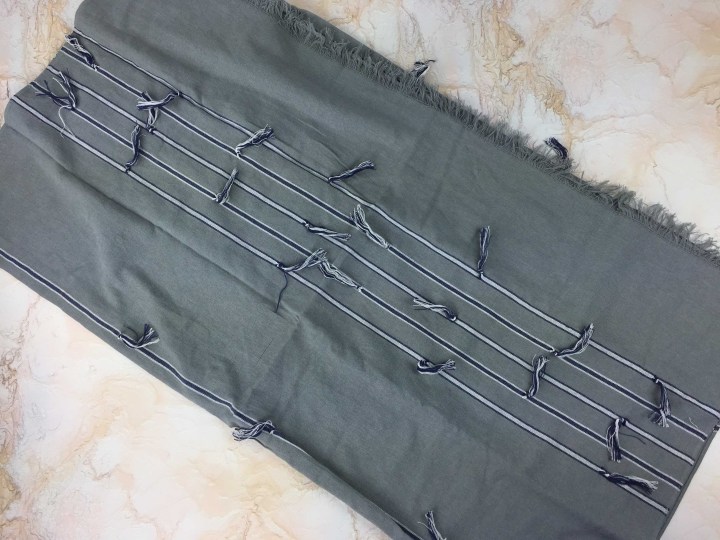 Tribe Alive Scarf  ($78) When we unboxed this we didn't realize that it was a scarf!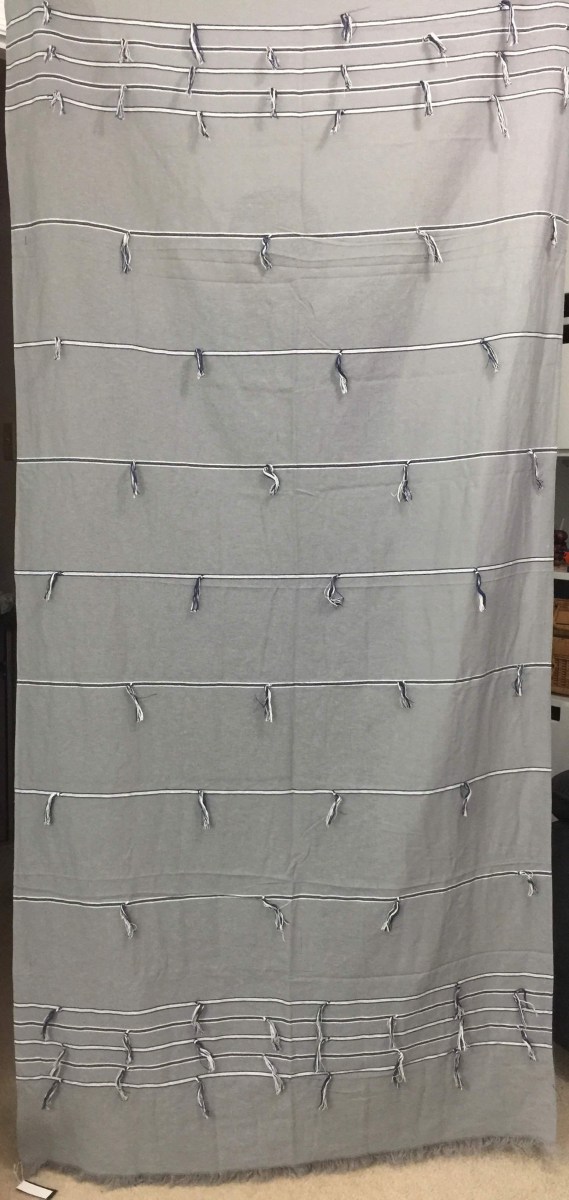 We thought it was a giant, oddly tasseled Turkish towel.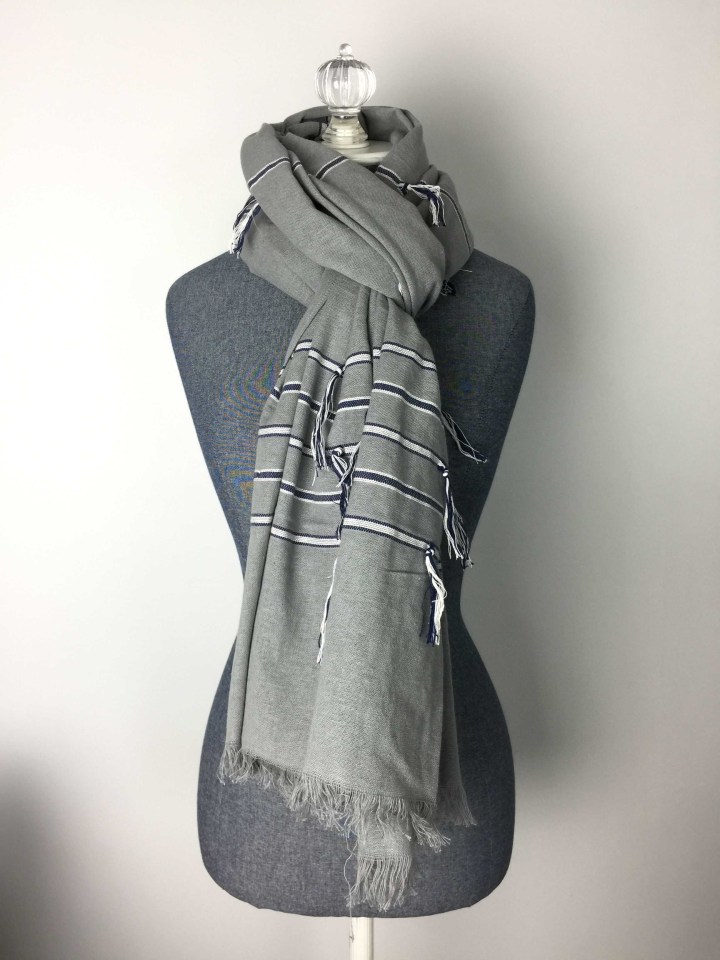 But it turns out that it's a scarf!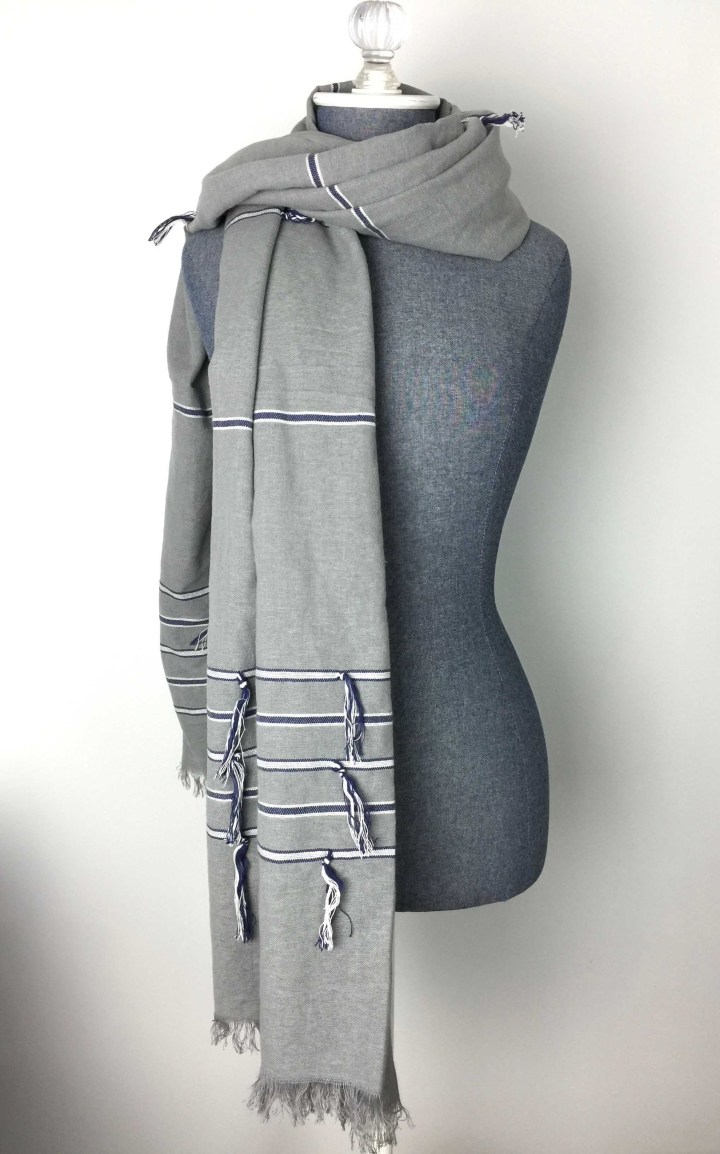 It's a scarf that provided employment and opportunity for 42 in Jaipur and Panipat, where they hand spool the thread, hand weave the fabric, then hand sew and hand tassel every inch.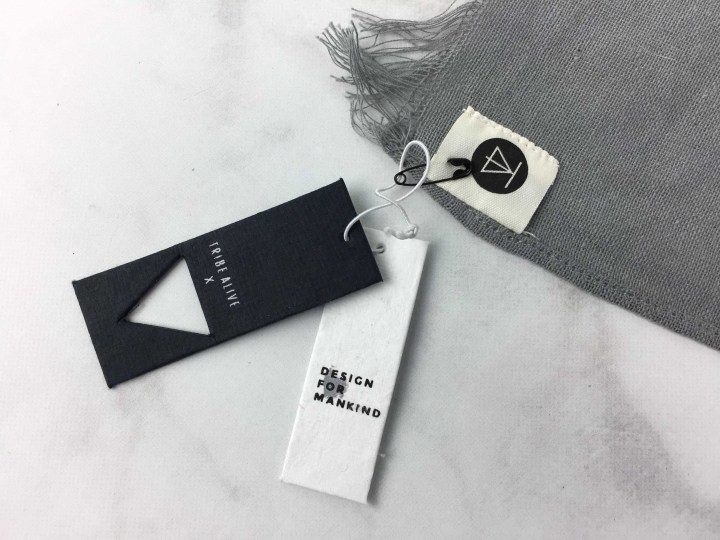 The tag tells a story, too – it's made of recycled clothing that would otherwise end up in landfills.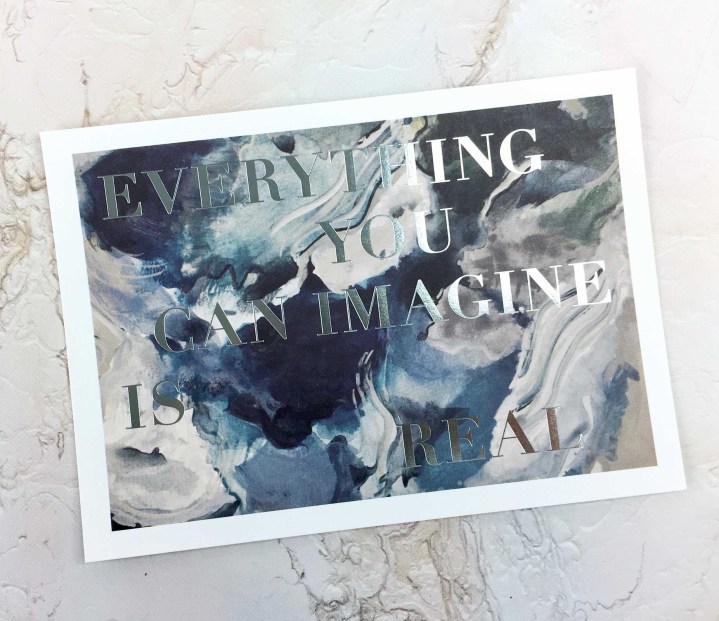 Courtney Pilgrim Print ($15?) Everything You Can Imagine Is Real. We love the moody abstract art juxtaposed with the silver foil. And I love that I can count on CAUSEBOX to send me a foiled print most times!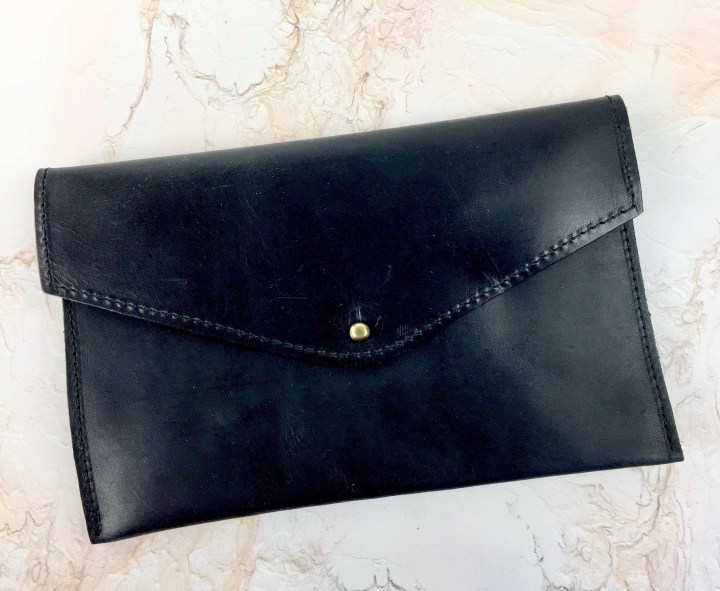 Parker Clay "So Much More Than A Clutch" Leather Clutch (based on the items in their shop, I'd say about $70)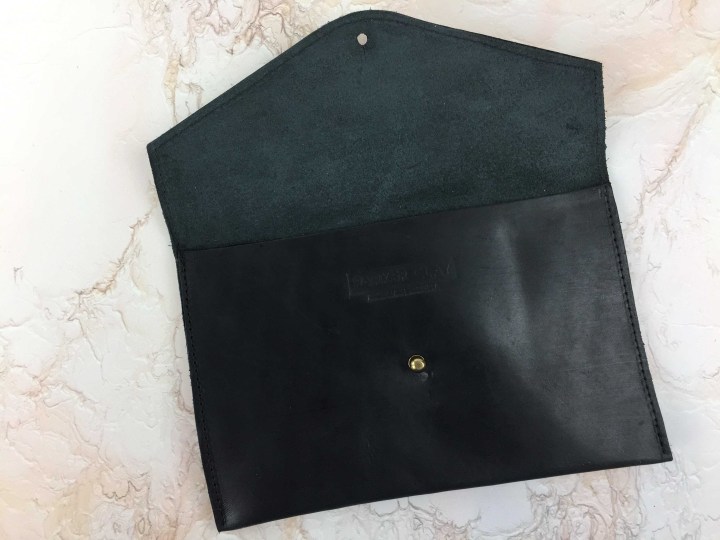 Parker Clay makes all of its products by hand in Ethiopia. Every item proudly bears that notice!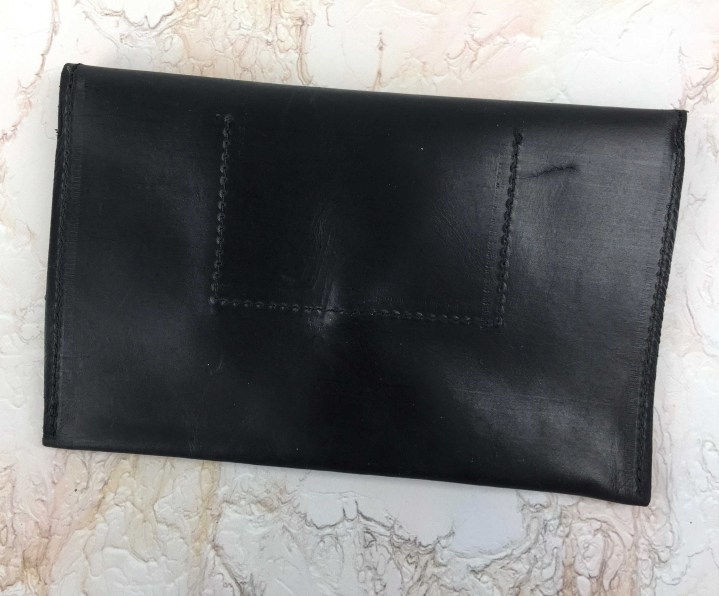 The workmanship is impeccable.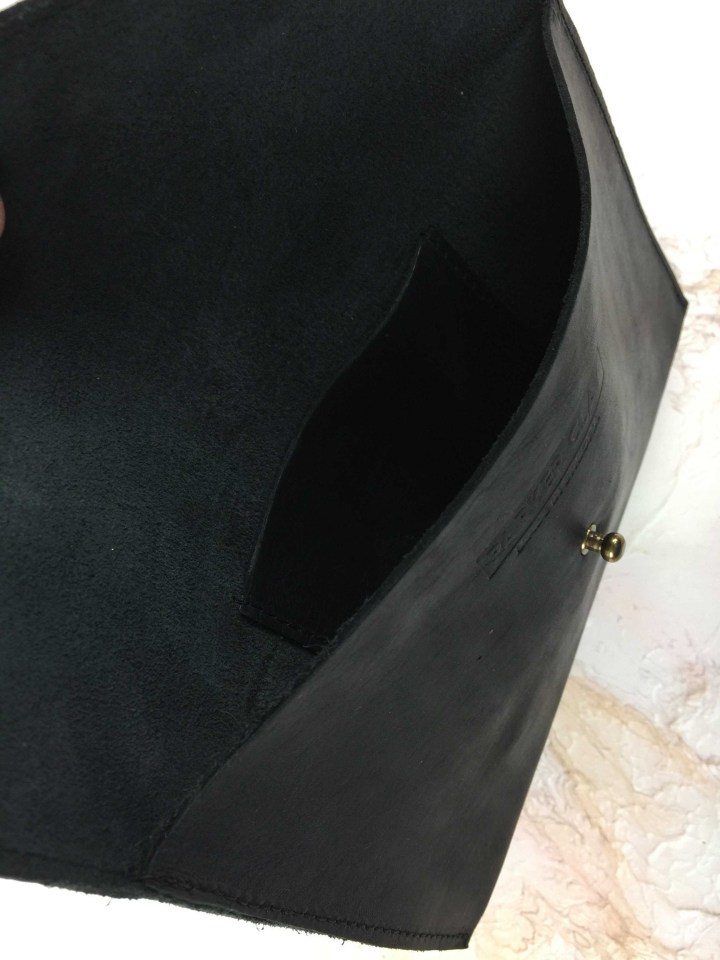 The clutch has a useful interior pocket. Everything about it is gorgeous, from the quality of the construction to the hardware to the leather – and the story behind it. There's 2 pages in the included magazine about the resilience of the Ethiopian workers who create these goods, it's worth reading every word.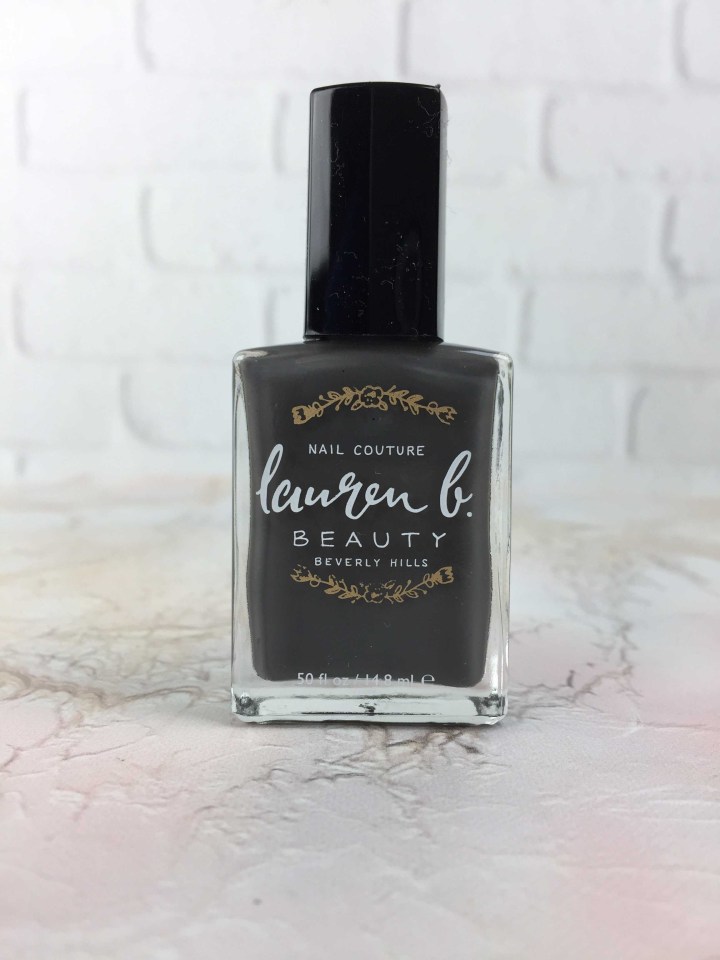 Lauren B. Nail Polish ($18) I love this nail polish brand, which also happens to be vegan and eco-friendly, free of DBP, toluene, formaldehyde, and camphor. The color is LA Smog and it's perfect (I love the chic gray vibe for winter!).
It's described as A hazy pale gray with dusty green undertones – soft, ethereal and exceedingly cool.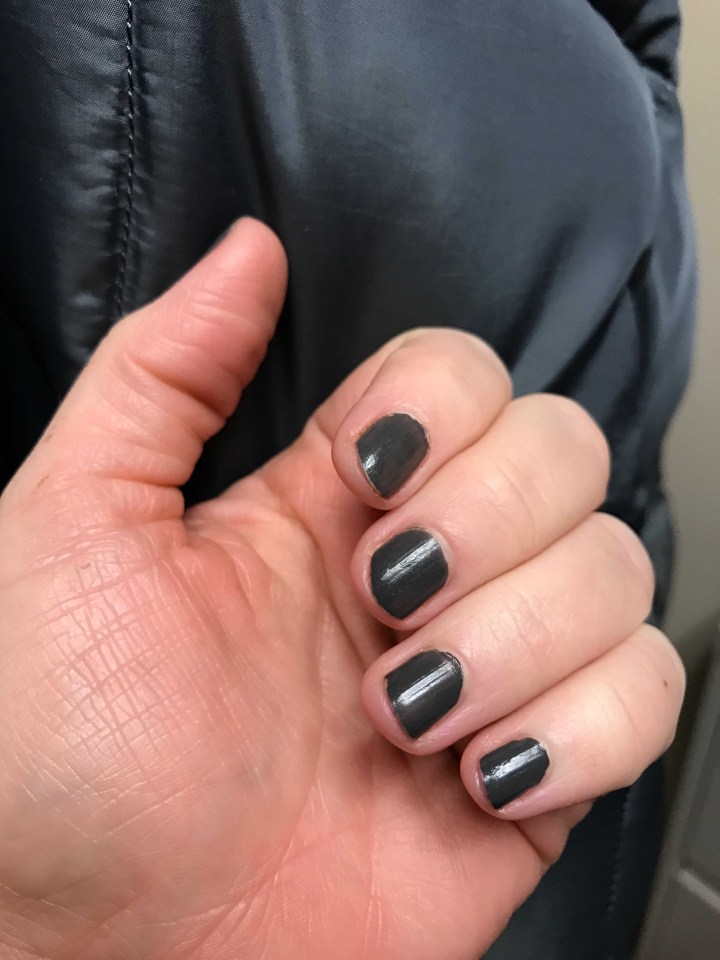 Yes, I'm so jazzed, it matches my coat!
The magazine also notes this brand's Chrysalis Collection, which donates 20% of the proceeds to charity, but this polish color isn't part of this $75 set.
One of the items is a $25 online store credit to Krochet Kids. "Each KK Int'l purchase provides life changing jobs, education and mentorship to women living in poverty"! Every item is signed by its maker so you can discover the impact for yourself.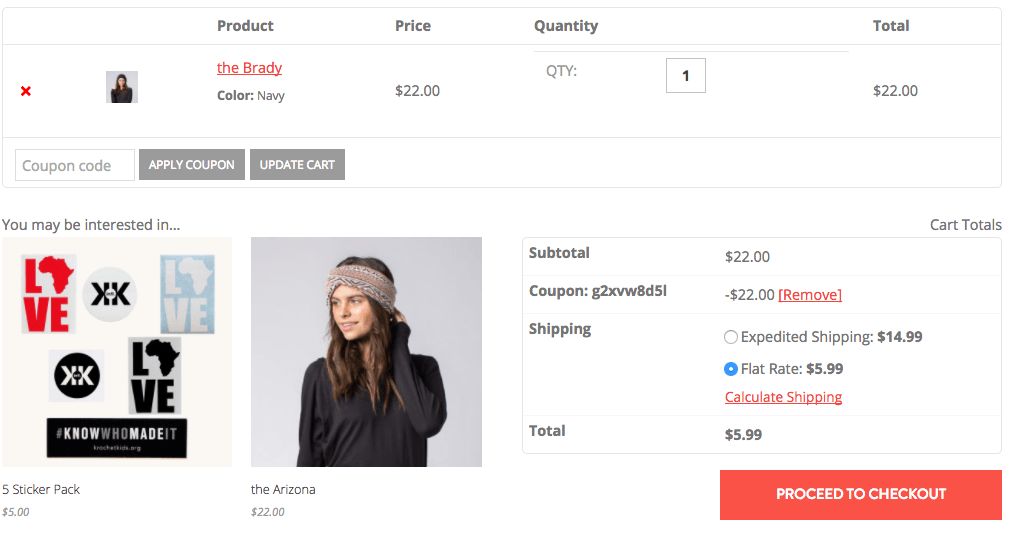 The credit doesn't apply to shipping, which is $5.99 flat rate for the normal shipping, so you'll need to spend $6 to redeem it.
The Hayley is a $24 beanie that's just begging to be redeemed with this code!
Trees for the Future X 2017 Calendar ($20?) This calendar features 12 different cards, each with a slightly different header. Just move the correct one to the front and you've got a new desk calendar.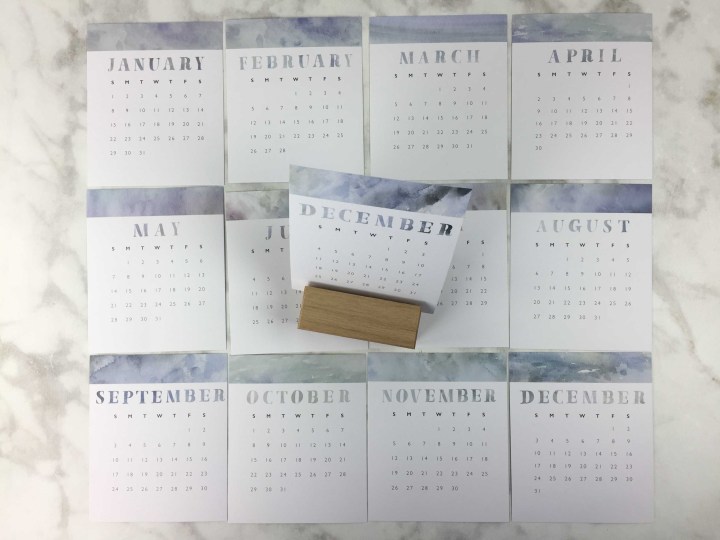 Plus, for every wood block made, trees are planted in partnership with Trees for the Future. Their Forest Garden Program enables families in sub saharan Africa to help escape extreme poverty by providing essential gardening resources and education.
L'OCCITANE Shea Butter Dry Skin Hand Cream ($12) This was a bit of a surprise item! I think subscribers will be surprised to find out that L'OCCITANE has changed so many lives of the women who cultivate the shea nuts used to create shea butter and some of the best beauty products in the world. This is the rich 20% version, which also uses honey, almond extracts and coconut oil to soften hands, leaving them smooth and sweetly scented. Love this!
The value of this box was really fantastic – about $213, not including the Krochet Kids gift card. The pouch was the clear highlight for me, but I loved all the other items. I found the magazine content particularly interesting this month too. I'm not crazy about having to pay shipping to redeem a gift card that's supposed to be part of a box, but for this subscription that's so focused on connecting subscribers with artisans and brands that support those causes I will happily make an exception.
What do you think of the Winter 2016 CAUSEBOX?