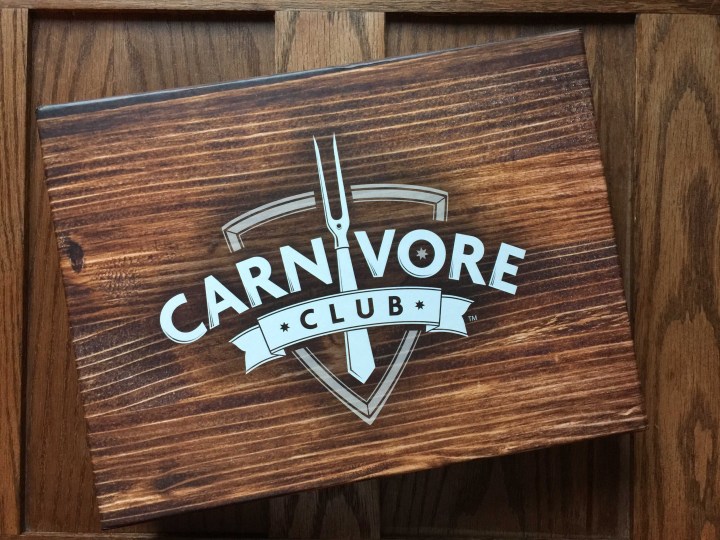 The Carnivore Club delivers high-quality meat selections, right to your door! That's all there is to it – it's a simple and beautiful thing. A box of meat. This month, the selections are from Angel's Salumi & Truffles which was founded in 2010 by Pascal Besset, an Executive Chef from the south of France. Alas, there were no truffles in this box, but there was plenty of good salami!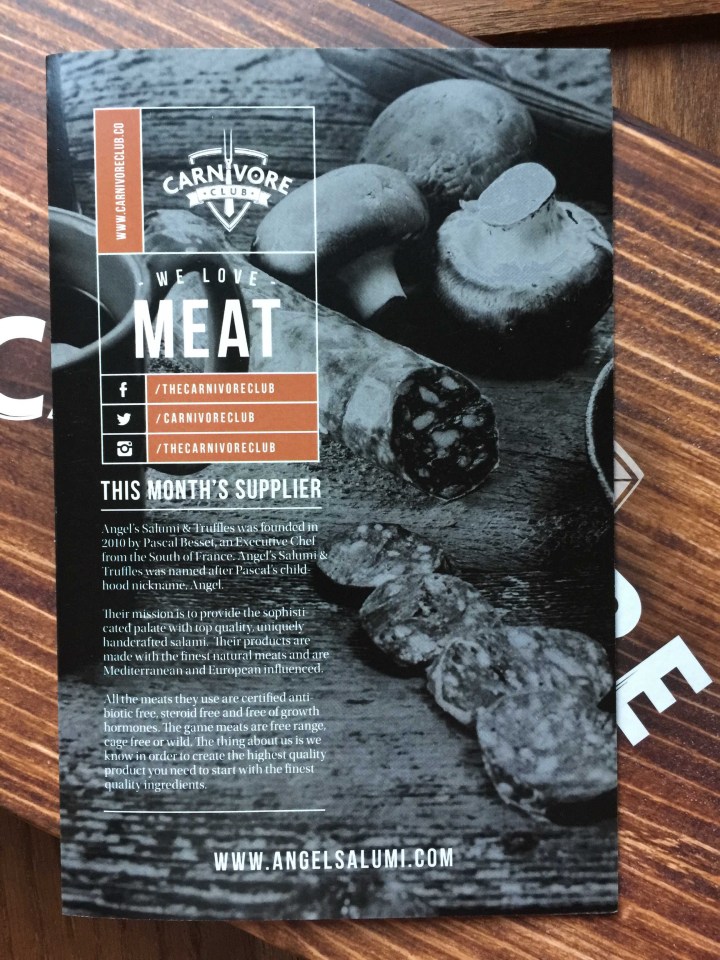 As usual, Carnivore Club sends a handy guide to the meat they've included in this month's box.
The guide gives you some background information on the artist featured in that box, as well as some descriptions of the selection. I found their tasting notes to be fairly accurate and it's always nice to get a little preview of what you'll be tasting.
This month there were four selections: a Sliced Duck Prosciutto, a Toscano salami, French Rosette salami, and Nostrano salami. All looked good and I was anxious to try them (especially the Duck Prosciutto).
So on to the meats!
First up was the Duck Breast Prosciutto. I've found that most people who have had duck either love it, or hate it. And if you love duck, you'll love this. If not, if you're one of those folks who think duck is too greasy, well, this is probably not for you. That's okay, more for me.

See that shine? All duck fat, man. Delicious, delicious duck fat.
Sliced Duck Prosciutto
What They Said: Dry cured duck breast, pre-sliced and ready to eat, is a delicate and incredible meat with a pure line of flavorful fat that will literally melt in your mouth. If you can manage not to devour it all in a single sitting, try duck prosciutto wrapped seared scallops or shrimp for a gourmet flavor experience.
What I Say: The fat really does just melt in your mouth. It's delicious. If you don't like fat, you're not going to like this. But if you love that flavor melting on your tongue and then the duck meat itself… wow. You are not going to be disappointed. I can imagine, like the description that this would be great with scallops or shrimp. But you know what? I was not able to stop myself from devouring it in a single sitting. I had help from a co-worker who simply said "Mmmmm… " as his eyes rolled to the back of his head, so, yeah. I think it's pretty great.
This box was off to a pretty good start. So on to the salami!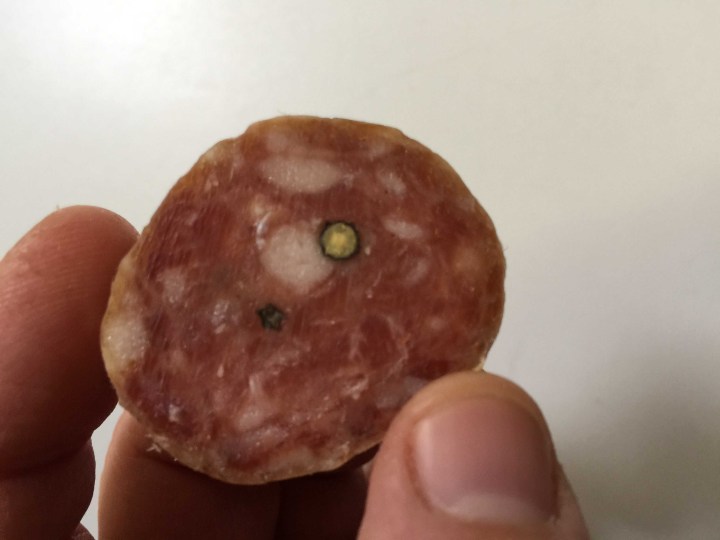 Toscano
What They Said: A classical version of a traditional Italian salami, the Toscano has a familiar, hearty flavor. Created with a Berkshire pork, black peppercorn, white wine and fresh garlic, it will make you think of home cooked Italian food and good company.
What I Say: This is a good, solid salami. The pork is excellent, with good flavor, and I did pick up on a hint of garlic, but I didn't really get any white wine. Unfortunately, on my second slice, I bit into a whole peppercorn. Happened a couple of times on this one – which isn't horrible – I love pepper, so I didn't actually mind. It made it a really great, peppery salami. But that also overpowered any other flavors trying to get through. Ironically, it made it more peppery than the Nostrano which is supposed to have a peppery taste.
French Rosette
What They Said: Angel's Salumi makes a fabulous, all-natural traditional French Rosette. This is a Classic French Rosette de Lyon, with a sweet cascade of flavor, including clove, nutmeg, garlic and white wine. The Rosette pairs perfectly with a red wine or white burgundy, plus some freshly baked baguette!
What I Say: Easily my favorite of the three salumi. I'd never had a "Classic Rosette de Lyon" before, so I don't really have a basis of comparison, but this one did France proud. The pork was excellent, and the flavor profile was just outstanding. I was worried that the clove/nutmeg would overpower it, and it would come off as some kind of Christmas salami nightmare. But in truth, the clove/nutmeg are very subtle and really enhanced the pork, without masking it.
And finally, I moved on to the Nostrano.
Nostrano
What They Said: Evoking the flavor of Northern Italy with coarsely ground Berkshire pork, black peppercorn, and red wine, this Nostrano salami has a mild peppery taste, perfect with melon and figs.
What I Say: This was another solid offering. It was not as peppery as the Toscano, although, that could be because of my experiences with the peppercorns in the Toscano. Overall, this one was really, really mild to me. I didn't think it was a standout, the pork is good, and it had some mild pepper and a hint of the wine, but overall, if I had to describe it in three words, I'd say, "You know… salami." It didn't wow me with flavor, but I certainly would not turn it down. It struck me as an average-tasting, decent quality salami. It'd be great with bread, and I wouldn't hesitate to put it out with other salami and cheeses, but I probably wouldn't go out of my way for it, either.
So, there you have it! Another fine box o' meat from the folks at Carnivore Club. The clear winners from this batch, for me, were the Duck Prosciutto and the Rosette. Both were really delicious and well worth seeking out to taste. Angel's Salumi & Truffles produced some fine salami and I'm glad Carnivore Club featured them so I had a chance to sample their wares–especially the Duck Prosciutto, which is going to make it on my "gourmet meat" shopping list for sure.