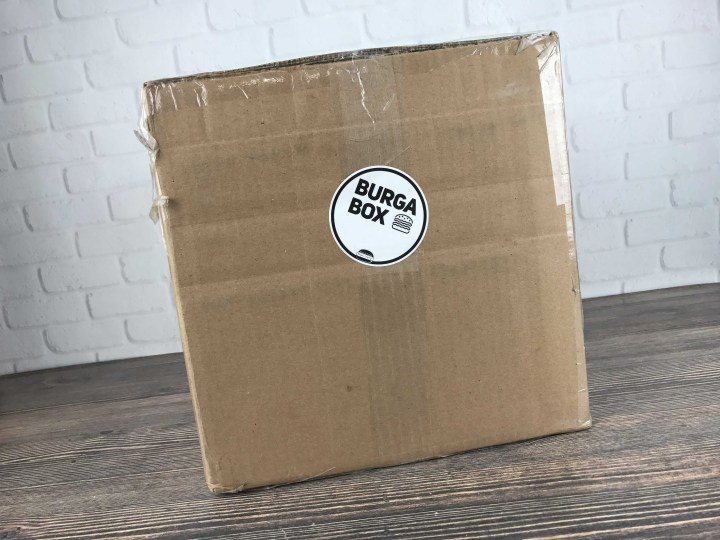 Your chance to create and taste one of those ridiculous burgers on Instagram is now here with BurgaBox! Every month, you'll receive a box with all the ingredients and instructions to cook your own burger, created by celebrity chef, Paul Malvone – plus some incredibly delicious sides. Everything you get in your BurgaBox is something they serve in one of their three Boston area restaurants, so you know every recipe has been tested and enjoyed by thousands.
Note: This subscription has a monthly box, but you can also get the one-off box shown in this review for $65. Makes an awesome gift!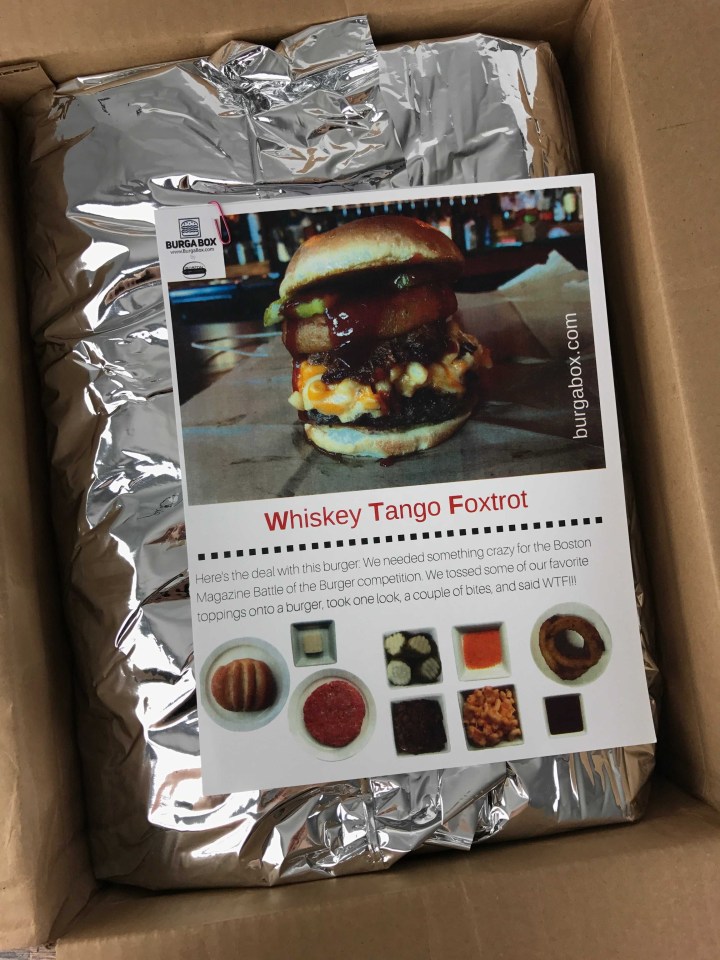 Our inaugural BurgaBox had everything we needed to make the aptly-named Whiskey Tango Foxtrot burger!  The card has a visual inventory of the burger ingredients, plus step by step instructions for cooking your burger, heating your toppings (when needed), and assembly your monster burger.
BurgaBox insulates the food with padding filled with recycled thread material, and everything is neatly jarred, bagged, or boxed.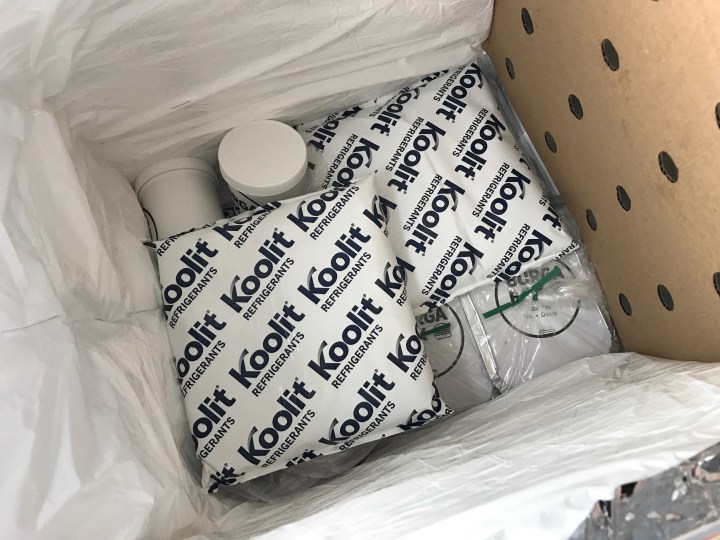 The meat and large trays were packed on the bottom, underneath a few big ice packs – the rest of the food is set on top with more ice. When we unpacked the box we actually commented that we could've left it overnight without unpacking because it was so well iced.
All the ingredients to create this month's burger!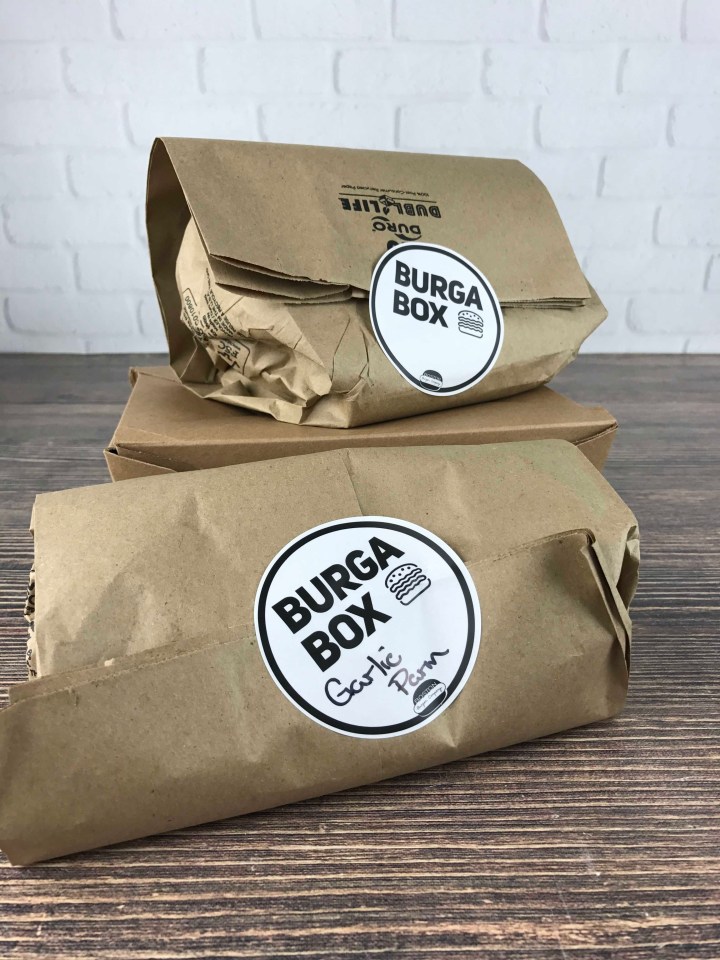 The different dishes were bundled separately, making it easier to keep everything straight.
The buns and burger seasoning came in a large box – this kept the buns from getting flattened and the seasoning container from busting open.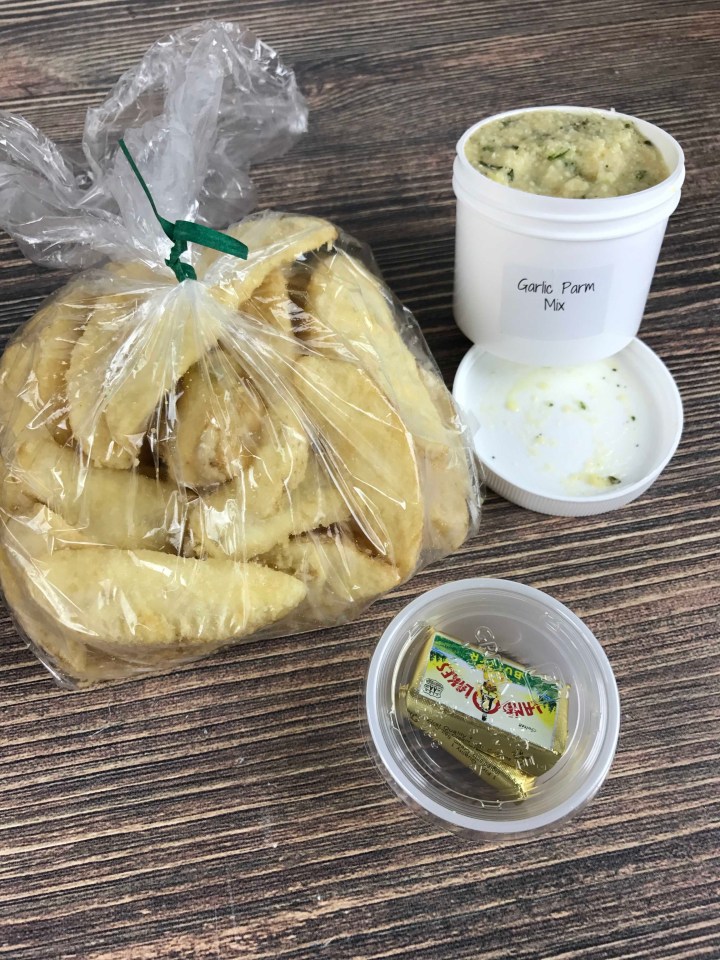 We got a huge order of Garlic Parm Fries! The fries are cut like wedge fries, and they are sized like they use normal, creamy white potatoes instead of giant russets. They are pan-fried – enough that the coating is affixed, and they can be finished by deep frying or baking. We baked ours, and they turned out just fantastic! The seasoning was plentiful enough for about three batches of fries!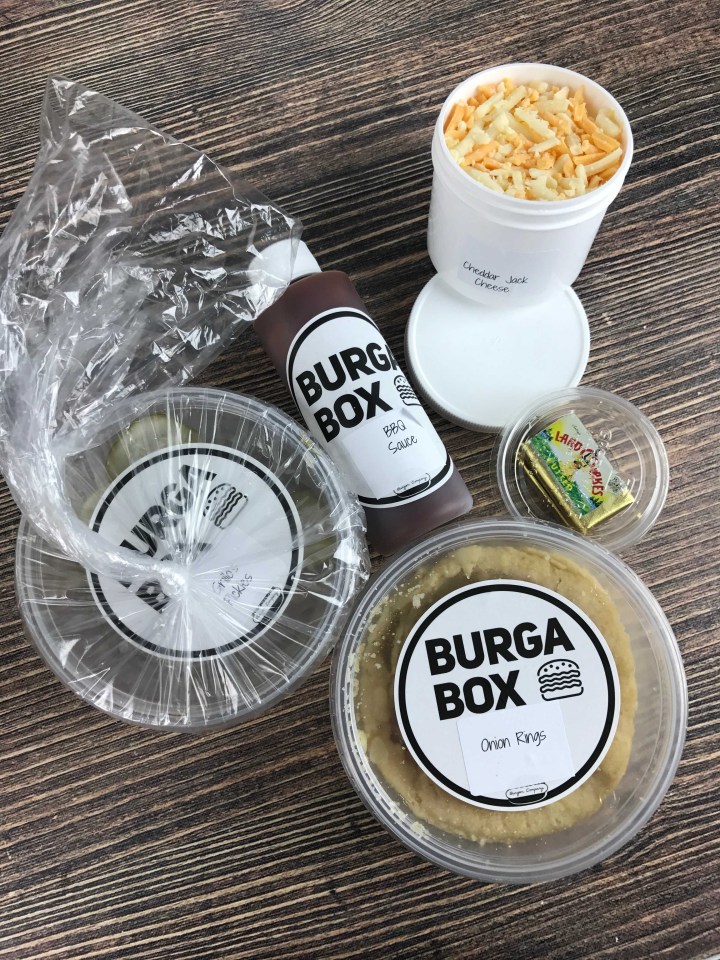 Our glorious toppings. Mind you, these are all intended to fit on two burgers (and there's more)! Here we have pickles (really tasty), BBQ sauce, Cheddar jack cheese, onion rings, and butter for toasting the buns. The onion rings are par-fried, with instructions for finishing at home. These are the trickiest topping item to prepare, because they can go from doughy to dark very quickly.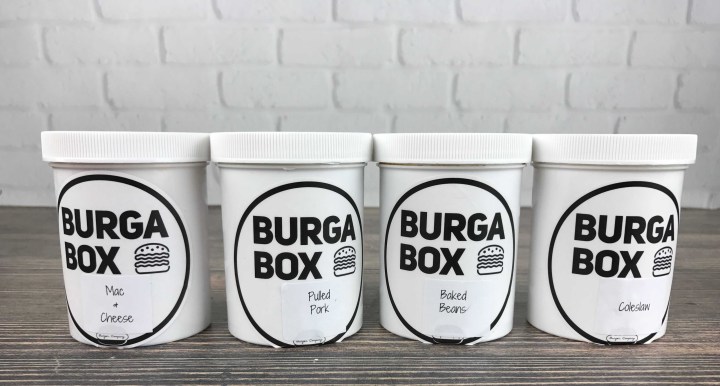 More toppings and sides. The baked beans and coleslaw were included as sides. The mac and cheese and pulled pork are to be heated and stacked on the burger.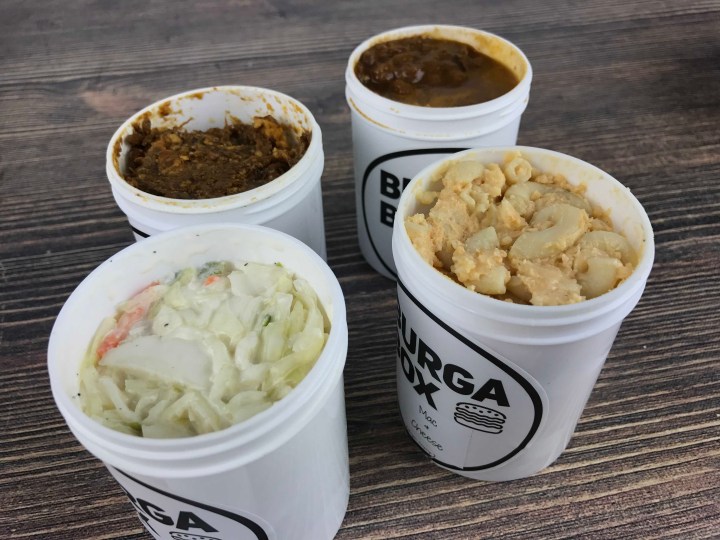 The containers were full to the top – a generous portion for the sides, and a ridiculous amount of burger toppings to try to fit on two burgers!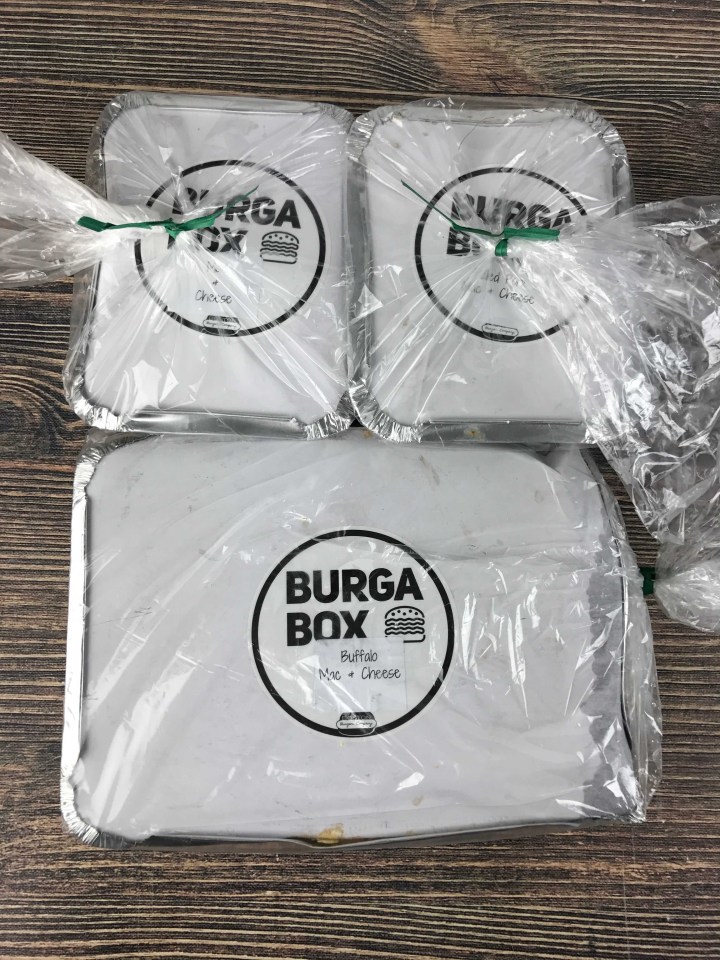 And there's more! Our box included a 32-ounce tray of Buffalo Mac + Cheese, and two 16 ounce trays with regular and Pulled Pork Mac + Cheese.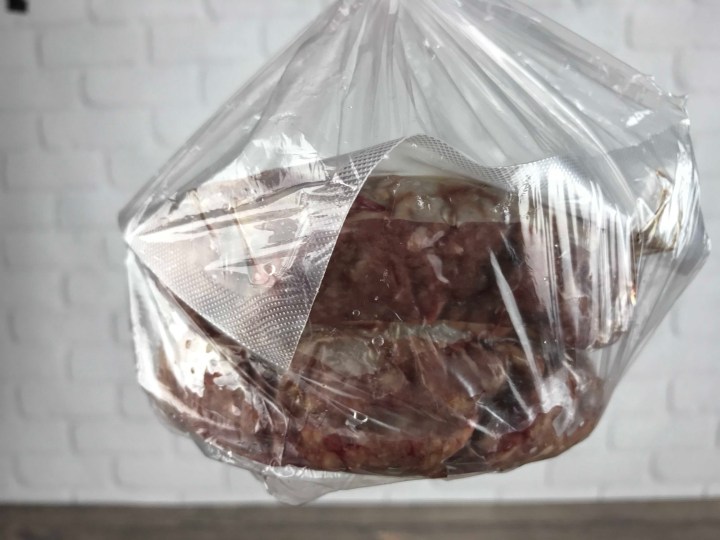 Our burgers were each a half pound of 80/20 beef!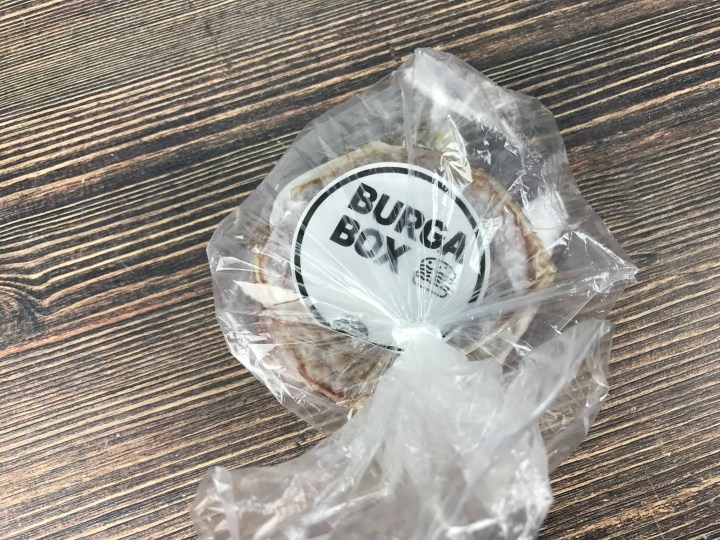 The burgers didn't seem very fatty at all for being 80/20, and they didn't seem to lose much bulk from cooking.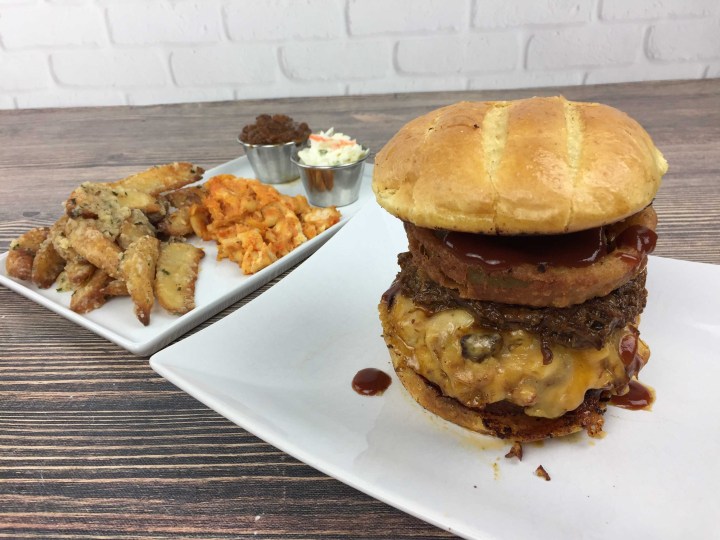 We plated a bit of everything, but the sides were way too much for splitting between only two people! This was a monster of a meal!
It is actually the most obscene and profligate thing we've ever cooked or reviewed (and we think that's a compliment!).
The centerpiece is the colossal WTF Burger. It has a nice bun pan-fried in butter (and a bit of burger drippings), a half-pound BBQ seasoned burger, a giant scoop of mac and cheese – we used the pulled pork mac and cheese – pan-fried until melty and crispy, and topped with melted Cheddar jack cheese, BBQ pulled pork, a giant onion ring, pickle slices, and BBQ sauce. This was a really delicious, over-the-top burger! The beef was juicy but drier than I anticipated for having 20% fat, but it worked well with the ample grease and sauce supplied by the plethora of toppings. The flavor combo worked really well, with BBQ and cheese leading the way, but the texture was the amazing part. The crisp bun and crunchy onion ring complement the hearty burger and tender, gooey mac and pork. It's a bit difficult to fit in your mouth, and you may have to settle for nibbling sections instead of chomping the full breadth of it. It is also very messy, and it is not recommended eating if you are shy about sauce and grease running down the back of your hands. It is, however, highly recommended if you like delicious food!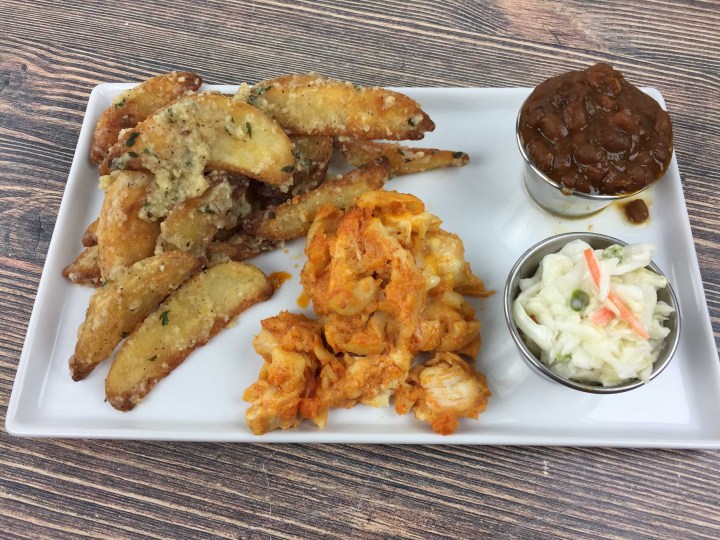 The sides were just as crazy-good as the burger. The beans are made from scratch, and they retain that great bit of texture that canned beans lose – plus they aren't overly sweet. The coleslaw had a great crunch for having been shipped, and the flavor had a nice creamy tanginess. We baked our fries, then we stirred them in a pot of melted butter and Garlic Parm mix. The fried exterior of the fries crisped nicely in the oven, and it held up to smothering in the sauce very well – our leftovers were even crisp after sitting dressed overnight and reheating in the microwave the next day! The Buffalo Chicken Mac and Cheese was also fantastic.  It had tons of cheese, a spot-on Buffalo sauce, and breaded tender chicken.
This box was incredible! I adored every single ingredient I tasted. The sides are smothered perfection – they hit both the comfort food and flavor notes at the same time. Our box had some extra Mac and Cheese, so we could try the varieties, but the normal box still comes with tons of food: two burgers with everything, 16 ounces of fries and mac, and 8 ounces of slaw and beans. The burger is a big, fun mess – I almost want to cut each burger in half and make four out of the two to make use of the pile of toppings we received and make a more mouth-sized stack.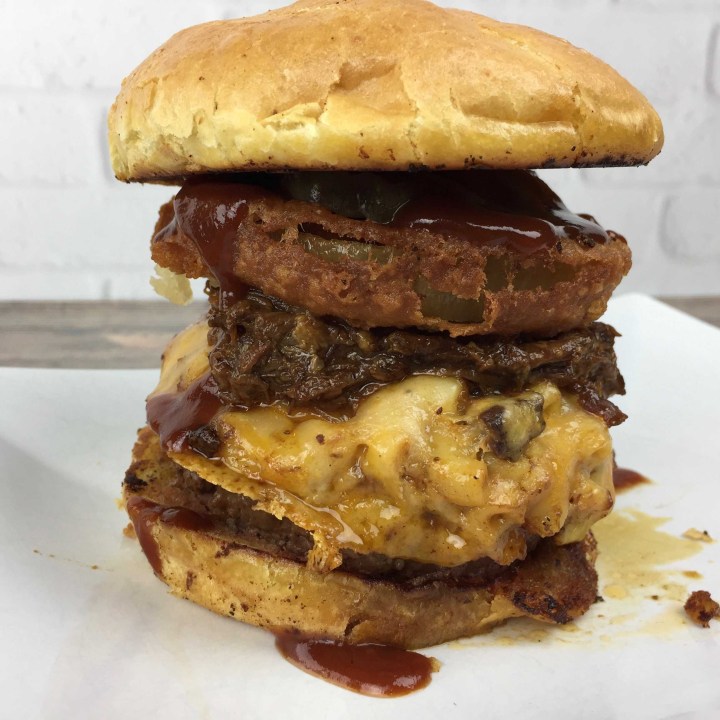 The prep doesn't take any longer than other meal kits, and you're sure to get a memorable meal out of it.  We had a blast putting our burger together, simply because of the sheer size and indulgence, but we had an even better time eating it!