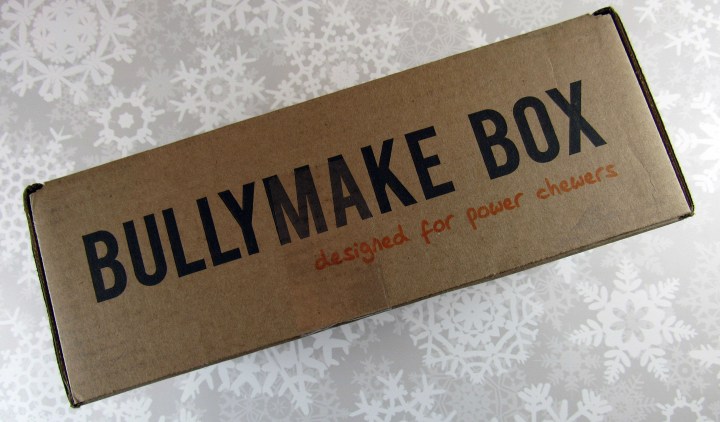 BullyMake Box is the monthly box for power chewers! No plush toys in this subscription! Each box comes with 5-6 toys and teats for your dog. Have more than one dog? Add an extra toy for an additional $9.00 a month. Be sure to fill out the additional information section when checking out. There are four options for allergies including a toy only box. Also, select the weight of your dog which starts at 10 pounds and continues with 10-pound increments to 200 pounds.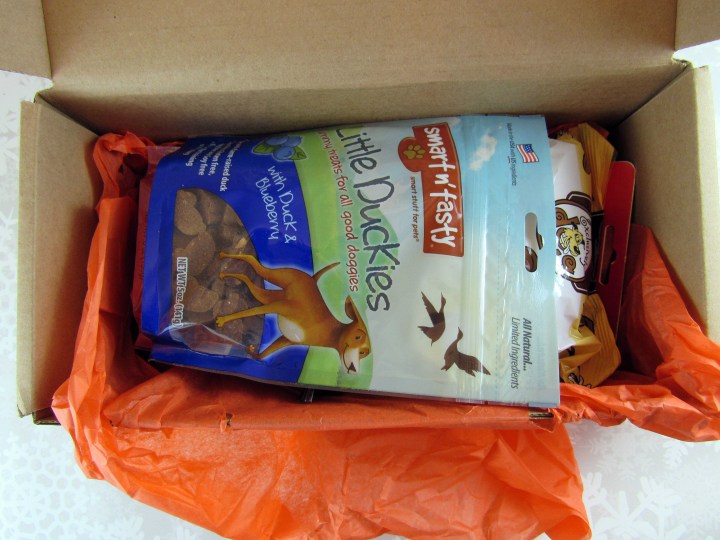 DEAL: Get $10.00 off on our 3, 6, or 12-month Bullymake Box Plan! Use coupon code FB2016.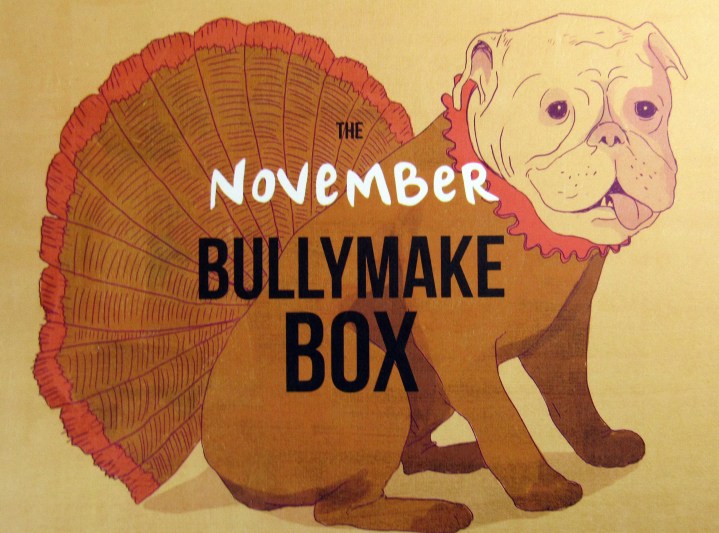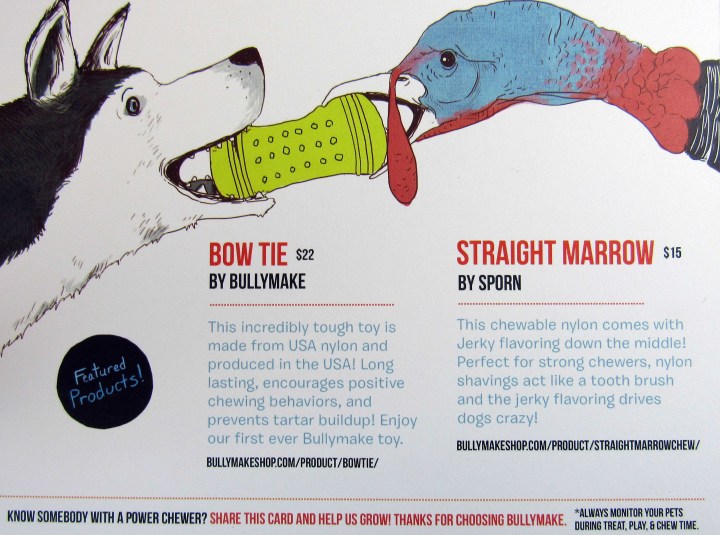 It's a pug turkey or is it a turkey pug? The November Featured Products are the Bow Tie by Bullymake and the Straight Marrow.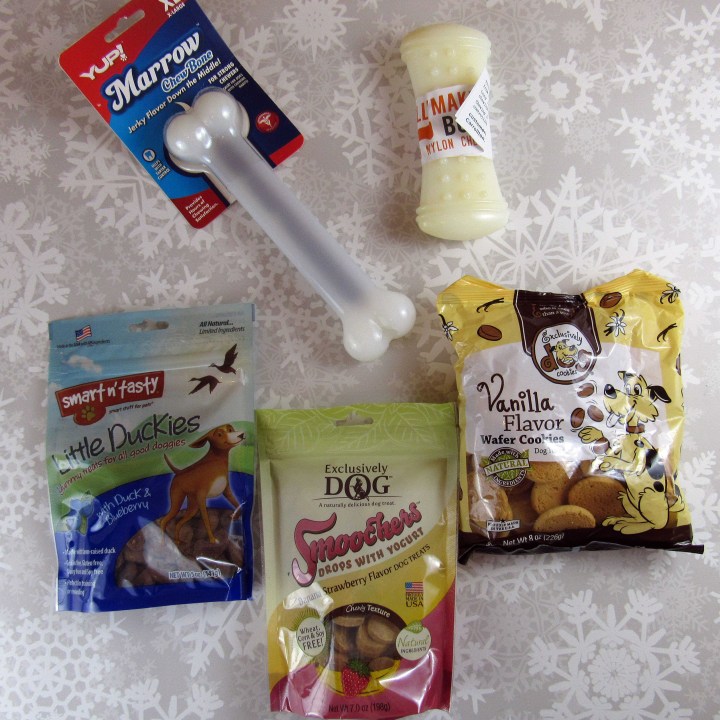 I see treats that Daisy, our English Shepherd, will relish. The items were selected with Odie, our Borador, in mind. He is half Border Collie and half Labrador Retriever. He also destroys all dog toys including the expensive durable dog toys that I buy for him. Odie's weight is in the 50-60 pound range.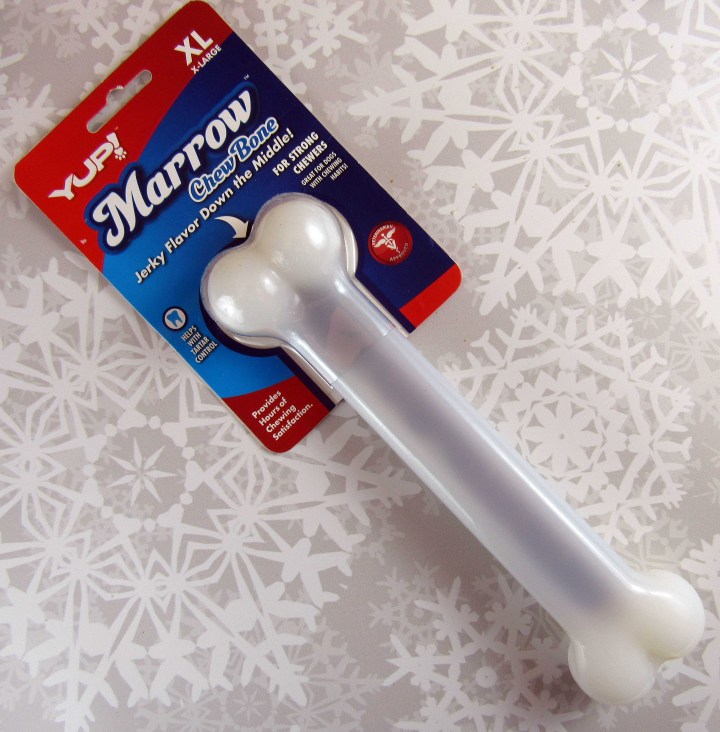 The Yup! Marrow Chew Bone XL ($10.45) is a durable bone with jerky flavor in the middle. Raised ridges, formed by chewing, help reduce tartar. Both dogs chewed on it although Bella, our Mini Rat Terrier, gnawed on the bone the most.
The very first toy made by Bullymake is the Bow Tie Chew ($22.00). The toy is made out of USA nylon and made in the USA. It also comes with a 10-day guarantee which is amazing! Odie has destroyed many durable toys within days although not any of the toys from Bullymake. It is great to see that guarantee available for tough chewers.
All three doggies loved the Smart n' Tasty Little Duckies (5 oz, $6.99) which has blueberries in it. The Made in the USA treat is made with USA ingredients including farm-raised duck, blueberry, and apple. It's free of common allergens such as wheat, corn, dairy, soy, and even chicken which makes Daisy very happy. The kitties loved the treats too and kept trying to take the treats off the table during picture time.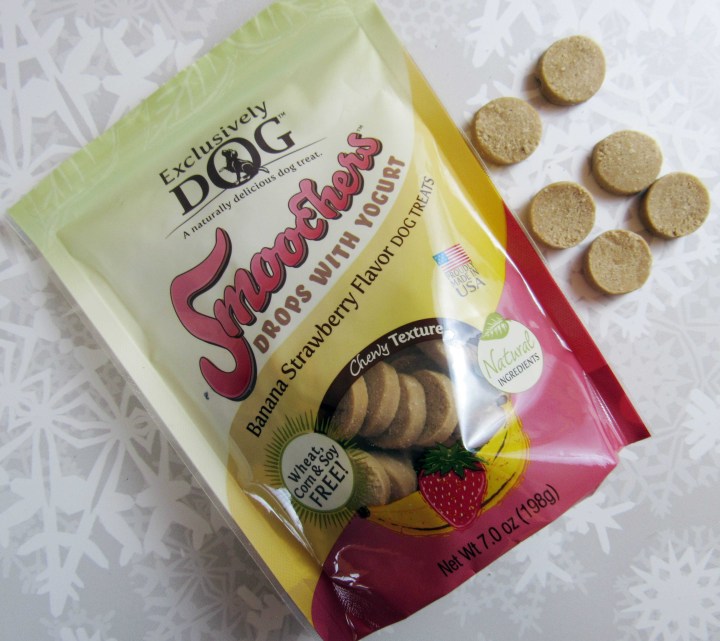 The Made in the USA Exclusively Dog Smoothers Drops with Banana Strawberry Flavor Treats (7 oz, $3.51) were enjoyed by the dogs. The treats are free of wheat, corn, and soy. It also smells like banana and strawberries! All three dogs found them to be tasty.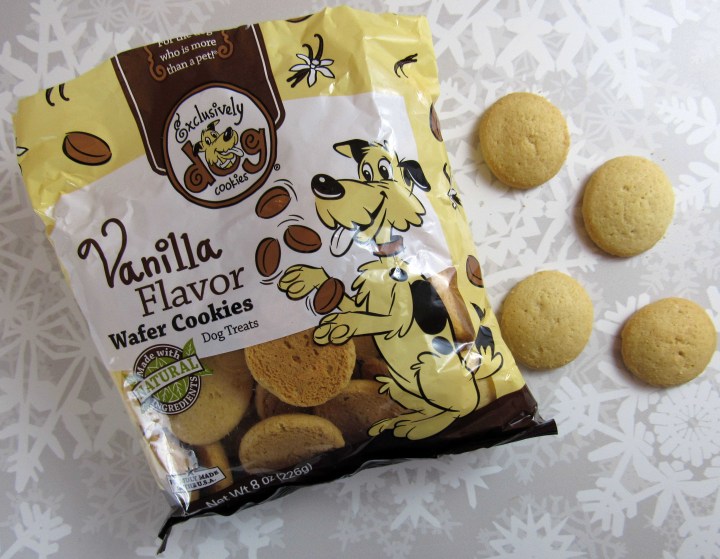 Daisy goes crazy over any cookie by Exclusively Dog including the Exclusively Dog Vanilla Flavor Wafer Cookies (8 oz, $4.53). The Made in the USA treats have natural, kosher ingredients. All the doggies found them to be delicious.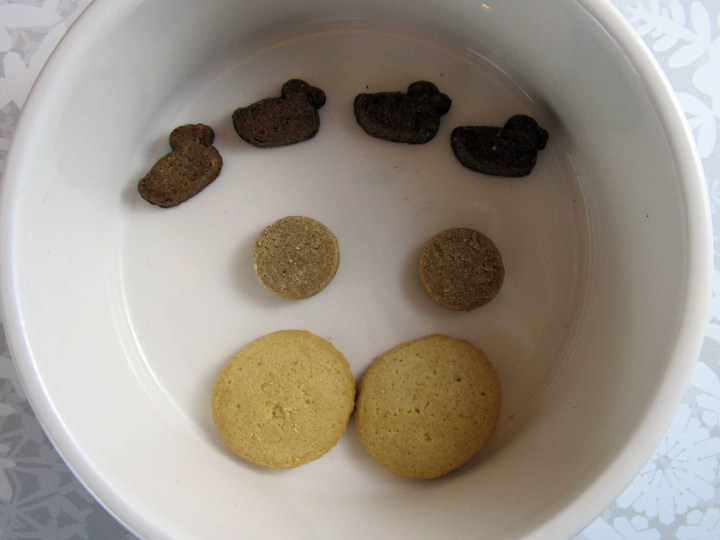 Who is ready for treat time?
Time to see doggy pictures. They are photographed in natural light and are laying on an old comforter. Odie is looking a little stressed because he spent Thanksgiving weekend with my family and the family that previously owned him.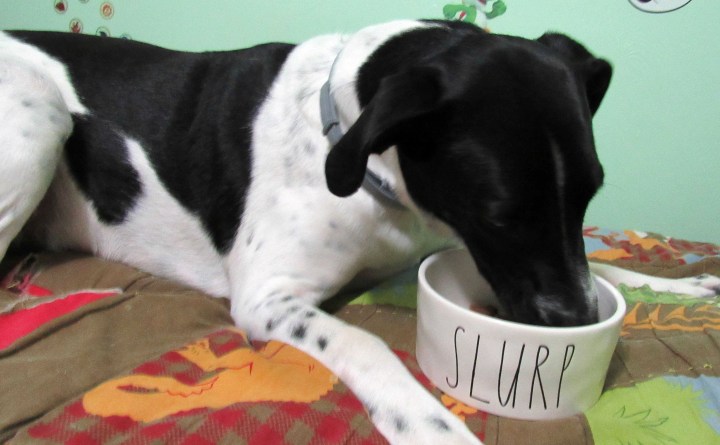 Odie enjoyed his snacks and left no crumbs behind.
Bella is enjoying a Vanilla Wafer Cookie. She ate all her yummy treats.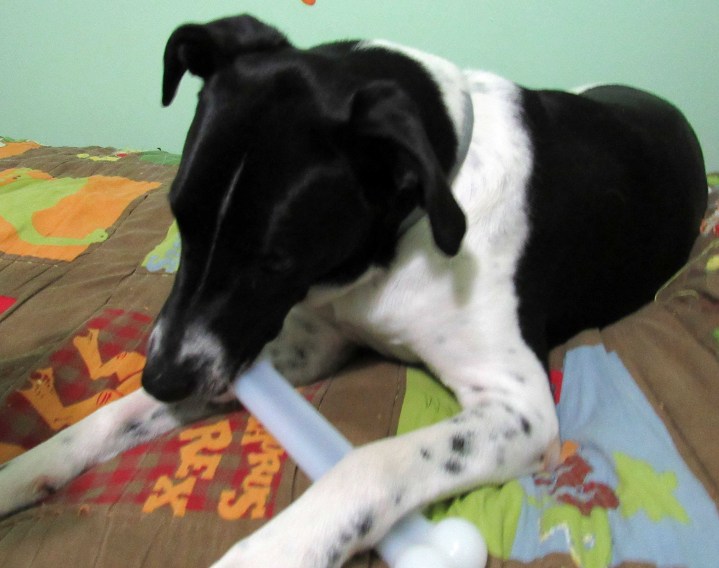 Odie is enjoying his Yup! Marrow Bone. He chewed on it with mostly his back teeth.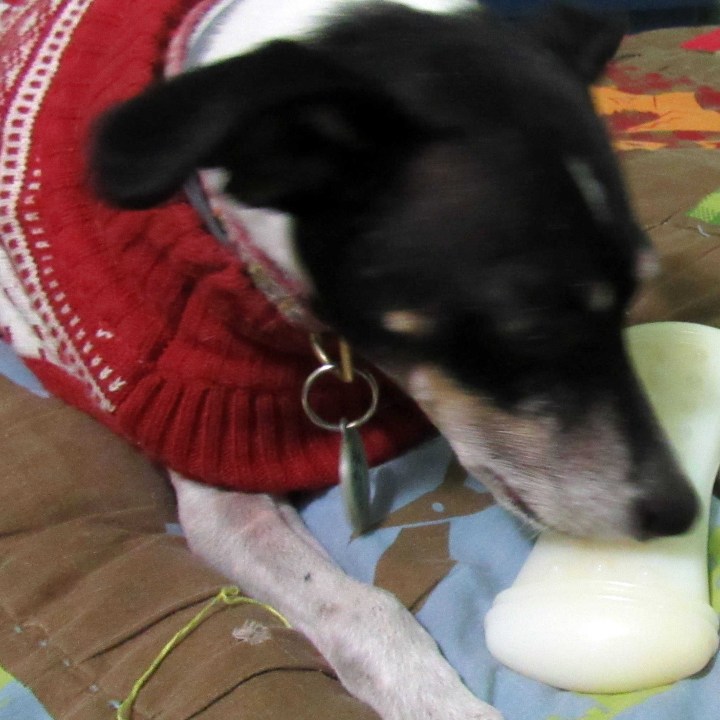 Bella is checking out the Bow Tie. She has her eye on the Marrow Chew Bone but knows better to take it from Odie when I am watching her.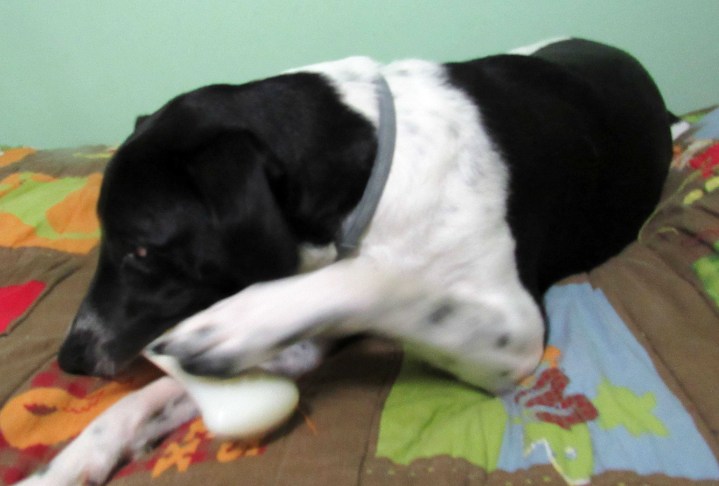 Odie has one eye on Bella while chewing on the Bow Tie. I spread peanut butter on it which he thought was wonderful.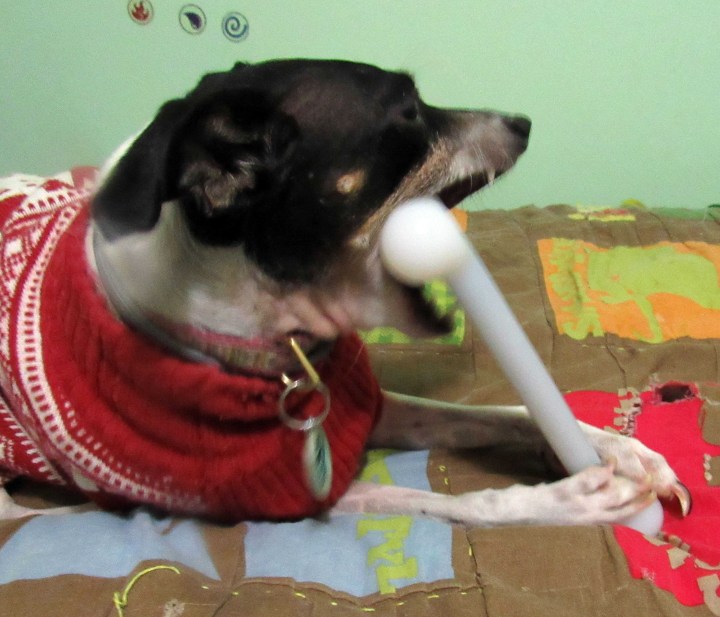 Bella is oblivious to Odie and undeterred by the sizes of the chew bone. She is a little larger than my male cats. She also destroys more toys than Odie.
Bella and Odie are listening to the boys playing outside the door. Odie does not approve of them goofing off.
The dogs loved the November Bullymake Box. Odie enjoyed his toys and treats. He's content to chew on his toys. Bella had a good time chewing on the bone chew and eating treats. Daisy is happy that she can eat the three treats. Bully Make is an excellent choice for dogs that love to chew. The toys are appropriately sized for the dog, and the treats are quality treats that dogs with allergens can enjoy.
What do you think about Bully Make?