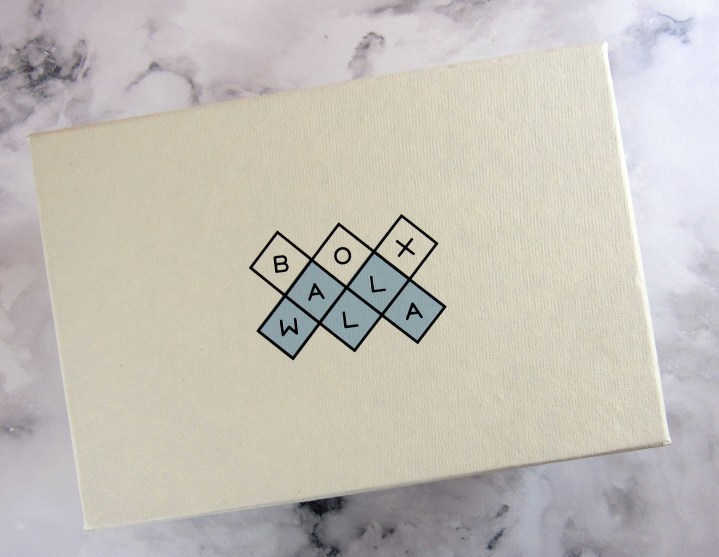 Boxwalla is a bi-monthly subscription box. It's a bit unusual that you can select from one of four themes – natural beauty, artisanal food, international film, or books! In Boxwalla, you'll be able to discover great artisans and artists from across the globe. The Boxwalla Beauty Box contains non-toxic and cruelty-free products that focus on an aspect of the beauty ritual. The packaging for this box is absolutely gorgeous. It has a raised paper texture. Brandy explained it best as being like a luxe cotton rag paper covered box handcrafted by artisans in Rajasthan, India (none of whom are children).
The information letter from "The Drunken Boxwallas" is a pleasure to read. It provides details on the artisans and their products.
Here are the items in the December 2016 Boxwalla Beauty Box. I am ready to "Let it Glow, Let it Glow, Let it Glow."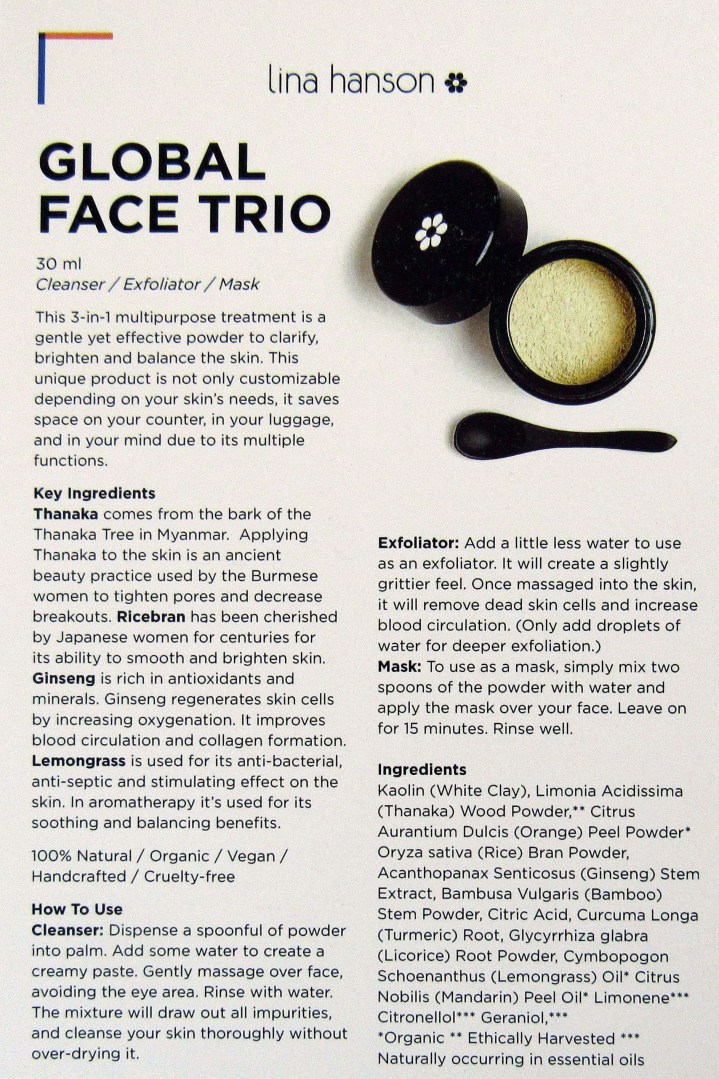 Lina Hanson, celebrity makeup artist and natural beauty expert, believes that we should look our best version of ourselves. She created a luxury skincare line based on beauty traditions from around the world. I am intrigued. I love the idea of looking the best version of myself and letting my beauty shine through.
The Lina Hanson Global Face Trio( 1 oz, $25.00) comes with an eco-friendly bamboo spoon. The three in one skincare product is a daily cleaner, exfoliates the skin, and is also a mask. It's a travel-friendly item!
It's simple to use. Add a little water to the product to create a creamy blend that will cleanse your face. Add water to make it into a creamy paste to exfoliate the face. Or add yogurt, honey or water to create a mask that will sit on your face for fifteen minutes. The active ingredients are thanaka, ginseng, rice bran, and lemon grass which helps purify, balance, and brighten the skin.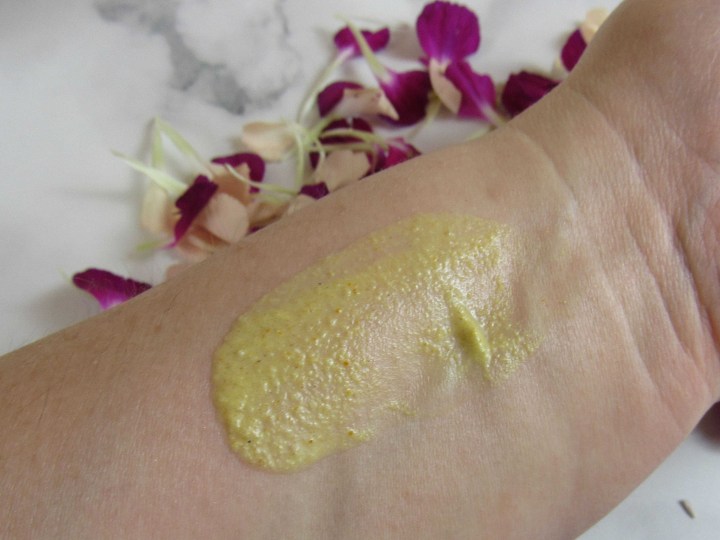 There were a little trial and error in finding the right consistency for cleansing. I did feel a slight tingling and warming of the skin for about five minutes after cleansing my face. My face is highly sensitive because of the rosacea, so this might not be the norm for most. It did not cause a rosacea flare-up. The scent was a light, pleasant scent. I can't wait to try it as a mask because it removes impurities and more importantly, tightens pores!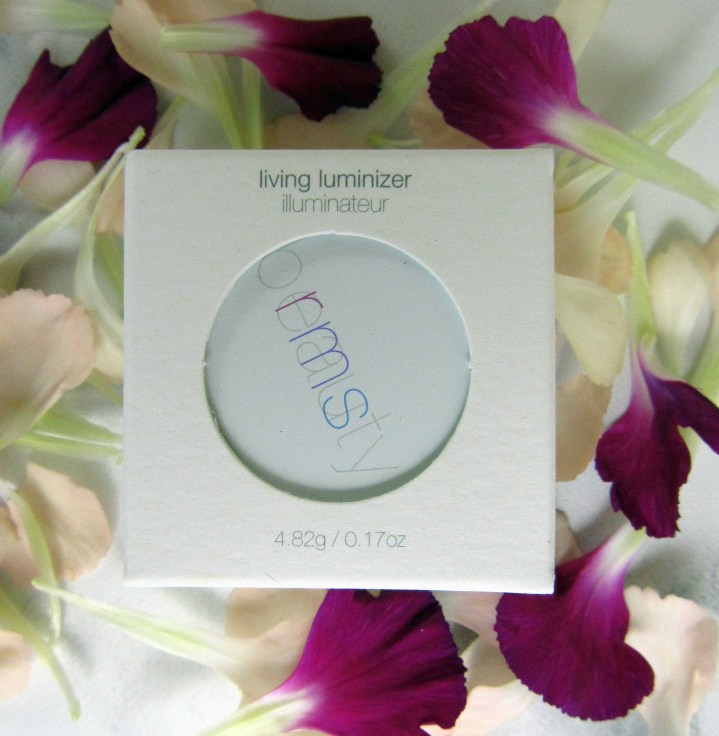 I was a little nervous about trying out the RMS Beauty Living Luminator (.17 oz, $38.00). It's the type of product that I know I should try because of my age, but I don't know how to use it. There is an excellent video that shows how to use it which encouraged me in trying it out.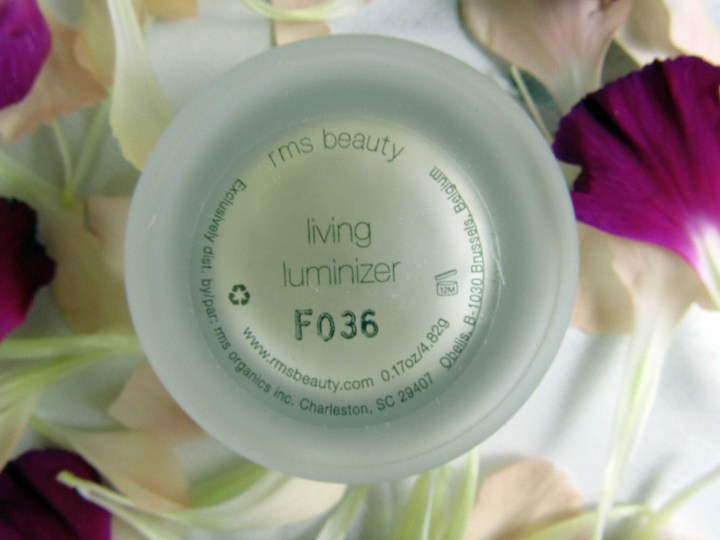 It works well with all skin tones and has a translucent satin finish.
I gave it a try because I am in my forties and can see from pictures that I could use a little youthfulness in my skin. I used a little too much the first time. The second time it looked much better and gave me skin a youthful glow. I am thinking about purchasing the brightening brush to improve upon the results. I used a cotton swab because I do not have the correct brush or a small enough brush.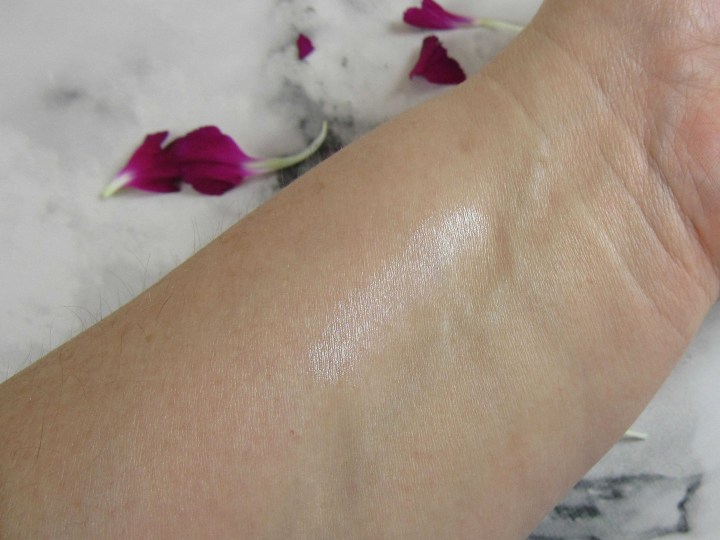 I applied it heavily on my arm for it to show up in the photo.
The ingredients for the Living Luminizer are simple ingredients. I am happy that non-GMO Vitamin E (tocopherol) is used. I hate it when I am excited about a product and then see the GMO form of tocopherol listed. I feel comfortable using this on my skin.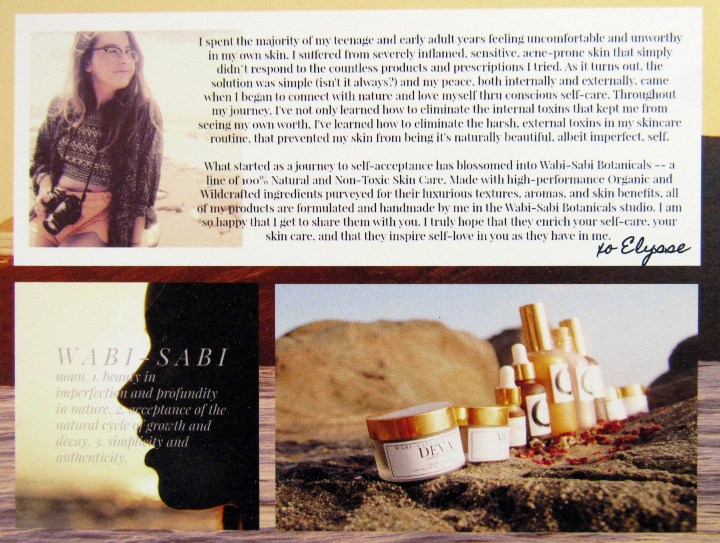 Wabi-Sabi is a 100% natural, non-toxic, cruelty-free, and eco-friendly. The company also does not use palm oil or palm oil derivatives which is great to know because I have seen businesses that claim to be cruelty-free that used palm oil. Not this company!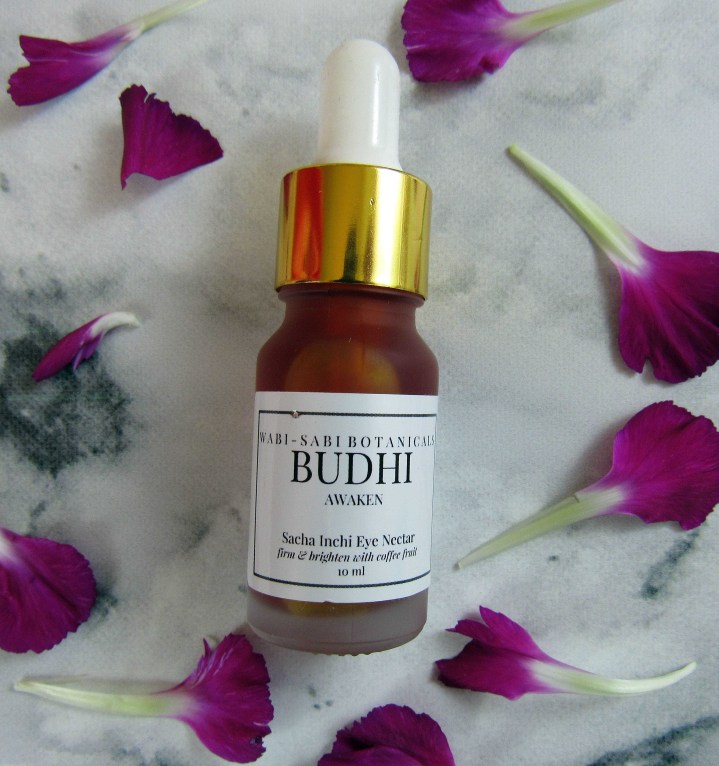 The Wabi Sabi Botanicals Budhi Awaken Sacha Inchi Eye Nectar (10 ml, $52.00) is 93% certified organic and is a vegan product. It helps with inflammation, dark circles, and signs of aging around the eye. It had a fruity, warm, coffee scent and absorbed quickly into my skin. My sniffer must not be working right because the aroma is described as
Rich, roasted Coffee Beans layered with chocolatey Cacao and warm, sweet Vanilla Bean.
It smelled wonderful!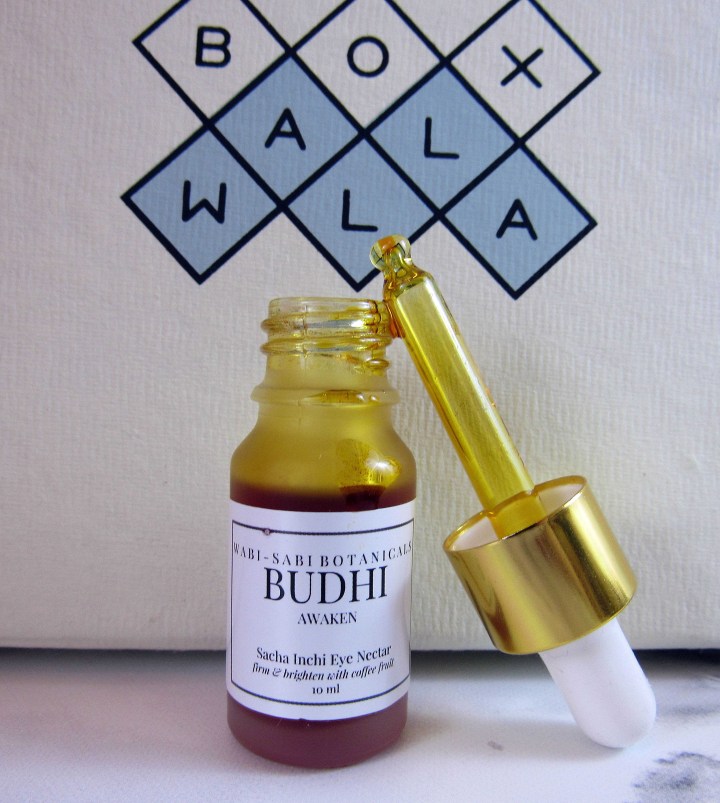 The nectar is a beautiful golden color. It felt soothing on my skin. The main ingredient is Peruvian Sacha Inchi Oil which is made from the Sacha Inchi plant found in the Amazon basin. It is rich in Omega 3 and 6. I can't wait to see how it helps the skin around my eyes.
Boxwalla Beauty continues to wow me. The artisans and products selected are outstanding and provided a luxurious experience. I will be using all three products and will be purchasing a brush to better apply the Living Luminizer. The value of the box is $115.00 which is excellent and more than double the price of the box. Boxwalla Beauty Box is an excellent choice for those seeking exciting green beauty products that are luxurious and uses the finest ingredients.
What did you think about this month's Boxwalla Beauty box?