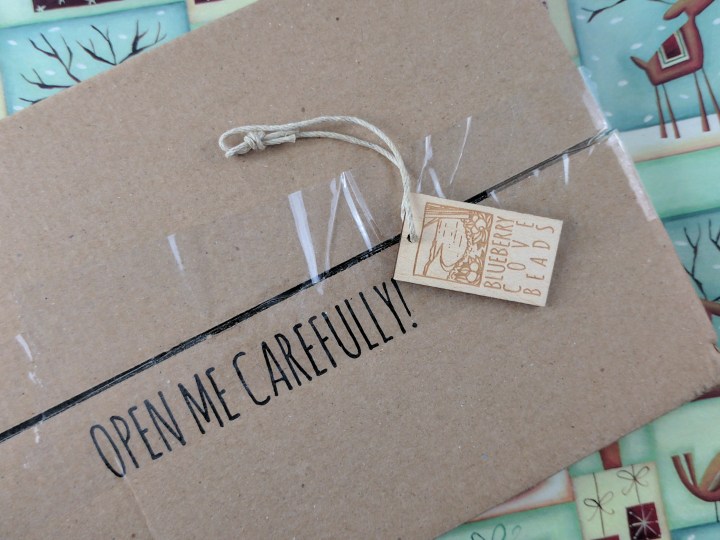 Blueberry Cove Beads is a monthly bead subscription box. Each month, you'll receive between 9 and 13 different items. It can be a mix of loose beads, bead strings, findings, and pendants. You can share your creation on their social media for the chance to win a free box. Boxes are $22 per month plus $5 shipping in the US & Canada and their website features projects you can create with your beads.
Inside the box, there's always a nice black satin pouch with a postcard showing the theme of the month. Inside the bag, everything is packed in self-sealing plastic bags, except the bead strands and some unique pieces.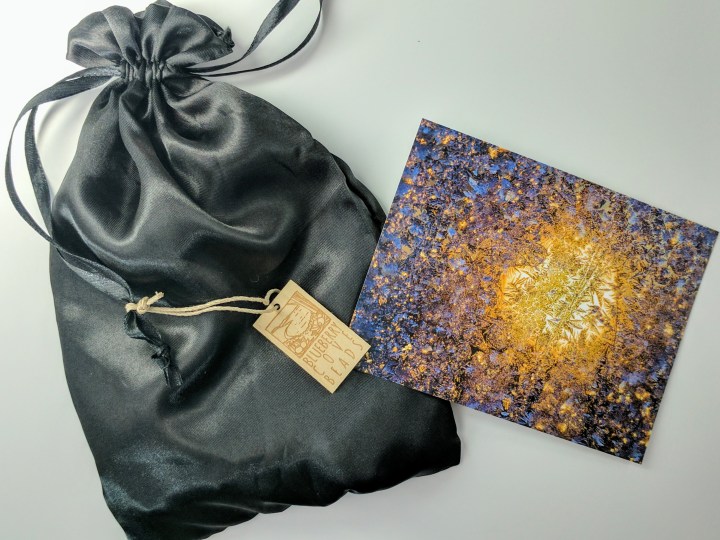 Each month has a different theme. This month's theme was WINTER SOLSTICE. Based on the postcard, I hope we'll have blues and yellows!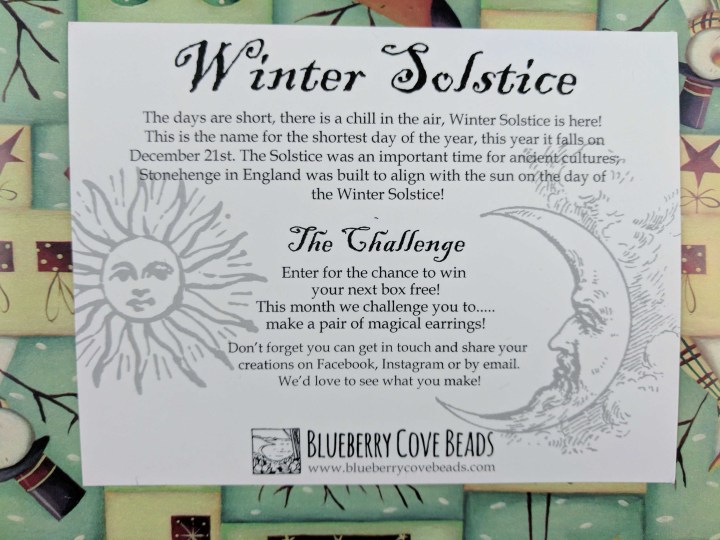 There is no info about the content of the box. Instead, we get a card explaining the challenge (optional) for the month. We can share our creation on their social media to enter a draw for a free box. Also, it's really neat to see what everyone else creates with the same set of beads! This month's challenge is to make a pair of magical earrings!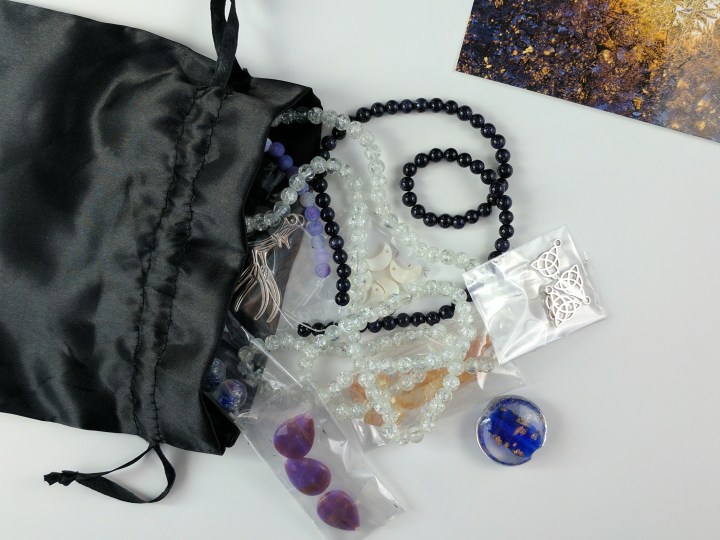 Ouh, I already like what I see!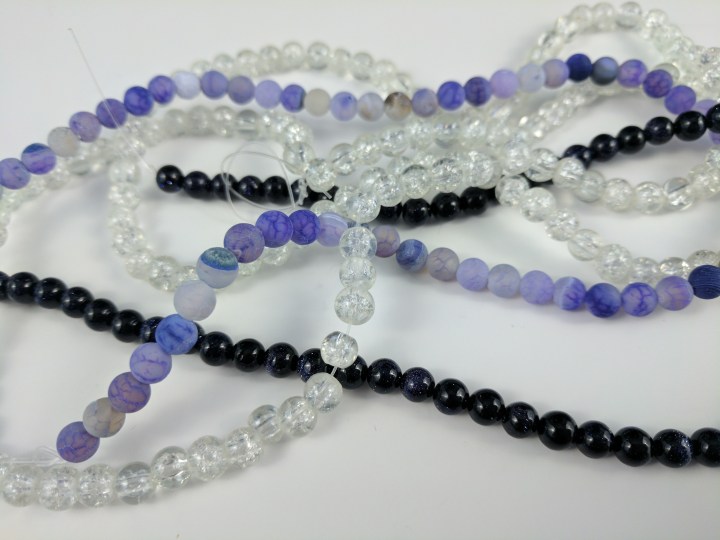 Cracked white glass beads. Last month, we received red cracked glass beads, and it was really fun to play with them. I still have a lot of the red ones,
Blue Goldstone. I can never have too much of this type of beads. They are so celestial, they remind me of the night sky with all the stars. The picture doesn't do them justice, you have to see them in person! Mixed with the cracked white beads and the other strands, they look great!
Blue agate beads? I'm not too sure of the type of beads. They are matte, and they don't have a smooth surface. I love the blue mixed with purples!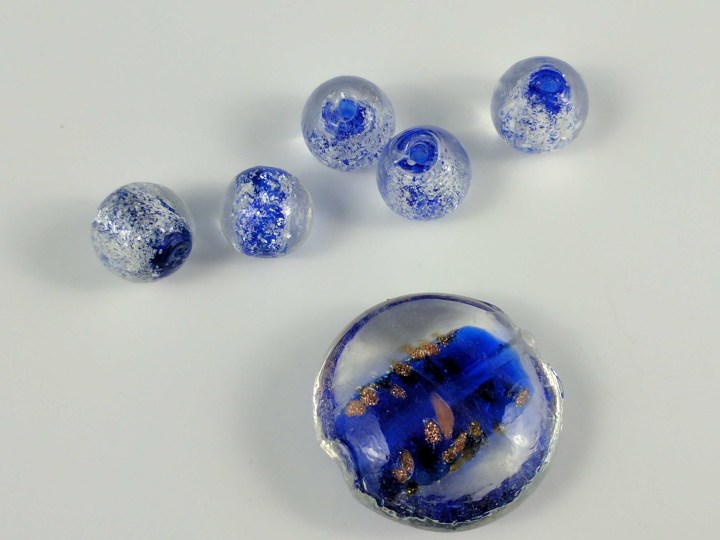 Blue foiled lampwork beads (28cm). I love deep blue beads and these definitely fit in! The smaller ones have little specks of silver when the bigger one tends to be more copper/golden in color. I wish we would have had both with the same type of metallic tint to them, just so they would fit seamlessly together. I love the big one!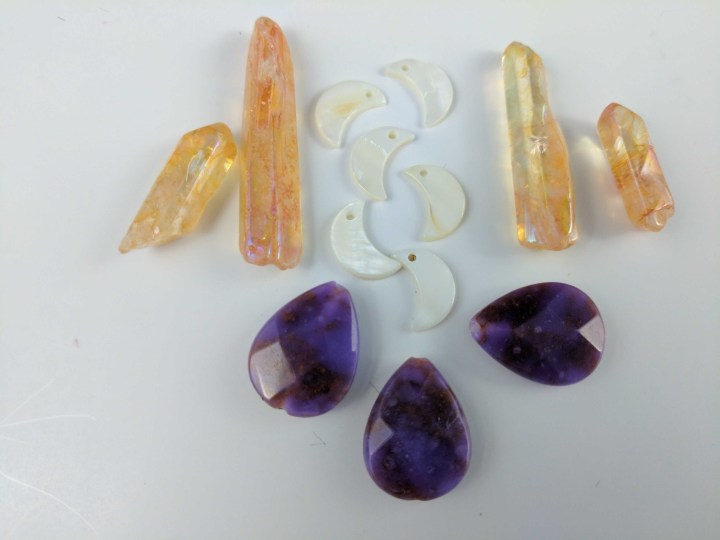 Aural Quartz in yellow. I'm starting to like these guys, I can see them on a nice pair of earrings with simple pearls or the moons.
Half-moon (coral?). They are so nice, and light and very moon-like! Simple earrings or as a pendant, they would be really great.
Purple and orange teardrop beads. The hole is top to bottom, perfect for a pendant on a necklace or earrings.
Silver plated Antler charms. A nice reference to the symbols of Yule, they are super cute but slightly too heavy to transform into earrings especially if we want to add other beads.
Celtic Knot charms in silver. They would look good with green beads, and they could be used as links and not just charms.
Golden Yggdrasil charm. The tree of life. Nice and light, with lots of details, this is a cute little pendant or charm.
For this month's project, I've let myself be inspired by the challenge and I made a pair of earring with the moons, the cracked white beads and the celtic knot. I've added a piece of chains to get it move.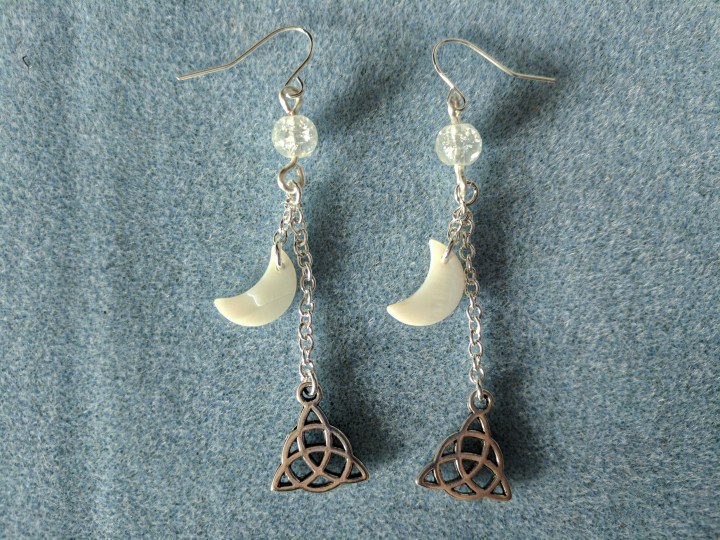 Yes, sometimes I do something simple! The rest of the box will come with me when I'll visit my family over Christmas as she likes everything celtic and Yule-inspired!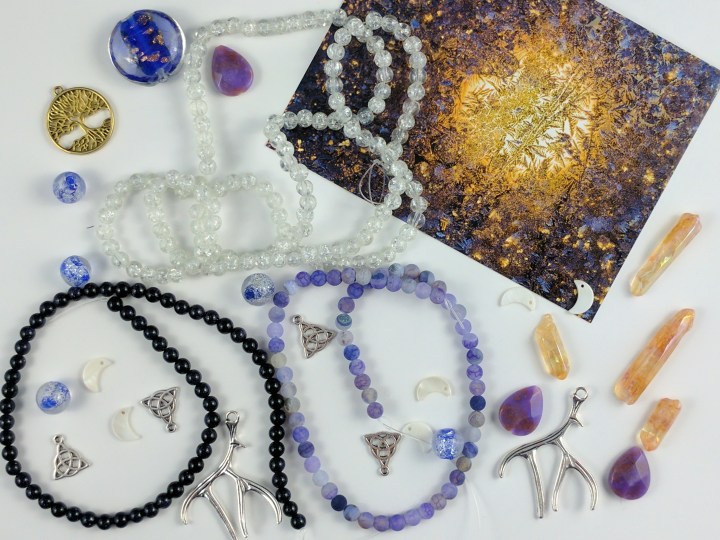 This month's WINTER SOLSTICE was great. It was nice to see a variation on the traditional Christmas themed box by being inspired by ancient culture and the brightness of Yule Celebration.
What did you think of this month's Blueberry Cove Beads?