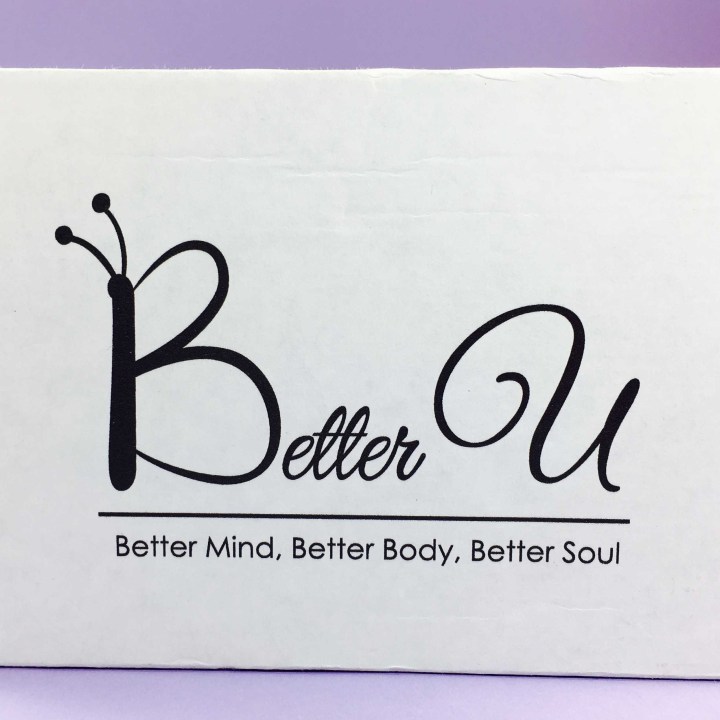 BetterU Box is a monthly subscription box that sends 6 to 8 sample and full sized health and wellness products with a focus on vegan, plant based, natural, and organic items for $30 a month. These items may include health foods, supplements, motivational books, and spiritual items. All products are carefully hand picked by BetterU Box's co-founders Anna & Jessica. Their goal is to guide you "through your journey of a BetterMind, BetterBody and BetterSoul." The subscription is available in 1, 3, or 6-month terms and auto-renews at the end of the term. It is currently only available in the US and shipping is included.
The theme for November was "New month, new beginnings!" The items were shipped in a sturdy box with shredded paper squiggles as a cushion. The front of the product info card explained the "Pay it Forward" principle. It must be hard for companies to come up with items that suit every person every time, so they ask you to ask the universe who might benefit from that item that you think is unsuitable for your lifestyle.
DEAL: Get 10% off for first time customer! Use coupon code  BETTERUBOX10.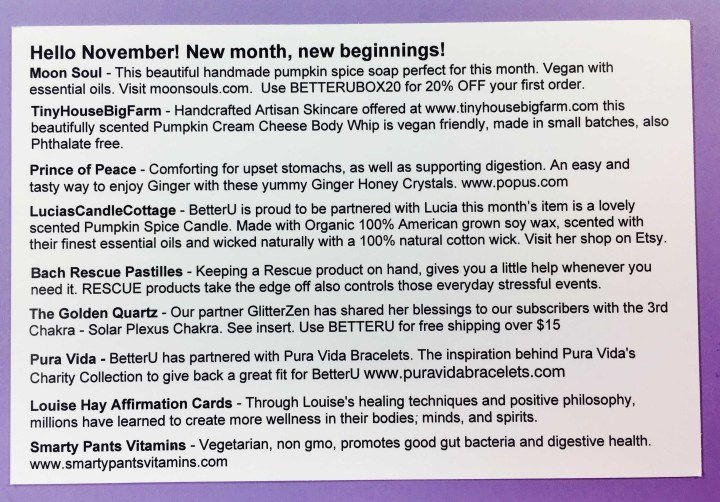 I love it when companies include a product information card!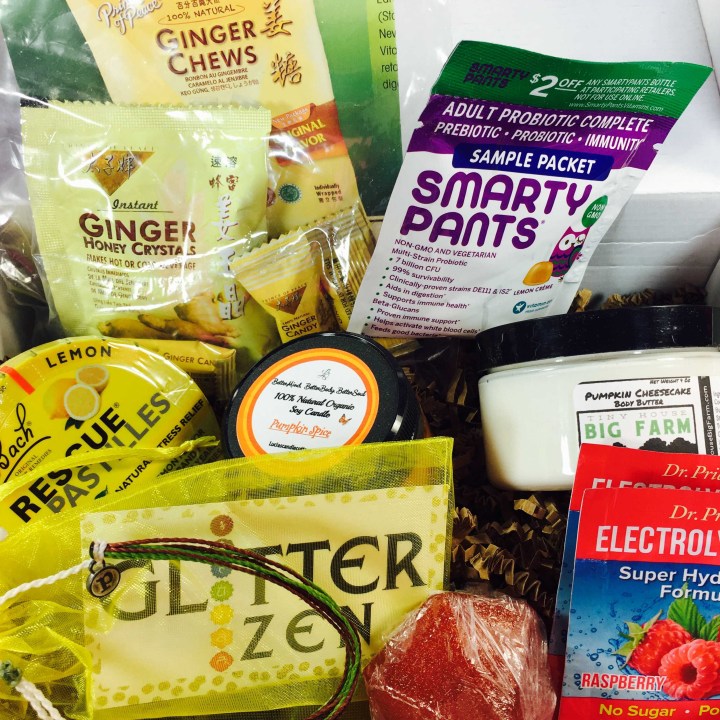 Everything in the box! I received 10 different items this month. Now, onto the items!
Moon Souls Diamond Soap in Pumpkin Spice ($2.65) would look cute in a guest bathroom. It sure smells nice and is vegan and made with essential oils.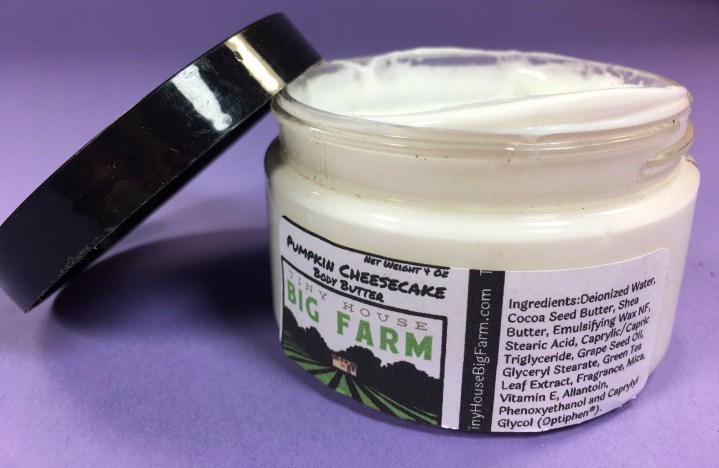 Tiny House Big Farm Pumpkin Cheesecake Body Butter ($8) is handmade in small batches and is free of harmful ingredients. This blend of shea butter and cocoa seed butter rubbed in quickly and evenly and smelled light and lush.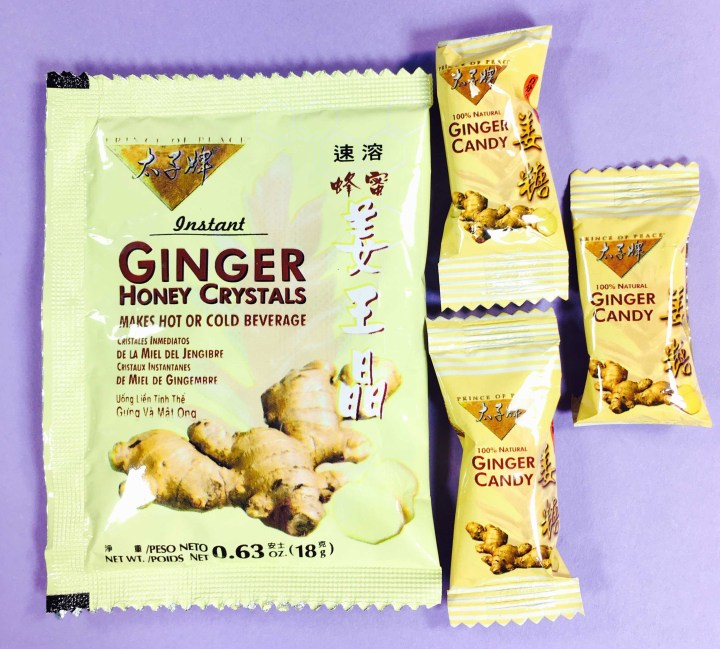 There were two different Prince of Peace tummy remedies to help those who may have overindulged during the season of excess. Instant Ginger Crystals  (36¢) has sugar, ginger, and honey and can be sipped hot or cold. Ginger Candy (51¢) has a zingy flavor without being overwhelmingly spicy.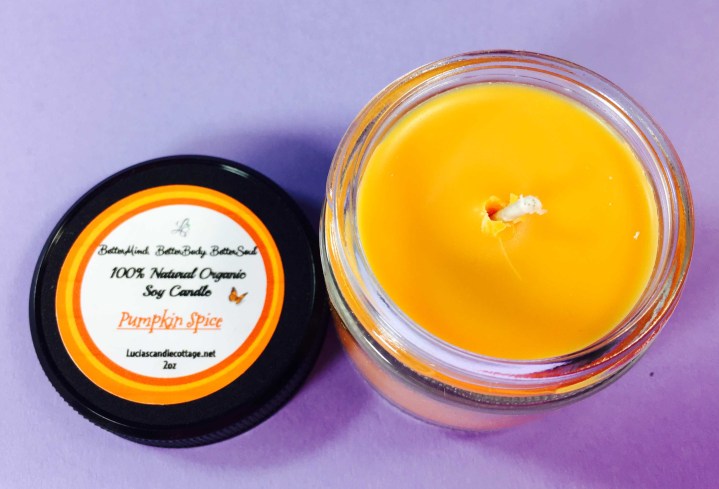 This is the second Lucia's Candle Cottage candle that I have received from this subscription and although the candles smell wonderful when cold that scent doesn't quite carry over when burning. This Pumpkin Spice version ($4) is made of soy wax and premium grade essential oils and has a cotton wick.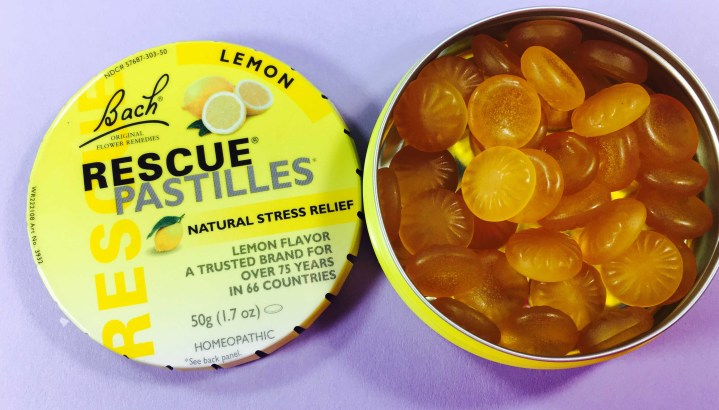 Bach's Lemon Rescue Pastilles ($6.48) is "natural stress relief in candy form" and can be used by the entire family for occasional stress relief. They are similar to a gummy candy and include dilutions of rock rose, clematis, impatiens, cherry plum, and star-of-Bethlehem.
Star of Bethlehem: For trauma and shock.
Clematis: For the tendency to "pass out", and unconsciousness, being 'far away' and not present mentally.
Cherry Plum: Fear of mind giving way, verge of breakdown, anger.
Impatiens: For irritability, tension and fidgety.
Rock Rose: For frozen terror and panic.
These are sugar-free and may contain traces of gluten.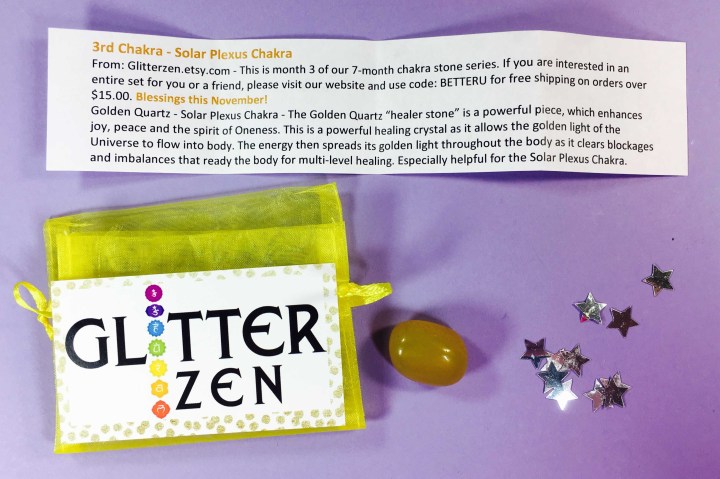 This is the 3rd in a series of 7 chakra stones from Glitterzen and this month the focus is on the solar plexus chakra with a Golden Quartz Stone (67¢). The color of this stone allows the "golden light of the universe to flow into the body" and can help with self-regulation and give you the strength to meet challenges.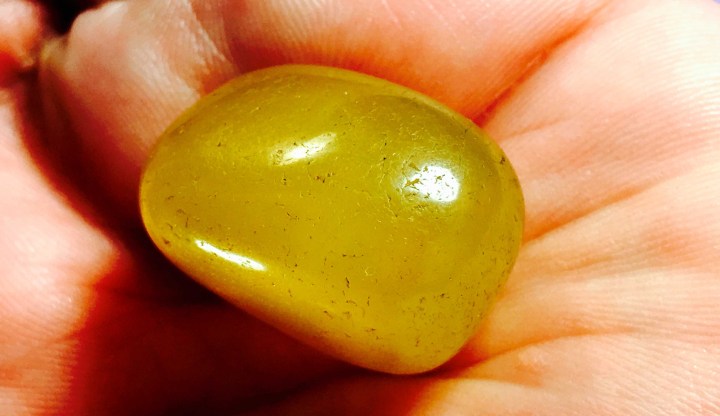 Despite the somewhat porous look in this picture, the stone is very smooth and cloudy and I will add it to the growing collection on my dresser.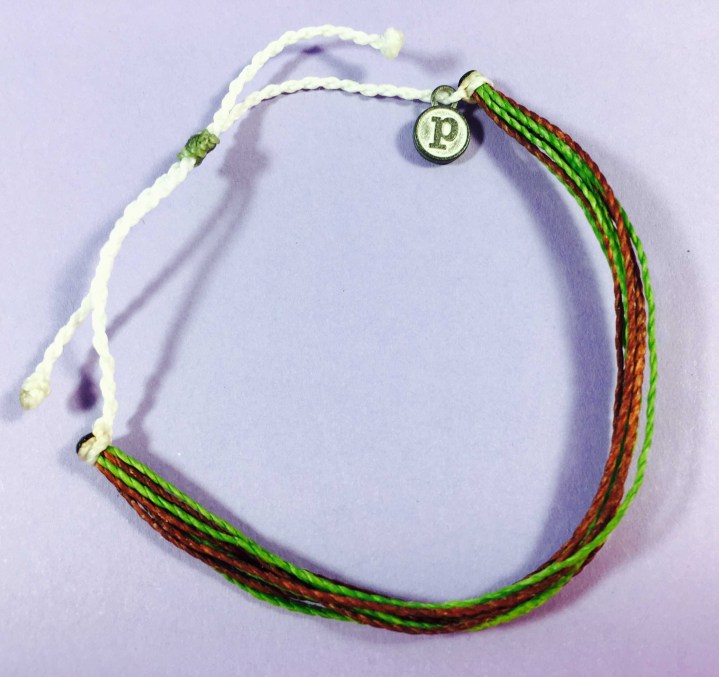 Pura Vida offers bracelets that are handmade in Costa Rica and the colors on this particular one are subdued and remind me of fall. This is from their Charity Collection, however, I couldn't find the exact one so I linked to an Autism Awareness Bracelet instead ($5). The bracelets are made of wax-coated thread and are waterproof plus $1 of every sale of a Charity Collection Bracelet is donated to a specific charity. They are adjustable from 2 to 5 inches and have an iron-coated copper "P" charm.
There was a Smarty Pants Adult Probiotic Gummy Supplement in Lemon Crème (42¢). It was good but one gummy is only half of a serving size, therefore I only received 3 1/2 billion colony-forming units. Vegetarian and non-GMO.
These affirmation cards from Louise Hay look like they may be from her Power Thought Cards: A 64-Card Deck  (31¢). They have bright colors and are a nice reminder to cut yourself some slack.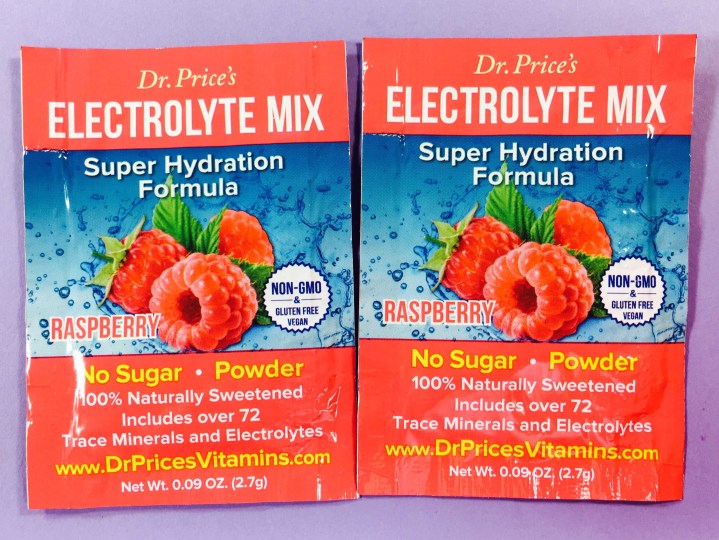 This is a good time of year to have Dr. Price's Electrolyte Mix ($1.40) packets on hand. These Raspberry flavored supplements are meant to be added to 16 ounces of cold water and are sweetened with Stevia. There are 72 trace minerals in this bitty packet along with sodium and potassium.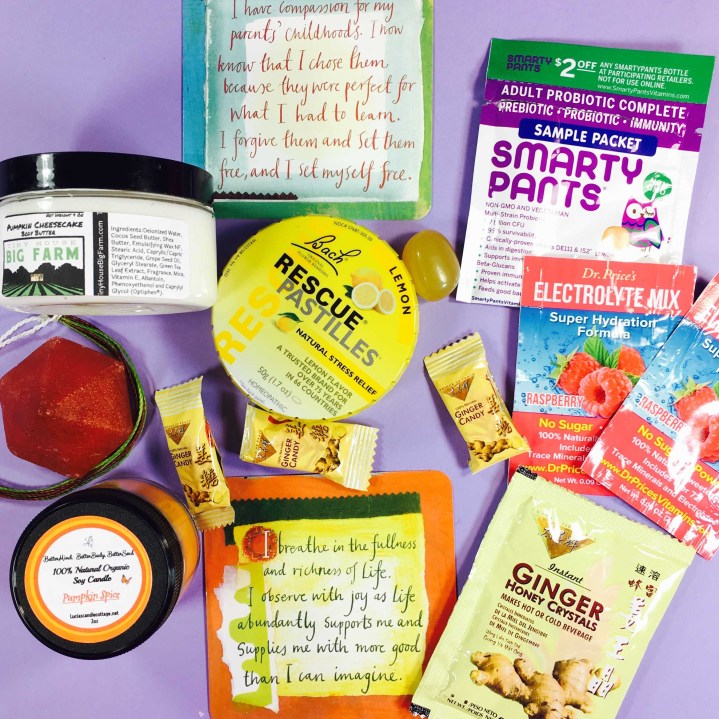 I like BetterU Box since it helps remind me to relax and think about calming my body and this month's box in particular had some items that can be added to my home pharmacy stash. The value this month was about $30, or the same as the price of the box. I look forward to trying new supplements each month along with the natural beauty items, plus I have a growing collection of pretty stones!
What do you think of BetterU Box?