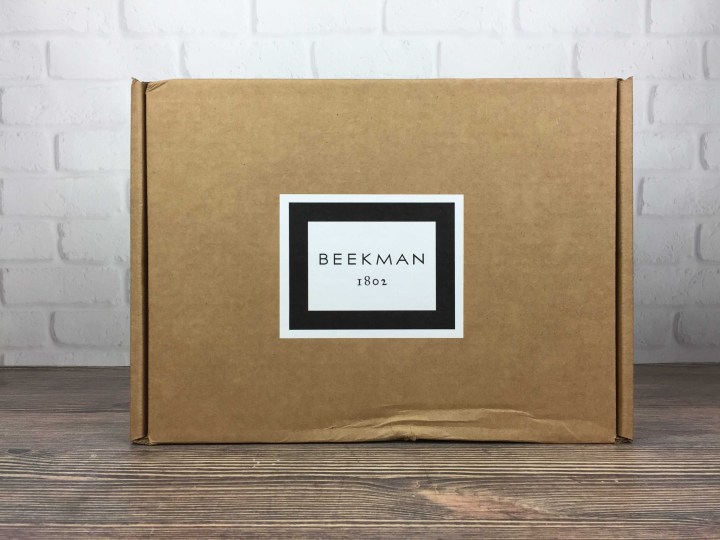 Beekman 1802 Specialty Food Club is a monthly food subscription for small-batch artisan food lovers from Beekman 1802. You'll get a box of delicious artisan food items – often exclusive to this box –  for $50 each month. The Beekman Boys, Josh & Brent, are greatly dedicated to supporting small farms, and they incorporate ingredients from the 1802 farm, their neighbors, or other small farms as often as they can.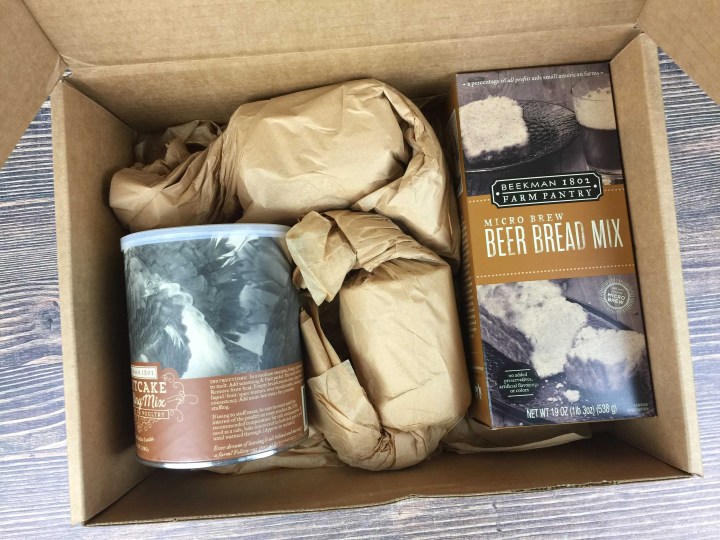 The items are properly wrapped and secured to avoid damage while in transit. This subscription is almost over-packaged (the lovely box shown arrives bundled within a larger shipping box – but it's all easily recyclable), but really, none of these items have a chance of breaking!
This month included a cheese selection which was packed in its own cooler.
DEAL: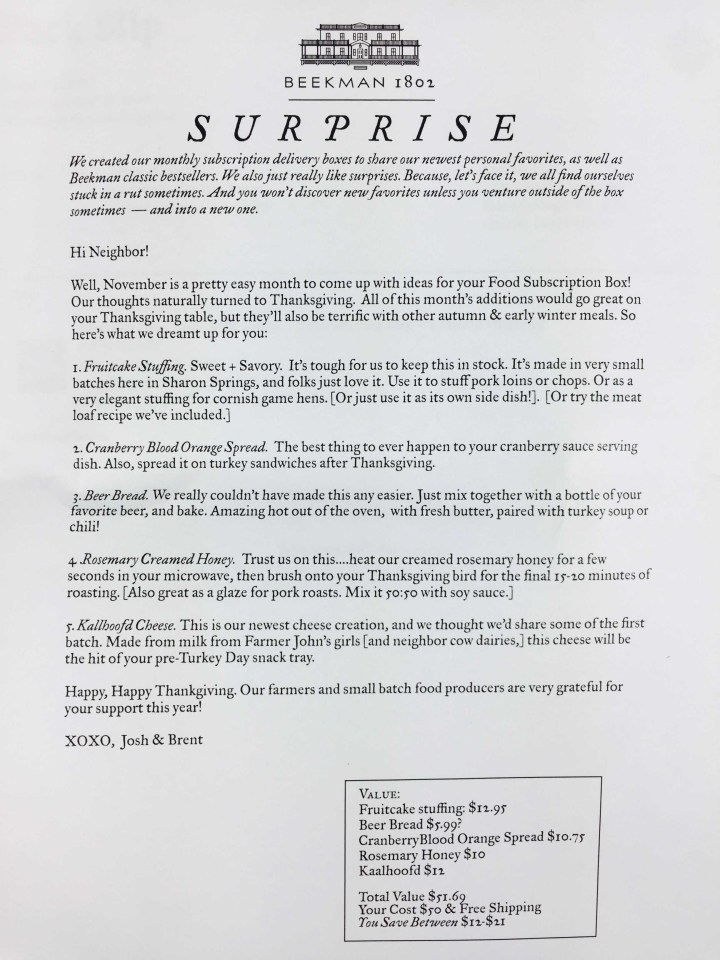 The theme for this month's box is Thanksgiving. Everything always sounds so good, I usually know right away what I want to do with each item – but just in case, the boys include a sure-fire recipe or two (me thinks Josh and Brent have meatloaf at least once a week)! The card has a description of each item, plus a handy value breakdown.
This month, the boys were giving out coupons! We got a 10% discount on our next Beekman order, plus 20% off a BB&B item – they just started carrying select Beekman 1802 items in-store!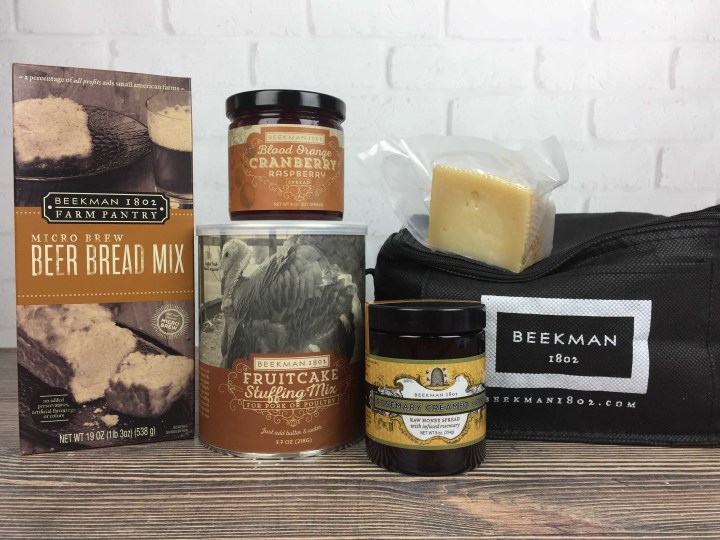 Everything in my November box!
Kaalhoofd Cheese ($12): This very firm cheese is made from a blend of raw cow and goat's milk.  It has an almost springy texture and is dry enough to be grated for easy serving.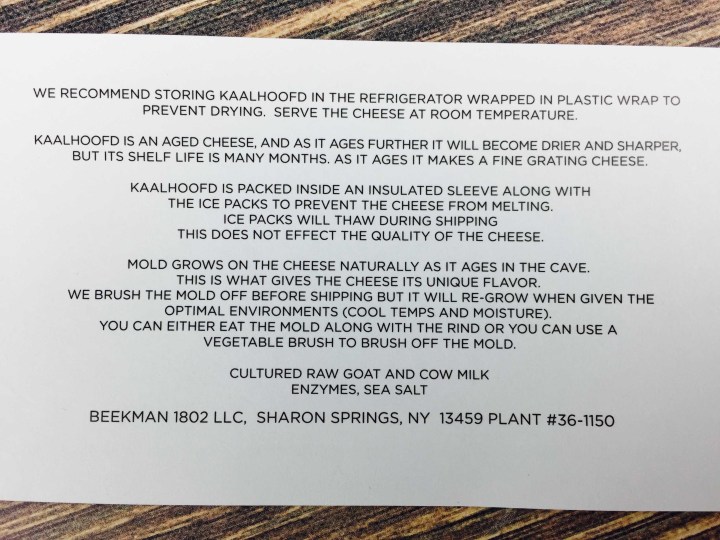 I found this card reassuring – I love foods with a purposeful funk that keeps the bad funk away.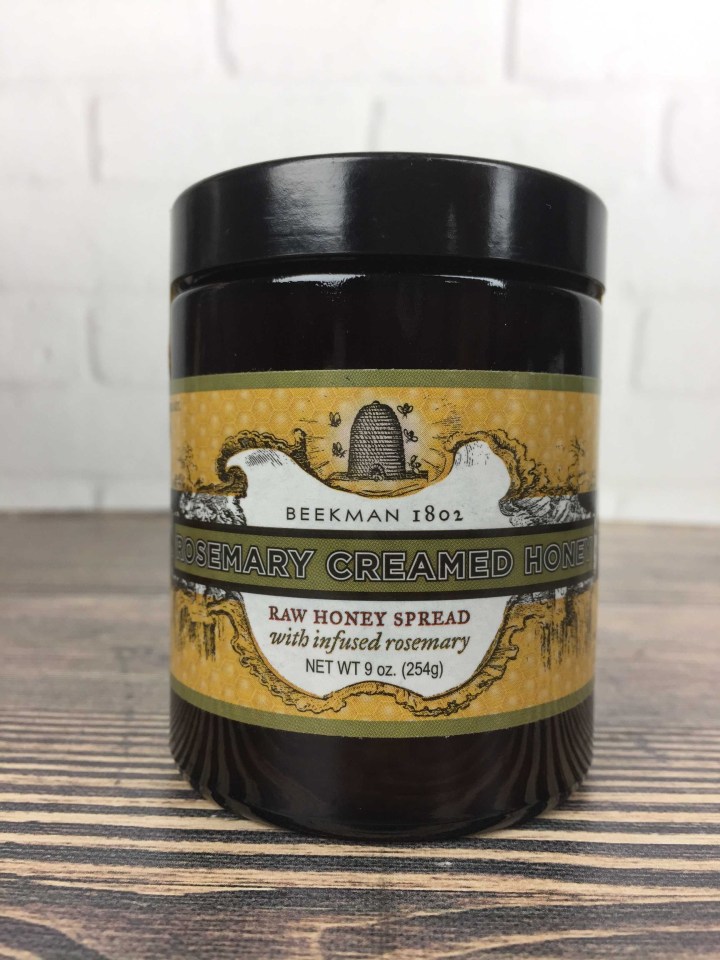 Rosemary Creamed Honey ($10): This honey spread is thick and creamy, almost as if there is a bit of wax in suspension, helping create the lovely texture. The rosemary is a nice accent, but not overpowering.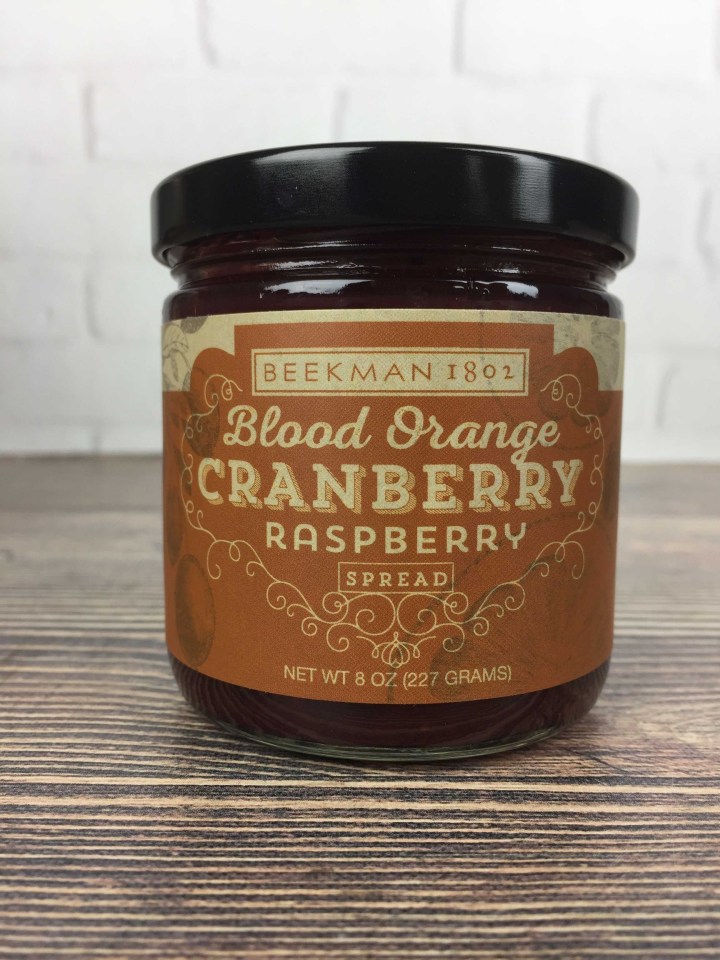 Blood Orange Cranberry Raspberry Spread ($10.75): The minute I saw this, I knew I had my easy Thanksgiving cranberry sauce solution. We were having a small crowd this year, and a can of the bland stuff seemed ready for an upgrade.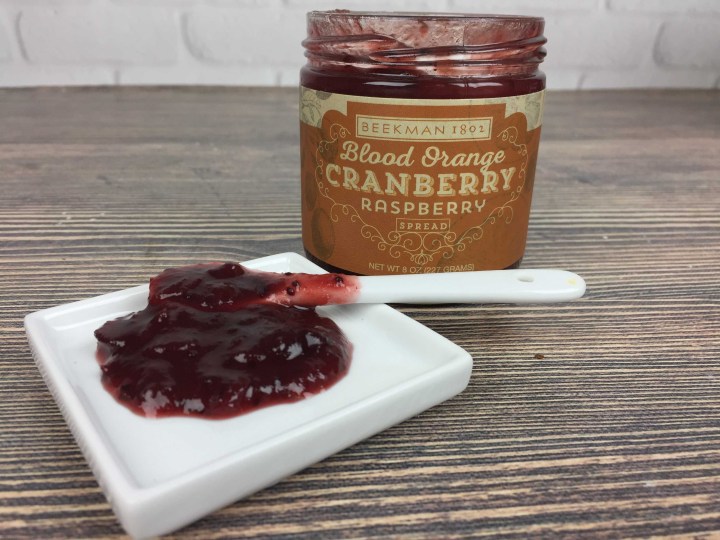 The spread is tasty, with a nice balance of cranberry and raspberry. The standout component was the dose of mint.  It made me think that I'd like to try this with lamb or mutton.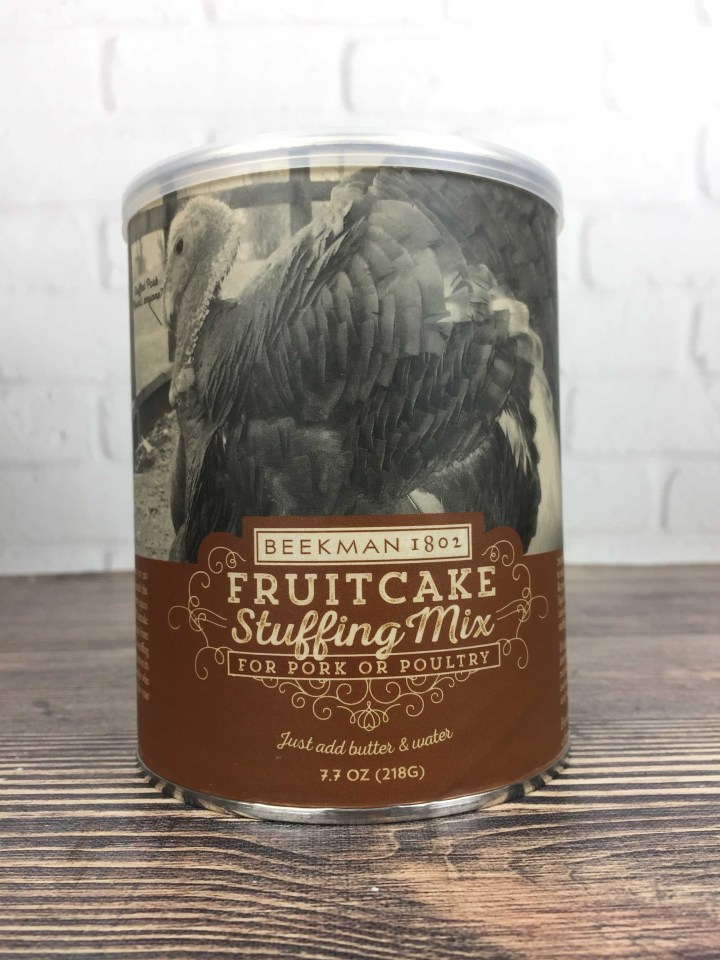 Fruitcake Stuffing Mix ($12.95): We made this as our stuffing for our Thanksgiving dinner. It was really easy to make – the can was enough for a small family, but it wouldn't cover a big feast. The listed price is a little high for the volume of stuffing produced (it is mostly bread crumbs), but the quality and taste was very nice.
Micro Brew Beer Bread Mix ($5.99): I love beer breads. The added malt and carbonation really adds great character to a simple bread. The name is a bit odd since the "micro-brew" element isn't present in the mix and  is completely up to you to add. It could just as easily be "Schlitz Ice Beer Bread Mix."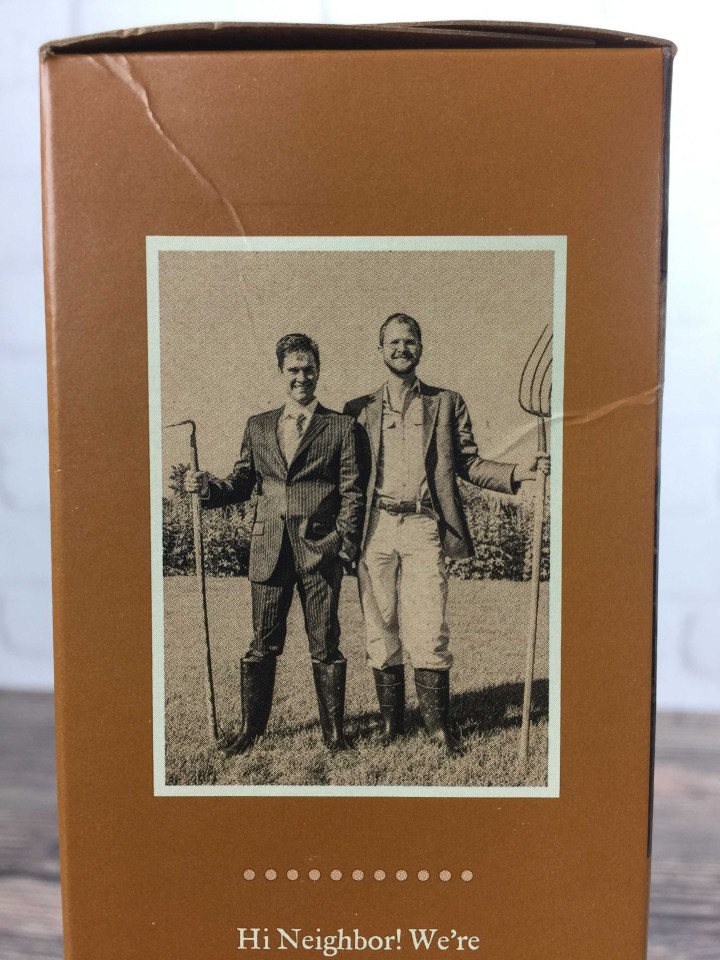 This month the total stated value of this box was around $51.69! The cost of the stuffing was a bit more than I would do at retail, but everything else was about right. We are really enjoying the Beekman 1802 boxes – the products are really high, artisan quality, and they incorporate as many small farm and neighbor-grown ingredients as is seasonally practical.  Sometimes they even throw in an extra, unlabeled item or two that the boys just dreamed up and haven't put to market yet!
We love the way the box is curated – with tons of well-conceived and high-quality products from the Beekman 1802 Farm – every box has had all new items we hadn't seen before, and they have been absolutely delicious!
Visit Beekman 1802 Specialty Food Club to subscribe or find out more!