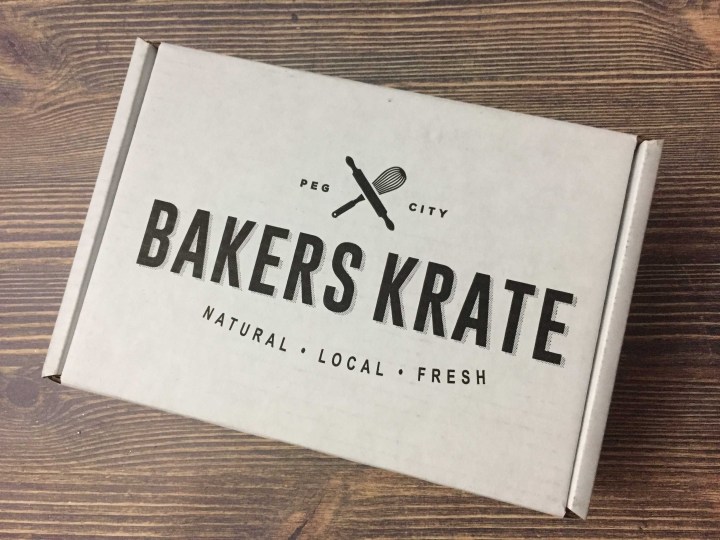 Baker's Krate is a Canadian subscription that sends you a box of delicious desserts once a month. The bakeries featured are all Canadian and local, from Winnipeg bakeries such as Caked with Love and Cookie Girl!
If you *are* Canadian, be sure to like the new Hello Subscription Canada page on Facebook and follow Hello Subscription Canada on Instagram!
Baker's Krate has been tweaking the boxes each month, but November's box wasn't a good one for me. They seem to be moving away from the Winnipeg bakeries they used to feature, and are going to other parts of Canada. I'm curious to see this month's box.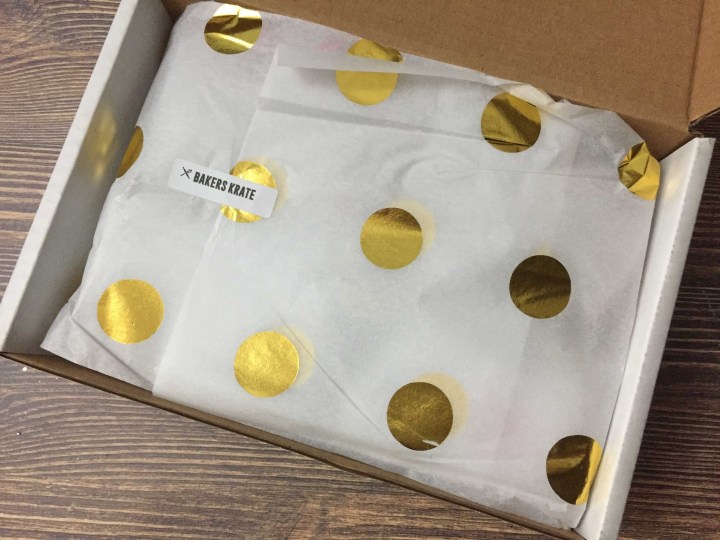 DEAL: Save 10% on your first month with coupon code SWEET.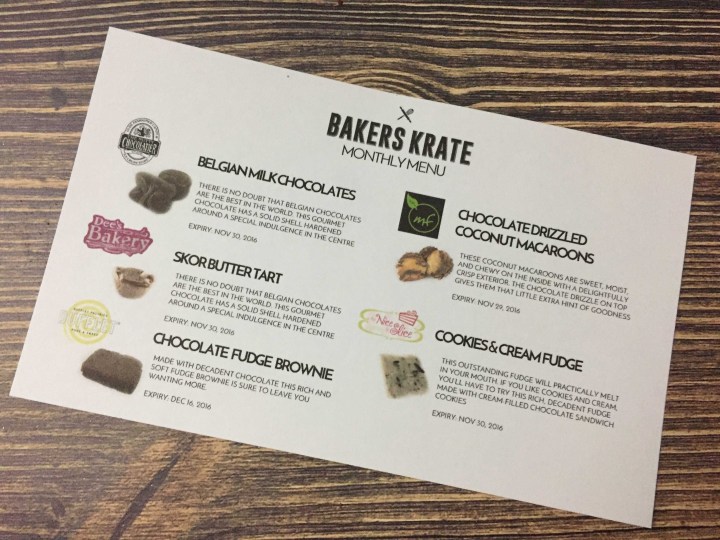 The new product card looks a bit more sleek and professional than the previous version. Expiration dates are provided for all items – I think this is the November box (making last month's review for October, actually!)  and since mine arrived beginning of December, the items were mostly past their expiry date. This has happened to me before with Baker's Krate, but I'm inclined to blame the slow Christmas mail service we're now experiencing.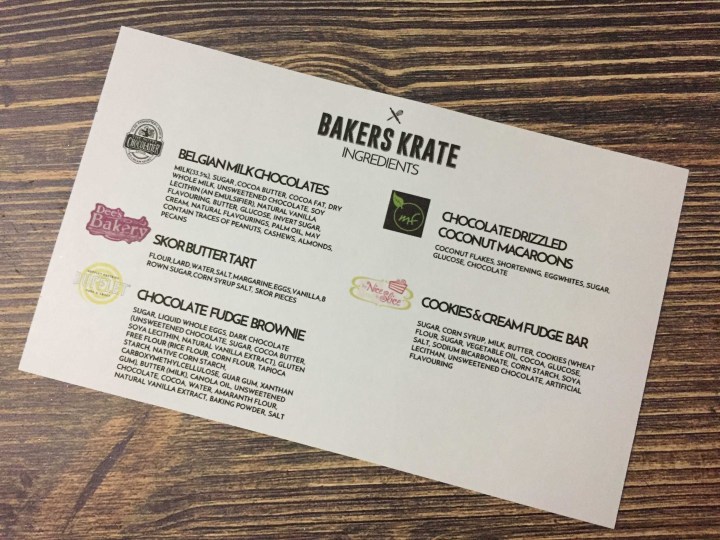 An in-depth ingredients list is included for all of the items; previously, this was on a separate piece of paper but it's now on the reverse. This month features six treats from just two bakeries – Sweets from the Earth and Unity Baking, which are both from Ontario. This is a bit of an odd shift from the norm for Baker's Krate, and I was a bit disappointed to not see my usual favorites at all.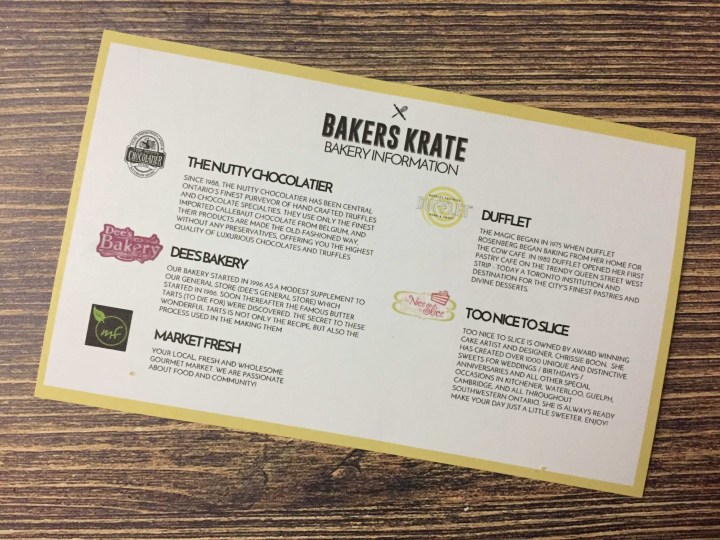 This month we were sent an additional card with information about the bakeries featured. Most of these bakeries are from Ontario, not from Winnipeg. It's nice that Baker's Krate is branching out around Canada.
Everything is always packaged very carefully in Baker's Krate, which I really appreciate!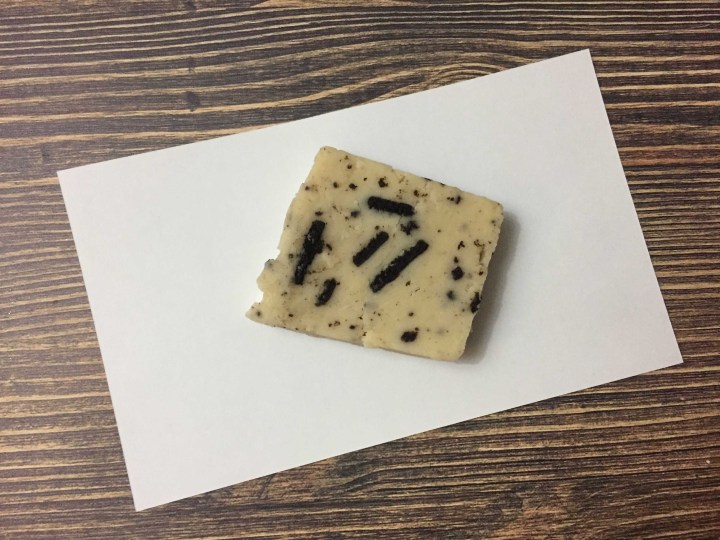 Cookies and Cream Fudge (Too Nice to Slice Bakery) Hands down my favorite item in the box. I love fudge, and this was sweet, creamy, and had bits of cookie smashed into it. I loved this, and the size was generous.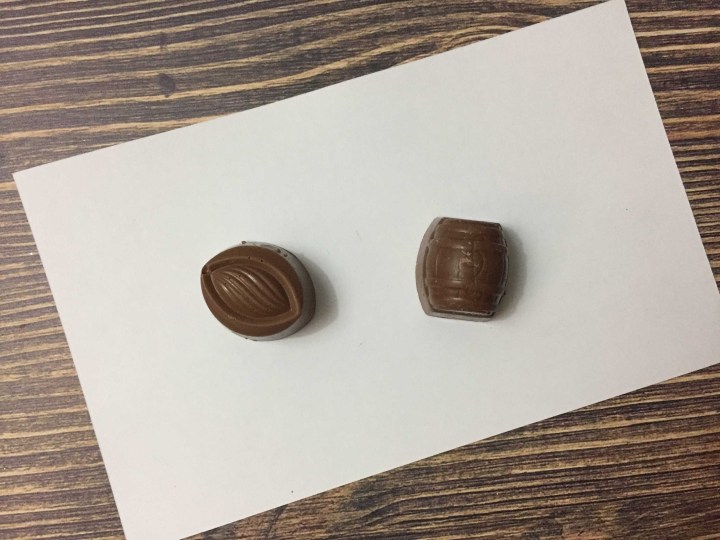 Belgian Milk Chocolates (The Nutty Chocolatier) The one on the left was espresso flavoured, but I'm not sure what flavour the one on the right was. These were smooth, creamy, and very rich.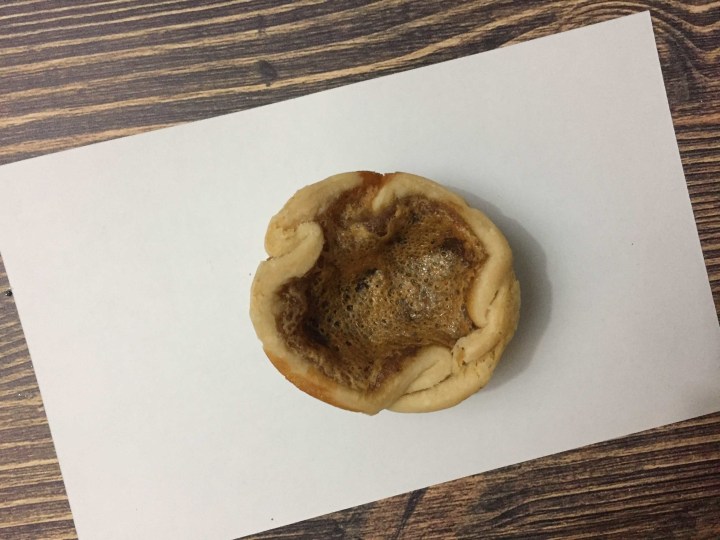 Skor Butter Tart (Dee's Bakery) This butter tart is infused with the flavors of Skor chocolate bars – chocolate and toffee nut. It's awesome!
Chocolate Fudge Brownie (Dufflet) This brownie is gluten free! It's a bit dry, as most GF brownies are, but the chocolate is rich and decadent.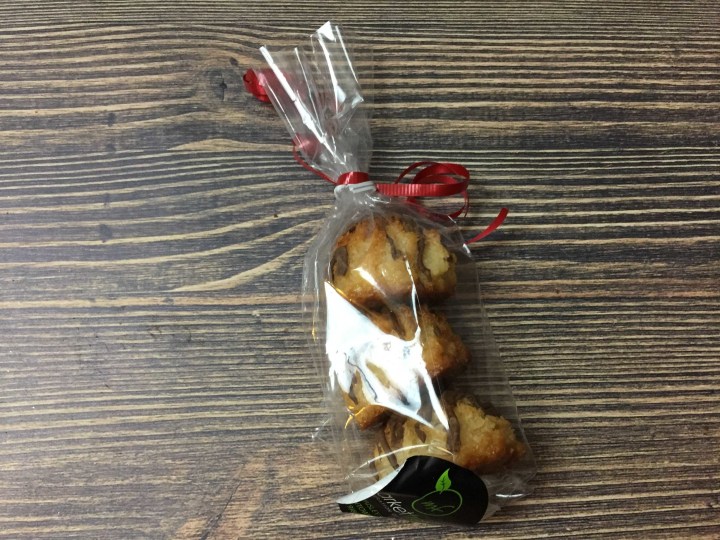 Coconut Macaroons (Market Fresh) This set of three chocolate covered macaroons is perfect for gift giving! I indeed did pass them along to a co-worker whose eyes lit up when I read her the contents of this month's box – she said they were great, chewy and moist and the chocolate wasn't too overly sweet.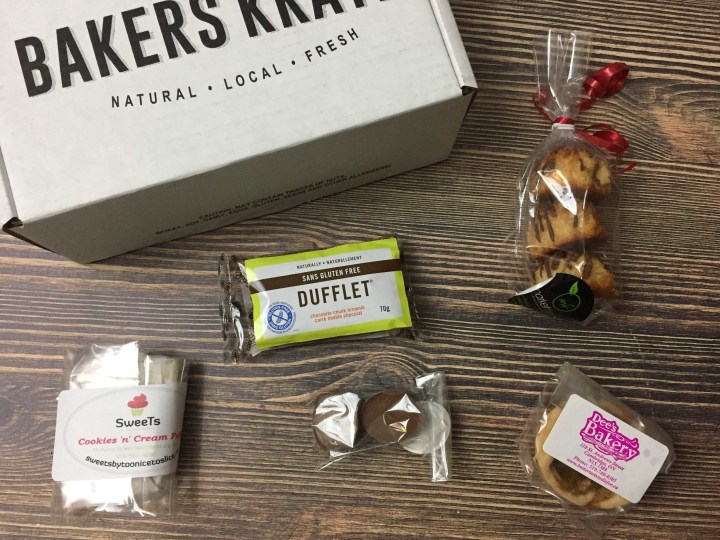 I'm still on the fence about this new angle Baker's Krate has been presenting – but this month's box was a definite improvement over last month's vegan/gluten free box! I'm especially happy with the fudge and the Skor butter tart. This time of year it's always good to have some treats on hand, whether it's for entertaining or to take as a hostess gift.
What did you think of the November Bakers Krate theme?