Arcade Block is part of the Nerd Block family of subscriptions and is a monthly video game mystery box. Arcade Block focuses on 4-6 video game collectibles, one exclusive gamer t-shirt, and a promised value of $60.00. Arcade Block begins shipping on the 25th of each month.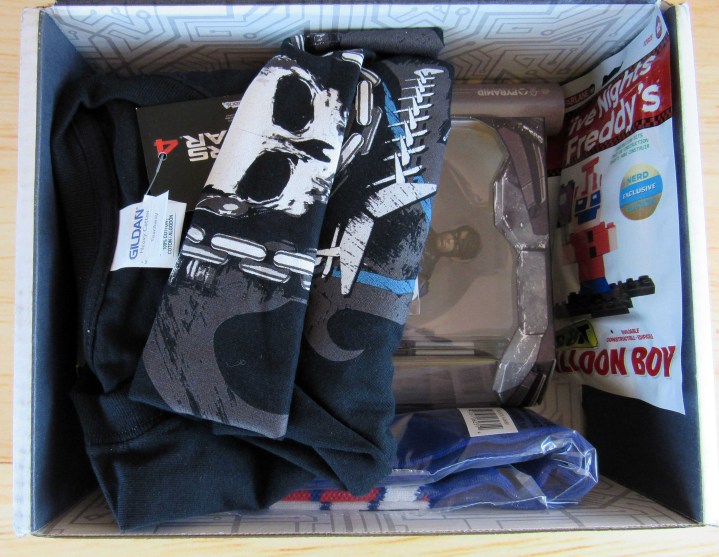 DEAL: Grab 15% off your first Arcade Block with coupon code HELLOSUB16, or save even more with a longer subscription. Enter this code right after pressing the big green review order button.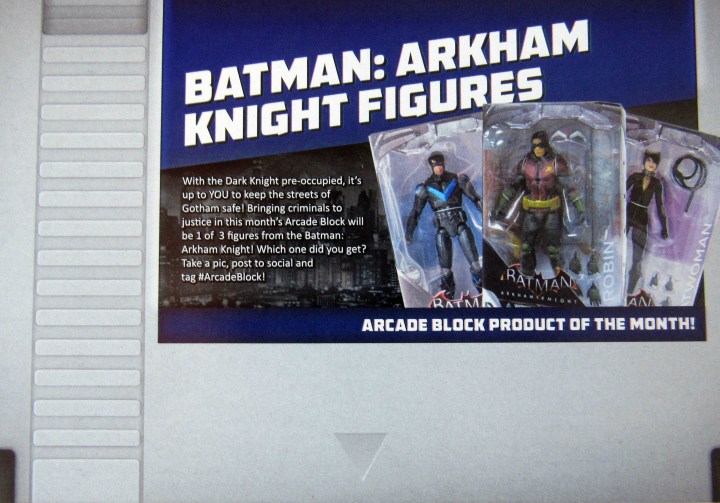 The Arcade Block Product of the Month is the Batman: Arkham Knight Figures!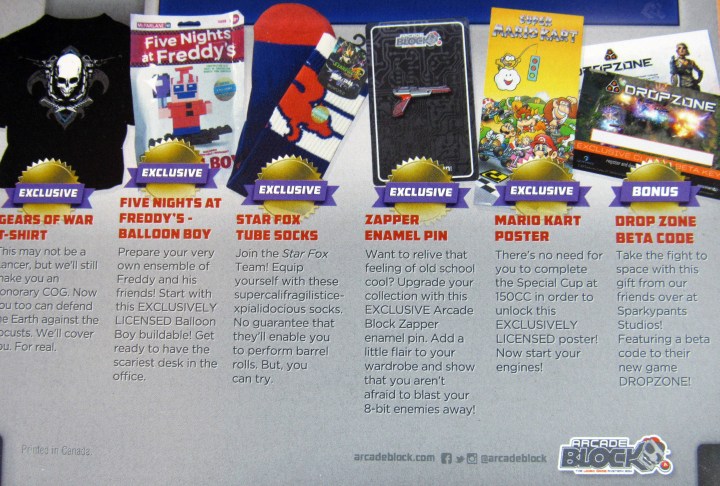 The October box is full of exclusives. There are six exclusives this month!
T (age 17) took all the photos but one! He also wrote the bulk of the review.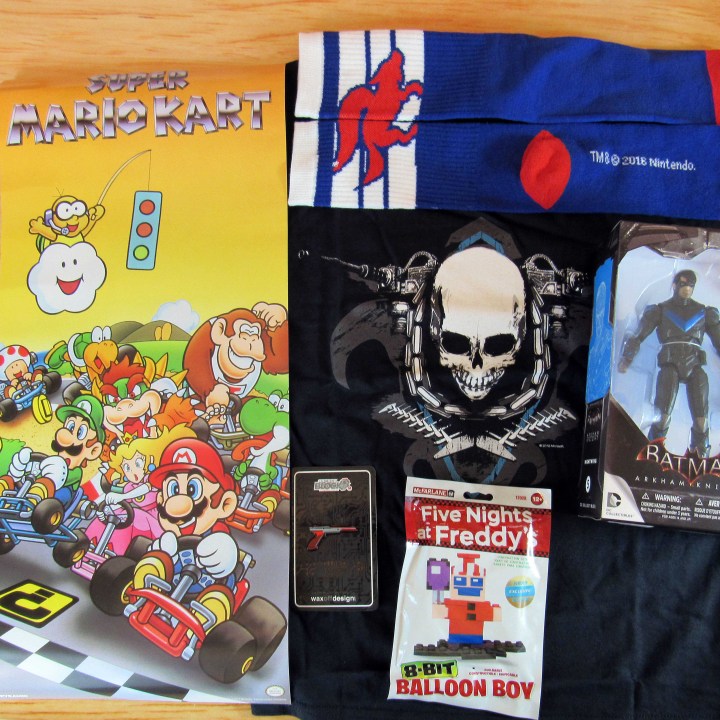 Here are all the items in the October 2016 Arcade Block. I am expecting to see more of a dark than scary items because of Horror Block.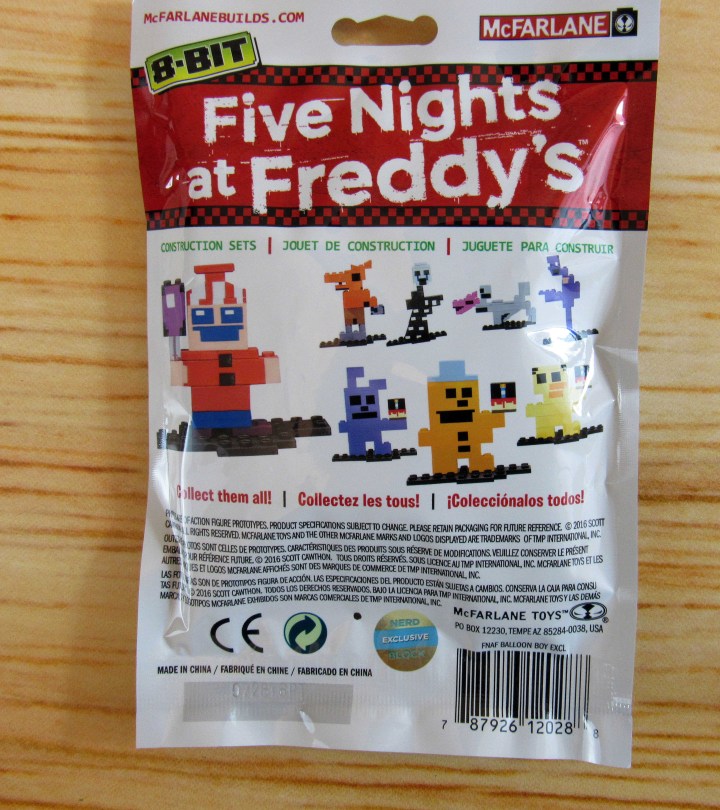 T (age 17): Five Nights At Freddy's, you will never end! Once again we received the balloon boy. I'm pretty sure this is the kid the purple man kills in the first game (so… Yay?) but with 5 games, a book, and a movie in the works, who knows for sure?
PA Anna: That is one movie I will not be watching. The Exclusive Five Nights at Freddy's 8 bit Balloon Boy build will be a hit for those looking for a little fright in the October box.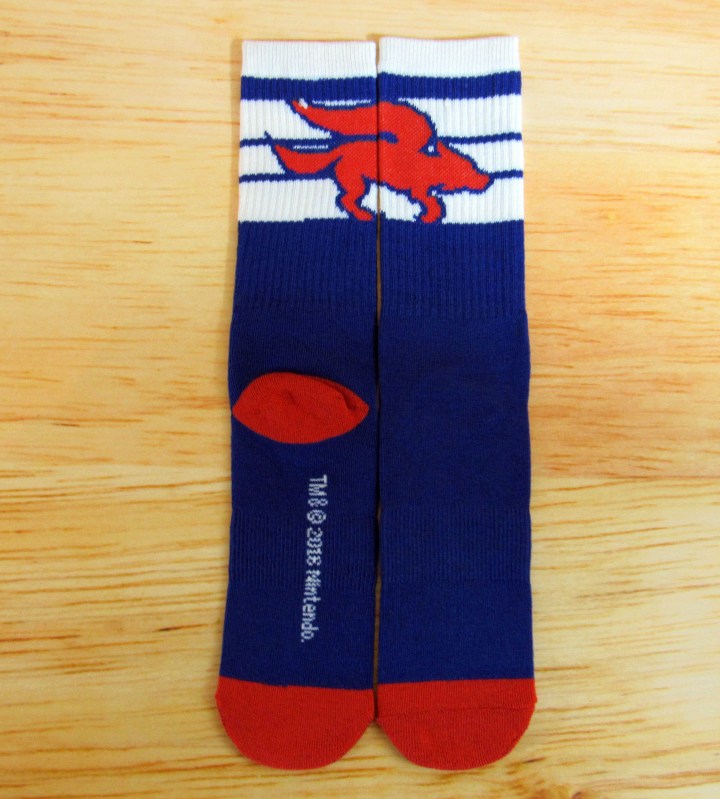 T: These socks are from the game Star Fox Zero! The red fox is the Star Fox symbol. It's awesome to see one of Nintendo's older game series come back!
PA Anna: The Exclusive Star Fox Tube Socks have a great design and are comfy. I want the socks for myself!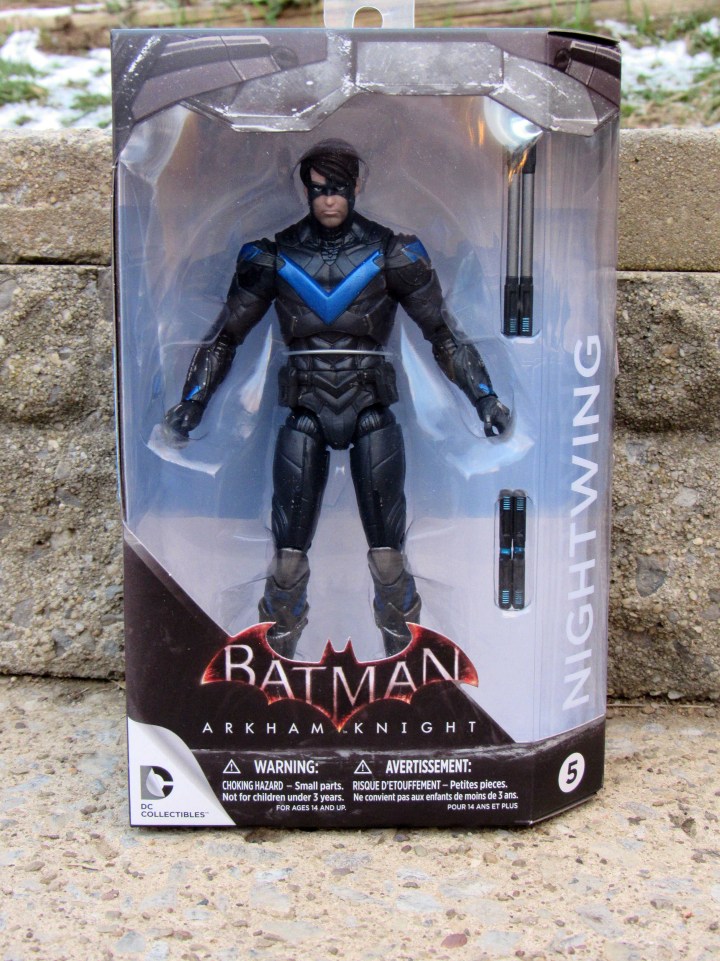 T (age 17) Nightwing!!! He is my second favorite Batman character, after Batman. If you don't know, Dick Grayson, the original Robin, grows up to become Nightwing. This figure is from the Arkham Knight game, the 4th game in the Arkham series. In that game, Nightwing and Batman team up to do team takedowns. The detail on this figure is amazing.
PA Anna: Subscribers received one of three Batman Arkham Knight Figures. We received Batman: Arkham Knight: Nightwing Action Figure ($22.94). The other two figures were Catwoman and Robin.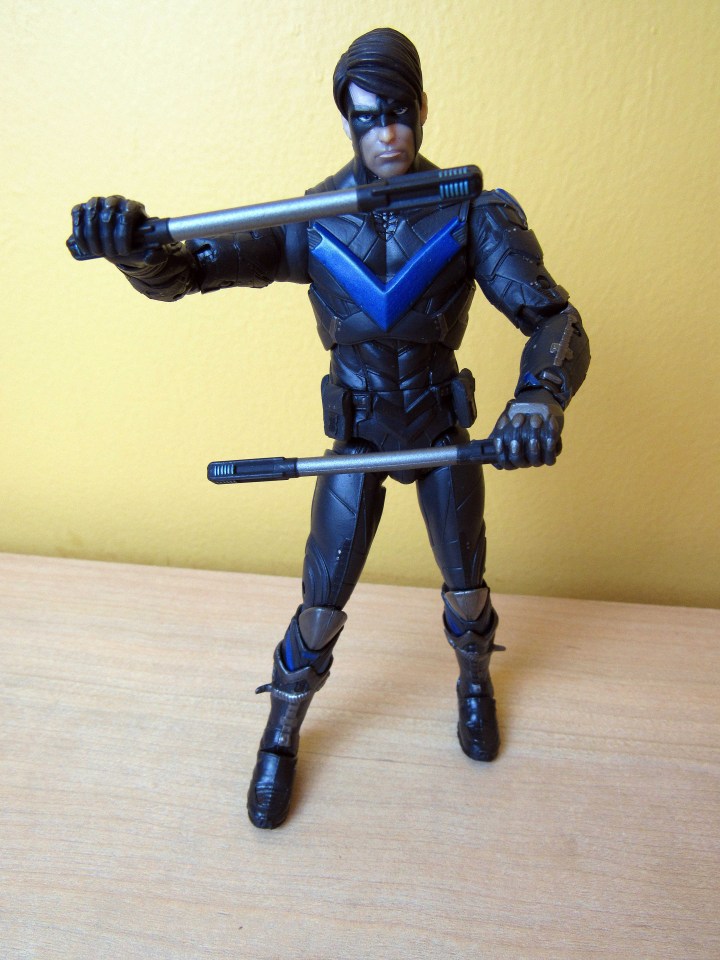 T: Striking a defensive pose.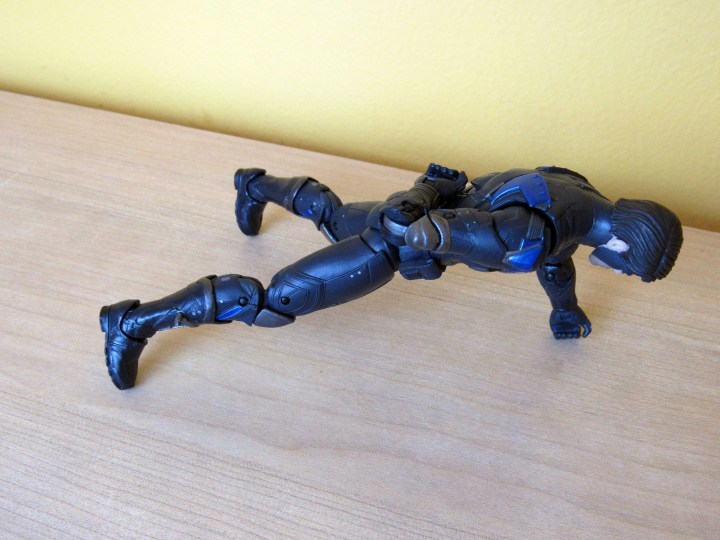 T: Staying in shape with a one arm pushup!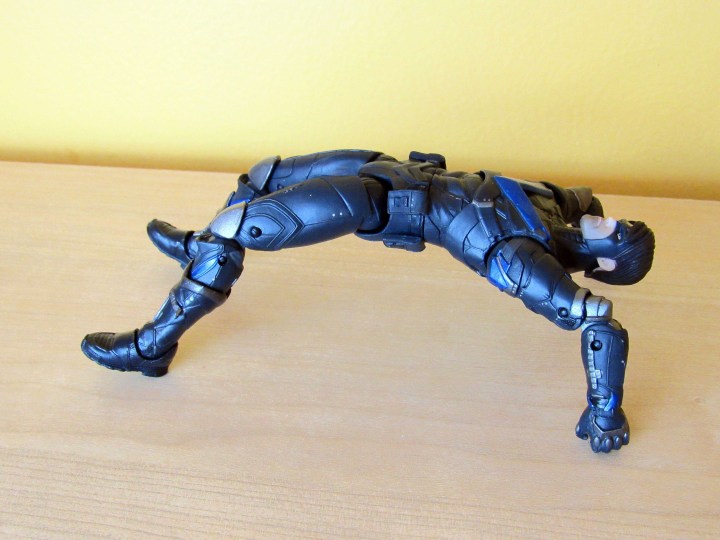 T: This member of The Flying Graysons can still do a bridge.
T: Nightwing is also his rapper name.
PA Anna: That sums up everything you need to know about T.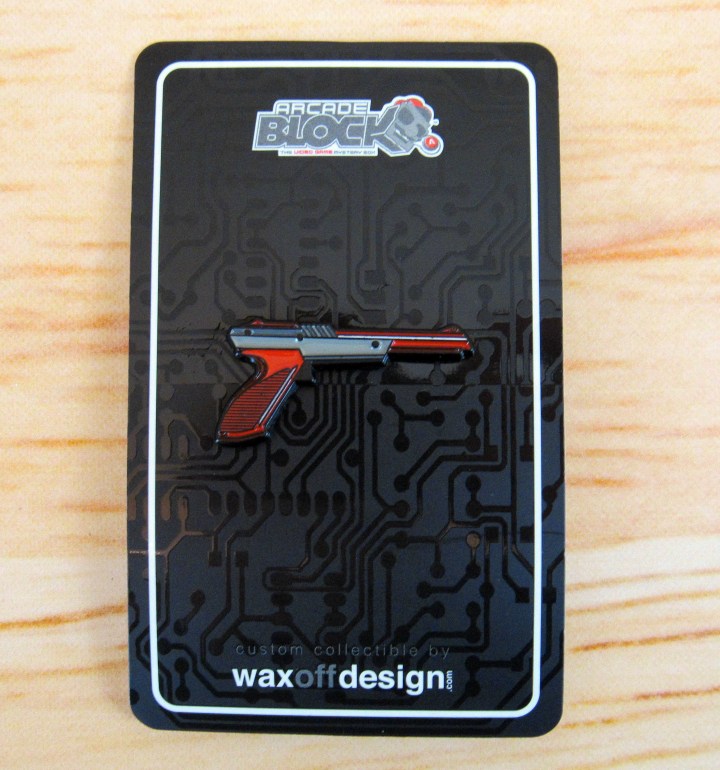 T: I couldn't place this at first, but then I realized this is the Duck Hunt Gun. My mom says she use to wear these pins back in the day.
PA Anna: I remember Duck Hunt! The exclusive Zapper Enamel Pin is nicely made.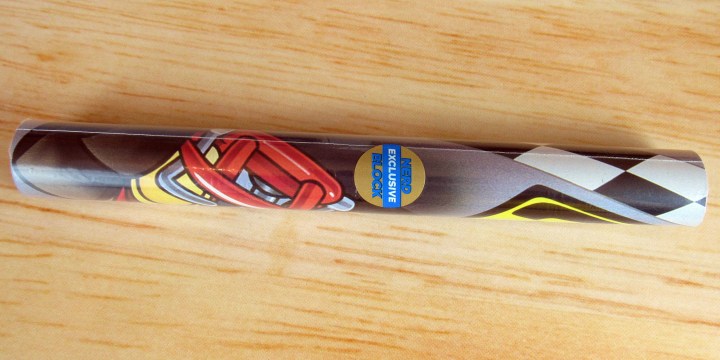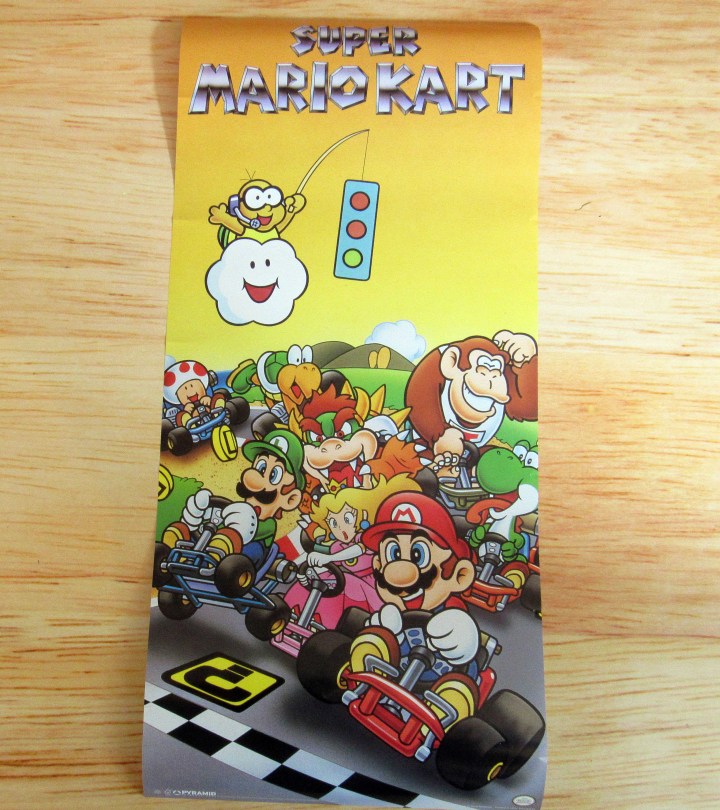 T: Hey Super Mario Kart! This poster is a poster of the first Mario Kart game. It released on the SNES. It is very similar to the original cover art of the game. Did you know this was the only game to feature Donkey Kong Junior instead of Donkey Kong?
PA Anna: J (age 8) cannot wait to hang up the Exclusive Marion Kart Poster. He says it is cool
 T: I'm not sure what the emblem is in the background. I looked around but couldn't find anything. I'm not very familiar with the Gears of War series, but Gears of War 4 just came out, and I hear it's good.
PA Anna: J (age 8) thought that the Exclusive Gears of War T-Shirt was too scary. It's excellent timing for  Gears of War fans.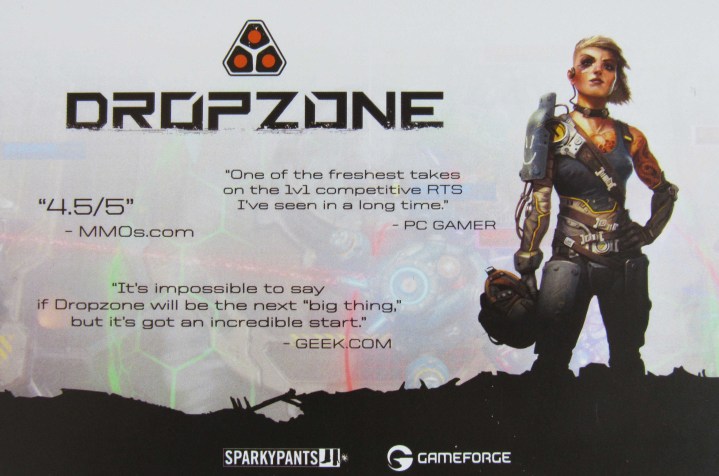 PA Anna: It's the Beta key code for DropZone. I am glad to see that a game is being offered in Arcade Block.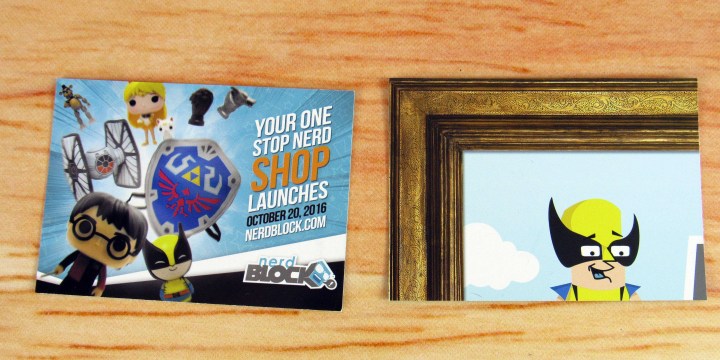 PA Anna: We received a $10.00 credit to the Nerdblock shop and ShirtPunch. Time to do Christmas shopping!
 T: This is a good box. I love the Nightwing Figure and the Super Mario Kart poster. I'm not sure how I feel about the kid shirt being Gears of War I don't want J exposed to those sorts of games yet. I love the mix of old games with new.
PA Anna: The October Arcade Block was well-balanced with items from darker or horror franchises and fun franchises. My seventeen-year-old enjoyed the box much more than my eight-year-old which was what I expected for an October gaming box. Arcade Block is an excellent choice for gamers that enjoy having a mix of exclusive and non-exclusive items from their favorite games.
What do you think of the October Arcade Block? Share your comments below!