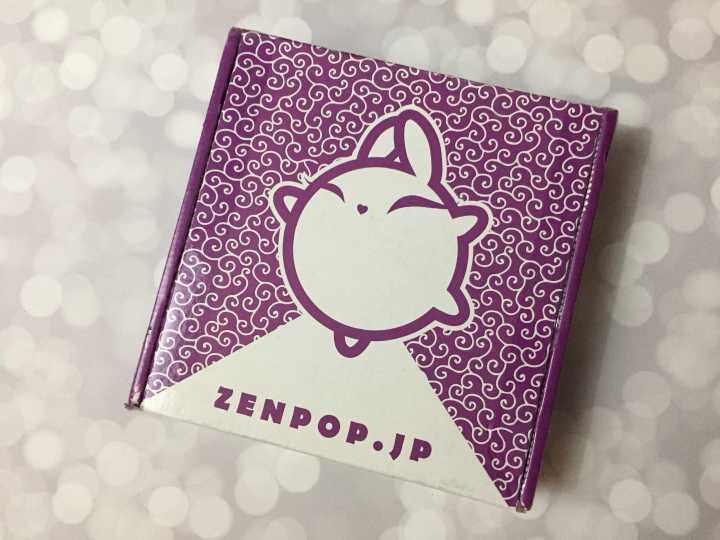 ZenPop Japanese Packs isn't your traditional subscription box – it's not a recurring subscription at all, but a box you can purchase each month from four variations – snacks, stationery, beauty, and ramen! I love all things from Japan, but since I've got enough snacks to shake a stick at, I'm excited to review their Stationery Box! All boxes are $35 and include free shipping.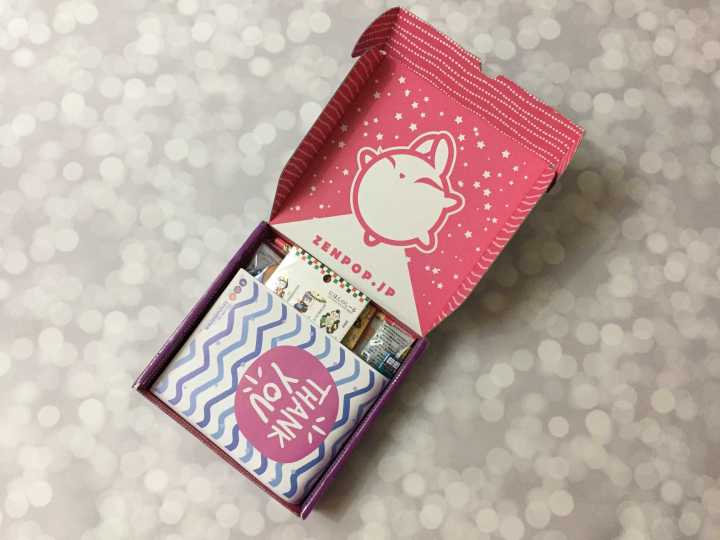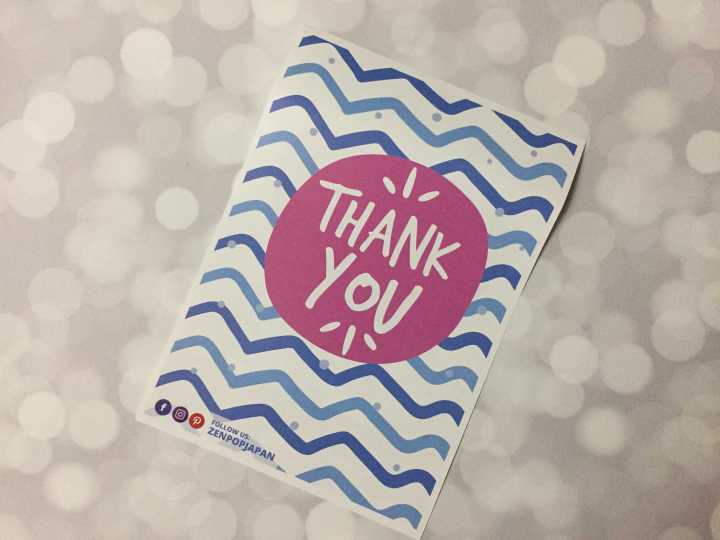 The reverse of this page has a promo code for ZenPop's proxy mailing service – if you are interested in shopping on Japanese websites, ZenPop can forward packages to you! I've used proxy services before (I need my J-pop concert goods!) so I'm keeping this one for myself.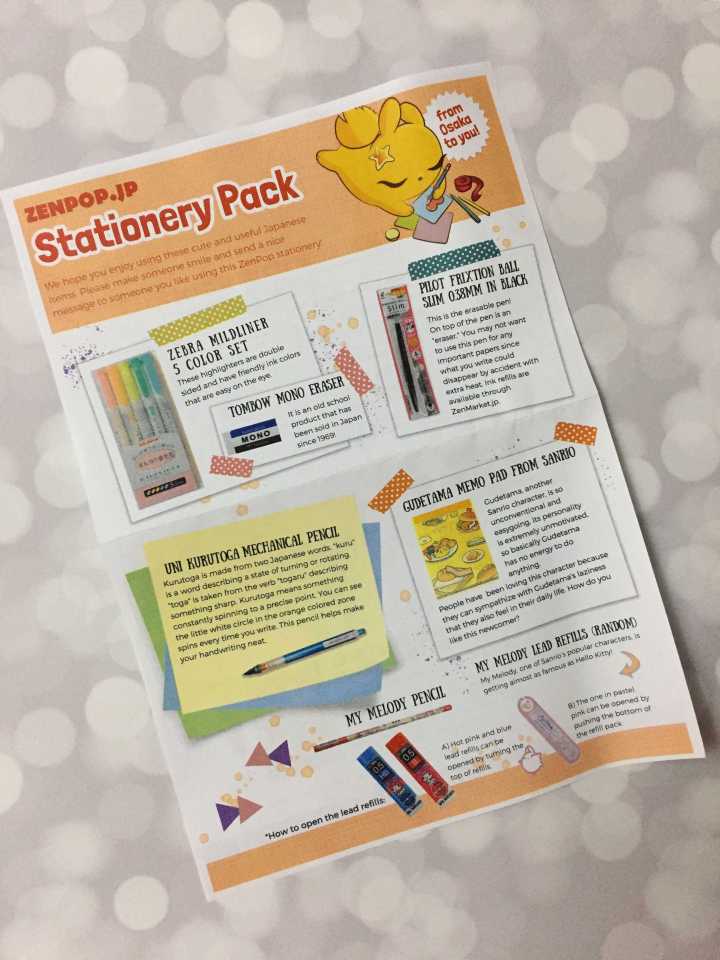 The information sheet is a standard size piece of paper; everything is described and it shows the variations that were sent as well! I am positively vibrating at the sight of mildliners and Frixion pens!
The reverse is just as detailed. I can't believe how much is in this box!
The first item I pulled out was this sheet of gorgeous stickers! They have a crinkled/textured paper like feel to them, and depict the kabuki style of theater.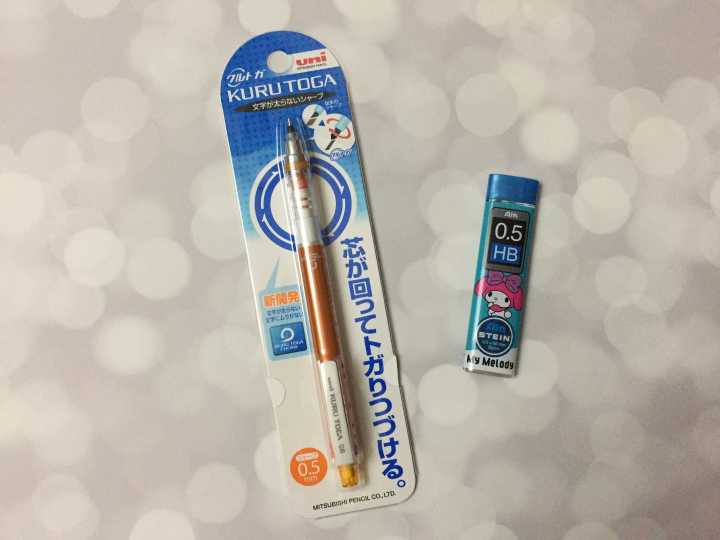 This Uni mechanical pencil includes an additional case of lead – and in an adorable My Melody case!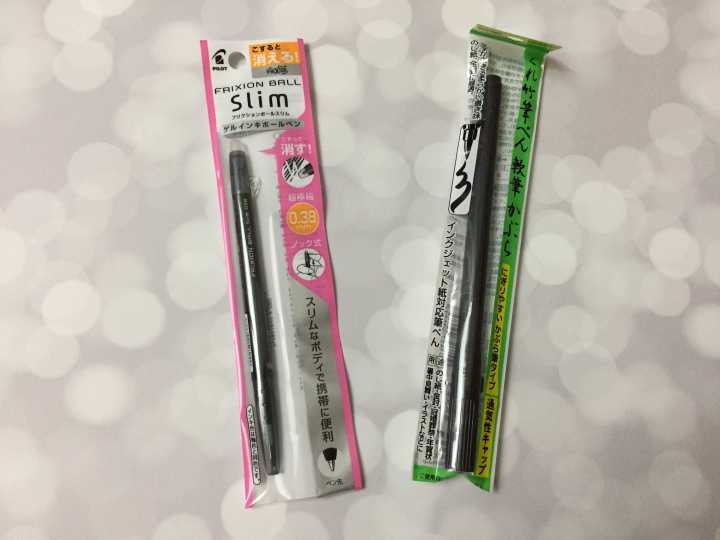 If you've never used a Frixion pen before, they are addicting. I have a bunch of them already (they did a collaboration with Sailor Moon last year, so… of course I needed all 10 of them) but this is the slim style and is a lot thinner. The end of the pen (or the cap for some pens) includes the "eraser" which uses friction to erase the ink. I'm also extremely excited to see the disposable Japanese calligraphy pen! Calligraphy is an art in Japan, and there are certain ranks you can competitively qualify for.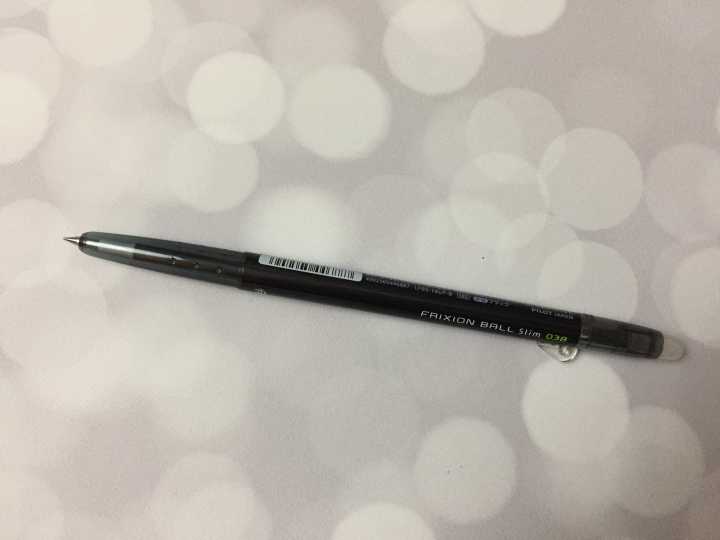 Here's a closer look at the Frixion pen – the end part (the clear part) is the eraser.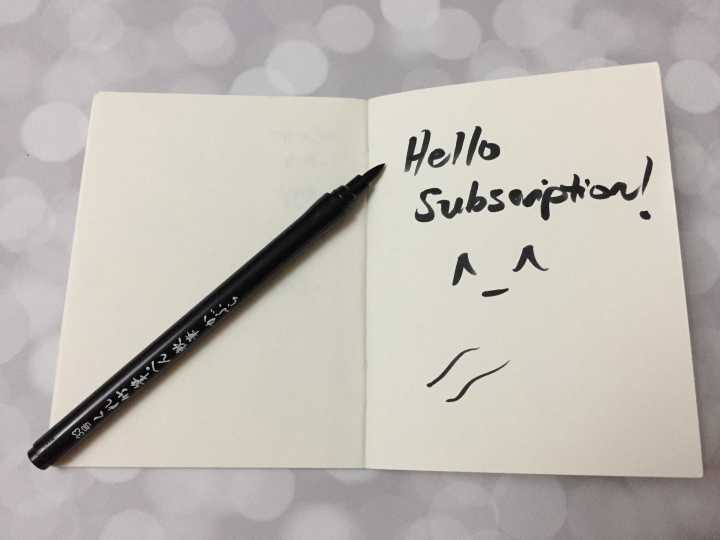 The calligraphy pen is addicting – it's hard to see in the photo because the tip is black, but it looks almost like it's rubber – it's smooth instead of looking like a brush or having ink holes.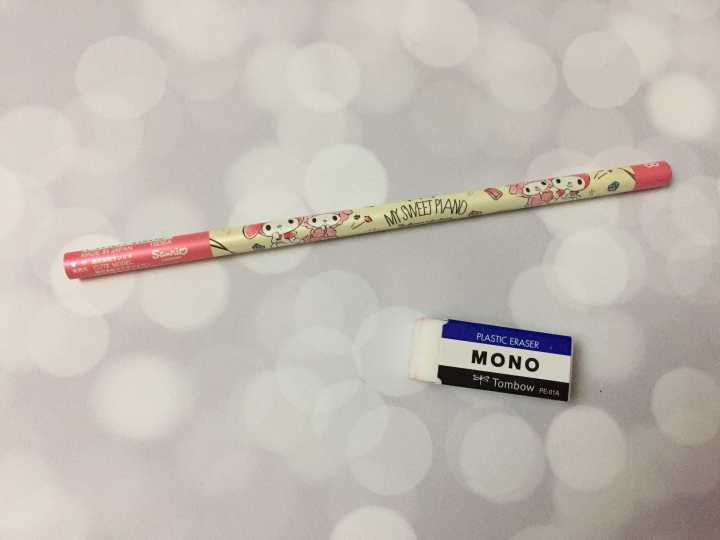 Another pencil! This one has My Melody on it again. The Mono eraser is a Japanese school staple – it's been around since the 60s!
I first thought this was correction tape – but it's just regular old clear tape! Looks like it would be handy for sealing envelopes and the like!
Pompompurin washi tape! Oh my god, take two of my weaknesses and smash them together… just look how cute it is! And we were also sent a Gudetama notepad! I love Gudetama – his name literally means "lazy egg" – and his bacon blanket!
Here are just a couple of the designs on the washi tape.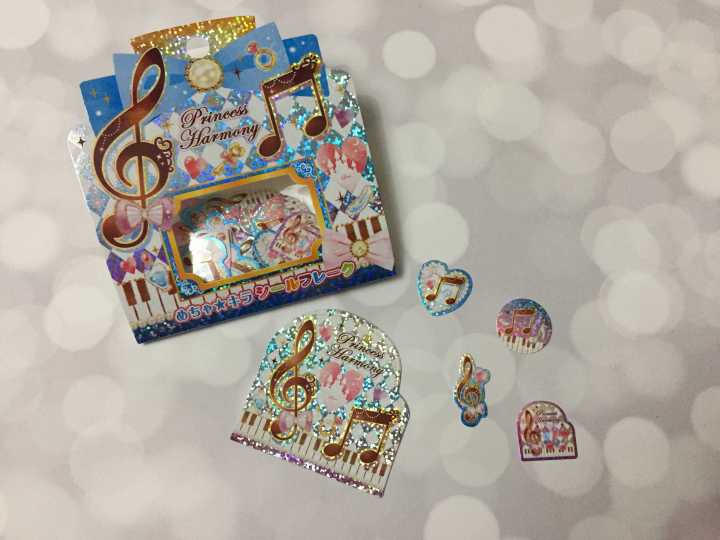 I love flake stickers – especially these sparkly rainbow Princess Harmony flake stickers! There are lots of flakes and one larger design.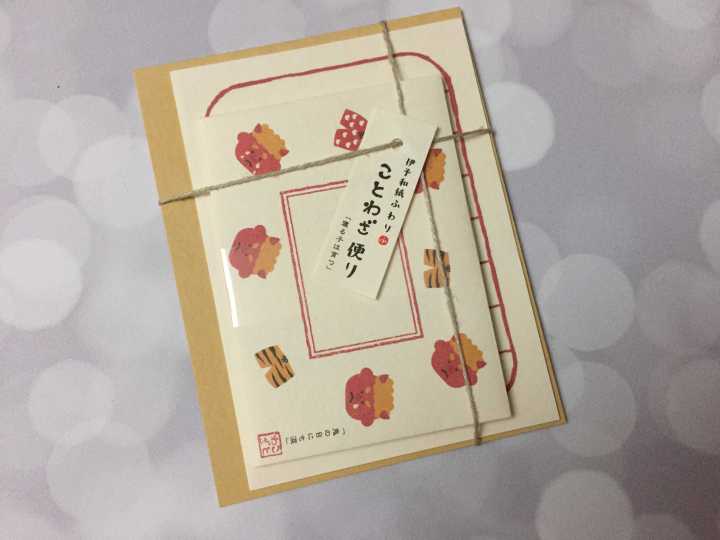 This traditional Japanese letter set is pocket sized and gorgeous! A friend of mine collects letter sets so I'm going to tuck this into her Christmas present – it includes envelopes and letter paper.
I saved the best for last – this set of five Zebra mildliners. Mildliners are highlighters, but the colors are much more muted and pastel then our fluorescent highlighters.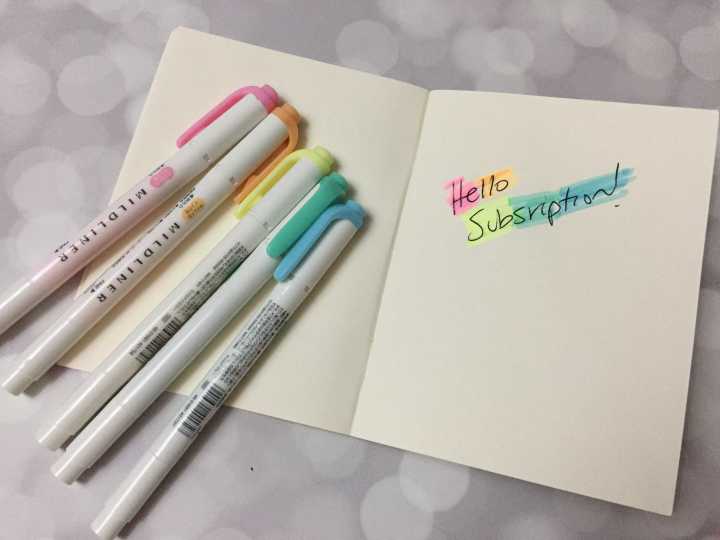 Can we ignore the fact that I misspelled subscription? Seriously, too bad I didn't use the new Frixion pen…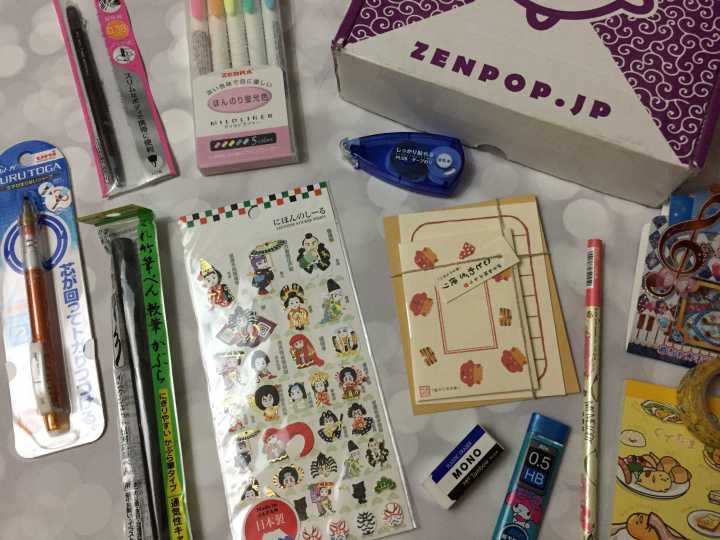 I'm so thrilled with my ZenPop Japanese Packs Stationery Box! It was such a great variety of products, including some things I've used before and some new tools I've never used. I think the value is definitely there since these items are right from Japan – even if you trawled the internet to find everything included, this delivers everything to you all at once with free shipping. I love that because this is a one-time box that doesn't charge you every month, it would be a fantastic gift for the stationery buff in your life.